Breakfast is the most important meal of the day. Many diners and coffee shops offer a quick and easy breakfast option. A common dish is Eggs Benedict or an English Breakfast, which consists of toast, eggs, and bacon. However, for individuals that would prefer more breakfast choices, there are many great spots to eat in Key West.
There are several establishments that offer full breakfast service along with their eat-in options. If you do not know where in Key West to look for the best breakfast places, here are some of the lists that you can go and try out.
Sarabeth's Kitchen Key West
With all the different flavors that you can try for breakfast, there is just something special in sticking to what everybody is most familiar with, American culinary culture. Sarabeth's Kitchen Key West offers unique and fresh ideas on classic American cooking. 
Enjoy some of their popular dishes such as Lemon Ricotta Pancakes, Shrimp and Grits, Almond Crusted Cinnamon French Toast, and their Eggs Benedict with Duck Bacon.
Each menu is carefully crafted to maintain its richness in flavor. So, guests are assured that every bite is worth the wait.
Menu: Sarabeth's Kitchen Key West Menu
Top Review: "Wow! I think Sarabeth's will be my go to spot for breakfast whenever I am in key west. Looking forward to trying out  lunch and dinner. I had a traditional breakfast and also tried their shrimp and grits breakfast with avocado and sausage. Phenomenal! The key lime pie french toast was also delicious. Service was excellent and the food was served quickly!" – Osiris F.
530 Simonton St, Key West, FL 33040; (305) 293-8181
Frenchie's Cafe
Have you ever wondered what traditional French cuisine added with local Cuban flavors of Key West tastes like? Frenchie's Cafe definitely does not disappoint.
Capturing these two unique flavors is a must try to every guest traveling the area. 
Start your day with some of the featured breakfast options at Frenchies Cafe. Among the local favorites are Croque-Madame Breakfast Sandwich, Quiche Lorraine, and Make Your Own Omelette. These dishes are carefully prepared with Parisian flavors.
Head on over and stop by Frenchies Cafe. Enjoy a meal that can give you energy to start your day.
Menu: Frenchie's Cafe Menu
Top Review: "First timer visit. I had a lovely piece of homemade quiche for lunch today, veggie quiche with Swiss cheese and zucchini/other veggies. They offered a choice of sides and I got the fresh garden salad with their signature dressing. I can't say enough great things about this meal. Service and a conversation with the owner were excellent as well. Thank you "Mr. Frenchie!!" – Jennifer L.
529 United St, Naval Air Station Key West, FL 33040; (305) 396-7124
Blue Heaven
Guests that are always on the hunt for a good breakfast sandwich, Blue Heaven should definitely be at the top of your list.
It is a well-known destination in Key West because of its mouthwatering food choices.
Their Breakfast Sandwich is not the only thing that is popular in this restaurant; their Shrimp And Grits, Bakery Fresh Homemade Granola, Rooster Special, and blueberry pancakes are carefully crafted with the freshest ingredients.
Enjoy al fresco dining at Blue Heaven and jump start your day with their unique food selections.
Menu: Blue Heaven Menu
Top Review: "Updating to 5 stars because the wait staff as well as the food really is top tier. I had some of the best shrimp and grits I've had in a very long time. They creamy and cheesy and the shrimp was seasoned so well!! Went here with my mom for breakfast. Didn't have a rez but wait time was about 15 mins. Once seated our waiter Danny was super attentive and so chill, it was great. Sometimes you get really animated wait staff trying to get tips out of you but he was so nice and chill and just nice to talk to. He took everything down and we had our food shortly after. And when I tell you he never let my coffee get lower than half full .. he was so attentive. Definitely considering making this a yearly tradition when I come down to KW." – Cheyenne B.
729 Thomas Ln, Key West, FL 33040; (305) 296-8666
Harpoon Harry's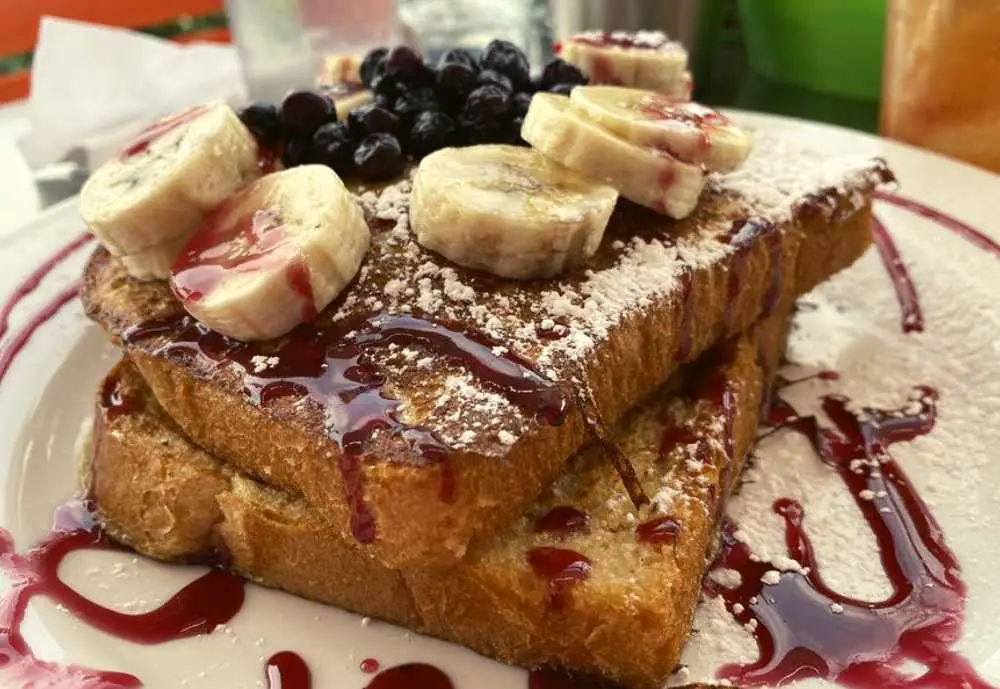 Known for their home-cooked food, Harpoon Harry's have been serving Key West with meals just like how your mother used to make. They are considered one of the popular choices for breakfast options in the area. 
Harpoon Harry's is the go to place if you are looking for traditional breakfast options that are home-made.
Some of their many featured breakfast dishes are the Key Lime Pie French Toast, B.E.L.T Sandwich, and Biscuits and Sausage Gravy.
With all these delicious breakfast options, you will definitely find yourself coming back for more.
Menu: Harpoon Harry's Menu
Top Review: "I looked for a good place for breakfast, other than my hotel, so followed Yelp's recommendation to this place. It seems like an ordinary diner, but very busy, showing that a lot of people rely on this place for breakfast. I usually start the day with coffee, but it was so hot out, I was pouring with sweat. I asked for iced coffee, although I didn't see it on the menu, and they have it. A tall glass of it was the perfect way to start this day. The best thing on the menu was biscuits & gravy, my favorite, so I ordered it with eggs. It was so good I finished off the whole thing and wanted to lick the plate." – Nat F.
832 Caroline St, Key West, FL 33040; (305) 294-8744
La Grignote
While planning for a hectic schedule ahead, start your day right by trying out La Grignote, Key West's artisan French bakery cafe bistro.
They offer a full breakfast menu including the classic Eggs Benedict, Quiche, and Croque Monsieur.
Complete with a quaint exterior and a homely interior, the atmosphere is perfect for enjoying a scrumptious comfort meal first thing in the morning.
Menu: La Grignote Menu
Top Review: "I was pleasantly surprised at how good the food was the ambiance of the restaurant and how pleasant and nice the owner were. My son and I enjoyed our experience very much. The smell of the fresh baked pastries and breads fills your senses  I highly recommend to give a try for sure is my favorite place for breakfast or lunch thank you for the great food and service" – Luigina M.
1211 Duval St, Key West, FL 33040; (305) 916-5445
Firefly Key West
Looking for a restaurant that specializes in modern Southern Cuisine? Firefly Key West is the best choice for you. It is an independent, chef-driven restaurant that has served good southern dishes to its local diners and guests.
Established in 2013, Firefly Key West has been creating tasty dishes that are a mixture of traditional and modern techniques ensuring quality products.
Try their popular dishes such as the Hash Brown Casserole, Chicken & Waffles, and Eggs Creole. You can also try their featured dessert, the Key Lime Cake. 
All dishes served at Firefly Key West have a richness in flavor that is tasty and delicious. So, what are you waiting for? Head off to this breakfast spot and grab a hearty bite.
Menu: Firefly Key West Menu
Top Review: "Made a reservation for brunch on 4th Of July expecting a mad house – what we got was serenity and yummy food. We got there soon after opening to a calm restaurant that was full by the time we left, but hadn't noticed because of the calm in which the table was waited, low noise level – both kids ordered biscuits and gravy, husband ordered cast iron shrimp and grits, I ordered the bacon egg cheese biscuit – we all tried all of the food and downed almost every bite – it was such a nice calm meal – if we lived there we would definitely be regulars" – Michelle P.
223 Petronia St, Key West, FL 33040; (305) 849-0104
Banana Cafe
If you are looking for crepes both savory and sweet for your breakfast, Banana Cafe is the go to place in Key West.
Indulge in their carefully crafted specialties such as the La Seafood Crepe, Inside Out French Benedict and the Fresh Herb & Potato Omelette, all of which are favorites among its guests. Your taste buds will surely be satisfied with their mouth watering dishes.
Banana Cafe also offers other specialty dishes aside from the popular tasty crepes. Give it a try for their Mimosas, Roasted Duck, Eggs Benedict, and sandwiches. Your cravings will surely be satisfied with their food choices. 
Menu: Banana Cafe Menu
Top Review: "Banana Cafe was just what I needed. I ordered eggs and bacon, it came with toast but had the option of choosing a croissant which was really good! I ordered a French vanilla latte and it was perfectly made because they also use Queen Coffee. My husband had a cafe con leche and ordered a Belgium waffle with bananas. I finished it with a mimosa. He was happy we chose this place and I'm glad too, they had AC inside and it felt perfect to cool down." – Amneris M.
1215 Duval St, Key West, FL 33040; (305) 294-7227
Breakfast is an essential meal that everyone should include in their daily schedule. Many people like to have it at a diner or coffee shop as they are often quick and convenient. With the list of local diners and restaurants mentioned above, guests are always assured of tasty and savory dishes to eat for breakfast. Head off to one of these recommendations and enjoy a hearty meal before you start your day.
---
Did we miss a spot that deserves to be mentioned? Shoot us an email at: [email protected] Thank you!
---
You might also like:
best breakfast in key west, breakfast key west, breakfast restaurants key west fl, breakfast in key west, key west brunch spots, breakfast places in key west, best breakfast in key west 2022, cuban coffee queen, sweet and savory crepes, best breakfast restaurants, cream cheese, key lime french toast, breakfast key west, best breakfast in key west 2022, best breakfast in key west, breakfast in key west, southernmost beach cafe, fresh local seafood, pressed cuban bread, hot tin roof