Good morning, sunshine!
The breakfast scene is fantastic in Phoenix, as you will see, dear reader. So if you are needing to find that breakfast spot that can scratch your hankering, you've come to the right place.
Read on for the best breakfast spots in Phoenix!
Vovomeena
Vovomeena is the perfect place in Phoenix if you're looking for a morning pick-me-up. The breakfast restaurant serves a mix of cuisines from America, Europe, and Mexico.
Their creative menu items are filling, and their egg dishes are great here (try their Mexican benedict!). They also have different coffee variations that can help wake you up entirely.
Other great recommendations include the Orchard French toast, pain perdu, and savory crepes.
Menu: Vovomeena Menu
Top Review: "Amazing! Sweet, corner restaurant almost hidden but so very worth it! The food is unique riffs on your favorite breakfasts.  We visited twice in our week long vacation because it's hard to choose! The first time I enjoyed the poached eggs and bacon with a bisquit and the second time bisquits and gravy with over easy eggs. Eggs are perfectly prepared. Hubby had a southwest benefit with chorizo on sopes with spuds. Then he had the Orchard Frech toast with challah bread. Marscapone, honey,  apple slivers, bacon on the side. Delightful! You can order special coffee, including cold brew, and even buy the beans to take home. The owner is so friendly and pleasant and the staff are great. So worth your time! Sweety decorated.  Even the restrooms!  Indoor and outdoor seating available. Free parking on two sides of the restaurant." – Cynthia M.
1515 N 7th Ave Ste 170 Phoenix, AZ 85007, (602) 252-2541
Matt's Big Breakfast
Considered the best brunch in Phoenix, Matt's Big Breakfast is a downtown staple.
The popular spot offers brunch classics. They do incredible pancakes, they do bacon justice, and anything with chorizo comes highly recommended.
They also have multiple locations, so you can't miss them! Other flavors to try are the hog and chick, the five spot platter, the salami scramble, and the chop and chick.
Menu: Matt's Big Breakfast Menu
Top Review: "Ordered the Hog and Chick. The pork chop was so tasty and tender. Delicious can't even explain the taste. Eggs were cooked to perfection. The cold brew Big Breakfast coffee is nice and STRONG. I'm overall really impressed with the service and wait staff. They have it down like a well oiled machine. Very good dining experience. Recommend eating here for anyone who loves breakfast and good service." – Douglas S.
825 N 1st St Phoenix, AZ 85004, (602) 254-1074
Original Breakfast House
They have seasonal dishes that are also great, locally-sourced ingredients, and everything is made in-house. The weekend crowd here is real, so be prepared for a bit of wait time.
Original Breakfast House is a classic diner with a bit of its own take on breakfast classics.
Popular recommendations are the chicken fried chicken, chicken fried steak, El Paso omelet, and five egg white scramble.
Menu: Original Breakfast House Menu
Top Review: "The food was amazing and this establishment should be rated, if not by Michelin, then certainly by Zagat. Everything from the food to each of the sauces is made in-house. All the food is locally sourced. We had the Key Lime Pie Pancakes with blackberry coulis, the bacon and potato omelet, and the CALI BEACH BURRITO (Large flour tortilla stuffed with French Fries, bacon, scrambled eggs, pepper jack cheese, avocado, tomato, and their creamy salsa. Toasted on the grill). Of note, the coffee is also exceptional that comes from a local roaster." – David K.
13623 N 32nd St Phoenix, AZ 85032, (602) 482-2328
Scramble, a Breakfast and Lunch Joint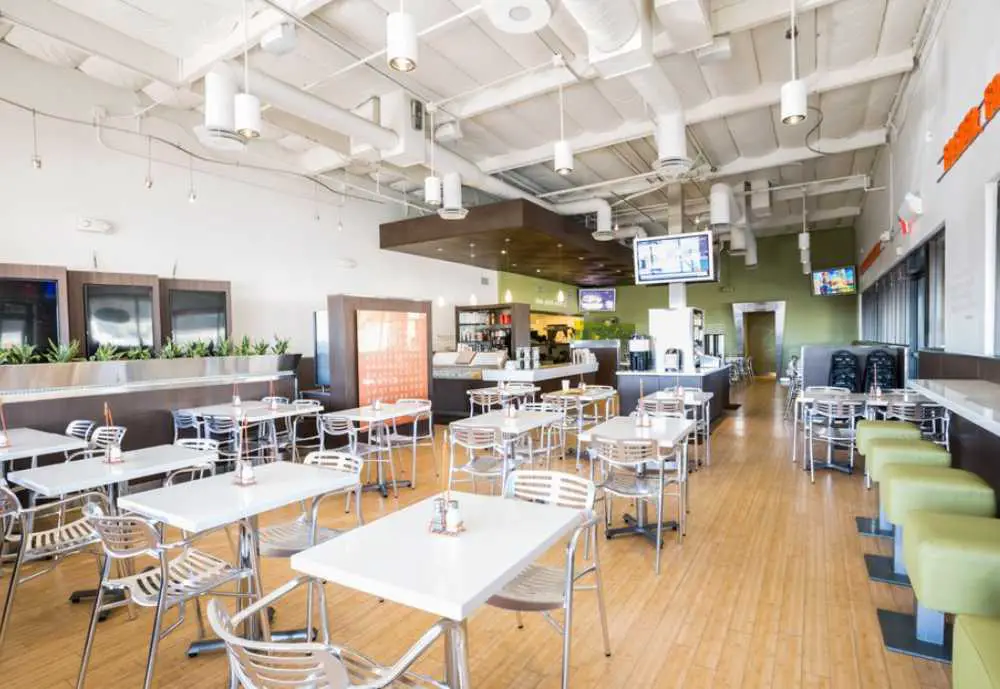 Scramble, a Breakfast and Lunch joint is a trendy spot with all-day breakfast.
Their ingredients are locally-sourced and have many healthy alternatives for vegans, vegetarians, and gluten-free diets. It's a counter-service place with a dog-friendly patio.
Their breakfast pizza is a popular choice here, but you can also get their French toast, breakfast burrito, or Santa Fe eggs benedict.
Menu: Scramble's Menu
Top Review: "We brought 3 of our granddaughters for breakfast the other day and we all had a great time. Our 13 year old granddaughter got the banana pecan pancakes which we had never seen but we were thoroughly impressed and so was she. 2 huge pancakes topped with nuts and bananas looked super yummy. Our other 2 granddaughters got the cinnamon rolls and were their eyes huge when they saw the "scoop" of frosting on top! They loved them. Great morning, relaxing, yummy and so fun!! Thank you Scramble! Now we have to bring the flock  to try the Pupcakes and see what they think" – Joan C.
9832 N 7th St Ste 1 Phoenix, AZ 85020, (602) 374-2294
Ollie Vaughn's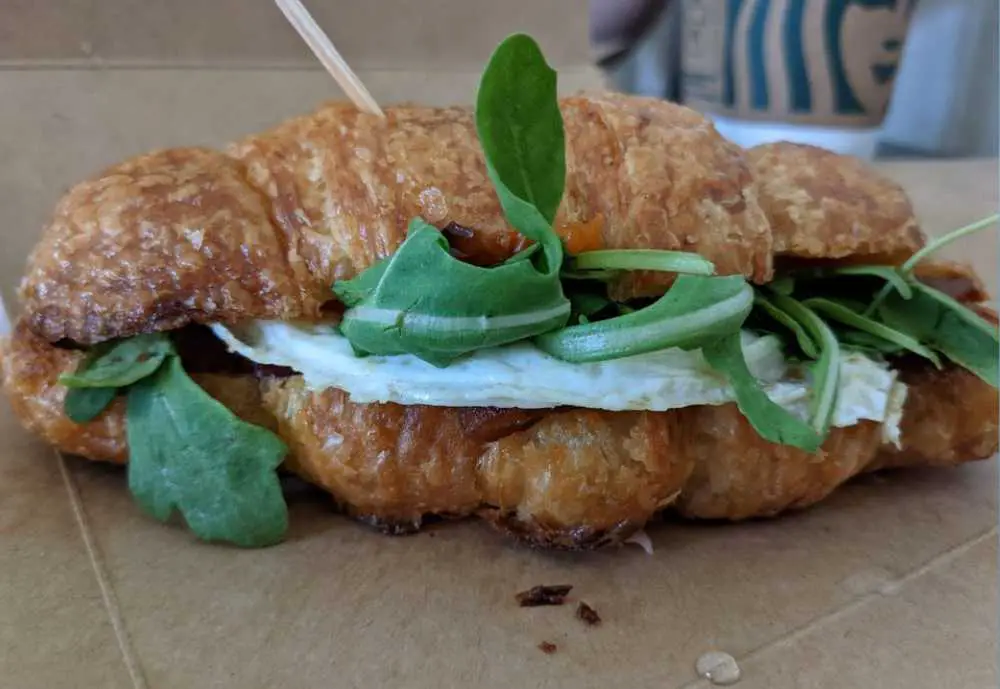 At Ollie Vaughn's, pastries and baked goods are the stars of the show. Their specials have more creative menu items, but they serve classic American breakfasts like their biscuits and gravy.
It's a homey and relaxing place that can be a respite from the busy downtown Phoenix.
Other things you can try are the breakfast sandwich, quiche, almond croissant, or veggie breakfast sandwich.
Top Review: "I had found this place on my way to work the other day and it has honestly became on of my favorite breakfast spots in phoenix. All the employees are so friendly and the breakfast sandwich is to die for. The toasted onion bun is tooo good!" – Devan M.
1526 E McDowell Rd Phoenix, AZ 85006, (602) 254-1392
Fame Caffe
This counter-service café is a trendy brunch place in Phoenix. Fame Caffe is a farm-to-table establishment with Mexican and French dishes made from scratch daily.
The French toast, Croque madame, breakfast wrap, and avocado toast are highly recommended.
The ambiance is also great, with a modern rustic décor all over.
Menu: Fame Caffe Menu
Top Review: "Fame is still great. I had Huevos ranchero which was great, with guacamole, cojita cheese and homemade sauce. I ordered an extra  side of roasted potatoes for dipping into the sauce, I highly recommend this addition as the potatoes compliment the egg dish well. Hubby had to have croque madame – which he loves. Fame has not lost a beat since we first tried them 5 years ago." – Kris L.
4700 N Central Ave Phoenix, AZ 85012, (602) 314-4660
Sugar Jam Southern Kitchen
Sugar Jam is a popular brunch spot for the locals, and it's because this place does brunch well.
The ambiance is inviting, with lots of natural lighting and bistro décor. Their popular menu items like French toast, fried chicken wings, and salmon croquettes are served in generous portions too.
If you're coming on a Friday brunch, they have a DJ playing to spice up the whole experience.
Menu: Sugar Jam Menu
Top Review: "SugarJam is THE SPOT!!!  The ENERGY, the service, the smiles, the food, the bakery, it's all on point and always consistent.  I met the owner Dana years ago offsite in Old Town and I was obsessed with her sweet potato and peach cobbler mini pies. Fast forward and now she's got my favorite brunch spot in Arizona. If you haven't been here, you are missing out! I would recommend a reservation (online only) because this place is a full house on the weekend. They have a house DJ Friday-Sunday,  the best food you could ask for and the patio is dog-friendly . Her menu boasts the southern comfort food of your dreams.  I get the Creole Shrimp & Grits with Crab every time I go because I'll never get tired of eating it! The pulled pork hash is so flavorful. Heard amazing things about the Parisian French toast and the waffles. I've eaten here alone and I've been here with larger parties and each and every time it's consistent. Can't wait for our next visit!" – Ashley R.
15111 N Hayden Rd Ste 170 Scottsdale, AZ 85260, (480) 948-6210
First Watch
First Watch is a simple, cozy, comfortable place and somewhere you can go back to again and again. Everything they put out is fresh and made that very morning.
They also have healthy alternatives, so there's something for everyone.
Try their avocado toast, eggs benedict, French toast, and lemon ricotta pancakes for breakfast.
Menu: First Watch Menu
Top Review: "From the moment I walked in, the staff, the ambiance, and the environment were warm, pleasant, and comfortable. Coffee is hot, tastes great, and is served with a bottomless carafe. Also known for delicious juices that work well for a positive gut biome! The menu selections are simply crafted but with plenty of variety. I enjoyed Eggs Benedict Florentine, and the hollandaise sauce was not heavy and had excellent flavor! If all locations are this we'll run, I will ensure it is on my future rotation. Currently visiting in AZ at the 9645 N Black Cyn Hwy E location, I was happy to find there is a location in Broken Arrow, OK, closer to home!" – Charles S.
9645 N Black Canyon Hwy Phoenix, AZ 85021, (602) 943-3232
---
Did we miss a spot that deserves to be mentioned? Shoot us an email at: [email protected] Thank you!
---
You might also like:
breakfast places near me. breakfast restaurants near me, best breakfast near me, breakfast burritos, breakfast burrito, breakfast phoenix az, breakfast phoenix, best breakfast phoenix arizona, best brunch in phoenix