Looking for the best pizza in Charlotte? Well, pizza lovers, rejoice! Charlotte, North Carolina is home to a plethora of drool-worthy pizzerias serving up everything from classic New York-style slices to gourmet Neapolitan pies.
Whether you're craving a cheesy, meat-packed masterpiece or a simple Margherita, the Queen City has a pizza spot that will have your taste buds singing. So, whether you're a local looking for a new pizza joint or a traveler searching for the ultimate pizza experience, grab a slice and join us on a culinary journey through some of the best pizza spots Charlotte has to offer!
Inizio Pizza Napoletana
Inizio Pizza certainly has some of the best pizza in Charlotte. They're all about the "art and craft of true wood-fired pizza Napoletana."
Their handcrafted Neapolitan-style pizzas make them a local favorite. Plus, they have friendly and quick service and imported gelatos you need to get for dessert.
People recommend getting the Raffaele, Diavola, Pistacchio, and Bianca pizza.
Menu: Inizio Pizza Menu
Top Review: "If you're half as much into pizza as me you have to try Inizio.  I am usually a die hard classic pizza fan but I have to admit whenever Inizio comes out with a seasonal pizza like their zucchini pumpkin I'm never disappointed.   Even their pesto pizza is a must try if you love garlic.   The speed of their pizza cooking in their artisan wood fired ovens always produces a unique delicious experience which brings me back.   Don't forget to checkout their gelatos and cannoli options as well from their friendly staff." – Paul N.
10620 Providence Rd Ste A Charlotte, NC 28277, (704) 846-8909
Capishe Real Italian Kitchen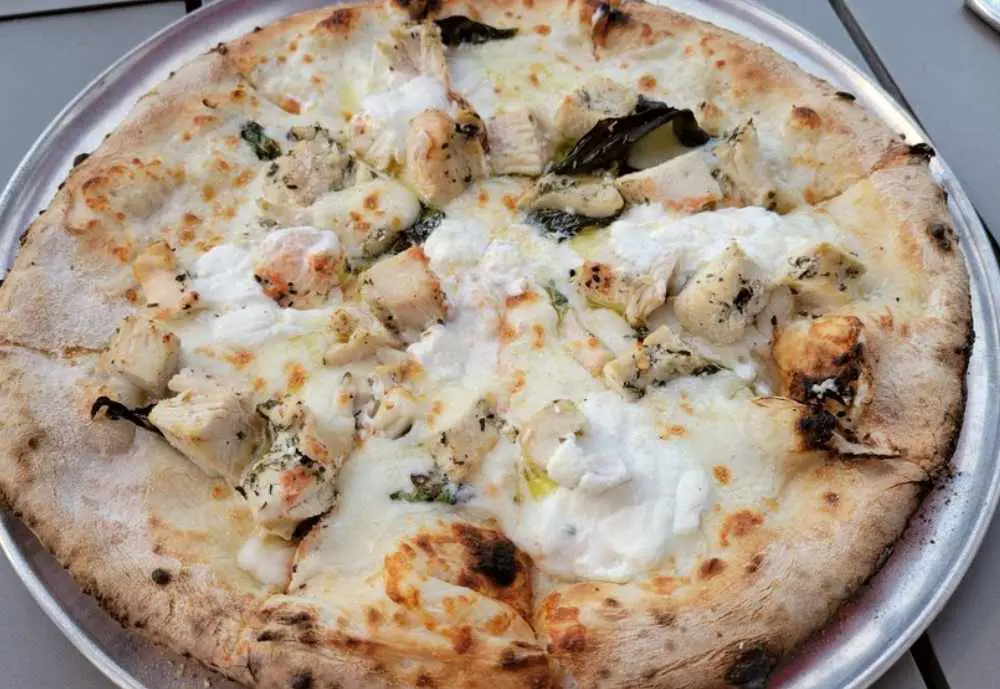 Capishe Real Italian Kitchen is a family-friendly restaurant with bright lights and a rustic interior. They are a fast-casual Italian spot with quick service and reasonable prices.
As for their pizzas, they're wood-fired, come out with charred crust, and are incredibly well-seasoned.
They also have other Italian dishes to choose from and, of course, gelato for dessert! Try their San Lorenzo pizza for the complete experience and some of the best pizza in Charlotte.
Menu: Capishe Menu
Top Review: "Best pizza I have ever had. My husband, who typically likes his pizza with meat and other toppings, gets the cheese pizza at Capishe because it is so darn good and you don't mess with perfection. They also have great pasta and desserts, but if nothing else, you have to get their pizza. We drive to Dilworth from Huntersville every weekend for this pizza." – Danielle V.
500 E Morehead St Ste 100 Charlotte, NC 28202, (980) 819-9494
Pizzeria Omaggio
Pizzeria Omaggio is another restaurant at the top of the pizza list in Charlotte. It's a small Italian restaurant with artsy décor and aesthetics.
You can choose a red or white sauce for your pizza, but both are good. They serve thin-crust pies with crisp edges, and people say they're not too greasy.
People say to try the Prosciutto Funghi, trio pizza, or Margherita pizza. You can also pair it with any of their other Italian dishes.
Menu: Pizzeria Omaggio Menu
Top Review: "Always the best food and the best service! Eaten here multiple times and have never been disappointed. Just recently tried the Bucatini Amatriciana pasta and Calabrese pizza with 'nduja spice. Ottimo! Limoncello and the hazelnut brownie topped off our night and we couldn't have been happier. Must try restaurant in Charlotte!" – Kait S.
1055 Metropolitan Ave Ste 130 Charlotte, NC 28204, (704) 370-0777
Portofino's Italian Restaurant
Portofino's is known for its authentic and extensive menu of Italian plates. They have multiple locations in the city, each with a friendly and comfortable atmosphere.
Their pizzas are made from housemade dough and are packed with flavor. Plus, they've got reasonable prices and amiable staff.
Menu: Portofino's Menu
Top Review: "THE BEST PIZZA IN TOWN!!!!  Just had our first pizza from Portofino's on Eastway (Charlotte, NC). Incredible, and I'm not a pizza person — I was ready for another one of their pizzas right after that first one! The ingredients are fresh and delicious and the crust — oh the crust! — was light and crispy all the way through, even the bottom crust (which on most pizzas is never crispy)!" – Diane E.
3124 Eastway Dr Ste 510 Charlotte, NC 28205, (704) 568-7933
Luisa's Brick Oven Pizza
Luisa's is the perfect place to bring the family! It's a family-friendly pizzeria that has some of the best pizzas in Charlotte!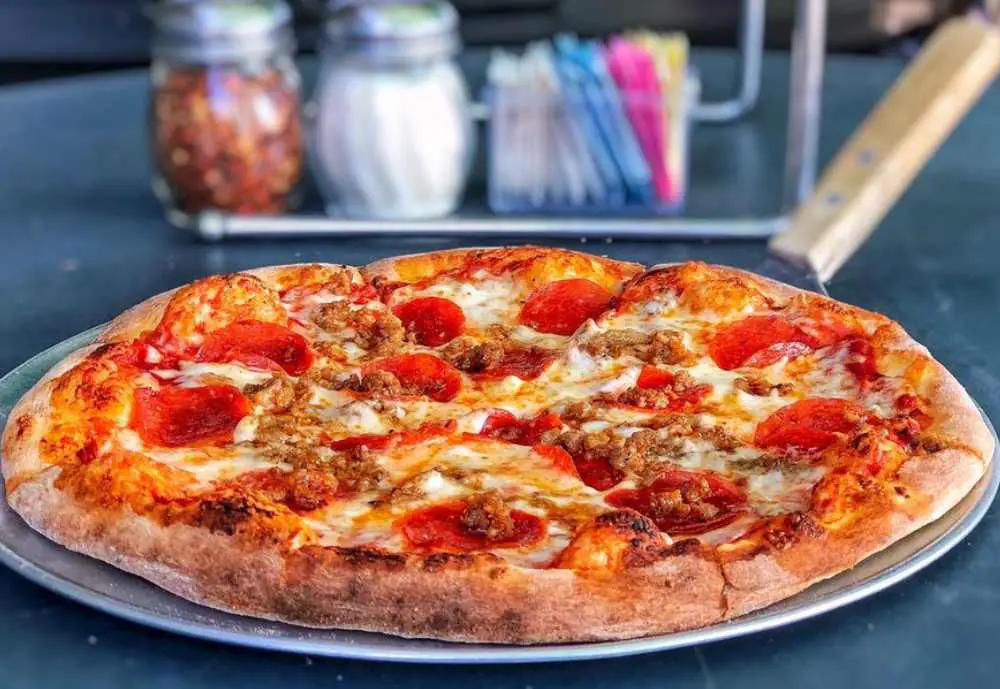 Their pizzas have a thin and crunchy crust with fresh ingredients and are cooked in a brick oven. They've a quick service where pizza orders come out fresh and hot.
They also have a lunch buffet, other Italian dishes, and beer and wine. Try them out for some of the best pizza in Charlotte!
Menu: Luisa's Menu
Top Review: "So far, the pizza here is my favorite.  I like hand tossed, thin crust pizza and this was delicious.  Husband and I ordered large pizza and side salad for lunch takeout.  The order was ready quickly and we were on our way back to son and daughter-in-law's home. They liked it, too. We probably should have ordered 2 pizzas.  Definitely, remembering to return here next time we are in Charlotte." – Deborah N.
1730 Abbey Pl Charlotte, NC 28209, (704) 522-8782
Geno D's Pizza
Top Review: "Listen, Geno D's is one of Yelp's Top 100 for a reason. Their signature pies are awesome, from the Hot Honey to the Grandma special. I'm also mildly obsessed with the pizza knots. On today's visit, I finally ventured away from my usuals and tried a sandwich. The Meatball Parm pressed in thick fluffy focaccia with a side of marinara to dip it in had me literally doing a happy dance in my seat! To complete my carb fest, I enjoyed a side of cinnamon sugar dusted knots and rolled myself back home for a much needed nap!" – Desiree P.
Menu: Geno D's Menu
224 E 7th St Charlotte, NC 28202, (704) 900-5202
The Crust Pizza
The Crust Pizza is a top-notch spot for those who crave delicious Midwest-style pizza, scrumptious salads, and mouth-watering oven-baked subs. Their menu is simple, yet packed with flavorful items made using only fresh ingredients that are prepared daily.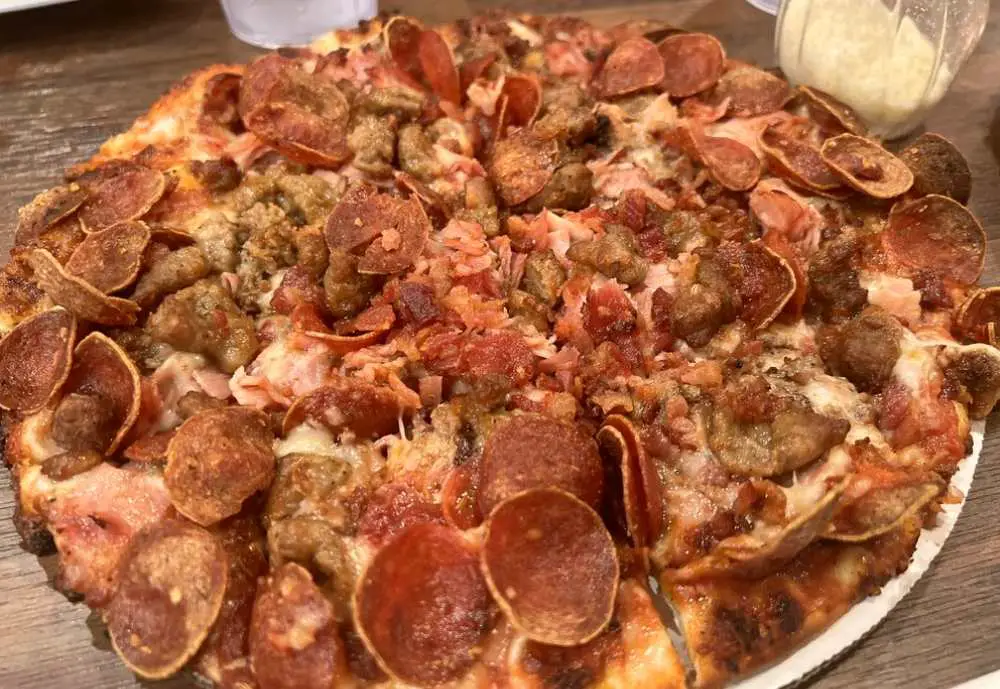 Their signature pizza is a must-try! They use their unique house-made dough that is crispy and flaky on the bottom, soft and airy on top, and then top it off with your choice of fresh, plentiful toppings that are coated edge to edge.
The Crust Pizza team can't wait to serve you and provide you with a mouth-watering experience that you will remember for a long time. Visit them today and enjoy their exceptional menu options – The Crust has some of the best pizza in Charlotte!
Menu: The Crust Menu
Top Review: "Crispy pizza is my favorite. Neapolitan style is typically my favorite but doesn't work well as a takeout. This is the best takeout pizza in Charlotte. Hands down. I ordered a pepperoni and olive that was perfect. I also ordered a small bacon and pineapple and got it cooked "well done" due to the moisture in the pineapple. Perfect execution on a Saturday night. I'll be back asap." – Will S.
1600 E Woodlawn Rd Ste 250, (704) 800-5584
You might also like drooling over these pizza articles:
pizza near me, pizza charlotte, charlotte pizza, best pizza charlotte, best pizza in charlotte