There's no shortage of amazing breakfast spots in Tampa Bay, Florida. Whether you're looking for a quick bite before hitting the beach or a leisurely meal to start your day, you'll find everything you're looking for – and more – in Tampa Bay.
From classic breakfast fare to unique twists on traditional dishes, there's something for everyone in Tampa Bay. So whether you're a local or just visiting, be sure to check out some of the best breakfast spots in Tampa Bay!
Mamas Kitchen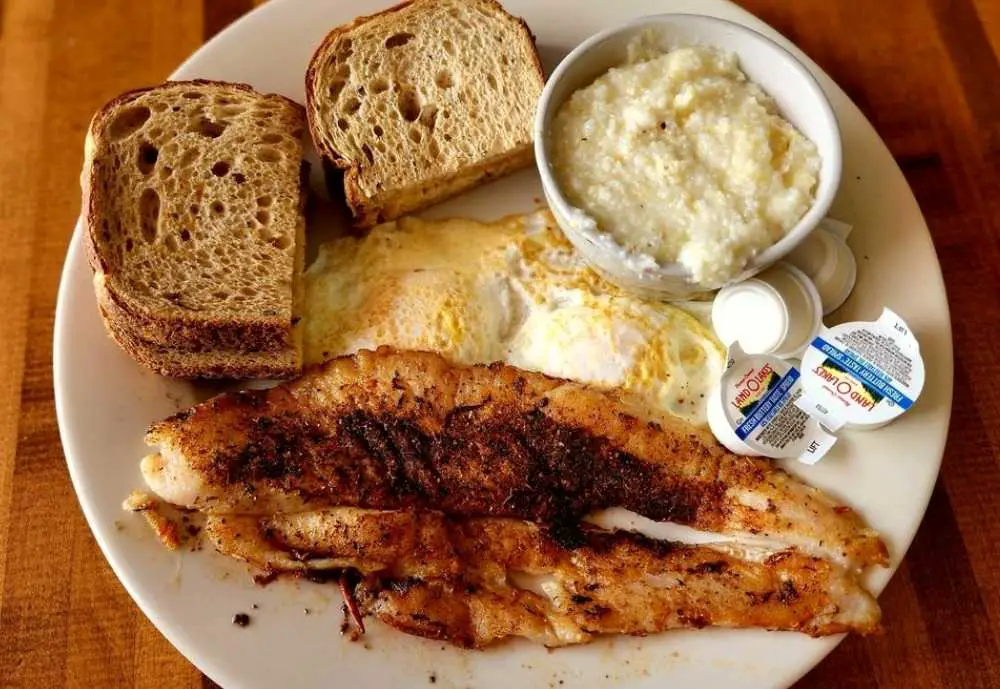 Savor the warmth of a home cooked meal at Mamas Kitchen, a family owned restaurant devoted to crafting quality meals from scratch.
Untitled - October 24, 2022
Their 2 Eggs with Fish and Grits plate is great for anyone craving a rich, savory and nutritious breakfast.
Alternatively, The Heart Attack Omelet is a scrumptious treat made with four eggs, onions, peppers, bacon bits, ham, gyro meat and American cheese.
Menu: Mamas Kitchen Menu
Top Review: "Can Tampa be wrong about Mamas? Nope open till 3 on Sunday. Stopped in for brunch – extensive menu waffles, pancakes, skillets with some interesting twists, meat lovers with bacon, ham,sausage, and gyro meat. Lots of sandwich options for lunch, salads. Mimosa, beer, bloody Mary's. We tried the gyro skillet, very good. Taziki on the side, gyro meat chopped up with well done onions. Tried the French toast burger, which was good for those liking the sweet n savory. Overall Mammas for the win" – Karen S.
9312 N Florida Ave, Tampa, FL 33612; (813) 932-7111
Himes Breakfast House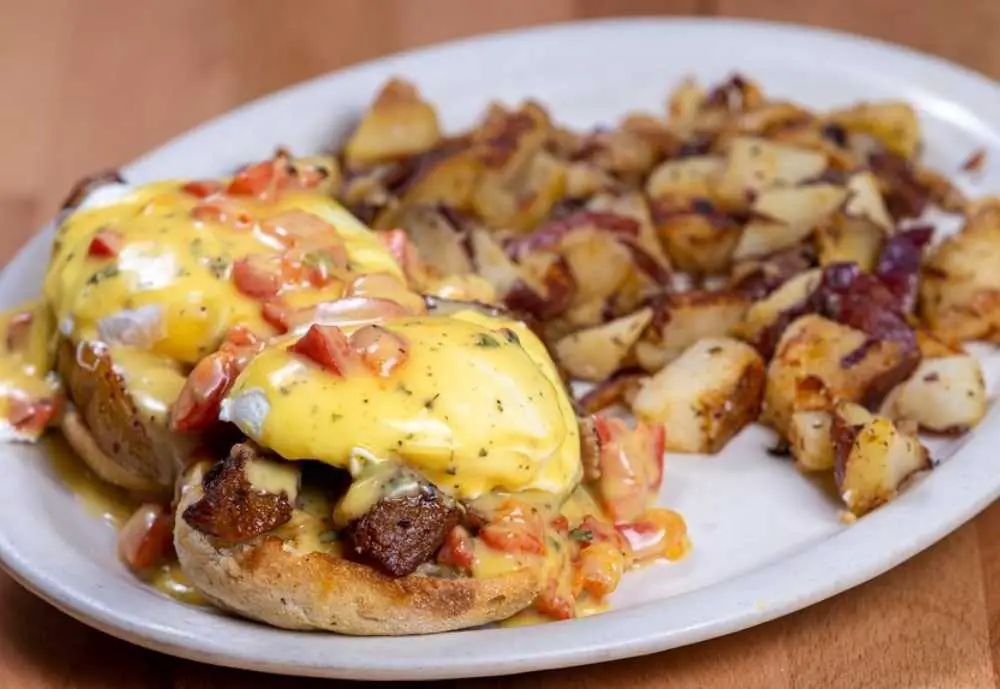 Himes Breakfast House is an ideal place to share a delicious morning with loved ones.
Spoil yourself with a plate of crispy and sweet banana split waffles.
Indulge in a more hearty breakfast and try out the pork belly benny plate, served with potatoes.
Menu: Himes Breakfast House Menu
Top Review: "I ate my food too fast I didn't even get my picture! Ordered country fried steak and Belgium waffle! The country fried steak was great and it came with eggs and home fries. The sausage gravy was to die for. The country fried steak was crispy and well seasoned. The home fries were well seasoned but could have used some more time cooking.  Great meal! My only complaint is that the serving size was small. Definitely in the smaller side for country fried steak. However the waffle with their homemade vanilla bean espresso maple syrup. Life changing!!! Highly recommend checking this place out!" – Therese T.
3826 S Himes Ave, Tampa, FL 33611; (813) 835-7363
Marlene's Original Breakfast Sandwich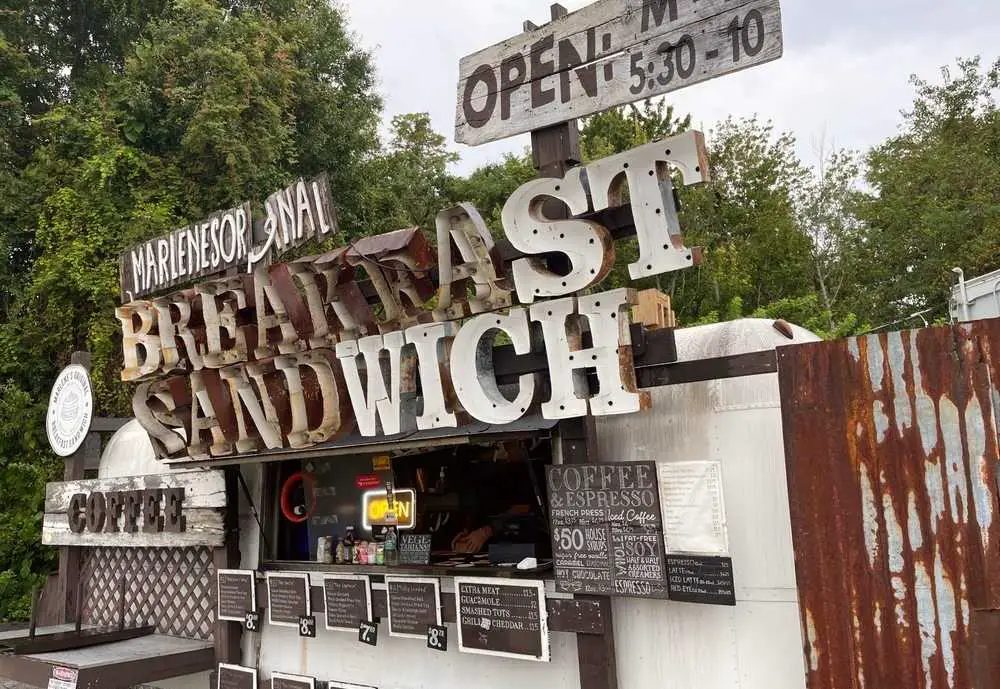 Inspired by a legendary sandwich recipe developed by Marlene Jurgensmeyer, Marlene's Original Breakfast Sandwich passes on the magic to Tampa for all to experience.
Scrambled eggs, cheddar cheese, baby spinach, chives, and cilantro are yours to enjoy when you order #6 The Scramble, seasoned with MOBS Zesty Sauce and sandwiched in a French croissant.
#4 Fully Loaded is a Cuban breakfast roll with fresh cracked fried egg, sausage, extra bacon, grilled onions, cheddar cheese, and maple drizzle.
Menu: Marlene's Original Breakfast Sandwich Menu
Top Review: "I'm not a big breakfast person unless I'm hungover but I really wanted to try this out based on the reviews. I was afraid of the wait because I had to get to the office and I found out you could text them your order. I was surprised you could do this for a food truck. They also have a special of a $1.50 off a drink if you order before 10.  The sandwiches were great and the iced coffee. They have a punch card but since i'm not from the area no need to take one. Team was really friendly. I recommend for everyone to check this place out for breakfast!" – Valerie N.
7206 N Dale Mabry Hwy, Tampa, FL 33614; (813) 499-6627
Shelly's Cafe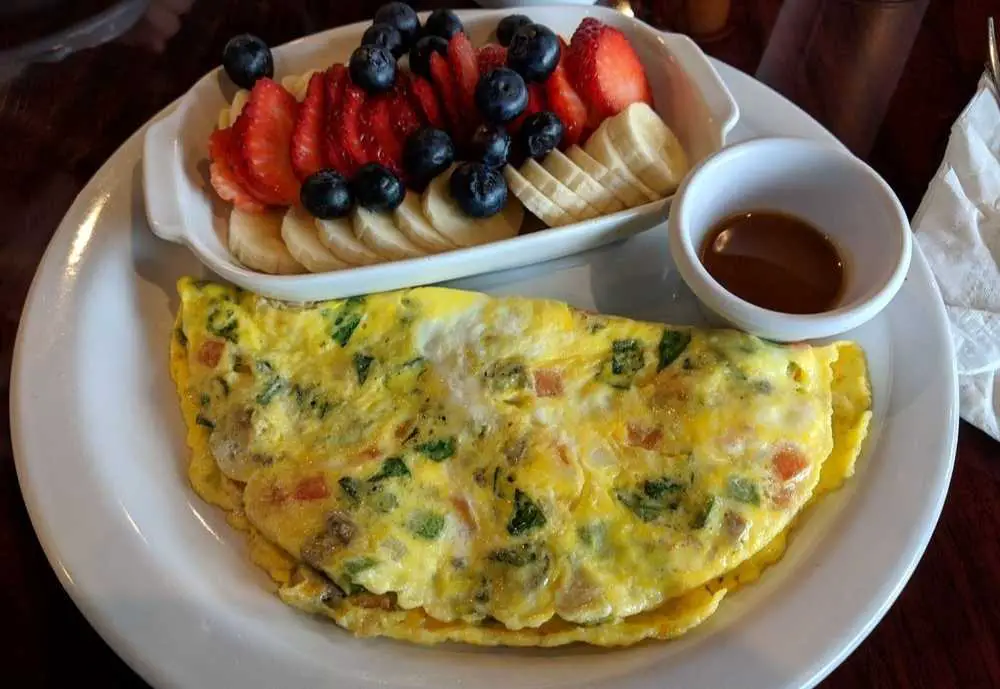 Shelly's Cafe is a pleasant destination for folks craving a classic breakfast and a cozy environment. Topped with fresh fruits and powdered sugar, Shelly's French Toast is a great choice for any occasion that calls for something sweet. Order a veggie omelet with fresh fruit and caramel sauce on the side for a hearty and healthy treat.
Menu: Shelly's Cafe Menu
Top Review: "I can't believe I never knew about this place! I was nervous to go during lunch time on a Sunday since it is usually a busy time for brunch but we were able to get right in and receive our food quickly. The sandwich pancake was honestly the best breakfast sandwich I've ever had. I literally can't stop thinking about it. Just something about the cheese on the pancake with eggs and ham is a combination I never knew I needed. I will definitely be back again to try more! Everything looked so delicious, service was great, and prices were awesome. I would definitely recommend checking it out!" – Darby C.
14837 N Florida Ave, Tampa, FL 33613; (813) 373-6108
Maple Street Biscuit Company – Carrollwood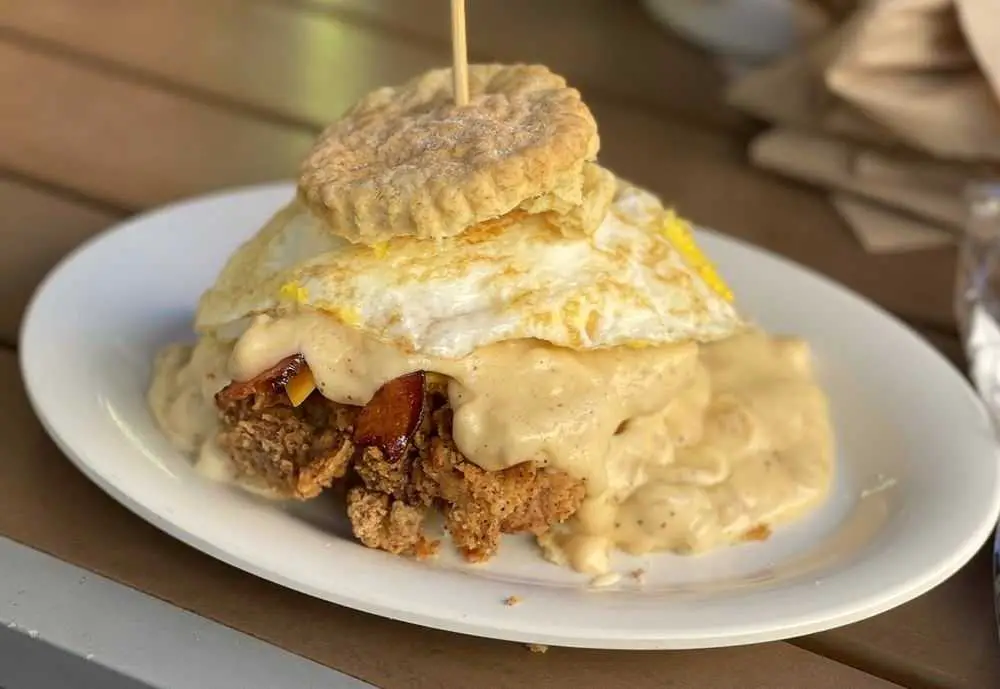 Since its founding in November 2012, Maple Street Biscuit Company has been serving people and the community with quality food and a tranquil environment.
Sink your teeth into The Five & Dime, a breakfast sandwich featuring fried chicken breast, smoked bacon, cheddar cheese, and fried egg blanketed in sausage (or shiitake) gravy.
One of their popular sides are the fried green tomatoes, served with buttermilk ranch.
Menu: Maple Street Biscuit Company – Carrollwood Menu
Top Review: "Super delicious breakfast! Fresh baked biscuits, tasty gravy! I got the eggs, chicken fried steak and biscuit (first photo) and I devoured it quickly! Wife got the eggs & biscuit with the gravy on the side. Coffees were tasty. We sat outside as the weather was so nice. They have biscuits with icing and I grabbed a dozen to give to my dog's allergy veterinarian & his staff. They loved the biscuits!" – Fritz E.
13028 N Dale Mabry Hwy, Tampa, FL 33618; (813) 442-5689
Daily Eats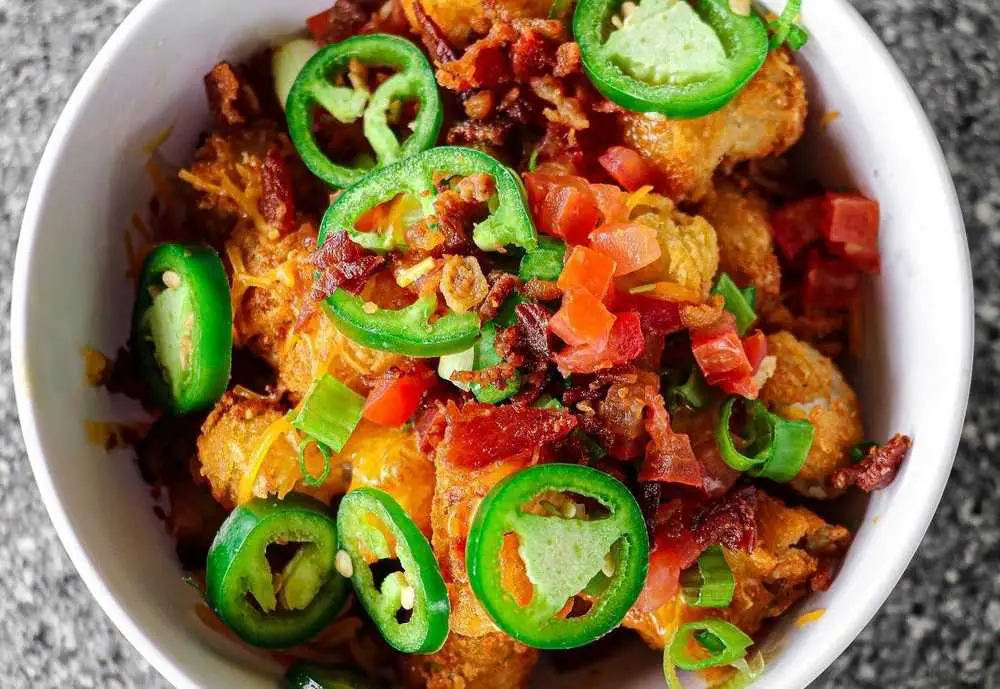 At Daily Eats, a modern diner with an upbeat atmosphere, one can expect healthy and delicious comfort food to energize any morning.
Enjoy classic French toast with an extra cinnamon-y crunch and try out the Chef's Famous Cap'n Crunch French Toast.
Dive into a mouth-watering bowl of scrambled eggs, cheddar cheese, corn, black beans, jalapenos, tomatoes, and turkey sausage with their popular Breakf-iesta Bowl, topped with cheese sauce, smashed avocado and scallion..
Menu: Daily Eats Menu
Top Review: "Stumbled on the Daily Eats when looking for a quick dinner option! I love diners and Daily Eats was super cute. Parking is pretty easy to find nearby in a lot or on the street. There's seating indoors and outdoors and we were seated almost immediately, even at peak dinnertime. I had the Fiesta Bowl which was absolutely delicious with lots of cheese and good heat. We also shared an order of French toast which was also made super well and dusted with powdered sugar. I love the breakfast all day and also more typical diner lunch/dinner options. Would definitely visit again next time in Tampa!" – Megha D.
901 S Howard Ave, Tampa, FL 33606; (813) 868-3335
La Segunda Bakery & Cafe
Inspired by a soldier's visit to Cuba, La Segunda Bakery & Cafe is a family owned establishment dedicated to serving people the finest Cuban bread for the past four generations.
Experience authentic Cuban bread when you order their avocado toast, complete with sundried tomato paste and crushed red pepper.
Try something sweeter with an apple turn over, a warm and scrumptious pastry with many buttery layers stuffed with rich apple filling.
Menu: La Segunda Bakery & Cafe Menu
Top Review: "Best Cuban bread anywhere. Worth a drive across the bridge, glad to see more locations than Ybor now, it saves a little time. Awesome guava pastries, apple turnover, individual pineapple upside down and Boston Cream! I prefer the flake meat pies, but empanadas are also very good. Goes without saying the Cuban toast, cafe con leche…or Cuban sandwich are tops. We're lifetime customers, multi generational tampanians…#1 for their specialty items!" – Annie C.
4015 W Kennedy Blvd, Tampa, FL 33609; (813) 540-9119
Girl and a Grill
Girl and a Grill was founded by Tampa chef April Page to provide high quality and affordable meals to fuel people's mornings.
Cheesy grits are a popular treat complete with bacon and eggs.
For a sweeter experience, a plate of pancakes is a fluffy and syrupy way to start the morning.
Menu: Girl and a Grill Menu
Top Review: "My family and I were greeted by the owner before reaching the door. Inside, the energy is high, and my son was thrilled to get a free snack (bag of chips). We ordered shrimp & grits and chocolate chip waffles for out little one. The food was prepared quickly and incredibly fresh. The amount of food on our plate was mode than I expected. We'll definitely be back." – Desarae P.
4330 N Nebraska Ave, Tampa, FL 33603; (813) 693-9181
Graze 1910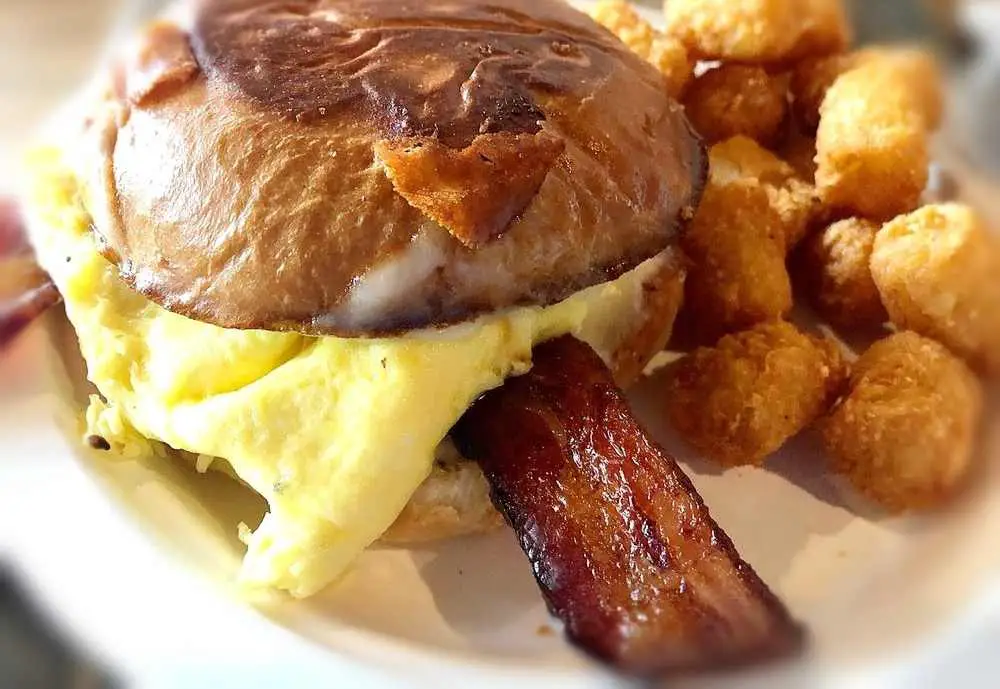 Enjoy a relaxing morning in the elegant and casual atmosphere of Graze 1910, a restaurant that has everything from comfort food to healthful meals.
Street Tots are a favorite for their incredible combination of toppings: cheese sauce, roasted corn, pickled jalapenos, and guacamole.
Take your tastebuds on vacation with the smoked salmon tartine, a slice of multigrain toast topped with dill schmear, spinach, smoked salmon, pickled onions, and scallions.
Menu: Graze 1910 Menu
Top Review: "Dale Mabry has a TON of options, but this place is a must try! My wife recommend it as a brunch spot and did not disappoint. We ordered ahead due to time constraints and feasted on a variety of options. All of the food was packed with flavor and was paired well with a mimosa. 10/10 would recommend!" – Jean G.
2219 S Dale Mabry Hwy, Tampa, FL 33629; (813) 819-2217
La Creperia Cafe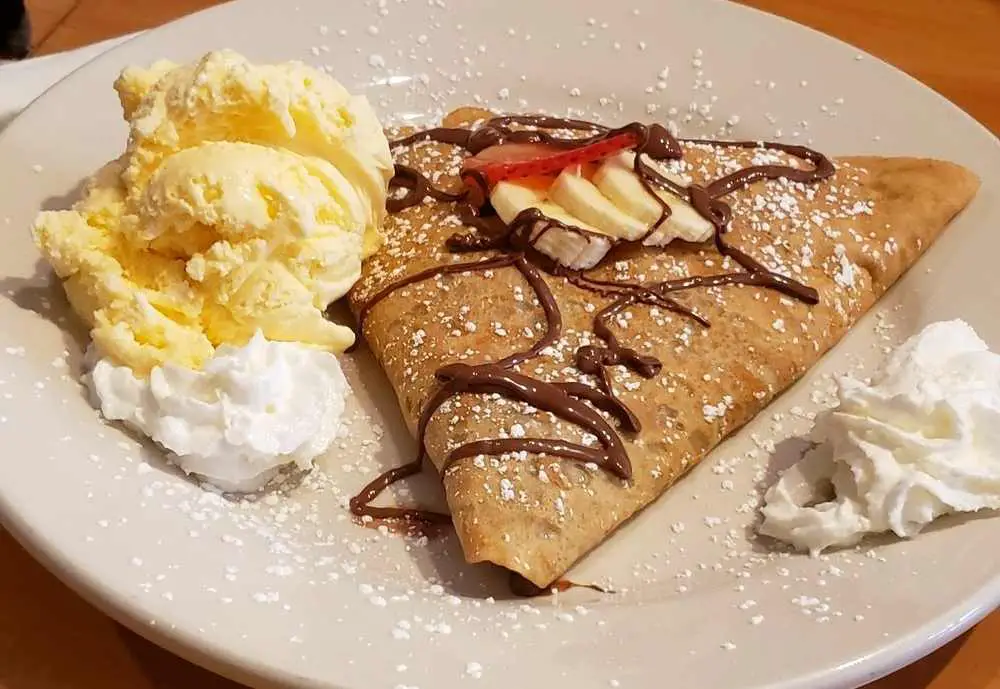 Immerse your senses in traditional French cuisine at the La Creperia Cafe, a place that brings France to Tampa.
One of their savory breakfast crepes on the menu is the Spinach Feast, made with cheese, egg, feta cheese, ricotta cheese, spinach, tomatoes and mushrooms.
La Versailles is a sweet breakfast crepe consisting of butter, cream cheese, and raspberry jam, topped with powdered sugar.
Menu: La Creperia Cafe Menu
Top Review: "Really impressed and excited that Tampa's historic Latin quarter can celebrate the presence of such a phenomenal creperie. The atmosphere is always inviting, the staff is pleasant, and the food is stellar. You can call me a semi-regular if you'd like as I love to have brunch here with my friends a few times each year. My personal favorite savory crepe is "La Prima" with tomatoes – highly recommended !!" – Tyler Z.
1729 E 7th Ave, Tampa, FL 33605; (813) 248-9700
No doubt about it, the best breakfast spots in Tampa Bay, Florida are definitely worth checking out! They each offer something unique and delicious that will definitely start your day off right.
You might also like:
breakfast restaurants near me, breakfast places, breakfast tampa fl, breakfast places in tampa, breakfast sandwiches, breakfast restaurants, breakfast near tampa fl