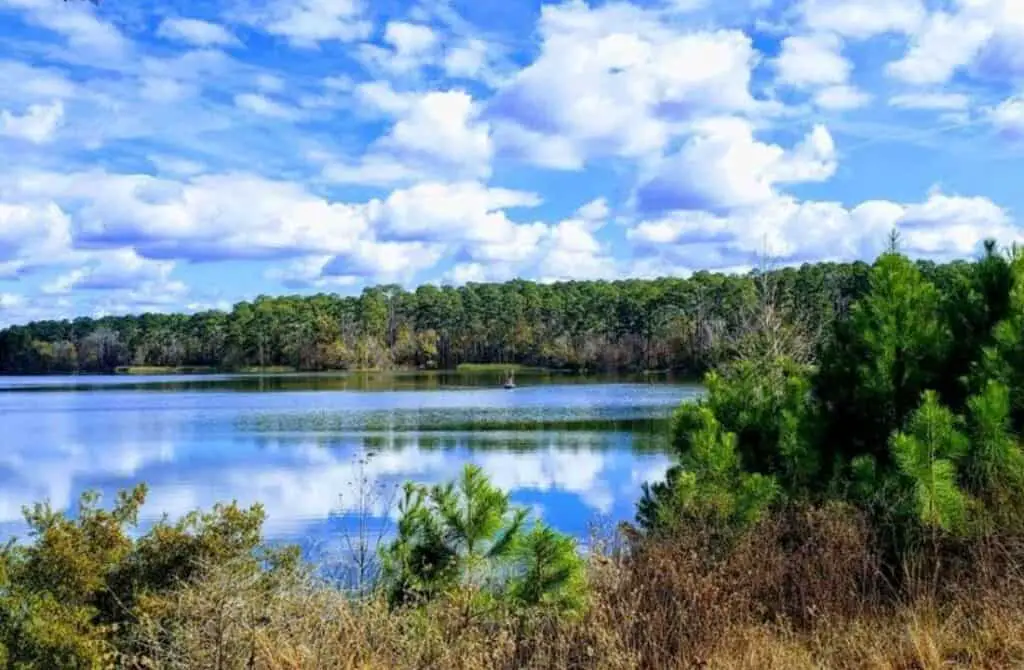 Looking for the best things to do in Huntsville, Texas? Nestled between the picturesque piney woods and the thriving city buzz, Huntsville offers the best of both worlds. From taking a solemn stroll through the historic Sam Houston Memorial Museum to indulging your wild side at the expansive Huntsville State Park, there is something here for everyone.
Dive in as we unearth the top gems of this charming locale, steering you towards an unforgettable visit to Huntsville.
Texas Prison Museum
In the heart of Huntsville lies the riveting Texas Prison Museum, a place where you can explore the historical intricacies of the criminal justice system in Texas.
Here's what awaits:
Historical Exhibits: Spanning over 140 years of history, offering a rare glimpse into the lives of inmates and prison staff through an extensive collection of artifacts and memorabilia.
Electrical Chair: Get a closer look at "Old Sparky," the electric chair that marked the end of 361 lives.
Educational Programs: Engaging educational programs help you understand the evolution of the penal system in the state.
Gift Shop: Take home a piece of history from a diverse range of memorabilia including handicrafts made by the inmates themselves.
Make your way to this institution to deepen your understanding of Texas' penal system's history and growth. It's more than a museum; it's a journey through time, presenting a narrative both somber and fascinating.
491 State Hwy 75 N Huntsville, TX 77320, (936) 295-2155
Sam Houston Memorial Museum
Delve deep into the life and times of Sam Houston at the Sam Houston Memorial Museum in Huntsville, Texas.
Here's what awaits you:
Historic Houses: Explore the Woodland Home, where Houston lived during his presidency of the Republic of Texas, and the Steamboat House, where he spent his last days.
Interactive Exhibits: Discover a rich tapestry of exhibits that vividly narrate the story of this Texas legend, offering a deeper understanding of the state's history.
Grounds and Gardens: Wander through scenic grounds and gardens, including a pond and a historic oak tree, which offers peaceful spots to contemplate Houston's legacy.
Educational Programs: Engage with a variety of educational programs tailored for both adults and children, promising a fun learning experience for all ages.
Whether you're a history buff or a curious traveler, this museum provides a unique opportunity to immerse yourself in the colorful life of a leader who significantly influenced Texan and American history. It's not just a museum; it's a gateway to a revolutionary era, steering you through the milestones of a giant in Texas history.
1836 Sam Houston St Huntsville, TX 77378, (936) 294-1832
---
As we wrap up our exploration of Huntsville's standout attractions, it's clear that this Texas gem offers more than meets the eye. Whether soaking up history at the museum or reveling in the natural beauty of the state park, Huntsville promises a rich and fulfilling experience for all. We trust you'll find your own piece of joy in this dynamic locale, carving out memories that will last a lifetime. So why wait? Venture to Huntsville and discover the diverse pleasures awaiting in this Texan treasure trove.
things to do in huntsville tx, things to do in huntsville texas, huntsville tx things to do, what to do in huntsville tx, huntsville texas things to do, things to do huntsville texas, things to do huntsville tx, things to do near huntsville tx, what to do in huntsville texas, best things to do in huntsville, things to do around huntsville tx, fun things to do in huntsville tx