Families that are new to Omaha, Nebraska will be excited to know that there are plenty of parks and outdoor activities for kids to enjoy.
From hiking and biking trails to playgrounds and splash pads, there is something for everyone. In addition, many of the parks offer educational programs and events that are perfect for learning about the local flora and fauna.
Here are 5 of the best parks and outdoor activities for kids in Omaha, Nebraska:
Fontenelle Forest
We all know that Omaha, Nebraska is a great place to raise a family. There are plenty of parks and outdoor activities for kids to enjoy, and Fontenelle Forest is one of the best.
This nature preserve is home to over 2,100 acres of woods, wetlands, and prairies, and it offers a variety of activities for kids of all ages.
Kids and parents can take a hike along one of the many trails or attend one of the many educational programs offered
In addition to being a great place to explore nature, Fontenelle Forest is also an important sanctuary for wildlife.
The preserve is home to over 200 species of birds, including several rare and endangered species.
For families looking for a fun and educational way to spend time outdoors, Fontenelle Forest is the perfect place.
Top Review: "Fun times in the forest! I was skeptical after realizing there was an admission to get in, but in the end, it was totally worth it. I started the day by checking out the popular boardwalk loop that overlooks the river. This is definitely a family-friendly loop (wheelchair and stroller accessible as well). I trecked a bunch of random trails the rest of the day. It was a fun adventure and a great way to get out of the city and into the woods. Be sure to grab a map before you head out though Not as appealing to me, but equally as impressive, was the nature center/animal exhibits. Seemed to be a hit with the kids. I will most likely be buying a yearly pass!" – Emily G.
1111 Bellevue Blvd N Bellevue, NE 68005, (402) 731-3140
Omaha's Henry Doorly Zoo and Aquarium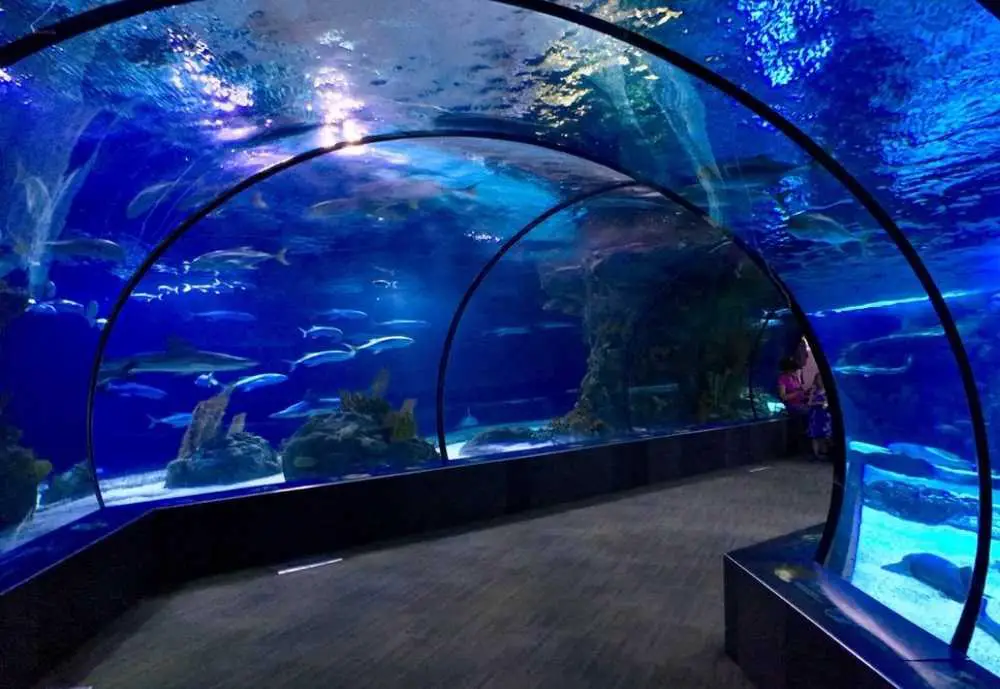 Omaha's Henry Doorly Zoo and Aquarium is one of the best parks for kids in Omaha, Nebraska. 
The zoo has a wide variety of animals, from lions and tigers to penguins and seals. Kids will love seeing all the different animals, and they'll also learn a lot about them. The aquarium is also a great place to take kids. 
They can see all sorts of fish, turtles, and other sea creatures. And if they're lucky, they might even get to touch a starfish or stingray. 
There are also plenty of outdoor activities for kids to enjoy in Omaha. The city has plenty of parks and playgrounds, as well as hiking and biking trails. 
And in the summer, there are also a number of swimming pools and water parks.
Top Review: "The zoo just keeps getting better every year! They continue to improve their exhibits and add new exhibits for everybody to enjoy. My husband and I, who are both in our 50s, just went for the day and had a great time. I highly recommend heading to the zoo for A day you won't forget!" – Tracy H.
3701 S 10th St Omaha, NE 68107, (402) 733-8400
Lauritzen Gardens
The ever beautiful Lauritzen Gardens is a 100-acre botanical garden that is the perfect place to explore nature with your little ones. 
With more than a dozen gardens to choose from, there's something for everyone at Lauritzen Gardens. 
Kids (and adults!) will LOVE trainspotting in the Model Railroad Garden.
And don't forget to check out the bird sanctuary to see all the fascinating species of birds
Top Review: "If you haven't brought your kids here it's definitely a field trip! It was our first time here and didn't really know what to expect. But the front desk lady was super helpful and made sure we had a great time. She gave us a map and suggestions for my boys I think we spend maybe 3hrs here. We came around 3 and the cafe was closed so come earlier if you want to grab a bite or bring your own snacks. Definitely bring water , the water fountains in the trail weren't always working. If you come make sure you visit the train station garden. It was a highlight for my kids." – Jenny V.
100 Bancroft St Omaha, NE 68108, (402) 346-4002
Lewis and Clark Landing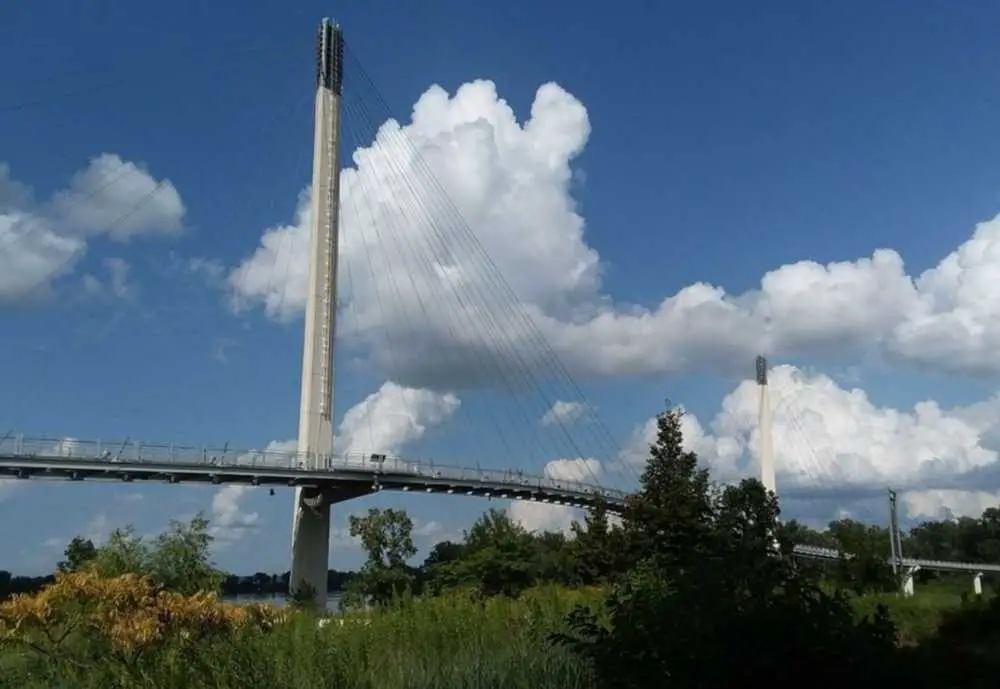 Omaha's Lewis and Clark Landing is a must-visit for any outdoorsy family. With loads of wide open space, this is the perfect spot when your kids really need to stretch their legs and burn some energy.
The park offers stunning views of the Missouri River. Just down the river is Omaha's historic Old Market district, where families can explore charming shops and restaurants.
For a truly unique experience, take a ride on the pedestrian only Bob Kerrey Pedestrian Bridge, which spans over a mile across the river.
The bridge has an interactive light display that is sure to delight children of all ages.
515 N Riverfront Dr Omaha, NE 68102
Hanscom Park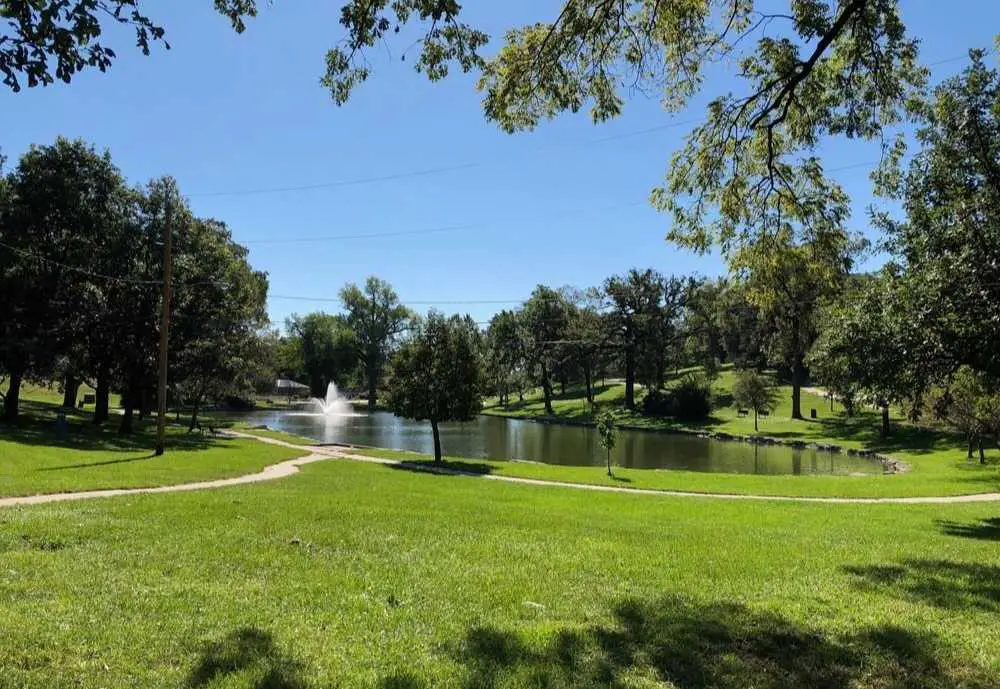 Hanscom Park is also easily one of the best parks and outdoor activities for kids in Omaha, Nebraska.
The park has a large playground with a variety of equipment for children to play on. There is also a baseball field, a basketball court, a soccer field, and a walking path.
In addition, the park has a pond where children can feed the ducks. The park is well-maintained and is always clean.
3201 Woolworth Ave Omaha, NE 68105
Frequently Asked Questions
What is the biggest playground in Omaha?
It is difficult to say which playground in Omaha is the largest, as they vary in size. However, Hanscom Park and Lewis and Clark Landing both have large playgrounds with a variety of equipment for children to enjoy.
How many parks are in Omaha?
According to the city of Omaha's website, there are 250 parks!
Is Omaha a walkable city?
Yes, Omaha has a walkability score of around 50, which means it is somewhat walkable. The downtown area and Old Market district are particularly easy to navigate on foot. However, some areas outside of the city center will certainly require a car.