Looking for the best breakfast in Myrtle Beach? Go To Destinations has you covered!
Myrtle Beach is a popular vacation destination known for its beautiful beaches, exciting attractions, and delicious food. And when it comes to breakfast, this coastal city does not disappoint. From classic diners to trendy cafes, Myrtle Beach is home to a variety of breakfast spots that are sure to satisfy ANY palate. Whether you're looking for a hearty Southern breakfast or a light and healthy meal, there's something for everyone in Myrtle Beach!
Johnny D's Waffles and Bakery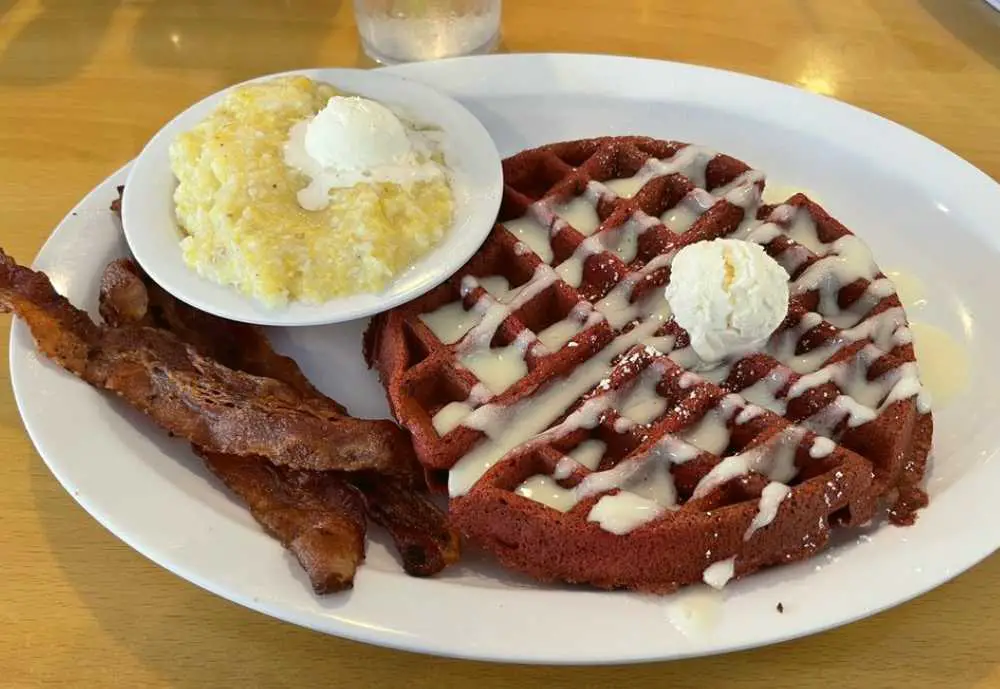 Focusing on handcrafted dishes for breakfast, lunch, and dinner is what Johnny D's Waffles and Bakery is about. They offer weekly specialties with distinctive flavors to keep your palate intrigued. The owner of this restaurant strives to provide excellent food and welcoming service. They want their guests to enjoy their meal, making them crave for more. 
Established in 2014, Johnny D's Waffles and Bakery is considered the best of the old and the best of the new. With its owner having more than 30 years of experience in the service industry, they are definitely not new to the scene. They are confident with the unique flavors of their dishes, without sacrificing quality and ensuring that they are using the freshest of ingredients.
Some of their popular dishes are Johnny D's Skillet and the classic French Toast or their Red Velvet Waffles. Don't miss out on some of the best breakfast in Myrtle Beach!
Menu: Johnny D's Menu
Top Review: "BEST WAFFLES EVER!! Wow, wow, wow! If you go to Myrtle Beach and DONT go to Johnny Ds for Breakfast you're doing it all wrong!! We are normally beach go-ers who just pick up groceries and eat in our room/condo before a day at the beach but we heard rave reviews about Johnny Ds and had to give it a try! Our crew ordered: 2 banana split waffles, a cinnaroll waffle platter, and a regular waffle platter and everyone agreed it was the best waffle they've ever had!  Seriously I don't know what they do to these waffles but they are RIDICULOUSLY good.  The home style and cinnaroll were my personal favorites! You will not be disappointed if you give them a try! There's usually a wait for a table but it's well worth it as it's become a fan favorite in the area for good reason." – Ashley M.
3301 N Kings Hwy Myrtle Beach, SC 29577, (843) 448-6789
Eggs Up Grill
For travelers that are looking for a place where they can enjoy great food, casual conversations, and long-lasting memories, Eggs Up Grill is the go-to destination. They are a common hang-out place among the locals, particularly the gathering of family and friends. 
Eggs Up Grill was first established at Pawley Islands, South Carolina in 1997. Since then the restaurant has opened its business to different places in the US. In fact, they were ranked number 1 during the Entrepreneurs 43rd Annual Franchise 500 as the world's first, best, and most comprehensive franchise ranking. 
Experience the sweet aroma of their blueberry pancakes, the first bite of their tasty omelet, and the crunch feel of their crispy bacon. So what are you waiting for? Enjoy eating your classic breakfast meals just how you like it at one of the best breakfast spots in Myrtle Beach.
Menu: Eggs Up Grill Menu
Top Review: "My family and i have been coming here for years and the food never disappoints. The staff are always friendly and accommodating to any dietary needs. We haven't come in to Myrtle for a couple years so it was a nice surprise to see they updated the interior of f the restaurant. I was used to seeing the old look but this new look is very nice, more modern with clean lines and a sweet modern "farmhouse" style. The menu is also new but they've kept all the old favorites that they are known for and added some new dishes. The food is always presented cleanly, not a lot of extra grease on the plate. The food is slightly under seasoned which is perfect for those of us who watch salt and seasoning. There is plenty of salt and pepper and hot sauce on the table to season as you prefer. My eggs are always served exactly how I like them. They even have a glossary on the back of the menu so you know exactly how to tell them how you want your eggs cooked. Love this place." – Brandye B.
1289 38th Ave N Myrtle Beach, SC 29577, (843) 839-2200
10 Fold Biscuits
10 Fold Biscuits in Myrtle Beach, South Carolina, is a popular breakfast spot known for its flaky, buttery biscuits.
The menu features a variety of biscuit sandwiches, including classic options like bacon, egg, and cheese, as well as more unique offerings like the Taylor-Made Benedict which features a buttermilk biscuit, Taylor ham, tomato, arugula, two free-range sunny side up eggs, classic hollandaise, scallion and paprika. So good!
The cozy atmosphere and friendly staff make 10 Fold Biscuits a must-visit spot for breakfast lovers in Myrtle Beach.
Menu: 10 Fold Biscuits Menu
Top Review: "I am guessing the name of this place is related to the Bible verse that says that if you put out good then it will come back to you ten fold. If so, then good things will never stop coming back to this place because they put out really good food. Their biscuits are these fluffy, crumbly, buttery bites of delicious goodness! I forgot to take a picture of their plain biscuits, which is a shame because they were my co-favorites along with the Nashville hot chicken sandwich. My wife picked up the food to go so I cannot comment on the ambience but with food this good, who cares? A must visit if you are in the area!" – Joe P.
4377 N Kings Hwy #119, Myrtle Beach, SC 29577, (843) 839-4849
Blueberry's Grill
Looking for that ultimate culinary experience while in Myrtle Beach? Head off to Blueberry's Grill. You will surely love the unique twists on your favorite classic breakfast dish. Tantalize your taste buds with its creativity and enjoy uncovering the secret to their delicious meals.
Blueberry's Grill opened its doors to the community of Myrtle Beach in 2017. It is the perfect place to visit for guests that are excited to try out that lovely food experience. The restaurant not only focuses on its creativity, but they also ensure that the quality of its dishes are not sacrificed. By using only the freshest of ingredients, you will surely satisfy that cravings of yours for a classic breakfast.
Try their popular classic breakfast meals such as Eggs Benedict, Banana Foster French Toast, and the mouth-watering Cinnamon Roll French Toast. Stop by for some of the best breakfast in Myrtle Beach.
Menu: Blueberry's Grill
Top Review: "Freaking love the crap outta this place!! The only reason I never wanted to leave myrtle beach besides the beach of course.. haha. Best crunch ever!! Best atmosphere! Best service!! Can I just come live in y'all's kitchen?" – Terri R.
7931 N Kings Hwy Ste 140 Myrtle Beach, SC 29572, (854) 854-9084
Tupelo Honey Southern Kitchen & Bar
If you are craving for authentic Southern food and culinary traditions of the Carolina mountains, Tupelo Honey Southern Kitchen & Bar is here to serve. Enjoy their handcrafted meals while at the same time relaxing to their expansive patio, plush seating, and fire pit. It is the perfect place to visit to spend quality time with your family and friends.
Have that casual yet fun conversation over cocktails after work. Not only does Tupelo Honey Southern Kitchen & Bar offer the best breakfast dish, but their lunch and dinner menu choices are not to be ignored as well. Winning quite a number of awards, this restaurant really speaks of both food quality and good customer service. 
Try some of their notable dishes such as the Shoo Mercy Shrimp & Grits, French Toast with the Spicy Chicken, and Avocado Toast.
Menu: Tupelo's Menu
Top Review: "Before going I read a review where someone stated it was the best breakfast in their life. You know what? That reviewer wasn't far off. So I stopped in for brunch on my way out of town and I'm so glad I did. They take reservations – yay!
They were super accommodating to my party of 10 (including 3 kids under 5). Service was great for such a big party. The food came out fast and hot. I ordered the sriracha chicken and waffles. My server told me it was spicy. I said – ok yeah (I like spice and usually when someone tells me this I end up asking for extra hot sauce). Well….the server was right. It was VERY spicy. I liked it a lot, but wish I had ordered something to cool it down. Biscuits were a hit with everyone." – Nicole W.
3042 Howard Ave Myrtle Beach, SC 29577, (843) 315-3780
Lulu's Cafe
Looking for a place to eat your breakfast while at the same time enjoying the amazing view of the beach? Lulu's Cafe is the ultimate place for such an adventure. Established in 2011, this breakfast spot is situated at the heart of Myrtle Beach. 
Lulu's Cafe does not only serve breakfast, but they also offer lunch, coffee, and cocktails. Considered as a popular place to visit and voted best family friendly restaurant, there is just something unique about eating a hearty meal that is overlooking the Atlantic Ocean.
Who says you can't enjoy a delicious bite and dip your toes into the sand at the same time? Enjoy some of their notable dishes like Big Chicken Biscuit Breakfast, Banana Bread French Toast Breakfast, and Crab Cake Sandwich.
Enjoying a breakfast meal is never this fun, especially when trying out dishes that are new and unique to your taste. Before starting your day and exploring Myrtle Beach, don't leave out these best breakfast spots in the area. Go with this lovely food experience that the place has to offer.
Menu: Lulu's Menu
Top Review: "Great place for breakfast! Came in yesterday and my wife and I loved it so came back today.  Highly suggest the Charleston which is a crab cake eggs Benedict!  Yummy.  If ya don't want to wait sit at the cafe style bar and get great service from Brie or Rylie.  Bloody Mary's at great and they serve a lot of mimosa's here as well!  They close at 1 but if ya get chance to stop by in the mood for adult milkshakes they have a banana pudding milkshake and a thin mint milkshake that are delicious!" – Edward L.
1903 N Ocean Blvd Myrtle Beach, SC 29577, (843) 712-1890
---
Did we miss a spot that deserves to be mentioned? Shoot us an email at: [email protected] Thank you!
---
You might also like:
breakfast myrtle beach, myrtle beach breakfast, best breakfast in myrtle beach, breakfast in myrtle beach sc