Welcome! And top of the morning! Looking for the best breakfast in Salt Lake City?
We've compiled a short list of the best breakfast and brunch restaurants in Salt Lake City, Utah. We cover excellent breakfast and brunch spots downtown, the burbs, and frankly everywhere in-between.
Without further adieu, bon appetit!
Sweet Lake Biscuits & Limeade
This is where you'll find the best biscuits and limeade in the city. Sweet Lake Biscuits & Limeade is definitely one of the best breakfast spots in Salt Lake City.
You have to get their limeade and The Hoss. The Hoss is a hot mess of a savory breakfast with biscuits, fried chicken, egg, bacon, cheese, sausage gravy, and green onion.
Other things to try are the basic with fried chicken, biscuit benedict, French toast, and conspiracy cakes.
Menu: Sweet Lake Biscuits Menu
Top Review: "Hold up, I need a nap!!! Man this place is incredible, I have been finding some great spots here in Utah and this was no different. Sweet Lake, get ready for a dope biscuit experience. I order the Biscuit Sandwich and my husband order the French Toast. They are also known for their lemonade drinks, they have their own lemonade bar. If you in SLC, make sure you  visit Sweet Lake you won't regrets it. Ooh and they also have outside seating." – Catalina V.
54 W 1700 S Salt Lake City, UT 84115, (801) 953-1978
Eggs in the City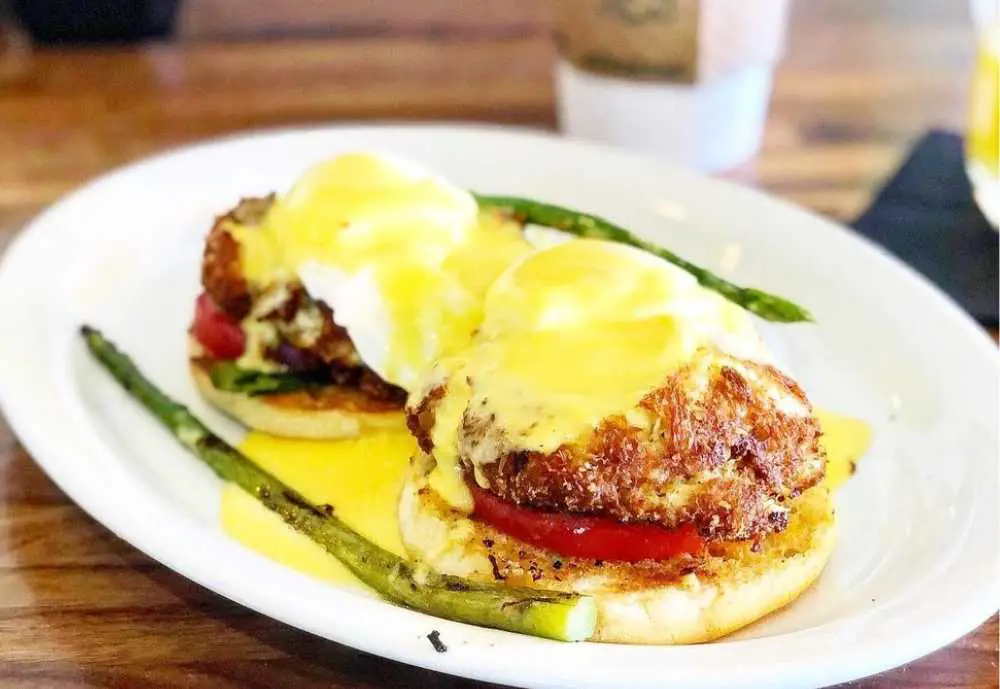 If you're looking for the best egg dishes in the area, you'll find them in Eggs in the City.
You've got to try their omelet menu or build your own and have a little fun! They are an unassuming and simple spot, always filled with happy customers.
Visitors also recommend the eggs benedict, huevos rancheros, Greek skillet, French toast, and Florentine benedict.
Top Review: "I was looking for a fantastic place to get a solid, tasty breakfast. Reading many of the reviews for this breakfast café I was sold. I decided to eat the breakfast sandwich with a side of diced potatoes. Very very delicious. I've been by this place a few times and it is always busy. Take that as a sign that they make really good food. When the weather is warm, you have a choice of eating inside or out on a patio. These guys have it all. A very simple menu, but quite a selection. The white staff was quite nice and very helpful even though it was busy when I came, I was able to see it very quickly, and my food was made perfectly and came out fairly fast. I'm impressed by this place and would like to visit more often. You're looking around, take this is your sign that you need to just eat here." – Nathan H.
2795 S 2300 E Millcreek City, UT 84109, (801) 581-0809
The Park Café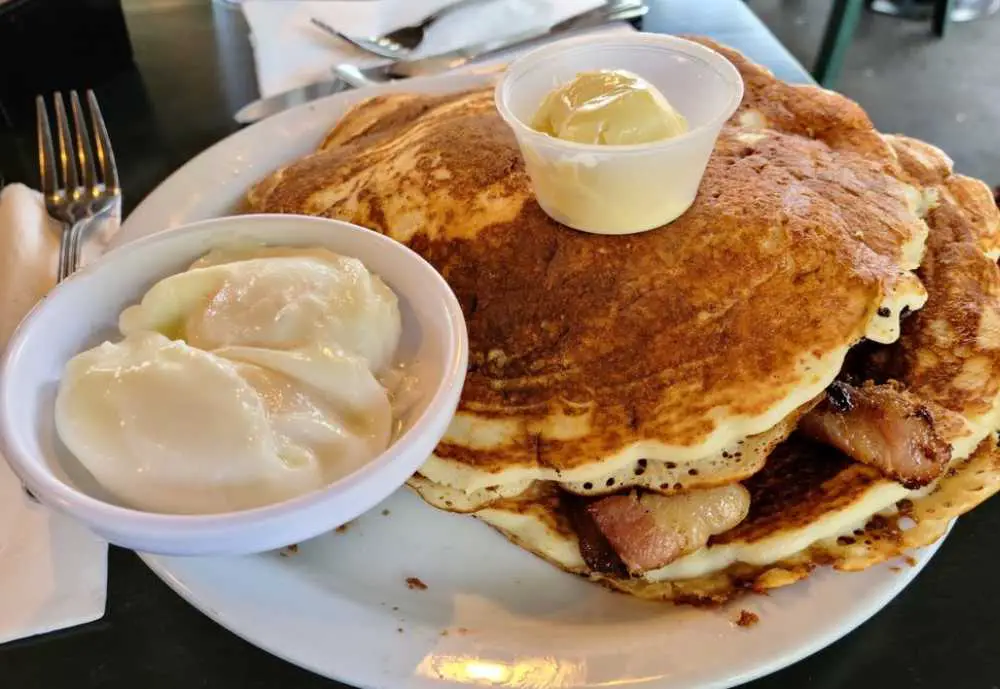 The Park Café is a cozy and beloved local spot that's been here for a long time.
They are right across Liberty Park, which makes them a hit with tourists and locals alike.
Their menu features traditional American breakfasts. People often recommend their French toast, pancake sandwich, double play, huevos rancheros, and breakfast burrito.
Menu: Park Cafe Menu
Top Review: "I was visiting Salt Lake City for literally 24 hours. Found The Park Cafe on Yelp. As I walked up to it, it had such a cozy feel to it and felt so welcoming. I ordered the French toast and ate it with their homemade mixed berry sauce/jam. It was finger licking good!!! Highly recommend The Park Cafe!" – America B.
604 E 1300 S Salt Lake City, UT 84105, (801) 487-1670
Penny Ann's Café
Penny Ann's Café specializes in hotcakes and even calls itself the "home of heavenly hotcakes."
We'll let you be the judge of that, but they've gotten good reviews so far. They've got other breakfast classics like omelets, eggs benedict, skillet dishes, and more for variety.
Also, try their hot cake sandwich, pot of gold, the big breakfast, and pork chili Verde skillet.
Menu: Penny Ann's Menu
Top Review: "This place is the place for breakfast if you love good food! Expect to wait if you come on a weekend around 9-10am. The wait can be long, but the food is worth it. I did appreciate that you could put your name down on the waiting list on the Yelp App. I definitely recommend doing that! It cut our wait time in half. Make sure you try the pancakes…I think they are the best I've had!" – Kimberly G.
280 E 12300 S Draper, UT 84020, (385) 379-4128
Eggsburgh
Located in the heart of downtown Salt Lake City, Eggsburgh is a popular breakfast spot for hotel guests and locals alike. The friendly waitstaff and lively atmosphere make for a fun dining experience.
Guests are highly recommended to try Juan's breakfast tacos, the red velvet French toast, and Bacado. With a huge breakfast menu, there is something for everyone to enjoy at Eggsburgh.
Menu: Eggsburgh Menu
Top Review: "While driving my husband to a convention at the nearby convention center we happened upon Eggsburgh. The Benedict's that we had for breakfast were delicious!  I had the Irish one and my husband had one with shoulder bacon. I would highly recommend and would be happy to stop back in whenever I'm in SLC." –
110 W Broadway, Salt Lake City, UT 84101 (385) 227-8171
Roots Café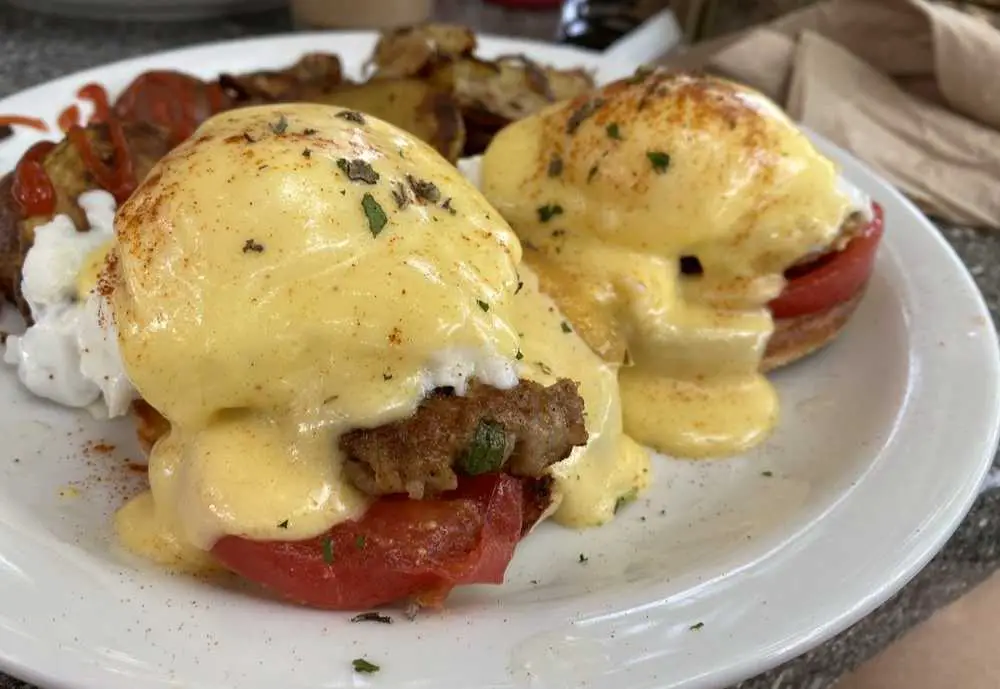 Roots Cafe is one of the best breakfast spots in Salt Lake City. It's got a lovely outdoor patio that regulars like to people-watch from.
They've also got a specialty juice bar and pride themselves on having affordable food and excellent service.
They are also one of the places with many healthy options, and people love their veggie sausage.
The Peeto breakfast sandwich, eggs benedict, huevos rancheros, and bread pudding French toast are some things to try.
Menu: Roots Cafe Menu
Top Review: "This is one of the favorite places to eat, I want to give it less stars just because the only gripe I have is I never have enough time to wait for a table. You will need 1-2 hours to wait for a table on a weekend for brunch. They do have a great artsy gift shop you can browse as you wait, with all sorts of lovely gifts and stickers and little gems. I love their juices and breakfast sandwiches, and as a vegetarian I love all their veggie options. And in the summer their patio is fully open which does allow for more seating and usually smaller wait times. Check it out, this is a special place I only wish it would stay open later in the evenings to try more of their lunch options." – Aine C.
3474 S 2300th E East Millcreek, UT 84109, (801) 277-6499
Oasis Café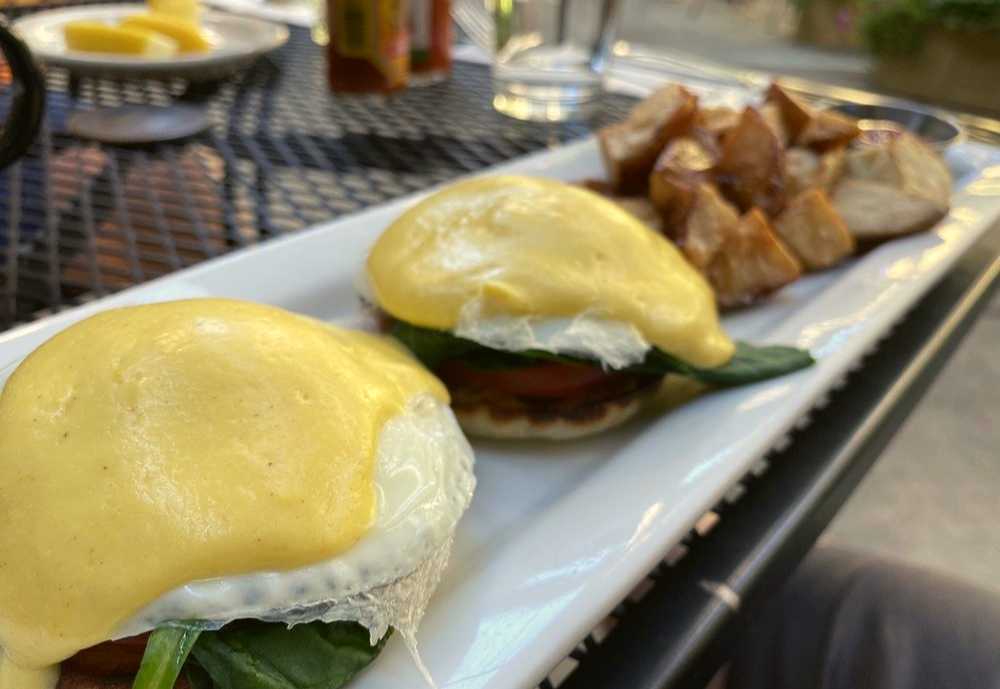 Oasis Café is a casual spot with an incredible view of the mountains. They also have an extensive brunch menu with many options for gluten-free and vegan alternatives.
They offer very filling portions that you surely won't leave hungry. Some menu items to try are eggs benedict Florentine, huevos rancheros, Mediterranean salad, and breakfast sandwich.
Menu: Oasis Cafe Menu
Top Review: "What a delightful cafe! Met up with a friend from out of town at this place and we both loved it. They roast their coffee in-house, which was a pleasant surprise as I was really craving some espresso. The menu is quite large, so there should be something for everyone. They also have both breakfast and lunch items on their brunch menu – perfect for in-between times. We got there at 12:30PM and opted for breakfast. I got Huevos Rancheros, which was super good AND only $11! Pretty much everything on the menu is reasonably priced. I'll definitely be coming back!" – Rayce V.
151 S 500th E Salt Lake City, UT 84102, (801) 322-0404
Ruth's Diner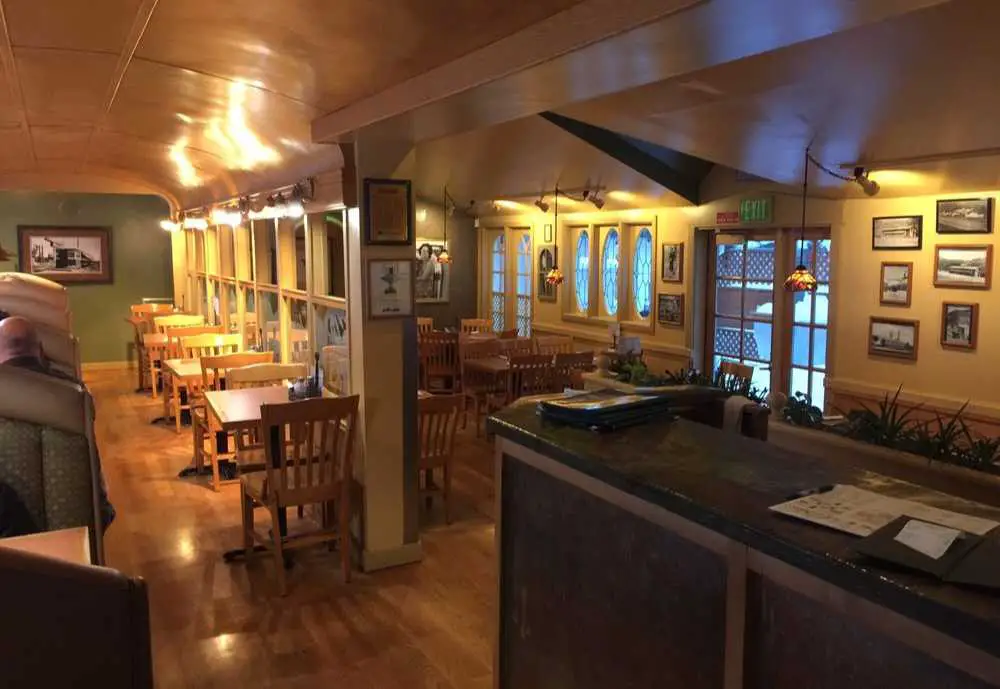 Ruth's Diner is one of the oldest restaurants and one of the best breakfasts in Salt Lake City.
They've a great history within their walls and an extensive menu of breakfast items. There are also a couple of vegan-friendly alternatives for those who need them.
While here, try the eggs benedict, chicken fried steak, early bird special, and deep-fried pickles and okra.
Menu: Ruth's Diner Menu
Top Review: "Old fashioned diner in an old rail car that's been expanded into a building and patio. The story of Ruth is on the menu and lends to the diner atmosphere. But this is not your typical greasy spoon. This is satisfying home cooking with a slightly elevated touch. More like how your granny would serve her favorite grandchild their favorite when they come to visit. It has that extra bit of love. Service was prompt as well. It's a bit of a drive but worth it for the lovely view and fun atmosphere." – Catherine Z.
4160 Emigration Canyon Rd Salt Lake City, UT 84108, (801) 582-5807
Pig & A Jelly Jar
Pig & A Jelly Jar is best known for their chicken and waffles, so you absolutely have to get it.
They are also famous for their beer cocktails, and their bloody marys are said to be good. These are both perfect for brunch either way.
Their menu is all about Southern comfort food with other favorites, including the kitchen sink, beignets, the pig breakfast, and green eggs and ham.
Menu: Pig & A Jelly Jar Menu
401 E 900 S Salt Lake City, UT 84111, (385) 202-7366
---
Did we miss a spot that deserves to be mentioned? Shoot us an email at: [email protected] Thank you!
---
You might also like:
best breakfast in salt lake city, breakfast salt lake, breakfast places in salt lake city, salt lake city breakfast