A good breakfast spot can make or break your entire day. You wouldn't want to start your day with a lackluster meal, right? Finding those tried-and-tested breakfast and brunch spots is essential in a new city. And we're here to help you with that.
Plus, a good brunch spot isn't all about the booze. The hearty meal, good vibes, and friendly community will keep you coming back for more. Whether you're craving a french toast, some breakfast tacos, or any of the classic breakfast dishes, we've got it all for you. However your morning's been like, there is definitely a place for you here in Houston.
Houston is known for many things, but one thing you can definitely rely on is its breakfast game. We've curated some of the best and most popular options and hidden gems that shouldn't go undetected.
Here are our picks for the best breakfast in Houston!
Pondicheri
Rating: 4/5
Neighborhood: Midtown Houston
Price: $$ – $$$
Pondicheri is probably one of the best breakfast in Houston. It's an Indian restaurant that's vegetarian-friendly and with loads of vegan options. Looking at this place, it might come off as upscale and intimidating. But it's actually quite casual and homey. It stands true to representing Indian cuisine in the city.
It is a fusion restaurant, but that doesn't mean it isn't good. This restaurant is one of those staples in every Houston breakfast list. It's worth it to try even once. You might be surprised by what you find.
What to order
Upma. A bowl of savory grits, hash with sesame, vegetables, two eggs, and cilantro chutney. It's a South Indian staple with a few unique takes from Pondicheri.
The Breakfast Klub
Rating: 4.5/5
Neighborhood: Midtown Houston
Price: $$ – $$$
If you want something a little more traditional, go for The Breakfast Klub in Midtown Houston. The Breakfast Klub serves all the American breakfast classics and southern-style breakfasts. You can get your fill of chicken and waffles, green eggs and ham, catfish and grits, and much more.
The food here is so pretty; it's going to hurt that you have to eat it. Plus, the staff are super friendly and might even convert you into becoming a morning person! But be prepared because there will surely be a line once the place opens.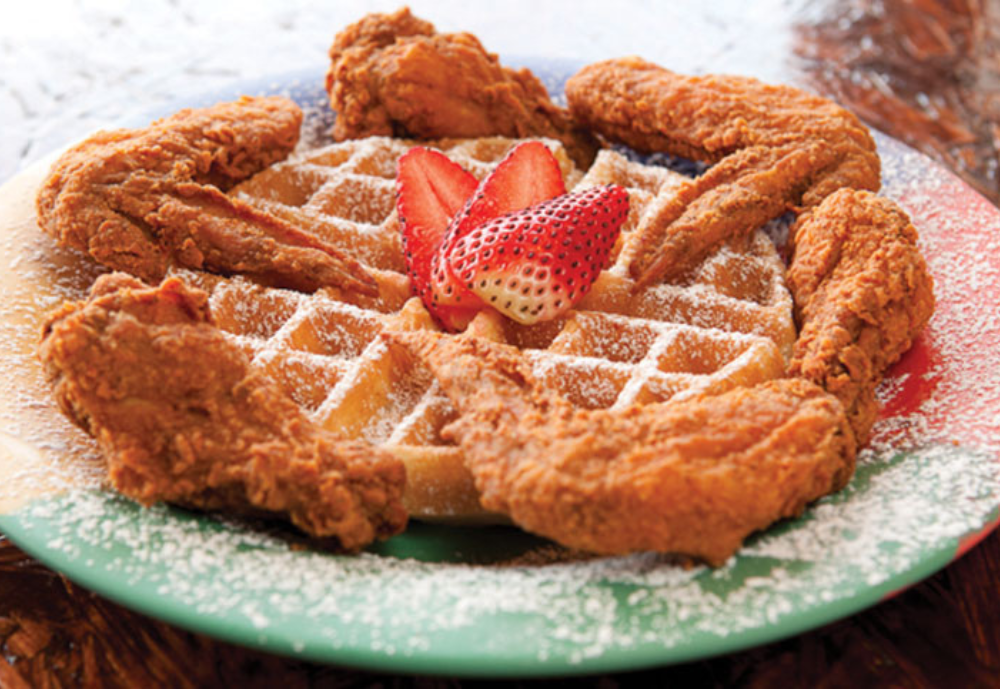 What to order
Chicken and waffles. A classic done right and well here in the Breakfast Klub. You'll get three drumettes and three wings on top of a fluffy golden brown waffle with a nice dusting of powdered sugar on top.
Harry's Restaurant & Cafe
Rating: 4.5/5
Neighborhood: Historic District
Price: $$ – $$$
In Harry's Restaurant, it's a mix of Latin, Greece, and American cuisines for breakfast. It's a cozy breakfast spot owned by a Greek and Ecuadorian couple since the 1990s. It's been around longer than that, but the Platsa family really got the ball rolling.
You can find typical American breakfasts like waffles, french toast, and breakfast sandwich. But you'll also find unique items like their Baklava French Toast, Salvadoran pupusas, Greek-style feta fries, and more. Their coffees are also highly recommended by past visitors.
Their fusion breakfast menu items are a hit with many people as there are always long lines here. So prepare for a bit of a wait when you come here.
What to order
Get the Papusa Mananera. They're stuffed with zucchini and queso and comes out fresh for you in a Salvadoran handmade corn tortilla. You could also try the Larissa plate. A gulten-free plate of two eggs, potatoes, sauteed onions and tomatoes topped with feta and parsley.
Blacksmith
Rating: 4/5
Neighborhood: Montrose
Price: $$
Start your day right with a good cup of joe. Where to get that coffee? Head to Blacksmith for their gourmet coffees, [unique] espresso drinks, and drip coffee. Their beans come from Guatemala and Colombia, and they have the best baristas on hand to make you the best coffee.
This café has a modern and contemporary vibe to it with trendy interiors. They also have a good selection of teas, kombucha, and more.
As for their food, their menu has Vietnamese-inspired cuisine and your American staples, plus classic café pastries (croissant with creme fraiche, anyone?). They also make a Mexican breakfast with chilaquiles, black beans, tortilla chips, eggs, salsa verde, black beans, and queso fresco.
What to order
Vietnamese steak and eggs. This comes highly recommended and is served with house pate, french bread, and a side salad.
Snooze, an A.M. Eatery
Rating: 4.5/5
Neighborhood: Multiple locations
Price: $$ – $$$
Snooze is a favorite breakfast in Houston despite being initially from Colorado. It's one of the best brunch spots in Houston, with amazing cocktails, bloody mary mimosas, and more. This is a perfect spot for your weekend brunch with the girlies.
They serve the classics, and they do it so well. They've got everything from pillowy soft pancakes to French Toast and even a full-on breakfast pot pie. The best thing about this restaurant is you can do a lot of customization. Get your breakfast with a side of crispy bacon, ham, some fresh fruit, and whatever you can think of.
The ambiance inside is fun and vibrant but still family-friendly.
What to order
The Snooze Breakfast Burrito. This vegetarian Mexican breakfast comes with scrambled eggs, hash browns, black beans, cheese all wrapped in a flour tortilla. Topped off with pico de gallo and your choice of green chile or ranchero sauce.
Lola
Rating: 4/5
Neighborhood: Heights
Price: $$ – $$$
Some of the best breakfast restaurants are those that you can go to any time. That's why Lola's all-day breakfast is a popular option for everyone. Sometimes you'll just have a craving in the middle of the night and want some pancakes. Or you're looking for a weekend brunch spot that can offer you healthy options with vegetarian food or gluten-free dishes.
Lola is a corner diner with a retro feel to it with its interiors and design. It's a bit chic, cozy, and a local spot. They've got huge portions, and the quality never fluctuates, no matter what time of day (or night) it is. Their milkshakes are also really popular, so you might want to try that!
What to order
People recommend the house-made pancakes and the So-Cal omelet.
The pancakes are fluffy and stacked with flapjacks, a smattering of syrup, and lots of syrup. You can add more toppings with bananas, chocolate chips, and more.
The So-Cal omelet contains portabella mushrooms, tomatoes, bell peppers, and goat cheese. On top of all that, there are also sprouts, avocado slices, applewood, smoked maple bacon, potatoes, and sourdough.
Empire Café
Rating: 4/5
Neighborhood: Montrose
Price: $$
Empire Cafe is an excellent choice to start your day. It's a cozy cafe in a European-style restaurant with Italian-inspired dishes and timeless classics. It's one of those cafes that will make you want to snap a picture and share it on Instagram.
The cafe used to be a gas station and now has a lovely outdoor patio and a cool aesthetic. It's not only a breakfast spot; it's also a bakery and wine bar. This gives you lots of options for your meal. And it's why Empire Cafe is one of the best breakfast in Houston.
Their coffee is said to be pretty good, but you can also opt to pair your delicious breakfast with a margarita.
What to order
The Roma. This has two eggs on focaccia bread, basil pesto, tomatoes, mozzarella cheese, hash browns, and fresh fruit.
La Guadalupana Café and Bakery
Rating: 4/5
Neighborhood: Montrose
Price: $$
La Guadalupana is a cafe and bakery on Montrose that's all about good quality food. This family-owned breakfast spot is unpretentious, casual, and family-friendly. This breakfast spot attracts all types of crowds with their affordable dishes and delicious food.
They serve authentic Mexican cuisine with all the Mexican breakfast essentials. You can also expect freshly baked pastries every morning, from croissants to cookies. The café has a lovely outdoor patio where you can eat some delicious breakfast and soak in the sun.
They also offer a variety of juices. Their most popular one is El Vampire or the vampire juice. It's a mix of orange, carrot, and beet, which gives it that bloody color that vampires love.
What to order
Machaca Nortena: This has a shredded beef platter, scrambled eggs, jalapenos, onions, tomatoes, and beans.
Common Bond Cafe & Bakery
Rating: 4.5/5
Neighborhood: Montrose
Price: $$
Another cafe and bakery you can go to in Montrose is Common Bond Cafe & Bakery. This cafe is one of the best breakfast in Houston. They have expanded and have multiple locations in the city. The restaurant has a rustic vibe and design with all-day weekend brunch and a trendy bakery.
Their fresh pastries give them an edge over everyone because they're absolutely delicious. They're also great for on-the-go purchases for busy bees. Their other breakfast options include french toast, breakfast sandwich, biscuits and gravy, and more!
What to order
Any of the pastries. They are seriously the best sellers in this place, and it'd be remiss for you not to try one. They have cookies, cakes, loaves, croissants, and macarons. All are made fresh daily.
Dish Society
Rating: 4/5
Neighborhood: Galleria / Uptown
Price: $$
Dish Society is a truly homely establishment, and they care genuinely for the people in the city. They are a farm to table breakfast restaurant that supports local vendors and uses only the freshest ingredients that are often in season.
Their food tastes like comforting home-cooked food, filled with love and care. They do a southern-style take on the classics. That means a lot of flavors with huge portions. You can get breakfast menu items such as french toast, brisket and eggs, beignets, black beans and avocado, etc. Plus, you can pair this with a mimosa to wake you up.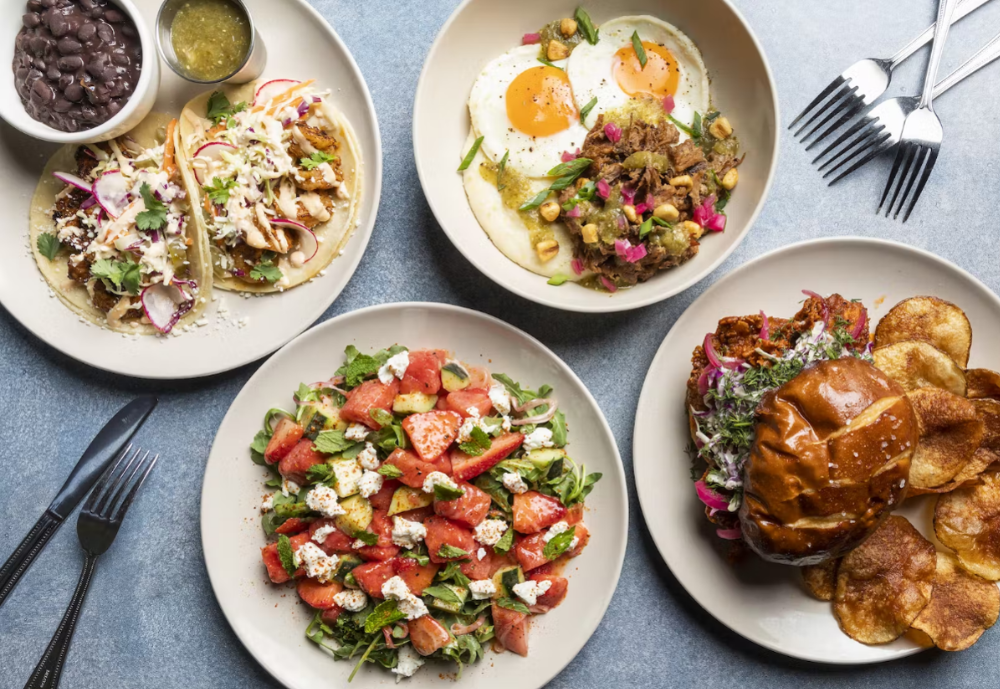 What to order
Brisket N Eggs. Get ready for smoked chopped brisket, tomatillo relish, pickled onions, fried corn kernels, sunny side eggs, and smoked gouda grits.
Lucille's
Rating: 4/5
Neighborhood: Museum District
Price: $$
Lucille's is the most popular breakfast in Houston. It's a black-owned restaurant that specializes in Southern food. They're completely welcoming, and the atmosphere gives you cozy, comfortable, and a family friendly restaurant.
There are so many good items you can pick from. Try their baked mac & cheese, famous chili biscuits, butcher burger, and Southern-style fried chicken. Plus, this is a great place to go for a boozy brunch. So hit this place up with the girls if you want some cocktails and great food.
What to order
The Shrimp & Grits. This special dish has Gulf shrimp, spicy andouille, microgreens, tomatoes, pickled onion, and grits. Pair it with their famous chili biscuits or rolls with the softest butter, and you're good to go.
Black Walnut Cafe
Rating: 4/5
Neighborhood: Memorial drive in the Village
Price: $$
Black Walnut Cafe can get mixed reviews from visitors, but its amazing service makes it one of the best breakfast in Houston. Their management goes above and beyond to ensure everything is good with your experience. It's something that's hard to find in most restaurants these days.
More than that, it's their breakfast menu items that really shine from the café. You surely won't be disappointed if you come here for breakfast or brunch. Many people even remark that they might have the best french toast in Houston. That's saying something.
The counter-serve restaurant is great with its eggs benedicts, omelets, griddle food, and pastries. They offer American comfort food to start your day.
They are also a wine and espresso bar, and they even have a gelato counter! You can get artisanal beers and amazing coffees in one spot.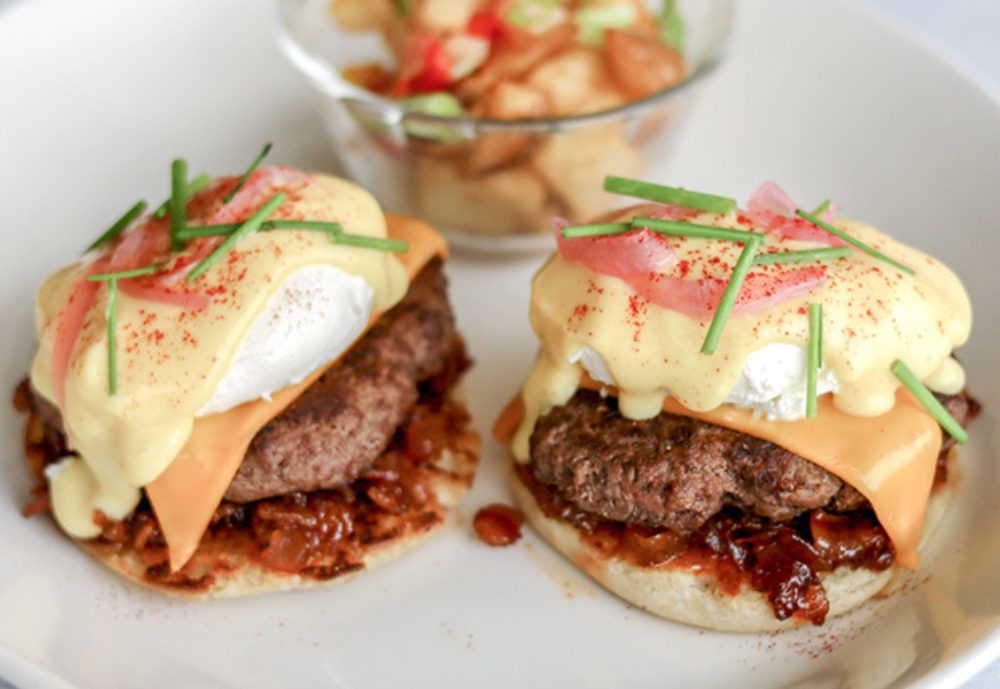 What to order
Eggs and pancakes. Their egg and pancake dishes are constantly getting rave reviews. Some highlights include their eggs benedict Nashville hot chicken, the pancake stack, and the new lemon blueberry pancakes.
These are just the tip of the iceberg for Houston TX's best breakfast spots. Some of the other breakfast spots you have to watch out for are Toasted Yolk, Buffalo Grille, Baby Barnaby's, Le Peep, NY Deli, and so much more!