In San Francisco, it's a challenge to find an Italian restaurant that stands out above the rest. Their amazing Italian district can make the decision too overwhelming for a passing tourist craving pasta or pizza. Don't worry, we're here to drop this helpful guide on the best Italian restaurants in San Francisco.
The Italian Homemade Company
The Italian Homemade Company was made for everyone who's got a hunger for Italian food.
This fast-casual Italian spot is beloved by locals and tourists, serving generous portions of lasagna, ravioli, gnocchi, and much more. There are multiple locations to make it even more convenient.
Their most popular dishes are Piadina, meat lasagna, Cassone, homemade pesto, and tiramisu.
Menu: Italian Homemade Company Menu
Top Review: "Absolutely awesome Italian. After a full day of SF sightseeing, we had takeout – lasagna, tagliatelle, calzone, noodles for the kids, gnocchi, tomato & burrata salad and roasted tomato salad.  All fantastic. Decided to take out and eat back at our hotel, which was perfect.  It was all "gone in 60 seconds". Kids loved the noodles, we loved the burrata and lasagna, and the gnocchi was awesome. Thanks Italian Homemade for a great Italian dinner! Try it!" – Tim L.
716 Columbus Ave San Francisco, CA 94133, (415) 712-8874
Seven Hills
If you're craving pasta, Seven Hills is the place to go. They're best known for their fresh handmade pasta, specifically the Maccheroncelli and house ricotta.
Aside from the great dishes, they are also a popular date night spot and have a wonderful wine selection.
Wondering what to get in Seven Hills? Try Maccheroncelli, Strauss Panna Cotta, Grilled Heritage Pork Chop, or the Tagliatelle.
Menu: Seven Hills Menu
Top Review: "This was such a fantastic dinner! My squid ink pasta was really something else… delicious and flavorful and left me wanting more!!! The next time I'm in SF, I'll definitely want to come back here and try the other pastas. The appetizers and desserts were also very good, especially the salad and panna cotta. But the pastas were definitely the stand outs." – Nina H.
1896 Hyde St San Francisco, CA 94109, (415) 775-1550
Cotogna
This neighborhood restaurant in the financial district is considered one of the best Italian restaurants in San Francisco.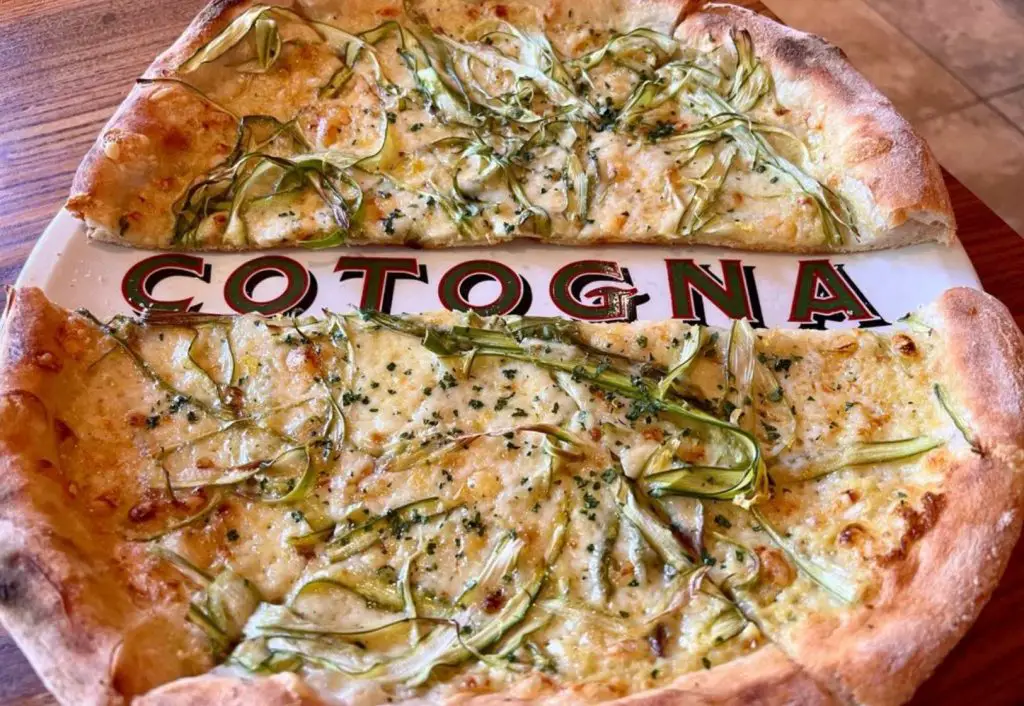 Cotogna is the sister restaurant of the fine dining restaurant, Quince, owned by Michael Tusk. It's a cozy and welcoming vibe when dining in with a seasonal menu and a focus on regional dishes.
You can't go wrong with ordering their Ravioli Di Ricotta, the San Francisco Halibut Crudo, or Agnolotti Del Plin.
Menu: Cotogna Menu
Top Review: "The hype is worth it. Best pasta in SF! Surprised they are not on the Michelin guide. I got the fresh run farm tortelli, vegetarian friendly. Pizza is tasty too but pasta really stands out. For two people, we each got a pasta dish and split a pizza, which was just the right amount of food. For special occasions they print out cute place settings which was a nice touch. Outdoor dining area was well constructed and warm, stayed dry during heavy rain." – Judy S.
490 Pacific Ave San Francisco, CA 94133, (415) 775-8508
A16
A16 is an Italian staple in the city specializing in Southern Italian cuisine with an extensive wine selection.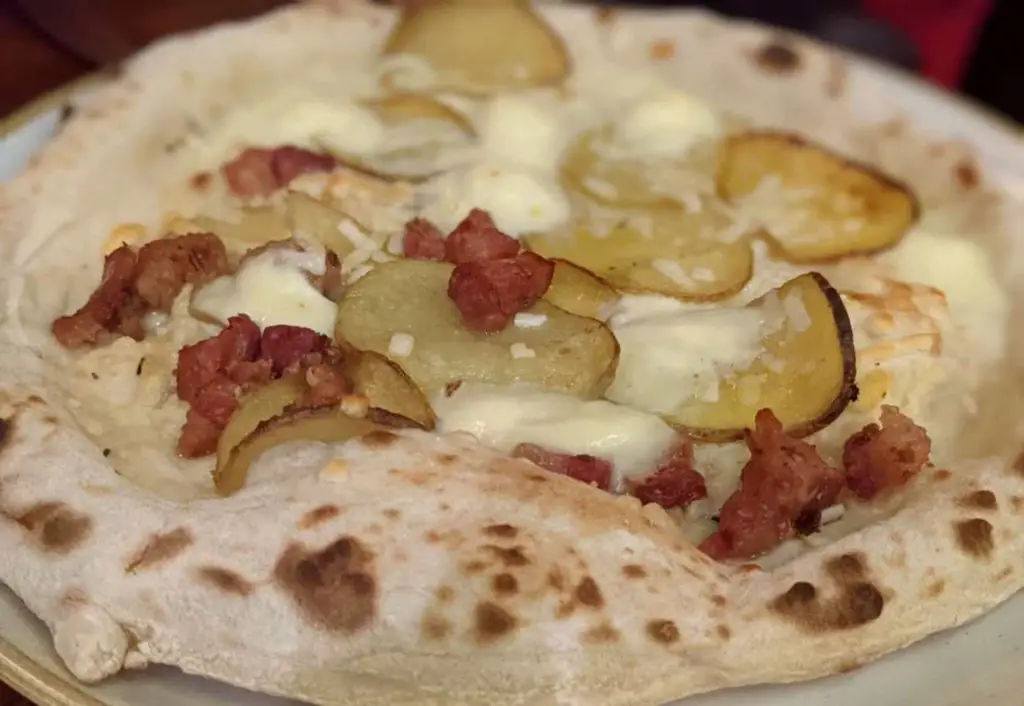 There is an open patio that's absolutely romantic and a section where you can have intimate, quiet conversations with your friends or partner. People also commend the excellent service.
A recent policy of a 20% service charge makes it one of the more expensive spots on our list.
Previous visitors recommend getting a Margherita pizza, squid ink pasta, or fennel sausage pizza.
Menu: A16 Menu
Top Review: "After trying 55 places since May 2022, A16 is a top shelf Pizzeria. Easily one of the Best in the City from a legit real pizza perspective. After 55 places since May, A16 is in the upper range of Pizza that only 5-6 other places of said 55 can relate to. And pretty much the 4 of those 5-6 are the Gods of San Francisco Pizza. These truths proven by trying their Pizza and experiencing it on your tongue are self evident. And yeah, this is for the cheese not even the Margherita yet. Based off how well done the cheese is, I bet a lot of stuff here is good." – Tiaga N.
2355 Chestnut St San Francisco, CA 94123, (415) 771-2216
Acquerello
It's no surprise that Acquerello is one of the best Italian restaurants in San Francisco, with two Michelin stars under its belt.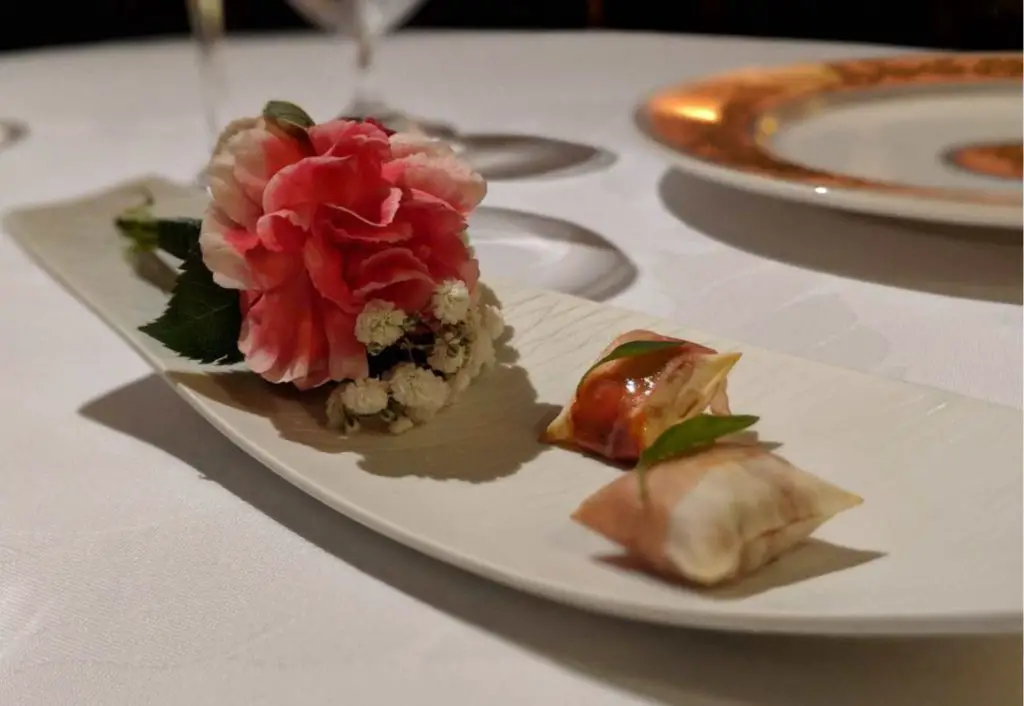 This fine dining restaurant has been serving some of the best Italian dishes in San Francisco with a nine-course tasting menu for the full experience.
It's an intimate setting with great service, a huge selection of wines, and many supplements you can add to your dishes.
It's one of the best options for a special night out. Their most talked about dish is the ridged pasta with faux foie gras, black truffle, and marsala.
Menu: Acquerello Menu
Top Review: "Fabulous from start to finish! Beautiful ambiance, comfortable seating and tables are nicely spaced out.  Service was impeccable. I haven't had this kind of service in ages. Everyone from the maitre d to the sommelier to the waiter to the young man who brought the bread….there was a server for everything! As for the food it was spectacular.  Everything was complex and delicious.  I highly recommend the Wagyu beef! We ended with an Afogatto which wasn't the usual I've seen in other restaurants. It was very creative and delicious. The portions of food were plenty for us to walk away satisfied if not leaning toward the full side.  We enjoyed everything except the duck might've been too sweet with the sweet nuts on top. I had a taste of my husbands duck and preferred my Wagyu beef" – Laura M.
1722 Sacramento St San Francisco, CA 94109, (415) 567-5432
This list is only the tip of the iceberg; there are still many more spots that make the city such a foodie heaven. Be sure to check out some of the best Italian restaurants in San Francisco!
You might also like drooling over these articles:
best italian San Francisco, italian San Francisco, best italian restaurants in San Francisco, best italian in San Francisco