Start your journey to Canada with a visit to Calgary in Alberta! It's a great city known for being a cowboy town and hosting the 1988 Winter Olympics! But they offer a whole host of hidden gems waiting to be discovered.
Calgary is the largest city in Alberta, Canada. It's an absolutely beautiful city with humble beginnings. It's also a hit with nature lovers as it's surrounded by nature and close to the Canadian Rockies. The real stars are the two rivers running through the town: Bow and Elbow Rivers.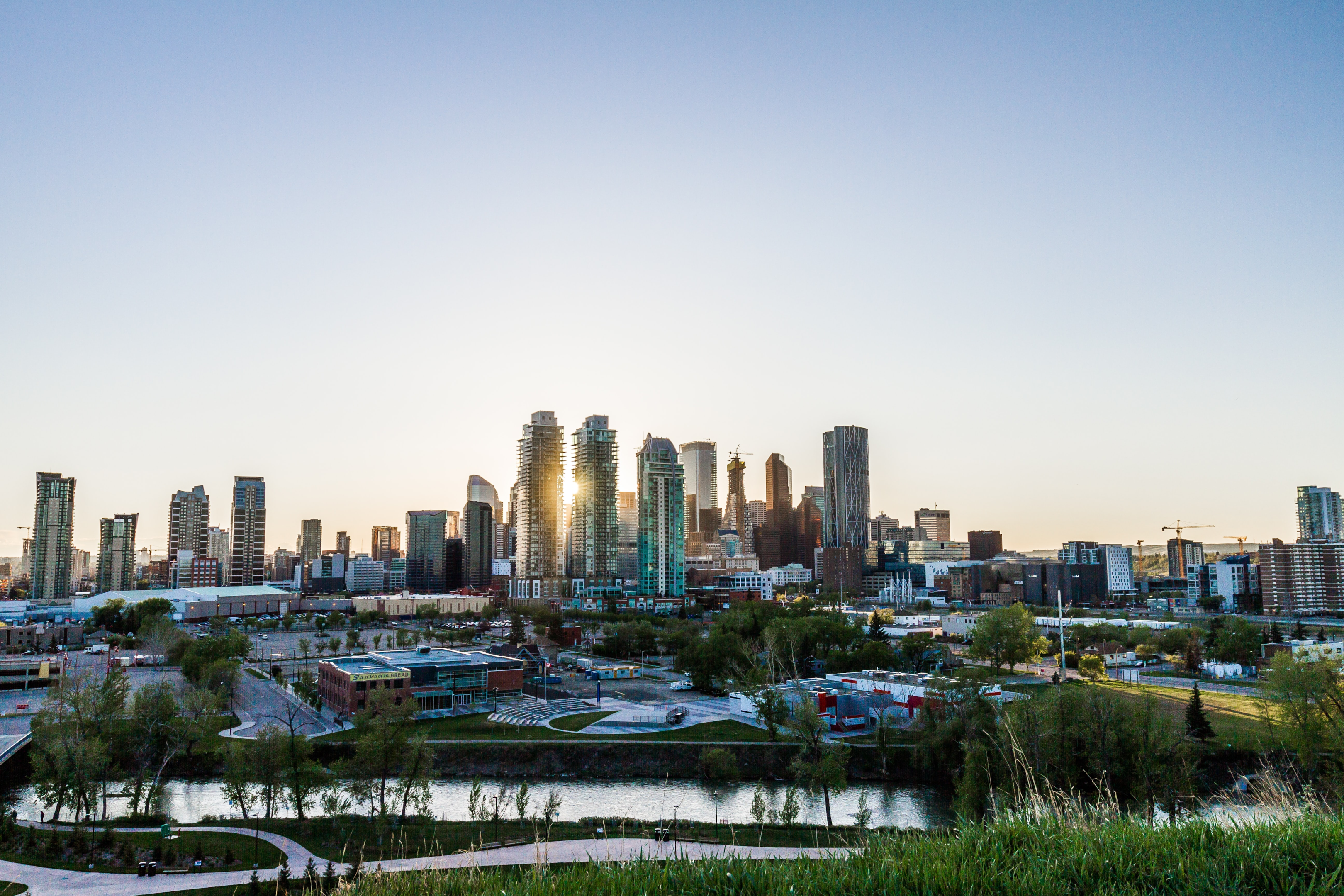 The city is known for several things that make it a hot tourist destination. This urban jungle was built on West traditions and culture and was nicknamed Cow Town.
Indigenous communities also have this city as their home. This small town quickly grew when they built the Canadian Pacific Railway. Moreover, Calgary has established a reputation for being a culturally rich city. They've made their name in the arts and entertainment scene with the Calgary Stampede, Glenbow Museum, and more.
But their most iconic tidbit is being the host of the 1988 Winter Olympic games!
Read more about the fun things to do in Calgary in this guide!
The Calgary Zoo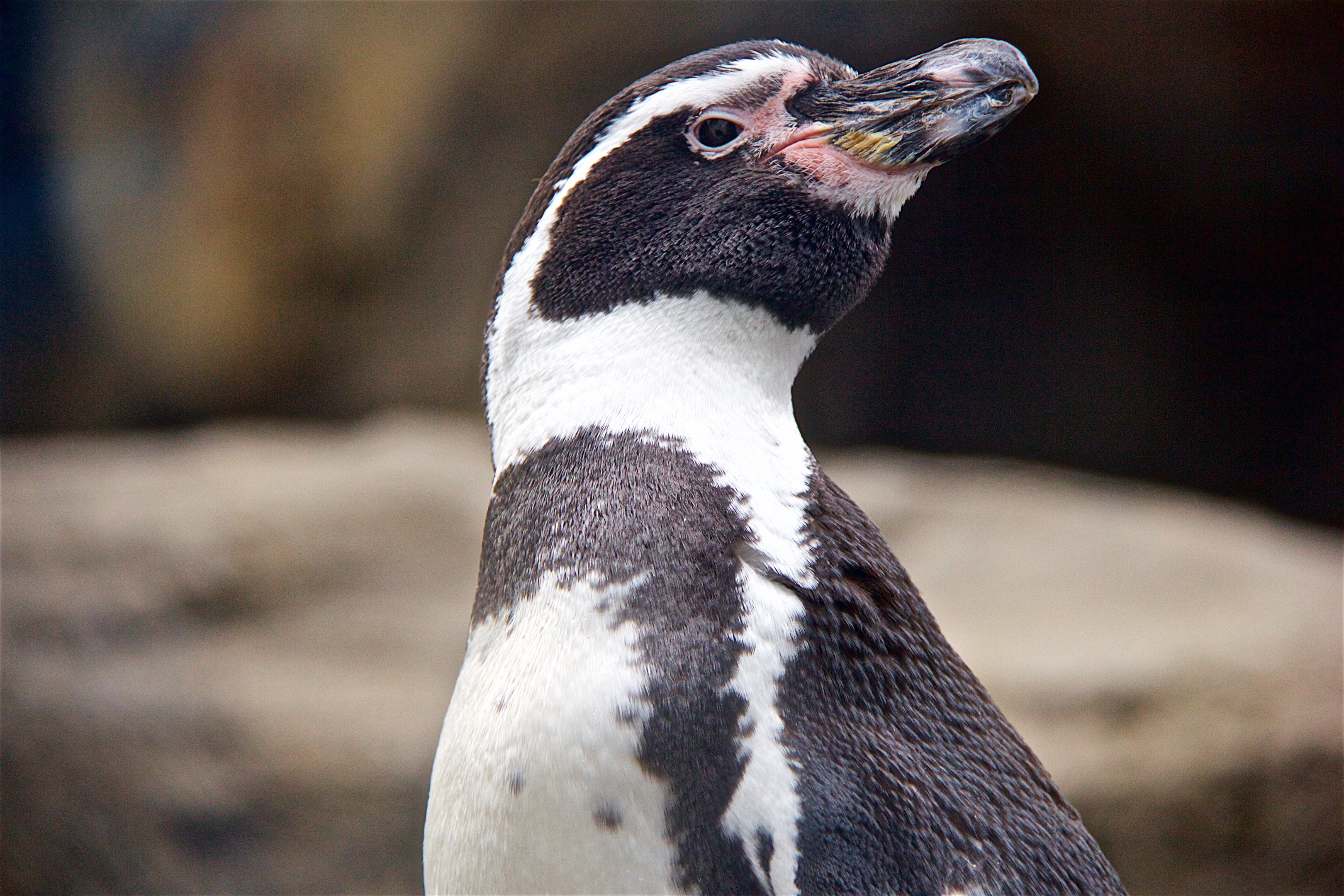 For your Calgary trip, start simple with a tried-and-tested visit to the Calgary Zoo.
The Calgary Zoo is one of the best things to do when traveling with kids. It's right by downtown, so it's also easily accessible. The zoo is all about wildlife conservation and has almost a thousand animals in its care. You'll see around 119 species with lots of scheduled activities in store.
If you're in the city around Christmas, don't miss out on the ZooLights event!
Heritage Park Historical Village
A trip to the Heritage Park Historical Village is a perfect way to spend a day in the city. This Calgary museum makes history come alive with life-sized exhibits and interactive activities.
You'll learn more about the city and region's history, plus you can ride on their fully operational steam engine train! You can take a self-guided walking tour, go on more rides, or visit the Gasoline Alley Museum (with many vintage cars!).
The Calgary Tower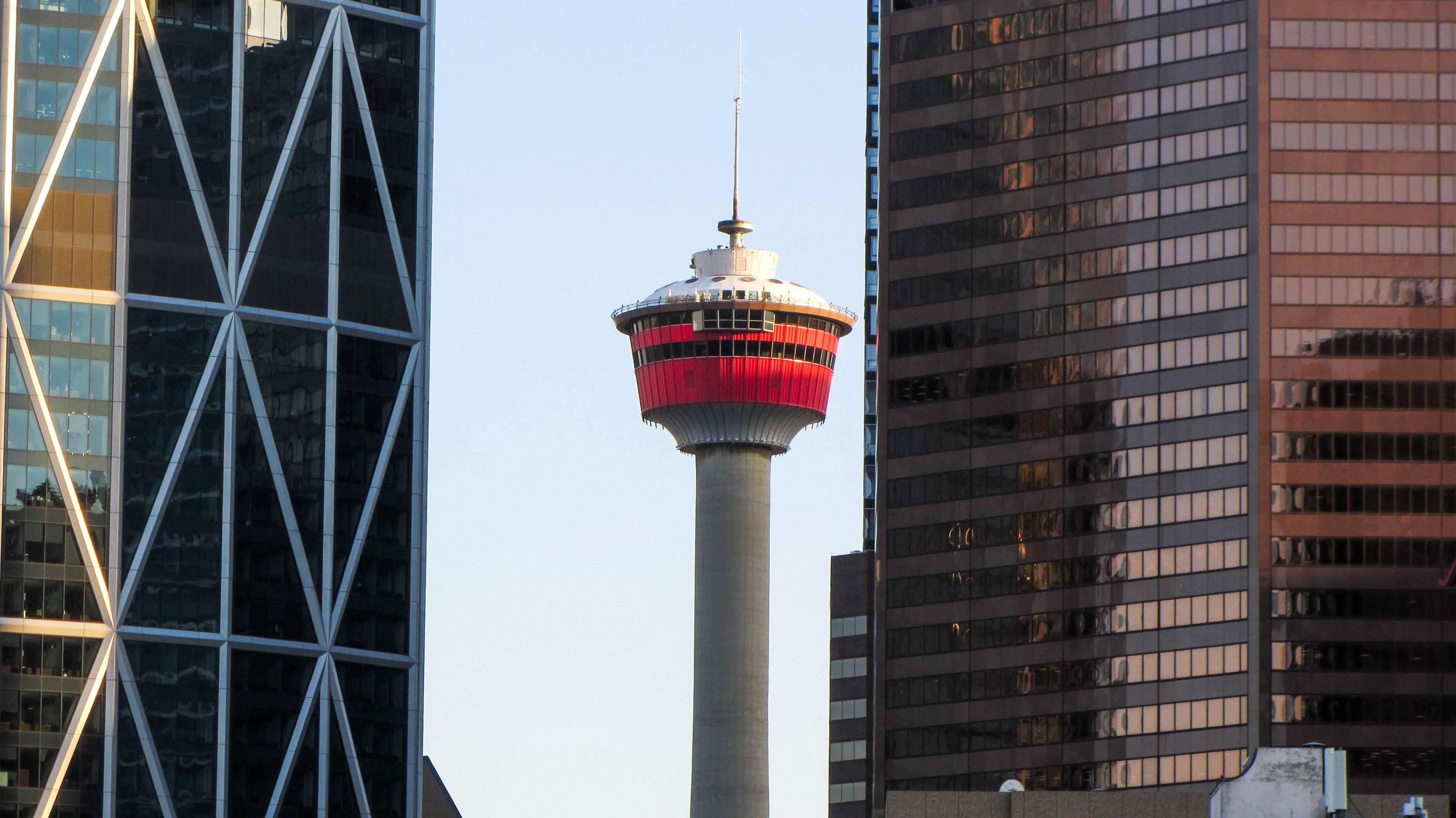 Head to the top of the tower to see panoramic views of the whole city!
The observation tower on the top floor is a 190.8-meter free-standing observation deck. So for anyone afraid of heights, you might want to skip this one. Instead, you can do lunch or dinner in the Sky 360 Restaurant and Lounge.
Fort Calgary
As an integral part of their history, Fort Calgary is also a must-visit attraction in the city.
This location is where the city had its beginnings and foundations. The fort was built right at the intersection of Bow River and Elbow River.
Points of interest include the historically preserved Hunt House and Métis cabin, the interpretive center, and the 40-acre park.
Watch an NHL Calgary Flames Game
You can't leave any Canadian city vacation without watching a live NHL game! It could just be one of the best experiences you'll have in the city.
The community really loves these games and is considered Canada's national past-time. The season lasts from October to April, so time your visit during any of those months.
The atmosphere inside would make your heart pump and your adrenaline run! Especially if you catch a game against Edmonton Oilers!
The Glenbow Museum
Glenbow Museum is a must for any tourist's to-do list. It's a beautiful museum filled with Calgary and Alberta's history. While you're here, you can check out their current rotating exhibit and their West African collection. There is always something to see and learn inside these walls. They also have a great art collection, perfect for any art enthusiast.
Studio Bell, home of the National Music Centre
If music is more your vibe, head to the Studio Bell National Music Centre. It's a five-floor music extravaganza of exhibits upon exhibits on Canadian music.
There is a Canadian Music Hall of Fame on the top floor and many interactive instrument exhibitions.
Calgary Stampede
Calgary Stampede is probably what the city is best known for.
For the uninitiated, the world-famous Calgary Stampede is the most significant event festival in the city. It happens in early July and is dubbed the Greatest Outdoor Show on Earth.
The event is headlined by lots of different shows, from the rodeo to the main highlight, the Grandstand show. Typical of any festival, there are also lots of rides, food, and the community in high spirits!
The Calgary Stampede is a big deal in these parts as it is the greatest outdoor show, and you might find yourself getting a free pancake breakfast during this event!
The Bow River
The Bow River is an essential part of the city that Calgary is today. It winds through downtown, coming from the mountains. It's a welcome reprieve in the middle of skyscrapers and city line views.
The best way to enjoy it is to go floating down the river. Locals truly recommend this, and you can rent your own raft or avail the services of one of the city's many tour guides. You can rent a kayak or raft at The Paddle Station.
Following the river's pathway system, you'll encounter public art sculptures, the iconic red Peace Bridge, and even Prince's Island Park.
WinSport: Canada Olympic Park
Becoming the host of the 1988 Olympics was a historic event for the Calgary community. This is where it took place.
Formerly called the Canada Olympic Park, the WinSport is now a place to do many sports activities. During winter, the area becomes a hotspot for skiing and snowboarding. The bobsled track is currently under repairs, but it was also a part of the things you can do here.
During summer, the hill caters to mountain biking and the Monster Zipline. If you're looking for an adrenaline rush, try this Monster Zipline! It goes as fast as 120 km per hour!
Canada's Sports Hall of Fame
Sports fans can't miss this next spot as this is the only national museum for sports that you'll find in Canada.
Of course, you'll find this little gem at WinSport Canada. It encompasses 40,000 square feet dedicated to everything sports. They've got everything from football, track & field, and baseball. You'll also see the torch they used in their iconic 1988 hosting of the Olympic Winter Games.
There have been almost 700 Canadians induced in their hall of fame.
GlobalFest Cultural & Fireworks Festival
GlobalFest is best known for its fireworks displays and pyro musicals, but there's more to it. The festival happens every August in Elliston Park. It is filled with cultural pavilions, food stands, and the highlight of the event, the light show.
The best spot to watch the fireworks is somewhere near the lake. The way the explosions reflect on the water is a light show all on its own.
The Military Museums
If you want to learn more about Calgary and Canada, the Military Museums will give you more insight.
The museum shows the life of the soldiers of the past and their stories. You'll see what it was like to live in the trenches, to fly a bomber plane and the camaraderie that developed during that time.
Though their military isn't as extensive as other countries, they've had significant roles and victories during World War I and II. Get to know more when you visit the museum.
Take the train: Rocky Mountaineer Rail Journey
Taking a train ride is probably one of the most underrated travel activities that most people take for granted. You can fix that quickly with a night aboard the Rocky Mountaineer Rail Journey.
The Rocky Mountaineer is the best at giving you a comfortable ride with five-star cuisine and wonderful views. It's the largest privately owned luxury tourist train company globally.
What makes this train different? The views don't stop at your windows. This glass dome goes from edge to edge of the window and up the ceiling. You'll be rocked to sleep amidst impressive mountain ranges and views of the Rocky Mountains.
The train runs through Calgary and Vancouver. Some spots to watch out for include Lake Louise, Kicking Horse Pass, Rogers Pass, or even stopping over Banff.
What are you waiting for? Book a trip today.
Take a day trip to Banff National Park & Lake Louise
The fun doesn't stop at Calgary. You can't miss a day trip to Banff if you have the time. It's only an hour and a half away from Calgary, and it's worth the short drive.
Banff is the perfect place for outdoor activities. People consider it the gateway to the Rocky Mountains, with so many activities in store for you. It's also just extraordinarily stunning and picturesque. Mother Nature outdid herself on this one.
But for a day trip to the city, what we suggest is Banff National Park and Lake Louise.
Banff National Park
This national park is a UNESCO World Heritage Site and the country's first national park. Banff, the only town in the park, and Canmore are good destinations if you're looking for more shopping and top-notch restaurants.
The park is full of outdoor attractions and activities that will fill your schedule.
Lake Louise
You've probably seen Lake Louise in postcards, stock photos, and everywhere on the internet but didn't know. It's this stunning lake with magnificent mountains in the backdrop. It's a popular spot for selfies and pictures.
Other than that, there are hiking and easy lakeshore trails here. You can also get on the lake with a canoe or the Lake Louise Gondola.
Free Things to do in Calgary
There are so many things to do in Calgary, Canada that it can get overwhelming and even a little tight on the wallet. Don't fret, as there are many things to do in the city without breaking the bank.
These spots are also great for people looking to slow things down or have a break from the hustle-and-bustle of the city. There are many parks in Calgary that can give you that reprieve. Some on our list are Fish Creek Provincial Park and Prince's Island Park.
These will give you time to explore the city more and even find more hidden gems you won't find in guidebooks.
Check out the city's public art
There is a lot of public art in the city, especially in Calgary's East Village area. But if you love art and looking for something to do while exploring the city, Stephen Avenue Walk is the place for you.
Stephen Avenue Walk is known for its outdoor sculptures. There are a lot of art installations here, and some of them are lit up at night, and it looks incredible. These metal tree sculptures go up to 21 to 26 meters high here.
In the East Village, there are public art murals and installations to look at by local artists. There are a couple of galleries in town as well. There's a Calgary ArtWalk that happens every year where several galleries are involved and have different shows available in 2 days. There's a self-guided walk option too.
Take a walk to Prince's Island Park
Calgary has several parks you can go to, and it's completely free!
You can find different community events held here in Prince's Island Park. They're primarily cultural events like Shakespeare in the Park by Theatre Calgary or the Calgary Folk Music Festival in July. These festivals draw in a lot of crowds because the shows are just fantastic!
Don't forget to bring food and a blanket for Shakespeare in the Park. But for the music festival, there is a beer garden, craft market, and a record tent.
This is great if you're just looking for a nice spot for a picnic. The river winds its way here, and there is some wildlife you can observe. There's also the River Cafe, which is a must-try.
Fish Creek Provincial Park
Fish Creek Provincial Park is a proper green space in Calgary. It's a natural area that spans about 14 square kilometers. It's a perfect place to go for fresh air, spend some time outdoors, and even spot some wildlife.
The park is in the south of Calgary and is the second largest urban park in Canada. It's got heritage buildings, a restaurant, walking trails, and tours.
Some of the things you can do here include fishing, bird watching, biking, or having a picnic. This park is also popular with bird watchers as around 200 species of birds call this their home.
Eat & Drink
When it comes to the food scene, Calgary also has many choices to offer. They're best known for their many top-notch breweries. But they've also got the weird, unique, and funky hole-in-the-wall restaurants and interesting cuisines to try.
Native Tongues
You can never go wrong with a Mexican food craving. Especially not when you're in Native Tongues in Calgary.
This spot serves authentic tacos, tostadas, and donas. It can even deliver if you're not feeling up to going out. They do their food simply but don't be fooled; they are absolutely delicious and mouth-watering.
Plus, if it's more of a party night for you, they have many tequila options. They're affordable, delicious, and can get the party started. What more can we ask for?
Tubby Dog
Speaking of affordable options, Tubby Dog is just the perfect place if you've spent all your budget on Calgary attractions.
Both locals and tourists swear by this restaurant. Some recommendations include
SUMO – packed with wasabi, pickled ginger, Japanese mayo, and a seaweed salad
A-BOMB – filled with cheese, bacon, mayo, mustard, ketchup, and potato chips
There are a lot more flavor combinations where that came from. If you're even a little bit curious, come here to Tubby Dog.
Despite sounding very simple, that's not all there is to it.
It isn't just the food here at Tubby Dog (though that's also a huge deal), the atmosphere is fun and casual, and you can take it easy here. When you're not busy trying out their food, you can play one of their classic arcade games and be transported to your childhood. Pair that up with a cold glass of beer, and your night just got better.
River Café
If there's a little more room in your budget, head to River Café for a nice dinner out. This is a step up from casual dining and is a fine dining restaurant in Prince's Island Park.
Though they're a little more expensive, they are also one of the most eco-friendly restaurants in Calgary and Canada. They use only local ingredients and have their menus paired with what the season offers.
Trolley 5
We can't finish this list without a recommendation for one of the many brewpubs the city has to offer. Calgary has a healthy and extensive brewpub community, and there are so many good options out there.
We suggest heading to Trolley 5 to see what this is all about. This restaurant has two floors with many brewing equipments in full view. They have your typical pub menu, but they're absolutely delicious. Try their Alberta Beef Brisket and Egg sandwich or anything on their brunch menu.
Oh, and of course, don't forget to try some of their craft beers. Turntable Lager, High Five IPA, and The Conductor Beltline Lager are just some drinks you can try.