A visit to Alabama wouldn't be complete without visiting their largest city, Birmingham.
The city is full of vibrant culture and a homey community. It's got loads to offer for your trip.
Birmingham, Alabama was a significant player in the Civil Rights Movement in the 60's and still houses several Civil Rights landmarks.
London Scenes: Part One
x
You can learn more about their history in museums and landmarks in the city.
Other than that, they were also known in the steel industry. But these days, the city is more known for its culture, the premiere university, rich history, and outdoor recreation.
The city is near the Georgia state border and is a little over two hours away from Atlanta, Georgia.
The nearest city is Tuscaloosa, about an hour away.
See what to do in the city with these 15 things to do in Birmingham, Alabama.
Birmingham Museum of Art
At the heart of the city's cultural district, you'll find the Birmingham Museum of Art. The museum doesn't just showcase local art but works from all over the world.
They have more than 25,000 objects, artifacts, and artworks inside the museum with works from America, Europe, Africa, and even Native American.
Their Asian art collection is one of the best in the region, with their Vietnamese ceramics as one of the best globally. 
Birmingham Civil Rights Institute
As a significant player of the 60s Civil Rights Movement, this institute seeks to educate everyone on human and civil rights.
They believe that looking at our past can help make the future better, so the museum was born.
Their collection fills the 58,000 square feet of space with archives, galleries, and temporary exhibits.
Their permanent exhibit highlights the city's history from the 50s and 60s movement and leads to human rights issues today.
Vulcan Park and Museum
One of the icons of Birmingham is the 56-foot iron statue atop Red Mountain.
Located just outside the city, this statue is of the Roman God of Fire, Vulcan.
It was made using local iron and is the largest cast-iron statue in the world.
It weighs a heavy 50-ton and has been looking over Birmingham since the 1930s.
The statue lives inside Vulcan Park, where many spend their days relaxing, having a picnic, or visiting the observation deck.
It also includes the Vulcan Museum that highlights the city, the statue, and their histories.
Red Mountain Park
Red Mountain is named so because of the iron ore found beneath the mountain.
Before it was a park, this was the sight of many mines looking for those iron ores. The last of which was closed in 1962.
The park has many opportunities for outdoor recreation, including having landmarks like the Vulcan statue atop the mountain.
It covers 1,500 acres of land, has two overlook points, and over 14 miles of trails.
Many come here for those trails, often used for biking and hiking.
McWane Science Center
The McWane Science Center is a fun destination for kids and families that encourages learning through play.
It has many interactive and engaging exhibits on topics like dinosaurs, technology, and space. 
Different floors have different categories. The lower levels include an interactive aquarium exhibit, while top floors have art and technology and other temporary exhibitions.
There are many displays to explore and so many things to discover!
"Not everyday will you be able to encounter: fossils, aquariums and an IMAX all under one convenient roof. The McWane science center has everything you might need for an educational and fun experience for the whole family." – Angie
Birmingham Zoo
Another family-friendly attraction is the Birmingham Zoo.
Home to 950 animals of over 200 species, many are endangered, with some exotic species in the mix.
This includes animals like the Komodo dragon, the red panda, and the double-wattled cassowary.
The zoo has extensive conservation efforts and educational programs for them.
You can also watch a show, get up close with the animals, or get a tour of the inner workings of the zoo.
The zoo also houses a botanical exhibit with more than 20 species of butterflies.
Plus, a new area called Hugh Kaul Children's Zoo that's dedicated to Alabama's local animals.
Sloss Furnace National Historic Landmark
Birmingham has many unique attractions in the city, and Sloss Furnace National Historic Landmark is one of them.
The landmark was a producer of pig iron in 1882 but is now a museum on the industry's history.
It's definitely impressive at first sight, with its massive furnaces, pipes, and smokestacks flooding your vision.
You can take a self-guided tour with a brochure from the visitor center.
Guided tours are offered during the weekends or by request.
"A combination of spooky and fascinating, Sloss Furnaces is a must visit location for anyone visiting Birmingham. Seeing the nuts and bolts up close of how the iron industry in the city used to work is pretty cool." – Vincent
Railroad Park
Take a breather in the green spaces of Railroad Park. The park is right in the heart of downtown Birmingham and spans 19 acres of land.
This outdoor haven is the site of walking trails like the three-quarter-mile Rail Trail and small bodies of water (streams, ponds, and a lake).
There are also two playgrounds and three skate bowls.
You can just take some time to rest in this park or watch one of the many events held here.
Barber Vintage Motorsports Museum
Are you a fan of motorsports and cars? Like vintage motorcycles? This museum is the perfect place for you!
The Barber Vintage Motorsports Museum includes over 1,400 vehicles in its collection.
This covers several countries, more than 200 manufacturers and includes rare race cars.
This museum's facility is also home to a 2.38-mile racetrack where manufacturers do testing, commercials, etc.
Many of the cars here have also been toured in different countries. This amazing vintage museum has been open since 1995 by race driver George Barber.
"Breathtaking collection, awesome track and fantastic customer service! I recommend to anyone that loves cars to visit! – Patrick C.
"The most amazing place ever! If you have the time at least 3-4 hours then I highly recommend going to check out this amazing collection!" Jeff M.
Southern Museum of Flight
Take flight inside this museum where everything is about aircraft and aviation. Outside, you'll get to see vintage airplanes and early model planes up close.
Inside the museum, tons of exhibits focus on education, history, and interactive exhibits.
There are military exhibits on different war eras like the Korean War, WWII, and the Vietnam War.
You can try out experimental aviation using Legos in one exhibit. And in another, experience a flight with one of their simulators and a flight instructor.
Inside, you can also visit the Alabama Aviation Hall of Fame.
"This was definitely the smallest aviation museum I have ever visited; however, I was extremely impressed.  Even after visiting the Smithsonian this museum had a lot of value.  The main part of the museum was divided into recent and older aviation displays. The highlight of my trip was seeing a Navy Blue Angel demonstration airplane and my favorite jet the A-7." – Warren E
Birmingham Botanical Gardens
The Birmingham Botanical Gardens might take you a whole day to explore since it covers about 67-acres of land, entirely dedicated to horticulture.
The city's botanical gardens are truly amazing to just read about.
The first thing you'll see is a glass conservatory behind the Formal Garden.
Their collection is divided into three categories:
Gardens of Collections: The first collection features gardens based on plant type, family, or group.
Gardens of Nature: The second collection highlights native plants from the Southeastern US.
Gardens of Culture: The last collection deals with design styles or thematic gardens like the Japanese Garden.
"Take some time to smell the roses! What an extraordinary, solace scene! This garden tops the charts for all botanical gardens. I have been to a few in New York and Florida, but nothing is as grand as this one" – Angie
Alabama Jazz Hall of Fame
The city and its community wanted to keep the spirit of jazz alive, so the Alabama Jazz Hall of Fame was born.
Opened in 1993, the museum features memorabilia and artifacts all related to jazz.
There are even memorabilia from the Jazz Great, Ella Fitzgerald.
In line with their vision, they also sponsor jazz events held in the city and have weekly jazz classes for those who want to learn.
Kelly Ingram Park
Kelly Ingram Park was one of the notable places where an important Civil Rights event took place. This historic four-acre park was the site of many demonstrations back in the day, but the event that changed history happened in May 1963.
Police faced children and student protesters where they used fire hoses and police dogs on them.
This significantly impacted the passage of the Civil Rights Act of 1964.
Scattered around the park are statues that show the scenes of the event.
There is a guided tour that details what happened and descriptions of the art.
Directions: 1600 5th Ave N Birmingham, AL 35203
Avondale Brewing Company
Take a break and treat yourself to a glass of local craft beer. The Avondale Brewing Company is just one of the many breweries in Birmingham.
It's located in a historic building that has been a bank, pharmacy, post office, and a bar called Long Branch Saloon.
You can take a tour of their taproom and even sample their latest and greatest.
"A terrific brewery in one of Birmingham's coolest urban neighborhoods, Avondale Brewing is a must-stop for Hopheads visiting Alabama's biggest city. With a spacious taproom and a Biergarten large enough to have its own concert stage, it's the perfect spot to meet friends after work or just enjoy a few delicious beers on your own." – Joe P
Ruffner Mountain Nature Preserve
This mountain park is another one whose origins started as a mining site.
There are still some sites, quarries, and equipment that have been preserved in the area.
Other than that, the center is a sanctuary for many wildlife, including owls, raptors, snakes, and other mammals.
There are 12 miles of hiking and biking trails, and it's a good place for some birdwatching.
FAQs:
Where to eat
Probably the most famous restaurant for tourists to try is Highlands Bar & Grill (Re-opening Aug. 1 2021). It's a high-end atmosphere with a Southern mixed with French cuisine.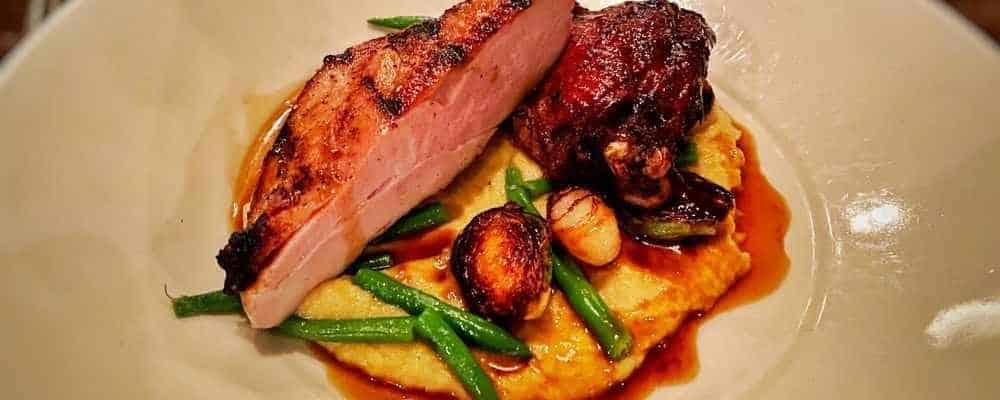 If you want something more warm and intimate, OvenBird offers Spanish & South American cuisine to the table.
For barbecue, go to Saw's Soul Kitchen.
And though it looks suspicious eating at a former gas station, Blue Pacific has authentic Thai food for you to try.
Where to stay
Here are the top recommended hotels for your Birmingham stay: Hampton Inn & Suites, Drury Inn & Suites Birmingham, Elyton Hotel, Autograph Collection.
Day trips from Birmingham
There is no end to the wonders you can explore in and near Birmingham; here are just some of your options:
Chattanooga, Tennessee: a little over a two-hour drive
DeSoto State Park: about two hours away
Huntsville: about an hour's drive
Atlanta: around a two and a half drive
Oak Mountain State Park: 30-minute drive from the city