DC has always been a hub of good food and unique experiences, and they have many frontrunners when it comes to sushi.
There are many sushi places in DC, but we're here to bring you the best sushi in Washington, DC. Some of these have been featured in the Washingtonian and Eater.
We've got everything you need; From Michelin-star restaurants like Sushi Taro and local favorites. From different neighborhoods, different price points, and for every occasion.
Some of these restaurants are only accepting reservations, so make sure to check their websites and social media pages for updated hours and how to reserve a table.
Here are the best sushi restaurants in Washington, DC.
O-Ku
If you're looking for a good date night spot or a special occasion, O-Ku's sleek modern vibes and the rooftop deck is perfect.
Sourced from fresh ingredients, their menu selection has classic sushi and sashimi. They also offer small plates, full entrees, and food cooked over their robata grill.
Their second-floor lounge and bar have a variety of Japanese whiskey, sake, specialty cocktails, wine, and local beer. Come up here for a drink to finish off the night and views of the city below.
Top Review: "Spectacular experience. Went there to celebrate my birthday and everything about O-Ku made it a fantastic night out. The cocktails crafted with attention to detail, the food used so many components to form unique flavors while still being to identify the individual parts, but the true stand-out of the night was the service. Our server, Wesley, was incredible. He was engaged and responsive while managing a full section of tables. His recommendations were spot on and tailored to our preferences. An outstanding representative of the restaurant." – Milton P.
Neighborhood: Union Market district
Address: 1274 5th St NE Washington, DC 20002
Price: $$
Availability: open for indoor dining. Mon-Sat: 5 – 10 PM, order online for delivery
Directions ▪ Website ▪ Call
Sushiko
Sushiko in Chevy Chase is one of the best sushi in DC and is a local favorite.
Their lovely style of carving fish into flowers is just one of the many things you'll experience in the restaurant. Aside from their rolls and sashimi, they have specialty dishes and an extensive selection of vegan and vegetarian food. If you want to go all out, they also have wagyu beef on their menu.
Their happy hour offers include sake, Japanese whiskey, cocktails, wine, and beer.
Top Review: "Truly a gem. Their cuts are top-quality, and always taste incredible–complex and fresh. (They're gorgeous, too.) Unlike other restaurants on par with their quality, everything comes at an excellent price. When ordering out, they put in extra steps to ensure enough wasabi and ginger is included, and they put in effort to try and accommodate special requests. They're great with allergies." – Nat N.
Neighborhood: Friendship Heights
Address: 5455 Wisconsin Ave Chevy Chase, MD 20815
Price: $$$$
Availability: open for indoor dining. Tue – Sun: 4:30 – 8 PM, order in uber eats and door dash for delivery
Directions ▪ Website ▪ Call
Kaz Sushi Bistro
This sushi restaurant is one of the most popular and iconic in DC.
The prices are a little steeper than most, but if you're looking for authentic Japanese sushi, this is the right place to be. Not only is it known for authenticity, but the chefs also like to mix it up once in a while and be adventurous in their menu. This freestyle vibe can be seen in their East-West fusion cuisines.
They've been an institution in downtown DC for 20 years, and still many come back for more. Their dinner menu includes hot and cold small plates, sushi, and rolls. They also have Omakase or their "Kaz Tasting Menu," which they're really known for.
Top Review: "I've been here a few times, and just tried delivery on Uber Eats. In my experience so far, it's the best sushi downtown (including compared to Sushi Taro IMO). Prices can be high, given its usual DC power-lunch crowd. But it never disappoints in terms of quality. I'll keep relying on Kaz for solid, fresh sushi." – James L
Neighborhood: Downtown
Address: 1915 I St NW Washington, DC 20006
Price: $$$
Availability: Open for indoor dining. Tue – Sat: 5 – 9 PM, open for delivery
Directions ▪ Website ▪ Call
Sushi Gakyu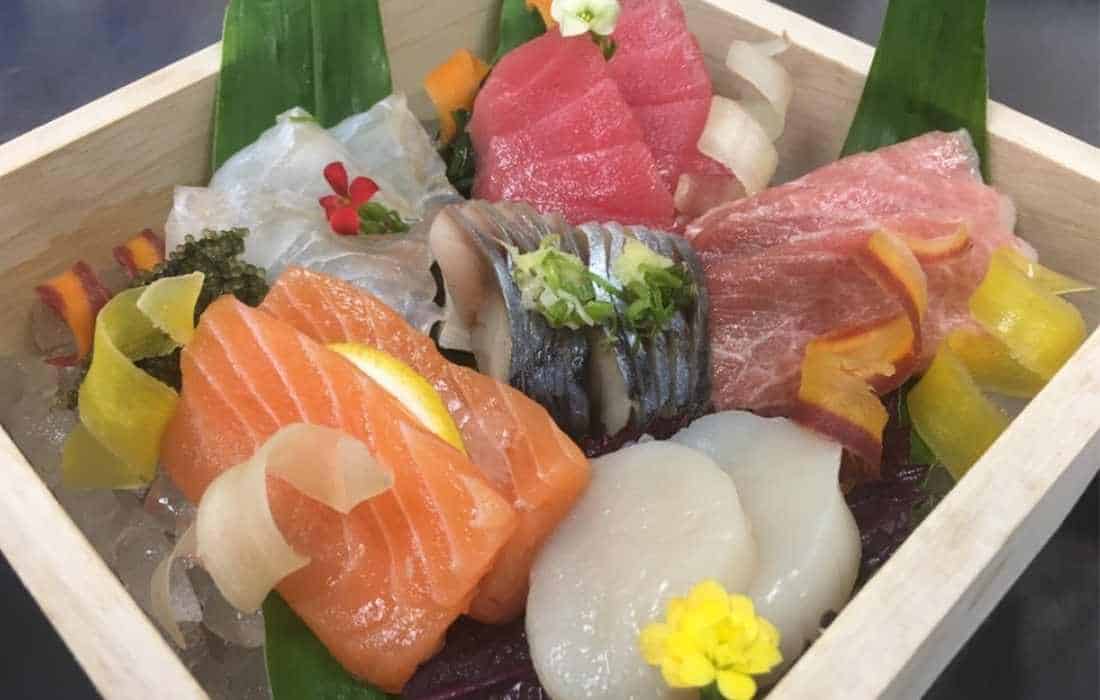 Another downtown favorite is Sushi Gakyu, right in the heart of DC. The sushi restaurant is led by the veteran sushi chef and sake sommelier, Yoshi Ota.
It's perfect for foodies looking for authentic sushi.
What they're known for here are the Japanese specialties they offer that you can't find elsewhere. Some of these are the rare fugu pufferfish, lobster rolls, spot prawn nigiri, and even fermented sushi. People also come here for their Omakase specials starting from 3 appetizer courses, 10 premium Nigiri, and dessert.
Even more remarkable is their seasonal Fugu Puffy Fish course. If you'd like something a little more casual, they have sushi and sashimi plates and even sushi a la carte.
Lunch is a casual affair, but dinner has a more formal vibe, so dress accordingly.
Neighborhood: Downtown
Address: 1420 New York Ave NW Washington, DC 20005
Price: $$$
Availability: open for indoor dining. Mon-Sat; lunch: 12 – 2 PM and dinner: 4 – 8 PM, order online at postmates, ubereats, & caviar for delivery
Directions ▪ Website ▪ Call
Sushi Hachi
Sushi Hachi by chef and owner Steve Yoon is great for people looking for an affordable and casual sushi restaurant.
They have an omakase and a la carte option on their menu, all sourced from fresh ingredients. Their hot dishes range from prime beef grills to soups and udon. You also have your classic sushi rolls and nigiri sashimi with some unique selections like prime beef nigiri.
It's great for a quick bite but super filling and worth it if you've got that sushi craving.
Top Review: "This is the third time I've ordered delivery from Sushi Hachi, and each experience has been excellent. Delivery is easy and prompt, and the food comes still very fresh. This has definitely become my go-to for delivery in the area." – Brian G.
Neighborhood: Capitol Hill
Address: 735 8th St SE Washington, DC 20003
Price: $$
Availability: open for indoor dining daily. 11:30 AM – 9:30 PM, order online for delivery
Directions ▪ Website ▪ Call
Yume Sushi
Yume Sushi is about 20 minutes from DC, but it's one of the best sushi restaurants in the DC area, so it's worth it.
Plus, they have free delivery for people within 5 miles of the restaurant.
Their menu selection features signature rolls like the wagyu roll, the salmon lover roll, and more. They also have sushi a la carte. More than that, their omakase and tasting menu is reason enough to drive to Arlington. You might get to try "The Winner," the winner of the 2006 Morikami Award. It's a tower of foie gras with unagi, tuna rose, and caviar.
The vibes inside are more upscale than the other sushi places, but it's still pretty comfortable and nice.
Top Review: "This place is freaking amazing. It's like an explosion of flavor in your mouth every single bite!!! Every interaction has been spot on from the moment we step inside the door." – Phong L.
Neighborhood: Arlington
Address: 2121 N Westmoreland St A-2 Arlington, VA 22213
Price: $$
Availability: open for indoor dining, open for delivery with free delivery within a 5-mile radius
Mon-Wed: 4 – 10 PM,
Thurs: 4 – 11 PM,
Fri: 4 PM – 12 AM,
Sat: 12 PM – 12 AM,
Sun: 12 – 10 PM
Directions ▪ Website ▪ Call
Perry's
Perry's is known for its rooftop bar, complete with fairy lights and a stunning view of Adams Morgan.
This Japanese restaurant is also famous for its Sunday Drag Brunch. Drag as in Drag Queens. Exciting, right? Can other sushi restaurants say they have that? They have an extensive sushi menu, with classic sushi, signature rolls, nigiri, and many good options for authentic Japanese dishes.
Stop by their Happy Hour every Monday to Saturday from 4 – 6 PM or during dinner for the whole experience.
Neighborhood: Adams Morgan
Address: 1811 Columbia Rd NW Washington, DC 20009
Price: $$$
Availability:
open for indoor dining daily. Mon-Sat: 4 – 10 PM, Sun: 5:30 – 9:45 PM, Sunday brunch: 10 AM – 12 PM & 1 – 3 PM.
order online at caviar, doordash, ubereats, and postmates for delivery.
Directions ▪ Website ▪ Call
Sushi Capitol
Sushi Capitol is a no-fuss, traditional, and intimate sushi house. They say that this is a "pure, minimally processed experience."
It's a straightforward approach; they have good sushi that eclipses all the fancy things you may see in other sushi restaurants.
They have three locations in DC, one in Capitol Hill, Chinatown, and Convention Center. It's also one of the more affordable sushi restaurants in DC, even with their omakase option. Speaking of omakase, many people rave about this experience and come back for the chef's choice more often than not. They also have several appetizer options you're going to love. 
No question one of the best sushi restaurants in DC.
Top Review: "This restaurant is a gem hidden in plain sight.  Have been searching for a great omekase experience in this town, and so happy I landed here.  The food is stellar in presentation, in selection, and in variety.  The sushi rice is among the best I've tasted.  Had sweet shrimp last night, and it might have been the best piece of shrimp I've ever had." – Ennis P.
Neighborhood: Capitol Hill, Chinatown, Convention Center
Address:
Capitol Hill: 325 Pennsylvania Ave SE, Washington, DC 20003
Chinatown: 750 6th St NW, Washington, DC 20001
Convention Center: 1314 9th Street NW, Washington, DC 20001
Price: $$$
Availability: open for indoor dining & delivery.
Website: http://sushicapitol.com
Sushi Taro
Sushi Taro is your ultimate fine dining sushi experience. It's definitely one of the most upscale sushi restaurants in DC, but it's also got a Michelin star, so it's worth it.
Their omakase counter follows "Kaiseki," which is a traditional dining experience. There's no set menu, but they'll let you choose from the fresh fish they have that day. Their Omakase meal comes with 4-6 small plates, then seasonal sashimi, and finishing with sushi. It's $250 per person and goes even higher for rare and expensive ingredients. But it's an interactive and fun experience and will surely be one-of-a-kind.
For something more affordable, they do have sushi a la carte and unique sushi lunch dishes. Try their wagyu sushi or lobster sashimi, some of the best things on their menu. One of the best sushi restaurants in DC.
Top Review: "Probably the best omakase I've ever had. Don't understand how this establishment could possibly have less than a 5 star rating. Usually when I've had it, omakase is already decided for you–a smattering of bite size dishes you'll probably forget later. This is not the case at Sushi Taro. Here the cadence of the meal becomes a choose-your-own-adventure: chef's serves some appetizers, chef displays all the sashimi they have available at the moment and you choose what you want to try or let him decide what you sample. Then you decide after trying your sampling of sashimi, if there's anything you want more of. For example I tried the different types of uni, bonito, wagyu, fatty tuna etc. all a second time! Each selection is prepared in a unique way to best complement the fish's flavors. For example when choosing the bonito, the fish is served soaked in a ginger-soy preparation which has a refreshing plate to better complement its deeply oceanic taste. The octopus on the other hand is only lightly salted since it's flavor is mild and the focus is on the texture. Even though omakase is several tiny plates of food you will never leave hungry or feel as though you didn't get your money's worth because this is essentially all you can eat omakase. And then AFTER the sashimi AYCE there is a SUSHI course. Then after sushi there are the hot dishes which include the snow crab soup in the crab shell itself and then dessert. The priority at Sushi Taro is clearly to let you indulge in every tasty thing the chefs could have possibly procured for you at the time. The attention to detail is so precise. For my left handed boyfriend the chef placed the ginger, wasabi, and radish all on the left side of his plates so that he could more easily reach them while the rest of us had ours on the right. An unforgettable meal!" – Karina C.
Neighborhood: Dupont Circle
Price: $$$$
Availability: open for indoor dining. Tue – Sat: 5 – 9:30 PM, open for delivery with 2 days advanced order.
Directions ▪ Website ▪ Call
Susheria by Mate
Susheria (formerly Mate) is one of the best sushi restaurants in Georgetown, DC. It's also one of the most unique sushi places in the DC area, with a menu that features a Peruvian-Japanese fusion.
Other than their Peruvian-Japanese sushi, the restaurant also has Nikkei cuisine. Check out their Nikkei rolls like Lomo Saltado roll (strip steak, cream cheese, fried potato, avocado). Almost all of their rolls have a twist to them, but they also have classic sushi and sashimi. There's even a smoked salmon nigiri and Wagyu nigiri.
While you're here, enjoy the views of the waterfront and take a dive into their other Peruvian-Japanese dishes!
Top Review: "I had high expectations for susheria given my experience with Latin/Japanese fusion restaurants in Miami. I was not disappointed! As the reviews mention, the fish was fresh, and the Lomo Saltado sushi roll was on point! A great blend of flavors." – Romy G.
Neighborhood: Georgetown
Address: 3101 K Street Northwest, Washington, D. C. 20007
Price: $$$
Availability: open for indoor dining.
Tue – Wed: 5 – 10 PM,
Thurs: 5 – 11 PM,
Fri: 5 PM – 12 AM,
Sat: 12 PM – 12 AM,
Sun: 12 – 10 PM
open for delivery
Directions ▪ Website ▪ Call
best sushi near me, sushi restaurants near me, latin sushi near me, sushi places near me, 5 star sushi near me, sushi bar. sushi counter, sushi chefs