If you're in the mood for a little adventure and exploring, Newport, KY is just what you need.
This city has plenty of sights and activities to offer – from historic sites and landmarks to family-friendly attractions.
If you find yourself visiting this charming town or sitting at your desk searching for some inspiration, here's a list of 12 things to see and do when in Newport.
New Riff Distilling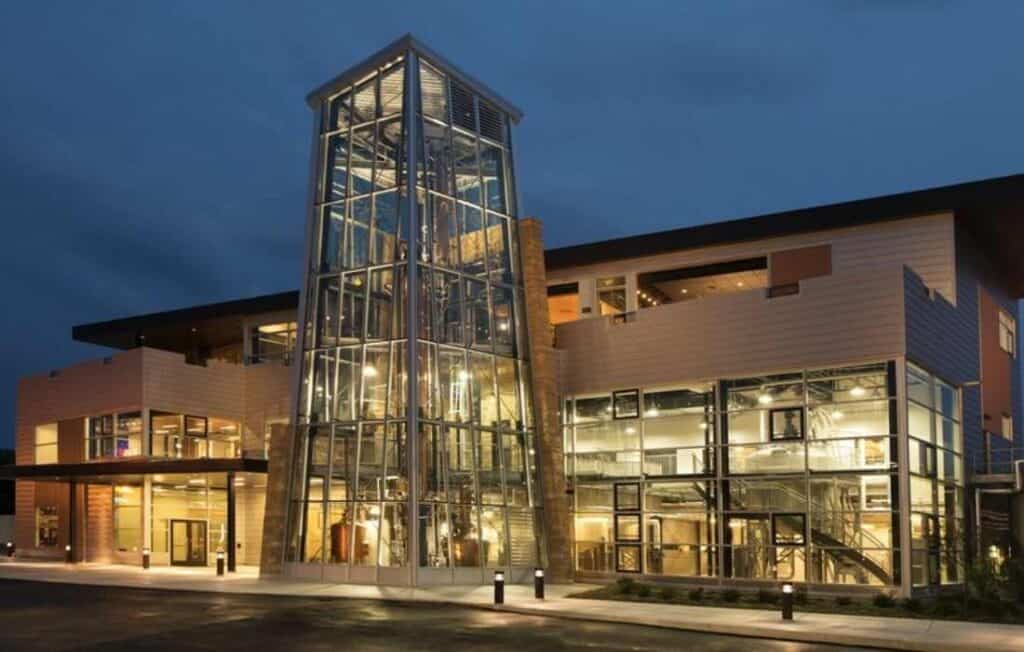 The New Riff Distillery is one of the top destinations in Newport. This distillery aims to put unique twists on classic and old traditions, specifically the Kentucky Bourbon.
Not only can you take tours of the facility, but they also offer tastings and a gift shop.
They have classic whiskeys but also some special ones like Kentucky Gin.
Top Review: "Mr.Grover gave an amazing, informative tour! Extremely personable and is part of the history of the place. Cheers to their continued success and growth… wish I would've joined the ranger club! Northern KY at its best.." – Roy C.
Purple People Bridge (Newport Southbank Bridge)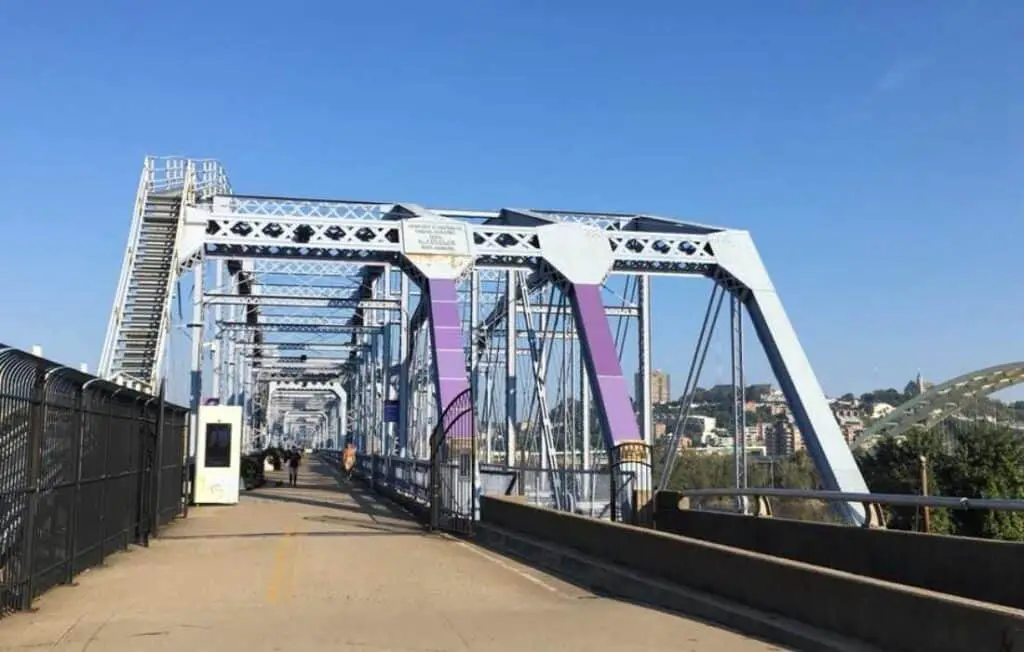 The purple people bridge, also known as the Newport Southbank Bridge, is one of the most popular landmarks in Newport.
It's a pedestrian and bike bridge that connects the two sides of Newport – and it happens to be purple!
It's a great spot for photos and offers some beautiful views of the river.
Top Review: "This is probably my favorite bridge I have gone on.  I really like that it is a pedestrian Bridge only with no cars or trains or that kind of stuff.  I love that it crossed over the border of Ohio and Kentucky.  I got to stand in 2 states at once.  I had a great view of the Cincinnati skyline and the river. I had a really good time on the bridge and I recommend this bridge to anyone." – Ryan M.
World Peace Bell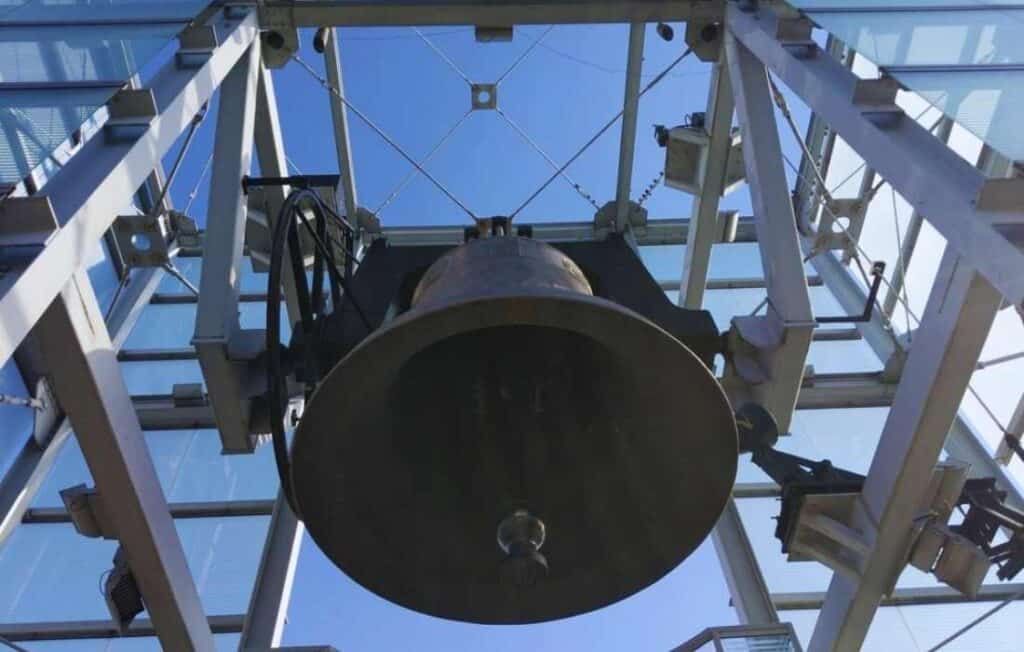 The World Peace Bell is an iconic landmark in the city of Newport.
This massive bell stands two stories high and weighs in at sixty-six thousand pounds! It's located on the campus of Holy Cross College, so you'll need to gain permission from school officials before visiting.
It holds the record of the largest free-swinging bell in the world. It's also one of the over 20 peace bells globally and rings every day at noon.
Top Review: "The World Peace Bell in Newport was the largest, free-swinging bell in the world until 2006. It was designed and cast by a Cincinnati company, Verdin Bell Company, one of the largest bell-making companies in the world.The bell was installed and dedicated a couple of blocks from the Levee in 1999. Its original purpose was to be rung on the International Day of Peace on January 1, 2000. It is one of twenty such peace bells around the world." – Cathy R.
425 York St Newport, KY 41071, (859) 655-7700
Hofbrauhaus Newport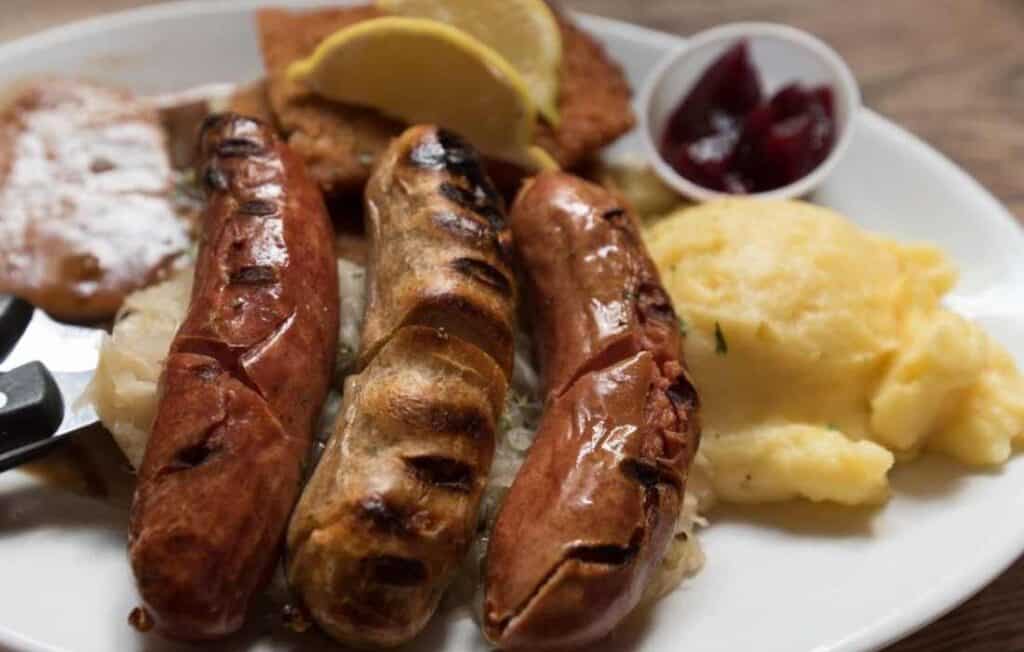 If you're looking for a taste of Germany in Kentucky, look no further than Hofbrauhaus Newport.
This authentic German beer hall offers a variety of delicious food and drinks – plus live music and entertainment on the weekends!
It's the perfect place to take your friends or family for a fun night out.
Top Review: "I love this place! Very nice food and drink. The servers are dressed very interestingly, so you should check that out too. Inside has live band and outside has beautiful lights. The owner of this business is inspired by the real Hofbrauhaus in Germany. So you can definitely feel the Europe vibe here!" – Jisoo B.
200 E 3rd St Newport, KY 41071, (859) 491-7200
Newport on the levee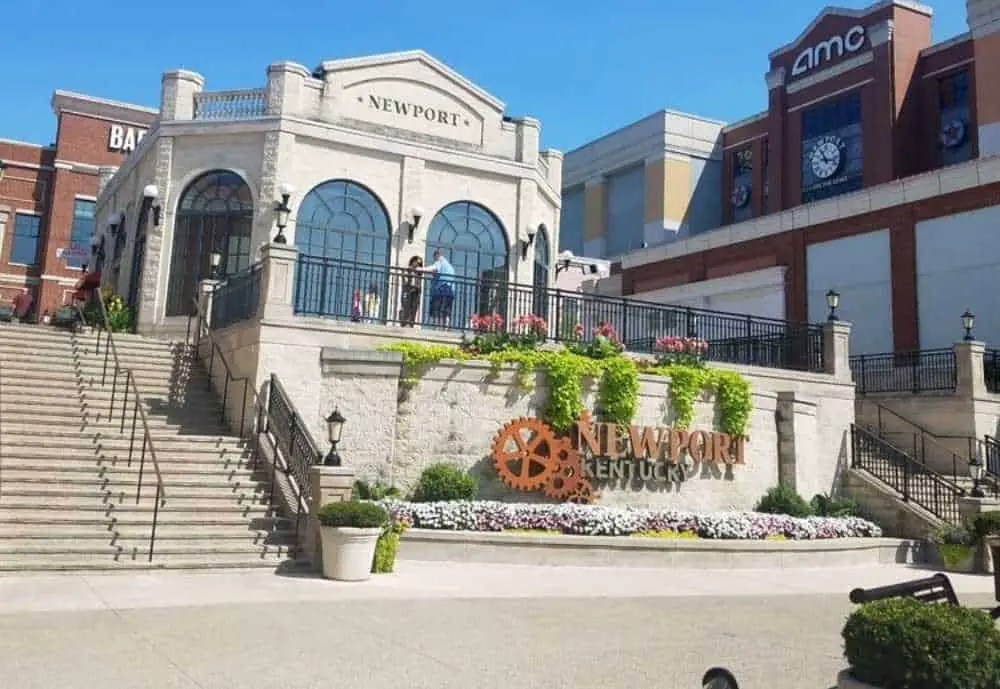 Newport on the Levee is an entertainment center filled with restaurants, theaters, and museums.
It's located in downtown Newport near several hotels – perfect for a weekend getaway!
This shopping mall features bars, restaurants, and more shops than you can imagine. You'll also love all of its scenic views, outdoor dining options and unique events.
Some spots to visit here are the arcade GameWorks, Toro restaurant, Art on the Levee Gallery, and the Newport Aquarium.
Top Review: "This place is very clean, hip and trendy. They have valet parking and self park garages available. I like this place. You can sit long the river and look over the Cincinnati. You can also take a a bridge and walk over to Cincinnati. This place is home to the Newport Aquarium, which is very nice and an AMC theater. You will also find some trendy stores here such as Velocity Esports, Sunnies, Trade, Sweet Dreams Candy Co., Native, and Sage Yoga Hot + Pilates." – Tank G.
Newport Aquarium
Another popular attraction is the Newport Aquarium attraction which draws visitors from near and far!
This aquarium is a great place for families, with plenty of interactive exhibits and activities.
The Newport Aquarium features an array of aquatic creatures in its exhibits. This includes fish like sharks, sea turtles, and stingrays.
Discover The Wonder
Some unique experiences include the Shark Bridge where you can cross a suspended bridge on a large shark tank.
For something a little less thrilling, you can pet a stingray, and interact face-to-face with a baby penguin.
Top Review: "AMAZING as always!  We love this aquarium!  It is huge and has a plethora of really cool aquatic animals/fish!  The area is really cute and parking is pretty easy.  There are a lot of food places outside of this location.  When you first enter, you go down one level and start the tour.  Lining the walls are many different types of fish and animals: pufferfish, sharks, turtles, octopus, jellyfish, seahorse, manta ray, penguins, and MORE.  We went through aquarium tunnels, petting zoos, and even a rope bridge that went over some sharks and turtles too.  We were enthralled the whole time.  We will definitely be back!" – Kate C.
Falcon Theater
The Newport Falcon Theater is a mid-sized performing arts venue that offers concerts and plays year-round. Additionally, the theatre is proud to say that they are the only "genuine storefront theater" and what's unique about it is they greet everyone personally when they come in. It's their way of making their visitors feel welcome in the theater.
You can find them in the historic district and they've been doing performances since 1989.
Top Review: ""
York Street Cafe
The York Street Cafe is full of kitsch. Known for its unique vibes with vintage decor, local artwork, and funky knickknacks.
This historic building features an art gallery on its second floor, along with a lounge and restaurant at the other levels. This one-of-a-kind experience covers three floors and is just a fun experience.
This cafe is a top destination in Newport. It's known for its tasty desserts, light lunches, and cozy atmosphere!
Top Review: "Top tier service and food. The vegetarian burger was amazing. The cake was so good. Everything is made fresh and they bake their own cakes daily! The ambiance is literally so unique for cincy. I love this place"
Pompilio's
Pompilio's is a lively Italian restaurant that's been a mainstay in Newport for over eighty years. They started serving the community in 1933 and still offer authentic Italian cuisines throughout the week. This spot is great for both small and large groups, so you're sure to have an unforgettable time here!
Given its history, the decor and vibes will take you back in time. They also have an impressive bar with Kentucky bourbon ready to be served.
Southgate House Revival
The Southgate House Revival is a music venue and event center that hosts concerts, shows, and other events. This spot is a favorite among locals!
The Southgate House Revival is located in a historic building that used to be a church. They've preserved the original architecture and features while also giving it a modern touch. There are three different sections in the place with different musicians in each one. There's also the main bar open for everyone.
It's a great place to go for live music!
Wooden Cask Brewery Company
The Wooden Cask Brewery Company is a local brewery that offers tours and tastings. They try to pay homage to English pubs with their selections and vibe inside the brewery. They've been serving the community with their craft beers since 1998.
This spot is popular among beer lovers, so be sure to check it out if you're in the mood for a cold one!
BB Riverboats
If you're looking for a unique way to see the city, consider taking a cruise on BB Riverboats. These boats offer sightseeing tours of Newport, plus dinner cruises and more!
BB Riverboats has been around for a long time and they offer sightseeing tours, dinner cruises, birthday parties, private events, and more! You can choose from a variety of different options that will suit your needs.
Some cruises you can try are the Stonebrook Winery Sunset Cruise, the Captains' Lunch Cruise, or their Sunday Family Dinner Cruise.
Top Reviews
Newport, Kentucky, is a hidden gem that's brimming with activities and attractions to keep visitors of all interests engaged and entertained. My recent trip to Newport left me thoroughly impressed, and I can't wait to share my thoughts on the wonderful things to do in this charming city.
There are many things to see and do in Newport city, Kentucky. These are just 12 of the best that you'll want to check out if you get a chance!
Newport, KY, exceeded my expectations with its diverse range of activities and its warm and welcoming atmosphere. Whether you're a nature enthusiast, history buff, or simply looking for a weekend getaway, Newport has something for everyone. I can't wait to return and explore even more of this delightful city.
Frequently Asked Questions
What is Newport Kentucky famous for?
Newport, Kentucky is most famous for being the home of the Newport Aquarium. The Newport Aquarium is one of the top-rated aquariums in the United States and is a must-see attraction when visiting Newport. In addition to the Newport Aquarium, other popular attractions in Newport include the World Peace Bell, the Creation Museum, and the Newport on the Levee entertainment complex. There are also several parks and recreation areas in Newport, Kentucky that are perfect for a day of exploring or picnicking, such as Big Bone Lick State Park and Devou Park.
How long does it take to go through the Newport Aquarium?
The Newport Aquarium can take anywhere from 1-2 hours to go through, depending on how much time you want to spend at each exhibit. There are over 70 different exhibits at the Newport Aquarium, so there is definitely something for everyone to see. If you have young children, they will especially enjoy the hands-on exhibits where they can touch stingrays and sharks.
Is Newport Ky nice?
Yes, Newport is a very nice city in Kentucky. It is located right on the Ohio River and has a lot to offer regarding attractions, parks, and restaurants. The people who live in Newport are also very friendly and welcoming.
Your Newport Bucket List: 12 Must-See Spots in Newport, KY