Taipei is the capital city of Taiwan, and though the country is small, it's got quite a punch, from things to do to quality food to the amazing culture. Taipei is a hodgepodge mix of everything and anything. They've been able to achieve a lovely way to balance all of that and make it unique.
There are so many things to do in Taipei city itself, but lots of cities nearby are also so easy to get to for day trips. This list will discuss iconic sites like Taipei 101 and Elephant Mountain. But we'll also give you a guide to the Taipei night markets and shopping districts you can't miss.
If this is your first visit to Asia, it will be a trip worth spending. Since the country is a mix of Chinese, Japanese, and even American influences. You'll see a little bit of everything. With that said, you will miss a few destinations just because it might take you months to scour the whole city.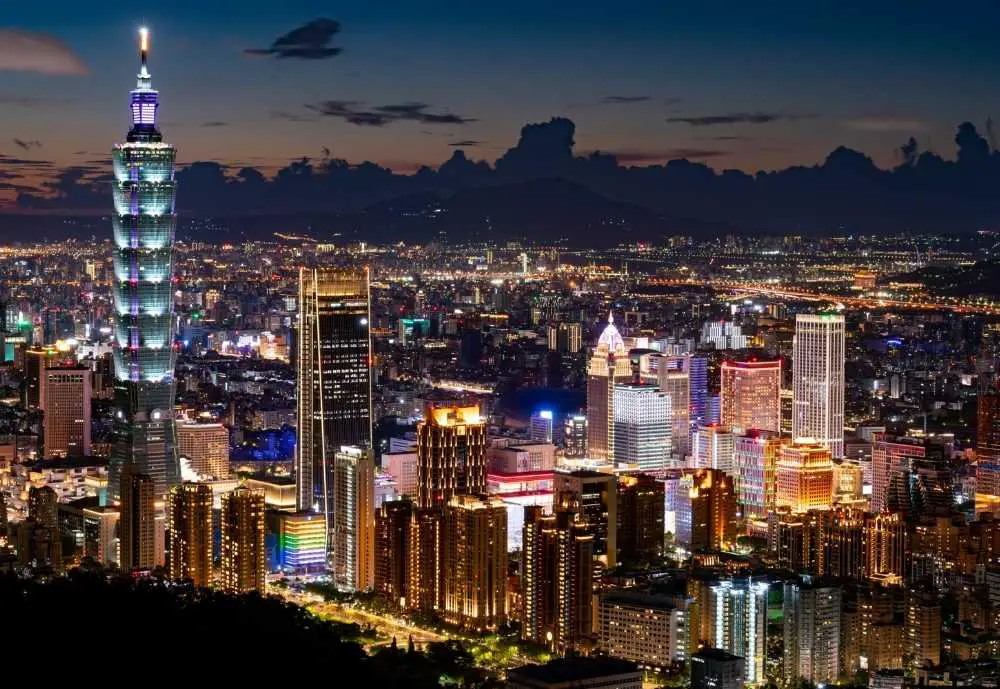 You've got to know what you want to see while also giving enough space and time for the more important (you just cannot miss) things to do in Taipei city.
Top Attractions
Marvel at the 509 meters tall that is Taipei 101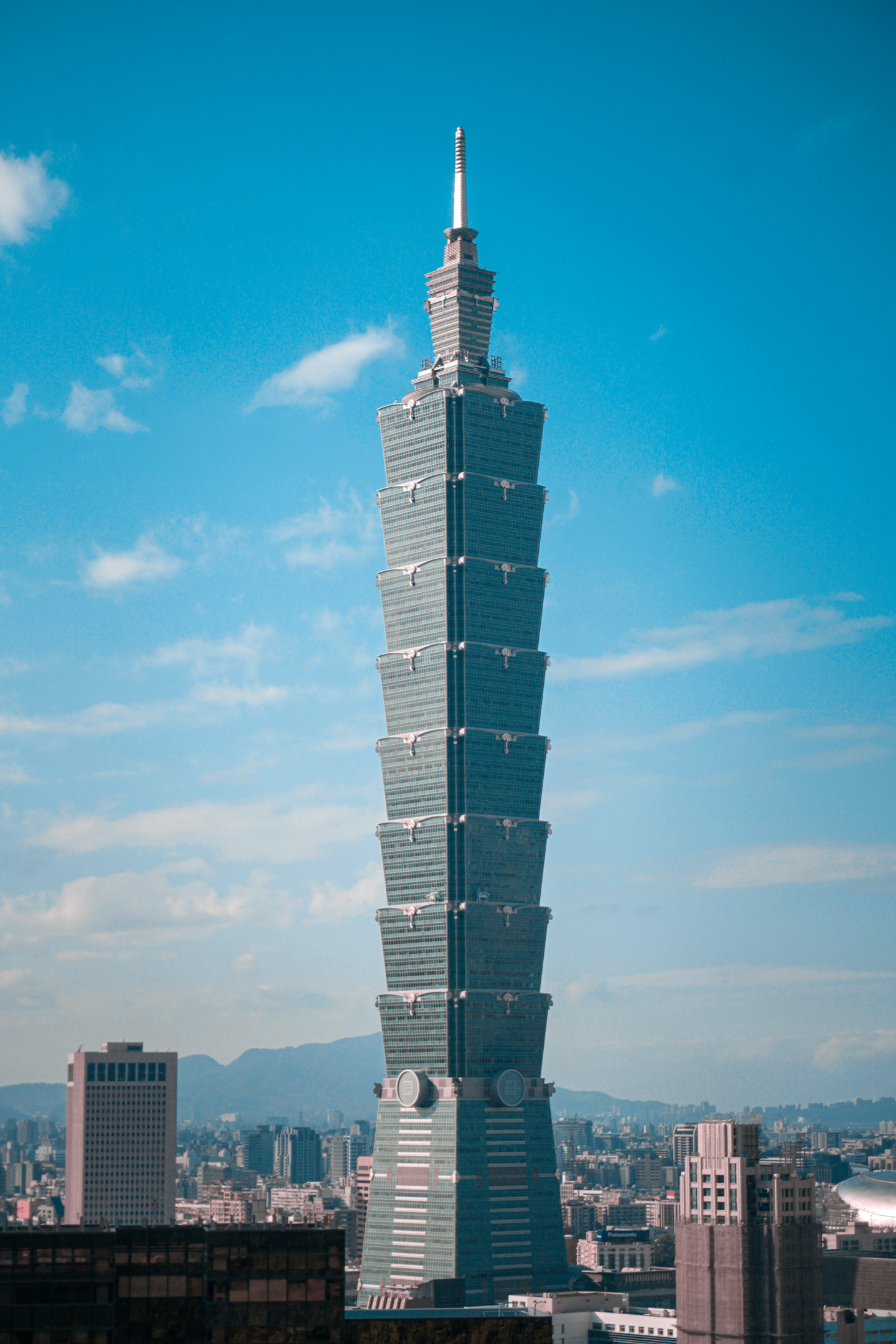 Taipei 101 is one of the most iconic things to do in Taipei and the tallest building in the city. You can get up their observation deck on the 89 to 91 floor. Or get a drink from the world's highest Starbucks.
The ride up the elevator is fast and zooms you up immediately. But the line to get there can get long, especially during peak hours. Make sure to get there early or order your tickets online to skip the lines.
Another highlight of the tower is the 720-ton ball hanging in the center. This prevents the building from collapsing during earthquakes. You can see how it works in one of the videos displayed inside.
If you're here during the holidays, they also have a spectacular fireworks show on New Year's Eve.
Hike the elephant mountain trail
Hiking the Elephant mountain trail is also a very popular thing to do in Taipei. It gives fantastic views, and the hike is the easiest out of all the other viewpoints.
There are 4 mountains on the east side of Taipei city; one of them is Elephant mountain. Each hill can give panoramic views of the city, but Elephant mountain is the most accessible.
It's not a challenging climb and only takes about 30 minutes to reach. The start of the trail is also close to the Elephant Mountain MRT station.
Be warned that this is a crowded attraction too. There will be lots of people in line trying to get an Instagram shot up the viewing spot. A large rock is also often used for photoshoots that get crowded fast.
For other hiking trails, check out Xiangshan and Baoshan trails.
Chiang Kai-Shek Memorial Hall or the Liberty Square
Another iconic site in Taipei is the Chiang Kai-Shek Memorial Hall. It's dedicated to the former Chinese president with the same name. This blue-and-white building towers over you and is a popular spot for photo ops.
A local tip recommends heading to the square's western side for the best view of the Liberty Square Arch.
The memorial hall sits on a 240,000 sqm square that's since been renamed Liberty Square. The square has been the site of local rallies, gatherings, and other community events, thus the name change.
Other things to see in the Liberty Square include the National Theater and National Concert Hall. There are also ponds and parks around the area.
Temples
Temples are a big thing for Taiwanese, and most are still active places of worship. Since their culture is a mix of different religious influences, there are also a lot of varying temples you can visit. But all of them are absolutely amazing with incredible architecture and preserved beautifully.
A visit to a temple is some of the best things to do in Taipei. But remember to be respectful and responsible when visiting these holy places!
Admire the colorful Confucius temple
One of the temples you need to visit is the Taipei Confucius temple. It's a beautiful temple and one of the most ornate temples in Taipei. This temple was modeled after the Confucius Temple in Qufu, China, and is a large complex.
You can find it near the Yuanshan MRT station and is not the most crowded temple attraction you'll find. The entrance is free, and there are a lot of engaging activities that are designed for children.
Here, you'll learn more about the history of Confucius and the Six Confucian arts.
Longshan Temple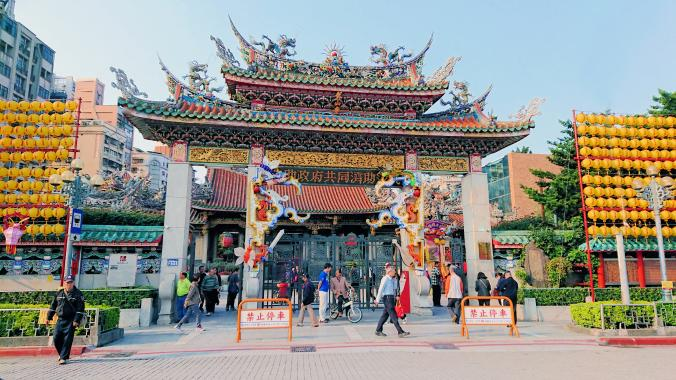 Compared to the Confucius temple, the Longshan Temple is one of the most famous temples in Taipei. Here is where you'll see the crowd, but also a gathering of the local community.
The temple was built in the Wanhua district, what once was the old village and urban center of Taipei. It was built in the 1700s and had these intricately beautiful dragon columns at the entrance.
Longshan Temple doesn't cater to just one religion but welcomes Confucians, Buddhists, and Taoists. This is also a space where locals meet for community affairs.
The Ornate Baoan Temple
The Dalongdong Baoan temple is a UNESCO World Heritage Site within walking distance of the Confucius temple. It's also an ornate temple with dragon columns by the entrance.
It's especially beautiful at night and during the annual Baosheng Cultural Festival. If you're ever in the city around March through June, head here to see Taiwanese opera, lion dances, and a birthday celebration for the Gods.
Taipei Tianhou Temple
If you're interested in somewhere less crowded, Taipei Tianhou Temple is a great choice. It's a smaller temple in the heart of Ximending, but it's just as beautiful as the other temples on this list.
As Ximending is a bustling shopping district, this destination offers a quiet break from all that. Its got beautiful interiors and iconic Taiwanese architecture. The temple was made for the sea goddess Mazu and is worth a visit if you're in the area.
Night Markets
Night markets are a tourist destination all on their own here in Taipei. In fact, according to the statistics, night markets and delicious street foods are the top destination visited by tourists. If you didn't know, the street food culture in Taipei is world-renowned and should definitely not be missed.
Get ready for a huge crowd and lots and lots of delicious food!
Shilin Night Market
Shilin Night Market is the most famous and biggest night market in Taipei. We aren't kidding when we say it's significant as it covers about 12 acres and hosts more than 400 vendors at night.
It's also not just about the delicious street food. This night market has everything Taipei has to offer, from food, clothing, and souvenirs to even electronics. You can even play arcade games inside!
It's easily accessible through the subway at Shilin MRT station.
Are you ready for a massive food trip? It can be overwhelming at first. If you're unsure what to get, know that stalls with long lines probably have the good stuff.
The blow-torched steak, the Bin Small Sausage in Large Sausage stand, and the Hot Star fried chicken stall are some favorites.
Raohe Night Market
Raohe night market is also one of the most famous night market Taipei has to offer. When the sun sets, get ready to witness a whole array of Taiwanese food to try. You can find it at the end of the Songshan line, beside the Songshan Ciyou temple.
There is a lot of food you can buy here, but there are also several souvenir shops you can browse through.
The highlight of the single street night market is the pepper porked buns. If you're only going to try one thing here, you must try the black peppered buns in The Fuzhou Shizu Black Pepper Bun stall.
There is also a Michelin-recognized stall here called Chen Dong Ribs Stewed in Medicinal Herbs. It's also a must-try. If you're looking for a unique Taiwan dish, you should also give the Shi Boss Spicy Tofu a go.
But since these are pretty popular, expect the long lines and long wait. Be understanding because it's going to be completely worth it!
Tonghua Night Market
Tonghua Night Market is said to be the market of the locals. Though it has attracted many tourists, the food is still very traditional and authentic.
Many say that the stalls and food served here are classic Taiwanese dishes whose recipes haven't changed for years and years. That's what makes this a genuinely worth it experience.
It's also a big night market, so it might be overwhelming. According to past visitors, the stalls at the center of the market host some of the best food here.
Several places are a part of the Michelin Bib Gourmand list. Yu Pin Yuan Iced and Hot Tangyuan, Tien Hsiang Stinky Tofu, and Liang Ji Lu Wei (for soy sauce braised food) are just some.
You'll find the entrance at Linjiang street, but the many stalls wind their way through side streets and further east to Keelung road.
Snake Alley
Huaxi, where Snake Alley can be found, was once Taipei's red light district and was a center of crime and prostitution. Huaxi Night Market or Snake Alley got its reputation (and name) from restaurants that would sell snake meat to tourists.
Today, it's safe to visit and explore. If you'd like to get a taste of snake meat, this would be the place to get it. But stalls specializing in snake meat have dwindled over the years as it's no longer popular with the young ones.
There is still a lot of delicious food to try here, including a Michelin Bib Gourmand spot called Hsiao Wang Steamed Minced Pork with Pickles in Broth.
There are also 4 interconnecting night markets in this area. If you have the time, you might wanna explore these as well! Xichang Street Night Market, Guangzhou Street Night Market, Huaxi Street Night Market, and Wuzhou Street Night Market.
Things to do in Taipei: Walk the Neighborhoods
Ximending shopping district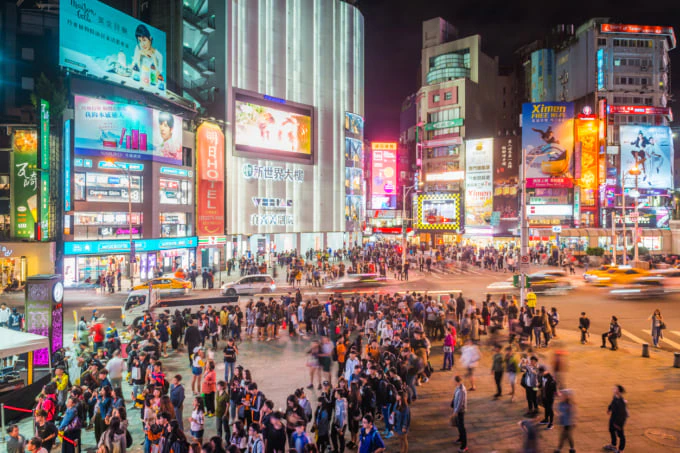 Ximending is a thriving neighborhood with a little bit of something for anyone and everyone. It's definitely the coolest place in Taipei city and has some of the most fantastic food and nightlife. It's only a pedestrian-only district so prepare for some walking.
Ximending is primarily known as a shopping district in the city. But it's also a mix of the new and the old. You can also find the hippest fashion trends and see some historic buildings still standing here. You can check out the historic Red House Theater, the Taipei Tianhou Temple, and Zhongshan Hall.
Going to Ximending is a whole experience. You can start your day here with a traditional breakfast, then shop in the many boutiques. In the afternoon, you can grab a coffee or beer in their selection of cafes and bars with outdoor patios. Or stop for a dessert of mango shaved ice or go into a bubble tea shop. You absolutely shouldn't forget to grab some bubble tea in any of the bubble tea shops that line the streets. It's a super popular drink here that you have to try at least once.
At night, you have so many options. You can do food stalls or hit the movie theaters. There are street performers, and neon lights flood the streets.
Stroll along Dihua Street
Another interesting neighborhood you can walk through is Dihua Street. The area is known for its historic retailers and commerce stores. They're also well-known as the place to be during Lunar New Year.
Dihua Street is a look at how Taipei commerce used to be. You've got sellers persuading you to look at their merchandise, with architecture dating back to the Qing Dynasty and Japanese era. Items here are also more traditional such as Chinese medicinal herbs, fabrics, spices, and incense.
The riverside is also nearby for a quick stroll or cycling.
The street becomes truly alive during Lunar New Year. Right up to the holiday, the road would be bustling with activity. Locals would be looking for everything they need, chefs would be showing what dishes they have for the New Year, and there are lots of lanterns and banners all around!
Day Trips
Taiwan is a small country, so it's easy to get out of the capital and explore nearby areas and cities. Trips are about an hour to two hours of travel from Taipei city, but these cities are often near each other, so you can combine day trips in just a single day!
There are a couple of organized tours you can avail of. Plus, organized day trips can take you to several nearby cities in one day.
Day Trip To Jiufen
Jiufen is about an hour to an hour and a half via train and bus. It's known for being a gold mining town and is popular with tourists because of how well-preserved it is.
The city is entirely walkable and can be explored in a day. The streets and buildings are as they looked a hundred years ago and absolutely picturesque. The destination also garners a vast crowd, so make sure to come early or avoid the peak hours.
This is also a hotspot for traditional tea houses, so if you're into tea, you'll enjoy it here. It's also rich in culture, so you'll find a couple of museums and several hiking trails.
Some top sights are the A-Mei Tea House, the Jinguashi Gold Ecological Park, and Keelung Mountain.
Beitou Hot Springs & Thermal Valley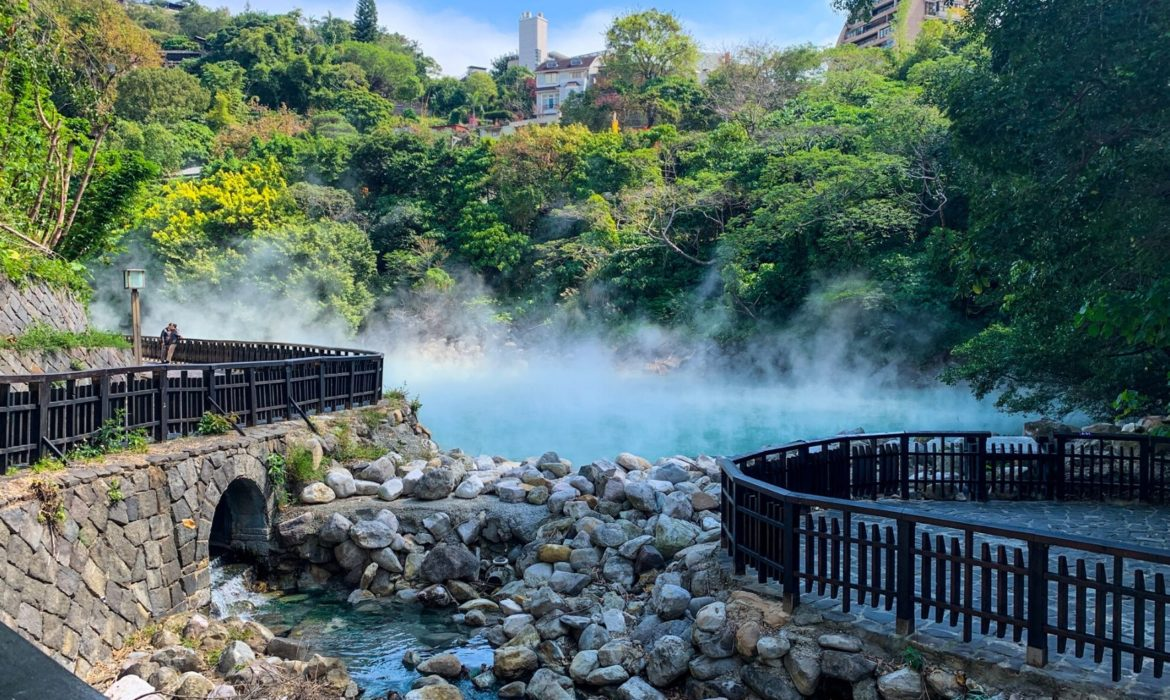 Try a relaxing soak in one of the hot springs in Beitou Hot Spring. It's the city's only hot spring resort and one of the best you'll find in the country. Getting here is only about 30 minutes by MRT.
There are a couple of options for hot springs. There is the public hot springs, but there are also private hot springs and more expensive resorts. Most are separated by sex, and no bathing suits are allowed.
This is the perfect activity during winter or if you just want to experience an authentic hot spring!
Other attractions are the Hot Spring Museum, the Xinbeitou Historic Station, and Beitou Thermal Valley.
The Scenic Shifen Waterfall & Railway
Shifen is close to Jiufen, so most people combine these two trips. And you'll definitely be able to stop in these two places within the day. It's also one of the most popular day trips from Taipei city.
Shifen waterfall
Most tourists come here because of the Shifen Waterfall. It's a magnificent waterfall and the widest one in the country. Once you're there, you can take pictures and admire the scenery from an observation point. It's pretty special, especially after it rains and a rainbow appears!
From Shifen station, there's a short walk to the falls, and you should expect a crowd there as well.
Shifen Railway
The Shifen Railway is also a tourist spot. It's gonna be a crowded area filled with local stalls, vendors, and more on either side of the rail tracks.
It's also the most common place to set off sky lanterns. So if you're interested in that, grab this opportunity here.
Yehliu Geopark
Yehliu Geopark is also another must-see destination. You can get there via bus and MRT, about an hour and a half away.
The Geopark is part of a coastal park in Yehliu full of these unique and weird rock formations. The one that gets the longest lines is the Queen's Head. Other formations are the Dragon's Head, Sea Candles, Mushroom Rocks, Kissing Rock, Princess Head, and more.
Museums
National Dr. Sun Yat-Sen Memorial Hall
The National Dr. Sun Yat-Sen Memorial Hall or SYS Memorial Hall is actually much older than the CKS Memorial Hall. It was built in 1972 and is dedicated to Taiwan's founding father.
It's similar to the CKS Memorial Hall with an impressive building and a public square, but the Liberty Square looks better for your photo ops.
Inside, you'll find a museum of Dr. Sun Yat-Sen's artifacts and life. It's also cool to see the changing of the guards every hour. Visiting the Memorial Hall is one of the best things to do in Taipei.
National Taiwan Museum
The National Taiwan Museum is a great museum for anything and everything and it has exactly that!
The museum houses various exhibits on everything under the sun. It also focuses on earth science, plants, and animals. It's a great destination if you're traveling with kids. They would love the Land Bank Exhibition Hall with dinosaurs on display.
National Palace Museum
If you want to learn all about Chinese culture and history. It's considered as important as Paris' the Louvre.
Why is it so important? The National Palace Museum houses more than 70,000 unique and significant artifacts from all over history. Most of which were taken from Imperial China during the Chinese Civil War.
They only display about 3,000 items at a time but there is still so many things to see and do. There is also a kids section inside, so it's still family-friendly.
The star pieces include a piece of jade shaped in a cabbage, a meat-shaped stone, loop earrings and a jade necklace said to be the oldest item in the museum.
People recommend getting the audio tour as they go into in-depth detail on each of the exhibits.
This is just a drop in the many things to do in Taipei, Taiwan. There are still many more places to visit in Taiwan. We haven't even started on where to eat and where to stay! There is just so much to explore in this small city.
Frequently Asked Questions
Is Taipei worth visiting?
There's no doubt that Taipei is a fascinating city worth visiting. From the moment you arrive, you'll be greeted by a vibrant and lively atmosphere. The streets are filled with scooters and shops, and the air is thick with the scent of street food. Taipei is also home to some of the best night markets in Asia, where you can find everything from cheap clothes to delicious local cuisine. In addition, the city is home to a number of historical and cultural attractions, including the National Palace Museum and Taipei 101. Whether you're looking for an adventure or a relaxing holiday, Taipei is definitely worth a visit.
What is Taipei most known for?
Taipei is known for its lively culture, delicious food, and beautiful scenery. Taipei is home to many historical and cultural sites, including the National Palace Museum, the Taipei 101 skyscraper, and the Longshan Temple. The city also has a vibrant nightlife scene, with many bars and clubs to choose from. In addition, Taipei is a great place to shop, with a wide variety of malls and markets to explore. Whether you're interested in history, nightlife, or shopping, Taipei has something to offer everyone.
Is Taiwan tourist friendly?
Yes, Taiwan is generally a very tourist-friendly country. The people are warm and welcoming, and there are plenty of things to see and do. Taiwan also has excellent infrastructure, making it easy to get around and find accommodation. However, there are a few things to keep in mind when travelling to Taiwan, such as the language barrier and the sometimes chaotic traffic.
Is Taipei safe?
Yes, Taipei is a very safe city. The crime rate is very low and violent crime is almost non-existent. There are plenty of police officers patrolling the streets and you can feel safe walking around at night.
You might also enjoy: