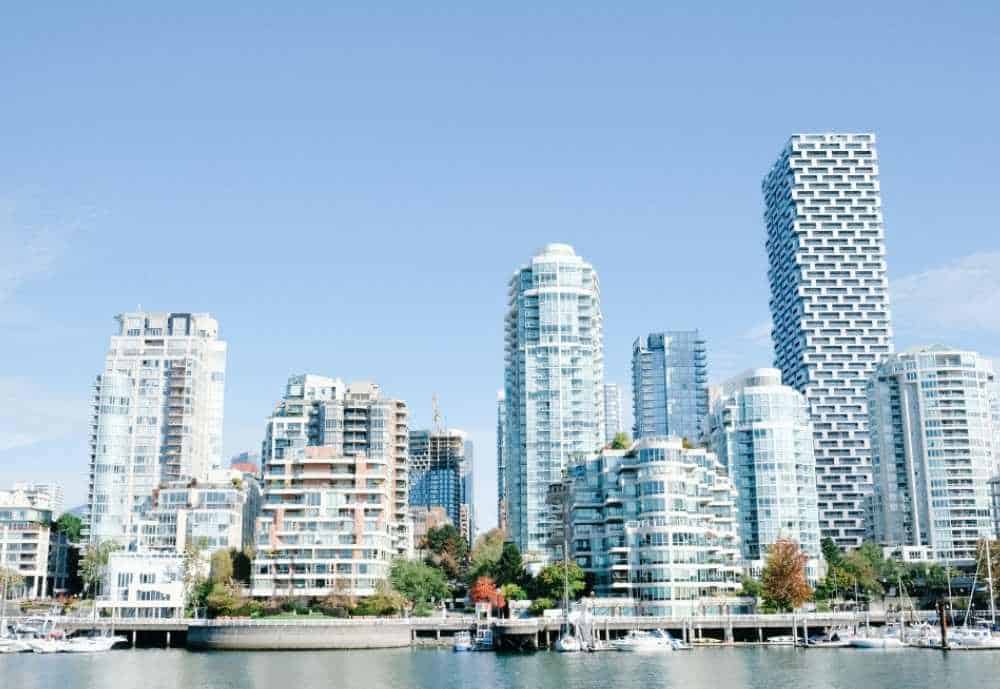 Vancouver, British Columbia has so many things to offer, and it's the perfect city to let loose and let out your inner child. It's one of the most beautiful cities in the world, and you'll see that for yourself. If it feels familiar, you might have seen it as the setting for shows like the X-Files, Riverdale, or Deadpool.
The city is surrounded by nature and is a complete haven for outdoor enthusiasts. You've got the mountains on one side and the ocean on another. You could be going on adventures in Stanley park one day, go up the summit of Grouse Mountain, and on another, lying on a beach and soaking up the sun.
The fun doesn't end outdoors, either. Vancouver has a rich culture and is great for foodies out there. They've got museums and massive concert halls that you can check out. The University of British Columbia campus also offers a lot of great things to do in Vancouver.
And a trip to Vancouver, BC, doesn't have to break the bank. With all the city can offer, there are many free things to do in Vancouver as well.
What are you waiting for? Peep our list of things to do in Vancouver.
Stanley Park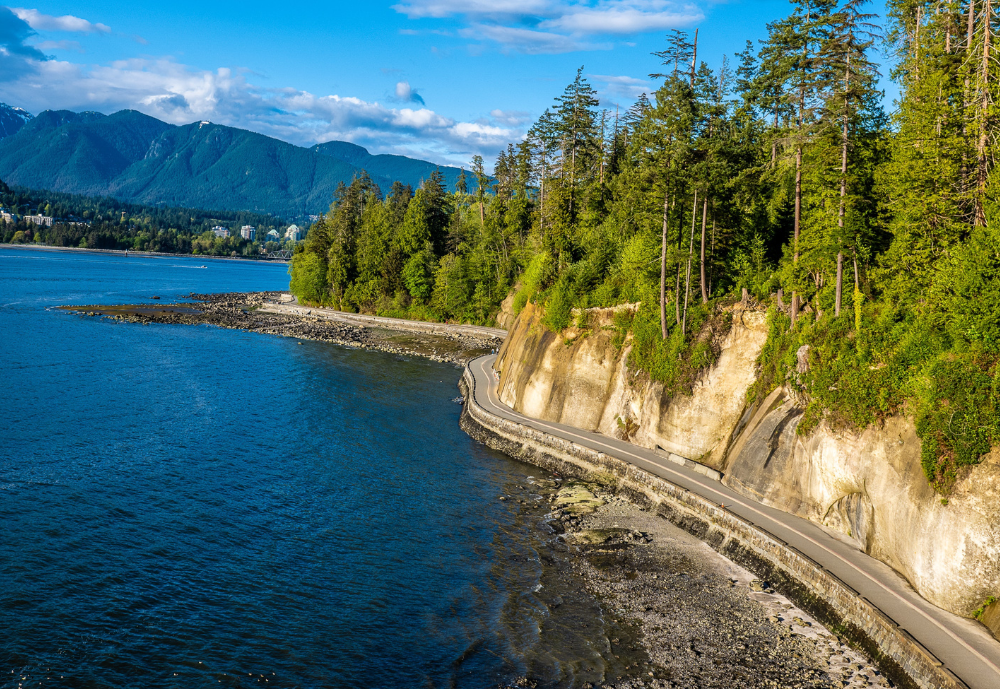 By far the most popular tourist attraction in Vancouver is visiting Stanley Park. Stanley Park is also considered one of the best parks in the world.
This world-renowned park covers 988 acres of land with a six-mile seawall and plenty of things to offer. It's right by downtown Vancouver, just north of the West End. Stanley Park is also the host of many community and holiday events, so don't miss out on that.
Stanley Park is huge, and you won't be able to see everything in just one day. But this is the perfect place for fresh air, being surrounded by nature, and visiting some top Vancouver attractions.
If you're coming with kids, this is perfect for a picnic or a day in the sun. The park has an outdoor water park, an outdoor pool, four playgrounds, and a miniature train.
Some of the highlights inside Stanley Park are:
The totem poles at Brockton Point
The Vancouver Aquarium
Shakespeare Garden
The Ghost Train during Halloween
Seawall
Since the urban park is enormous and there's a lot of ground to cover. A popular thing to do here is to go biking around the seawall. The seawall is about six miles long and can take about 2 hours to cycle through.
Cycling through the seawall will give you amazing views of the ocean and mountains. You'll also be able to stop by several beaches and go for a swim break. There are a couple of trail options but locals recommend the South Creek Trail.
This is also a great way to travel around the park, not just on the seawall.
Van Dusen Botanical Gardens
A popular outdoor destination, Van Dusen Botanical Gardens is great for people looking for a reprieve from the hustle and bustle of the city.
The garden spans 55 acres and is smack in the center of Vancouver. The main star of the area is the Laburnum Walk. It's said to be the most photographed section of the garden and is known for the yellow blooms of the Laburnum branches. The path is fantastic to see when these are in bloom. If you want to catch it in bloom, visit during May, as their blooming period peaks in mid-May.
Other areas to explore in Van Dusen Botanical Gardens include a hedge maze made from 3,000 cedars, a stone garden, and over 7,500 plant species. There is also a lake inside and all the plants you can see.
Walk through Capilano Suspension Bridge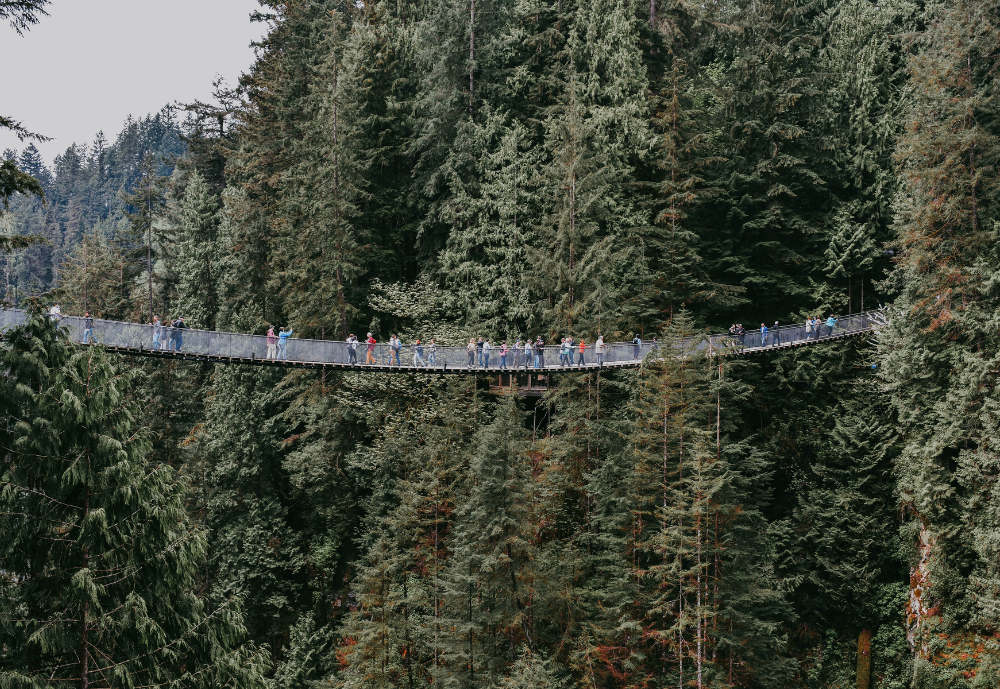 If you're scared of heights, you might want to skip this one.
The Capilano Suspension Bridge dates back to 1889 and is 110 feet above the forest floor. This is an incredible experience for any traveler and should be on your Vancouver to-do list. All this with the fantastic views typical of any Vancouver attraction.
Walking through Capilano Suspension Bridge is a canopy walk between two viewing platforms. You'll have to cross all 450 feet of the bridge, and many say it's a thrilling experience.
After conquering that, there are still a lot of thrilling adventures at the Treetops Adventure. There are more suspension bridges and suspended walkways like the Cliffwalk.
Previous visitors recommend going early to avoid the crowd, especially the school trip crowd. Parking might also be an issue you can solve by signing up for a guided tour of this spot. Capilano Suspension Bridge is one of the most popular tourist attractions so prepare in advance.
Granville Island
Granville Island is a neighborhood in Vancouver that would appeal most to foodies and art enthusiasts. Vancouver isn't just about the outdoors; this area is known for its cool restaurants, galleries, and the Granville Island Public Market.
The area used to be an industrial site turned into a commercial space. The former factories now house the neighborhood's restaurants, shops, and theaters. Many consider Granville Island a separate mini-city in itself. Previous visitors suggest going with a tour guide here to make the best of the experience.
If you're coming from downtown Vancouver, you can take a ride on the aquabus and it'll take you to Granville island.
Granville Island Public Market
The public market is dubbed one of the best open-air markets in North America. There is a lot to do here that is typical and not so familiar regarding markets.
Like any market, there are stalls upon stalls of fresh produce, crafts, and food. You can find any kind of food you might be craving in one of their many stalls. You can sit outside by the water or watch the buskers that are common here.
Other noteworthy places include the Kids Market and Granville Island Brewing.
Vancouver Aquarium
Located inside Stanley Park, Vancouver Aquarium is for both adults and kids. There are over 65,000 marine animals that call this place their home. Though Vancouver is right by the sea, this is the best way to see these guys up close and personal.
The Vancouver Aquarium don't have any dolphin shows or animal entertainment like that since they are well focused on conservation, education, and research. So there are a ton of exhibits and things to learn about local and exotic sea life in British Columbia.
Some things to see here include Joey the sea otter, Senor Cinco the penguin, Donnelly the harbor seal, the black-tip reef sharks in the Tropic Zone, and so much more!
Grouse Mountain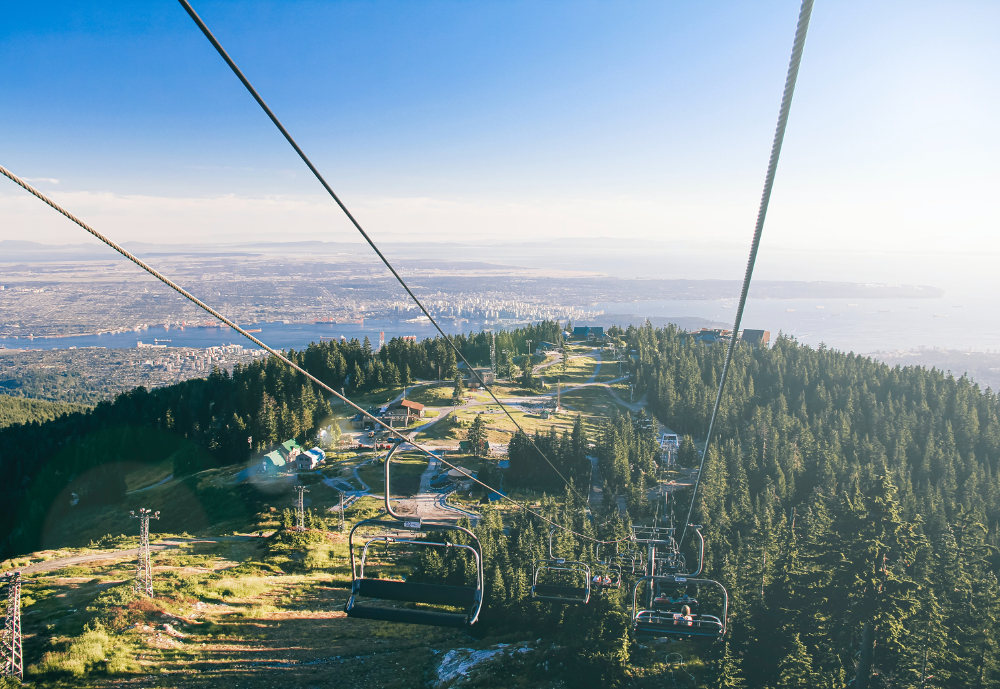 Grouse Mountain is a popular outdoor destination in Vancouver for outdoor adventures. If you ever get to the top of the mountain, you'll see the whole city before you.
The mountain is best known for skiing during winter and is the favorite spot for the sport in Vancouver. Grouse Mountain offers 33 ski and snowboard runs, snowshoeing trails, chairlifts, terrain parks, and more. There are various options of things to do here come wintertime.
During the summer, Grouse Mountain is also open for outdoor activities. You can do the Grouse Grind, the much more challenging option to get to the mountain's summit. It's a 2-mile trail with a grand total of 2,830 flights of stairs. It's called "Mother Nature's Stairmaster" by locals in the area.
But if you'd instead do it the easy way, you can hop on the Skyride gondola and enjoy a scenic ride up to the top of Grouse Mountain.
Sun Yat-Sen Classical Chinese Garden
Among the thrilling outdoor adventures in Vancouver, there is also breathing time in green spaces. One of these is Dr. Sun Yat-Sen Classical Chinese Garden.
These gardens are famous for being absolutely peaceful and calming. You can find it right by Chinatown, which is far from crowded tourist areas in the city. The gardens themselves are lovely. They were modeled after the scholar's gardens in China during the Ming Dynasty. It's filled with traditional Chinese structures with rare trees that come all the way from China.
Dr. Sun Yat-Sen is regarded as one of the best gardens in the city and is the first Chinese garden outside of China.
Visit the Museum of Anthropology
If you want to learn more about Vancouver's history, the Museum of Anthropology is an excellent place to do it.
The museum at the University of British Columbia celebrates the land Vancouver calls its home. Its collection spans artifacts from the Northwest Coast First Nations and celebrates other Native American cultures. Much interesting art and memorabilia are on display here, but most have said it's geared towards an older crowd.
Other exhibits include other European art and collections like pottery, jewelry, and more. There are self-guided tours, but visitors recommend going on a tour for a better experience.
Whale Watching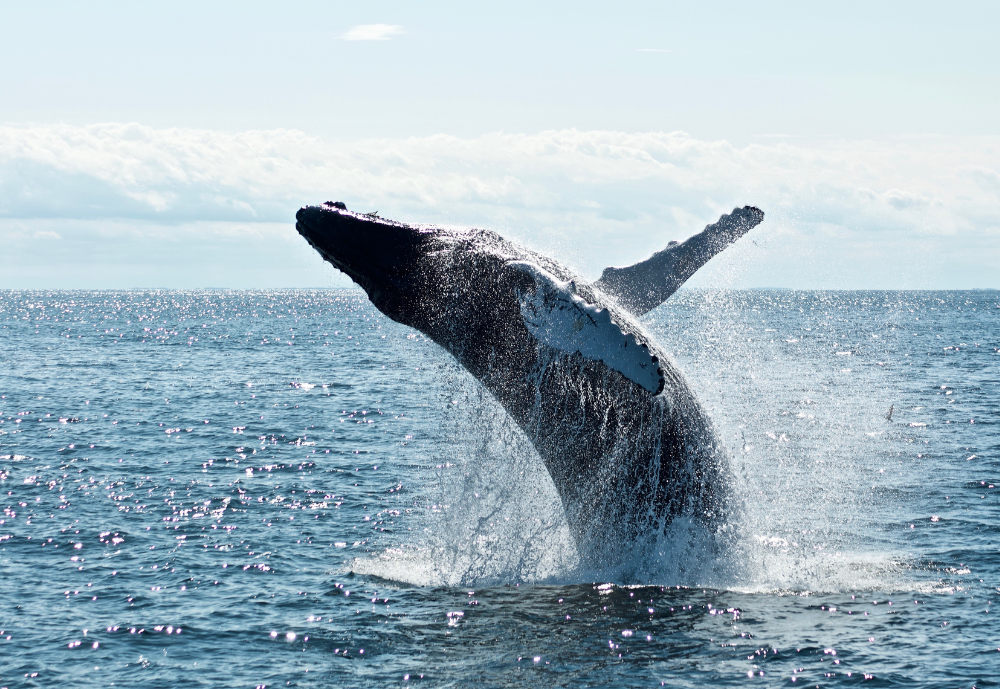 Whale conservation and protection is a big deal in Vancouver, meaning they can live healthy lives in the wild. That also means you can visit Vancouver and go out and do some whale watching while you're here! This is definitely one of the best things to do in Vancouver.
Whale watching is a popular tourist activity, so you'll find several agencies offering tours. It'll get you as up close and personal to these incredible whales as much as you can. You might be able to spot orca whales, humpbacks, elephant seals, sea lions, and more!
These tours also focus on education and conservation, so you'll learn more about them on tour. Tours can run for about three to five hours along Vancouver or Victoria. A good time to go for whale watching is from March to October.
Queen Elizabeth Park
Queen Elizabeth Park is a beautiful city garden with sprawling grounds that spans 130 acres.
Its vistas are famous for having the highest vantage point in the city. The park sits on a former quarry 500 feet above sea level. You can get to the top of Little Mountain to see this fantastic view.
The park is filled and surrounded by lots of trees and well-manicured plants. The main highlight of the park is definitely its gardens. The Quarry Garden is peaceful and serene, perfect for walks in the park.
Other noteworthy areas in Queen Elizabeth Park include the Bloedel Conservatory, a plant, and a bird greenhouse with a glass dome. There is also the Seasons in the Park restaurant that is also popular with foodies.
Chinatown
A trip to Vancouver's Chinatown is something you shouldn't miss. This neighborhood is one of the largest and oldest in the city. The community here is always lively, and there's always a hidden gem waiting to be discovered.
There are lots of great things about the area. From unique shops and authentic restaurants, there is a place for everyone. Foodies love this place with some of the best Dimsum restaurants in town. There are also lots of day tour options in Chinatown, so you can make the most out of this huge neighborhood.
Some highlights of Chinatown include the Dr. Sun Yat-Sen Classical Chinese Garden, the Chinatown Storytelling Centre, the Rennie Museum, and all the Chinese restaurants here.
The neighborhood is at its best during Chinese New Year, so come by to watch the parade if you're here.
Richmond Night Market
Richmond Night Market is a feast for foodies all over, with a huge selection of vendors, stalls, and more! The night market is the most popular in the city and has an Asian flair. You can find some of the most unique Asian cuisines here alongside the Canadian favorites.
Aside from the food, there are souvenir shops and stalls that sell arts and crafts. At night you can also catch live music and entertainment. If you're with your little ones, there are also games and activities.
There is an entrance fee, but it's worth it with the many options you can get here. The market opens every weekend and on holidays from May to October. With that said, it can get crowded with long lines, so come early!
Explore Gastown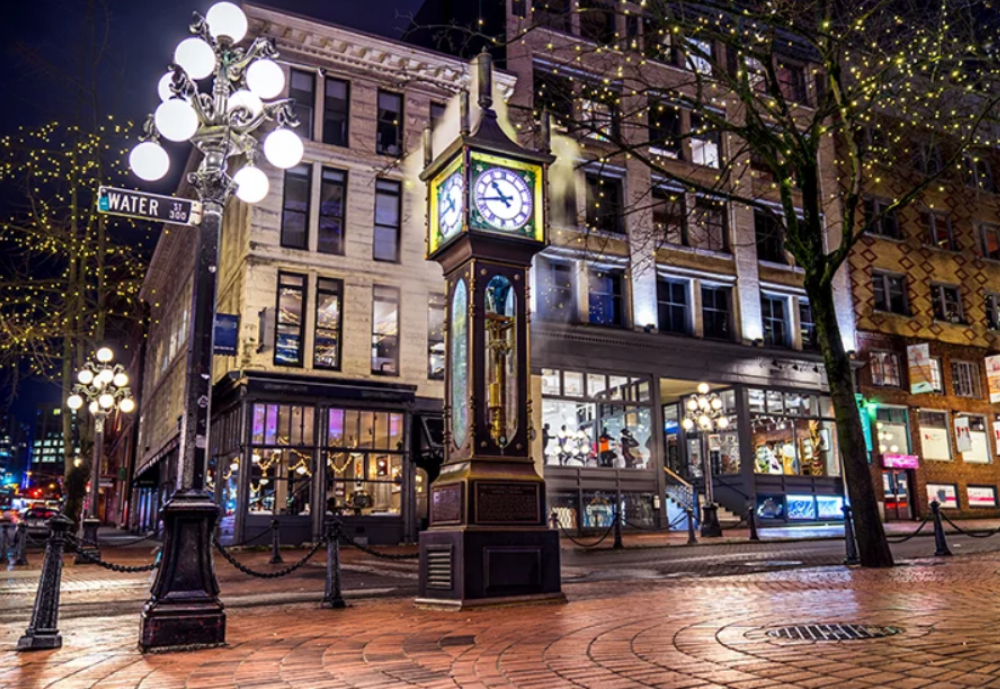 Gastown is an all-around great place for any tourist and exploring it is one of the best things to do in Vancouver. The neighborhood was the original downtown Vancouver area. It's now a thriving and vibrant city section with shopping, dining, and entertainment.
This trendy neighborhood has interesting boutiques, cocktail lounges, galleries, and restaurants. The place's aesthetic is also interesting, with beautifully preserved Victorian architecture and cobblestone streets.
A highlight of the neighborhood is the Gastown Steam Clock, a fully working steam clock that shoots steam every quarter hour.
English Bay
English Bay beach is one of the most popular beaches in Vancouver. Also called First Beach, English Bay is easily accessible in the city. You can also drop by this beach while cycling the Stanley Park Sea Wall or if you're just coming from Stanley Park. It's a local favorite because of its accessibility, and many spend their day here.
There are events held here in English Bay as well. If you're here during July, they have the Celebration of Light with a fireworks competition and music. They also have the Vancouver Polar Bear Swim in January.
Aside from the beach, there are also many shopping and dining options in English Bay. Nearby, you can try Cactus Club, a resto-bar also highly rated by locals. Don't miss the sunset here too! It's beautiful!
Pacific Spirit Regional Park
For another outdoor adventure, try Pacific Spirit Regional Park. Like many other Vancouver parks, there is a lot to explore here. There are many hiking trails that are suitable for walks, hikes, bikes, and even by horses.
Most of the trails are also beginner-friendly, and you'll be surrounded by a Douglas fir forest. It's also dog-friendly and, in some parts, off-leash friendly. You can even head to Wreck Beach, a clothing-optional beach in Vancouver.
The park is a little out of the way in west Vancouver near the University of British Columbia. It's away from the hustle and bustle, so you can feel at peace and relax.
Kitsilano Beach
Head to Kitsilano Beach for a great time and lots of good vibes. Locally called Kits Beach, the area is always filled with people hanging out, playing games, or having drinks in beachside restaurants.
Locals recommend going during sunset as it's apparently the best thing to do in Kitsilano. You can even catch the sunset with spectacular views from the Boathouse Restaurant. They serve seafood and cocktails and aren't the most expensive option by the beach.
After a quick stroll along the beach, you can also go to Danbo Ramen, another local recommendation.
Other attractions in the area include:
The Vancouver Maritime Museum
A waterfront public pool
Biking
Window shopping in the many boutiques
The Commodore Ballroom
The fun is just starting when the sun sets as the city comes alive. If you need to let out all your energy or sing along to cool tunes, head to the Commodore Ballroom for a night out.
The Commodore Ballroom is a live music event venue in downtown Vancouver. It's in a historic building dating to the 1920s. It's not the biggest music venue, which makes it a little more special. It peaked in the 70s with big names like the Police and the Ramones. They even featured legendary icons like David Bowie and Tina Turner on their stage.
This is one of the most beloved live music venues in town, don't miss out while you're here!
Lynn Canyon Park
Lynn Canyon Park is the answer if you've had enough crowds but still want a thrilling suspension bridge to cross.
The park is less crowded and more frequented by locals. Its suspension bridge is just as thrilling as the Capilano Suspension Bridge. The bridge hangs 50 meters up in the forest canopy and provides an excellent park view.
Lynn Canyon Park is also frequented by hikers with many hiking trails like the Baden Powell Trail. It even has swimming holes and waterfalls! A huge plus is the park is free to visit.
Vancouver Art Gallery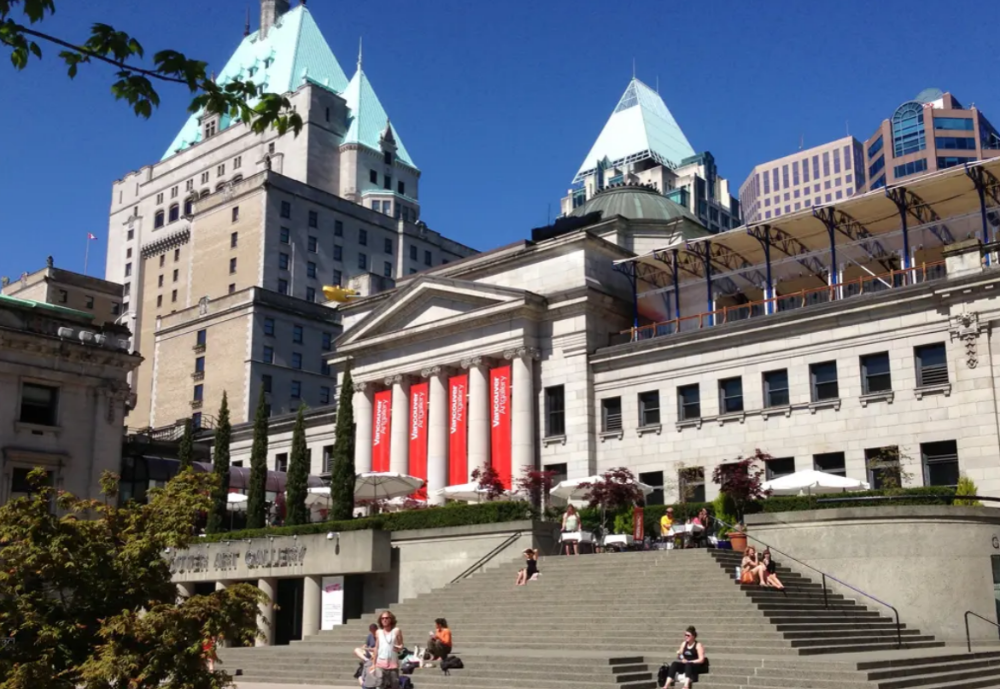 For art enthusiasts, there is the Vancouver Art Gallery to visit.
The building itself is impressive, with these grand stairs at the entrance and beautiful architecture. Inside, you'll find more than 11,000 works of art from local and international artists. Some highlights of the gallery include its collection of Asia-Pacific and First Nations artists and their collection of paintings by Emily Carr.
Even those who aren't into art can appreciate the beauty of the pieces in Vancouver Art Gallery. It's a great indoor tourist attraction and is easily accessible in the city center. You can find it on Hornby street near Robson street.
Vancouver Island
There is so much to do in Vancouver, but a day trip to Vancouver Island is a great idea if you want to explore a little bit more. Vancouver Island is less than two hours from Vancouver. Exploring the provincial capital of British Columbia, Victoria, is worth a short trip.
One of the best things to do in Vancouver is to join the Vancouver to Victoria and Butchart Gardens Tour. This will take you on a lovely ferry ride through the Gulf Islands to get to Victoria. Then, there'll be time to explore downtown Victoria. The star of the show is the trip to the Butchart Gardens, a definite must-visit when you're in North America.
The tour is quite long, at about 12 hours, but you can still visit Vancouver Island and Victoria on a day trip on your own!