LaGrange checks all the boxes for an addition to your road trip adventure. It's got plenty of good food, art and culture, and a community that will welcome you with open arms.
Home to one of Georgia's largest lakes, LaGrange also puts nature and animals in the forefront.
Don't miss out on the Wild Animal Safari or the many trails in the city!
LaGrange is a city in Georgia, only an hour away from Atlanta and less than an hour from Colombus, Georgia. The city is named after General Marquis de Lafayette after he visited the region. 
You can see the touch of French influence in the city's culture and architecture. Not to mention LaFayette's statue in LaFayette Square. There are a lot of stories packed in this town, all are interesting and worth exploring.
Aside from its history, the arts and music scene are also thriving. Spend some time downtown and enjoy what LaGrange has to offer!
Keep your getaway jam-packed with these 15 things to do in LaGrange, Georgia!
Hills and Dales Estate
The 13,000 square foot Callaway home is one of the must-see destinations here in LaGrange. Its 19th-century garden is the star of the property, with a well-tended grounds and flora that's blooming year-round.
The house is also a historical treasure, having been built in 1916.
There's a lot of stories within the walls, so get yourself a guided or self-guided tour of its halls.
A complete house tour takes about two hours, where you'll get to learn more about the Callaway legacy and roam around the grounds.
Biblical History Center
The LaGrange community has always had a religious history, so it comes as no surprise that they have the Biblical History Center.
Formerly known as the Explorations in Antiquity, the center takes you back in time to experience the ancient biblical world's daily life.
You can learn more about people's practices back then, look at artifacts and archeological replicas, and dive deep into what they used to eat.
A lot of thought and passion for the ancient world can be seen here with their 23 life-size replicas of different worship houses to a 15-item meal straight from the past.
It's an enjoyable visit, even if you're not passionate about religion.
Great Wolf Lodge
Don't miss the opportunity to try this indoor waterpark in the city!
Great Wolf Lodge is one of the largest in North America and has so many exciting activities for everybody.
The waterpark itself is already amazing, with pools and slides remaining warm all year, so you can enjoy a nice swim even during winter!
Of course, there's slides, water treehouses, wave pools, and more. As well as child-friendly options if you're bringing the little ones along.
Besides the water activities, you can also find a ropes course, mini-golf, bowling, MagiQuest, and an arcade.
You can stay at the resort here for the full experience. Make sure to read all about the resort's health and safety precautions before checking in. For families, it's one of the best things to do in LaGrange, Georgia.
LaGrange Art Museum
The LaGrange Art Museum, a jail-turned-museum is not only famous here in LaGrange but in all of Georgia.
This museum was founded by locals with works by local artists, focusing on visual arts.
With three floors to explore, they have a steady stream of revolving and traveling exhibitions. 
You can check out their current local artists' exhibition from an artist collective, Visual Artists Alliance of LaGrange.
West Point Lake
LaGrange is home to one of Georgia's largest lakes, West Point Lake, with surrounding forests and a 525-mile shoreline.
This lake is known for its impressive shoreline, giving you many opportunities to fish, camp, and boat. It has a healthy largemouth bass population, making it popular with those who like to fish.
Try your hand at it, and you might bring something for dinner!
There's also a lot of parks, campgrounds, and resorts in the area. You can do a picnic, go on trails, or just relax. The sunset over the lake is just excellent and made for the 'gram!
Bellevue Mansion
The Bellevue Mansion is one of the city's historic homes and is a National Historic Landmark.
The two-story house is best praised for its Greek Revival architecture and has entertained many notable people in its time. It's now owned and used by the LaGrange Woman's Club. They offer public tours of the estate. 
Wild Animal Safari
There's a diverse collection of animals here in Wild Animal Safari that you can see up close with their drive-thru park.
Having about 75 species and more than 400 animals, you can rent their zebra van or use your own car to drive through the park's 3.5-mile driving area.
You can even feed the animals from your hands with grass pellets.
There are giraffes, zebras, and camels running wild and free in this safari.
After your drive, you can opt for a guided or self-guided tour around the park to see more of their animals. Definitely one of the best things to do in LaGrange, Georgia.
Callaway Memorial Tower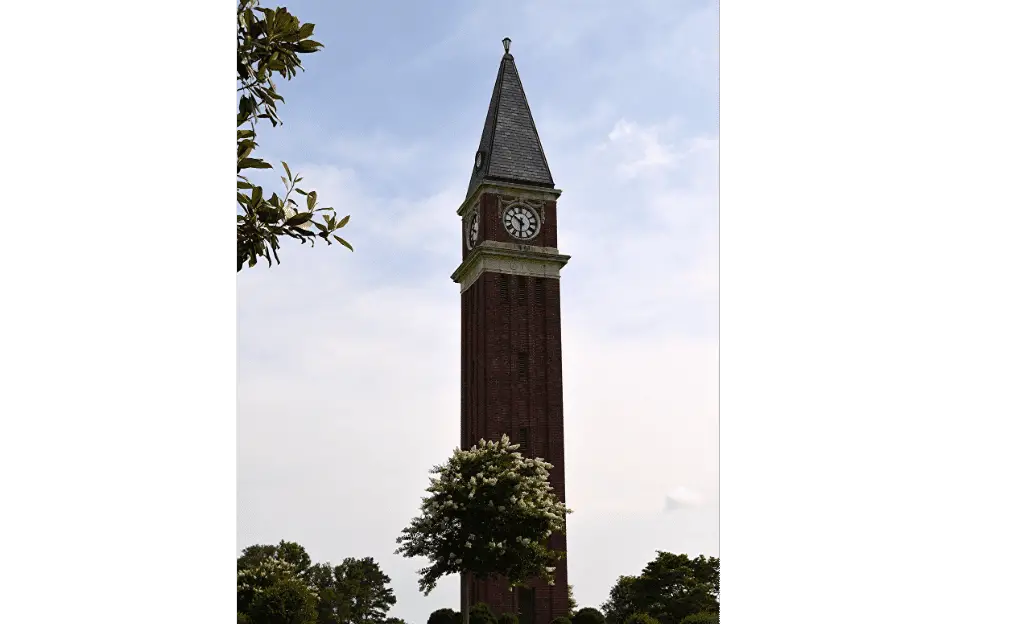 This historical monument is a landmark for the city and a place to wind down.
The tower is dedicated to Fuller E. Callaway, a massive influence on the textile industry of LaGrange.
There's a gorgeous and enormous lawn surrounding the memorial, and many come here for picnics and outdoor recreation.
If you're with the family, it's the perfect place for flying kites, playing sports, or just taking a few pictures.
The tower is based on the Campanile of St. Mark's Square in Italy.
Lakeside Trails
If your idea of outdoor adventure is more about the mountains and the forests, there are several trails near West Point Lake.
The Lakeside Trails ranges from hiking, mountain biking, and walking trails in its eleven-mile loop. In between, there are rest stops and viewing points.
The trails here are designed for more intermediate visitors and can become tricky the farther out you venture. 
Legacy Museum on Main
A museum that focuses on the history of West Georgia and how it is today, the Legacy Museum on Main is more about history, heritage, and unique artifacts.
Their rotating gallery houses archive collections and traveling exhibits.
They also have rare items like the world's oldest cotton bale first displayed in the 1904 World's Fair.
You'll definitely find something that'll catch your eye in this collection from the past. 
Nutwood Winery

A ten-acre farm with 200-year-old pecan trees is only the start of what Nutwood Winery has to offer.
Their signature wines are made from the best ingredients paired with their diverse menu.
You could try any of their wines with homemade bread, cheeses, and desserts.
Another unique feature of the winery is their 6,000 sq ft tasting room with an indoor and outdoor seating area.
Have a glass of wine, taste the food, and enjoy friends or family time here in Nutwood Winery.
LaFayette Square
The community is never more alive than in downtown LaGrange.
Even more so here in LaFayette Square.
It's the center of the city, filled with restaurants, boutiques, and antique stores all located beside each other.
The square functions like a park where locals and tourists can relax, walk around, and take a breather.
The square's center features a fountain where a statue of War hero, Marquis de LaFayette, who the city is named after.
The figure is a copy of the one on Auvergne, France.
Marketplace at LaFayette Square
One of the highlights of LaFayette Square is its antique stores, especially Marketplace at LaFayette Square.
It's a two-floor building filled with antique goodies and vintage treasures you won't find anywhere else.
The shop has about 11,000 square feet of booths; it'd take you all day just to shop!
Their items range from the very old like 1700 and 1800 memorabilia to newer knickknacks. One of the best things to do in LaGrange, Georgia.
Beacon Brewing Co.
Beacon Brewing Co is one of the newer breweries in the community, having started recently in 2018.
It sits on LaGrange's hillside area, the owners trying to revive the mill villages' lively energy.
The brewery likes to create experimental beers, trying to make something completely brand new.
Their craft derives from Belgian and Bavarian beers but is distinct in itself in a way that you won't expect.
Callaway Resort & Gardens
A little something for beginners who still want to be out in nature, the Callaway Resort and Gardens is what they call an "authentic outdoor escape."
It's only a 30-minute drive from LaGrange but is a worthy destination.
Their gardens are filled with wildlife from various birds, butterflies, to different flowers in bloom in different seasons.
The gardens date back from the 1950s and is an impressive 2,500 acre of land.
It includes a resort, spa, golf course, and Robin Lake Beach.
There's also the nearby Pine Mountains for trails, nature walks, or even their TreeTop Adventure.
There are a lot of options here, located south of LaGrange in Pine Mountain, Georgia.
Frequently Asked Questions:
Where to eat in LaGrange?
There are many dining choices here in the city, but you truly can't miss Charlie Joseph's hotdogs located downtown.
It's dated back to 1920 and contains an impressive collection of Coca-Cola mementos.
Other restaurants you can try are Mare Sol, Country's Barbecue, and A Taste of Lemon.
Where to stay in LaGrange?
Some of your choices to stay can be the Holiday Inn Express and Suites, the Great Wolf Lodge's resort, or Courtyard Marriott located downtown.
If you're into nature, you can camp at the many campgrounds near West Point Lake.
What's near Lagrange, GA?
Pine Mountain is a popular day trip destination from LaGrange.
It's got many attractions, and the Pine Mountain woods attracts many for an escapade in nature.
The Chattahoochee River is also near West Point Lake, running along the Alabama-Georgia state line, so you can easily extend your water adventures there.
You might also enjoy: