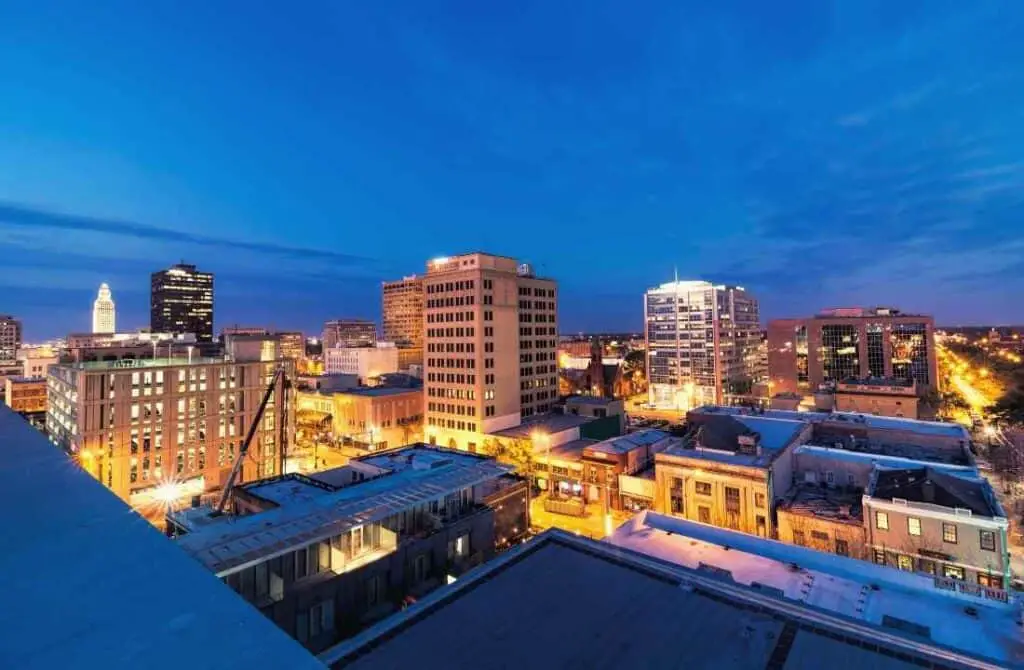 Baton Rouge (pronounced ba-tuhn-roozh) is Louisiana's state capital and is right along the Mississippi River.
It's a quaint destination home to a number of historical landmarks, the destroyer USS Kidd, and spots for outdoor adventure like Bluebonnet Swamp Nature Center.
The capital is an hour and a half away from New Orleans, with 82 miles between them. Baton Rouge is mostly known for gorgeous views of the Mississippi River. It's also where Louisiana State University is located.
It may not be the most popular city in Louisiana, but there's something in store for everyone.
Find out what to do with these top 15 things to do in Baton Rouge!
Louisiana's Old State Capitol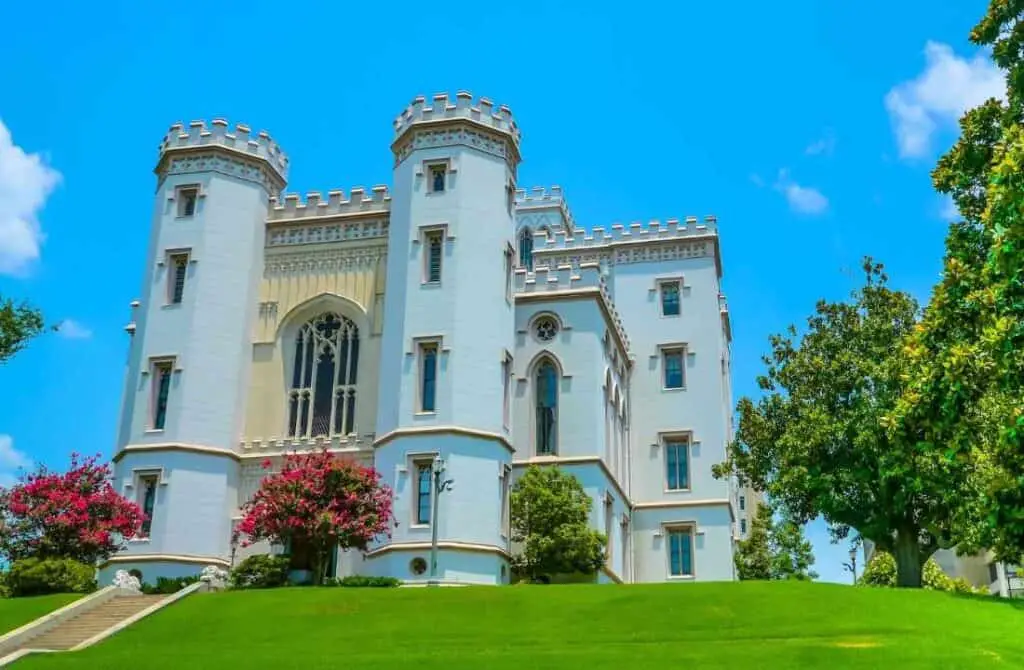 The Old State Capitol, for starters, is absolutely beautiful to look at. It dates back to 1847 with Gothic architecture to match the towering castle. It's impressive and makes a stunning icon for the city.
The building has since then been made into a museum of political history.
Inside, you'll see exhibitions on "The Legacy of Huey Long," Baton Rouge, and the Civil War, among others.
USS KIDD Veterans Museum
In the same area as the State Capitol is the USS KIDD. The museum is centered around its namesake, the destroyer USS KIDD.
They called it "Pirate of the Pacific" when it was still a menace out in the sea. The ship has many stories and history bottled up inside, some of which you can see in the museum.
It was decommissioned in 1964 and now serves as an observation tower and museum.
Climb inside and see artifacts, model ships, and a Vietnam Veterans Memorial Wall replica initially located in Washington, D.C.
One reviewer from Yelp had this glowing praise:
"I have NEVER been on a WWII vessel that is better restored than the USS Kidd."

Pamela M.
Baton Rouge Zoo
The city's zoo is one of its best highlights. The place is a popular destination and a definite must-see spot.
Their collection of animal species, from exotic and domestic animals, is extensive. You'll also find local species like the amphibians of Louisiana.
They have many marine animals to watch out for, but if you're a bird lover, better check out Parrot Paradise. For all things tigers, try The Realm of the Tiger.
There is also a special exhibit for kids in the KidsZoo. It's more interactive and includes barnyard animals.
Visit their website: Baton Rouge Zoo
Magnolia Mound Plantation
One of the oldest houses in the area is the Magnolia Mound Plantation. The home itself was built in the latter part of the 18th century.
Its architecture has many influences from its changing owners, but most of the original architecture has been preserved. It's also listed on the National Register of Historic Places.
The house isn't the only building on the property. The property is 15 acres and has several other facilities you can tour as well.
Louisiana State Capitol
The current state capitol is as grand as the first one but in a lot of different ways.
If the old state capitol was a castle, this one is a tower that goes up to 450 feet in the air. The 34-floor building is part of the National Register of Historic Places.
The tour of the building includes getting up to the observation deck overlooking views of Baton Rouge. On the grounds, there is also a memorial for Huey Pierce Long.
He spearheaded the construction of the building and died inside as well.
Louisiana State University
One of the prides of Baton Rouge is the Louisiana State University (LSU). The university is a fine establishment on its own, but it also has some tourist destinations for you to explore.
The LSU Rural Life Museum, LSU Museum of Natural Science, and the LSU Tiger Stadium are some of the places to go here.
LSU Rural Life Museum
The LSU Rural Life Museum is a great experience that includes 32 historic buildings and 25 acres of land.
The property is dedicated to life before industrial Louisiana. Different sets of buildings belong to other collections and themes with artifacts, well-preserved buildings, and exhibits.
Make sure not to miss these: the Louisiana Folk Architecture, The Barn, and The Working Plantation.
Louisiana Arts & Science Museum
Just from its name, you've guessed that this is a combination of the Arts and the Science. The Arts section has a beautiful collection of artworks in different media.
There are exhibits on paintings, photography, ethnographic art, etc. It's also on various topics from the modern and contemporary to the historical American and European art.
The Science section is more engaging and targeted towards families, with education in its mind. It's designed to be fun with interactive exhibits about the world.
You can also head to the Planetarium to learn more things beyond our world.
Visit their website here: Louisiana Arts & Science Museum
Capitol Park Museum
As the state's capital, Baton Rouge can give you everything there is to know about Louisiana.
Just head over to the Capitol Park Museum, and you might lose track of time with all the fascinating exhibits.
Here, you'll learn about the history and culture of Louisiana through artifacts, trivia, and stunning exhibits.
You'll see things like:
A very colorful Mardi Gras display.
A 48-foot long shrimp trawler.
A Civil War submarine.
Vintage aircraft from the Golden Age of Aviation.
LSU Museum of Art
Located inside Shaw Center for the Arts, this museum has 13,000 square feet and 14 galleries for you to explore.
This place is another must-see stop for any Baton Rouge tourist. They house regional artworks from the south, which you can buy from these local artists!
Their collection is also diverse, with works on paintings, sculptures, pottery, etc.
Aside from local art, they do have international works like Asian art.
Visit their website: LSU Museum of Art
Bluebonnet Swamp Nature Center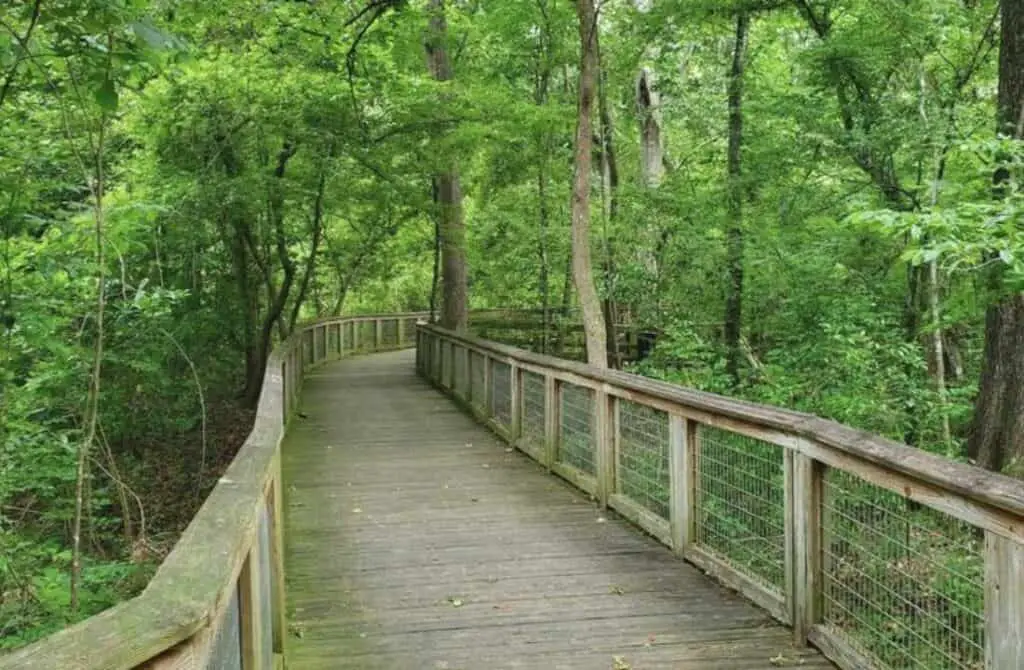 If you'd like to take a trip in nature, the center could be the place for you. The park is often used for research and educational resources, but it's also got something for those just visiting.
There is a trail that goes around the conservation, which you can use. Some things you can do here include getting to see wildlife up close in the Exhibit Building.
You'll also discover more about flora, fauna, minerals, and more in the exhibit.
The current admission fees as of Summer 2021 (Subject to change):
Ages 0-2: Free
Ages 3-17: $2
Ages 18-64: $3
Ages 65+: $2.50
Students: $2.50
Downtown
The city's downtown is just by the banks of the Mississippi River and is a good entertainment area perfect for dates and a night of fun.
Downtown is also loaded with the city's culture and history. You'll find many things to do here from shops, restaurants, bars, etc.
There is also the Live After Five event held during spring and fall. These are a series of outdoor concerts at a venue called The Crest.
Mike the Tiger Habitat
Louisiana State University's official mascot is a real-life tiger named Mike.
That's something unique for LSU, and throughout the years, they've upgraded their beloved mascot's habitat. It's something worth checking out.
Mike the Tiger Livecam
Mike the Tiger, who now lives in the 15,000 square feet habitat, is actually Mike V.
Mike I passed away in 1956 in a much smaller 2,000 square foot home. The school's mascot's habitat now includes a waterfall, a stream, a pond, etc., for Mike to enjoy.
Visit the official website: Mike the Tiger Habitat
Red Stick Farmers Market
Even if you're just passing through the town, it's still worth it to visit the Red Stick Farmers Market. This open-air market is held every Thursday and Saturday in different parts of the city.
This doesn't mean it's only in one area. During peak seasons, the Farmers Market could pop up seven smaller markets in town for your convenience.
All these fresh produce include vegetables, fruits, meats, baked goods, and even specialty items. Get it all from local farmers of the area.
Old Governor's Mansion
A guided tour of this Old Governor's Mansion includes learning the house's history and seeing some of the original furnishings of the place.
It's definitely a majestic mansion and is only a couple of blocks from the Old State Capitol.
The architecture and design are some of the most noteworthy things about the building. It was built in the 1930s and is modeled after the White House.
This has been called home by the past nine governors and is part of the National Register of Historic Places.
FAQs
Where to eat
Baton Rouge has some excellent samples of the Louisiana food scene. Gumbo is, of course, a necessary experience when in Louisiana.
It's also a must to try seafood like oysters and crawfish. The state and the city are also well-known for their cajun and creole cuisine, so make sure to try that.
Here are some of our recommended restaurants for you:
The Chimes Restaurant & Tap Room
This place! The rooftop bar! Wow! Food was so amazing Service was friendly, fast, and efficient.

Dunn W
Parrain's Seafood Restaurant
Best Cajun food I have ever tasted. Staff is extremely friendly and they make sure you have great experience.

Ali M
Eliza Restaurant & Bar
Sammy's Grill
Juban's
Where to stay
Here are our top picks for hotels in Baton Rouge: La Quinta by Wyndham, Hampton Inn & Suites, and Drury Inn & Suites.
Day trips from Baton Rouge
Louisiana is a cultural and historically rich city that you just can't help explore more. Here are some of the nearby places you can go to from Baton Rouge.
St. Francisville
Donaldsonville
Lafayette
Abita Springs
Livingston Parish