If you are in Baton Rouge and looking for just the right spot for breakfast, read on!
Whether you are looking for a classic American breakfast or some banging beignets, we'll point you in the right direction!
Fork N Spoon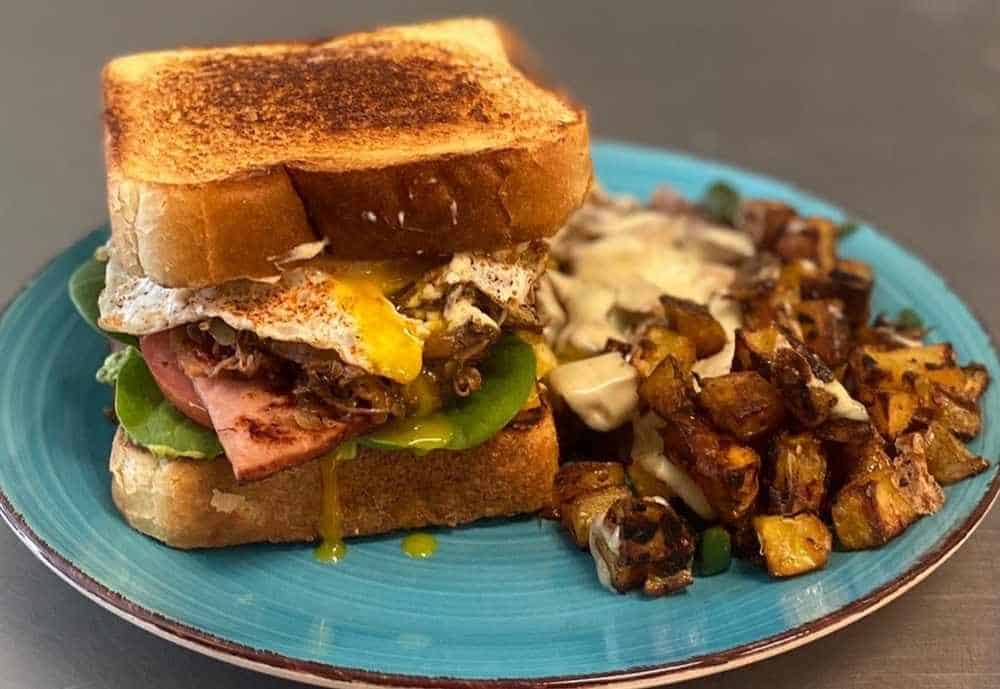 We begin our list with the restaurant that opened it doors in 2020, the year the world closed theirs;
Fork N Spoon has since been serving people their quality meals anywhere at any time.
Their country breakfast bowl has been a favorite among patrons with its hearty combination of eggs, sausage, and potatoes topped with rich gravy.
Cream cheese makes a delicious base for the maple bacon berry toast.
Menu: Fork N Spoon Menu
Top Review: "This place is the cutest restaurant! They have lots of seating, and a huge array of drinks. Their food is always made to order, and always hot and steamy. They have breakfast and lunch which taste amazing. I recommend loaded hash browns, steak and eggs, and their lunch specials (which are huge!). This new business is definitely the place to come to unwind, grab a quick bite, or even grab a cup of joe. I love it here!" – Taylor Camille S.
1750 Brightside Dr Suite F, Baton Rouge, LA 70820; (225) 256-5408
Louie's Cafe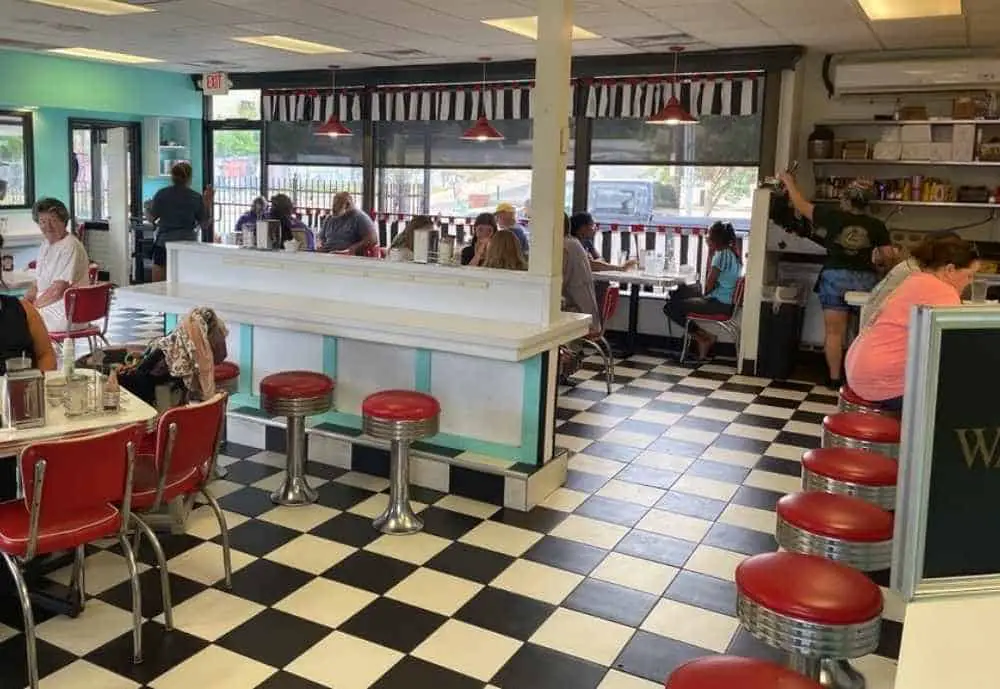 Louie's Cafe has been a favorite among students of the Louisiana State University since 1941.
A scrumptious item to begin with is none other than the seafood Louie omelet, which is topped with herbed cream sauce.
The super hashbrowns are a favorite as they are covered in sauteed mushroom, colby cheese and sour cream.
Menu: Louie's Cafe Menu
Top Review: "Being a student at LSU, I believe Louie's is a rite of passage before you graduate. I first visited Louie's way back in 2019, and my most recent trip was today! If anything, Louie's cafe has updated the restaurant post-COVID to be even better than before. No matter what, as a customer you're still going in and receiving the small-town, vintage diner experience you can't find in many other places in BR. I'll either order a variation of the hash browns or an omelette with French toast. The waitress was so nice and the scenery was calm since school has let out for winter break. I'll always love to stop by Louie's, especially if they maintain super hot and delicious foods!" – Tori C.
3322 Lake St, Baton Rouge, LA 70802; (225) 346-8221
Simple Joe Cafe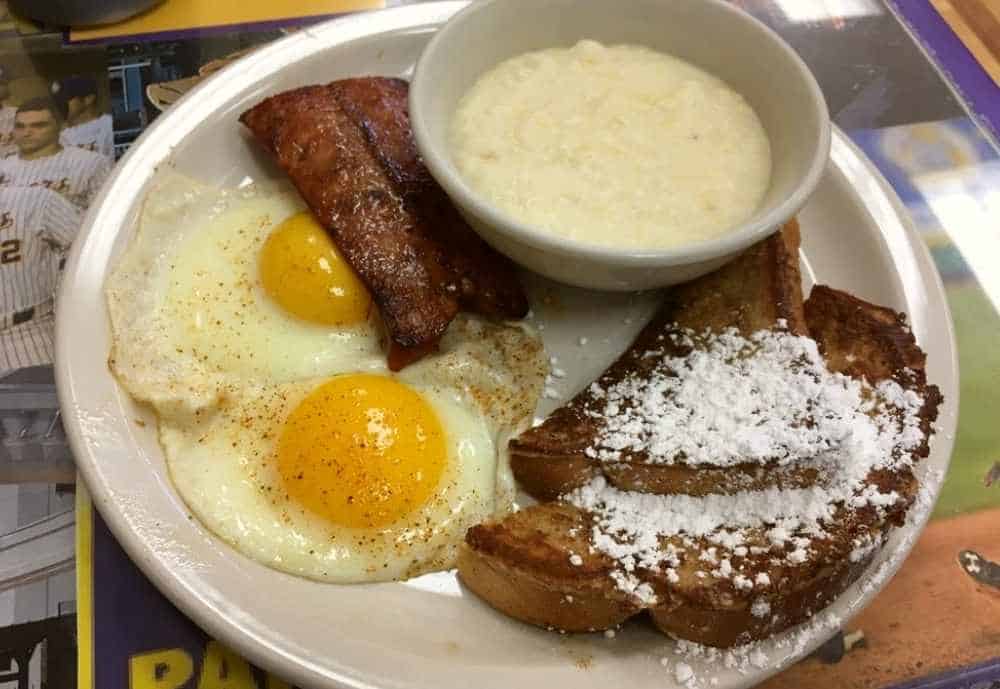 Simple Joe Cafe brings not only delicious and wholesome breakfasts to the table, but memories of old-school diners from the 70's and 80's.
One of their customer favorites is the egg white veggie omelet. Their blueberry quinoa bowl is a delightful way to energize for the day ahead.
Menu: Simple Joe Cafe Menu
Top Review: "The best casual breakfast place!! They are quick with service and the food is always tasty!! There really aren't many hole in the wall places like this around br but this place really makes me happy. They also have insanely good coffee! When I go I always get the turkey bacon egg and cheese on a croissant! Love that they have turkey bacon as an option. I have also tried the hash browns. Simple but delicious." – Kaitlyn L.
3057 Government St, Baton Rouge, LA 70806; (225) 478-2999
Frank's Restaurant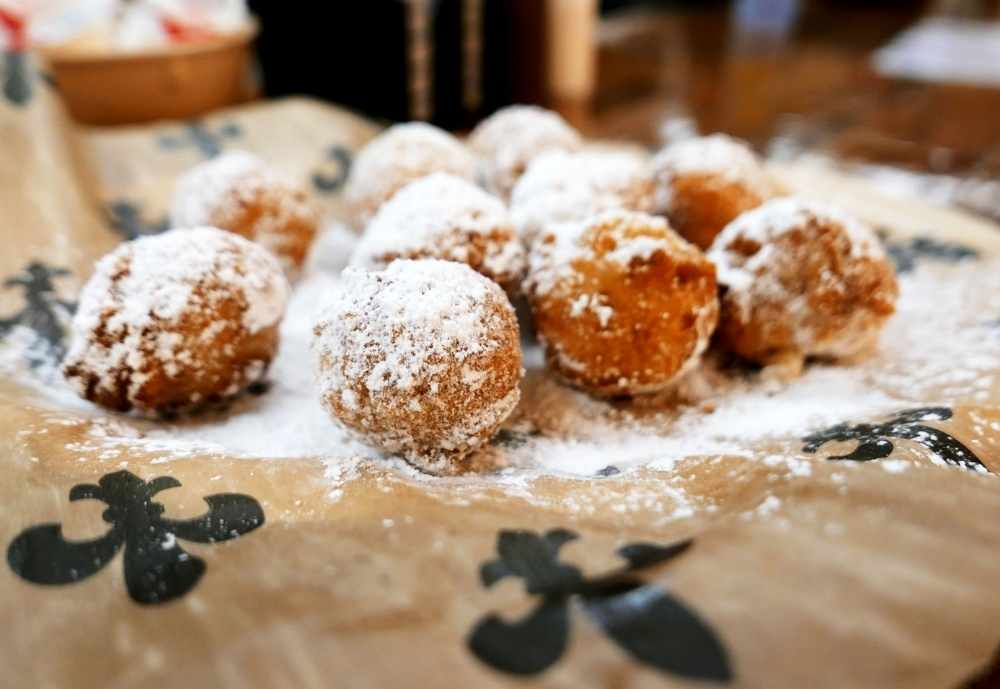 Since 1964, Frank's Restaurant has served quality breakfast and biscuits through three generations.
Frank's Restaurant has a delicious assortment of pancakes to choose from, including the apple cinnamon pancakes.
The mouth watering red stick Benedict comes with a fried chicken breast and is drenched in their own homemade smoked tasso cream sauce.
Menu: Frank's Restaurant Menu
Top Review: "Oh boy.  How do I always forget about this gem of a breakfast spot? The food and service are both superb. Now, don't arrive looking for a fancy spot with tablecloths, it is as casual as you can get. I've always dined in for breakfast, but my hubby has great things to say about their lunch options too. The pancakes are HUGE and melt in your mouth. The loaded grits with cheese and crispy bacon bits are so good. The biscuits are a city tradition and mainstay — so yummy and delicious. I tried one with chicken fried steak. And if you are a lover of sweet tea– it's perfect, my friends. Everything is also so affordable. Franks is a winner!" – Danielle M.
8353 Airline Hwy, Baton Rouge, LA 70815; (225) 926-5977
Magpie Cafe
Magpie Cafe opened its doors in 2012 and has been serving its Italian-inspired cuisine since.
The ham and onion quiche is one of their many scrumptious items on the menu.
A popular and unique option for a drink is the beet latte.
Menu: Magpie Cafe Menu
Top Review: "This cafe has an amazing selection of nutritious foods, and drinks. I tried the beet latte and the turmeric latte, both were delicious!  I'm so happy to have stopped here while passing through town. There's a few nice parks nearby on the Mississippi River. It's very close to the highway and there's a great workspace to decompress. Lots of local art on the walls. Friendly staff, I highly recommend Magpie Cafe." – Chelsea A.
3205 Perkins Rd, Baton Rouge, LA 70808; (225) 366-6885
Crawford's Restaurant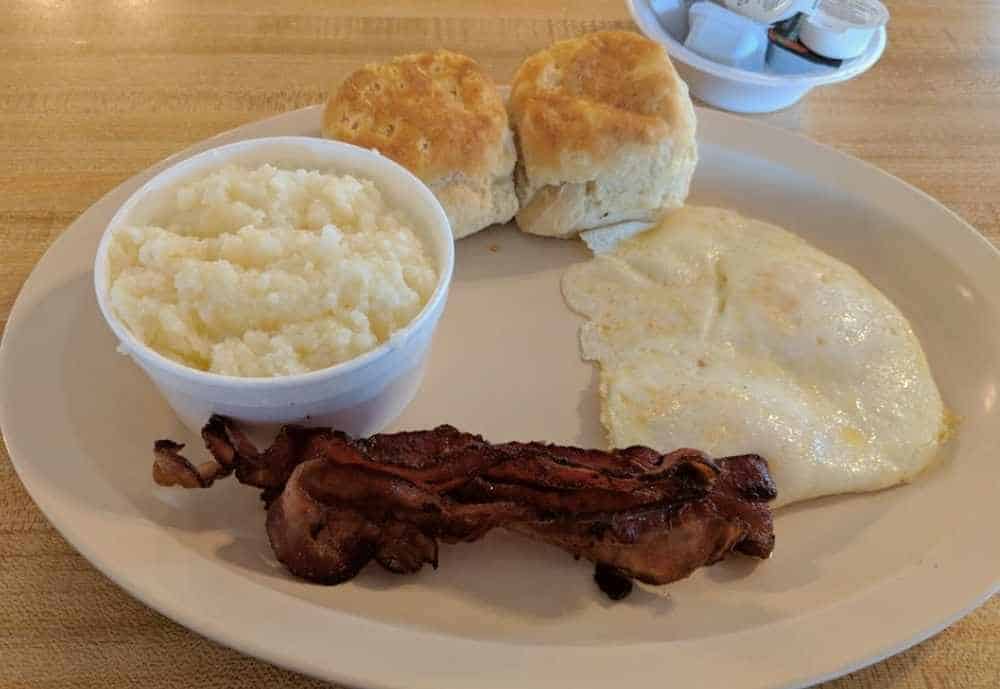 While primarily focused on seafood excellency, Crawford's Restaurant has plenty of flavor to offer early birds as well.
Eggs, grits, and your choice of meat and bread; the deluxe breakfast is great for a callback to the classics.
Try something spicier with their red beans & rice with sausage.
Menu: Crawford's Restaurant Menu
Top Review: "First time in Baton Rouge, and on our first morning here, we found this spot close by our hotel. My hubby loved his c-fish plate and I had the gumbo. I thought it was a little salty, but it was still good. I love that they offer complimentary hush puppies as an appetizer, along with free ice cream (if you choose) for dessert. Such thoughtfulness! Also, the owner was in the restaurant while we were there. He came up to every table to greet us and chat with us! He's so warm and friendly. While talking to us, he noticed that I was without a spoon for my gumbo, and he took it upon himself to bring one right to me. I love that the owner is so hands on with his customers and so down to earth! Wishing this business much success in the future!!" – Jaimie C.
1980 Staring Ln, Baton Rouge, LA 70810; (225) 767-1371
Coffee Bean Cafe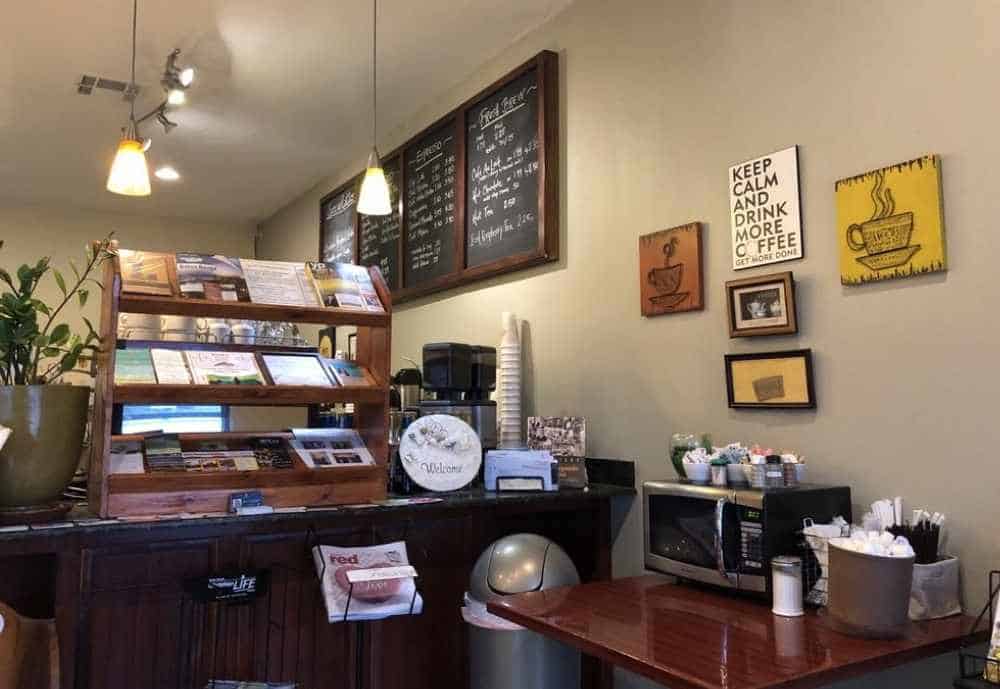 Coffee Bean Cafe is a great place to visit when in need of a tasty pick me up and a cozy environment.
Enjoy everything you could put in an omelette with the everything omelette.
Indulge in the French toast for a sweeter experience.
Menu: Coffee Bean Cafe Menu
Top Review: "Coffee Bean is a cute little unassuming spot in the middle of some older retail spaces, but make no mistake, this place is legit! I'd been here previously for coffee and it was good, but I was able to enjoy breakfast today and it was very enjoyable. They have traditional coffee shop pastries but also several omelet options – so many that I had to ask the owner for advise because they all looked so delicious. I landed upon the veggie omelet – filled with zucchini, mushrooms, bell pepper, onion and your choice of cheese. I added turkey for some added protein, but vegetarian would be great as well! Paired with my very tall Americano, this was just the breakfast my Monday morning needed. I'll definitely be back and will spread the word to others looking for a casual breakfast in the Sherwood/Coursey area!" – Jackie D.
12177 Coursey Blvd, Baton Rouge, LA 70816; (225) 291-9870
City Pork Jefferson
A must-go when visiting Louisiana, City Pork Jefferson offers authentic creole cuisine and a welcoming atmosphere.
Dive into the lively flavors of the shrimp creole omelet for a scrumptious wake up call.
The cochon de lait benedict is a delightful dish of eggs benedict topped with pulled pork, applewood smoked cheddar, and hollandaise sauce.
Menu: City Pork Jefferson Menu
Top Review: "City Pork really outdid themselves with the restaurant week menu this year! I was so excited to visit when I read the menu they were going to serve! When walking in the staff was very attentive and nice, as always! To start off, I tried the boudin king cake… and oh my… not sure I can go back to eating sweet ones after trying this. It was so good! It came on top of queso too.. so how can you not want to try it?! As an entree I got the shrimp and mashed potatoes! The shrimp were big and cooked to perfection. The potatoes were some of the best I've had served to me at a restaurant! So amazing! And to finish it off, I ordered the king cake creme brûlée! It was awesome too! I love cracking it with my spoon!! Overall this place is 1000/10 and I would recommend to anyone!" – Kaitlyn L.
7327 Jefferson Hwy, Baton Rouge, LA 70806; (225) 615-8880
Sambath's Donut & Thai Food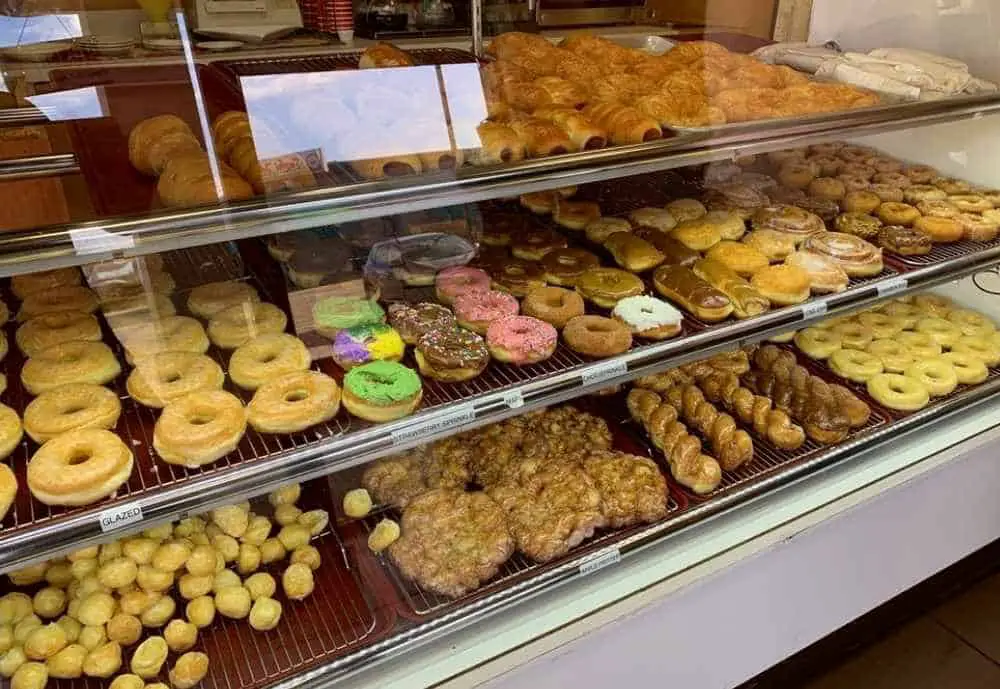 A truly remarkable combination of culinary styles can be found at Sambath's Donut & Thai Food. A sweet chewy cinnamon sugar twist is a tasty way to start the day. Alternatively, there is nothing like a warm sausage kolache to welcome you into the day.
Menu: Sambath's Donut & Thai Food Menu
Top Review: "Wonderful place I heard about by word of mouth, the lady running it is always super friendly and her donuts are always fresh. The glazed with the pink icing actually tastes like it has real strawberries in it. The kolaches are also definitely worth getting, I grabbed one quickly one morning rushing to work, better breakfast than McDonalds without the 5-mile line. I came back at lunch for the Thai food, I got the spicy chicken pad Thai and it was delicious. She will make it as spicy (or not) as you want." – Lindsey W.
5703 Essen Ln, Baton Rouge, LA 70810; (225) 478-9812
Rouge Rabbit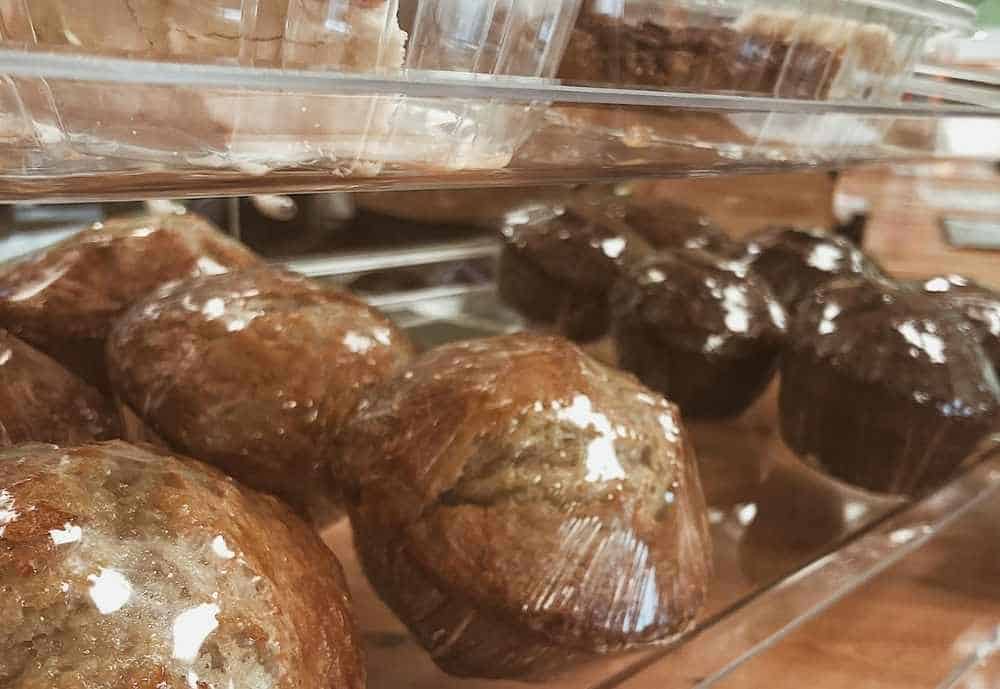 Experience authentic Louisiana cuisine at the Rouge Rabbit and enjoy their breakfast, cajun food, and Bayou beans.
Their French toast breakfast is a classic dish to commence daily activities with.
A more savory option would be the breakfast bowl, which comes with tater tots, eggs, cheese, and turkey sausage.
Menu: Rouge Rabbit Menu
Top Review: "I was in the area during a crazy work day and wanted something different than my normal Serops express or Salad Station so I stopped in. It's a small location but everything is cooked fresh to order. I ordered the Shrimp and Chicken combo which came with pan seared portions of each and my choice of sides – I went with pasta salad and green beans. Everything was bursting with flavor and the proteins were perfectly cooked. Definitely a new addition to my lunch rotation when I'm looking for something healthy and delicious!" – Jackie D.
8550 United Plaza Blvd #103B, Baton Rouge, LA 70809; (225) 250-5812
You might also like:
best breakfast in baton rouge, breakfast in baton rouge, breakfast places in baton rouge, best brunch baton rouge, baton rouge breakfast restaurants, best breakfast near me, breakfast restaurants baton rouge, breakfast near me baton rouge