Are you planning a trip to Baytown, Texas and looking for awesome things to do? If so, you're in for a treat! This friendly city has a lot to offer, from delicious food to exciting activities. 
Baytown is a sprawling city located in the eastern portion of Harris County, Texas. With a population of over 74,000 people, it is the sixth-largest city in the Houston metropolitan area.
Visitors to Baytown can enjoy a variety of activities, including exploring its many parks and museums, or taking a scenic drive along the Gulf Freeway. There is something for everyone in Baytown, making it a great place to visit for a day or a week.
Lynchburg Ferry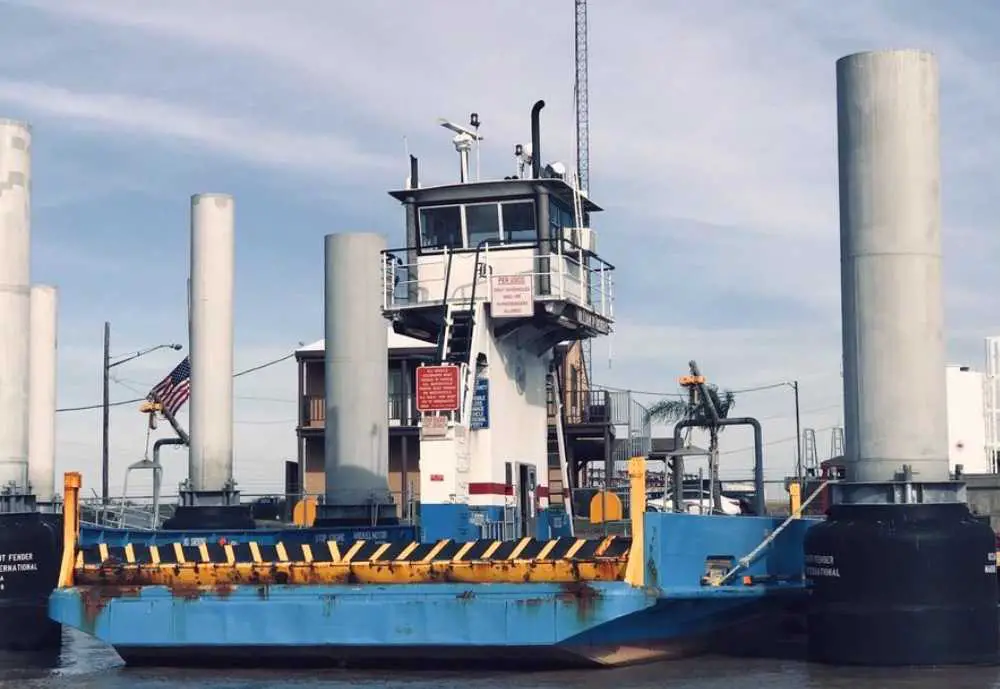 If you're looking for an exciting place to visit in Baytown, Texas, be sure to check out the Lynchburg Ferry. 
This historic ferry has been in operation since 1888, making it one of the oldest constantly operating ferries in the United States. 
The Lynchburg Ferry connects North and South Independence Parkway and the San Jacinto Battleground Monument. 
In addition to being a functional transportation option, the ferry also offers stunning views of the surrounding bay area. 
If you're lucky, you may even spot a dolphin or two swimming in the waters below. 
Top Review: "Forgo the traffic and construction and take the scenic route to Lynchburg.  You will be greeted with a nice breeze, scenic views and a zippy 5-10 minute crossing.  Arriving at the Lynchburg Ferry via Deer Park and passing the San Jacinto Battle Monument, you come upon a windy road, but do not get speed happy (especially at night)  lest you find yourself in the drink.  Only one ferry is operating at the moment which can only ferry 10 cars, or in my case 9 cars and a motorcycle) at a time so plan accordingly.  If you do find yourself not making the queue head over to Monument Inn restaurant for some fresh daily seafood or watch the sunset across the road at Joan Seguin Historic Park.  Before I forget…..If you do find yourself in the area close to sunset..BRING MOSQUITO REPELLENT!" – Gary W.
Baytown Nature Center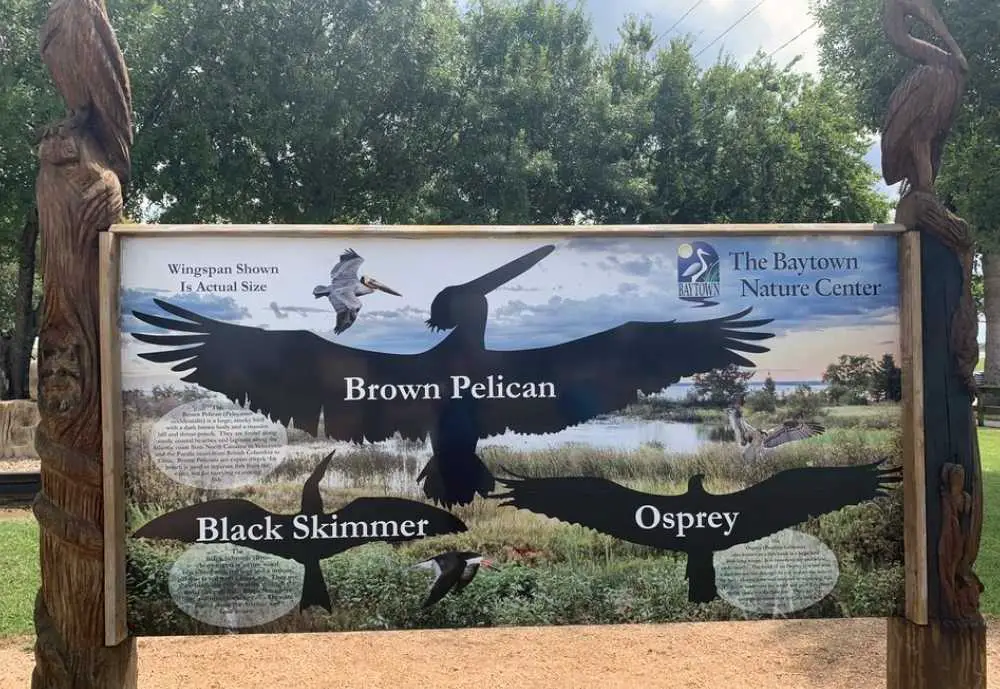 The Baytown Nature Center is a wonderful hidden gem that offers you a chance to see some of the area's most beautiful wildlife up close. 
The nature center is home to 317 species of resident and neo-tropical migrant birds.
The American Bird Conservancy has named the Baytown Nature Center as an important area for birds. In partnership with Houston Audubon, the nature center also offers monthly bird surveys to monitor our feathered friends.
The nature center also has a playground and picnic area, making it the perfect place to spend a day outside with the family. 
Top Review: "We enjoyed our visit here today. This was our first visit so we parked by the information at first thinking we could walk the trail to the children's nature center. It would've been too much for the kids so we drove to it. For the walking trails I would've liked for them to have signs placed to know where to walk. The kids had so much fun at the children's area and I loved the layout of it. I didn't get to visit the butterfly area so I hope to visit that part next tine. It was quite a drive but well worth it. We will definitely visit again." – Janiel R.
6213 Bayway Dr Baytown, TX 77520
Umbrella Alley (Closed Temporarily)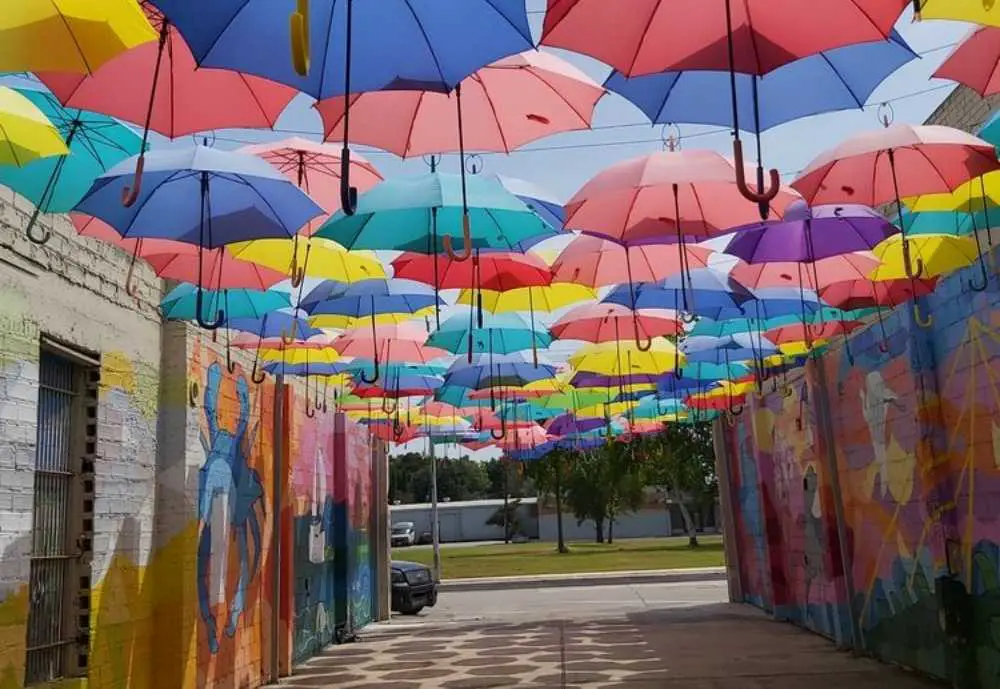 Please note: Due to weather damage, the umbrellas have been removed temporarily.
One of the best things to do in Baytown is to stroll through Umbrella Alley. This unique alley is lined with colorful umbrellas that provide shade and create a festive atmosphere. 
The umbrellas are a popular spot for photo ops, and the alley is also home to several art galleries and shops. 
If you're looking for a unique and Instagram-worthy experience, be sure to check out Umbrella Alley when you're in Baytown!
124 W Texas Ave Baytown, TX 77520
AR's Entertainment Hub
AR's Entertainment Hub is a comprehensive family entertainment center located in Baytown, Texas. The center offers a wide variety of activities and games suitable for all ages, including bowling, arcades, laser tag, black-light mini-golf, bumper cars, soft play, and roller skating. And if you are feeling adventurous, they've added a ninja course!
In addition to these activities, the center also features a full bar and restaurant, making it a great destination for corporate events or a night out with friends. With its extensive range of entertainment options, AR's Entertainment Hub is the perfect place for families looking for a fun-filled day out in Baytown. Check them out, AR's is one of the best things to do in Baytown!
Top Review: "This was a fun place, the reviews made me doubt the place but i think it was nice for kids lots of area where kids can enjoy, the laser tag is fun just the bumper cars aren't there anymore, arcade games work!! not like other places but over all it was good." – Allison M.
Yepez Vineyard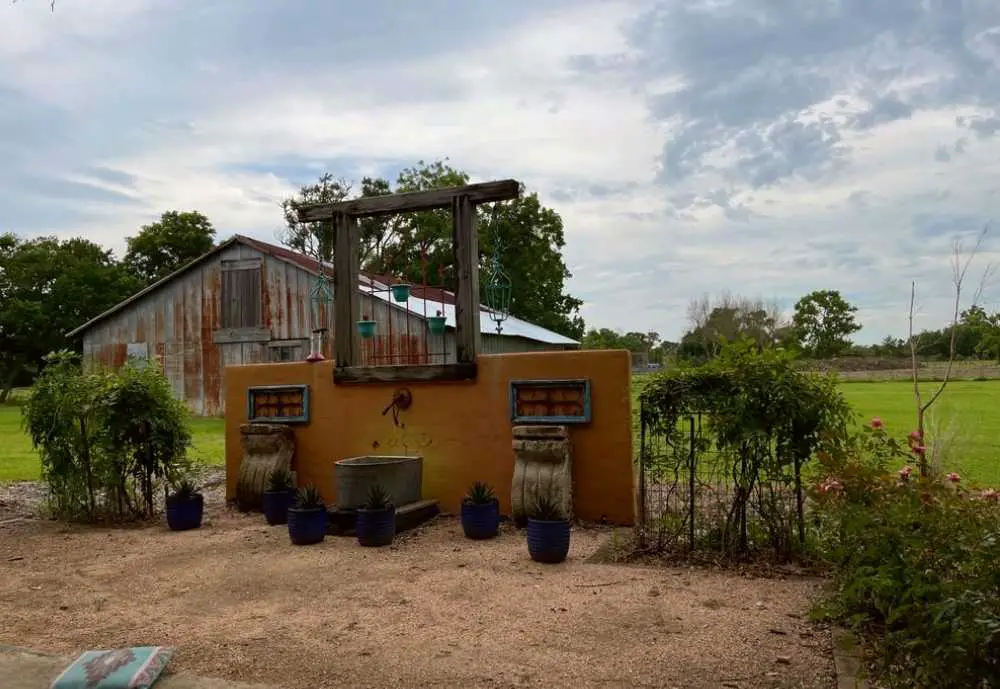 Wine lovers rejoice! Located in Baytown, Texas, Yepez Vineyard is the perfect place to enjoy a glass (or two) of your favorite red or white. 
But that's not all – this vineyard also offers beautiful scenic views, making it the perfect spot for a romantic picnic or a leisurely afternoon stroll. 
And if you happen to visit on a Friday or Saturday night, you can enjoy live music from some of the area's best local bands. 
So whether you're a wine lover or just looking for a new and unique place to explore, be sure to add Yepez Vineyard to your list of must-visit destinations in Baytown, Texas!
Top Review: "I was referred to this winery by a coworker who spoke so highly of this place. I've been on a wine craze lately, and with this location pretty close to home, it worked out perfectly 🙂 Yepez has some of the best wines I've ever had! The tasting was free with a purchase of a bottle, which were all reasonably priced. The winery is very casual and since the place is family owned, the lady working was personable and helpful in helping us figure out which wine we'd like best. You can bring your own snacks which is such a huge plus. My friends and I brought a cheap tray of cheese, meat, and crackers. I believe Yepez is also family friendly." – Sarah P.
12739 Fm 2354 Baytown, TX 77520, (281) 804-3410
Fred Hartman Bridge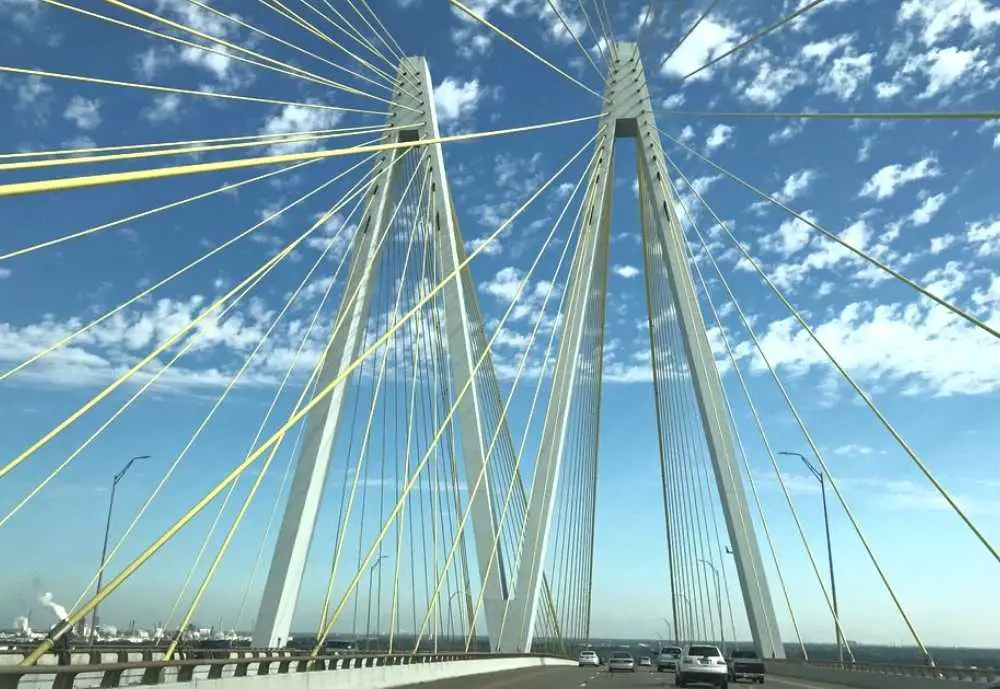 The Fred Hartman Bridge is one of the best things to do in Baytown, Texas. 
Spanning the Houston Ship Channel, this bridge provides stunning views of the cityscape and the water below. 
Visitors can drive or walk across the bridge, and there are also several observation decks where you can stop to take in the view. 
The Fred Hartman Bridge is a great place to watch the sunset or catch a glimpse of ships passing through the channel. 
And if you're lucky, you might even spot a whale or two! Whether you're a local or a visitor, be sure to add the Fred Hartman Bridge to your list of things to do in Baytown, Texas.
5471-5527 Bayway Dr Baytown, TX 77520
Eddie V. Gray Wetlands Center
The Eddie V. Gray Wetlands Center is located on Goose Creek, and was opened in 1998.
The Robert M. Craig Exhibit Hall at the Wetlands Center is a 9,000 square foot area that showcases various exhibits.
Here are the amazing exhibits currently:
"Gator World," with its juvenile alligators and large wetlands mural, is a favorite with visitors young and old. 
"The Land of Milk and Honey" highlights honeybees with a demonstration hive. 
"The Coastal Connection Room" houses aquaria with fresh and saltwater inhabitants collected from local bays and estuaries. 
"Wings Over Wetlands," covering an entire wall, shows the diversity of birds that inhabit wetlands area. 
The snake exhibit is home to several native Texas snakes. 
1724 Market St, Baytown, TX 77520
Baytown Historical Museum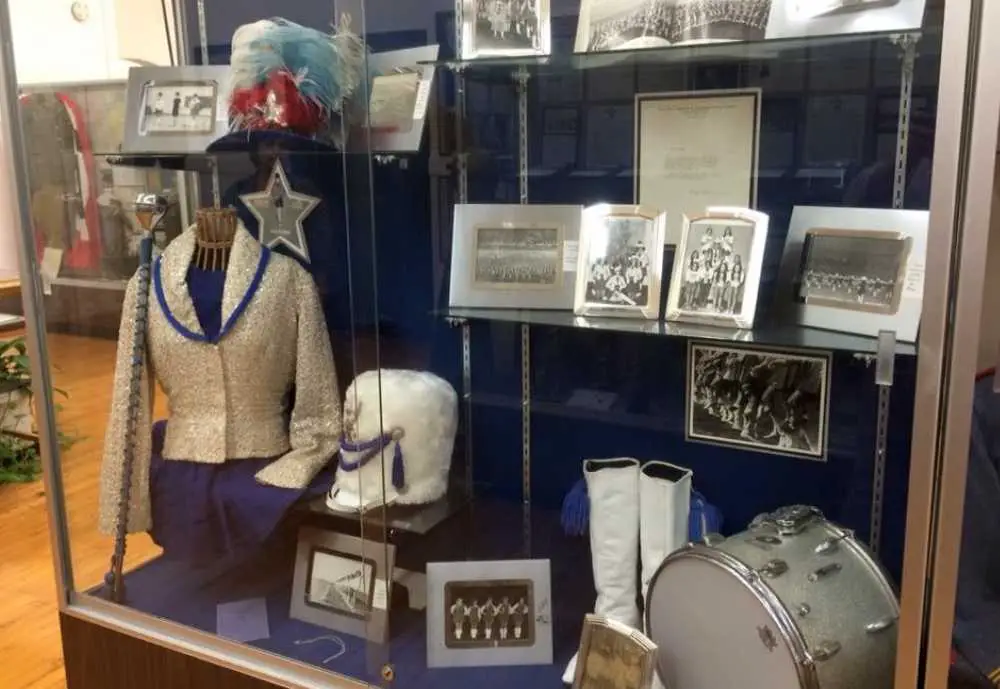 Baytown Historical Museum is a must-see for anyone interested in the rich history of this region.
The museum chronicles the development of Baytown from its days as a small fishing village to its present-day status as a major industrial center. 
In addition to its exhibitions, the museum also offers a variety of educational programs and events. 
There is also an on-site library which houses an extensive collection of books, documents, and photographs pertaining to the history of Baytown. 
Whether you are a history buff or just looking for something fun to do, Baytown Historical Museum is sure to please!
220 W De Fee St Baytown, TX 77520, (281) 427-8768
Art League of Baytown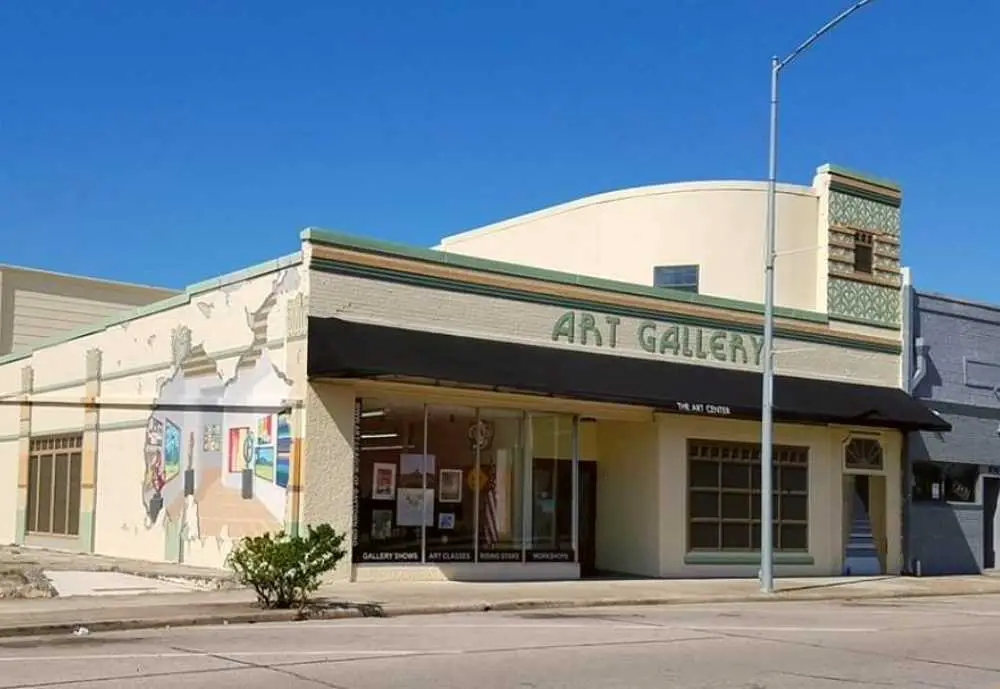 Baytown is home to the Art League of Baytown, which offers a variety of classes and events for residents and visitors alike. 
The Art League is committed to promoting the arts in Baytown and supporting local artists. Classes include painting, pottery, sculpture, and more. 
The Art League also hosts several art shows and events throughout the year, showcasing the work of local artists.
Baytown is a great place to enjoy the arts and learn about the history of Texas. 
Top Review: "Happened upon this jewel Friday night when an h expected special event was going on and Wow! Had so much fun. Truly enjoyed this little gallery and am anxious to come back in the near future for other events. Glad we found you" – Nancy O.
110 W Texas Ave Baytown, TX 77520, (281) 427-5365
Baytown Historical Preservation Association
Baytown is a unique and historic town located in southeast Texas. Founded in 1822, it is one of the oldest towns in the state. Since its founding, Baytown has undergone many changes, but has always maintained its small-town charm. 
The Baytown Historical Preservation Association was founded in 1990 with the goal of preserving the town's history and promoting its cultural heritage. 
Today, the Association operates a museum, offers a variety of educational programs, and hosts annual events such as the Baytown Freedom Celebration and the Lantern Festival. 
The Association also works to preserve the town's architectural heritage, including its many Victorian-style homes. 
For anyone interested in history or culture, Baytown is definitely worth a visit.
5117 N Main St Baytown, TX 77521, (281) 421-2099
Pirates Bay Water Park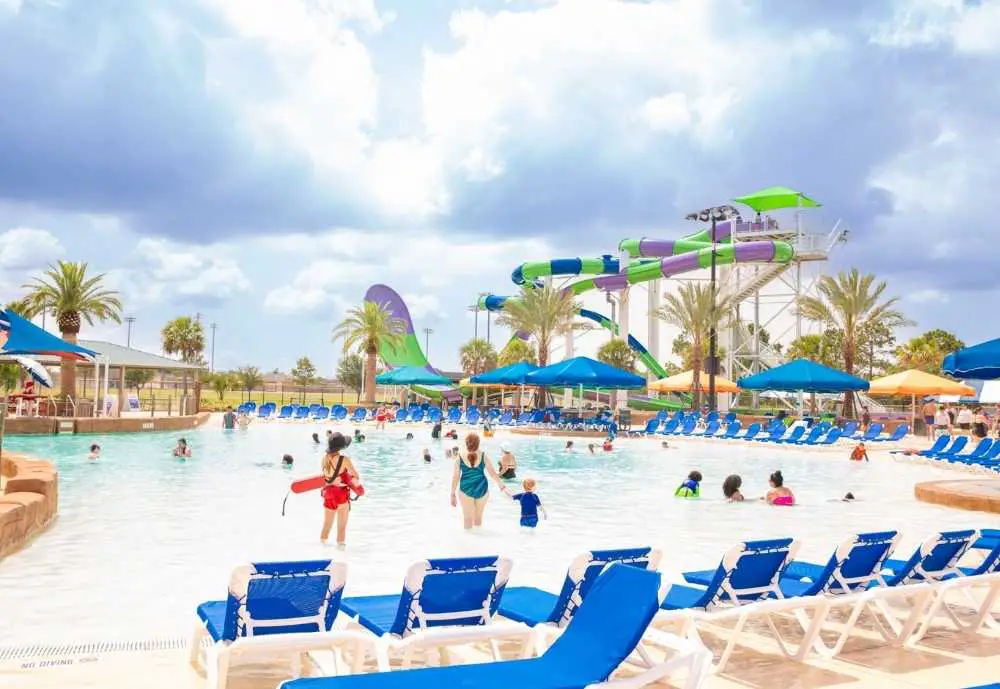 Baytown, Texas is home to Pirates Bay Water Park, one of the best water parks in the state. 
The park features a variety of slides and attractions, as well as a lazy river and wave pool. 
Visitors can also enjoy a meal at the on-site restaurant or grab a souvenir at the gift shop. 
The water park is open year-round, making it the perfect destination for a summer getaway or a day trip from Houston. 
Whether you're looking to cool off on a hot day or just have some fun, Pirates Bay Water Park is the place to be.
5300 E Rd Baytown, TX 77521, (281) 422-1151
---
All in all, Baytown is a great place to visit whether you're looking for excitement or relaxation. With its rich history, beautiful scenery, and variety of activities, there's something for everyone in Baytown. So what are you waiting for? Start planning your trip today!
Frequently Asked Questions
What is Baytown, Texas known for?
Baytown is a major industrial center and is known for its oil refineries, petrochemical plants, and other energy-related industries. It is also known for its rich history and cultural heritage.
Is Baytown a small town?
Baytown has a population of over 74,000, making it too large to be considered a small town. However, it maintains a small-town charm with its historic buildings and community events.
What towns are close to Baytown?
Baytown is located near the cities of Houston, Pasadena, and Deer Park. It is also close to the towns of La Porte and Highlands.
Is Baytown, Texas a nice place to live?
This is a subjective question and opinions may vary. Many residents enjoy living in Baytown due to its small-town charm, affordable cost of living, and proximity to larger cities such as Houston. However, some may find the heavy industrial presence and air pollution to be drawbacks. Overall, it is best for individuals to research and visit the area to determine if it is a good fit for them.
You might also like:
things to do in baytown tx, baytown tx things to do, things to do in baytown tx, fun things to do in baytown