Planning to visit Orlando anytime soon? The city that never sleeps. It is a place where you can always find something to do, which is why it has so many restaurants and cafes. If you are looking for the best breakfast Orlando has to offer, then look no further! 
Here are the top picks for the best places to enjoy breakfast in Orlando. From a classic all-American breakfast option or a leisurely sit-down meal, there's something for everyone. Keep reading to find out more about each of these breakfast spots and what they have to offer.
@ The Diner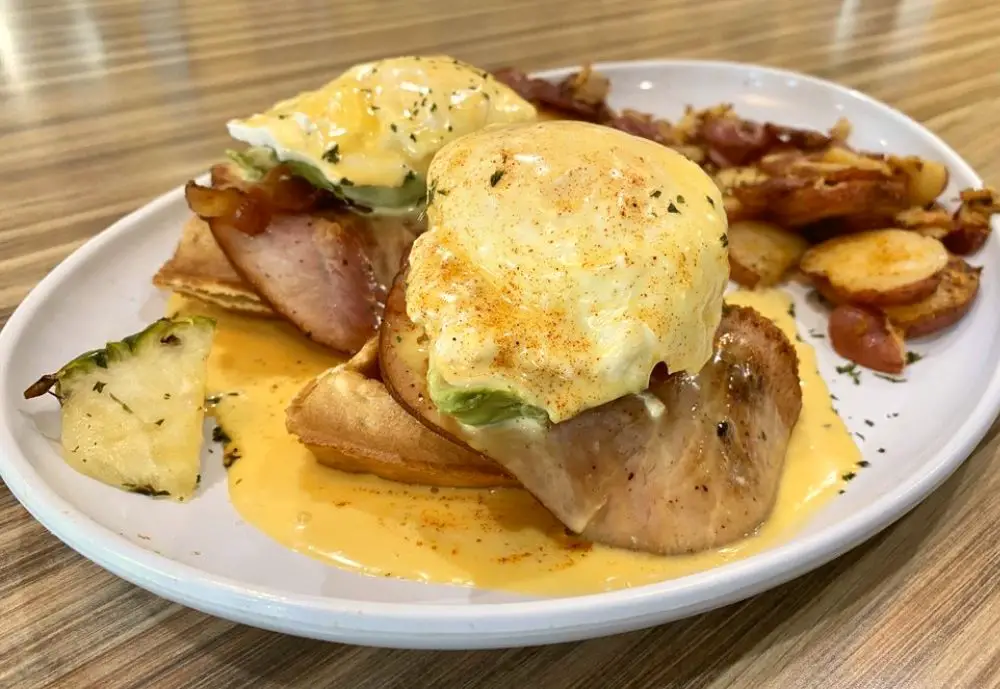 @ The Diner is a restaurant in Orlando that is known for its classic American diner food. The restaurant has been open for over two years and has become a popular choice for locals and tourists alike.
@ The Diner is located in the heart of downtown Orlando and is within walking distance of many of the city's popular attractions. The menu features all of the classic American diner staples that you know and love. From burgers and fries to shakes and pies, there's something for everyone at @ The Diner.
And if you're looking for something a little bit different, the restaurant also offers a variety of unique menu items that are sure to tantalize your taste buds.
Menu: @ The Diner Menu
Top Review: "Absolutely fantastic. My husband got the waffle street taco & I got the chicken and waffle sliders. Both meals were enormous and delicious! The verde salsa that came with the taco was so good I had to get a container of it to go. Our waiter Kevin was so nice and made our experience all the better! We will definitely be back when we're in the Orlando area again!" – Alyssa H.
9938 Universal Blvd Ste 140 Orlando, FL 32819, (407) 237-7687
Se7en Bites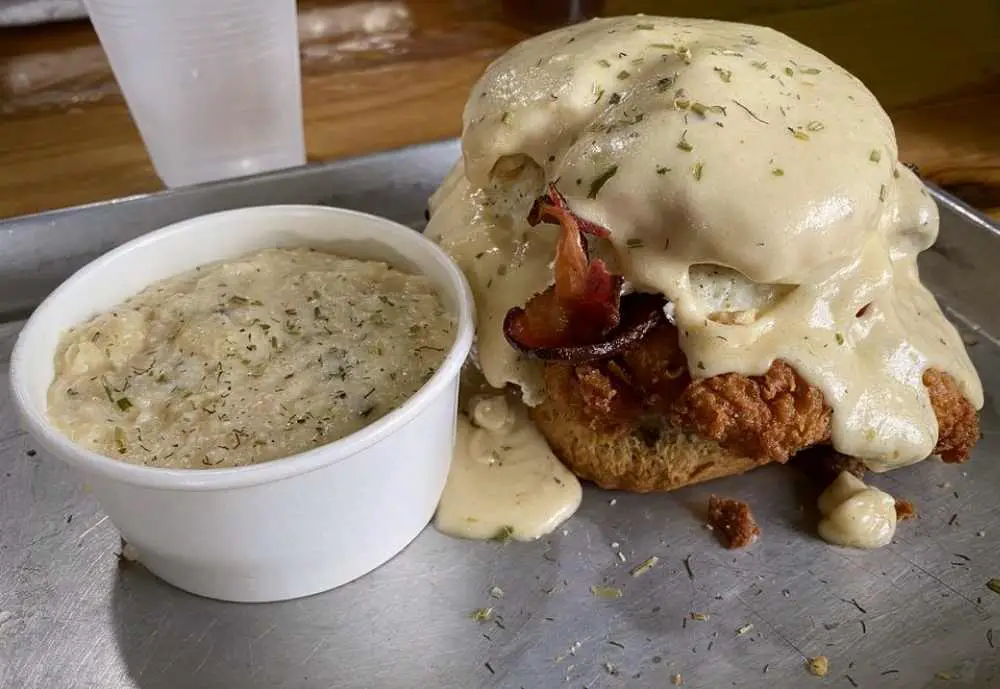 Located at the heart of Orlando's Milk District, Se7en Bites specializes in mouthwatering comfort foods with a touch of modern creativity.
They serve breakfast, brunch, and lunch and recently appeared on Food Network during the episode of "Diners, Drive-Ins, and Dives."
If you are craving something sweet, their signature recipes are a huge hit. These signature recipes are Vanilla Bean Bourbon Bacon Nightime SkyPie and Chicken Pot Pie.
They are available daily and are a fast-selling menu so it is highly recommended that you come early. 
Menu: Se7en Bites Menu
Top Review: "The line outside of Se7en Bites is well worth the wait! I came here for brunch and loved the chicken biscuit with Parmesan coated tater tots. I also ordered a mimosa, which comes with its own little bottle. The inside is cozy, and the menu features Southern home style options. There are so many other things I want to try, and I will definitely be back!" – Christine F.
617 N Primrose Dr Orlando, FL 32803, (407) 203-0727
Hash House A Go Go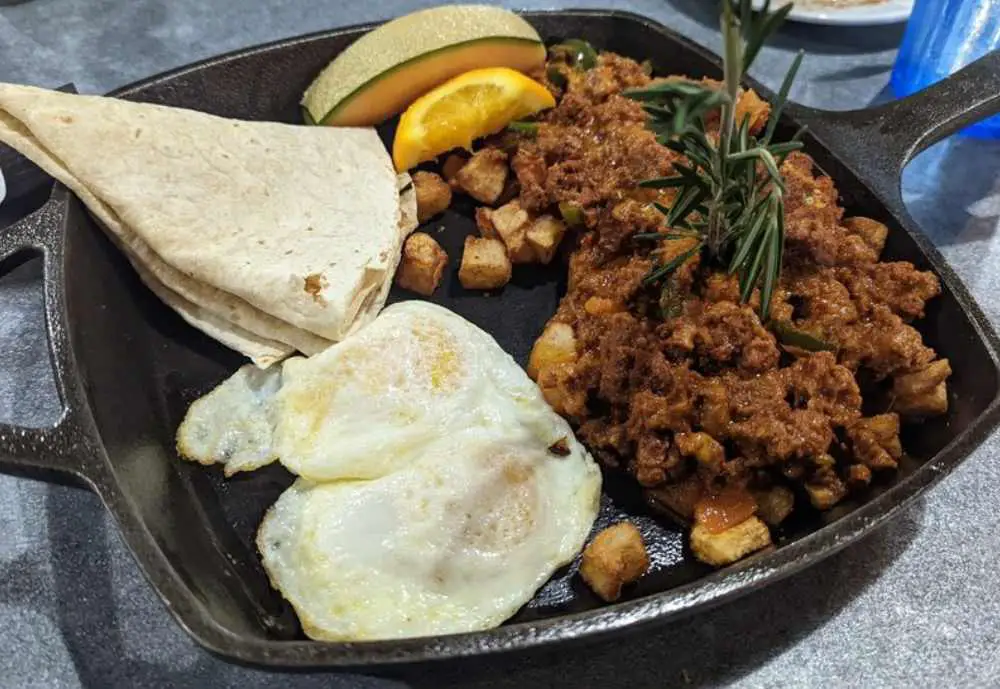 Hash House A Go Go is a chain of restaurants that began in San Diego, California. The first location was opened in 2000, and the company has since expanded to locations in Las Vegas, Los Angeles, Maui, New York City, Orlando, and Seattle.
Highlights of their breakfast menu include Sage Fried Chicken and Waffles and the Banana Brown Sugar Pancake that's the size of a tractor wheel, if that's an actual unit of measure.
If you're looking for a place to eat near Universal Studios Orlando or Walt Disney World, then be sure to check out Hash House A Go Go!
Menu: Hash House Menu
Top Review: "Hash House a Go Go is definiitely a Go Go . The food here is amazing, it's like The boss level of comfort food. Or if Dennys and IHOP had a major upgrade. The portion size of the plates are huge  and everything was so delicious. I got the chicken and waffles. It was sooo to die for. My server was amazing, very attentive, very friendly! The restaurant setting was similar to a farm. With Farm food. I would definiitely recommend anyone to eat here" – Brandon D.
5350 International Dr Orlando, FL 32819, (407) 370-4646
The Monroe
Next on the list of amazing breakfast spots in Orlando is The Monroe. Located in Creative Village, downtown Orlando, The Monroe offers a daytime coffee bar and a variety of breakfast options to start your day off right.
The airy, midcentury space is the perfect setting to enjoy a cup of coffee and a pastry or indulge in a hearty breakfast dish. Some recommended breakfast items include the creme brulee French toast, the steak and eggs, or the local mushroom hash. With its great atmosphere and delicious breakfast options, The Monroe is definitely worth checking out during your trip to Orlando.
Menu: The Monroe Brunch Menu
Top Review: "The Monroe is aesthetically pleasing from the moment you walk in and it has so many spots for the gram. I love the decor and the furniture seems thoughtfully picked out. The food was great! The chicken and waffles are a must get. I got the egg soufflé and it was so fluffy. Each bite had was full of flavor. It was exactly what I was craving. The service was amazing and they made us feel like family. Highly recommend!" – May L.
Keke's Breakfast Cafe
Keke's Breakfast Cafe is a restaurant chain that originated in Orlando, Florida. The company was founded in 2006 and has since expanded to over 30 locations across the state of Florida.
Keke's Breakfast Cafe is best known for its pancakes, waffles, and omelets. The restaurant also offers a variety of lunch and dinner items, such as sandwiches, burgers, salads, and soups. 
In addition to its food menu, Keke's Breakfast Cafe also offers a full breakfast buffet. The buffet includes a variety of hot and cold items, such as eggs, bacon, sausage, pancakes, waffles, oatmeal, fruits, and pastries. 
Keke's Breakfast Cafe is open daily from 6:00 am to 2:30 pm.
Menu: Keke's Menu
Top Review: "This is one of my favorite breakfast spots in Orlando. The Florida waffle is delicious. The waffle is light and fluffy and every inch is covered with fruit. I think it comes with whipped cream as well, which I leave off. I make sure to stop here whenever I'm in the area." – Lisa B.
7512 Doctor Phillips Blvd Ste 100 Orlando, FL 32819, (407) 354-1440
Fk Your Diet
If you're looking for a breakfast spot in Orlando that not only serves delicious food but also contributes to a great cause, then FK Your Diet is definitely worth checking out. This scratch kitchen prides itself on cooking everything from scratch, with nothing out of a can. The result is simple gourmet cooking that tastes just like home.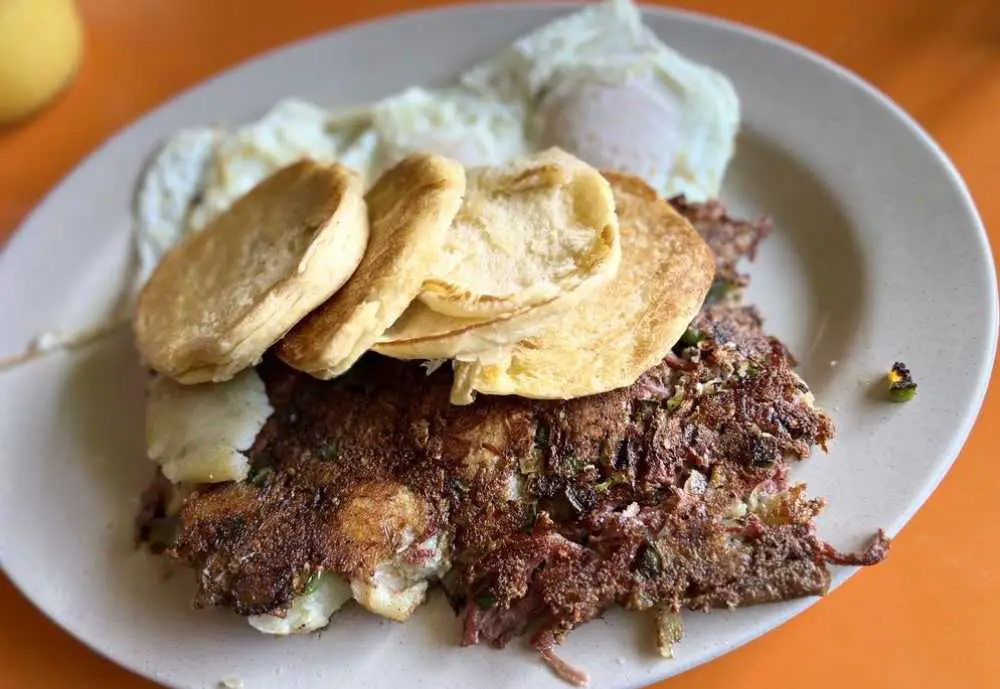 But what sets FK Your Diet apart from other breakfast spots is their commitment to helping those in need. They hire people who need a second chance in life and help them succeed. They also use every part of their restaurant to help others less fortunate, with a particular focus on foster kids.
FK Your Diet was founded in 2019 in Fort Myers, Florida, with a passion for cooking and a desire to make a positive impact on the community. Since then, they have expanded to several locations, including Orlando, where you can enjoy their fast and friendly service, and of course, their delicious scratch-made breakfast options.
So if you're looking for a breakfast spot that not only serves up tasty food but also supports a great cause, make sure to add FK Your Diet to your list of must-visit spots in Orlando.
Menu: Fk Your Diet
Top Review: "Wow! I can't say enough good about this hidden gem. Our first time there and it didn't disappoint. Everything made from scratch. Huge portions…you'll need a box! Family friendly atmosphere. Great service! An added bonus…these folks do a lot of good for the community!" – John K.
The Waterfront
The Waterfront restaurant in Orlando, Florida offers a breakfast menu that features classic American dishes. Their breakfast menu includes items such as the classic breakfast plate, eggs benedict, and Belgian waffles.
The restaurant also offers a VIP program that provides exclusive updates on events, secret menus, special offers and discounts, and loyalty rewards. With its waterfront location in the SoDo district, The Waterfront provides a serene atmosphere to enjoy a delicious breakfast in Orlando.
Menu: The Waterfront Menu
Top Review: "We have been frequently visiting The Waterfront for breakfast, we absolutely love their choices, I am a huge fan of the "gigantic" pancake, it is fluffy and delicious!  We love the servers, both Jasmine and Seth, they are a real asset to this establishment.  The chef does a superior job as well.  Can't wait to come back and try lunch or dinner!" – Patsy R.
Craft & Common
Craft & Common is a trendy coffee shop located in Orlando, Florida that serves up a delicious breakfast menu. Their breakfast options are diverse, catering to both sweet and savory lovers alike.
One of their most popular dishes is the avocado toast, topped with a perfectly poached egg and a sprinkle of chili flakes. For those with a sweet tooth, their Belgian waffles with fresh berries and whipped cream are a must-try.
The coffee at Craft & Common is also top-notch, with a variety of brewing methods available to suit any preference. With its cozy atmosphere and delicious food, Craft & Common is the perfect spot to start your day in Orlando.
Menu: Craft & Common Menu
Top Review: "When the locals say you gotta try, You try and Craft & Common was a great suggestion that we were glad we did. The spacious space is full of light and vibe. The young workers were adorable and so nice. The coffees came out as drinkable art. The hot drinks were picturesque and I was wowed. I didn't eat but what I saw looked plated well and delicious. So when I suggest places to try in Orlando Craft & Common will be one." – Debbie F.
Sofrito Latin Cafe
Sofrito Latin Cafe is a restaurant in Orlando that offers breakfast and brunch. It opened in December 2016 and has been serving fresh, authentic Latin food ever since. The cafe features dishes such as empanadas, croquetas, omelets, and more. 
Sofrito Latin Cafe has a vibrant atmosphere with Latin music playing in the background. It is the ideal place to hang out if you wish to listen to good music while at the same time enjoying a savory meal.
The restaurant is open for breakfast Monday-Friday from 7:00 am to 3:00 pm and Saturday-Sunday from 8:00 am to 3:00 pm.
Menu: Sofrito's Menu
Top Review: "If you want to enjoy a true culinary Latin food experience in Orlando, Fla., this is it! As a Venezuelan myself, it's hard to find Venezuelan restaurants this delicious here in the U.S. We ordered the shredded meaf cachapa, rotisserie chicken, churrasco and chicken soup. Every single item was delicious. Staff was corteous and friendly. This place also has some options of beers and spitits. Also, there is plenty of free parking. 100% recomended, and we will definitely come back!" – Jose A.
8607 Palm Pkwy Orlando, FL 32836, (407) 778-4205
Briarpatch Restaurant
A popular spot for breakfast in Orlando, Briarpatch Restaurant offers a wide variety of breakfast dishes and drinks.
The restaurant serves a wide selection of breakfast foods, including omelets, waffles, and pancakes. They also have a great selection of home-style meals such as meatloaf and chicken stew.
The restaurant has a classic Americana look with wood-paneled walls and reclaimed wood tables and chairs. They also have a large stone fireplace for chilly nights.
Briarpatch Restaurant Orlando is a great place to enjoy breakfast or dinner with family or friends. Their menu is filled with delicious meals sure to please anyone's palate. Check them out for some of the best breakfast in Orlando!
Menu: Briarpatch Menu
Top Review: "Briarpatch has been a consistent favorite of mine (and many others) for many years now. Their brunch is second to none and the location is of course iconic being on Park Ave. Most recently we split the Bacon&Mushroom omelette and the Pecan Pie French Toast. AMAZING. I could not stop talking about the omelette even after we left the restaurant. It was STUFFED full. And the French toast was so thick and perfectly sweet. Will always be back for more!" – Ali W.
252 N Park Ave Winter Park, FL 32789, (407) 628-8651
The Glass Knife
If you are looking for something sweet, The Glass Knife is known for its desserts and coffee.
Indulge yourself in their tasty and heavenly onyx chocolate dessert to coffee-flavored chocolate mousse. The sweet taste of it will soothe your palate's cravings.
Although The Glass Knife's specialties are cakes and desserts, they also have other menu options for breakfast, lunch, and dinner.
Menu: Glass Knife Menu
Top Review: "This place is such a delight! I never know what to go for so we ended up ordering 3 different pastries !! My favorite one was the chocolate caramel praline with hazelnut. It was really creamy on the inside and the crust gave it such a nice contrast, everytime I go I end up ordering that same one. I'm not a fan of key lime but the feedback from the other people is my group was very positive and the onyx was extremely good as well, the outside was soft and it had dsrk chocolate mousse on the inside.
If you are feeling in the mood they also offer wine, as well as coffees and teas." – Laura C.
276 S Orlando Ave Winter Park, FL 32789, (407) 500-2253
Breakfast is the most important meal of the day. It does not matter what you crave to eat as long as you get to start your day by eating right. Before you go about your day or do some sightseeing, make sure to drop by some of these best breakfast places in Orlando. You will surely be amazed by their creativity and high-quality service. 
---
Did we miss a spot that deserves to be mentioned? Shoot us an email at: [email protected] Thank you!
---
You might also like: