È l'ora della pizza! Are you looking for a pizza spot in Orlando that will send your taste buds to the far reaches of pizza heaven?
Then…read on fellow pizza traveler and discover the best pizza Orlando has to offer! 
Divertiti!
Pizza Bruno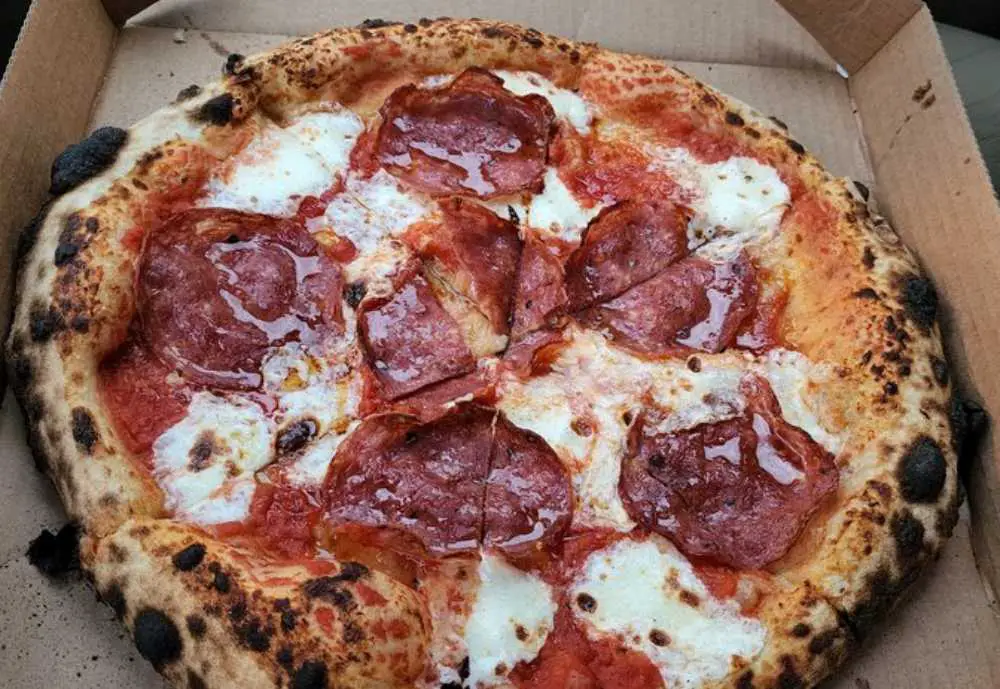 Pizza Bruno is a pizzeria that won't let you down. It's been a local favorite for years because of its good pizzas and consistent quality.
They have interesting specialty combos like the hot honey pizza and crimson ghost pizza. Their garlic knots are also a hugely popular menu item.
They're reviewed as some of the best in Orlando but just make sure you're not kissing anyone after! Their pizzas have a thin crust with a little hint of char.
The tight socks pizza, Kbar pizza, and ninety two pizza are other fantastic recommendations.
Menu: Pizza Bruno Menu
Top Review: "Another favorite Orlando pizza spot. We were recommended this place by a friend, and it did not disappoint! Firstly… the garlic knots. They are HUGE. They are covered in garlic and butter and Parmesan and all things good and holy. Keep the extra sauce to dip your crust in… you won't regret it. Definitely some of the best in the area. The pizzas are a thinner crust but packed with flavor! You can't go wrong, whether it's with a simple pepperoni pizza or the Tight Socks pizza with its creamy swirl. The hype for this place is real!" – Jackie S.
3990 Curry Ford Rd Orlando, FL 32806, (407) 440-3894
Anthony's Coal Fired Pizza
Anthony's Coal Fired Pizza's pies have a nice chew, some char, and a thin crust. They offer gluten-free options, and they have a quick service.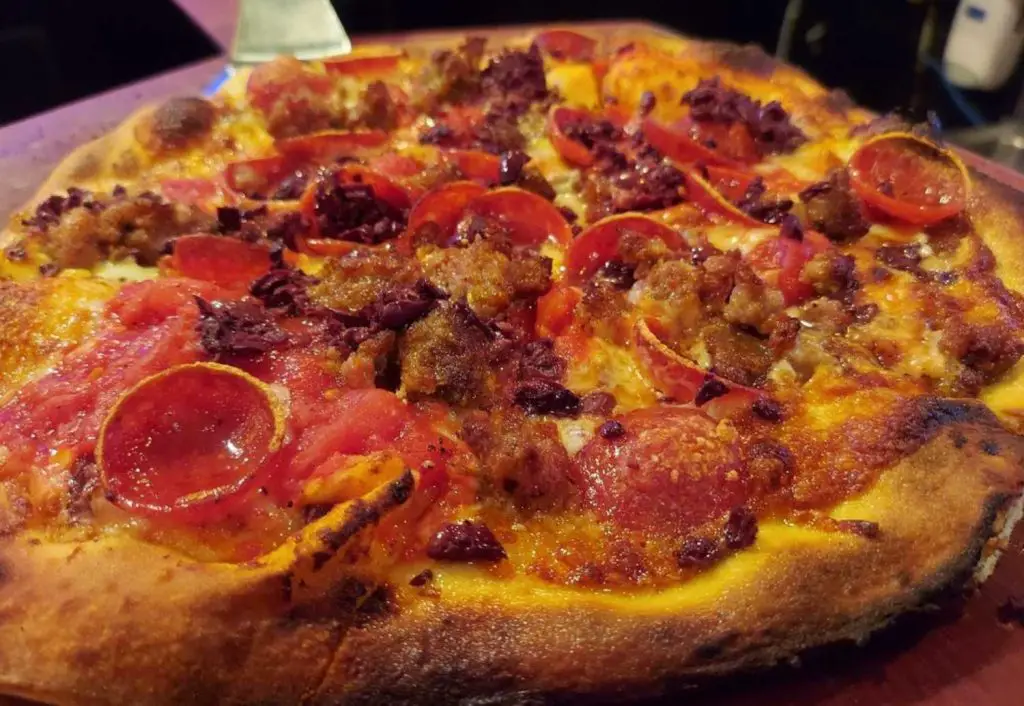 Their garlic knots are also worth mentioning with huge portions. They have more Italian dishes on the menu that you can try. Anthony's is also one of the best because of their excellent service.
There's always a personal touch, and they're involved with explaining things well and ensuring everything's okay. People rave about the pizzeria's hospitality.
Menu: Anthony's Menu
Top Review: "Their slogan is "Pizza well done!" And yes it is ! My second time dining in house here on my Orlando vacations & will be returning in the future. I love how this is an independently owned pizza joint that provides the feel of an upscale restaurant / pizza eatery. The service is exceptional & very attentive. The food came out pretty quickly. The Caesar salad was delicious & the pizza was one of a kind. I was really excited to see they have vegan options, and not just bland vegan options, they have an eggplant marinara pizza 🙂 Eggplant is one of my favorite foods & was delicious cooked on top of the pizza. They have two sizes depending on how hungry you are or how many people are sharing a pizza. Price is affordable & what you would expect to pay for an upscale pizza. This isn't dominoes. Will definitely return in the future." – Arie A.
8031 Turkey Lake Rd Ste 300 Sand Lake, FL 32819, (407) 363-9466
Pizzeria Del-Dio Italian Restaurant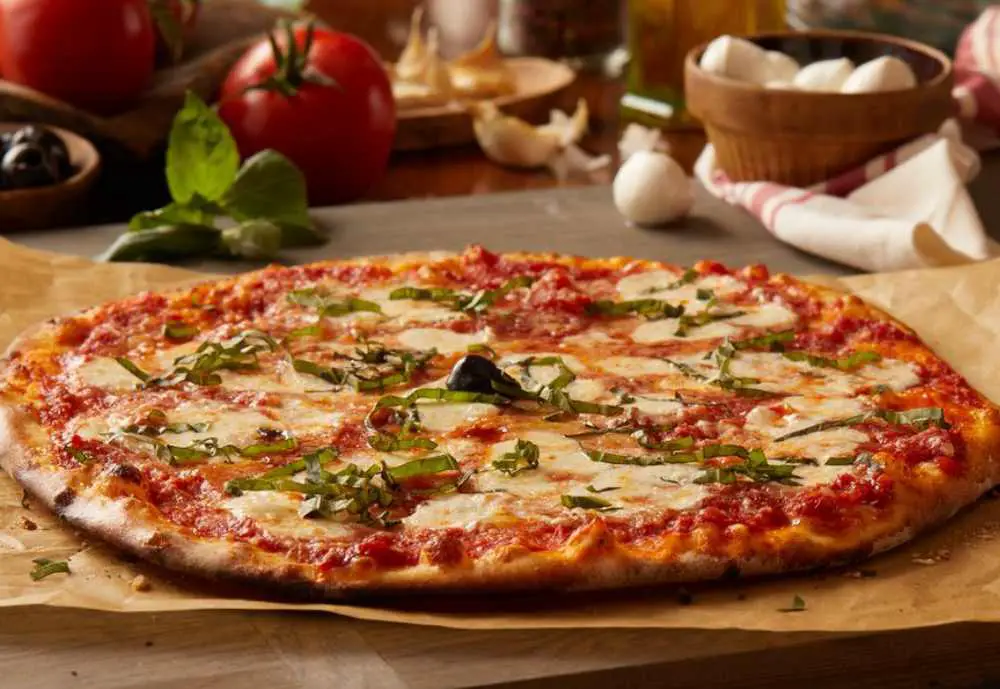 Pizzeria Del-Dio is a casual, family-friendly Italian restaurant with excellent service. Outside, it looks unassuming and straightforward, but it's one of the best pizza places in Orlando and a real, local spot where you can feel the love.
They have a more intimate setting, and the servers really know their stuff and can recommend dishes to you.
They're known for their heart-shaped pizzas with a thin crust. It's flavorful and shines on traditional classic flavors.
Menu: Pizzeria Del-Dio Menu
Top Review: "This little gem of a pizzeria is deserving of more than 5 stars. I work nearby and I'll frequently order from them. John, the owner, typically answers the phone and always knows me and calls me by name. I've tried so many items on their menu and every – single – thing has been delicious. The pizza, subs, pasta dishes and calzones always hot and portions are generous. The eggplant parm sub is the best I've ever had (and I've had many!). The salad is always fresh and cold. Do yourself a favor and try this place.  You'll find John at the pizza oven waiting to whip you up something amazing.  Take it from an Italian from NY – this is the place to get pizza and all things Italian." – Robin V.
3210 E Colonial Dr Orlando, FL 32803, (407) 898-1115
Lazy Moon
Lazy Moon is an Orlando classic where you can have pizza by the slice or build your own. The most notable thing about Lazy Moon is how humongous their slices are.
One piece can fill you up, and it doesn't stop there. Their huge slices are packed with lots of toppings on a bed of a thin and crispy crust.
The local tip says to add honey to your pizza to give it that added pizzazz. Their specials are also quite good and worth the try.
Menu: Lazy Moon Menu
Top Review: "Yum! This is the best pizza in the Orlando area! The slices are the size of Texas. Seriously huge. I have been many many times, and the staff is ALWAYS friendly and patient. Just a great team! They have pre-built options for you to choose from… chili slice, Cuban slice, bbq chicken just to name a few. And I've had them all, and yes they are all delicious. The vibe is super "creative ". I don't know how else to explain it, I just feel super creative when I'm there. You will LOVE this place I promise!" – Anthony G.
11551 University Blvd Orlando, FL 32817, (407) 658-2396
Blaze Pizza
Blaze Pizza is another pizza spot that you have to try when you're in Orlando. They've got quality ingredients, dough made from scratch daily, and some vegan options.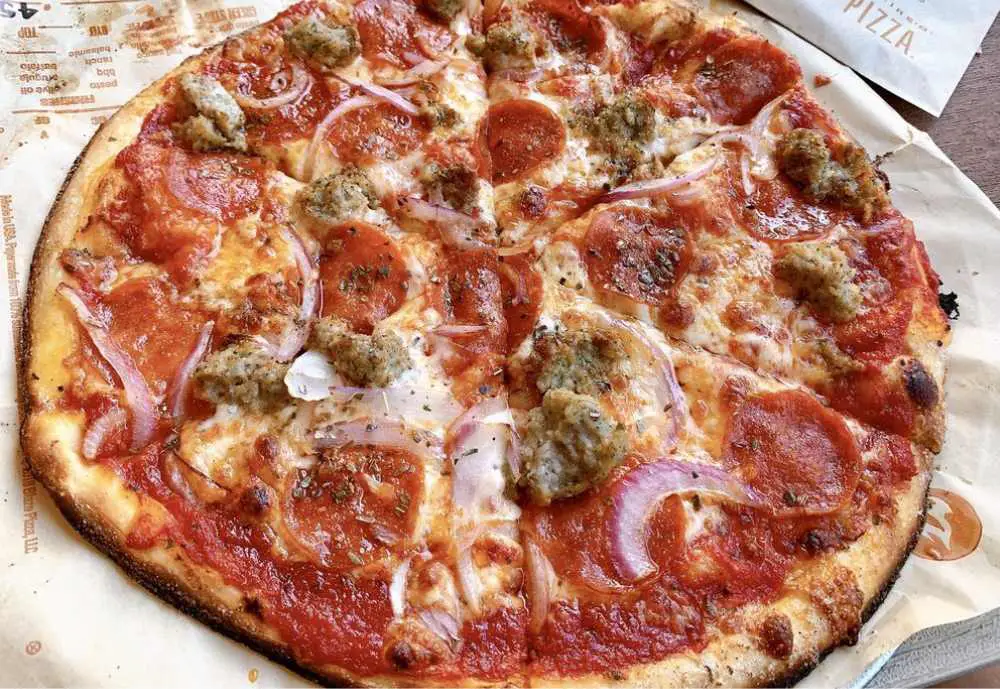 They are known for their build-your-own pizzas, it's fun to do, and it's also at a reasonable price. People recommend you try to build your own pizza, and don't worry, there are a lot of toppings to choose from.
"Exceptional quality at lightning fast speed" is what they're all about, according to them. Oh, and don't forget to try their cinnamon rolls, especially when it's fresh and hot.
Top Review: "Absolutely loved our time here and the food. This was an ideal stop for my family of four and even though Disney springs was packed they were able to get us right in and seated after we ordered. The staff was polite and helpful and we will be back next time we are in Disney springs." – Joseph A.
1508 E Buena Vista Dr B22 Lake Buena Vista, FL 32830, (407) 560-9171
You might also like drooling over these pizza articles:
pizza orlando, pizza in orlando, orlando pizza, best pizza in orlando, best pizza spots in orlando