As you might have expected, Seattle gets experimental with their pizza, and we've covered a few pizza spots that do just that to great effect.
But don't get us wrong, Seattle pizzerias can do traditional pies that can stand toe to toe with the shops in Chicago, Detroit and New York! We cover a few of them as well.
So let's get to it, and bon appetit!
Serious Pie Downtown
Serious Pie has seriously good pies. This pizzeria offers small pies that are good for one; each has lots of flavors and is pretty unique.
On the menu, they have oven-fired pizzas with specialty pies like Sweet Fennel Sausage, Soft Egg, and Yukon Gold Potato.
As there is often a wait time, you can put your name on the list or try one of their other locations around the city.
Menu: Serious Pie Menu
Top Review: "A fun place for a large group and for kids, because who doesn't like pizza right?! We were able to try almost everything on the menu, and my favorites are the Mushroom Truffle Pizza, the Sweet Fennel Sausage Pizza, and the beet salad. The clam pizza is interesting to try. Don't forget to end the meal with Triple Coconut Cream Pie from Dahlia Bakery next door (it's super rich, you'd love it if you are a fan of coconut)." – Maggie L.
2001 4th Ave Seattle, WA 98121, (206) 838-7388
Cornelly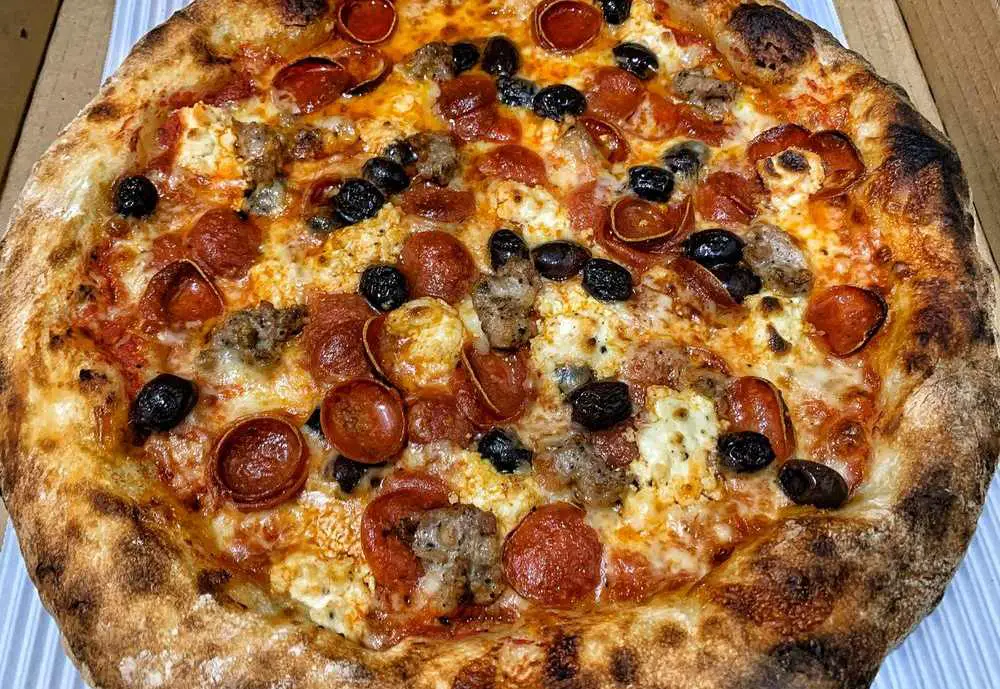 Cornelly is one of the more recent additions to the Seattle pizza community. It might be the newest kid on the block, but they've already proven that their pies are excellent.
They make Detroit-style sourdough pizzas with hand-made pasts and cookies that are a must-try. They exude a cozy vibe, and their friendly staff creates a welcoming atmosphere.
They've got some cool pizza flavors like Where the Wild Things Are and Red Funghi, championing mushrooms. Their pepperoni pizzas are also great if you're into the more traditional flavors.
Top Review: "BEST PIZZA!!!! A hidden gem in cap hill, this pizza is amazing! It was super fresh and thin which made it easy to eat! They also have homemade red pepper flakes so make sure you get that! The Margherita was really great, standard pizza and tasted really fresh. We decided to try the freaky leeky and it was an excellent white sauce pizza! The only thing I would change is that there were big chunks of leeks so I found myself pulling some of them off but that's not a big deal at all. Definitely try this place out!" – Moukthika O.
601 Summit Ave E Seattle, WA 98102
Breezy Town Pizza
Breezy Town Pizza is known for its caramelized crusts, lots of toppings, and hearty slices. One slice can be filling, so this spot is perfect for big groups.
Its location in Clock-Out Lounge is a good spot for late-night entertainment and hang-out sessions with friends. There's live music, some karaoke, and good food!
Their pizzas are a marriage between Chicago and Detroit-style, and they've got a sourdough crust too.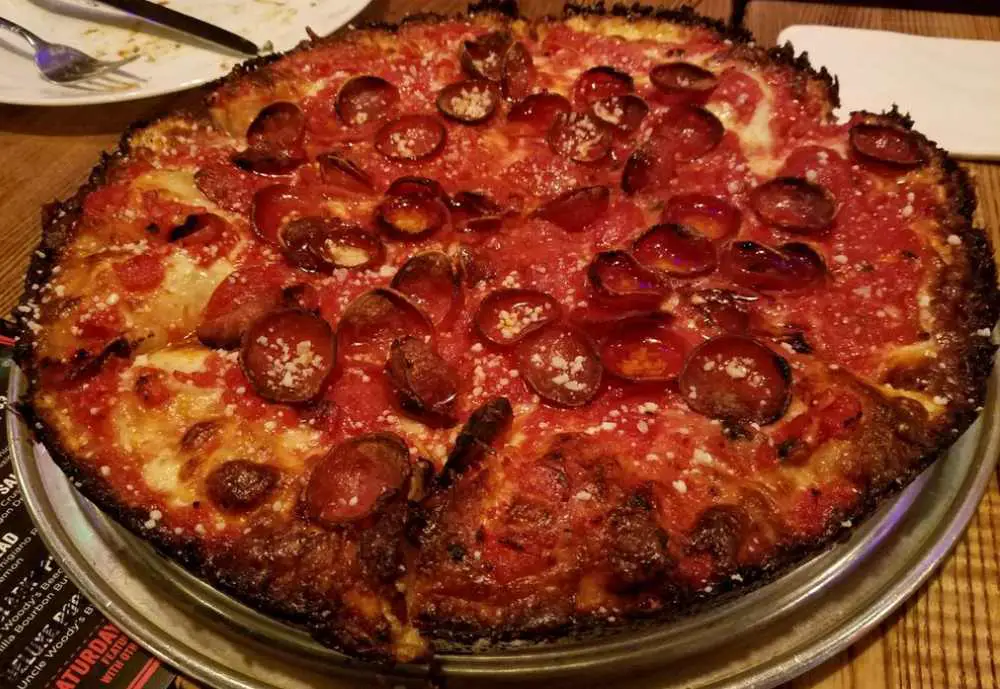 Their most popular pizzas are pepperoni paint job, toddler pizza, and spicy meatball pizza. They've also got great vegan pizzas, so there's a little something for everyone.
Menu: Breezy Town Pizza Menu
Top Review: "Just yes. Always have been a fan of Detroit style – this is essentially that style pizza but in round pans. I'd love a good square corner of this but the texture delivered so I will call it a win. These slices are filling 1-2 and you're done. Inside Clock Out Lounge which was a great spot to grab a drink." – Sam L.
4864 Beacon Ave S Clock-Out Lounge Seattle, WA 98108, (312) 884-9527
Delancey
Delancey is a more upscale restaurant, so it's a bit pricey, but it's worth it for some of the best pizzas in Seattle.
Delancey's pizza is small and cozy, with a small menu that often uses seasonal ingredients.
They use locally-sourced ingredients and a long-fermented dough to make the best pies. Their sausage pie is pretty good and is the recommended pizza here.
We should mention, Delancey's does charge automatic 20% gratuity, so it's best to know that going in!
Menu: Delancey Menu
Top Review: "I've gotten lucky, I've come here twice as a walk-in and got a cozy seat at the bar both times with a very short wait. I love sitting at the bar and watching the pizza being made. The food is delicious! Favorite pizza in Seattle so far! I also love the Burrata with pesto and the smoked carrots with harissa and chickpeas. I'm vegetarian and there's many non-meat options. Save room for vegan ice cream dessert next door at Frankie & Joes." – Margaux J.
1415 NW 70th St Seattle, WA 98117, (206) 838-1960
Lupo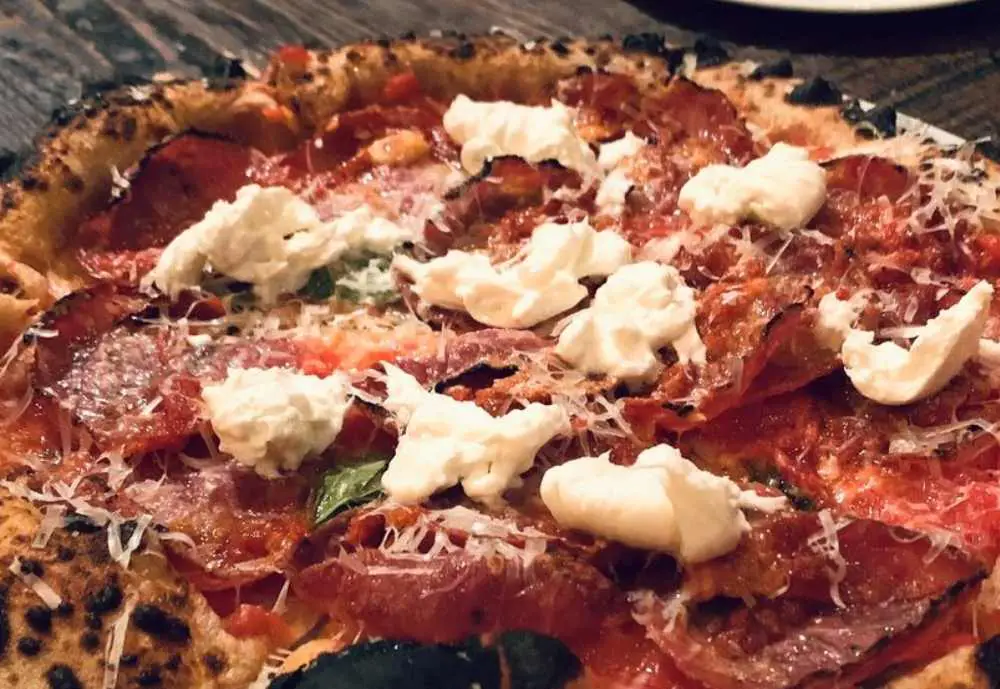 Lupo definitely has some of the best pizzas in Seattle. Their wood-fired sourdough pizzas are a hit with pizza lovers.
They use fresh toppings with interesting combinations like their Burrata Soppressata.
Their classic pizzas also hit the mark with their Margherita or Cacio e Pepe (you can add pancetta, and we suggest you do that too).
They also have a small and simple menu that relies on the quality of their ingredients.
There is a wait time during peak hours, so be prepared for that.
Menu: Lupo Menu
Top Review: "Ever since I went to Naples I've been on a constant hunt for good Neapolitan pizza. this place scratches that itch swimmingly. The only pizza I got here, and will only ever get bc it was THAT good, was the burrata sopressata. the still cool and creamy burrata pairs perfectly with the hot honey and sopressata heating things up. I was surprised by the kick in this pizza, it was creamy, spicy, and sweet all at the same time." – Pravar K.
4303 Fremont Ave N Seattle, WA 98103, (206) 547-2144
You might also like drooling over these pizza articles:
pizza seattle, pizza in seattle, seattle pizza, best pizza in seattle, best pizza spots in seattle, pizza seattle wa, best pizza in seattle wa