Jackson Hole is the perfect outdoor destination, whether it's summer or winter. The valley is a chaos of activities that will bring you back to Mother Nature. It's just the right amount of escape and adventure that will leave you coming back for more.  
Go on hikes, hit the slopes, immerse in the local community, or just enjoy the surrounding mountains' views. All this and more here in Jackson Hole, Wyoming!
Jackson Hole is a valley in Wyoming, sandwiched in between the Gros Ventre and Teton mountain ranges. It's surrounded by mountains, rivers, and streams. The valley is just beside the Idaho border and is 55 miles long and covering about 400 square miles.
It was first called Jackson's Hole by the men who frequent the mountains. The Snake River also crosses the whole valley, coming from Yellowstone up north. There's also a homey community in Downtown Jackson Hole, where Jackson city is.
This is located at the southern end of the valley. Its proximity to diverse landscape makes it the prime spot for any outdoor adventure. There are a lot of recreational activities, and the views are absolutely stunning.
Make your trip the best with these top 15 things to do! 
Grand Teton National Park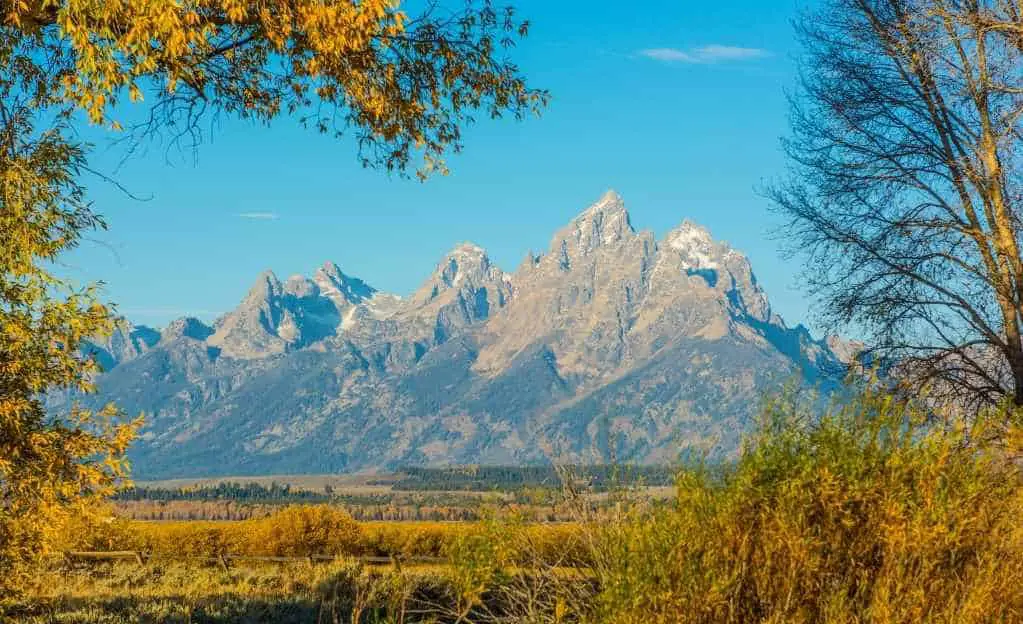 Brace yourself for a rich exploration of the Teton Mountain Ranges.
The mountains are picked right out of a postcard and have the most stunning views. The park was created to protect the impressive 310,000 acres of nature, with abundant wildlife and mountain ranges.
There's a lot to do in the park itself. There are more than 200 miles of trails, the Snake River, and many chances for mountain climbing or skiing depending on the season. You can also go for a drive and stop at the park's many lookout points, watch rare wildlife, or camp in one of their five campgrounds.
The park is 13 miles from Jackson city, 7 miles from Yellowstone, and you can take a shuttle bus from Jackson to the park. 
National Elk Refuge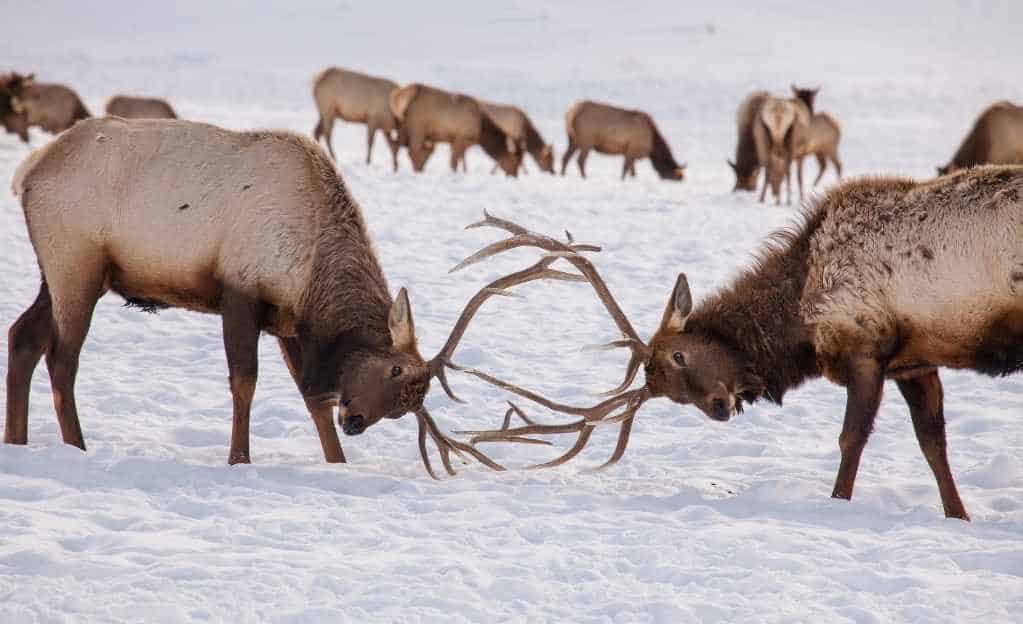 More than the mountains, Jackson Hole is also home to one of the world's largest remaining elk herd.
Along with other mammals and birds, the elks seek refuge from the cold winter in this sanctuary. The shelter has over 24,000 acres of land, and they make sure to feed the herd when winter is especially harsh for the animals. The refuge is best visited during winter, so you can catch the elk herds.
They also offer sleigh rides during winter, which is an entirely unique experience. You can opt to just watch the animals from your car, go fishing or even hike.
Ski Resorts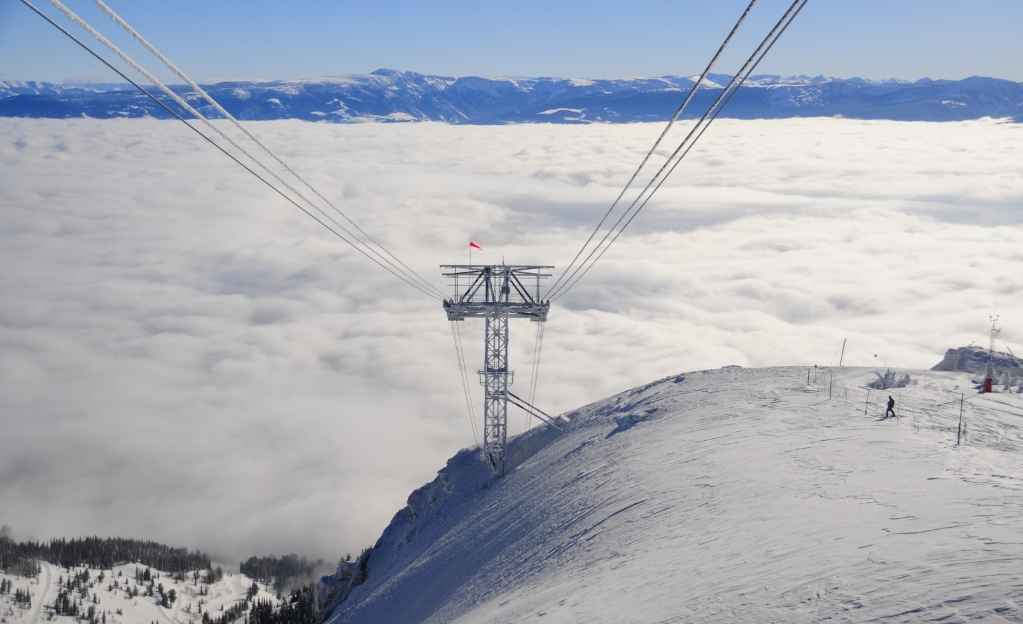 If the thrill you want is out on the snow, Jackson Hole has the best ski resorts anyone has to offer.
Right up the bat, there's the Jackson Hole Mountain Resort. It's considered one of the best ski resorts in the country. You'll get access to 2,500 acres of ski runs with impressive vertical terrains. Some people go to Jackson Hole just for this resort. It has a number of hotels, an adventure park, and renowned restaurants.
For something more affordable, there's Snow King Mountain. This one is considered the best in the state and is located right in Jackson city. Its edge to the Mountain Resort is its night skiing and snow tubing activities.
Other ski resorts include Grand Targhee in Teton Valley and White Pine in Pinedale. These are more for quiet and serene getaways.  
Yellowstone National Park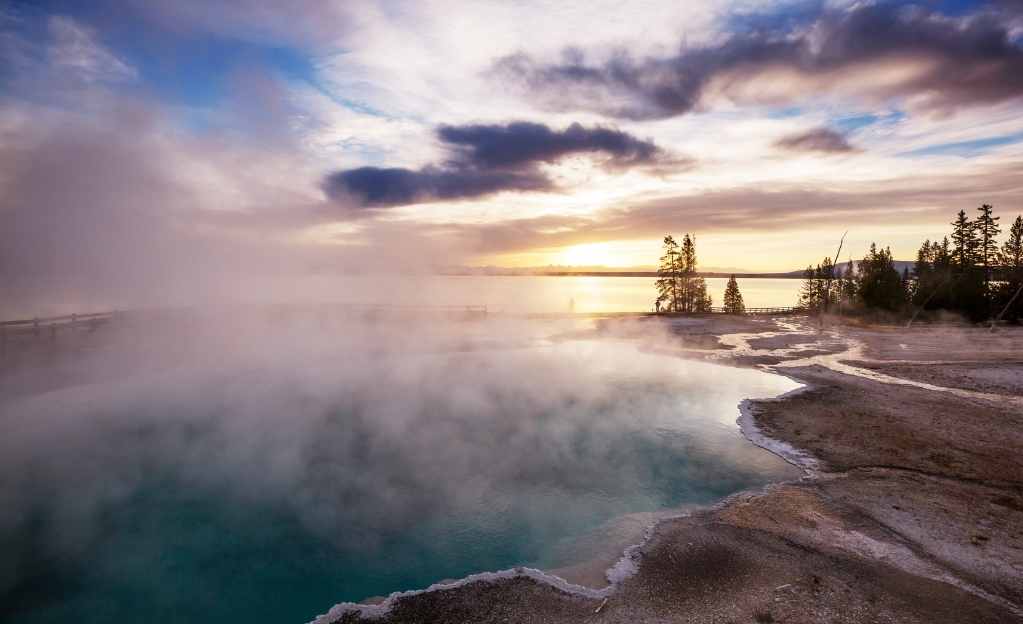 Yellowstone National Park is known in history as the first national park.
It's located an hour away from Jackson Hole and toes Idaho, Montana, and Wyoming's border. Like Grand Teton, the park also has a lot to offer. It's famous for its geysers, hot springs, and mud-pots.
Don't miss attractions like the Old Faithful Geyser and Morning Glory Pool. The area is unique on its own with forests, mountains, and rivers. The Grand Loop Road, a 142-mile road, has most of the sights to see. Try the Mammoth Hot Springs, their many hiking trails, and fishing spots.
Jackson Town Square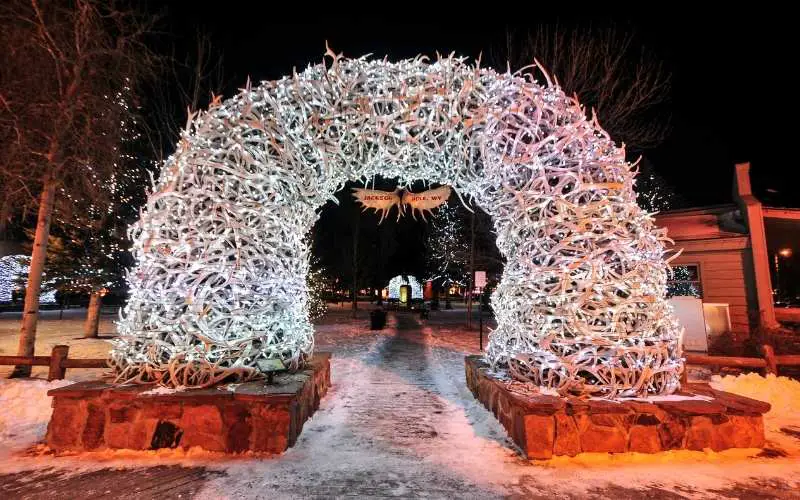 Take a break from the great outdoors and explore downtown Jackson where the community is thriving, and the city comes alive.
The town square is characterized by the four arches made from elk antlers and the unique atmosphere the square gets during the winter holidays. While the town is decorated with all the festive cheer during winter, they offer carriage rides around the city in the summer.
The main attraction here is the shops and boutiques that line the square. You can find factory outlets, special and regional goods, and several galleries.
While you're here, try one of the local's favorite restaurants!
Jackson Hole Aerial Tram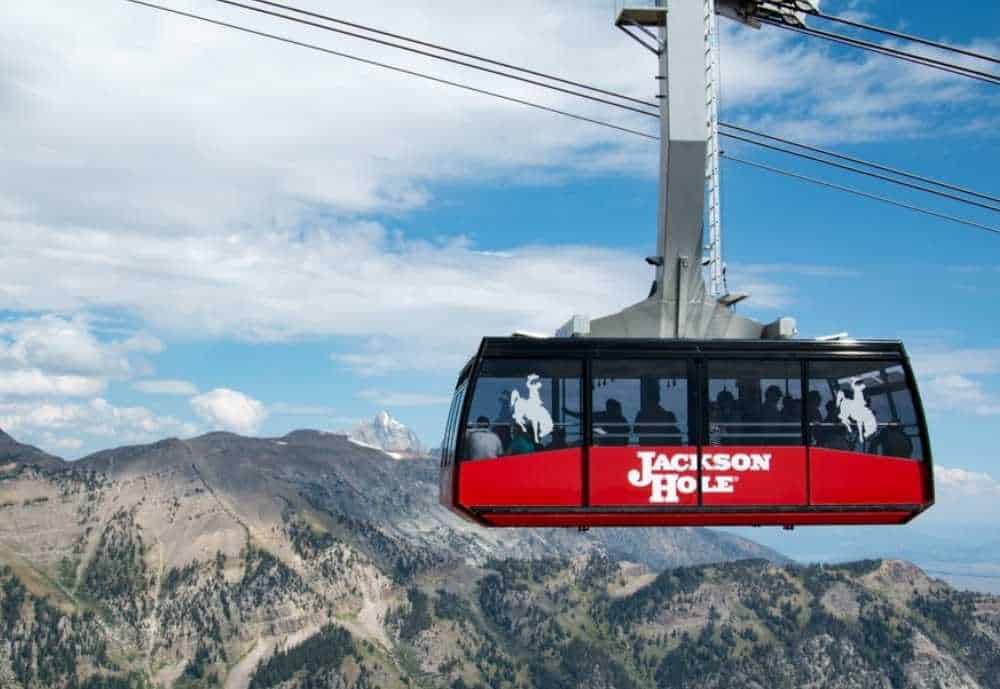 The Aerial Tram is not for those afraid of heights, but the view from the top is definitely worth it.
The tram, nicknamed "Big Red," sits at the top of the Jackson Hole Mountain Resort and is available summer or winter.
Each tram will take you up more than 4,000 feet with an overlooking 360 views of the Tetons mountain range, the Jackson Hole valley, and other surrounding mountain ranges.
It's also the place for hiking, climbing, and snowballs during winter!
Million Dollar Cowboy Bar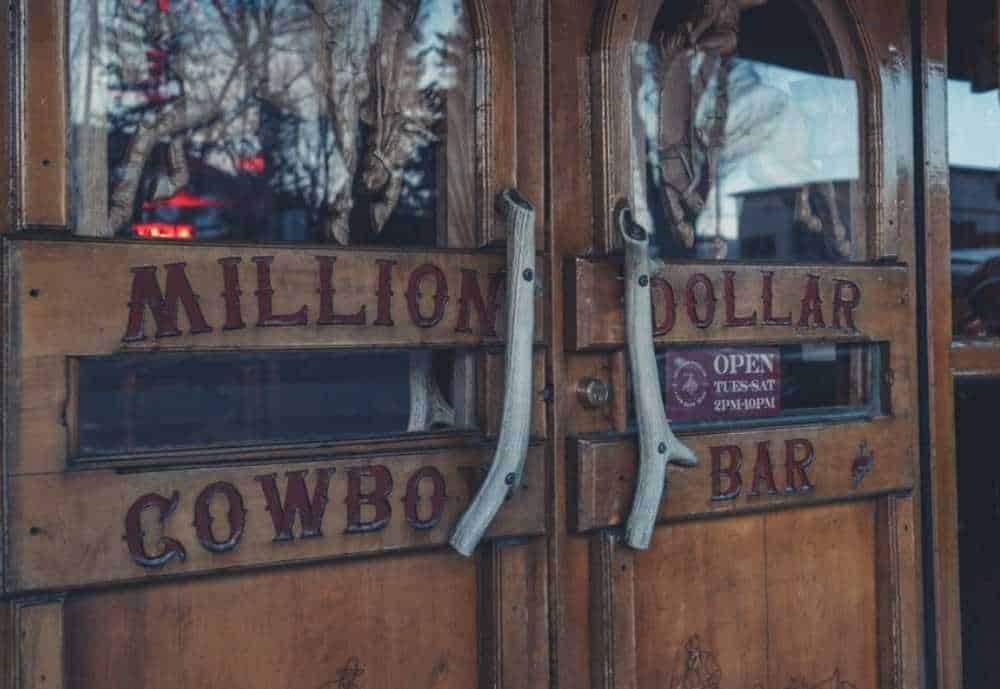 The Million Dollar Cowboy Bar is truly an iconic bar is located in the heart of Jackson Hole and has been serving up cold drinks and good times since 1937. 
The bar is decorated with all kinds of cowboy memorabilia, and there's even a mechanical bull that you can ride if you're feeling brave. 
The bartenders are always happy to chat and make recommendations, so it's the perfect place to get a taste of the local flavor. 
Jenny Lake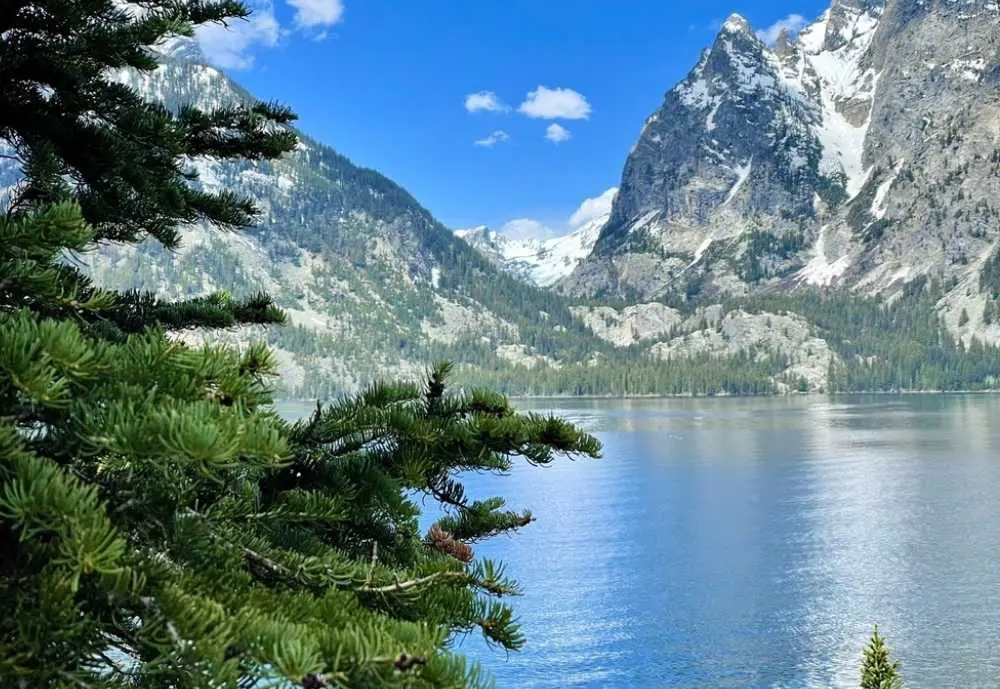 There's no shortage of things to do in Jackson Hole, Wyoming – and one of the best places to start is Jenny Lake. 
This gorgeous body of water is surrounded by mountains, forests, and hiking trails, making it the perfect place to get away from it all. 
Jenny Lake is also a great place to enjoy a variety of activities, including swimming, canoeing, and fishing. 
And for those who want a little more adventure, there are plenty of opportunities for hiking, biking, and climbing in the area. 
Jackson Hole Children's Museum
Jackson Hole Children's Museum is a great place to take the kids when visiting Jackson Hole, Wyoming. 
The Museum offers a variety of hands-on exhibits and activities that are designed to educate and entertain children of all ages. 
Highlights of the Museum include a water play area, a dinosaur exhibit, and a workshop where kids can build their own wooden toys. 
The Museum also offers a variety of public programs, including story time, science demonstrations, and arts and crafts classes. 
Snow King Resort
Snow King Resort is located at the base of Snow King Mountain, and it offers a variety of activities for visitors to enjoy. 
In the winter, the resort is a popular destination for skiing and snowboarding, and there are also several cross-country ski trails in the area. 
In the summer, the resort is a great place to hike or take a scenic gondola ride to the top of the mountain. 
There are also several restaurants and shops at the resort, making it a great place to spend a day or two. 
Children's Discovery Gallery
There are plenty of activities to keep children of all ages entertained, and the scenery is breathtaking. 
One of the best things to do in Jackson Hole is to visit the Children's Discovery Gallery. The Gallery is a non-profit organization that provides educational opportunities for children. They offer a variety of programs, including classes on arts and crafts, music, dance, and science. 
Curtis Canyon
Curtis Canyon is one of the best places to explore in Jackson Hole. The canyon is home to a variety of wildlife, including elk, bighorn sheep, and bald eagles. 
Visitors can take advantage of the numerous hiking and biking trails, or simply enjoy the scenic views. Curtis Canyon is also a popular spot for fishing, and anglers can find cutthroat trout in the many streams and lakes. 
In addition, the area is known for its excellent camping and picnicking opportunities. 
Phil Baux Park
Phil Baux Park in Jackson Hole is scenic park is located just outside of town and offers a variety of activities for visitors to enjoy. 
In the summer, hiking and mountain biking are popular pastimes, and the trail system winds through a forest of aspen and pine trees. For those who want to cool off, the park also has a large lake where you can swim or paddleboard. 
In the winter, the park transforms into a winter wonderland, with cross-country skiing and snowshoeing trails criss-crossing through the snow-covered landscape. 
No matter what time of year you visit, Phil Baux Park is sure to impress.
Cascade Canyon
Cascade Canyon is a gorgeous and scenic canyon located just north of Jackson, and it's a popular destination for hiking, fishing, and picnicking. 
There are several different trails to choose from, so you can find one that's the perfect difficulty level for you. And if you time your visit right, you might even see some of the area's wildlife, including elk, deer, and bighorn sheep. 
Cascade Canyon is also a great place to enjoy the fall colors – the leaves start changing in late September and early October, and it's a beautiful sight. 
Snake River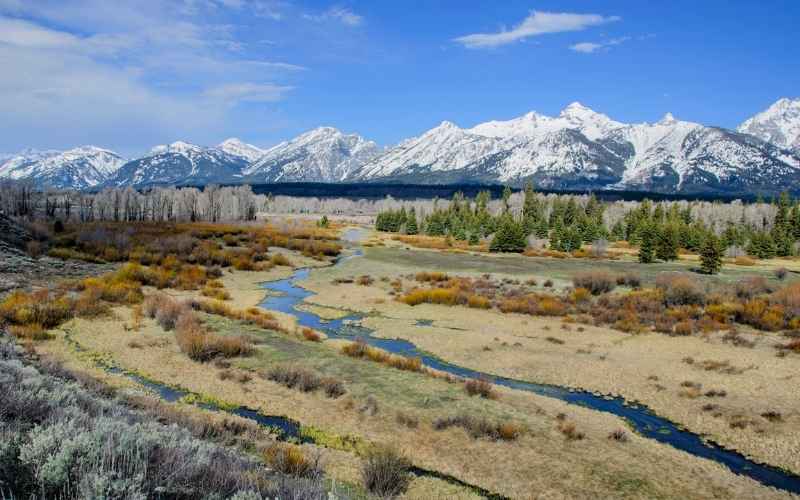 Snake River is a destination all on its own that will complete your outdoor experience here in the valley. The river starts in Yellowstone but is seen mainly inside the Grand Teton National Park. It then winds down to the Snake River Canyon and joins the Columbia River.
The river is the primary water source for the wildlife that lives in the area and welcomes over 300,000 visitors per year. The river is best for just a mellow trip with the scenic views and nature surrounding you. It's perfect for finding that calm and peace for your escape.
You can choose any guided tours across the river in canoes, kayaks, rafts, and even drift boats. For more advanced boaters, the Snake River Canyon provides more of a challenge with its powerful waters. You can also opt to do stand-up paddling and fishing in the river.
Laurance Rockefeller Preserve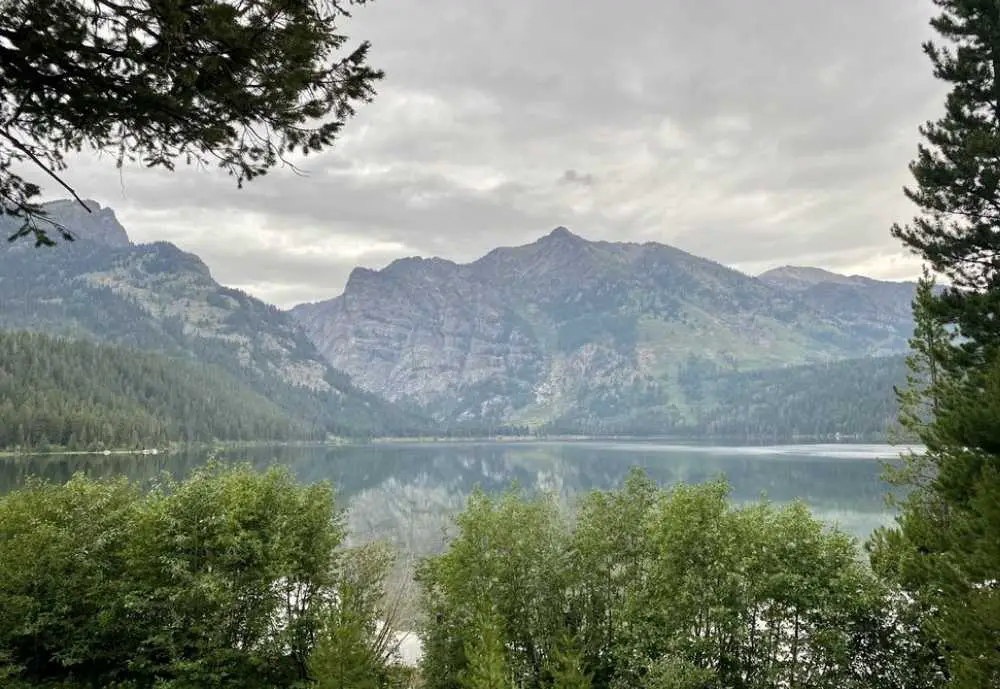 A quiet reprieve in the Grand Teton National Park, this preserve was given by the Rockefeller family. The family has been instrumental in conserving the land that is now the national park. They continued to do so when they donated private land to the conservation in 2001.
The area itself is peaceful and quite serene as it's not flooded by tourists. Its main highlight is its 16-mile trail network, including the Lake Creek and Woodland Trail Loop.
You'll also find a small waterfall and beach in the preserve near the Phelps Lake Trail.
Jackson Hole's Elk Antler Arches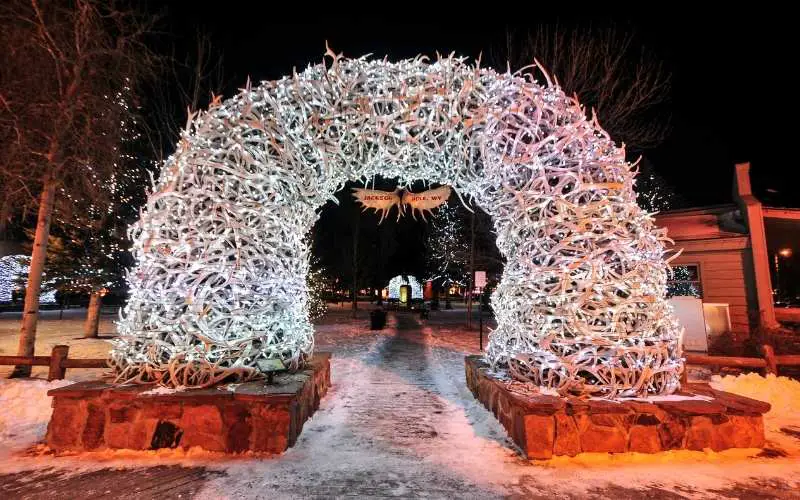 The Jackson Hole elk antler arches are an icon in the valley.
These are a popular site for photos from visitors and has already become a part of the Jackson Hole experience. These four elk antler arches take up the four corners of Jackson Town square and are made from a labor of love.
Each antler woven into the arch weighs 5 to 10 pounds, creating a grand 10,000 to 12,000-pound antler arch. These are replaced every 30 to 40 years but were started in 1953.
Granite Hot Springs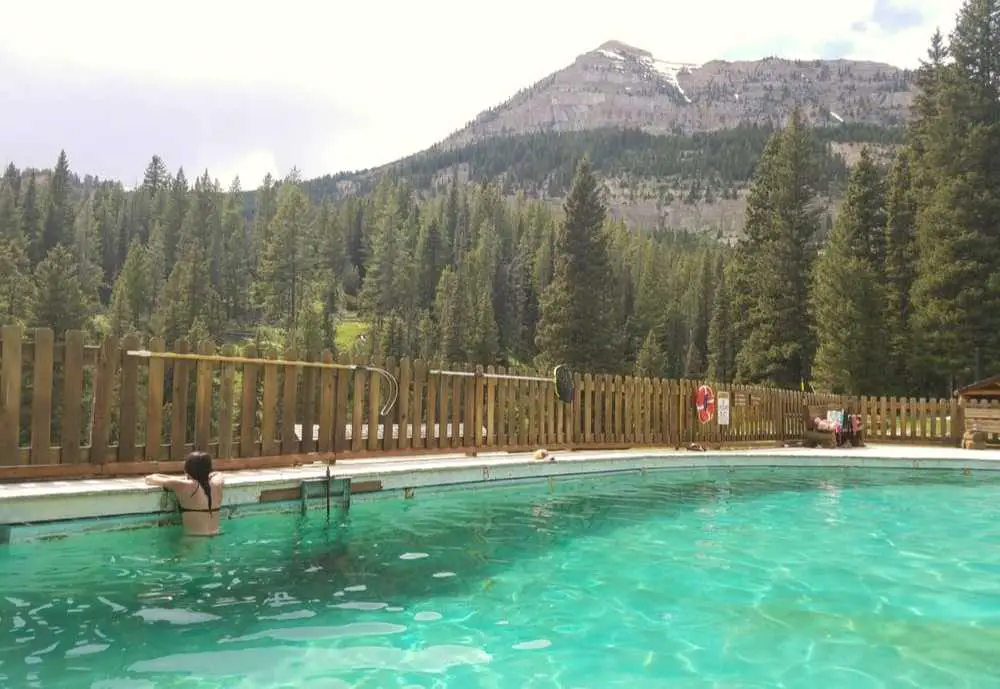 Take a breather in this hot spring open all through winter and summer.
It's just an hour away, south of Jackson city, and located 7,000 feet above sea level. It gives you fantastic scenery with a view of the Bridger-Teton National Forest. It's actually near Granite Creek Falls, where you can set up camp.
The hot spring pool is kept warm, and you can be surrounded by the forest while soaking and forgetting your worries. Getting there might be a little tricky, especially in winter, so make sure to prepare for that.
Directions to the Granite Hot Springs Pool
Jackson Hole Historical Society and Museum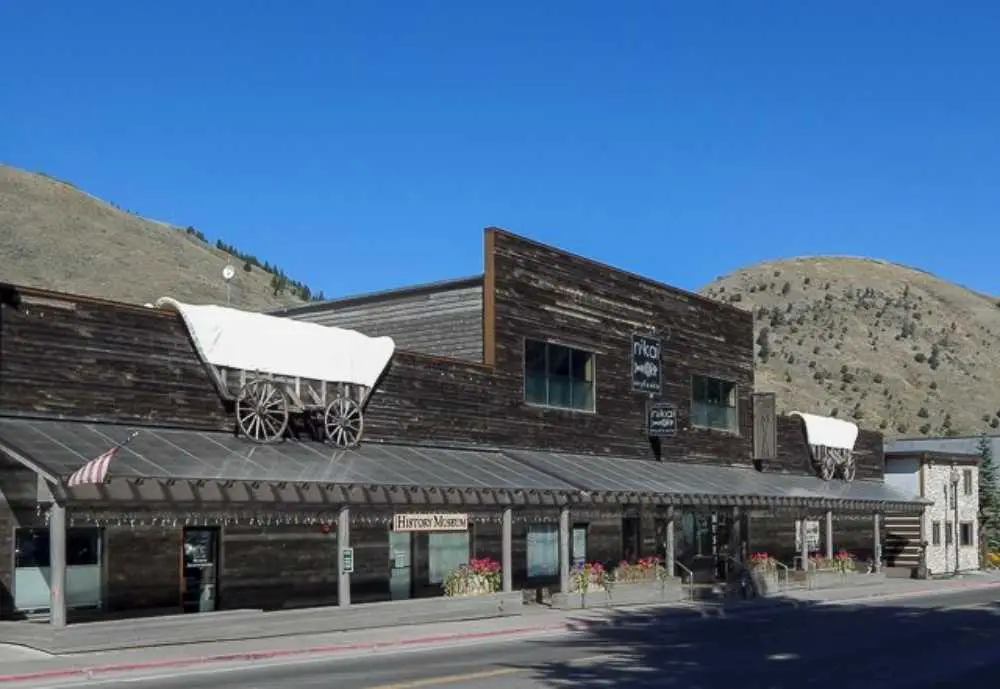 Remnants of the Old West are still widespread in Jackson Hole.
You can learn more about the Wild West's culture and history in the Jackson Hole Historical Society and Museum. Their permanent collection includes one on Native Americans, the economy and history of the town, their cowboy culture, and much more.
Though the museum is small, it's chock full of informative and engaging collections.
Jackson Hole Rodeo
Speaking of the Wild West, get a one-of-a-kind experience as a cowboy here at Jackson Hole Rodeo.
This cowboy tradition has been a part of the community since the first settlers. The rodeo admits you won't see current champions, but they'll definitely reel you in with the thrill of amateur rodeo.
The atmosphere is never dull; you get to hang out and be part of the community in the whole two-hour event. Competitions happen every Wednesday and Saturday night. And if you get there early, you can try riding their mechanical buffalo.
National Museum of Wildlife Art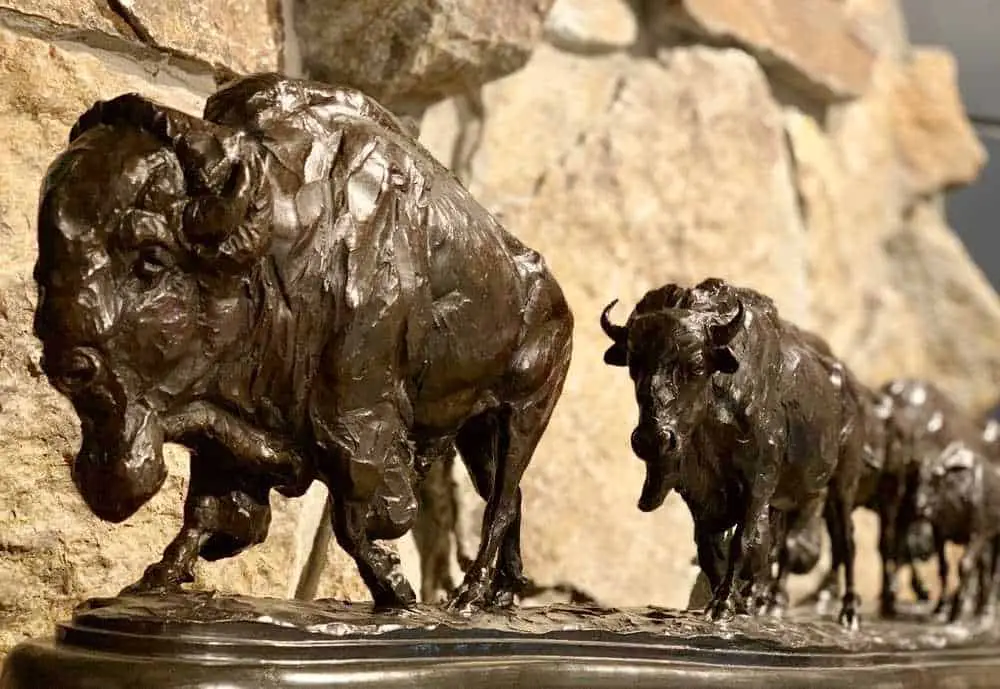 This small museum north of Jackson focuses on wildlife representation.
Their collection of 5,000 works of art comes from more than 500 artists. They have 14 galleries, an interactive children's gallery, and various outdoor art and sculptures.
One of the things you can't miss here is their overlooking view of the National Elk Refuge.
Snake River Brewery
All these fun activities may leave you thirsty, and nothing is more perfect than getting a beer in Snake River Brewery. The brewpub is a family-owned establishment that wants to stuff their customers with good food and good beer. They want to share their love of making beer with scheduled tours of their brewery.
Get a can of their beer or eat from their brewpub in between adventures.
Jackson Hole Playhouse
A fun and unique way of getting dinner is with the Jackson Hole Playhouse. It's a dinner theater that performs from Monday through Saturday. Locals stand by the wonderful performances, good food, and enjoyable atmosphere in the Jackson Hole Playhouse.
The playhouse is also located in the oldest building in town.
Frequently Asked Questions:
Is Jackson Hole Wyoming worth visiting?
Absolutely! Jackson Hole is a beautiful place with lots to see and do. Whether you're interested in outdoor activities, arts, and culture, or simply want to relax in a beautiful setting, you'll find plenty to love in Jackson Hole.
What is Jackson Hole known for?
Jackson Hole is known for its natural beauty, outdoor activities, and wildlife. The area is home to Grand Teton National Park, Yellowstone National Park, and the Jackson Hole Mountain Resort. It's also a popular destination for skiing, snowboarding, and other winter sports.
Why is Jackson Hole called Jackson Hole?
The name "Jackson Hole" comes from the history of the area. In the 1800s, the hole was used as a crossroads for trappers and mountain men. The name "Jackson" comes from David Jackson, a famous trapper who frequented the area.

Is Jackson Hose beautiful?
Yes, Jackson Hole is a very beautiful place. The area is home to some of the most stunning scenery in the United States, with towering mountains, pristine lakes, and lush forests. If you're looking for a place to enjoy the great outdoors, Jackson Hole is definitely worth a visit.
You might also like:
things to do in jackson hole wyoming, fun things to do in jackson hole, things to do in jackson hole with kids, fun things to do in jackson hole wyoming, jackson wyoming things to do, things to do in jackson wy, jackson hole wyoming things to do, things to do in jackson wyoming, things to do jackson hole