È l'ora della pizza! Are you looking for a pizza spot in Kansas City that will send you on a journey through time and space? Ok, that is a bit dramatic, but we all cherish a slice of pie that delivers the goods. Tonight, the pizza chain cardboard won't do.
Read on fellow pizza traveler and discover the best pie Kansas CIty has to offer! 
Divertiti!
Minsky's Pizza
Minsky's Pizza, though a pizza chain, will give you some of the best pizzas in Kansas City. They're best known for their gourmet pizzas.
Many also describe their pizzas as the quintessential Kansas City pizza. Characterized for their pan crust, not too thick like a deep dish and not too thin like a NY style, they also have a slightly sweet sauce that balances everything.
The pizzeria offers many options and variety, but the gourmet pizzas shine. It's an iconic location and still in rotation as a Kansas City local favorite.
Menu: Minsky's Menu
Top Review: "We are not from the KC area (about 200 miles away) but love the City and come as often as we can. We were told this was the best pizza in town so we thought, what the hell we will give it a try!! We were not disappointed. We got the Smokin' Joes BBQ pizza and a tostada mini. We drank some good beer and even had a shot of great tequila. We had a blast chatting it up with super friendly staff who's service was spot on. We usually hit up KC BBQ hot spots but this just made the short list. Loved it. Can't say enough about how good this place was." – Hollie D.
5105 Main St Kansas City, MO 64112, (816) 561-5100
Pizza Tascio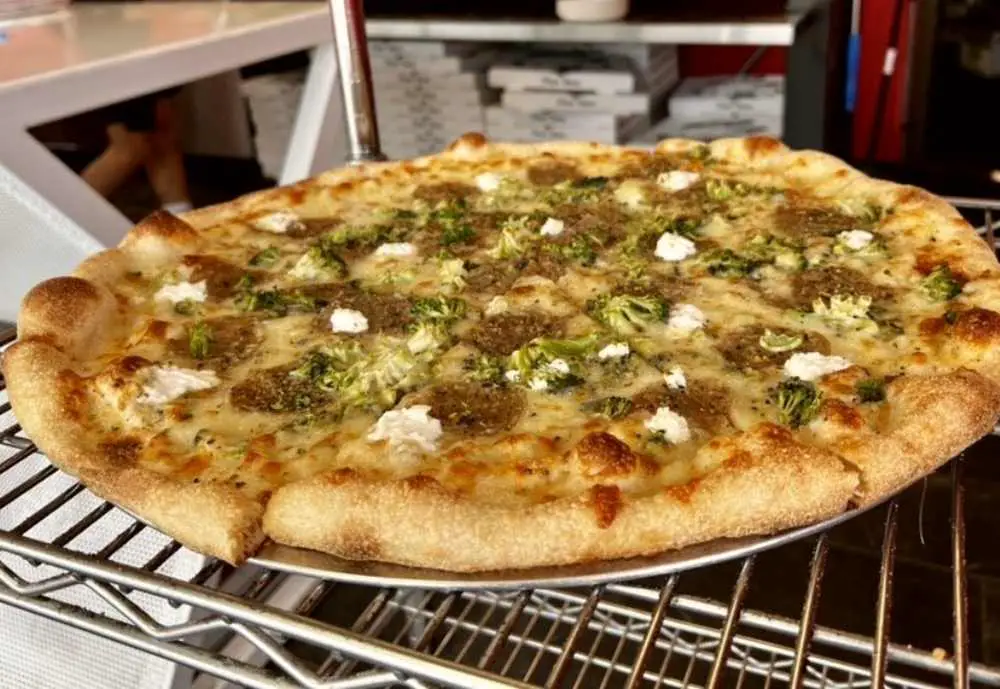 Pizza Tascio is a small North Kansas City shop with New York-style pizzas. They're a casual restaurant with fast service and no frills but delivers on flavors.
They're extremely popular, but locals say it's worth the hype. There's not much indoor dining, so it's a great to-go option.
You can get pizza by the slice with a good crust and reasonable prices. It's even possible to get two slices and a drink for just $10! People recommend the White Tascio pizza.
Menu: Pizza Tascio Menu
Top Review: "I have driven by this place so many times on my way to North KC, and I'm so glad I stopped. It's the perfect fast casual dinner! The service was amazing — the employees were super efficient and helpful and talked with us while we ate our slices. You can order a whole pizza or by the slice, and the slices are pretty large. $10 for 2 slices and a drink — great deal! I really enjoyed the white pizza and the meat lovers pizza. They said that the customer favorite is the pepperoni and jalapeño and hot honey slice, and I wish I had tried it to. The slices get warmed up for you, so service is super quick! There's a couple bar stools at the counters along the window and some tables outside, but not much room to eat inside. Mostly people were doing takeout. I think this is a great fast casual place if you're looking for a quick dinner or lunch!" – Olivia S.
1111 Burlington St North Kansas City, MO 64116, (816) 599-2085
Waldo Pizza
Another one of the best pizza places in Kansas City is Waldo Pizza. There are gluten-free and vegan options, multiple pizza-style choices, and over 50 topping varieties.
The vegan Tex-Mex pizza is what they recommend for vegans, but they have a lot of creative pizzas you might want to try.
They have been serving the community for more than 30 years, and people swear they've got a good ranch.
Try it today; whether it's hand-tossed, St. Louis-style thin crust, or a honey wheat pizza, they've got something for you.
Menu: Waldo Pizza Menu
Top Review: "Truly the best pizza in KC hands down! Everybody has there pizza favorite but if they have not tried Waldo's pizza they have not had pizza!  Hands down my favorite! Husbands family had birthday parties here in their big room great customer service too! The owners need to hear this…..employees are fantastic!!! Great community eatery!" – Laurie R.
7433 Broadway St Kansas City, MO 64114, (816) 363-5242
Grinders Pizza
Grinders Pizza is a unique space with an interesting menu, eclectic decor, and a cool, hip vibe. It's a casual pizzeria with a convenient location near other event spaces.
Their pizza is New York-style, and you can get it by the slice. Aside from that, they also do good Philly cheese steaks, burgers and sandwiches, and something ominous called the Death Wings.
Menu: Grinders Menu
Top Review: "Grinders is a place that I haven't been in years and went last week while I was in Kansas City.  We had a great lunch with delicious food and drinks. We had the Funky Dough as an appetizer which was incredibly yummy and we shared a Margherita Pizza.  The rest of our group enjoyed their food, too! Can't wait to go back next time I am town!" – Sandy S.
417 E 18th St Kansas City, MO 64108, (816) 472-5454
Martin City Pizza & Taproom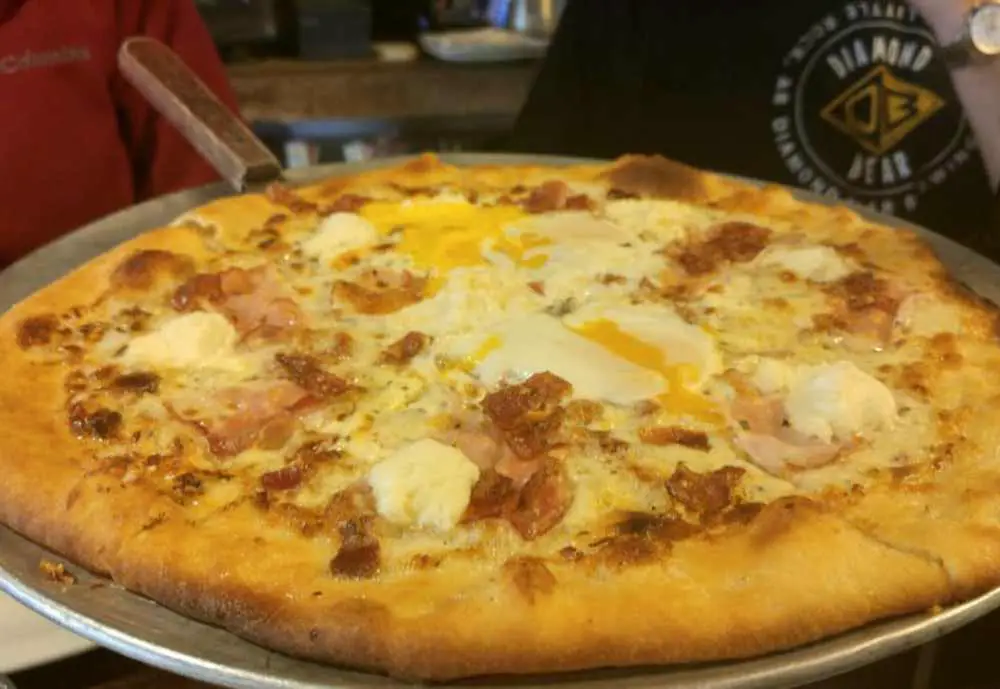 Martin City Pizza & Taproom has stone-fired pizza and local craft beer; what more can we want?
They have a fascinating menu with specialty pizzas and lots of toppings. And all are great paired with a glass of beer.
Try their charcuterie pizza, wild mushroom pizza, chicken Spanakopita pizza, chicken panini, and Thai chicken pizza.
Menu: Martin City Pizza Menu
Top Review: "I love the food here! Let that sink in a minute. Now saying that, my weakness is their Wildcard pizza.  It's like buffalo wings on pizza, but times 100! We've tried several different things here and I have to say, you can't go wrong. The Apples in Italy is weird but so good, the Chicken Soanakopita is very tasty as well. Then let's talk the beer, while this isn't my TOP beer, they have great flavors and a great variety of selections.  Today we are trying their Holiday Apple ale and wow is that delicious. My wife has their Beer Club membership and it makes me happy.  I get my Wildacard pizza and she gets her favorite beers."
410 E 135th St Kansas City, MO 64145, (816) 214-6637
You might also like drooling over these pizza articles:
pizza kansas city, pizza in kansas city, kansas city pizza, best pizza in kansas city, best pizza spots in kansas city, best pizza near me, pizza near me, best pizza kansas city, best pizza in kansas city