Pizza is one of the world's most popular dishes. People from all over the globe, from different walks of life, love to eat pizza despite its fatty components. It is the most accessible food to find wherever you are. Although each country has its version, you can never go wrong with this food. 
If you find yourself in this "America's Finest City," allow yourself to explore the tourist spots of the city and their food specialties.
Despite the city being known for its burritos and fish tacos, San Diego still has a wide range of impressive pizza creations that you can enjoy. Here are some of the notable pizza dishes in the area.
Blue Ribbon Artisan Pizza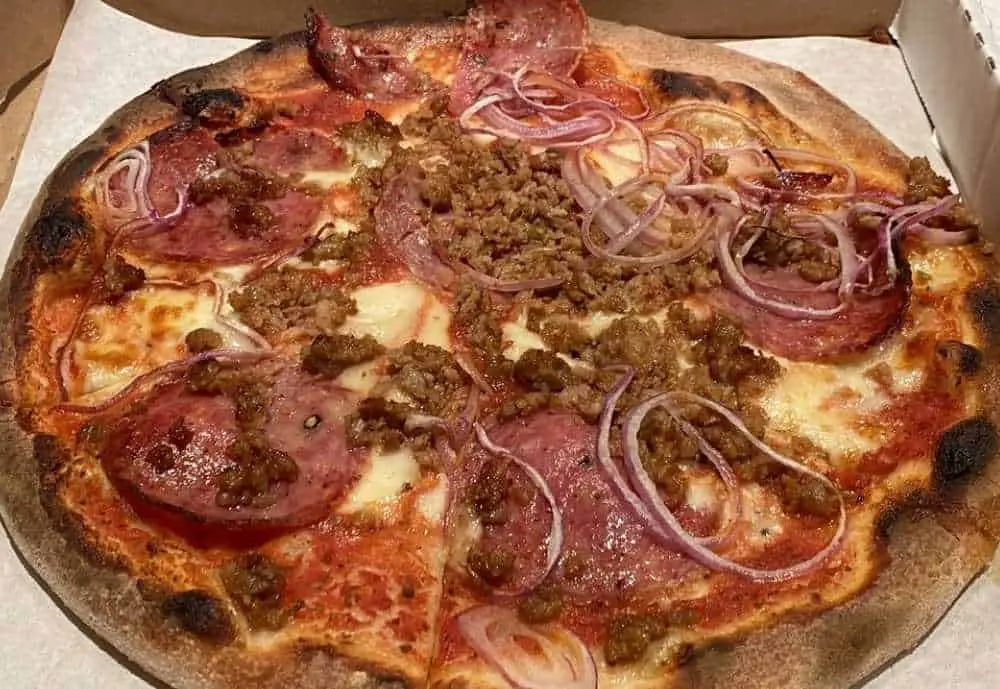 The brainchild of Chef Wade Hageman, the Blue Ribbon Artisan Pizza offers one of the best wood-fired pizza restaurants in San Diego. 
Their popular pizza dishes are signature, with fresh ingredients such as lemon EVOO, fresh mozzarella, ricotta, Parmigiano Reggiano, lemon zest, red onion, and basil. Another pizza favorite among guests is the Truffle Shuffle. It is cooked with truffle oil, mozzarella, Cremini mushrooms, goat cheese, cream, parmesan, and chives.
Menu: Blue Ribbon Artisan Pizza Menu
Top Review: "I've visited many, many times over the years, including Saturday, 2 nights ago. I can't rave enough about every single experience. And if today was my last day on Earth, I'd want one more taste of their Butterscotch pudding before I depart. It's casual, yet refined and the food is perfection. The staff has always been accommodating and friendly. They hire cool people. Thanks for all the great meals." – Shay A
Bronx Pizza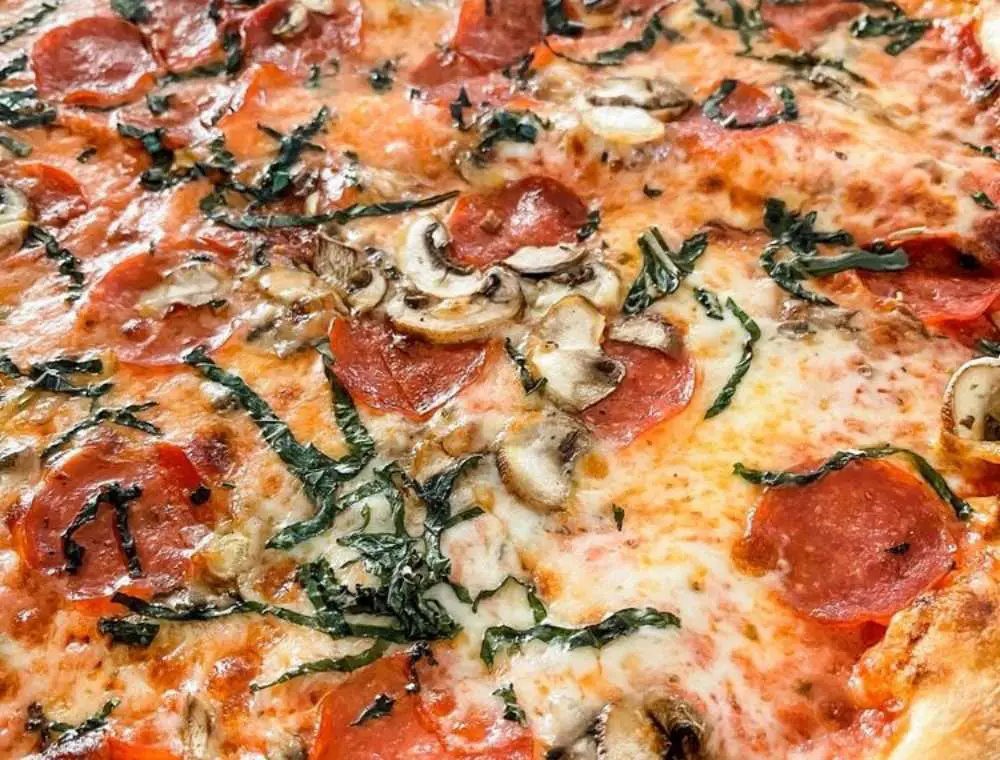 The Bronx Pizza has been serving up slices and smiles since 1997. Its New York-style thin-crust pizza has achieved an iconic status in San Diego. Their pizza dishes are scrumptious, but their friendly service attracts many guests from around the globe. Bringing the local slice shop vibe of the East Coast to the city, this pizzeria has won awards for the best pizza and the best small business in San Diego. 
The Bronx Pizza is not only recognized locally but in national publications too.
Menu: Bronx Pizza Menu
Top Review: "Alright, I love this place. I'm all about NY pizza and as I'm about to move to San Diego, I was on the hunt for good pizza. I wasn't sure about it when we arrived, the entry is very unassuming. Note that they are cash only.
For a few bucks per slice and no tax, I am one very happy customer. Although they were bustling around 1:30 pm on a weekend, service was friendly and quick. They have plenty of seating inside and decor that give off strong New York vibes.
10/10. I know where I will be getting my pizza fix." – Bo K.
The Privateer Coal Fired Pizza
The Privateer Coal Fired Pizza is a family-owned pizza restaurant that uses the finest ingredients and a 100% coal-fired oven. This pizzeria not only prides itself as a unique pizza restaurant, but they are inventive with its menu to produce organic dining settings. Not only do they offer fresh ingredients but they take ultimate care and pride in their gourmet dishes such as appetizers, salads, specialty dishes, pizza, and desserts. 
If you find yourself in San Diego, visit the Privateer and try their signature pie, The Privateer Pie, or the Captain Fin Pie. You can pair up these delicious pies with their cold craft beers. Enjoy a relaxing meal with your family or friends.
The Privateer Coal Fired Pizza is located at 1706 S. Coast Highway, Oceanside, California 92054.
Menu:
Top Review:
Ambrogio15
The Ambrogio15 humble beginnings started with a genuine yet distinctive Milano gourmet pizza. The deep love for Milano where owners Andrea and Giacomo grew up, gave them an idea of a holistic approach to the food and beverage world. Their unique dough recipe and inventive pizza-making process using high-quality Italian ingredients made their restaurant a favorite among the locals and visitors. 
Through trial and error, they perfected their recipes with crust variations, from paper-thin-crust to thicker whole-wheat pizza. Their popular dish is the Pizza Prosciutto Crudo e Burrata and Margherita Pizza. 
Ambrogio15 is located in three locations, Pacific Beach 926 Turquoise St. San Diego 92109, 550 West Date Street, San Diego 92101, and 12841 El Camino Real, San Diego 92037. 
Menu:
Top Review:
Tribute Pizza
The Tribute Pizza is known for its Neopolitan and New York-style pizzas. All their ingredients are locally sourced from the weekly farmer's market. Their menu is updated frequently so guests are given a different variety of dishes.
The owners of Tribute Pizza pride their unique style of pizza called Neo-Neapolitan. It is a combination of the special technique of New York and the Neopolitan style of cooking pizza. One of their popular pizza dishes is the Mushroom Whitestone 2.0. This pizza contains white pie with five kinds of mushrooms, roasted with garlic and chile, Calabrian chile, mozzarella, garlic, and herb ricotta, finished with pecorino romano and fresh parsley. 
The Tribute Pizza is located at 3077 North Park Way, San Diego, CA 92104.
Menu:
Top Review:
Sisters Pizza
Sisters Pizza is a community-focused restaurant. A mixture of different variety of pizza and Mediterranean meals, this restaurant provide its guest with social enrichment that aims to create stronger communities through acts of kindness. 
If you happen to be in the area, try out Sisters Pizza and enjoy one of their delicious New York Style Pizza, Uncle Jesse. It is cooked with olive oil, ricotta, mozzarella, and fresh basil. You can also try Miss Piggy Pizza with red sauce, mozzarella, house-made sausage, and ham.
The Sisters Pizza is located at 3603 Fourth Ave, San Diego, CA 92103.
Menu:
Top Review:
Square Pizza Co
For tourists that wish to eat Detroit-style pizza with an amazing spot at the Pacific Beach, the Square Pizza Co is the ideal place to visit. The owners choose this style of pizza as a tribute to their origins. 
If you prefer thin crust pizza, the Square Pizza Co can also deliver a scrumptious meal with their custom-size thin squares. However, their Deep Dish Detroit Style is a favorite amongst most guests. Their popular dish is Pontiac. This is a must-have for pepperoni lovers with its cheese blend, natural casing pepperoni, organic tomato sauce, imported parmesan, and oregano.
 For guests that are suffering from celiac disease, no worries as the Square Pizza Co offers Gluten-free Pizza that is made in-house with their signature sauce, natural mozzarella, and oregano.
The Square Pizza Co is located at 4508 Cass St Ste C San Diego, CA 92109.
Menu:
Top Review:
Pizzeria Luigi
Established in 2004, Pizzeria Luigi has been continuously serving an award-winning New York-style pizza to the wonderful community of Golden Hill. The restaurant does not only serve whole pizzas but pizzas by the slice and other Italian dishes. Because of its popularity among locals and tourists, Pizzeria Luigi opened a second branch in 2009 and a third branch in 2017.
While in the area, try their local favorite pizza, BBQ chicken with chicken, onion, and bbq sauce. Another favorite is the El Diablo with diced pepperoni, sausage, meatball, red onion, jalapeno, crushed red peppers, sriracha, and hot sauce. 
You can visit Pizzeria Luigi at any of their branches: Golden Hill, North Park, and Imperial Beach.
Menu:
Top Review:
Gelati & Peccati
Established in 2019, Gelati & Peccati is the latest creation of the Buona Forchetta Family which is known for delicious Italian dishes. The objective of opening the restaurant is to serve scrumptious, made-from-scratch Italian food that is affordable and can cater to guests of all ages. The owners wanted their visitors to experience the unique flavors that represent the culture of Italy. 
The popular pizza choice among guests when visiting Gelati & Peccati is the Spicy Salami. They also have vegan options for visitors that do not eat meat. Pair up this pizza with a scoop or two of their mouth-watering gelato, which comes in 18 flavors.
Gelati & Peccati is located at 3066 University Ave. Suite B, San Diego, California 92104.
Menu:
Top Review:
Blind Lady Ale House
The Blind Lady Ale House, otherwise known as BLAH, started in 2009 intending to be a positive influence on its local community. Not only does this restaurant one of the local favorites, but they give back to society as much as they can. This is the perfect go-to place for guests that are avid supporters of non-profit organizations that are into making positive change.
BLAH does not only serve delicious pizza but, they have a wide range of beers to go along with your orders. For meat lovers, try their 3 Meat Pizza which is made of house-made Italian sausage, bacon, pepperoni, fontina, oregano, and tomato sauce. Another favorite is their Margherita Pizza which is made of mozzarella, basil, olive oil, and tomato sauce.
BLAH is located at 3416 Adams Avenue, San Diego, California 92116.
Menu:
Top Review:
Lefty's Chicago Pizzeria
If you are looking for a pizza restaurant that serves the best Chicago-style pan pizza, Lefty's Chicago Pizzeria is the place to visit. Get a taste of Chicago, home of the best deep-dish pizzas. They also have a full line-up of craft beers and wine to pair up with their mouthwatering pizzas.
While in Lefty's Chicago Pizzeria, try their Meaty Pie, a specialty pie made of sausage, pepperoni, meatball, and Italian beef. For guests that prefer do not like meat, go with their Farmer's Market, which is made of mushrooms, grilled eggplants, grilled zucchini, and elephant garlic. You have the option to choose thin crust, deep dish, or stuffed.
Lefty's Chicago Pizzeria is located at 4030 Goldfinch St, San Diego, California 92103.
Menu:
Top Review:
Barbusa
Barbusa is the newest culinary project of the Busalacchi family. The restaurant offers authentic modern Sicilian cuisine ranging from handmade pasta, and seafood dishes, to artisan pizzas. They have something for everyone on their menu, whether you are in the mood for a creative gourmet pizza or other Italian dishes.
Although Barbusa serves various dishes, they only have three pizza options in their menu. The local favorite is Dolce E Piccante, which is made of soppressata, calabrian chiles, lavender honey, bermuda onions, mozzarella, grana padano, and basil. Their California Pizza is made of mozzarella, avocado, arugula, Meyer lemon, and balsamic reduction. Of course, the popular pizza Margherita.
Barbusa is located at 1917 India St. San Diego, CA 92101
Menu:
Top Review:
Civico by the Park
Owners of Civico by the Park, Dario Gallo, and Pietro Gallo, bring in a new generation of Italian cuisine. Made of fresh, light, and authentic ingredients, they use proper cooking techniques to maintain the natural and pure flavors of their dish. They believe that food and design are the keys to the sustainability of their restaurant. With that philosophy, all their cuisine is not only made of natural ingredients but is also tempting and delicious. 
Try their Pesto E Pomodori, which is made of pesto alla Genovese, mozzarella, fior di latte, sun-dried tomatoes, and toasted pine nuts. If you are allergic to nuts, go for Calabria, made of san marrano tomato, burrata, calabrian 'Nduja, caramerilizied onions, and basil. 
Civico by the Park is located at 2550 Fifth Avenue, Suite 120, San Diego, CA 92103.
Menu:
Top Review:
Basic Bar and Pizza
If you are looking for a simple and urban style of vibe to hang out with friends, try Basic Bar and Pizza, located at the heart of East Village in Downtown San Diego. It is the perfect place to unwind while enjoying good food and drinks. Their award-winning New Haven Thin Crust Pizza is a must-try. Not only is their pizza tasty, but they have a wide selection of drinks lists to choose from.
Tyr out their Mashed Pizza which is made of white pie with mozzarella, mashed potato, and bacon. It is a popular dish for both locals and guests. Check out their Meatball pizza too. It is made of red pie with mozzarella, meatball, ricotta, onion, fresh basil, and garlic. 
Basic Bar and Pizza is at 410 Tenth Avenue, San Diego, California 92101.
Menu:
Top Review:
Regents Pizzeria
For guests that are looking for an all-American pizza and pair it off with cold craft beers, the Regents Pizzeria is the perfect place to go. They are committed to their craft, thus all their ingredients are made from scratch. Savor and enjoy their highest-quality pizza dishes with your family or friends.
Their specialty pizzas are Cali Dreamin, Shrimp Diablo, and Pizza Buen Tiempo. Cali Dreamin is made of mozzarella, cheddar, carne asada, french fries, sour cream, pico de gallo, and salsa verde top. Shrimp Diablo is made of diablo sauce, shrimp, mozzarella, cotija cheese, and green onion garnish. Pizza Buen Tiempo is made of fried beans, longaniza, potato, pepper jack cheese, and green onion garnish. 
Menu:
Top Review:
Caffe Calabria
Considered one of the finest coffee roasters in California, Caffe Calabria started as a coffee shop before expanding into serving Neapolitan pizza. They use the fresh ingredients that are baked into perfection by their pizza expert. Their pies are thin and baked in a custom wood-fired oven.
For guests that have a sweet tooth, try out their Pizza Nutella for a change. It is made of sweet pizza with Nutella, crushed roasted hazelnuts, and confectioner's sugar. This pizza will go well with their coffee.
Another pizza dish you can order is Salsiccia, which is made of organic San Marzano tomatoes, grana, mozzarella fior di latte, and house-made fennel sausage.
Caffe Calabria is located at 3933 30th St. San Diego, California 92104.
Menu:
Top Review:
Isola Pizza Bar
Taking the wood-fired pizza technique to the next level, Isola Pizza Bear takes inspiration from Chef Massimo Tenino's Nonna Isola. With their wood-burning pizza imported straight from Italy, guests are treated to what an Italian pizza tastes like.  This pizzeria restaurant does not only serve award-winning pizza, but they also feature many of Italy's best dishes.
For guests that like seafood, try their Gamberetti Alla Diavola, which is made of wood-fired shrimp, white wine, garlic, capers, olives, chile, tomato sauce, and polenta. Another seafood dish is the Pepate Di Cozze, which is made of steamed mussels, white wine, garlic, chile, and light tomato sauce.
Isola Pizza Bar is located at 1526 India St., San Diego, California 92101. 
Menu:
Top Review:
With all these pizza restaurant options in San Diego, guests are treated not only with award-winning dishes but with a wide selection of craft beers and wine lists to match. So, what are you waiting for?
Visit any of these best pizza places and enjoy a relaxing lunch or dinner with your family or friends.