Pizza has a particular place in the hearts and stomachs of every individual. People from all over the globe have spent a whopping amount of $39 billion on pizza.
This accounts for almost a third of the global market. But, what is it about pizza that makes everyone so enthusiastic about it?
To someone who is unfamiliar with pizza or has yet to have it, this interesting question is tough to convey.
So, to help you out, the list below are some of the absolute best pizza places in Las Vegas. You can check them out and discover why so many people love pizza.
Balboa Pizza Company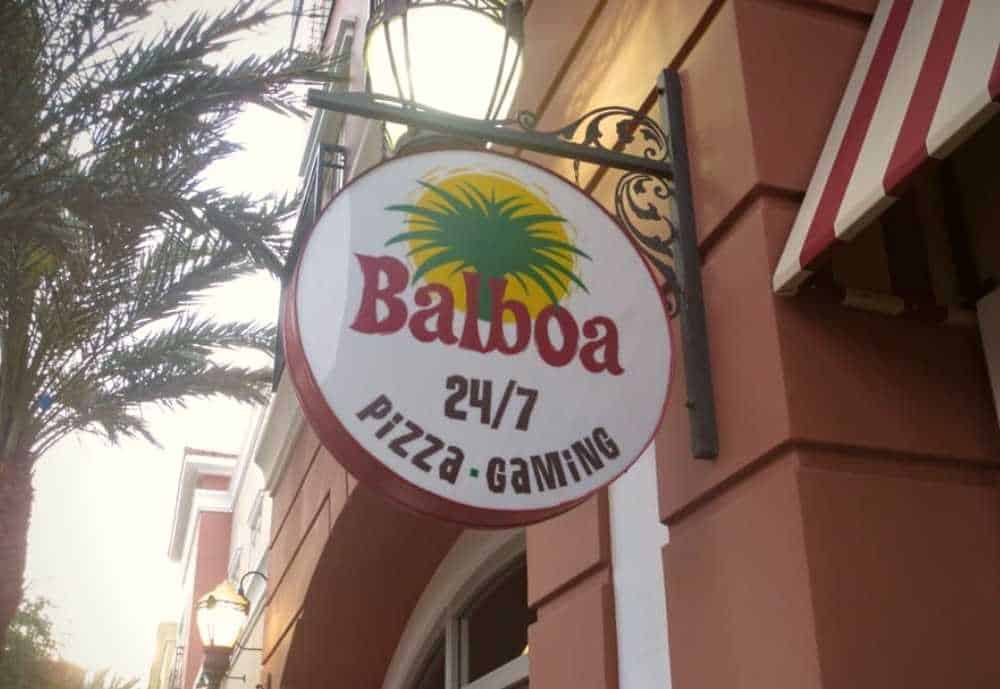 Established in 2005, Balboa Pizza Company has been serving a creative fusion of coastal and dessert dishes such as pizzas, salads, desserts, and sandwiches.
This friendly bar is a popular hang-out place among locals and guests who are exploring the three-mile-long stretch of white and sandy beaches along Newport Harbor.
Their thin-crust pizzas have unique flavors that feature fresh ingredients with distinctive toppings leaving diners craving for more.
One of the popular pizza dishes in Balboa Pizza Company is the ones with sun-dried tomatoes, artichoke hearts, and roasted garlic cream.
If you like meat, try out their Canadian Bacon and Sweet Pineapple, Pulled Pork pizzas, or The Works.  
Menu: Balboa Menu
Top Review: "Had a large party meet up here last night! The server was so sweet and accommodated us…the food was awesome and the service was great! Thank you so much for everything! We will be coming back" – Illyana P.
The pizza restaurant is located in the District at Green Valley Ranch, 2265 Village Walk Dr. Henderson. NV 89052, (702) 407-5273
Old School Pizzeria
The owner and executive chef of Old School Pizzeria, Giovanni Mauro wants to elevate his culinary vision of pizza by emphasizing the importance of fresh, seasonal, and other distinct ingredients. With his Sicilian ancestry, he brought his Italian heritage to Las Vegas to deliver incredible cuisine to the community. 
Boasting their delicious pizza, they are proud to claim that they do not use commercial yeast when preparing the dough. For Gluten-free dishes, they use the 5-day fermentation process to soften the gluten strands of their pizza. Thus, you can enjoy eating such tasty treats without feeling bloated.
The popular dishes of Old School Pizzeria are Regina Margherita and Pork Reigns. Regina Margherita features crushed tomatoes, cherry heirloom tomatoes, basil, fresh mozzarella, and extra virgin olive oil. Pork Reigns features pulled braised pork, house-made sausage, apple-wood smoked bacon, ham, salami Calabrese, guanciale, crushed tomatoes, basil, and mozzarella.
Top Review: ""
Their pizzeria is located at 2040 E Craig Rd, North Las Vegas, NV 89030.
Menu:
Giordano's
Giordano's has consistently served delicious pizza for over 40 years. The owners of this pizzeria are Italian immigrants that moved to Chicago to open a pizza business. Due to its popularity, it started branching out to other cities, such as Las Vegas. 
Giordano's is famous for its deep-dish stuffed pizza. Because of its millions of happy and loyal clients, the restaurant has been continuously dubbed as one of the "Best Pizza." Not only do they serve stuffed pizza, but they also have an extra-thin crust, thin crust, and parmesan-crusted pan pizza.
Guests have the option to go with gluten-free, vegan, or vegetarian pizza choices. 
Top Review: ""
Giordano is located at 3641 Las Boulevard S, Las Vegas, NV 89109.
Menu:
Custom Pizza Truck
For pizza lovers that like to customize their pies, Custom Pizza Truck is the ideal choice. Just as the name suggests, this restaurant is literally on wheels, making them unique compared to other pizza houses. It features a two-ton wood-burning brick oven inside the trailer. 
Guests have the option to choose their toppings when creating a pizza of their choice. Custom Pizza Truck has a wide range of customized pizzas. Aside from standard pizza such as pepperoni, Margherita, cheese, and spicy beef jalapeno, there is an occasional Chef's special that Custom Pizza Truck serves. 
Their popular dish is the classic Neapolitan-style pizza. The dough is fermented for 24 hours to make it chewy and their pillow crust stands out. Their Margherita pizza is also a favorite among the locals with its tasty flavors and toppings.
Top Review: ""
The Custom Pizza Truck is always on the go. So, if you want to try out their pizza, it is best to give them a call to find out where they are located. It is also advisable to place your order in advance. Their contact number is (702) 202-8320.
Menu:
Pizza Rock
Not your traditional pizzeria, Pizza Rock was created by three close friends who wanted to take pizza to the next level. Their unique concept is to feature gourmet pizzas in a variety of styles. They have a variety of Italian and American pizza styles including Classic Italian, Classic American, Neapolitan, Sicilian, Roman, and Gluten-Free Pizza. 
Pizza Rock is a combination of pizza skill-making and the excitement of nightlife energy. It is a notable hand-out place among the locals, particularly for after-hours parties or gatherings. 
The highlight of the Pizza Rock pizza dish is the Sicilian-style Burratina Di Margherita, which features burrata cheese, cherry tomatoes, basil, extra virgin olive oil, and balsamic reduction. This gourmet pizza has won the Gold Cup Pizza Championships in Leece, Italy. 
Another award-winning pizza is their Napoletana-style Margherita, which features San Marzano tomatoes, mozzarella fior di latte, basil, extra virgin olive oil, and sea salt. This dish has won the World Pizza Cup in Naples, Italy. 
So, if you are looking for award-winning pizza dishes, Pizza Rock is the place of choice.
Menu:
Top Review: ""
They are located at 201 N Third St, Las Vegas, NV 89101.
Rebellion Pizza
Serving artisanal pizza with a craft beer or wine, Rebellion Pizza is as the name suggests. They serve large-sized pizza with thin crust or thick crust. If you think you cannot finish one whole pizza, they are available in slices. 
Enjoy a pan-packed pizza along with some of their popular dishes like wings, tenders, pasta, and sandwiches. Occasionally, Rebellion Pizza serves a special pie of the day such as "Easy Peasy." It features parmesan cream sauce, garlic, ricotta, fresh lemon, artichoke, fresh cracked black pepper, and micro basil.
Menu:
Top Review: ""
Rebellion Pizza is located at 2540 Anthem Village Dr. Henderson, NV 89052.
Yukon Pizza
Yukon Pizza is notable for its Neapolitan-style pies. However, what makes their pizza attract fans is its unique taste that is distinctive yet tasty. Their dough is cooked in a 120-year-old sourdough starter process that had been handed down from generation to generation. 
For new guests, you might notice that their crust is charred. Part of their process is to have wood-fired bubbles on the pizza crust. This procedure is intentional, making it unique from other pizza houses. Take note that this is not burned. 
Yukon Pizza is not only about being traditional. They get to be innovative as well in their creative ways in creating a pizza with their seasonal flavors. One of their popular dishes is the Last Action Gyro, which features gyro meat, feta cheese, and tzatziki sauce.
Menu:
Top Review: ""
The Yukon Pizza is located at 1020 Fremont St #120, Las Vegas, NV 89101.
Pop Up Pizza
You haven't had pizza until you try out the downtown-style pizza of Pop Up Pizza. The taste speaks for itself. Using fresh ingredients, home-made tomato sauce, and perfectly baked crust, this pizza is unique and unforgettable. 
One of Pop Up Pizza's signature pizzas is Mike's Hot Pepperoni. It features fresh onion cream sauce, whole milk mozzarella, cup, char pepperoni, pickled jalapenos, and finished with Mike's Sweet and Spicy Honey. If you cannot tolerate spicy toppings, you can try their Crispy Pepperoni. It features a fresh sauce, whole milk mozzarella, cup, and char pepperoni.
Menu:
Top Review: ""
The pizzeria is located at 1 S Main St Las Vegas, NV 89101.
Settebello Pizzeria Napoletana
Established in 2005, Settebello Pizzeria Napoletana is one of the first pizzerias in the United States to reproduce Pizza Napoletana as it has been created for generations in Napoli. Napoli, Italy is the birthplace of pizza. Thus, re-creating the Pizza Napoletana is what makes this restaurant unique.
Among the crowd's pizza favorites is the margherita with Parmigiano-Reggiano. It features fresh tomato sauce, mozzarella, extra virgin olive oil, and basil. Pair this tasty meal with some of their beer or wine from Italy. 
Menu:
Top Review: ""
Settebello Pizzeria Napoletana is situated at 140 Green Valley Pkwy. Henderson, NV 89012.
Twisted Pizza
If you are looking for a creative pizza, Twista Pizza is the right choice. Be amazed by their innovative style in making pizza. If you are used to seeing square-sized pizza, or a triangular pizza, how about "pizza cones?"
Pizza Cones is a unique signature and one of the house specialties of Twisted Pizza. The pizza dough makes up the cone. The "ice cream" is the pizza's toppings such as layers of melted mozzarella, sauce, and tomatoes. For the toppings, you have the option to choose your preference. 
Menu:
Top Review: ""
Twisted Pizza is located at 9500 S. Eastern Ave. Suite 170, Henderson, NV 89123.
Dom De Marco's Pizzeria & Bar
Dom De Marco's Pizzeria & Bar has been continuously voted as one of the "Best Pizza" by internationally renowned food critics, famous chefs, celebrities, tourists, and the neighborhood folks. Considered an iconic pizza joint, this restaurant continues to provide an authentic Italian experience to its customers. People from different generations always come for their New York-style pizza, the popular Sicilian square pizza, and the Neapolitan pizza. 
Dom De Marco's Pizzeria and Bar's famous pizza is their Di Fara Special. It features the di fara sauce, mozzarella, pepperoni, grana padano, and basil. For meat lovers, try out their Big Apple. It features san Marzano tomato sauce, mozzarella, pepperoni, ham, sausage, meatball, and basil. You also have the option to build your pizza and choose your toppings. 
Menu:
Top Review: ""
Dom De Marco's Pizzeria and Bar is located at 9785 W Charleston Blvd, Las Vegas, NV 89117.
Grimaldi's Pizzeria
In this premium upscale restaurant, Grimaldi's Pizza is an award-winning pizza house that serves Neapolitan-style pizza. The restaurant boasts almost a century of pizza-making heritage, as well as the mouth-watering scent of freshly made pizza and calzones in their coal-burning oven. 
Grimaldi's Pizzeria has more awards than any other pizza house. It also has the most celebrity sightings than most 5-star restaurants. 
What makes Grimaldi's Pizzeria popular is that they deliver classic pizza in an upmarket yet informal, family-oriented pizzeria, using only the freshest ingredients. They have a "secret recipe" pizza sauce, handmade mozzarella cheese, and dough that produces tasty pizza dishes.
Menu:
Top Review: ""
Grimaldi's Pizzeria is located at The Venetian Resort Las Vegas.
The Sand Dollar Lounge
If you are looking for a place to hang out or get together with friends that serves excellent artisan pizzas, killer cocktails, or craft beers, The Sand Dollar Lounge is one of the popular choices. It is one of the few gaming bars in Las Vegas. Yet, they still serve tasty pizzas. Its crust is soft and chewy with top-quality toppings. 
The Sand Dollar Lounge delivers scrumptious pizza compared to any bar pizza standards. The restaurant occasionally serves its festive seasonal concepts. One of their popular pizza concepts is the "Nightmare on Spring Mountain" for Halloween specials, and the Christmas specials, "Miracle on Spring Mountain."
Menu:
Top Review: ""
The Sand Dollar Lounge is located at 3355 Spring Mountain Rd Ste 30 Las Vegas, NV 89102.
Those Guys Pies
Those Guys Pies is the place to go if you want the highest pizza quality and flavor. To perfect the fermentation process of the dough, the restaurant has worked for years to select the best technique for making the perfect east coast style hand-thrown pizza.
Those Guys Pies take an effort to make as many recipes as possible in-house. This is to make sure that each dish has its distinct flavor. One of their signature specialty dishes is the BBQ Maui Wowie and CheesesSteak. BBQ Maui Wowie features BBQ pizza sauce, pulled pork, bacon, pineapple, pickled jalapeno, and cilantro. CheesesSteak features ribeye, roasted mushroom, bell pepper, onion, and mozzarella.
Menu:
Top Review: ""
Those Guys Pies is located at 2916 Lake East Dr, Las Vegas, NV 89117.
Amore Taste of Chicago
One of the few Chicago-style pizzerias in Las Vegas that serves a thin crust that's sheeted out is the Amore Taste of Chicago. A real Chicago-style pizza has a thick, buttery crust that is usually three inches thick around the edges. 
The slices of Chicago-style pizza may be too heavy and deliciously messy to pick up and eat. They are topped with melted cheese, chunky-style tomatoes, and other fresh ingredients. So, if you don't mind the mess when eating pizza, let your taste buds enjoy the challenge of tackling this stuffed pizza. 
The Amore Taste of Chicago has several options for pizza dishes. They have a thin crust pizza, deep dish or stuffed pizza, specialty pizza, and double dough pizza. They also serve gluten-free pizza. 
Menu:
Top Review: ""
The Amore Taste of Chicago is located at 3945 S Durango Dr, Las Vegas, NV 89147.
Pizza is enjoyed in any context, whether it's casual lunch with friends, a social event, or just lounging about at home. It is the ultimate happy meal. It is impossible to eat pizza and be upset about it. So, if you are craving pizza, don't deprive your taste buds of such a mouth-watering dish. Not only will your stomach thank you for stuffing it with delicious food, but your brain too, enticing it to release feel-good hormones making you crave to eat more pizza.