Do you know that pizza is the only dish that can be eaten any time of the day? Whether it is breakfast, lunch, or dinner, it does not matter as it is considered one of the best foods out there.
No matter the consequences, be it either fatty, sweet, or oily, many individuals are drawn to it. 
With pizza being a popular dish among locals and guests, here are some of the best pizza in Denver that you can try out.
Kaos Pizzeria Denver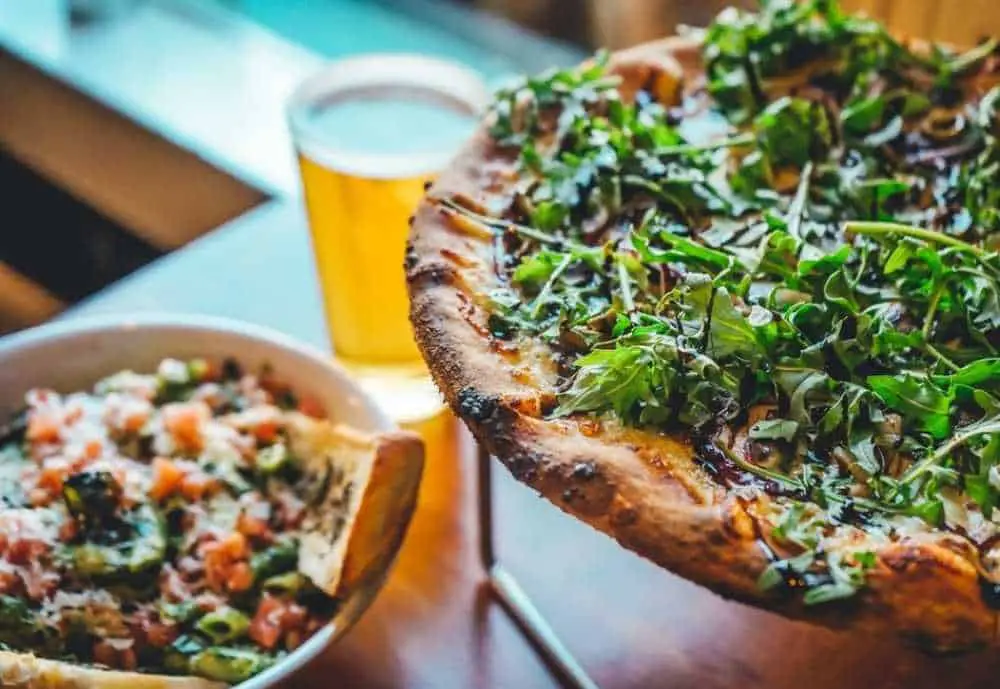 Known for their farm-to-table ingredients, Kaos Pizzeria Denver ingredients are locally sourced. Established in 2009, their process of cooking pizza is purely handmade.
Every day, their chef's hand mixes 50lbs of fresh dough twice a day. They do not use any mechanical process, making their pizza a popular choice. 
The philosophy of Kaos Pizzeria Denver is to prepare their pizza with love and pride.
They believe that the key to a quality product is to have a direct connection to the food they are selling. Thus all their ingredients are fresh from their farm and other local growers.
Menu: Kaos Menu
Top Review: "Kaos Pizzeria was a fantastic place for us to stop and get delicious pizza.  As a gluten-free family, we often don't have too many options for dining out. You can imagine our surprise when Riley said he could make any pizza on the menu gluten-free. ANY PIZZA. I'm so used to having a limited menu that I had to stop for a minute to process that.  My daughter had the gluten-free pepperoni and I had the wild mushroom pesto-so good!" – Teresa B.
Kaos Pizzeria Denver is located at 1438 South Pearl Street, Denver, CO 80210, (303) 733-5267
Fat Sully's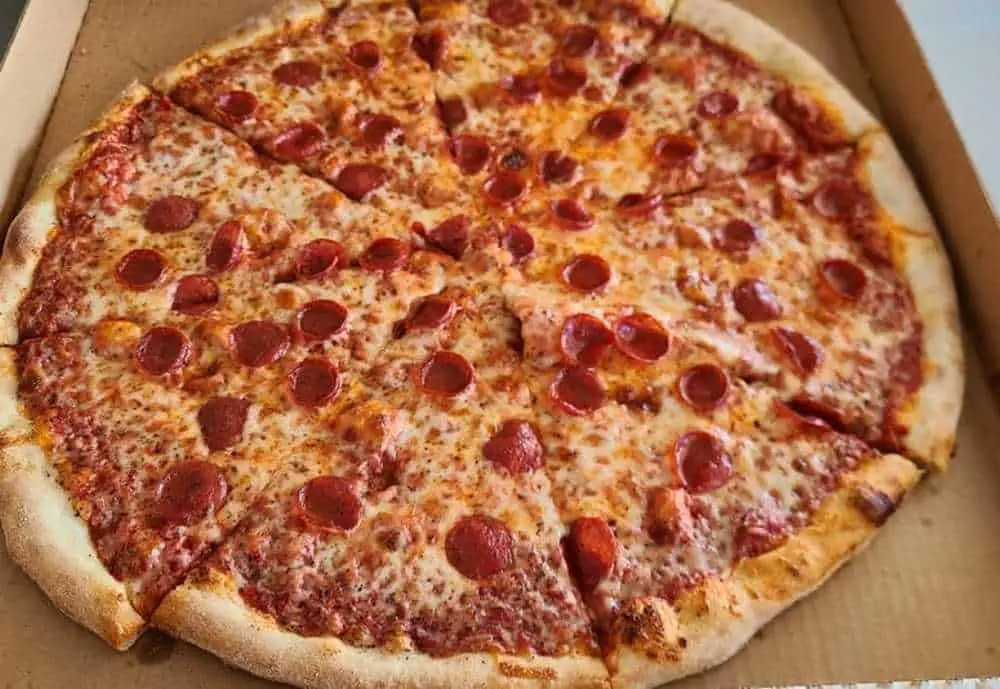 If you are looking for a challenge that can satisfy your cravings for pizza, Fat Sully's is a good choice.
With its massive 26-inch, hot and cheesy pizza slices, your taste buds will surely love this deliciously cooked food. What makes this restaurant a favorite among the locals is that you can build your pizza from scratch.
Guests have the option to choose any of the available toppings for their pizza.
Enjoy this NY-style pizza slice and pair it up with a cold beer. Fat Sully's has several beer options to choose from. It is the perfect combination for a gathering with friends or works colleagues. 
Gluten-free pies are also available. You only need to ask and they will serve you with gluten-free garden toppings or protein toppings.
Top Review: "Their pizza Never disappoints!!! Great big 26″ thin crust NY style pie with high quality toppings, my fav topping combo is mushrooms and pepperoni or pepperoni and fresh basil! Fast and friendly service. Pizza heats up great for leftovers next day too!" – Nida H.
Fat Sully's is located at 141 S Broadway, Denver, CO 80209, (303) 393-1515
Hops & Pie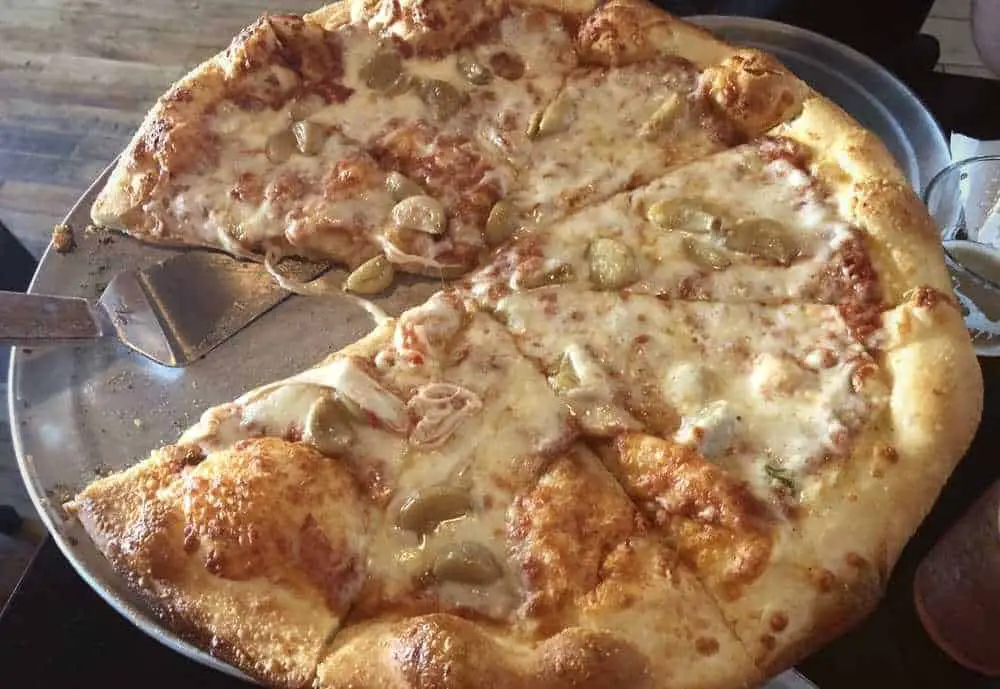 Established in 2010, Hops & Pie opened as a neighborhood pizza and craft beer joint.
What started as a 34 seat restaurant now has 84 seats with 30 people working behind the scenes.
The owners of this pizza restaurant continue to impress with their big slices served in a traditional pan. 
Hops & Pie defies the traditional norm of pizza selection. Think of a pizza with pork belly, scallions, sesame seeds, bacon, duck confit, dried cherries, or caramelized onions.
Guests would love their impressive toppings. They also have a rotating craft beer tap list that is a perfect match to their delicious Detroit-style pizza. 
Menu: Hops & Pie Menu
Top Review: "Their food is good…like really good. Their Detroit-style pizzas are fantastic. I'm going to go ahead and say it…some of the best I've had in Denver! And I love that they are always changing up flavor combos for their pizzas of the month. I generally go for that because it's just so dang good, but we recently tried the regular hand-tossed and it was bomb as well!! I've also in the past tried their salads (don't judge to balance out the beers haha) also bomb! And tacos…pretty much everything is good." – Christina S.
Hops & Pie is located at 3920 Tennyson St., Denver, CO 80212, (303) 477-7000
Cart Driver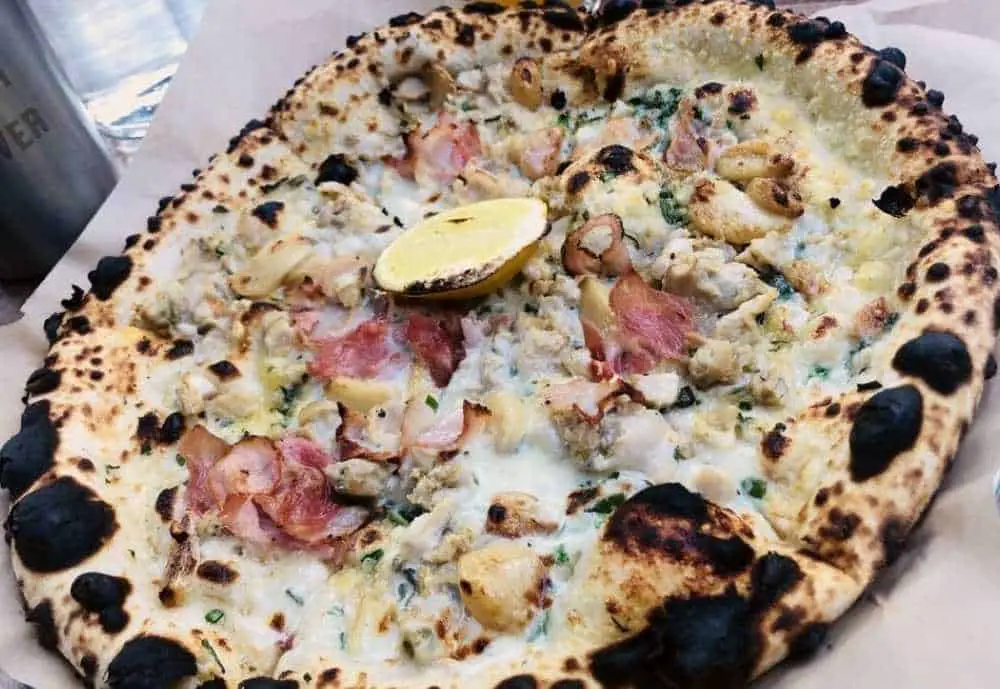 If you are looking for a wood-fired pizza, the Cart-Driver is a good choice. Inspired by the Carrettiera, this pizza restaurant aims to deliver the same hospitality and passion.
It is a cozy space in the heart of the RiNo neighborhood and the atmosphere is perfect for a quiet get-together with family and friends.
The Cart Driver serves pizza with ingredients that are fresh from the farms. They also have specialty pizzas such as vegetarian, vegan, gluten-free, and dairy-free ingredients or toppings.
Pair their deliciously cooked pizza with local brews and craft cocktails. Be hooked with their mouth-watering dishes that are recognized locally, regionally, and nationally.
Top Review: "Okay, their clam pizza. Just get it. Sounds gross when you first hear it, but when you try this magnificent pizza you'll understand why they run out. – Danielle L.
Cart Driver is located at 2500 Larimer St, #100 Denver CO 80205, (303) 292-3553
Grabowski Pizzeria
Looking for a thin cracker-crust pizza with a scrumptious taste that challenges your taste buds? Maybe have a hankering for square slices?
Grabowski Pizzeria is 100% house-made and cooked in an old-fashioned rotating oven.
Their pizzas are cooked with 100% whole milk mozzarella making them chewy and delicious with their smart topping combos. 
Grabowski Pizzeria is a Chicago pizza chain that branches out to Denver. They only use the best ingredients such as Cerresota Flour and Stanislaus Tomato Sauce.
Menu: Grabowski's Menu
Top Review: "I was so excited to find an authentic Chicago Tavern Style pizza place in Denver! The pizza was amazing (love the cracker-thin crust)  and Old Fashioned were perfect. Our server Kelly was the best! She was so sweet, and attentive and we had a great time chatting with her! – Zoe F.
Grabowski Pizzeria is located at 3350 Brighton Boulevard, Denver, CO 80216, (720) 207-9615
Marco's Coal Fired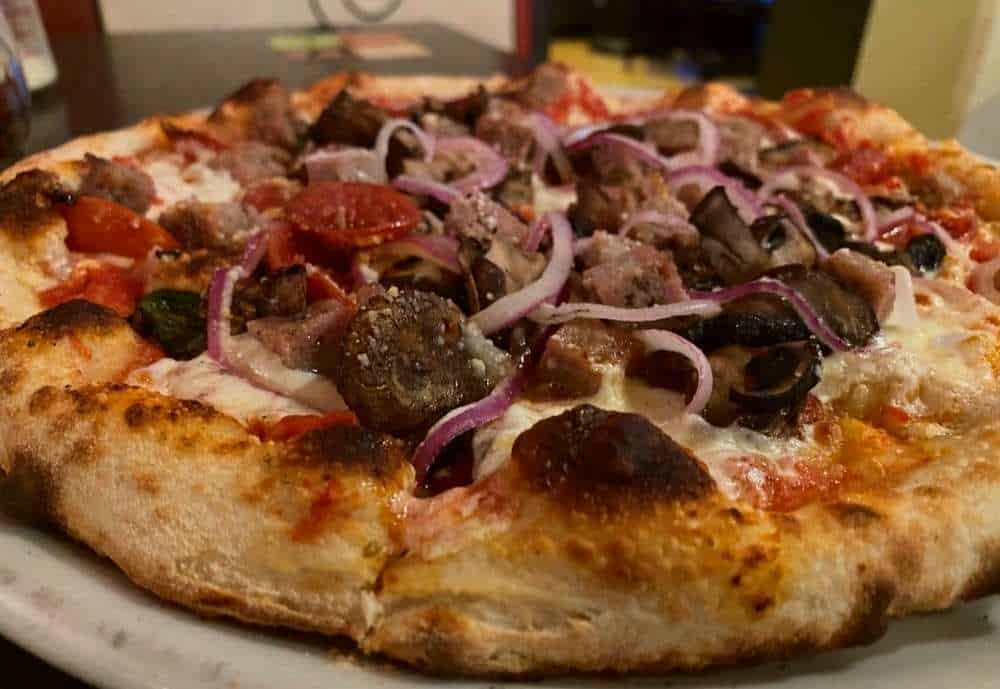 If you are looking for a pizza that is a whole new level, Marco's Coal Fired will never disappoint.
Known as the only pizzeria in Colorado that is certified by the Associazione Verace Pizza Napoletana, this restaurant only brings you the finest ingredients.
To top it off, their pizza makers are trained by a group of Pizzaiuoli, which are regarded as the best in the world. 
Marco's Coal Fired Sicilian-style pizza has thick crusts with a dough that is fermented for five days.
This process ensures that their pizza achieves an authentic Naples taste. They also have thin-crust pizzas with the same load of toppings as the thick crusts.
Menu: Marco's Menu
Top Review: "If I could eat pizza every day I would just live at Marco's Coal Fired Pizzeria. Get the Bronx you will not regret it." – Jim R.
Marco's Coal Fired is located at 2129 Larimer Street, Denver, CO 80205.
Cosmo's Pizza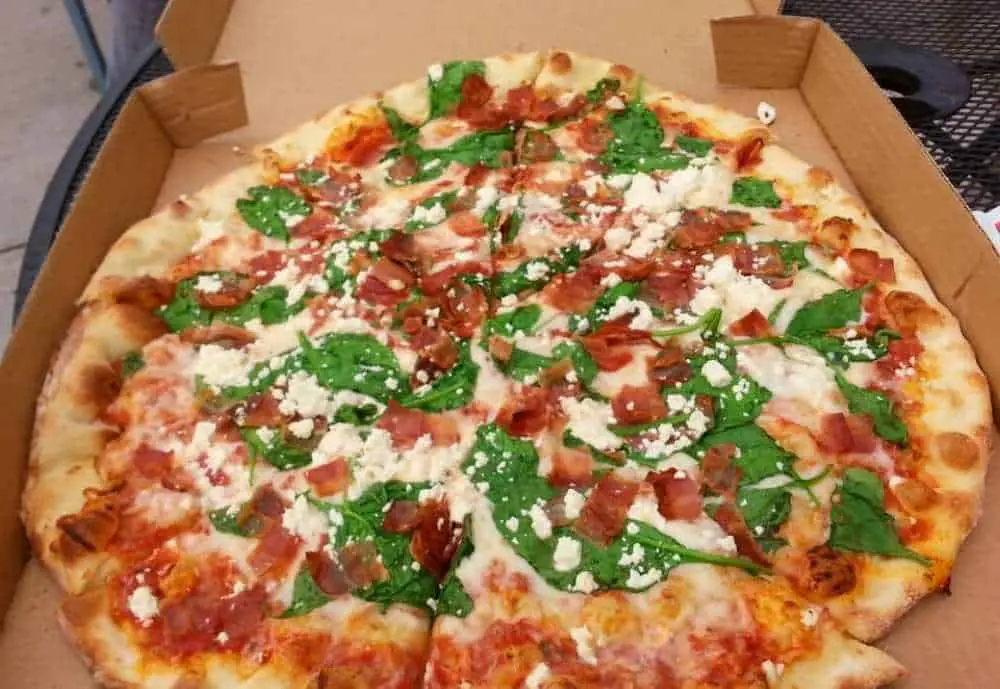 Originating in Boulder over two decades ago, Cosmo's Pizza is a fan favorite in Colorado.
Their pizzas are tasty with a wide selection of signature pizza options. Guests can also build their pizza and customize it from scratch. 
For guests that love to be creative and challenge their topping selections, Cosmo's Pizza can make it more fun and enjoyable. If you prefer some classic combos they have it too.
Menu: Marco's Menu
Top Review: "Wonderful pizza joint! So fun and has a 70s theme. The pizzas are huge! And delicious! Not super greasy. The breadsticks are literally baked bread. I like that cause the bread isn't buttery or greasy. This is my new favorite pizza place for sure!" – John R.
Cosmo's Pizza is located at 550 Grant St, Denver, CO 80203, (303) 777-3278
Bar Dough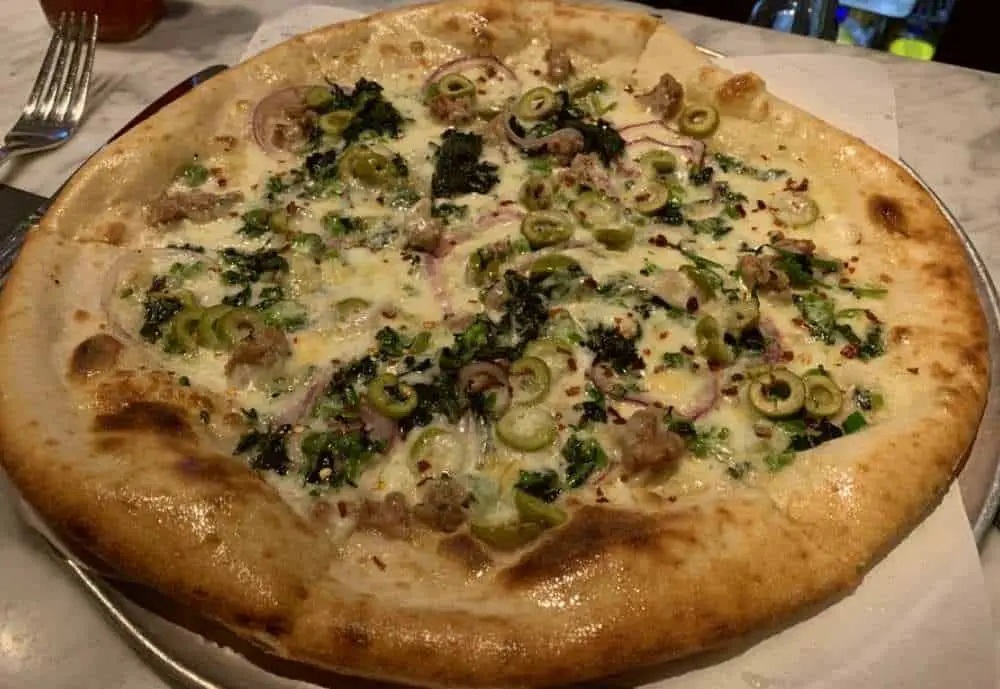 For guests that are looking for a welcoming atmosphere, Bar Dough has the perfect cozy neighborhood setting.
It is an Italian kitchen that serves enhanced traditional cuisine.
Chef Russel Stippich's broad menu of imaginative small plates, classic meat and seafood, handmade pasta, and wood-fired pizza has received positive reviews both locally and nationally. 
Bar Dough offers six specialty pizzas, all of which are homemade. The Diavolo, which contains a hot red sauce, fennel sausage, Fresno chile, and more, is a good choice if you want something spicy.
Their Italian-inspired cocktails, artisan beers, and wine list have been meticulously crafted. 
Menu: Bar Dough Menu
Top Review: "Went for brunch and was absolutely delighted.  The breakfast pizza is magic, with a layer of eggs topped with sausage and breakfast potatoes, really the best of breakfast and pizza combination I've ever had.  Sad that I wasn't there for dinner because I could have eaten pizza all day." – Mark J.
Bar Dough is located at 2227 West 32nd Avenue, Denver, CO 80211, (720) 668-8506
Blue Pan Pizza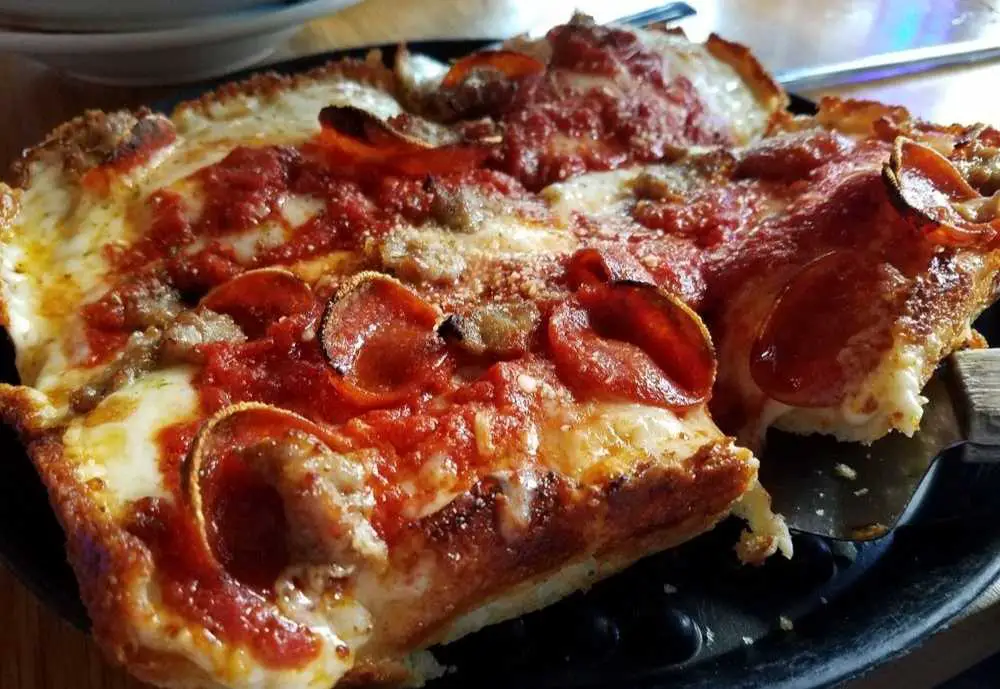 Winning worldwide content with some of its innovative creations, Blue Pan Pizza is considered a Highland specialist in Detroit-style pizza.
Their pizza is baked in square steel pans with caramelized, cheesy edges. 
Blue Pan Pizza is considered the original Detroit-style pizza that started in 1946. They are the pioneers in baking pizza using square pans.
This style of cooking pizza became a neighborhood favorite when sharing meals with family and friends.
One of their popular pizza dishes is the Parma Italia. It is cooked with parmesan and prosciutto, sopressata, burrata, scamorza, and arugula. 
Menu: Blue Pan Menu
Top Review: "Are you lover of a crunchy crust ? If yes, then you must get blue pan. Their Detroit style pizza is butter, crunchy deliciousness. There hasn't be a style I've run into that I didn't love. I like that they have vegan and DF options. Although if you're comparing their non-DF options I like those more 😉 Brooklyn bridge is a wonderful classic. It they have a seasonal option – don't pass it up!" – Athena W.
Blue Pan Pizza is located at the West Highlands, 3930 West 32nd Avenue, Denver CO 80212, (720) 456-7666
White Pie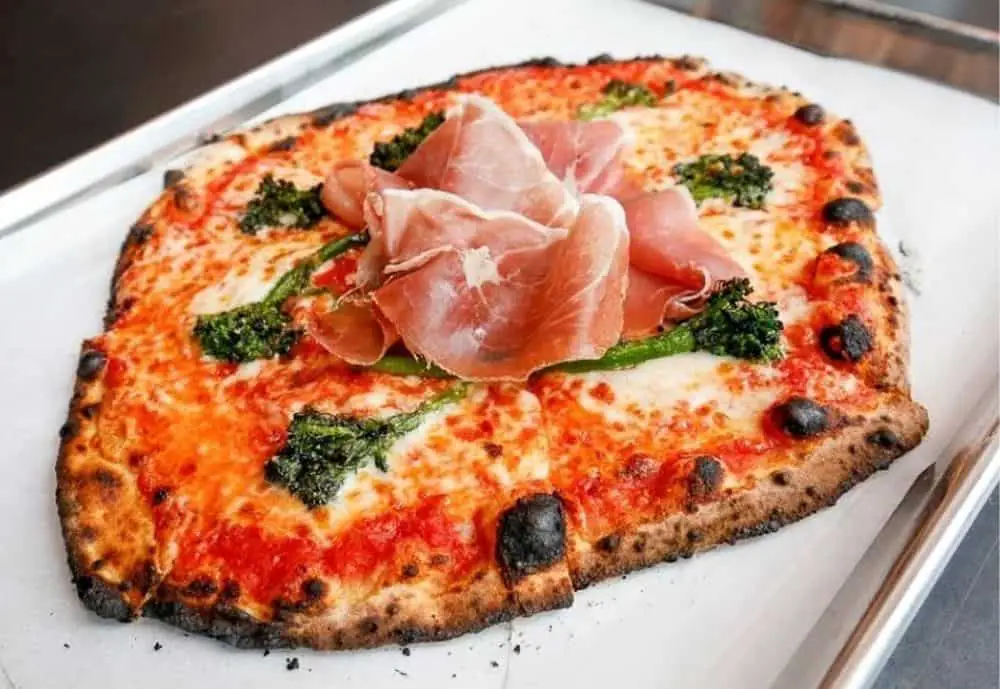 For guests that are looking to dine pizza in a friendly neighborhood joint, White Pie gives off that vibe.
Not only are their staff friendly, but the relaxing atmosphere and its rustic decor have a calming effect that is perfect to hang out with family and friends. 
White Pie is inspired by the pizza parlors in New Haven, Connecticut. Thus, all their pizza are New Haven-style cuts that are asymmetrical. It has an uneven surface with a crispy crust and charred edges.
Menu: White Pie Menu
Top Review: "Baking up delicious New Haven-style pizzas at around 900 degrees is White Pie in Uptown. These oval-shaped pizzas come with plenty of burnination, just the right amount of chewy, and flavors that will make you wanna slap yo' best friend's behind. When you go to White Pie, get the White Pie. It's one of the best white pizzas I've ever had, and I honestly think it could be one of the best pizza recipes in all of the Denver Metro area. Its garlicky flavor, mixed with egg, and just the right amount of cheese and shrooms are truly like manna that fell a few minutes off Colfax." – Dave C.
White Pie is located at 1702 Humboldt St, Denver, CO 80218, (303) 862-5323
Joy Hill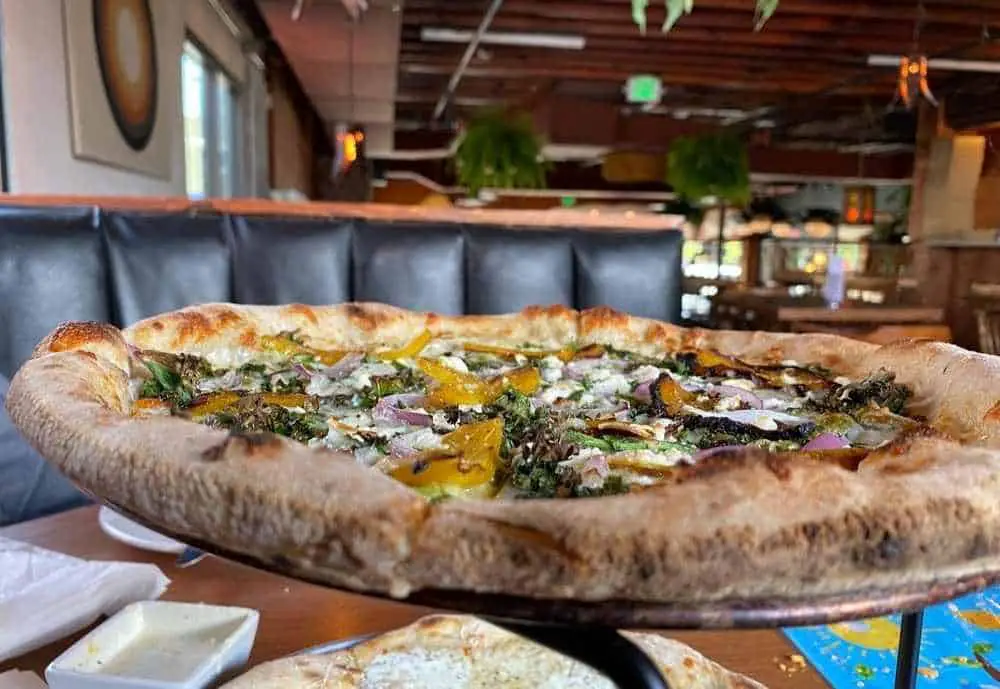 Joy Hill continues to capture the hearts of pizza-loving residents of Denver.
Even after a year of settling to its new location on Antique Row, this pizza joint remains to be a popular place for a hefty pizza meal.
The pizza place serves wood-fired pies with naturally leavened sourdough crusts, as well as savory appetizers, such as garlic bread and pepperoni rolls.
The Chilis N Pep is a customer favorite at Joy Hill. It has pepperoni, pickled peppers, honey, and mozzarella.
However, if you prefer to make your pizza, they have a traditional cheese pizza option. It has caciocavallo and pecorino romano cheeses combined with mozzarella.
Menu: Joy Hill Menu
Top Review: "Best Pizza Ever. Seriously, delicious toppings, high quality crust. I ordered Mushroom Sally and my husband had a chorizo pizza. Both were amazing!" – Brady B.
Joy Hill is located at 1229 S Broadway, Denver, CO 80210, (303) 954-8784
Black Shirt Brewing Co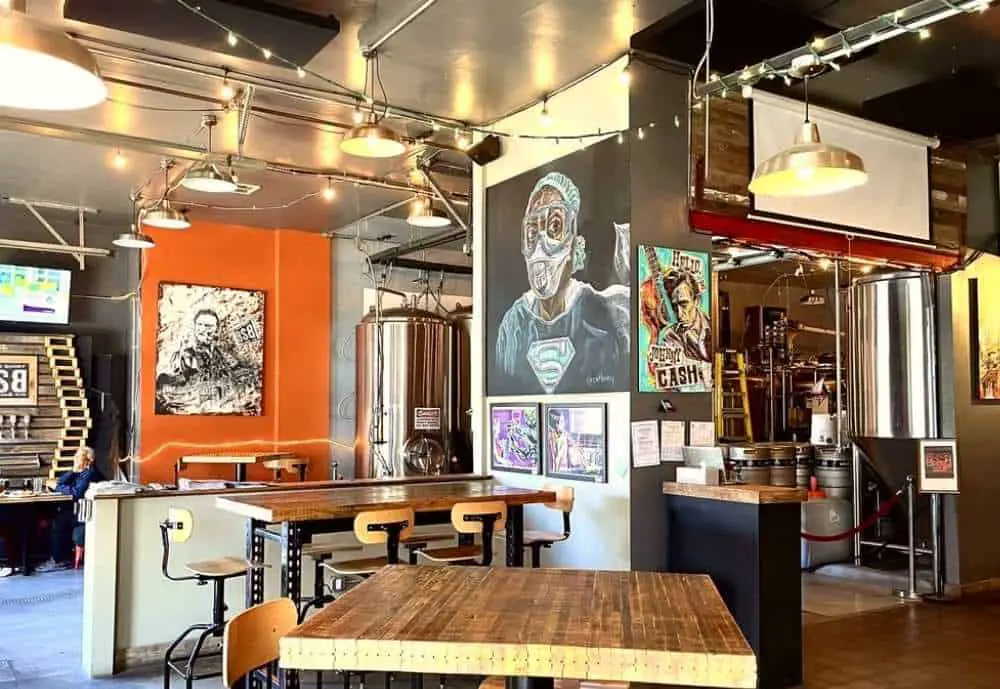 If you are looking for a hang-out place that serves good pizza and lives music, head over to Black Shirt Brewing Co.
Located in the heart of the RiNo Art District, this pizza restaurant aims to provide an experience that achieves a harmonic balance between music, crave-worthy pizza, a creative craft beer, and an exceptional guest experience. 
Black Shirt Brewing Co has over 20 toppings for custom-made pies. They also have a few specialty alternatives to choose from.
Featured in "Crafting a Nation," this pizzeria not only provides mouthwatering pizza but showcases the local and national craft beer scene.
Menu: Black Shirt Menu
Top Review: "In contention for the best pizza in Denver. It starts with an excellent crust that has perfect little blistered bits, an appropriately acidic and sweet tomato sauce, and a deliciously salty and appropriately greasy cheese blend. The adios aloha was a fantastic mix of thin, crispy Pepperoni, pineapple, jalapeno, and gooey cream cheese pockets. It's a great combo, made better by the fact that all the toppings are very high quality. Service was also prompt and friendly." – Caleb M.
Black Shirt Brewing Co is located at 3719 Walnut St, Denver, CO 80205, (303) 993-2799
Angelo's Taverna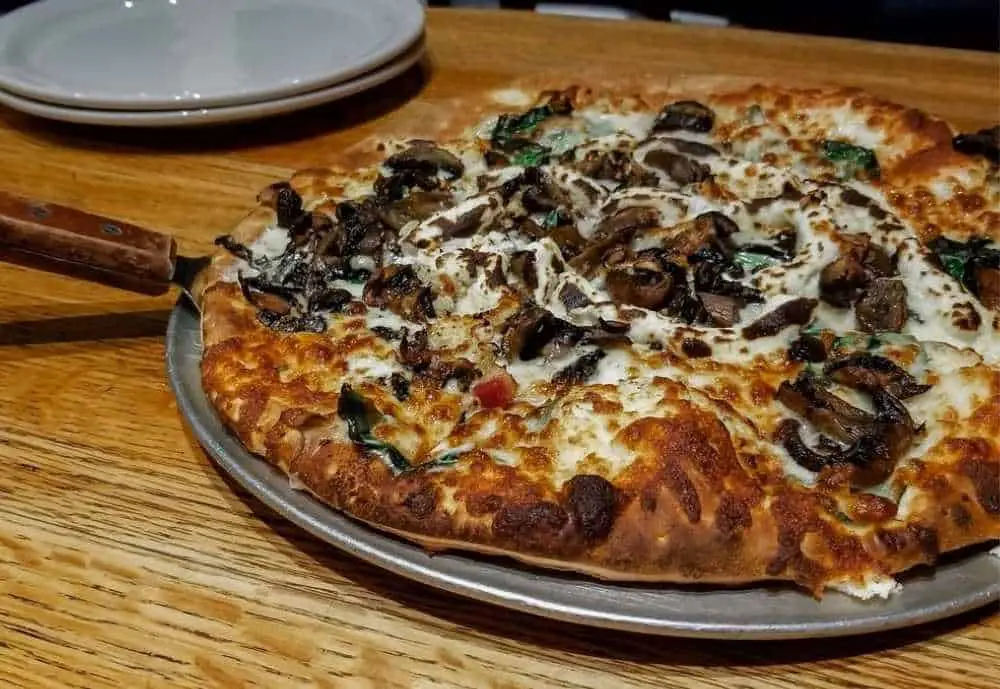 Angelo's Taverna is another neighborhood favorite. Not only is the restaurant known as an oyster bar, but they also focus on other dishes such as seafood, pasta, and pizza.
Their homemade pizza uses original dough and red sauce recipes. 
An interesting fact about Angelo's Taverna is that their specialty pizza titles are influenced by The Red Hot Chili Peppers.
They have Californication, which features peppers, broccoli, olives, mushrooms, tomatoes, artichokes, and red sauce. They also have Under the Bridge, which features shaved ribeye, onions, peppers, shredded provolone and mozzarella, and red sauce.
Menu: Angelo's Menu
Top Review: "Angelo's is awesome! Not one bad thing to say about this place. Could be the best pizza in Denver among many other great menu options" – Ryan R.
Angelo's Taverna is located at 620 E 6th Ave, Denver, CO 8203, (303) 744-3366
Redeemer Pizza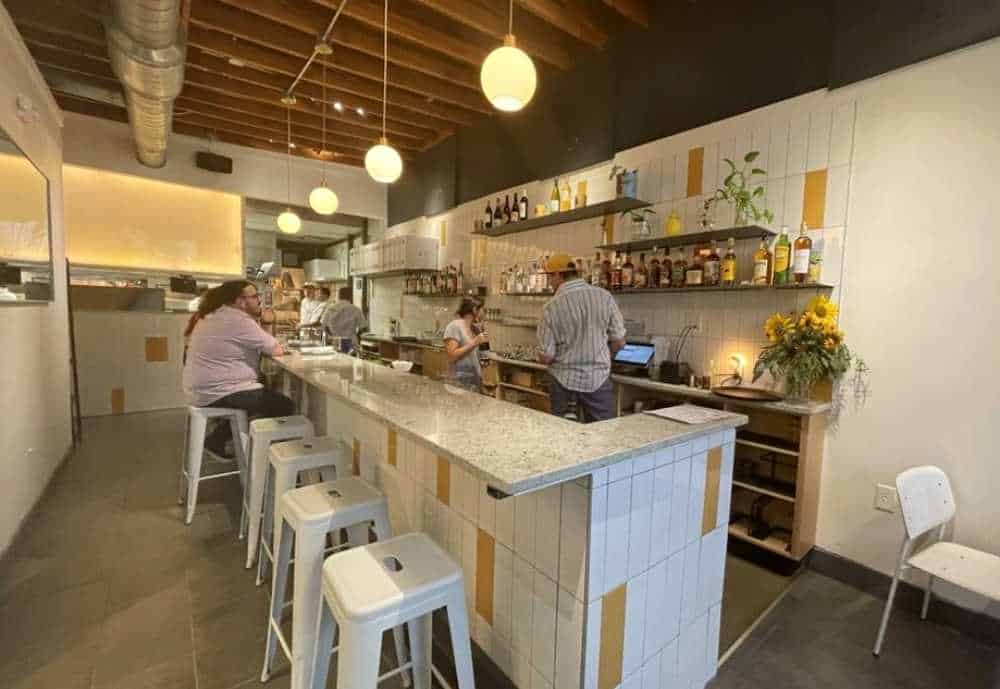 Chef Spencer White and Alex Figura, the pasta apostles behind sibling restaurant Dio Mio, have created Redeemer, a fresh spun idea with a geeky approach to gluten-free food.
This dynamic team has proven that they know a thing or two about the dough. When baking the dough, they use natural leavening and a 72-hour fermentation process.
This will give the dough the right amount of crunch and taste. 
If you are looking for a spot for hanging out with drinks, Redeemer Pizza is the go-to place for after-hours munchies.
They also serve natural and biodynamic wines, inventive cocktails, refreshing beer, and large-format bottles.
Pair these cold drinks with a not too floppy, heavy, and sloppy pizza. It is a perfect duo for a relaxing get-together with friends.
Menu: Redeemers Menu
Top Review: "Perfection in a slice of pizza. Everything we ate here was delicious and showed attention to detail. I love when you go to a restaurant and know you are in the hands of people that respect the craft of making food. For pizza, we got three – the special of the day (sausage and squash), the Diavolo, and the standard. Two slices of the Sicilian with pepperoni also showed up at our table. The crust is phenomenal and unlike most pizza dough you will find. The standard had a fantastic tomato sauce, cheese, and basil and was the one I focused my efforts on. Dunked in a bit of their dill ranch and this was a seriously good pizza." – Heather T.
2705 Larimer St Denver, CO 80205, (720) 780-1379
Slice Works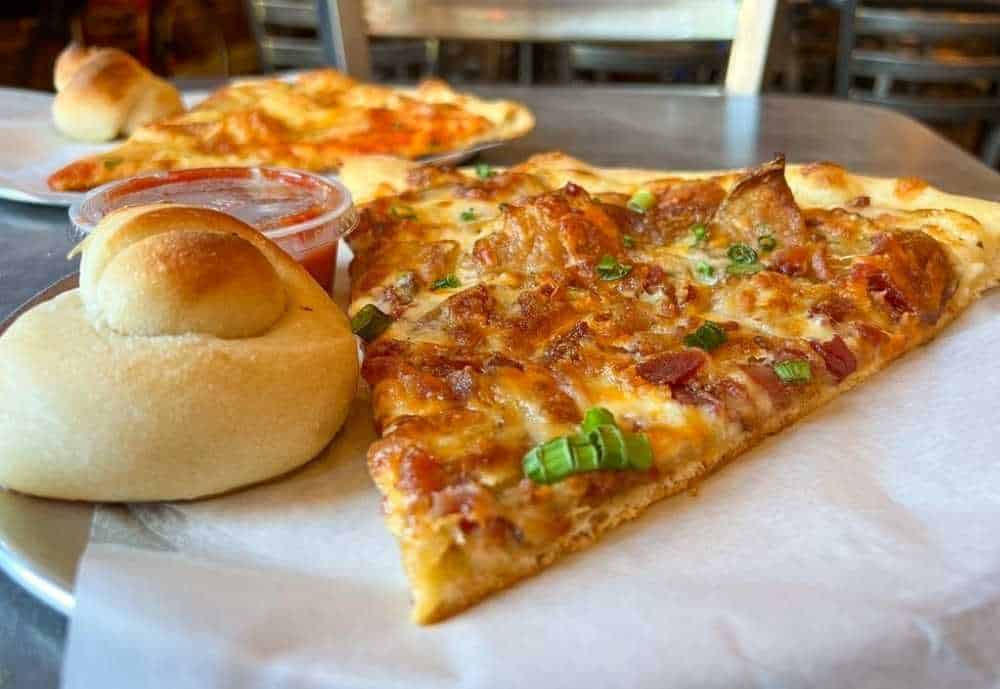 Are you searching for a place where you can eat, drink, and relax? Look no more. Slice Works is now in Denver.
The restaurant has been operating its New York-style pizza in Connecticut and New York for 20 years. In 2012, the family decided to take their traditional Italian restaurants to Denver.
Since then, they have been a popular hang-out place for a good pizzeria experience.
Slice Works also features several unique toppings such as the Big Mac Pizza. This pizza has two all-beef patties with a sesame seed crust. It is a must-have fave among lovers of the iconic Big Mac.
Menu: Slice Works Menu
Top Review: "The slices here are super delicious! They even had a big Mac slice which was wild. I'd be happy to order it again but I'm too keen to try other kinds of slices that they offer. They also offer pasta and subs along with multiple other dishes but for a place called Slice Works why would I try anything but pizza?" – Andrew J.
The Slice Works is located at 700 E Colfax Avenue, Denver, CO 80203.
Ian's Pizza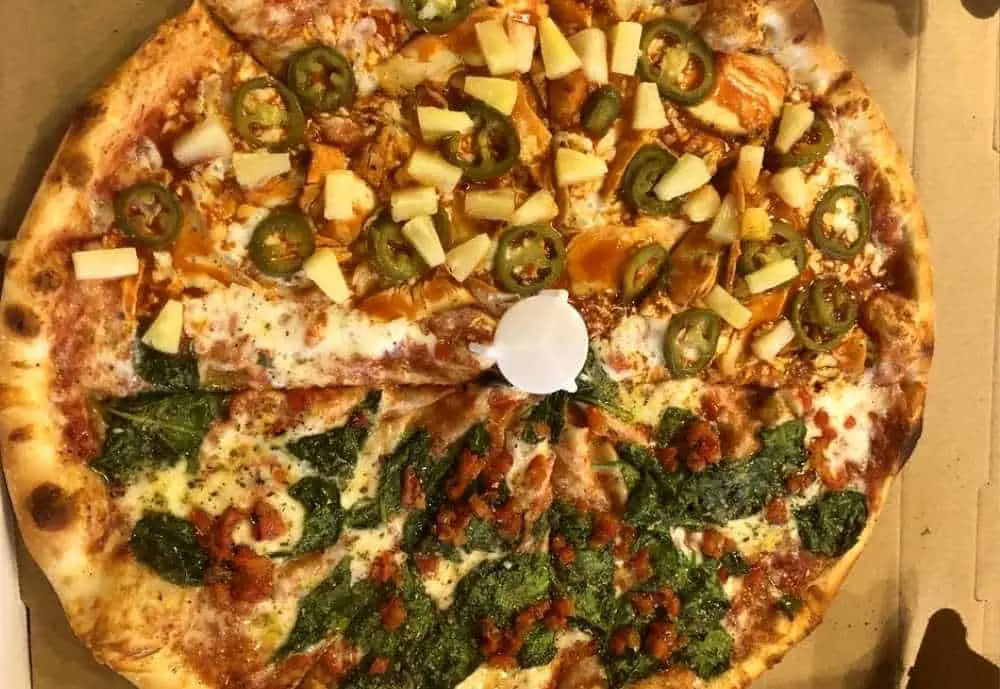 Situated in the heart of downtown Denver, Ian's Pizza is near many of the city's most vibrant areas.
To top it off, they are open until midnight.
What a perfect place to chill the night with friends, family, or work colleagues. 
While in Ian's Pizza, try out their Mac n' Cheese. It tastes so delicious and is their number one seller. It is made of creme sauce, cheddar, mac noodles, and mozzarella. 
Menu: Ian's Menu
Top Review: "This pizza is so good! I love coming here every time i'm in Denver! Literally their cheese pizza alone beats out anyone else! Wish they had one in Texas!" – Shav T.
The Ian's Pizza is located at 2210 Blake St, #101b, Denver, CO 80205, (303) 296-9000
Cattivella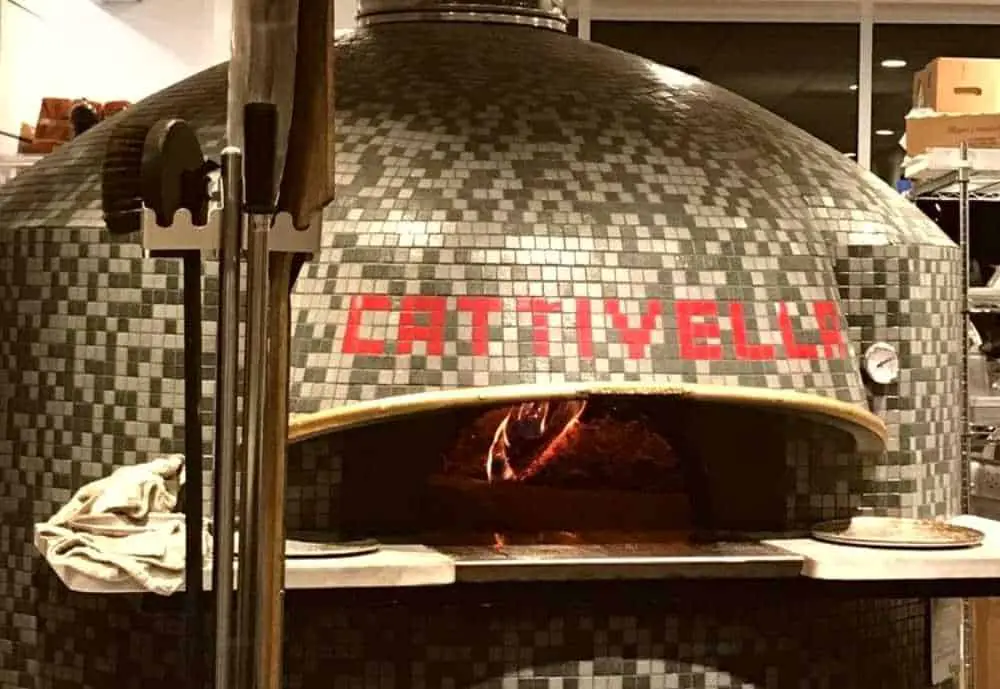 Elise Wiggins, an award-winning Denver chef, welcomes you to Cattivella. It is a wood-fired Italian restaurant that brings you decades of restaurant experience.
This Southern-born chef ferments her pizza dough for 48 hours before baking it in the wood-burning oven. The result of such a process maintains the traditional Italian pizzeria, befitting her training in Naples. 
Cooking traditional pizza exemplified the flavors and toppings. Because it is a popular hang-out place for pizza lovers, they have a total of 200 seats available.
Twenty-six seats surround the chef's counter so guests can enjoy looking at how the pizza is cooked. Seventy-four additional seats are in the interior part of the restaurant, while 100 seats are on a wrap-around patio that provides stunning views of the mountain.
Menu: Cattivella's Menu
Top Review: "Without hesitation, I would share the glories of this unforgettable restaurant. Elise Wiggins is by far one of the most talented chefs ever. The thought, care, and love that go into each dish are beautiful. Sitting at the chef's counter a few feet from the pass is where you can see all the magic happen. Her staff is well-orchestrated delivering flawless execution." – Bradley B.
Cattivella is located at 10195 E 29th Ave St, 110 Denver, CO 80238, (303) 645-3779
With pizza being a comfort food to many, it is not surprising why there are many popular pizza joints in Denver.
You can try all of these notable pizza houses and choose a favorite. But, it doesn't matter. What is important is that you enjoy good food with no restrictions. 
You might also enjoy drooling over these pizza articles:
best pizza in denver, best pizza denver, good pizza denver, pizza denver, best new york pizza in denver