Orlando, Florida is known for its theme parks, sunny weather, and vibrant atmosphere, but it's also home to great Italian restaurants. We're taking a closer look at the best Italian restaurants in Orlando, highlighting their unique offerings and what sets them apart from the competition. So, if you're a foodie with a passion for Italian cuisine, read on and discover the culinary delights that await you in the heart of Orlando.
Christini's Ristorante Italiano
Christini's Ristorante Italiano is a go-to destination for those seeking exceptional cuisine in Orlando.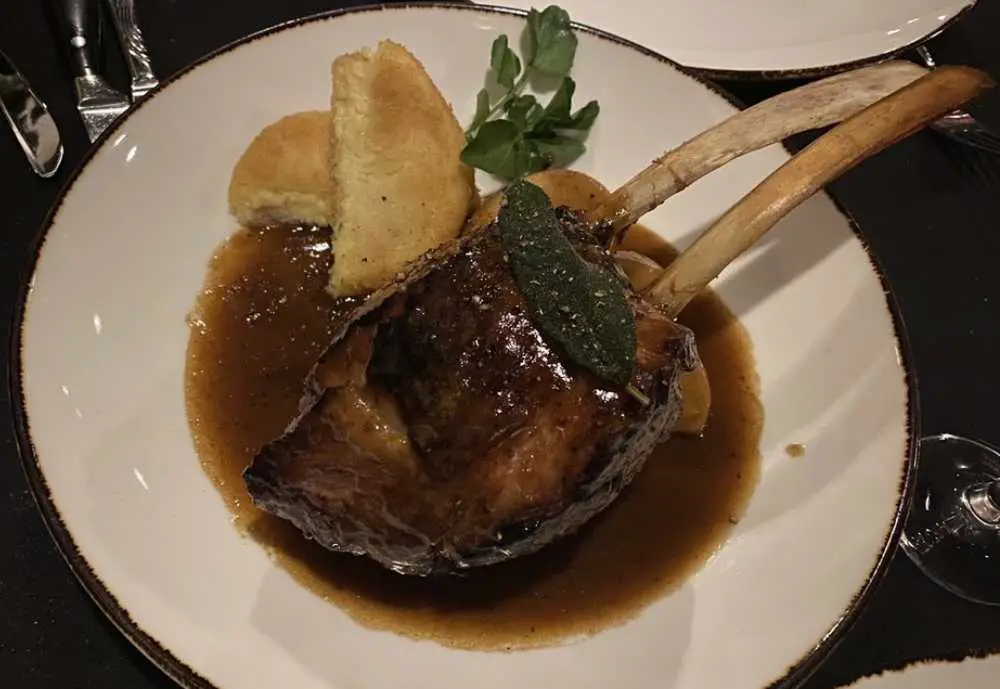 They're known to have excellent freshly-caught seafood and premium steaks. This fine-dining restaurant has elegant interiors, dim lighting, and live music for the ambiance.
You can get the Chilean Sea Bass, veal chop, or veal parmigiana. They have some of the best Italian in Orlando, you do want to miss them.
Menu: Christini's Menu
Top Review: "This place is about as authentic Italian as it gets! It's got a high end vibe but is also very welcoming. I came in straight from the airport on a Friday evening and sat at the bar, the bartenders were really sweet and attentive. I came solely for the pear pasta! Ever since I had this dish a few years ago from another FL restaurant I have scoured every menu across the country in search of it again… and Christini's satisfied my craving. So SO good. Albeit a bit pricey, but with every dollar!" – Brandi R.
7600 Dr Phillips Blvd Orlando, FL 32819, (407) 545-6867
Il Pescatore
Il Pescatore offers a laid back and welcoming atmosphere that feels like a visit to your favorite Italian grandmother's home.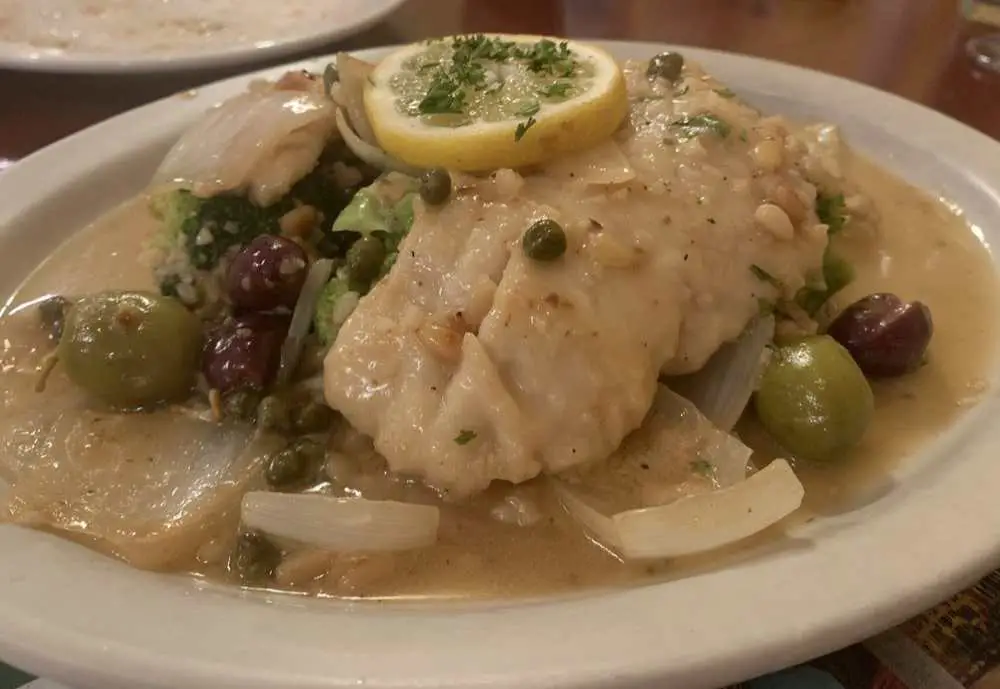 The restaurant's menu is no exception, featuring classic Italian dishes prepared with heart and soul.
Their popular dishes are tortellini, lasagna, tiramisu, and carbonara. Their marinara sauce also deserves a shout-out.
Menu: Il Pescatore Menu
Top Review: "Looks small and I'd probably describe it as a hole in the wall as somebody not familiar with the area, but what a pleasant surprise! The portions are large and the bread was fantastic!!! The entrees come with a salad which we all loved the house Italian dressing, I dipped lots of bread in it! Service was phenomenal. They gave us more bread and we're very attentive. My water was never empty. The reception area was very welcoming- greeted us when we entered and thanked us as we walked out. I eat a lot, but I was able to box up some more bread and half my meal and eating it now for lunch! Good Italian, great service, reasonably priced. Can't wait to go back and try the mussels appetizer!" – Laura P.
651 N Primrose Dr Orlando, FL 32803, (407) 896-6763
Delmonico's Italian Steakhouse
Delmonico's Italian Steakhouse, a well-known Italian restaurant franchise, has quickly become one of the best Italian restaurants in Orlando.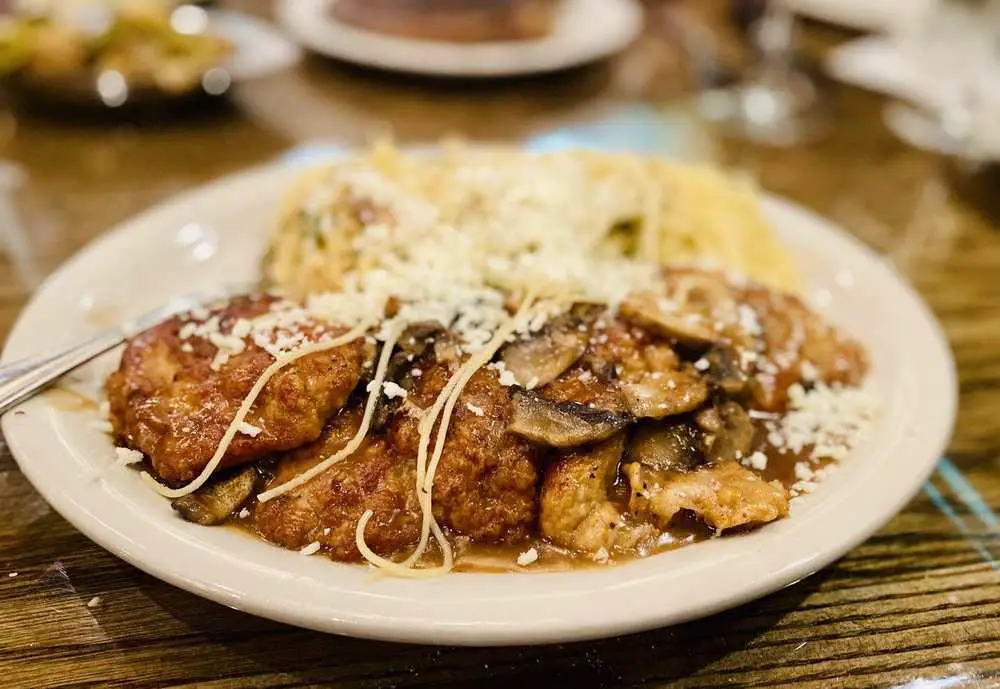 It also has, as some consider, some of the best steaks in Orlando. You'll get a perfect marriage of steak and classic Italian dishes in this spot.
Their dinners are not to be missed, with outstanding steaks, lasagna, Frutta di Mare, chicken marsala, chicken prosciutto, and homemade pasta dishes with rich, creamy sauces.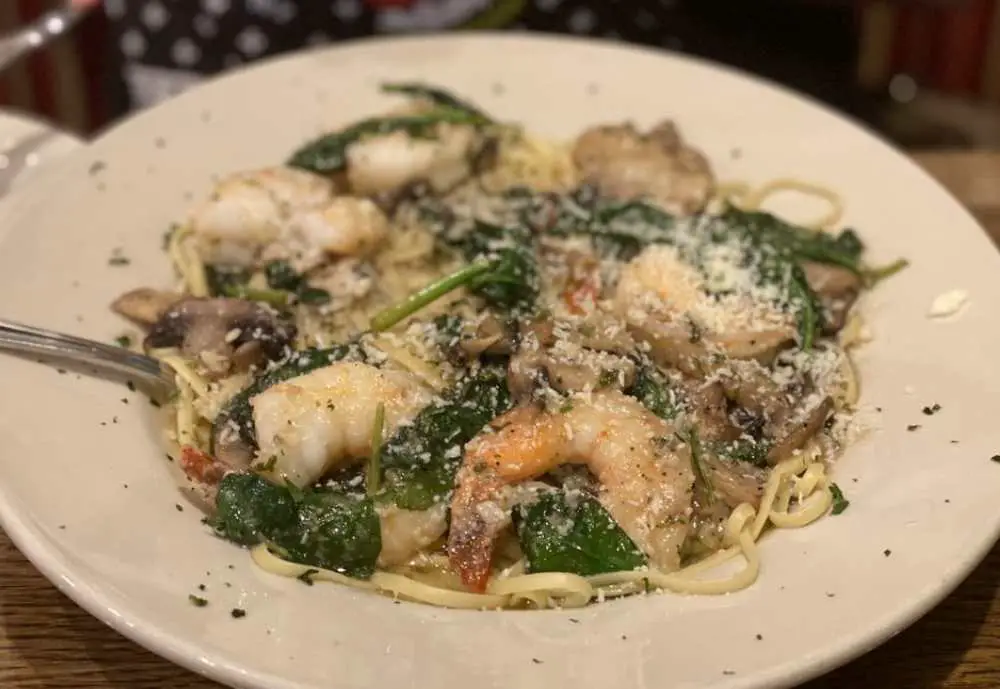 Their most popular steak is the Delmonico steak, which is not to be missed.
Menu: Delmonico's Menu
Top Review: "This place was phenomenal. You get the old school italian vibe from all the pictures on the wall. I dined solo and sat at the bar to watch an NFL playoff game. Both bartenders were super nice and very attentive. I had the fried cheese appetizer and the lasagna. The lasagna was HUGE and definitely enough for 2 people, and the fried mozzarella was stupendous. The wine selection is also top notch. If I'm ever in Orlando again, I would return to this place. Great food, reasonably priced, great service – what else can you really ask for?" – Bridget M.
6115 Westwood Blvd Orlando, FL 32821, (407) 226-2662
Prato
Prato's location in Winter Park makes it a popular go-to for people coming from the park. It's also one of the more casual and laid-back restaurants on our list.
Their menu is crafted with seasonal ingredients, classic Italian takes, and balanced flavors. The mustard spaghetti, cacio e pepe, and widowmaker pizza are a hit among Prato regulars.
Some of the best Italian in Orlando can be found at Prato's.
Menu: Prato's Menu
Top Review: "Authentic Italian food with a nice cozy atmosphere? Yes please! You can tell Prato uses quality ingredients and perfectly crafts their recipes because this place was to die for! My friend and I spilt a bottle of one of their red wines (they have a huge wine menu!) and their potato gnocchi which had truffle butter, Parmesan and pangrattato Aka breadcrumbs. I ate every last drop and it is well worth the price. My friend ordered the Spaghettini Cacio E Pepe which was rich and flavorful. Definitely make a reservation if you do not want to wait. My friend  and I lucked out and grabbed a spot at the bar! The bartenders were attentive and the service was pretty fast to bring out our dinner. A few people beside us ordered what looked like a margherita pizza that looked incredible, I might have to try that next time although their gnocchi will be hard to beat!" – Delanee B.
124 N Park Ave Winter Park, FL 32789, (407) 262-0050
Mia's Italian Kitchen
There are several reasons why Mia's Italian Kitchen is considered one of the best Italian restaurants in Orlando.
It's a popular Italian restaurant in the neighborhood, well-known for its inviting atmosphere, authentic and delicious food, and attentive service in a straightforward setting.
People recommend their tiramisu, giant meatball, cannoli, and chicken parmigiana. Mia's is easily one of the best Italian restaurants in Orlando, Florida. Give them a go as soon as you can!
Menu: Mia's Menu
Top Review: "This place is an absolute gem!! Me and my family went in to check it out for the first time and also to celebrate my boyfriend's birthday. The food was absolutely delicious. We tried the brunch and couldn't believe how amazing the food was. Noora, our server, provided the most exceptional customer service. She made us feel welcomed and she kept saying she was kind of new but I couldn't tell at all. She did such a wonderful job explaining everything to us. Noora was positive and her energy made our experience at Mia's that much better. We do plan on visiting again and would love for her to be our server whenever we decide to visit. It is service like that, that will keep us coming back along with the amazing food!" – Maria E.
8717 International Dr Orlando, FL 32819, (407) 601-7130
Orlando has it all if you're in the mood for traditional Italian dishes, upscale dining, or a casual and laid back experience. From the five-star Christini's Ristorante Italiano to the neighborhood favorite Mia's Italian Kitchen, each restaurant offers a unique dining experience. Next time you're in the city, try some of the best Italian restaurants in Orlando.
You might also like drooling over these articles:
best italian in orlando, orlando italian, italian orlando, best italian orlando, best italian orlando