Are you a fan of gooey, melty cheese and savory, perfectly-seasoned toppings? Do you dream of biting into a slice of heaven and experiencing pure, unadulterated bliss? If so, you're in luck, because Cincinnati is home to some of the best pizza restaurants around!
From classic pepperoni to creative veggie options, these pizzerias have something for everyone!
Fireside Pizza
Fireside Pizza has great vibes and atmosphere and friendly staff. They are located in one of the oldest standing firehouses in the country.
When it comes to pizzas, theirs is reasonably affordable, with a good balance of flavors and portions.
They're made in a brick oven using the freshest ingredients. You can dine indoors or on one of their picnic tables outside.
Menu: Fireside Pizza Menu
Top Review: "What can I say of the Best Pizza in Town that I haven't said previously. The pizza here is just on another level, Amazing! The cheesy bread it's a problem cause you may eat it all by yourself in a sitting. The atmosphere is great and the staff are very kind and friendly. This time I went with the Pep but with extra pep and obviously it didn't disappoint in any way, the cheesy bread is a must as always and my wife's Margherita was just perfect. If you haven't tried it I don't know what you are waiting for… You'll thank me later." – Rafael E.
773 E McMillan St Cincinnati, OH 45206, (513) 653-3323
Adriatico's
Adriatico's is a small pizza spot and a sports bar frequented by students. It's conveniently located near the University of Cincinnati, and they've got reasonable prices for college students.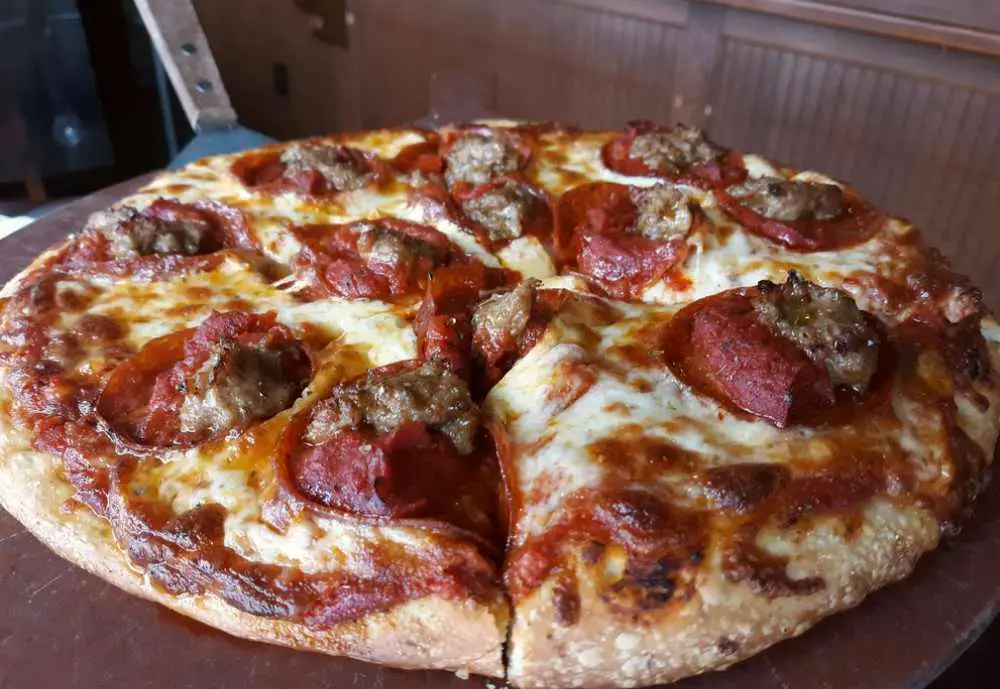 It's also a great place to hang out, where you can watch sports on TV and order some of their amazing pizzas. They offer lots of variety with Sicilian and New York-style pizzas on rotation.
Their special pizza sauce is unique — a thick sauce with a bit of a kick to it. You can pair this with any of their extensive beer on tap and have a great Friday night with friends.
Menu: Adriatico's Menu
Top Review: "Phenomenal pizza!!! Whether you're getting a bearcat pizza for the tailgate or dining in you will be impressed. We usually get the Sicilian but this time we tried the thin crust which was equally as awesome. It's a great place to catch a game or grab cold beers and Za with friends." – Patrick P.
113 W Mcmillan St Cincinnati, OH 45219, (513) 281-4344
Taglio
Taglio offers New York and Detroit-style pizzas, but visitors say you should go for the Detroit-style. It's said to be one of the best pizzas in Cincinnati.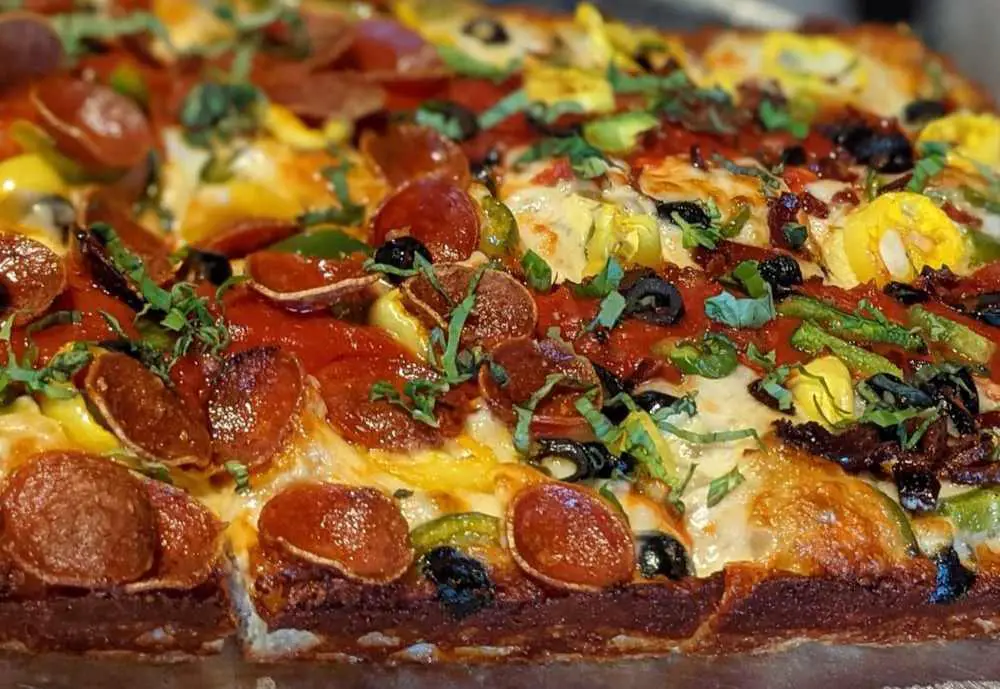 The atmosphere inside is lovely and fun, with a happy hour too. Pizzas have that crunchy and crispy edge with a thick, buttery crust.
It's also a good place for sauce lovers as their pies are heavy on sauce. The portions are also generous and filling, perfect for sharing with the group.
Menu: Taglio Menu
Top Review: "Taglio is definitely in my Top 5 pizza joints in Cincinnati! That hot honey pizza is DELISH! It was thin without being cracker thin and has a wonderful chewy cheesy drippy deliciousness to it. A friend of mine ordered their deep dish pizza and that was pretty fantastic too! Now I have to go back and order that one too because I still think about it from time to time. And I ordered their cider beer which was lovely. Actually, it was probably the best cider beer I had ever had. Overall, this is a super solid pizza and should absolutely be checked out by any true pizza aficionado!" – Melissa L.
3531 Columbia Pkwy Cincinnati, OH 45226, (513) 321-0454
Goodfellas Pizzeria
One of the best pizza spots in Cincinnati is Goodfellas Pizzeria. This popular pizzeria has some of the best New York-style slices in the city.
They're hand-tossed with freshly made dough that results in a thin and crispy crust. Goodfellas also have large slices that won't leave you feeling hungry.
Their must-trys are the Frankie Pickles, Artie Bucco, and gourmet pizzas.
Menu: Goodfellas Menu
Top Review: "I'm a big fan of Goodfellas Pizza!  It's tough to find a good "authentic" tasting NYC style pie but these guys are pretty great!  All of their pizzas are great but also don't forget to try the huge, delicious breadsticks with cheese or marinara.  They are awesome! I really enjoy Goodfellas and I'm sure you will too!" – Scott C.
1211 Main St Cincinnati, OH 45202, (513) 381-3625
Catch-a-fire Pizza
Catch-a-fire Pizza is a casual and comfortable pizza parlor in Cincinnati. They are known for their solid and consistent quality pizzas that are wood-fired.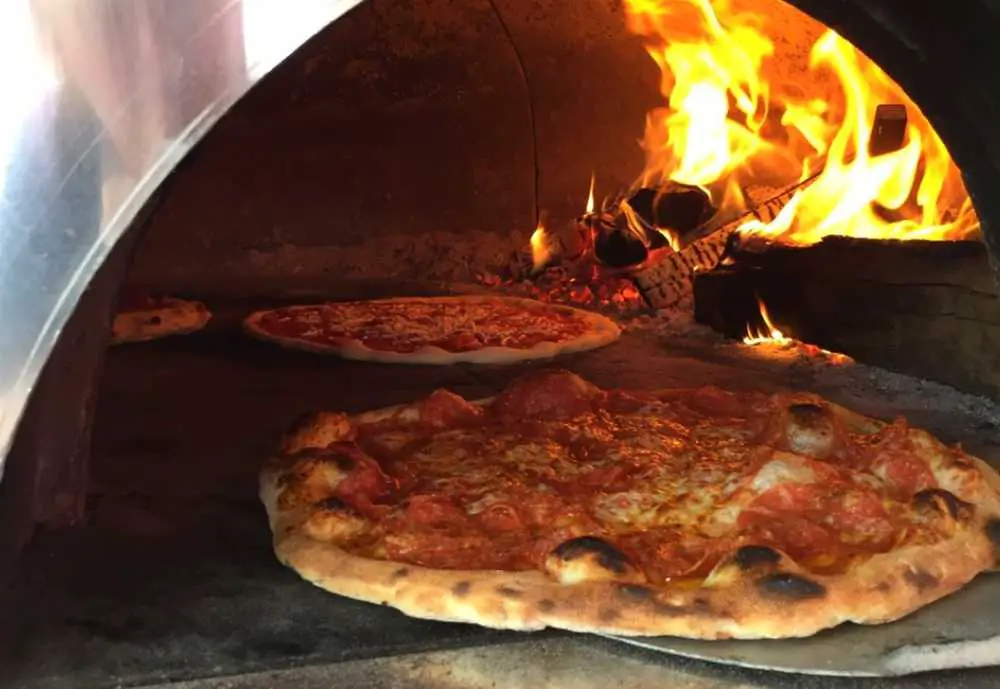 Their dough is made fresh daily, and there are vegan, vegetarian, and gluten-free options that are actually delicious.
You can also build your own if you feel a little more adventurous. Besides that, they have appetizers, salads, sandwiches, and more. 
Recommendations include Little Pigs pizza, Stir it up pizza, buffalo chicken pizza, and Smile BBQ pizza. You can even bring your dog on their dog-friendly outdoor patio!
Menu: Catch-a-fire Menu
Top Review: "The pizza is great, no doubt about it. I love the thin crust, perfectly wood fired without having that charred taste. Plenty of delicious signature pizzas or toppings to choose from too. They even have options for those who are vegan, vegetarian, and dairy free. As someone with a nut allergy, I especially appreciate their nut-free pesto. Always excited to go back and try a new pizza!" – Kim S.
3301 Madison Rd Cincinnati, OH 45209, (513) 441-8565
You might also like drooling over these pizza articles:
pizza Cincinnati, pizza in Cincinnati, Cincinnati pizza, best pizza in Cincinnati, best pizza spots in Cincinnati, pizza near me, happy hour restaurant san rafael, best pizza places near me, good pizza places near me, pizza paradise menu