È l'ora della pizza! Are you looking for a pizza spot on Myrtle Beach that will send your taste buds to the far reaches of pizza heaven?
Then…read on fellow pizza traveler and discover the best pizza Myrtle Beach has to offer! 
Aj's Pizza
Need to satisfy your pizza cravings? Head over to Aj's Pizza for some hot and fresh pizza. They're a small store that only has take out and delivery, but the quality doesn't falter.
They're best loved with their genuine mozzarella, the show's star. Plus, they're very generous with their mozzarella, so you won't be disappointed.
It's also reasonably priced, and they have other offerings like subs and pasta. You can try their supreme pizza, buffalo chicken pizza, or the meat lovers pizza.
Menu: Aj's Menu
Top Review: "Holy Cow… this is a MUST ! I'm not a fan of eating at the same place over and over on vacation but we definitely will. This is some of the best pizza ! The staff was so kind. We ordered a personal cheese for my kiddo and surf and turf for us. Shrimp was well seasoned and steak was tender. The crust on pizza was phenomenal. They only do delivery and take out.  We picked up but having it delivered for lunch tomorrow.  Yummm…I can't wait to try the Carolina costal pizza. My mouth is watering already.  P.s.  my kiddos cheese pizza was excellent as well!" – Allison B.
5917 N Kings Hwy Myrtle Beach, SC 29577, (843) 449-4600
Little Italy
Little Italy is an Italian restaurant with New York-style handmade pizzas. They are a local favorite, have a friendly environment, and have southern hospitality in one package.
Their pizzas are pretty solid, with generous portions for sharing, and it is a casual spot.
Try their classic flavors: Brooklyn pizza, Margherita, and cheese pizza.
Menu: Little Italy Menu
Top Review: "My husband and I were hungry for pizza. We came across Little Italy and wow !! They did not disappoint! Let's just say we didn't get pizza after we saw the variety of Italian foods. Dawn our server was absolutely amazing ! She explained the menu gave her recommendations and she bagged up our leftovers. Nice lady ! Will definitely be back when we visit Myrtle Beach again." – Yvette F.
3001 N Kings Hwy Myrtle Beach, SC 29577, (843) 213-1403
Vicini's Restaurant and Pizza
Vicini's Restaurant and Pizza is a charming family-owned Italian restaurant with some great pizzas.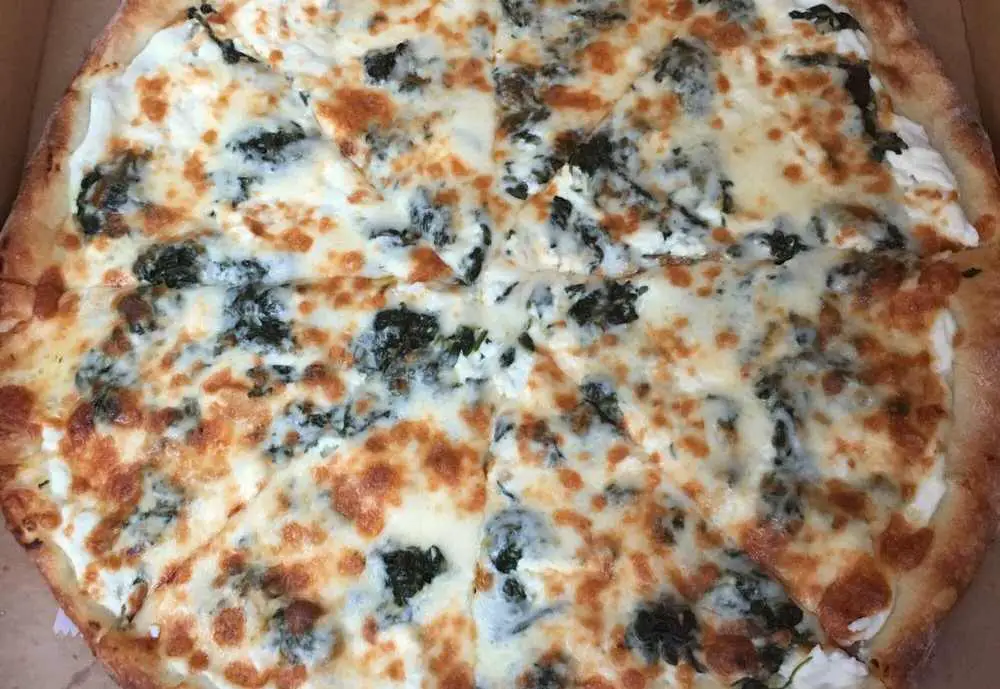 They offer a wide variety of other Italian dishes besides pizzas, and they're worth the try too. The Mom and Pop shop has a small and intimate setting with a homey décor to complete the ambiance.
There's a bit of a wait during peak hours, but it's cozy and quiet if you go early. Their homemade mozzarella and crust give their pizza a good rep. We'll let you try it for yourselves.
Menu: Vicini's Menu
Top Review: "BEST PIZZA IN MYRTLE BEACH BY FAR!!!  Vicini's never ever disappoints on all aspects of food!!  We started with a pizza that was cooked to perfection crispy and no droop when you held it out!  Being from NYC and making homemade pizza has made my husband and I picky!  We also had the Wild Salmon Piccata and the Cavatelli with meat sauce. Both were a 10!!  I love being able to go out and have authentic amazing food!!! And the fact that it is a true family business:  mom and dad in the kitchen and daughter on the floor makes it even more special!!! Don't miss out make your reservation today or do take out!" – Jeff G.
5001 N King Hwy Ste 105 Myrtle Beach, SC 29577, (843) 449-0123
Ultimate California Pizza
Ultimate California Pizza is a local pizza franchise and a reliable, popular pizza place in Myrtle Beach. There's a kid's menu, wings, appetizers, and more.
People recommend their Big Kahuna pizza and buffalo chicken pizza to try.
You can also get the personal pizza or make your own with many options for crusts, toppings, and cheese.
Menu: Ultimate California Pizza Menu
Top Review: "So glad we gave them a try!! Friendly & attentive staff. Needed gluten-free for one in our group, and they said it was the best GF pizza they've had!! I got to have a taste, and I'd order it even though I loved the reg crust! We started with the stuffed breadsticks with marinara sauce (great flavors) & the spinach/artichoke dip with tortilla chips. Both were tasty! We each got personal size pizzas of different types, and everyone was happy. The pesto sauce is really yummy and pairs well with chicken or sausage. The steak on the pizza is tender. Service was quick but never rushed – just right! Would go again without hesitation (and just might)!" – Cheryl G.
2500 N Kings Hwy Myrtle Beach, SC 29577, (843) 626-8900
Mellow Mushroom
If you're looking for something a little out of the ordinary, try Mellow Mushroom. The locally-owned pizza spot is a unique and interesting place.
They're known for their eclectic and art-filled space, family-friendly environment, and warm service.
Their specialty is their hand-tossed, stone-backed Southern pizza with a spring water crust. Mellow Mushroom has lots of varieties with gluten-free and vegan options.
Menu: Mellow Mushroom Menu
Top Review: "The first thing you noticed upon arrival is the funky eclectic decor. It's a whole vibe. Once you open the menu the names and the food and drink follow the same scheme. I enjoyed a delicious Kosmic Karma with mozzarella, feta, spinach, tomatoes  delicious  I also got to try the Jerked Chicken pizza. If you like jerk you will probably enjoy this one as it definitely has the jerk flavor without the heat. The buffalo wings were also very good. They're baked instead of fried and come with an ample amount of celery and carrots unlike many place's that give you 2 or 3 measly celery sticks  They have excellent drink offerings and at least 40 different beers  to choose from. Check them out if you want delicious pizza. Btw, did I mention you can also build your own pizza and enjoy one of their amazingly fresh salads." – Karen H.
1571 21st Ave N Myrtle Beach, SC 29577, (843) 444-1122
You might also like drooling over these pizza articles:
pizza myrtle beach, pizza in myrtle beach, myrtle beach pizza, best pizza in myrtle beach, best pizza spots in myrtle beach, pizza near me