If you're in the Bay Area and looking for somewhere new to explore, head on over to Fremont!
It's known for its many influences on history, from railways to films. It had a hand on the Bay Area Rapid Transport System and a significant impact on the American film industry.
In here, you'll find yourself in the middle of a nature hub. There are so many parks and greenery to see. It's a lovely destination for a quick weekend getaway.
Fremont is East Bay's closest city to Silicon Valley, just a bridge away from the bustling city. It's 38 miles away and about an hour's drive from San Francisco.
If you're not driving, you can take the BART direct train from the UN Plaza to Fremont. Make sure to check domestic border crossings before coming to San Francisco if you're coming from outside California.
A Little Fremont History
Though not quite as popular as Hollywood, Fremont was actually the birthplace of silent films. This place was where the American film industry first started and is credited for being the first to shoot and produce films. Charlie Chaplin was even a frequent visitor of the city for his silent films.
You'll also have to give them some credit for the Bay Area Rapid Transport System. Their original settlers established the railroad system that's now used in the area.
For this unassuming yet charming town, there's a lot of stories to uncover. As one of the first cities in the area, it's sure to have some interesting ones to tell!
We've made this guide for you for all the best things to do in Fremont, California!
Mission Peak Regional Preserve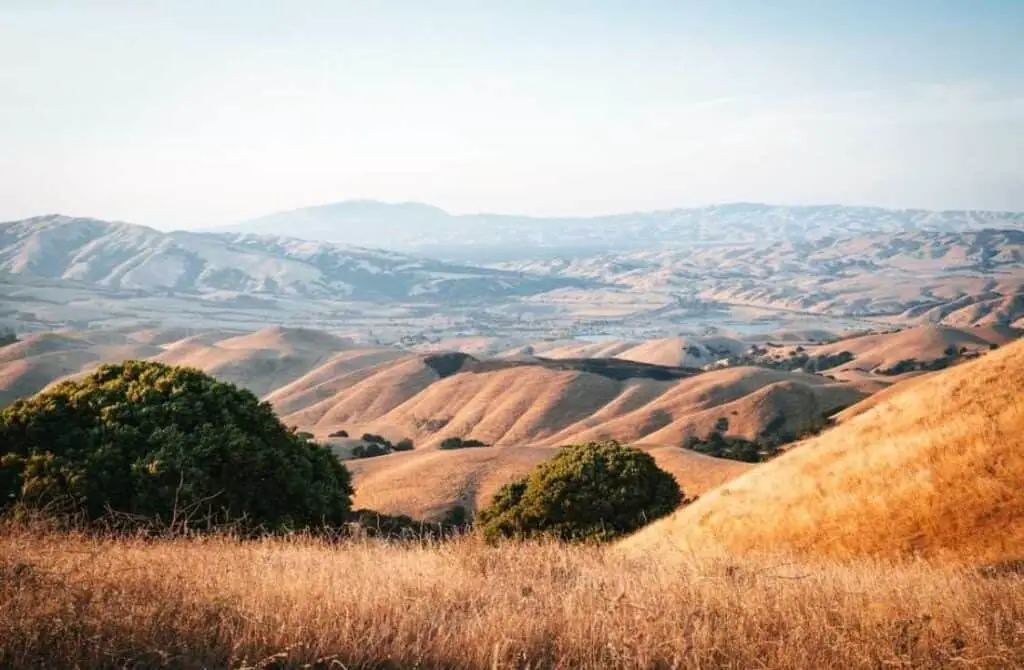 Before diving into all the history, we'll show you first the beauty of nature here. Mission Peak Regional Preserve is a nearby park and an icon of the city.
It's literally part of their city's seal. Hiking its mountain can earn you the "Mission Peeker" moniker and a photoshoot with a stunning view up top. It's a great place for a breather — do some hiking, biking, mountain climbing, or just enjoy the fresh air.
Wondering if it's worth it? The Mission Peak offers a remarkable view of the entire Bay Area.
website: https://www.ebparks.org/parks/mission/default.htm
Directions ▪ Website ▪ Call
Niles Canyon Railway
Given their history and influence with the current railroad system, the Niles Canyon Railway is a piece of their heritage and continues to be reliant transportation. Though it's mainly for the tourists now, there are still actual rides here through the Niles Canyon from Niles and Sunol.
As for their specialty train rides, they have the "Train of Lights," "Romance on the Rails," and "Moonlight Train Rides." These rides are dressed for the special occasion with dazzling decorations and lights!
If you want to catch the sunset, the perfect time to leave Niles is about 4:30PM.
website: https://www.ncry.org/
Directions ▪ Website ▪ Call
Coyote Hill Regional Park
One of the most popular attractions here in Fremont is Coyote Hill Regional Park. It's another option if you're not the mountain climbing type and prefers the hills over the Mission Peek. In these 1,200 acres of land you can, hike, bike, cycle, and birdwatch. Through its peaks and hills are smaller, it still offers fantastic views of the nearby areas. This includes the bay and the ocean, San Francisco, and other mountains. Go on one of their guided tours or follow their many hiking and walking trails.
website: https://www.ebparks.org/parks/coyote_hills/
Directions ▪ Website ▪ Call
Niles Essanay Silent Film Museum
Being a foundation of the US film industry, it'd be remiss to pass on this chance to learn more about this story. The Niles Essanay Silent Film Museum houses history in its content and the building itself. The former Edison Theater is a museum that shares the narrative of how movies first started before they got to Hollywood. They have artifacts, film posters, and even a collection of silent films from the past. If you're lucky, they sometimes do film showings of their film collection.
website: http://nilesfilmmuseum.org
Directions ▪ Website ▪ Call
Don Edwards San Francisco Bay National Wildlife Refuge
A vast landscape built for numerous animals, this wildlife refuge is more than 30,000 acres. It includes marshes, wetlands, and pool habitats and is home to diverse animal species. Some of which are migratory birds, as well as threatened and endangered animals. It's the first urban wildlife refuge in the US and can be visited in San Francisco Bay's southern area.
It's a nice reprieve for those out looking for mother nature. Spot some wildlife, kayak or fish, or hike one of their trails.
website: https://www.fws.gov/refuge/don_edwards_san_francisco_bay/
Directions ▪ Website ▪ Call
Alameda Creek Regional Trail
One of the more popular hiking trails in Fremont is the Alameda Creek Trail. It passes through Nile Canyon, near the Coyote Hills, and heads to the Don Edwards National Wildlife Refuge. Many people like this trail because of its proximity to areas in Alameda County and other nature spots. You can start the path from Fremont, Newark, or Union City. You can also detour in other parks like the Quarry Lakes Regional Recreation Area and Coyote Hills Regional Park. There are also lots of wildlife here, so watch out for them.
website: https://www.ebparks.org/parks/trails/alameda_creek/default.htm
Directions ▪ Website ▪ Call
Museum of Local History
This museum is all about life from the good old days. The community back then was primarily a farming and ranching town. The Museum of Local History offers exhibits on how the city evolved into what it is today. It contains stories of the people who moved here and the work they had to put in. It stands as a legacy of the former Washington Township.
website: https://museumoflocalhistory.org
Directions ▪ Website ▪ Call
Old Mission San Jose
This Spanish church completed in 1809 is a beautiful church. Along with still being used as a chapel, there is also a museum and visitor's center inside. It was built in the 1700s by priests from the Franciscan Order and was made to house missionaries. It's a simple part of the city's history you might enjoy. It's been reconstructed after some earthquake damage and is a wonderful replica of the original church.
website: http://missionsanjose.org/
Directions ▪ Website ▪ Call
Aqua Adventure Waterpark
Taking a trip in the summer and want something to cool you down? Visit the Aqua Adventure Water Park with the family! It's located in Central Park and has crazy slides for you to try. There's so much to do! They have slides that go up to 40 feet above the pools, a splash zone of water sprays, and a lazy river through the waterpark. Explore more pools and features when you get there. 
website: https://goaquaadventure.com/index.php
Directions ▪ Website ▪ Call
Vargas Plateau Regional Park
If you haven't noticed yet, Fremont has many places to view the bay and nearby areas. Vargas Plateau Regional Park is one of those. This thousand-foot high plateau is a vast green landscape where you can find wildlife, flora, fauna, and that gorgeous view we were talking about.
website: https://www.ebparks.org/parks/vargas/
Directions ▪ Website ▪ Call
Central Park
Central Park is a hotspot of activities and is the perfect place for fun-filled family activities. The city park is also frequented by many visitors to see Lake Elizabeth. It's an 80-acre lake that sits at the heart of the place. Here, you can go kayaking, fishing, or rent a paddleboat.
Other than the lake, there's also the Aqua Adventure Water Park, the Central Park Dog Park, and the Fremont Skate Park. They also have a two-mile trail around the lake, which gives you views of the Mission Peak hills on the backdrop. You can also use the park's amenities for picnics or family time.
website: https://www.fremont.gov/317/Central-Park
Directions ▪ Website ▪ Call
Olive Hyde Art Center and Gallery
Besides the many landscapes and trails, you can also get creative in the Olive Hyde Art Gallery. It's a non-profit center that aims to shine the light on local artists. It showcases the town's history in its exhibits. They're loved by the community and often have extensive selections during their shows. They invest in art education, so they can help other local artists in the area. If you're looking for a bit of art in your trip, this is the place for you.
website: https://olivehydeartguild.org
Directions ▪ Website ▪ Call
Quarry Lakes Regional Recreation Area
Fremont is truly a place for nature as we have another park to visit! This time it's a regional park that used to be the site of a gravel quarry, hence, the name. It's home to a number of lakes, hiking and biking trails, and picnic areas. The Horseshoe and Rainbow lakes are both swimming beaches with a picnic area. While their Willow Slough and Lago Osos lakes don't allow you to dip into the water.
website: https://www.ebparks.org/parks/quarry_lakes/default.htm
Directions ▪ Website ▪ Call
Ardenwood Historic Farm
Here's some more history for you with an 1800s ranch and a Victorian mansion centerpiece. The property is a definite blast from the past. With staff dressed in 1800s clothes, they show you what their work and life were like back in the day. There's also a Victorian garden in the estate, complete with farmyard animals. Once you're done exploring the mansion, you can try their fresh food at the Farmyard Cafe.
website: https://www.ebparks.org/parks/ardenwood/
Directions ▪ Website ▪ Call
Shinn Historical Park and Arboretum
Unlike Fremont's other parks, the Shinn Historical Park and Arboretum are dedicated to giving you a more subdued and relaxed time. It spans over 4 acres with enchanting gardens and a wide variety of plant collections. There is also a "Big House" on the park to visit on scheduled tours with the Mission Peak Heritage Foundation. The Victorian house is a well-preserved farmhouse that has weathered many natural disasters throughout the years.
website: https://www.fremont.gov/325/Historical-Parks-Facilities
Directions ▪ Website ▪ Call
FAQs:
Where to eat
Restaurants in Fremont are often a family affair with affordable food and ample servings. For fresh seafood, you can try Fremont Market Broiler. Afghan-American food is also a must-try. Go for De Afghanan Cuisine or Falafel, etc. Some Asian favorites are New India Bazar, Curry Pizza House, and Din Ding Dumpling House.
Looking for something a little more upscale? Head to Massino's or Papillon.
Where to stay
Some of the recommended places to stay at are Best Western Plus Garden Court Inn, Courtyard Fremont Silicon Valley, or Motel 6. There are also a lot of affordable Airbnb options available here.
Day trips from Fremont
There's so much to see in California, but coming from Fremont, here are some must-see day trips. One is the Yosemite National Park. It's an iconic California destination and is only about a 4-hour drive from Fremont. Silicon Valley is also another must-see. Especially for all the innovation and development this city has given the world.
things to do in fremont, things to do in fremont ca, things to do near fremont ca, fun things to do in fremont ca, places to visit near fremont, beaches near fremont ca, fremont things to do, what to do in fremont, things to do in fremont california