Let's admit, Las Vegas is a huge treasure trove of great eats. It's a foodie paradise, especially for those who love Italian cuisine. The area has everything from pricey fine dining restaurants to charming family-owned establishments and even the hidden gems only known to true Vegas locals. So come along and discover the best places to enjoy a taste of Italy in Sin City. Here are 5 of the best Italian restaurants in Las Vegas.
Esther's Kitchen
In a quaint neighborhood, Esther's Kitchen has become a popular destination for locals seeking delicious, fresh-made pasta.
It's far from the glitz and glamor of restaurants on the Strip with its cozy vibe, but the quality is still high. You need to get a reservation as there is always a line here, and pretty busy during peak hours.
Still, it's one of the best Italian restaurants in Las Vegas and worth the wait!
Favorites include their next level spaghetti, porchetta, Rigatoni carbonara, and Cavatelli.
Menu: Esther's Menu
Top Review: "Esther's Kitchen was sooo good! We went at 9:45pm on a Friday and the place was still very busy. I HIGHLY recommend a reservation. To drink I had the Breakfast in the Nude cocktail to start, which is the mezcal cocktail. I really enjoyed how strong the mezcal flavor was. Not overly sweet either. For appetizers we ordered the sourdough bread with 3 dips (basil ricotta, burrata & anchovy butter), Italian chopped salad, and meatballs. Everything was great but I could not get over how good the bread with dips were. Perfect start to the carb heavy meal. For my main I had the beef cheek agnolotti, which was so freaking amazing. The pasta itself is filled with cheese and had so much flavor. My only complaint was that there wasn't more and maybe less turnips but whatever still beyond good. I honestly can't believe I've been sleeping on Esther's this long." – Alexx R.
1130 S Casino Center Blvd Las Vegas, NV 89104, (702) 570-7864
Ferraro's Ristorante
Serving the Vegas community for 36 years, Ferraro's Ristorante specializes in Southern Italian cuisine.
Many visitors praise their excellent customer service, and it sounds like they really take care of you here. Their food also looks phenomenal, and the location's not too crowded, just a little off the strip.
Their tiramisu, Osso Buco, Pappardelle Mimmo, and Branzino are all excellent choices. Ferraro's easily has some of the best Italian in Las Vegas!
Menu: Ferraro's Menu
Top Review: "Ferraro's Ristorante is a true gem, from the time we walked in were treated like family. Everything we tasted was delicious and special. Shout out to Daniel and the rest of the wait staff for taking such great care of us. We were so impressed with this Italian restaurant and 100% urge anyone to check them out." – Melanie S.
4480 Paradise Rd Las Vegas, NV 89169, (702) 364-5300
Casa di Amore
Casa Di Amore is more than just a restaurant; it's a celebration of the spirit of old Las Vegas. At least that's what the owners say, "Las Vegas, the way it used to be!"
With candlelit tables, giant photo art depicting vintage casinos, and live jazz and standards performances every night, Casa Di Amore is a feast for the senses.
It's an absolutely fun time here, plus they're open until 5 am! Don't miss one of the best Italian restaurants in Las Vegas.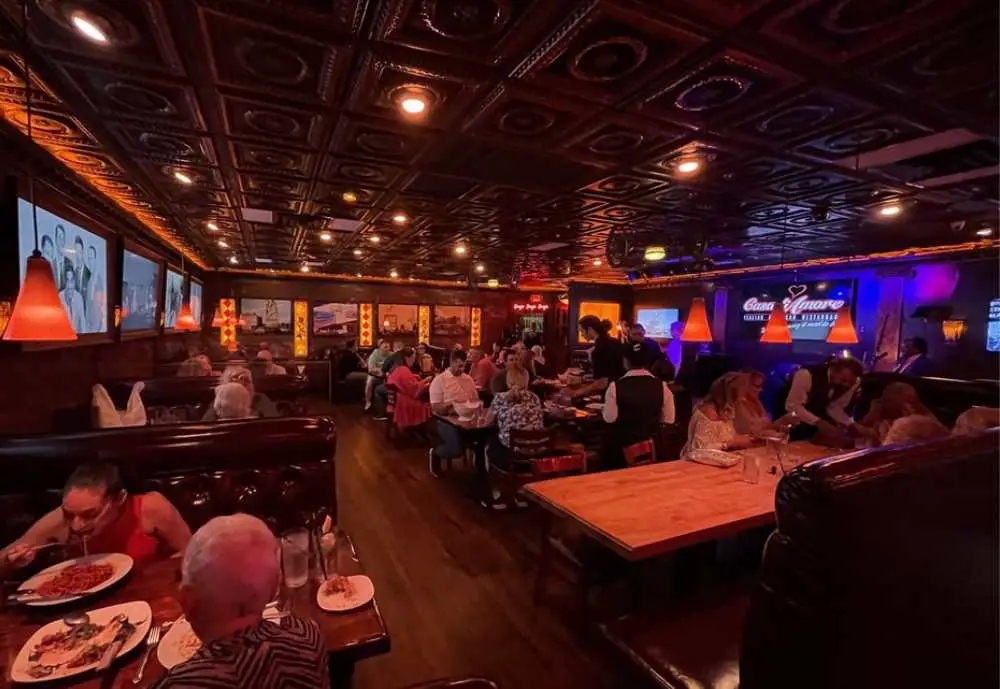 If you need help with your order, you can go for the parmigiana, lasagna, or Cioppino. Their cannoli and garlic loaf are also chef's kiss.
Menu: Casa di Amore Menu
Top Review: "I am Italian and I always find it hard to give reviews on an Italian restaurant.  This is One of my favorite places. It  brings me back in time with the music and atmosphere.  The homemade chicken soup is exactly like I make it!   Food is great! Everyone is so nice and accommodating! The bar is also nice! Great martini's!" – Cara G.
2850 E Tropicana Ave Las Vegas, NV 89121, (702) 433-4967
Sinatra
When it comes to the best Italian restaurant in Las Vegas, Sinatra stands out from the crowd.
Keeping with the vibe of Vegas, this Italian spot is a Frank Sinatra-themed restaurant. And they will really make you feel like the king. From the moment you're seated to the final goodbye, the Sinatra team ensures you have a truly memorable experience.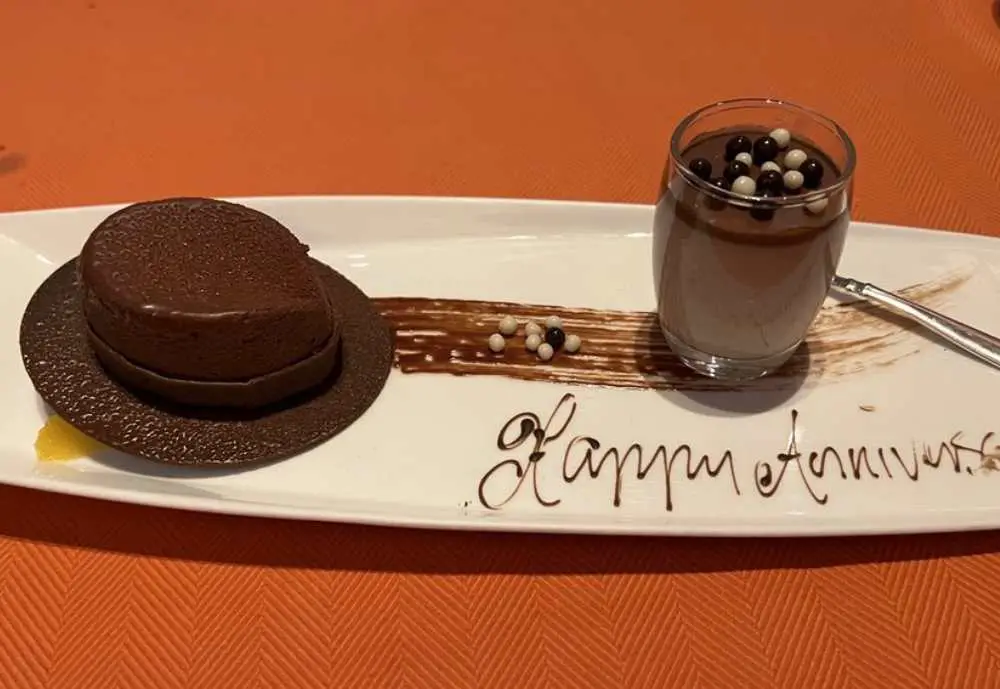 Visitors recommend their veal parmigiana, lobster risotto, and Osso Bucco. The Caesar salad, bread basket, and panna cotta are also special dishes.
Menu: Sinatra Menu
Top Review: "What stands out about this place is not the excellence of the cuisine, though it is indeed all that, arguably the best Italian in Vegas, but the vibe that runs throughout the entire workforce here, from the individual who fills your water glass all the way up to the Chef. They compete. I guess that's the best way to put it. They're on their game; they want you coming back to Sinatra, not another spend Vegas eatery. They really try to make you feel special and that's a feeling you rarely get on the Strip these days. For instance, after my Mom expressed disappointment that the dessert menu didn't include cheesecake, our waiter returned saying the Chef decided to prepare something special for us, two complimentary desserts. The Chef also talked with us for a bit, describing the personalities of Sinatra and Pavarotti whom he cooked for frequently in New York. And it's not like I've ever been there before and I ordered one of the least expensive bottles of wine to boot. So yes, I would highly recommend this establishment. The Osso Bucco was amazing by the way." – Ryan P.
3131 Las Vegas Blvd S Las Vegas, NV 89109, (702) 770-5320
Giada
Owned by celebrity chef Giada De Laurentiis, Giada is a fusion restaurant that marries Italian and Californian flavors.
Inside, it has a lovely ambiance with bright and open space. If you get a seat by the window, you can get a view of the strip.
Giada's most popular dishes are lobster ravioli, lemon spaghetti, and bacon-wrapped dates.
Menu: Giada Menu
Top Review: "Another amazing meal at Giada, and this time we got to meet Giada too! One of my favorite aspects of this restaurant is the feeling you are in Giada's home. Elegant, comfortable, warm and inviting. They were offering a Tasting Menu this evening to enjoy multiple specialties and we added a few additions of our favorites and must haves. The Bacon Wrapped Dates are always a win! Both the Arugula and Romaine Salads are light and flavorful. The Lemon Spaghetti and Lobster Ravioli were fabulous and not heavy. The Tiramisu for Two is quite a show and heavenly. Service was attentive with regular check ins and water was always refilled promptly. Thank you for another delicious, wonderful evening!" – Heather D.
3595 S Las Vegas Blvd Las Vegas, NV 89109, (702) 777-3799
From the elegant dining rooms of Carbone and Matteo's at the Venetian to the cozy neighborhood spot of Esther's Kitchen, there's something for everyone. Indulge in fresh pasta, savory osso bucco, creamy risotto, or crispy pizza, the Las Vegas Valley has it all. So next time you're looking for a delicious Italian meal, be sure to try some of the best Italian restaurants in Las Vegas.
You might also like drooling over these articles:
best italian in las vegas, las vegas italian, italian las vegas, best italian vegas, best italian las vegas