Corpus Christi is one of Texas' unique destinations since it's by the Gulf Coast. It's even dubbed as the "Gulf Coast Capital" because of its stretch of shoreline and beaches.
The city is also a must-see tourist destination for conservation areas and wildlife.
Spend some time in the sun, explore life underwater, and more outdoor adventures only here in Corpus Christi!
Where is Corpus Christi?
Corpus Christi is a city in South Texas primarily known for its beaches. It's 140 miles from San Antonio, a two-hour drive away.
To Austin, it's 220 miles for about three hours. To Houston, it's 211 miles and three hours and a half.
For most neighboring cities, a trip to the town is just a road trip down the Gulf Coast. But for others, you'd have to fly in.
They have the Corpus Christi International Airport, 6 miles from the city proper.
Now that you know how to get here, let's dive right into what exactly you're going to do with your time.
Down here, there is so much to choose from. So we've made this list for the 15 things you can't miss in Corpus Christi!
Texas State Aquarium
If you don't have the time to dive deep into the ocean to see marine life, you can do it here at Texas State Aquarium.
The aquarium is a vast place with many exhibits to choose from. The most popular of which is Dolphin Bay.
Just imagine a 400,000-gallon display with bottlenose dolphins and an underwater observation area. Sounds exciting?
Head on over to the aquarium to see more!
USS Lexington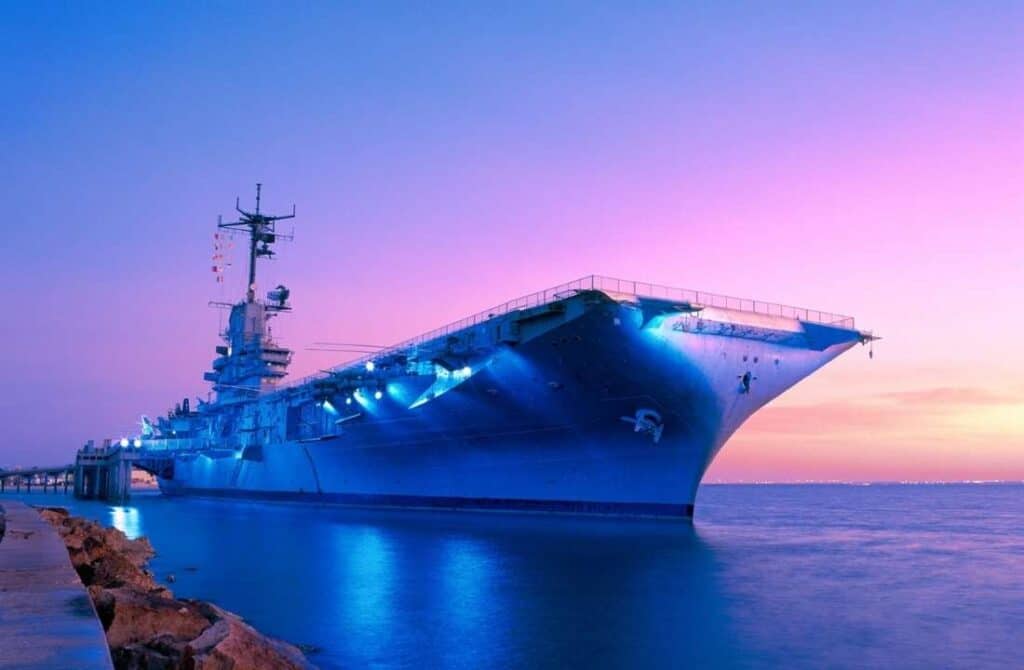 This World War II ship turned naval museum is a definite must-visit in Corpus Christi. The USS Lexington was a big part of the WWII efforts as an aircraft carrier.
This huge ship offers several tours.
You can keep it simple with a tour of the vintage equipment, visit the quarters, and see exhibits.
There's also a Hard Hat Tour that lasts for four hours but is a very detailed tour of the ship's bowels.
Another unique experience is a chance to camp overnight on the ship.
North Beach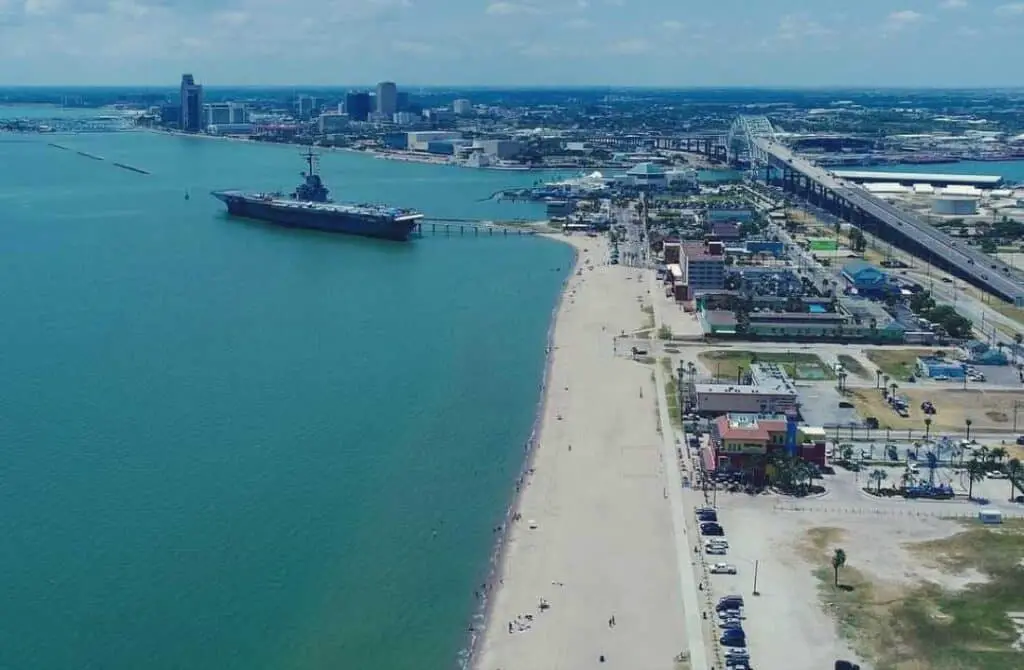 North Beach is one of the more popular beaches in Corpus Christi. Why? Because here, you'll find two of the best attractions in the city: the USS Lexington Museum and the Texas State Aquarium.
So after exploring history and getting up close with marine life, you can head to the beach to soak in the sun.
Other than that, the North Beach also has the Fajitaville On the Beach. It's an entertainment and dining complex, but what's unique about it is their Ferris wheel.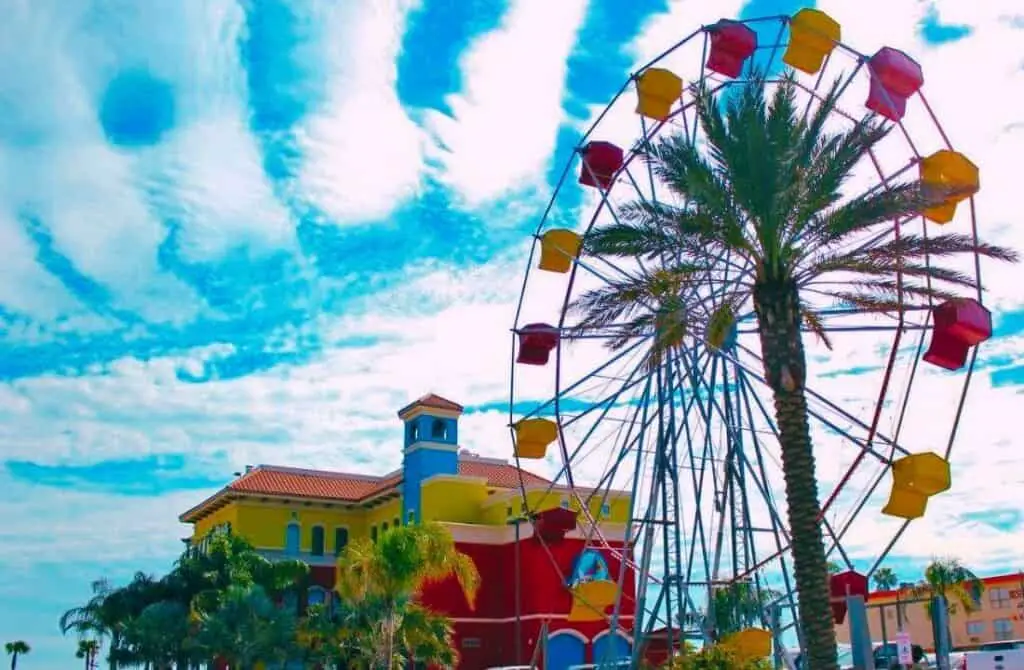 They have the only beachside Ferris wheel around and up top offers stunning views of the surrounding areas.
Padre Island National Seashore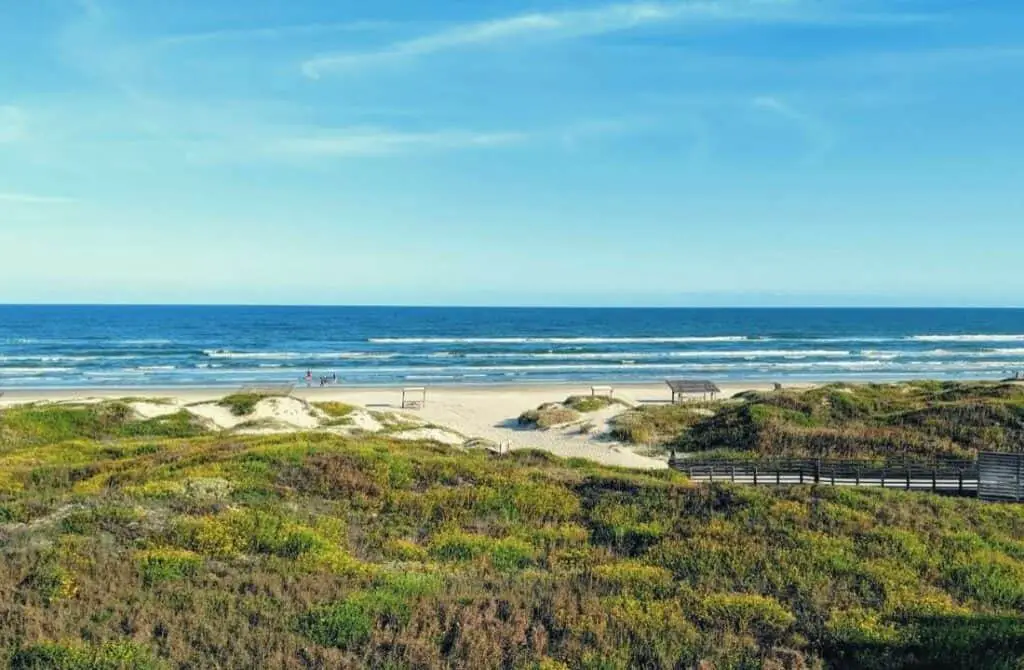 Padre Island is one of the precious islands on the Gulf Coast. It's undeveloped and well conserved. The 70-mile island is located south of Corpus Christi and is a home for migrating birds.
About 350 species of birds can be observed here through the year as the island is part of a significant migratory bird route.
You have a long stretch of beach on land where you can set up camp or visit the Malaquite Visitor Center. Underwater, you'll also see a diverse marine life teeming with endangered species.
The island is the longest undeveloped barrier island globally, so please be a respectful tourist when visiting.
Mustang Island State Park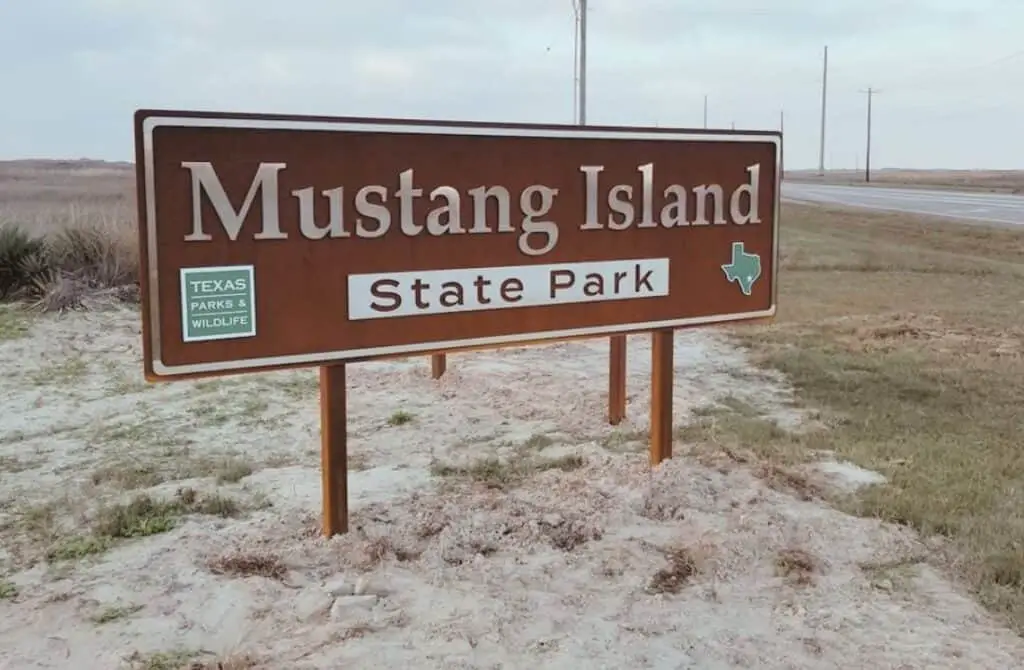 Mustang Island is a long stretch of beach with so much to do, one of which is Mustang Island State Park. There is so much wildlife to find here in Mustang Island.
Of course, the birds are still a spectacular highlight of the sky, but there is also an abundance of sea turtles on the island.
This place is one of the last breeding grounds for the sea turtles that live here. Visit during April to July to watch sea turtles hatching and coming back to the ocean!
Other things you can do here include paddle boarding, camping, and just relaxing on the beach.
South Texas Botanical Garden and Nature Center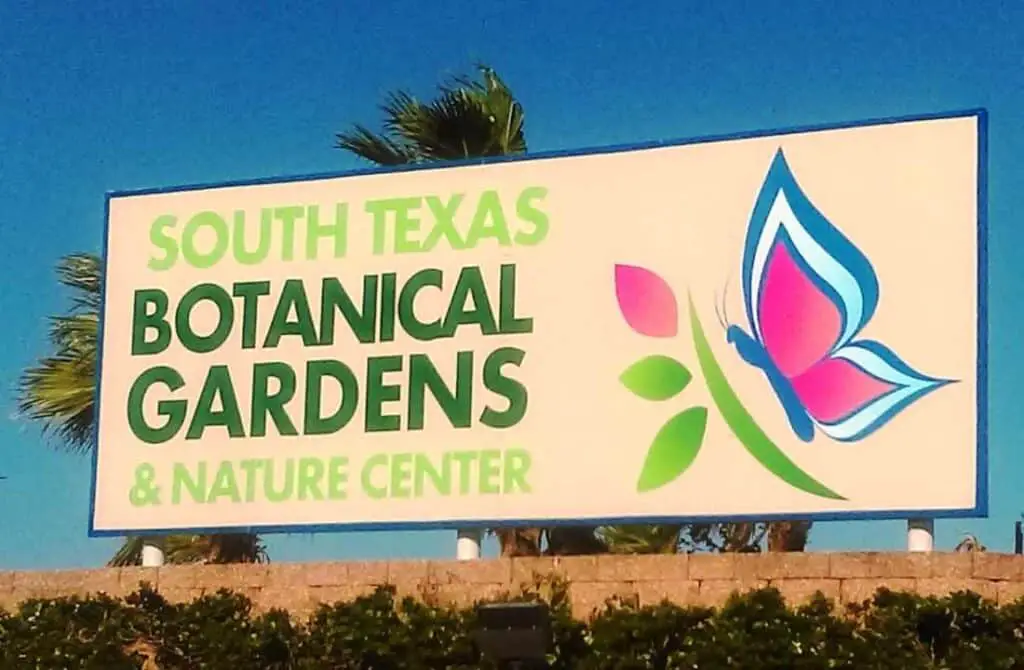 Aside from the beaches, the birds, and the wildlife, the city is also famous for its flora and fauna.
You'll see the best of the best here in the nature center and top-rated gardens like their Orchid House.
These 180 acres also consist of walking trails where you can see for yourself the many greenery that's in the center.
link: http://stxbot.org
Selena Museum
Dedicated to Selena Quintanilla-Pérez, the museum includes anything and everything about her. She was a beloved Corpus Christi local and was the Queen of Tejano music.
In her short life, she's inspired many of the people here so much so that she even has a life-size statue by the seawall.
You'll find artifacts like her costumes, personal items, and learn more about her life in the museum.
The Art Museum of South Texas
For culture and the arts, The Art Museum of South Texas is an excellent go-to. The artworks are centered around the area's culture and heritage.
Their permanent exhibits range from paintings, sculptures, installation pieces, and primarily artworks on paper.
It also has a focus on educating people on the visual arts. They offer programs for both kids and adults of all experience levels.
Corpus Christi Museum of Science and History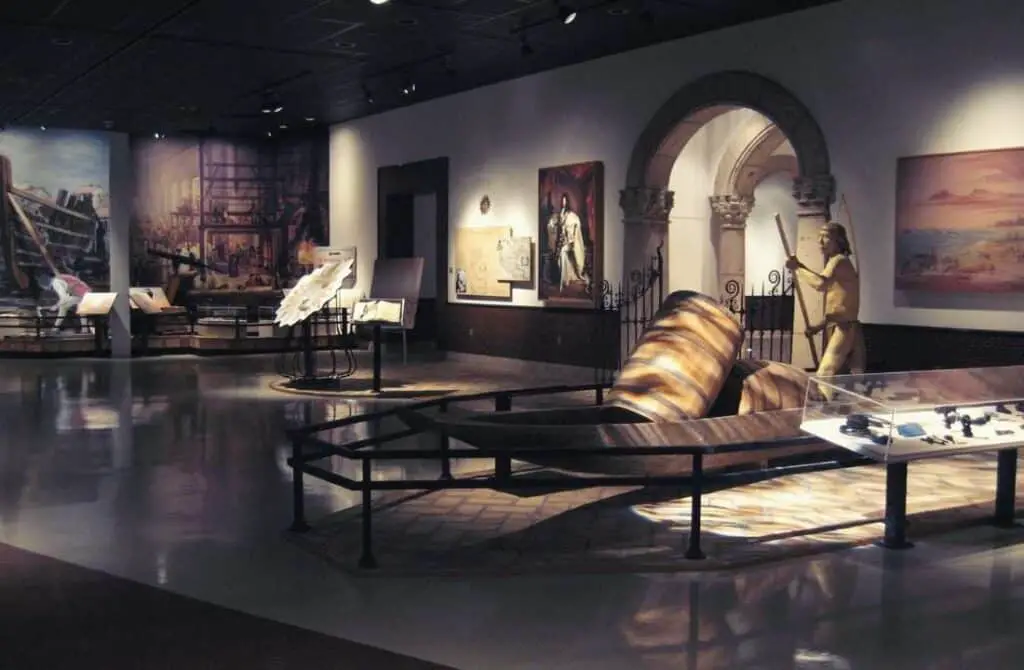 Science and history get the spotlight in this museum. The collections are mostly geared towards interactive learning for children, but there's something for everyone.
Their exhibits contain hundreds of artifacts on prehistoric wildlife (think Megalodon), the early settlers in Corpus Christi, and displays of shipwreck cargo.
There is also an interactive play area for kids called the H-E-B Science Center.
Visit: Corpus Christi Museum of Science and History
Texas Surf Museum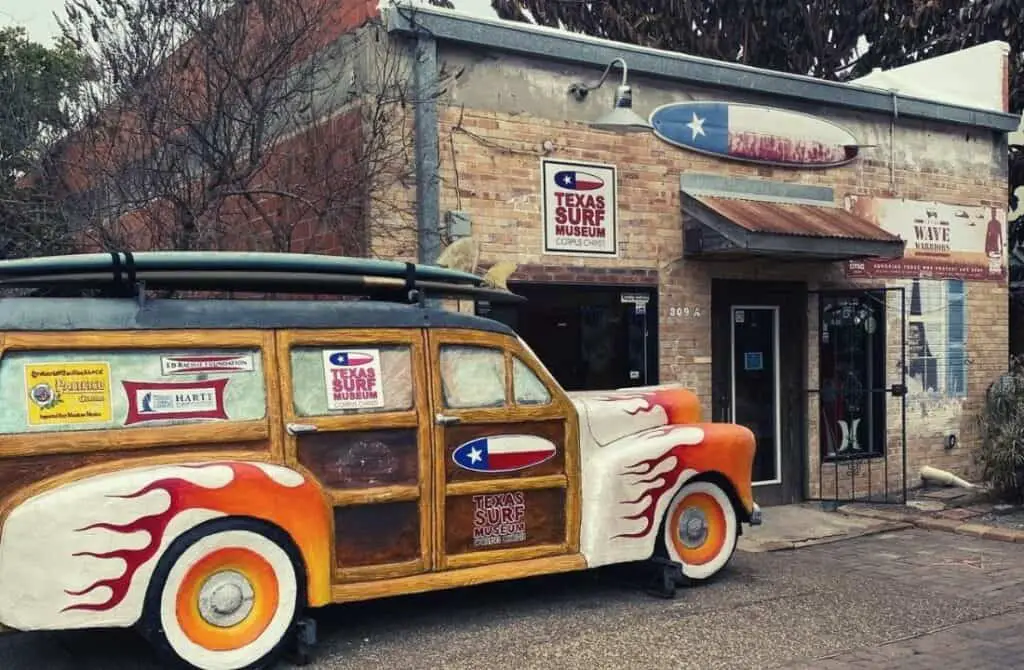 Another museum to put on your itinerary is Texas Surf Museum. Texas may be known for cowboys and the old West, but it's all about the water in this region.
The museum details the history of surfing in the area and displays many surfing artifacts.
Their exhibits cycle through themes like surfing as a sport, marine life, among others.
You can also see a film on their projection theater or chill out in their benches made out of surfboards.
Bob Hall Pier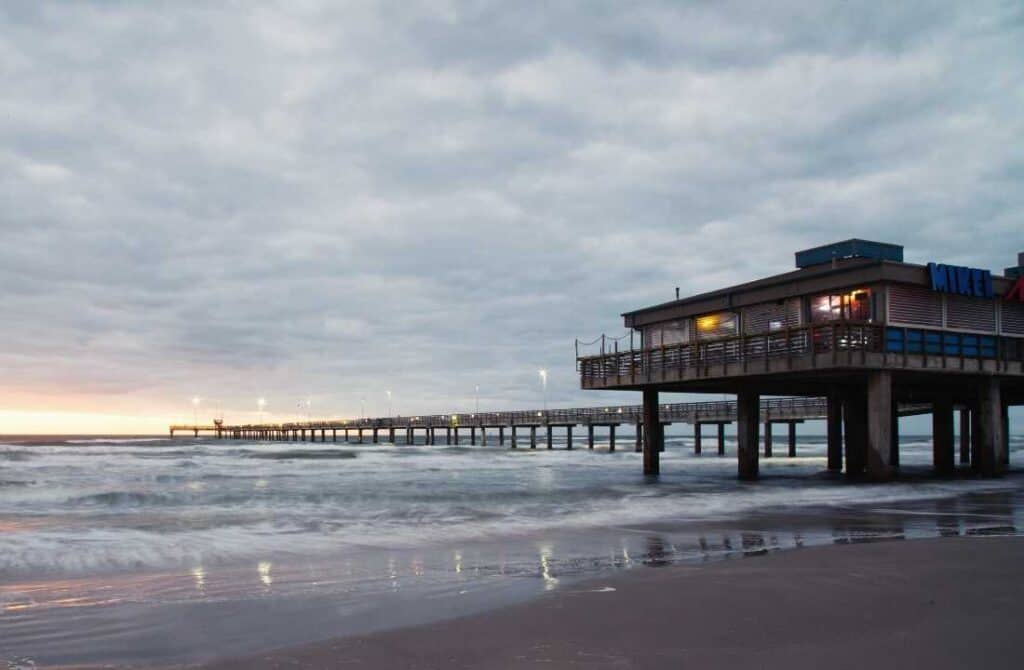 The Bob Hall Pier is perfect for anglers. The pier is long enough that it reaches deep ocean water.
From its location at Padre Balli Park in Padre Island, the dock goes up to 1,240 feet into the Gulf.
It's an excellent opportunity for anglers to catch deep-water fish with minimal hassle. And it can also be a good time for tourists who just want to see the views.
Corpus Christi Bay Trail
The Bay Trail is a stretch of nine miles for hiking or biking. This is recommended because of all the things you can do on the way.
It passes many attractions like the Museum of Science and History and Art Museum of South Texas. It's also a great trail for being surrounded by nature. 
You'll get to pass and detour to six parks, multiple birdwatching hot spots, and even the marina. It can be a good start or end to your day.
Water Sports
With so much ocean at your disposal, you'll have a lot of options for water sports.
Whether you're new to water sports or a seasoned veteran, here are some of the things you can do.
Surfing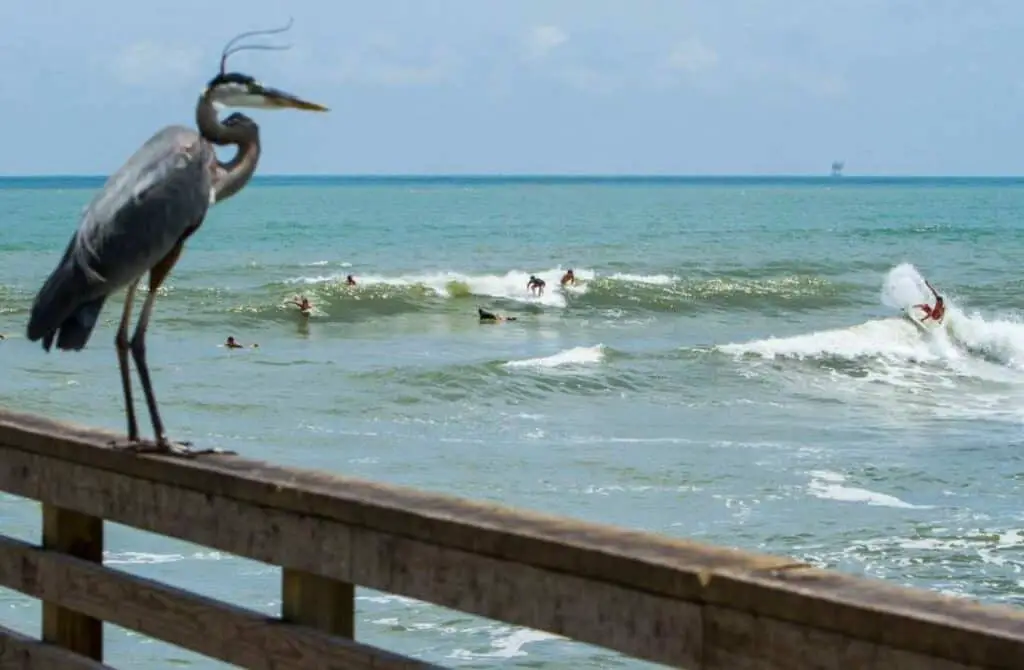 Surfing is a must in any city by the beach, and Corpus Christi is no exception.
Wind & Wave Watersports have more than 150 selections of surfboards for you to choose from. So rent one and head out to the ocean.
You can also try windsurfing if that's more your style.
Kayaking
This activity is more relaxed, so anyone can try this. Kayaking can be a fun way to see nature and be lulled by the water underneath you.
There are guided group tours or lessons you can go for. Coastal Bend Kayaking is a nice option for classes and rentals.
Water Yoga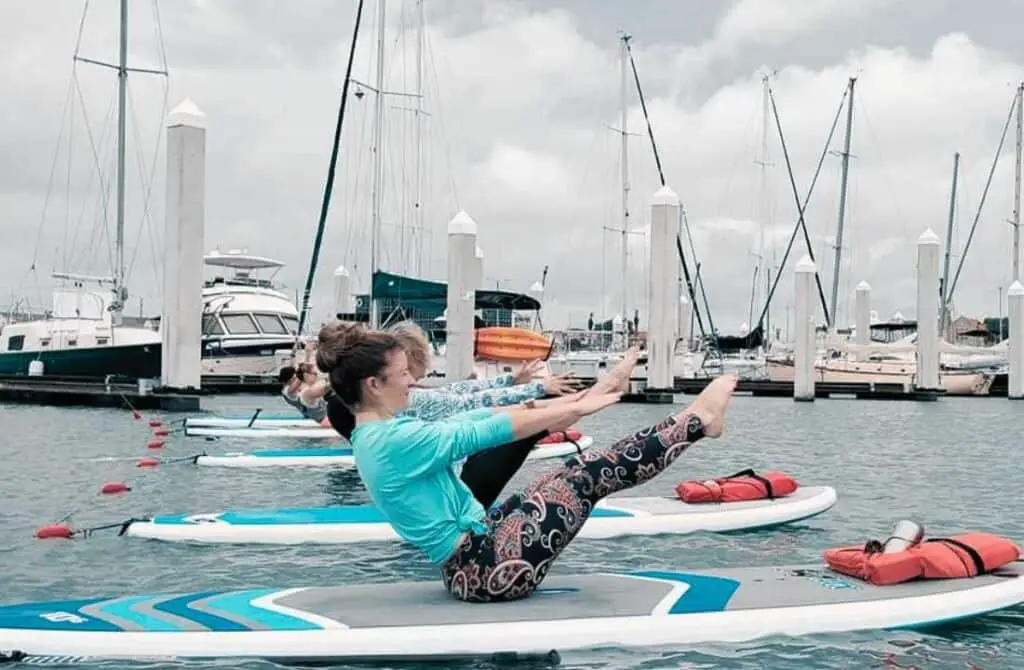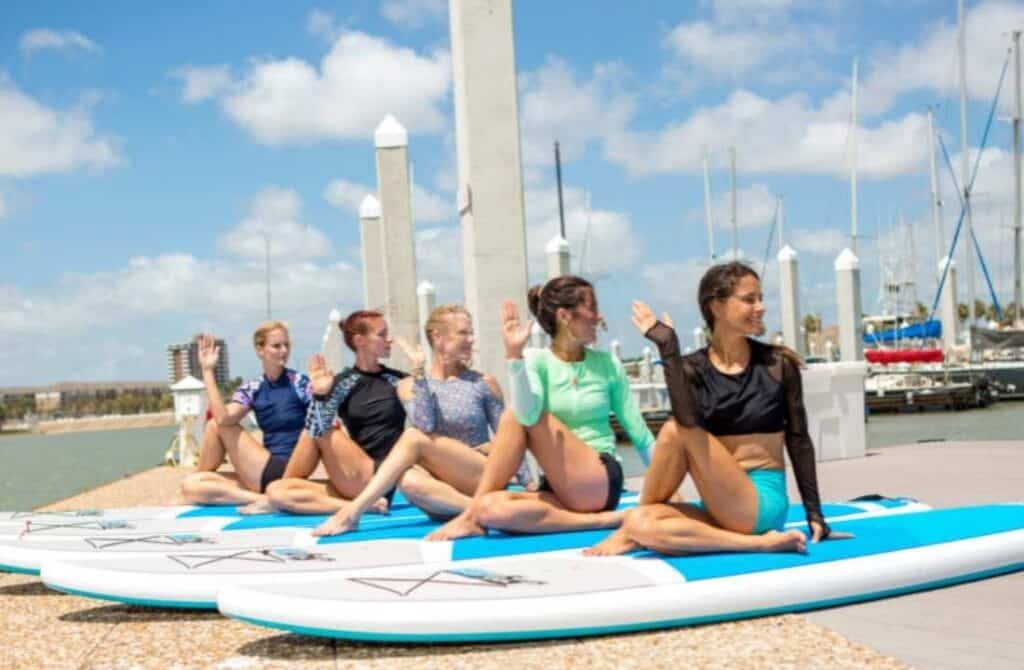 Is yoga hard enough for you already? Why not take it up a notch with water yoga! If anything, this is going to be such a unique experience.
Water Dog Floating Yoga operates in the Corpus Christi Marina and is the first of its kind.
You can try doing yoga on their houseboat or right out there on the water on a paddleboard.
Kiteboarding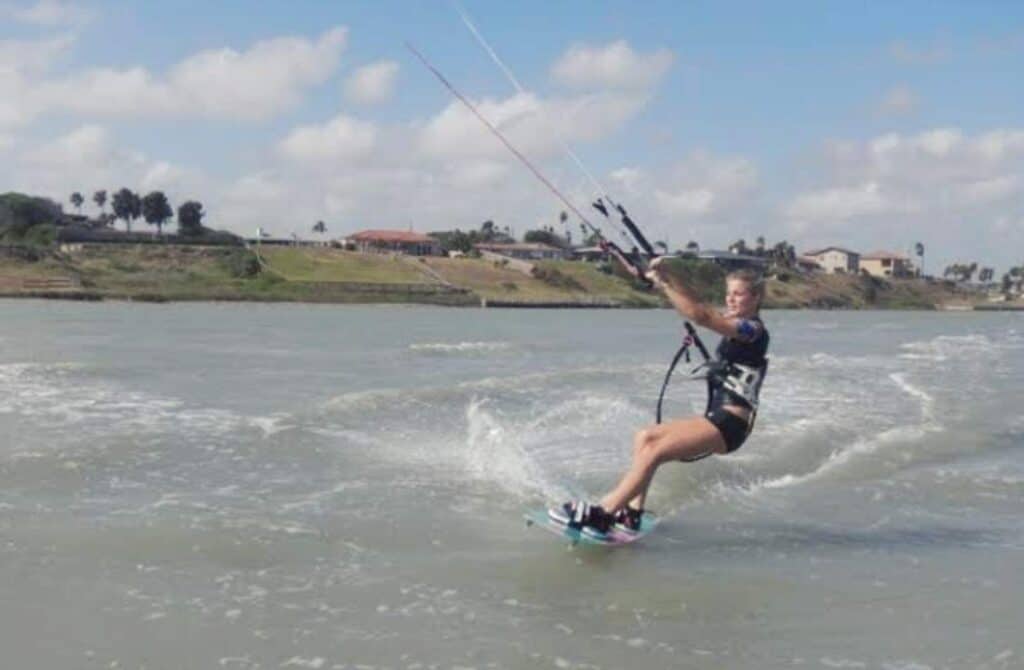 Kiteboarding is not that popular but an enjoyable thing to try.
It's both a water and wind sport, and you can take an easy beginner's lesson with 361KITE.
Funtrackers Amusement Park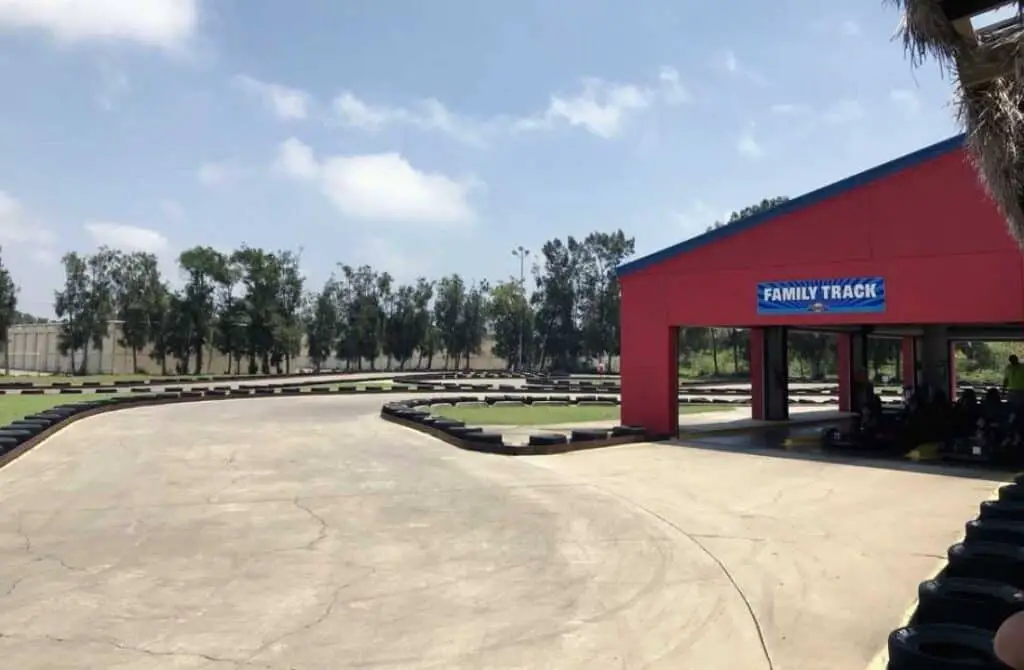 Let's do something different and go have some family fun at In the Game Funtrackers. This amusement park is filled with many entertainments for the whole family.
They have a miniature golf course, bumper boats, go-karts, and an arcade!
There is a range of kid-friendly rides, but also a ton for the adrenaline junkies. Check out the ropes course, ax throwing, or laser maze.
FAQs:
Where to eat?
Some top picks from locals are Andy's Kitchen, Doc's Seafood & Steak, and Snoopy's Pier.
A good cafe with good food is Hester's Cafe & Coffee Bar. For something romantic and a little high-end, go to Republic of Texas Bar & Grill.
Where to stay
You'll have many options for beachside resorts, camping, and other rentals.
But here are some hotel recommendations: Omni Corpus Christi Hotel, Comfort Suites, or Best Western Corpus Christi.
Day trips from Corpus Christi
The fun doesn't stop in Corpus Christi! Head to these nearby destinations for fun weekend getaways or day trips!
Rio Grande Valley is a favorite go-to day trip for Corpus Christi. It's near the Mexico border and is 198 miles from the city.
The Great Texas Coastal Birding Trail is a good day trip itinerary if you're a bird watcher. It passes by the cities of Fulton and Rockport.
Fulton is only 35 miles away and less than an hour's drive. Rockport is 33 miles away and about a 40-minute drive.
You might also enjoy:
places to visit in corpus christi, things to do in corpus christi, fun things to do in corpus christi, corpus christi landmarks