Austin is more than just the Live Music Capital of the World. There are so many unique and fascinating things that make the culture and community of Austin worth visiting.
It's time to be an extrovert, step outside, and experience something new!
What to know about Austin, Texas
There's always a new surprise here in Austin. And whether it's their unbelievable bat colony or learning the Texas two-step dance, the city will welcome you with open arms.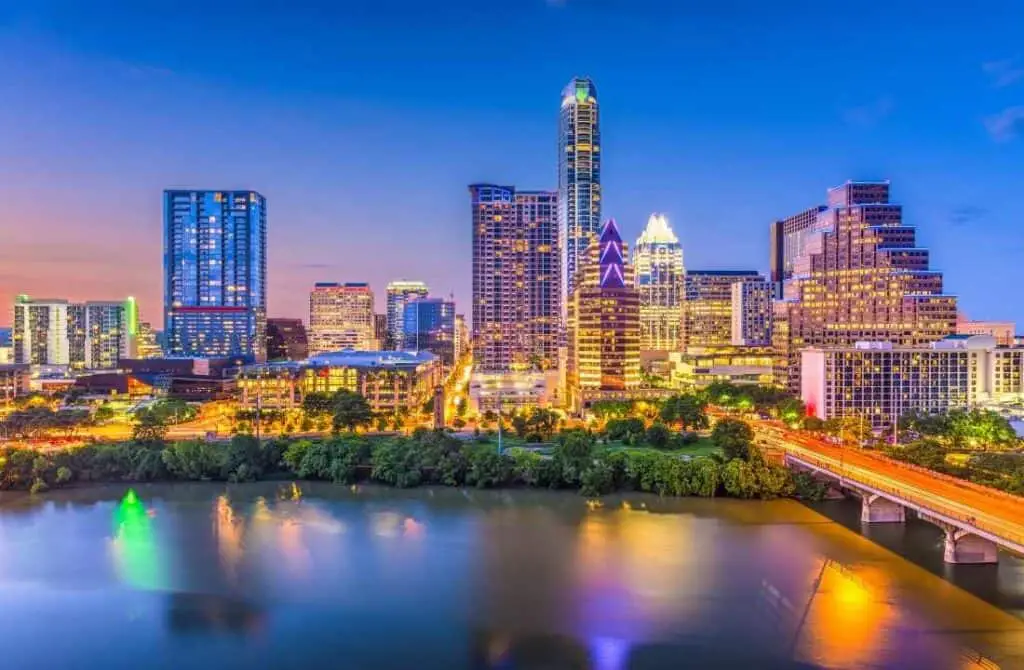 First off, it's the capital city of Texas. It's also where the capitol building is. It's mainly known for its music scene and being the Live Music Capital of the World.
It has a bustling nightlife and art scene, but also full of green spaces in nature.
Their domestic airport, Austin-Bergstrom International Airport (AUS), is just a 15-minute drive to downtown Austin.
to San Antonio: 80 miles and an hour and a half drive
to Fredericksburg: 80 miles and an hour and a half drive
to Houston: 165 miles and 2 hours and a 35-minute drive
to Dallas: 195 miles and about a 3-hour drive
to Fort Worth: 190 miles and about a 3-hour drive
Wondering how to pack all this in one day? We've made this list of the things you shouldn't miss when in Austin.
Separated into different categories, you can pick and choose which ones you'd like to explore!
Texas Capitol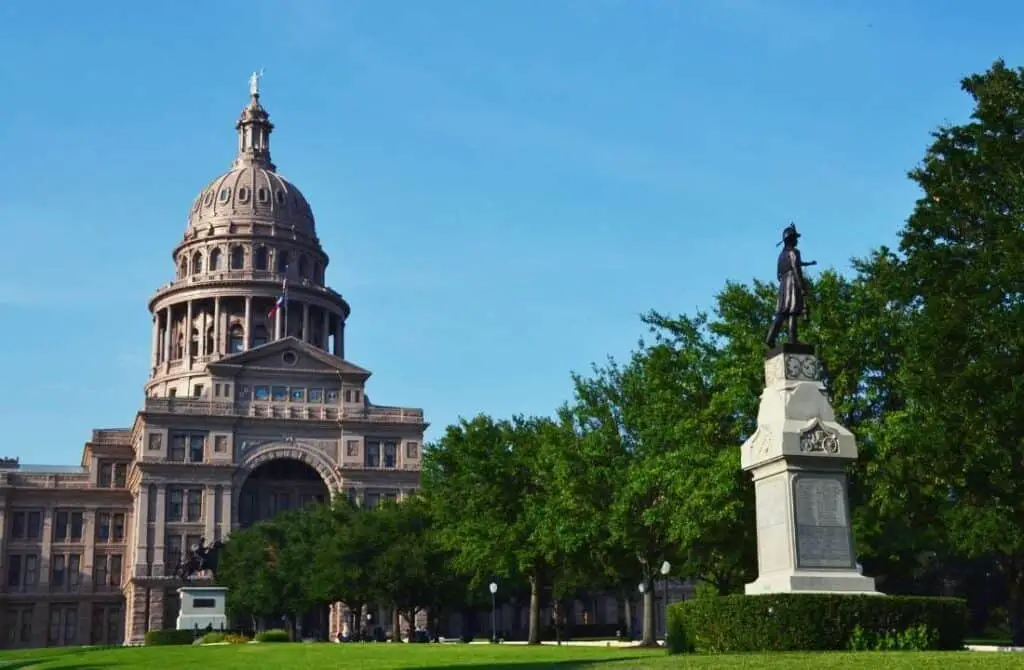 Everybody would say to visit the state capitol and for a good reason. The impressive building is three-story high, red in color, and is the largest capitol building in the country.
The architecture and design are stunning and elegant and have all these clever little details that complete the whole thing.
Even better, a visit here won't take up much of your time. Their guided tours last for only 30 minutes and free of charge.
But if you want to spend a little more time learning about Texas history, you can take a self-guided tour.
Roam around the 22 acres of Capitol grounds, visit the exhibits in the Visitor's Center, or grab a bite at Capitol Grill.
Bullock Texas State History Museum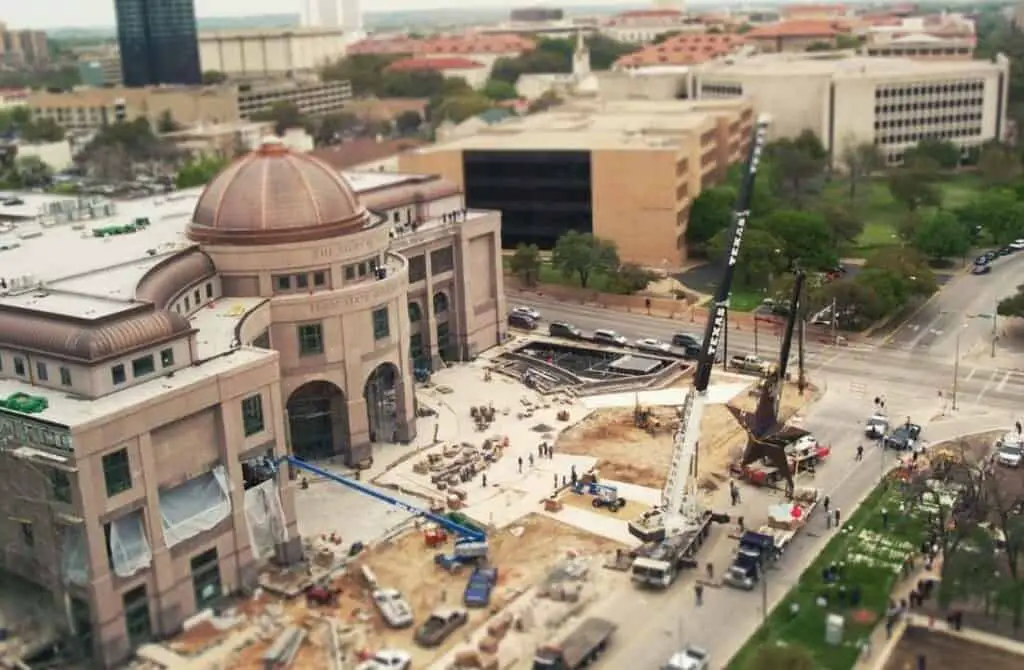 The Texas Capitol building was only a portion of Texas' history.
Just a block away from the Capitol, Bullock Texas State History Museum is also a three-story building that details the unique story of the state's past.
Each floor has a different section of history tackled. The first floor talks about the land, colonization, and the early settlers.
The second floor contains details on what made Texas what it is today. The third floor is now all about the modern era and the state.
Other things you can explore are the Texas Spirit Theater and the Story of Texas Cafe.
Lady Bird Lake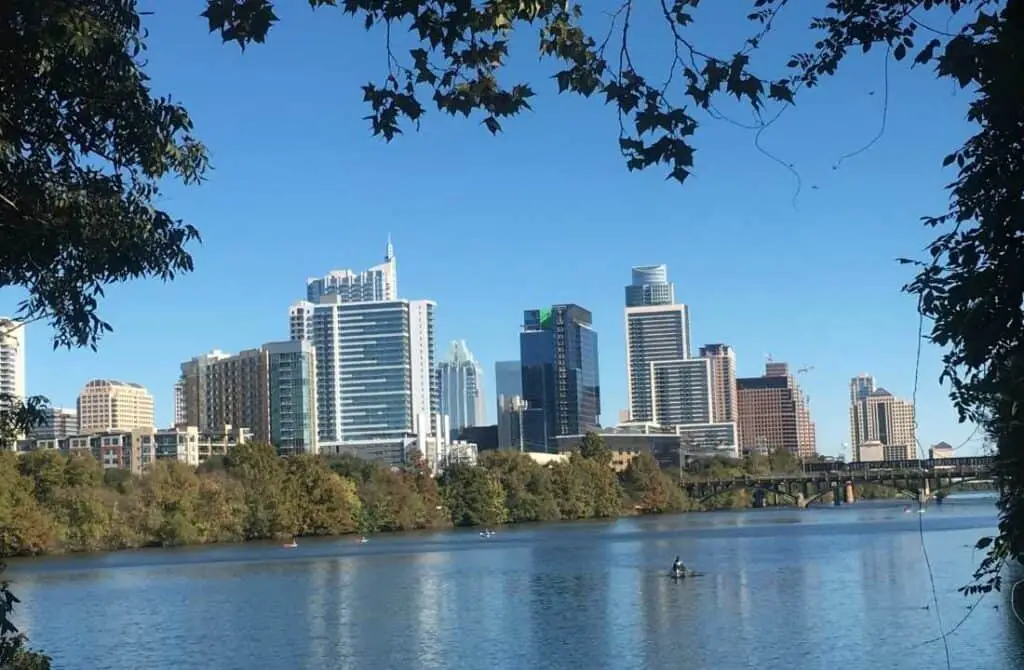 The number one thing to do in the Austin outdoors is to paddleboard, canoe, or kayak on Lady Bird Lake.
The lake is a tourist magnet, but you can get in the lake day or night. Night paddleboarding is perfect during bat season on South Congress Bridge.
Paddleboarding during the day will give you glimpses of birds, fish, and wildlife. The sunset from the lake is also pretty nice, so you might wanna wait for that.
This experience is a perfect way to see the city and still be surrounded by nature and wildlife. 
There's also a hike-and-bike trail that goes around the lake if you'd prefer that.
Zilker Park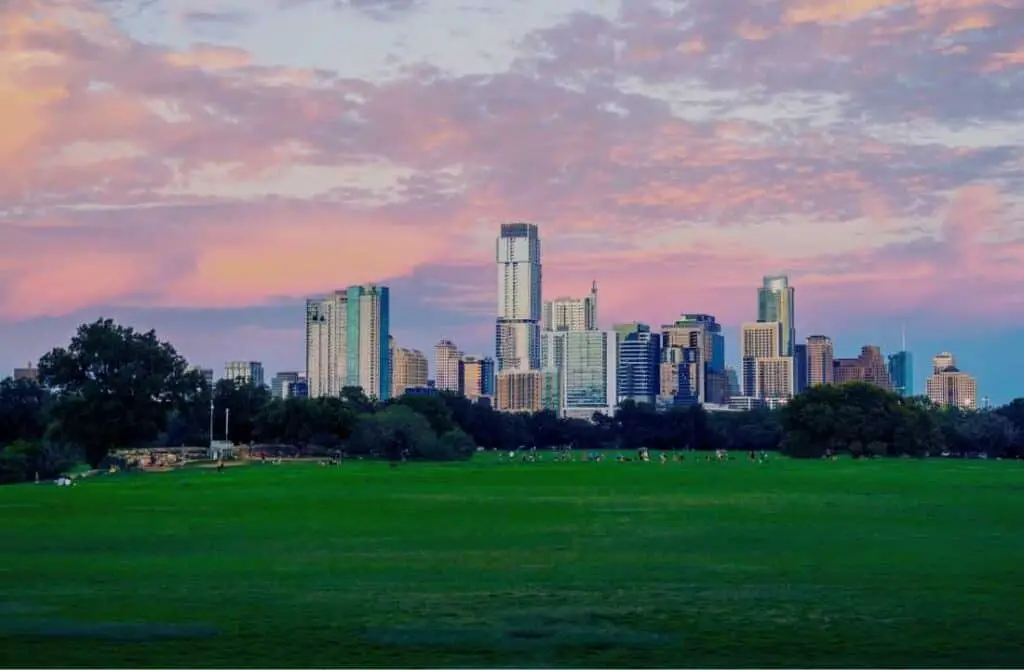 On land, Zilker Park is the best outdoor attraction. And it makes sense when you see its spring-fed swimming pool, sculpture garden, paddleboarding, and not to mention the view from the park.
The park encompasses a wide area, and there are so many things to do.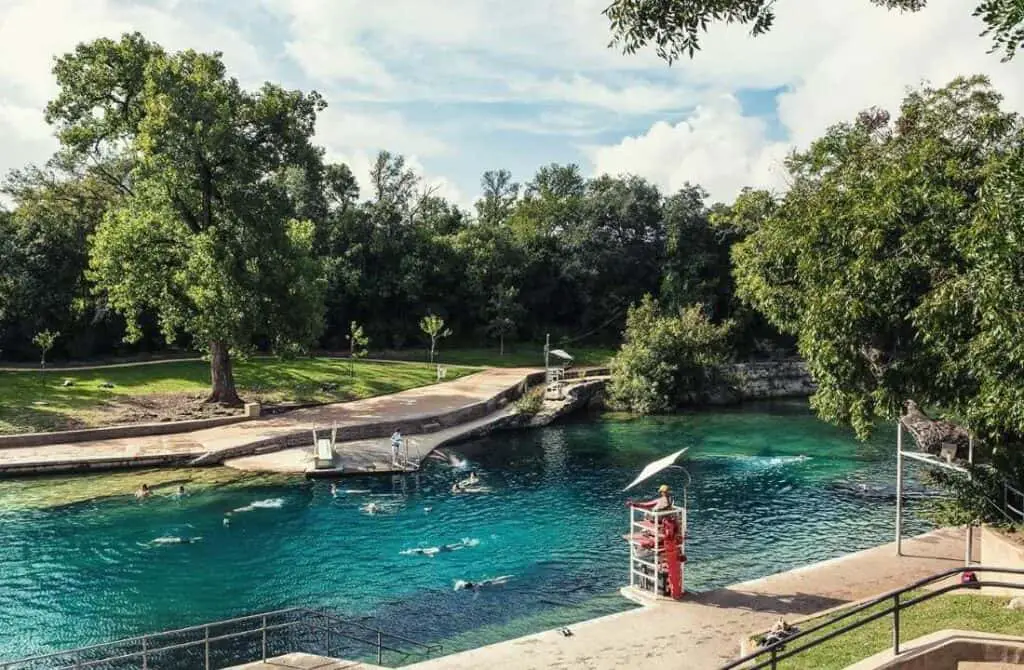 If the lake made you want to take a dip, the Zilker Park houses the Barton Springs Municipal Pool, where the massive natural swimming pool is.
It's also the venue for many live music venues.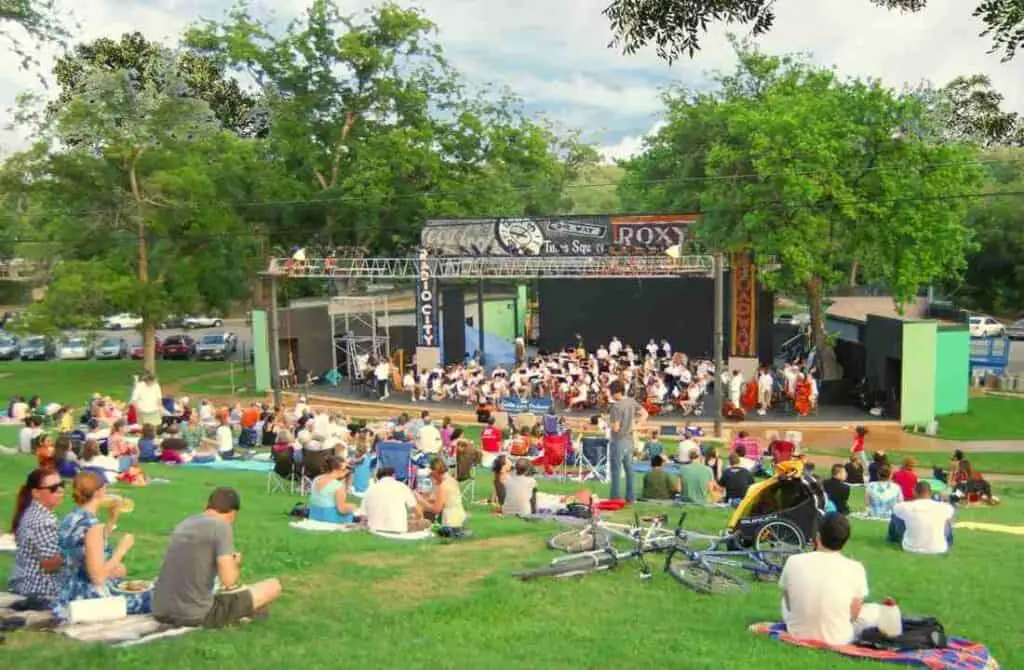 They also have a few choices for gardens. Their botanical garden features a Japanese garden, herb garden, and a popular prehistoric garden. (If you connected prehistoric with fossilized dinosaur tracks, then you would be right).
There's also the Umlauf sculpture garden, a quiet escape to nature and an outdoor museum.
These are just the highlights. Visit the park to see what else is in store!
Barton Springs Municipal Pool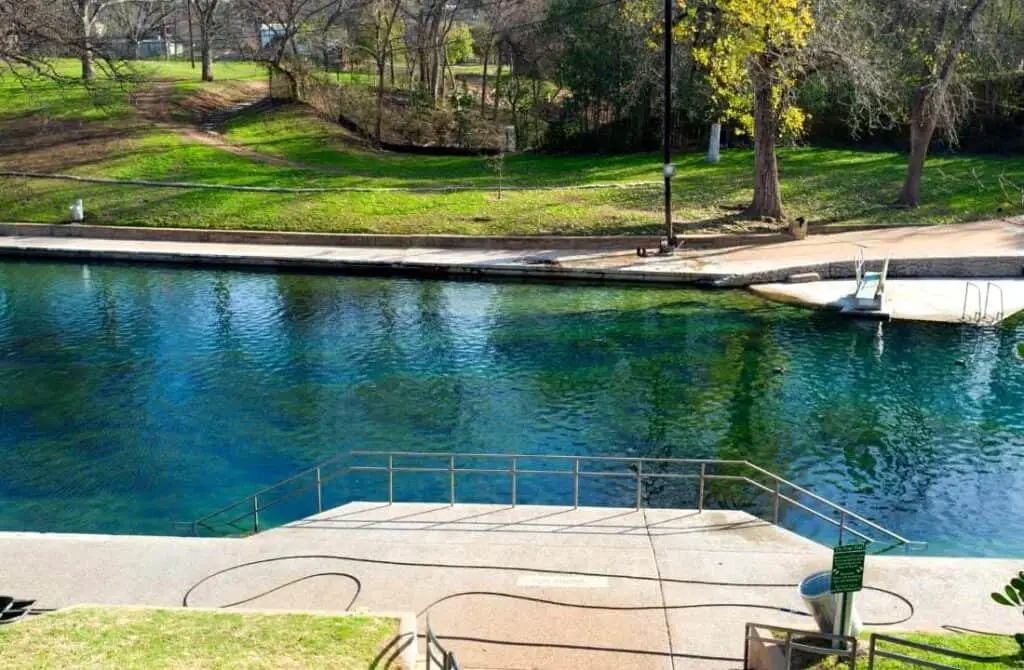 Barton Springs is a local favorite. It's not only inside Zilker Park; it's also conveniently in the city, where you can go anytime you want to beat the heat.
The pool is fairly large and is a natural spring-fed pool. It's got a diving board and is big enough that you won't have to squeeze in the crowd.
It's also surrounded by nature and lots of areas to lounge about or put down a picnic blanket.
Mount Bonnell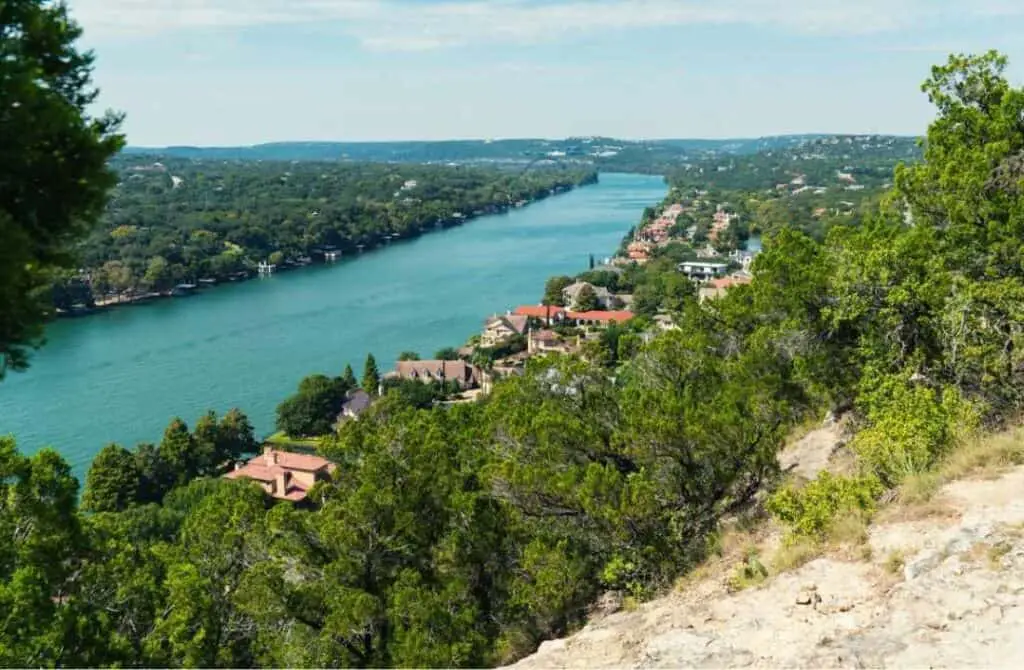 If you're looking for a true escape from the city, Mount Bonnell is the best place to do it. Why? Well, it's only the highest point in the city at 775 feet up!
The scenery is remarkable, with an overlooking view of downtown.
You can get here through Covert Park with two options for hiking the trail. There are stairs to the top, but it's 102 steps.
The other path isn't paved and may be more challenging for some. Though many previous visitors say that the hike isn't all that bad.
Up top, there is a view deck where you can take some pictures. There's also a pavilion and areas where you can do a picnic before going back down.
South Congress Bridge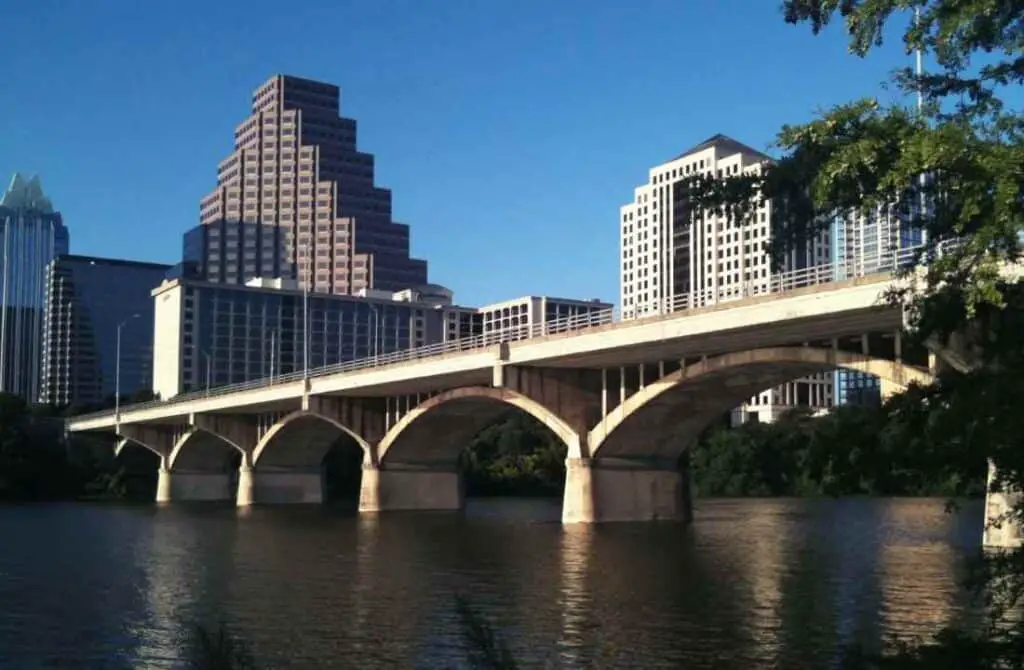 You might think it's a little intimidating to see hundreds of bats fly up the sky. Still, it's actually a pretty exciting event for your evening.
South Congress Bridge is known for watching bats take flight from April to October. There are actually close to 1.5 million bats that call the bridge home and fly out at sunset.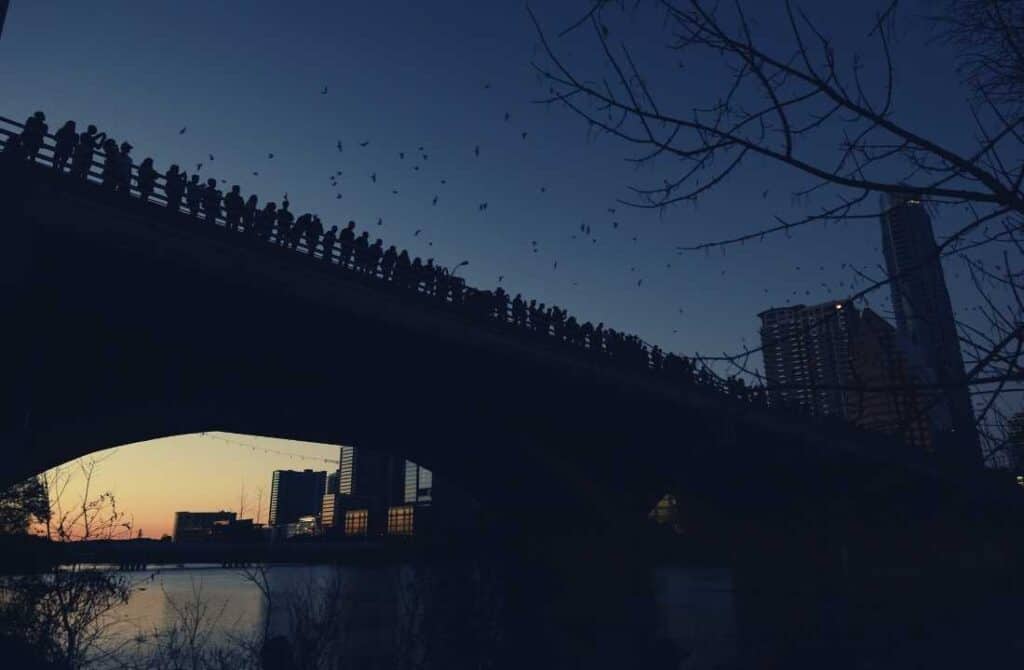 The Austin Bat Refuge gives you detailed advice on the best time and spot on the bridge to see the bats.
Don't forget to check it out before heading to the bridge to get the full experience!
Lady Bird Johnson Wildflower Center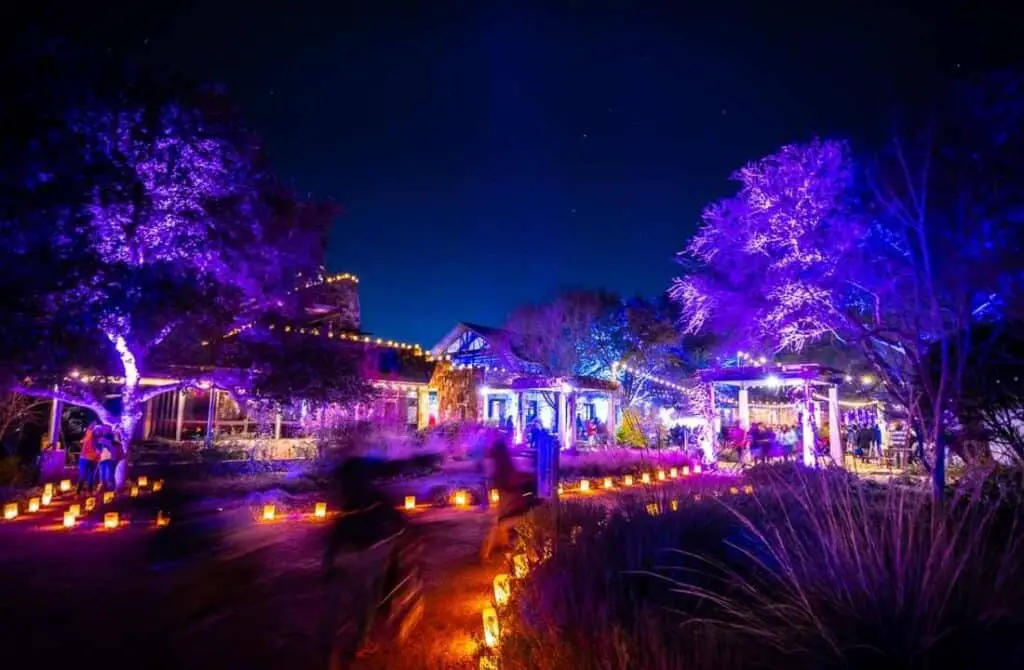 If you're a fan of flora, you're going to have the best time at the state's Botanic Garden.
Opened by the former first lady, Lady Bird Johnson, the center manages gardens, arboretums, and natural areas.
Their plant and wildflower collection are often native plants of the area. The plants are cared for in unique houses such as the open-air Pollinator Habitat Garden.
The Texas Arboretum is also full of native Texas trees, with designated picnic areas available. For the families, there is a Family Garden that's best for the kids.
Go on one of their walking trails to see a view of the Hill Country.
Iconic Music Venues
You cannot leave Austin without seeing what the Live Music Capital has to offer. There are over 250 live music venues in the city, and whatever your music taste is, there's definitely something for you.
You can also pick and choose depending on your mood. Feeling like you want an intimate live music setting? You want to move your hips to the beat on the dance floor?
Or you want something big and bold and bright with a huge concert show? Your wish is Austin's command.
Iconic music venues to check out include The Saxon Pub, Hotel Vegas, The Continental Club, and The Elephant Room.
For concerts and headliners, see Antone's, Parish, or Austin City Limits (ACL) Live at The Moody Theater.
Bar Hopping
Austin also has a nightlife that will make you feel young again. Aside from the music, the nights are also filled with alcohol.
Most of these are loaded with college students, but there are still some experiences worth trying if you're up for it.
One of the iconic and historical places to grab a drink is the Driskill Bar. Some of the best bars to try are Banger's Sausage House & Beer Garden, Half Step, The White Horse, and Whisler's.
Other cool places to explore are Sixth Street and Rainey Street.
Local Craft Breweries
Austin — and honestly the whole Hill Country — is known for their excellent beer and good wine.
There are so many worthy wineries and vineyards in Hill Country, but we're looking at local craft breweries for now.
They take their craft seriously here, and this could be a nice time to take a tour and taste test some craft beer.
Breweries we'd suggest are Austin Beer Garden Brewing Company, Live Oak Brewing Company, Austin Beerworks, and Hops & Grain Brewing.
Texas Two-Step Dance
Put on your cowboy boots because it's time to learn the Texas Two-Step dance. The Two-Step is part of the Texas culture and country music.
It could be a fun experience to learn how to do it. Not to mention, it's something you can show off to everyone else back home.
There's the Broken Spoke for lessons on the Two-Step. There's also a "Tourist Trap Room," a.k.a. their memorabilia room in the dancing hall.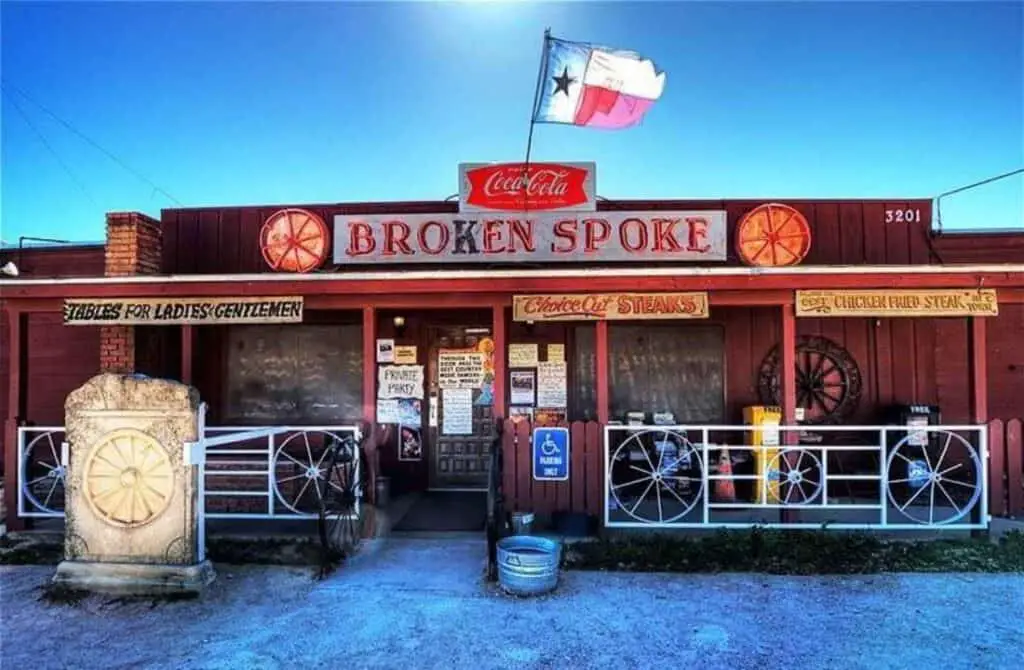 You can even put what you've learned to the test by dancing the Two-Step in bars like The White Horse.
Blanton Museum of Art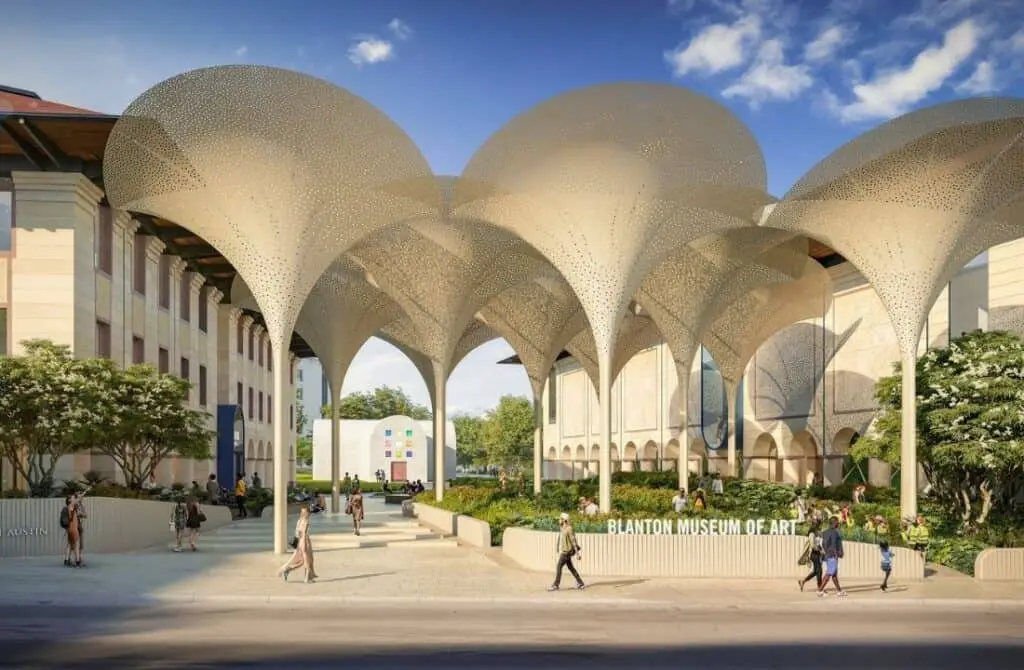 The art scene is also thriving here in the city. The Blanton Museum of Art alone has about 18,000 artworks in its collection. It's a good mix of different categories and themes.
Their permanent collection includes European paintings, Greek pottery, mixed media works, and even sculptures. It'll take you the whole day to see everything in the galleries!
Uncommon Objects
Shopping is fun here at Uncommon Objects. Find hidden gems and nostalgic pieces in this antique thrift store in the city.
It's been described as "your eccentric uncle's attic on steroids." It's only as "eccentric" as that because the collection comes from 24 different antique sellers.
They've banded together to offer you all the quirkiest and vintage items they could find!
Visit Film Locations
There have been so many films shot in Austin, and if you're a film buff, you might want to look behind the scenes and see what these film locations look like now.
Some films that have been here are Boyhood, Dazed and Confused, Friday Night Lights, and Chef.
You can check out the films that were shot in the city here. (https://www.austintexas.org/film-commission/made-in-austin/)
FAQs:
Where to eat
Austin has a diverse palette, and that's evident with their restaurants and dining options. A must-have for any Austin visitor is Franklin Barbecue. Yes, the lines are always long, but it's completely worth it. It's one of the best barbecues in the country. Bring a chair and some books or beers as you wait in line.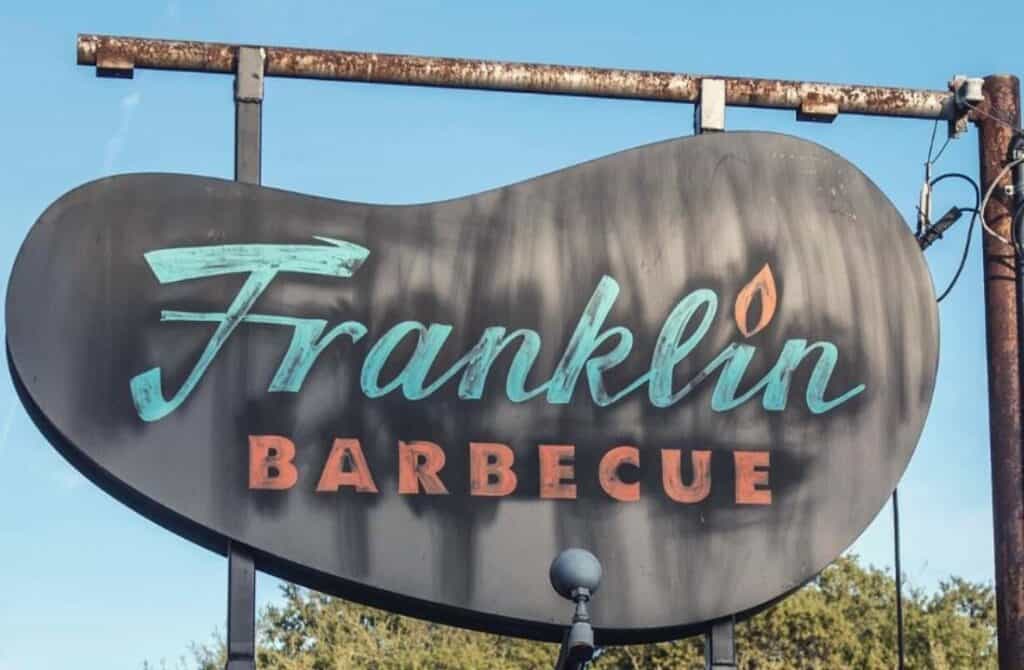 Other notable mentions are Matt's El Rancho, Driskill Bar, and Hoover's Cooking. 
You can also head to Rainey Street, East Side Food Park, South Austin Trailer Park & Eatery, and Thicket Food Truck Park.
Where to stay
Your options for accommodations include hotels, resorts & spas, bed & breakfasts, Airbnb, or camping.
For hotels, here are some of the neighborhoods and areas to choose from.
A hotel near the airport is convenient and just a short drive away from downtown.
Downtown is in the center of everything, from Lady Bird Lake to the city's nightlife.
East Austin is dedicated to foodies, live music lounges, the art scene, and boutique shopping.
Recommended hotels include Fairmont Austin, Drury Inn & Suites Austin North, and Hyatt House Austin Downtown.
Day trips from Austin
Texas Hill County has a lot of good destinations for you. Here are five of the best day trips from the state capitol: 
New Braunfels
Georgetown
Fredericksburg
San Antonio, and 
Hamilton Pool Preserve, Dripping Springs
You might also enjoy these articles: