There's no denying that New Yorkers love to breakfast. Whether you're looking for a classic eggs and bacon plate or something a little more adventurous, there's definitely a spot for you in the Big Apple.
And when it comes to finding the best breakfast in town, you can't go wrong with Brooklyn.
From traditional diner fare to gourmet repasts, these eight restaurants have got you covered. So pull up a seat and dig in – it's time to start your day the Brooklyn way!
Five Leaves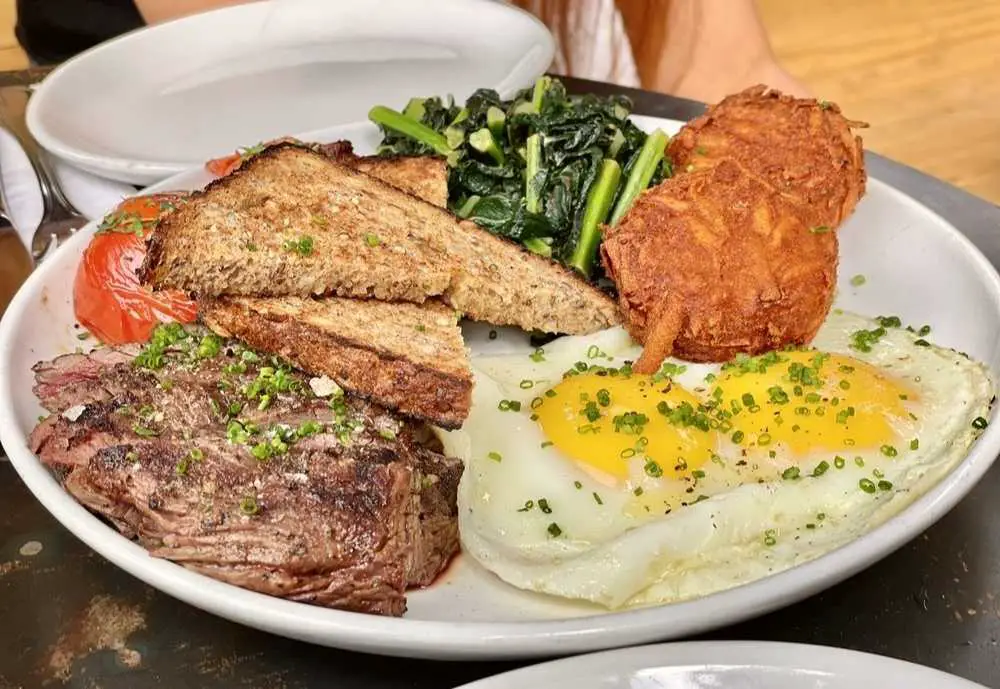 Five Leaves is a laid-back restaurant that gets really busy at brunch. This local brunch spot serves American cuisine with coffee and tea, all with a bit of an Australian twist.
They have creative menu items that make them popular and are said to be worth the wait. They also have sidewalk seats if you want to bask in the sun.
Past visitors recommend the 5 leaves burger, Moroccan scramble, sage scrambled egg panini, avocado toast, and their big brekkie.
Menu: Five Leaves Menu
Top Review: "Such a great place for brunch! I've been several times and have never been disappointed. Great place to bring visitors, friends, family, anyone! Literally everything from their cocktails to cold brews and of course their ricotta pancakes are perfection! Note there is always a line and people hovering around the entrance disorganized for the most part but don't be discouraged, the staff always know who is next in line." – Argina G.
18 Bedford Ave Brooklyn, NY 11222, (718) 383-5345
Golda
Another best breakfast spot in Brooklyn is Golda. This Mediterranean café has a 60s-inspired décor, a friendly staff, and lots of fresh breakfast pastries.
They are known for having great sandwiches, so don't miss out on trying their fried chicken sandwich, egg sandwich, smoked trout sandwich, and their breakfast sandwich.
They also have excellent coffee with their beans sourced from Brooklyn and Portland.
Menu: Golda Menu
Top Review: "My favorite place for coffee and breakfast in the area!! Golda is a small, unassuming little cafe near the Franklin C stop. The staff is amazing and so kind, always willing to provide recommendations." – Ahiliya N.
504 Franklin Ave Brooklyn, NY 11238, (718) 484-7065
Tom's Restaurant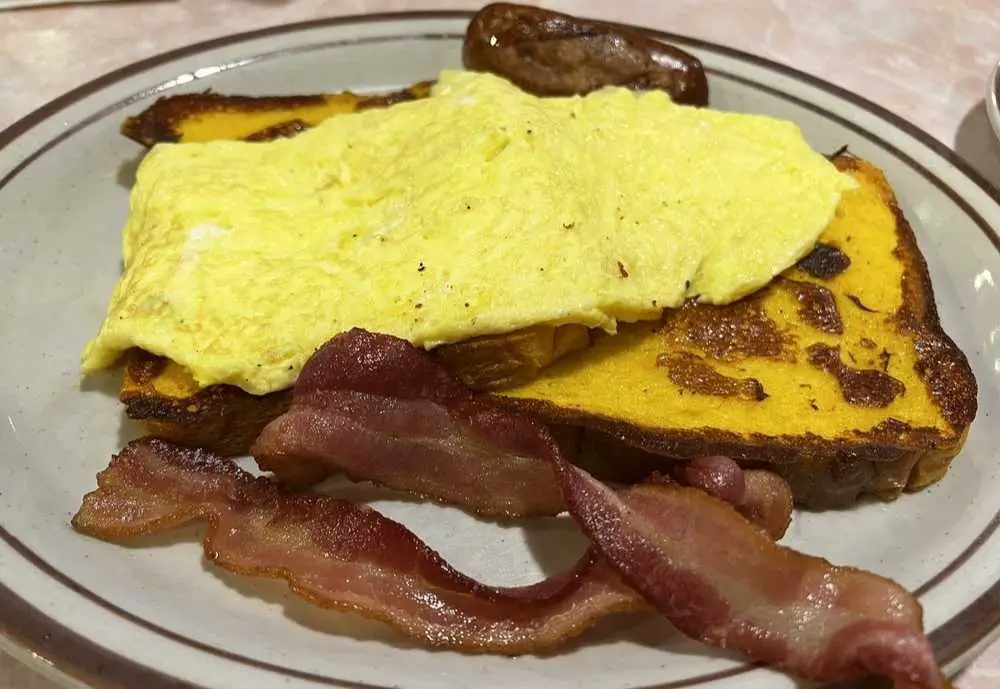 Tom's is a family-owned and operated Brooklyn breakfast spot. They have a casual, lively ambiance that will brighten your day.
Plus, they have an extensive pancake menu for everything you might want in a pancake. This diner also has both indoor and outdoor dining.
Their recommended dishes include crab cakes, French toast, beef sausage omelets, and walnut waffle pancakes.
Menu: Tom's Restaurant Menu
Top Review: "Iconic diner from the Jerry Seinfeld tv show. They had a pretty large menu with something for everyone. They even have "the big salad"  All menu items served all day. True old school diner feel. The walls are covered with celebrity photos. The food was good and the service was even better." – Enna J.
2880 Broadway New York, NY 10025, (212) 864-6137
Café Mogador
One of the best breakfast places in Brooklyn is Café Mogador. It's a unique take on breakfast and can be that little something different that you're looking for.
They have classic American breakfasts but also serve Moroccan and Mediterranean dishes. The aesthetic is also fabulous, with colorful tiles and reclaimed wood.
They even have a herb garden where they get their rosemary, thyme, mint, and more for their plates. Try the Bastilla, Tabouli, Greek salad, and their mixed grill.
Menu: Café Modador Menu
Top Review: "Love Café Mogador. Been eating here for over ten years. For breakfast I'm obsessed with the Middle Eastern breakfast; don't be fooled by its simplicity. For lunch or dinner the Matbucha is a must for a starter and the Tagines are incredible. I seem to always gravitate towards the lamb with apricot and prunes. The bar is great and worth the wait if you want to add a cocktail and some fun to your delicious meal." – Brad H.
133 Wythe Ave Brooklyn, NY 11211, (718) 486-9222
Café LULUc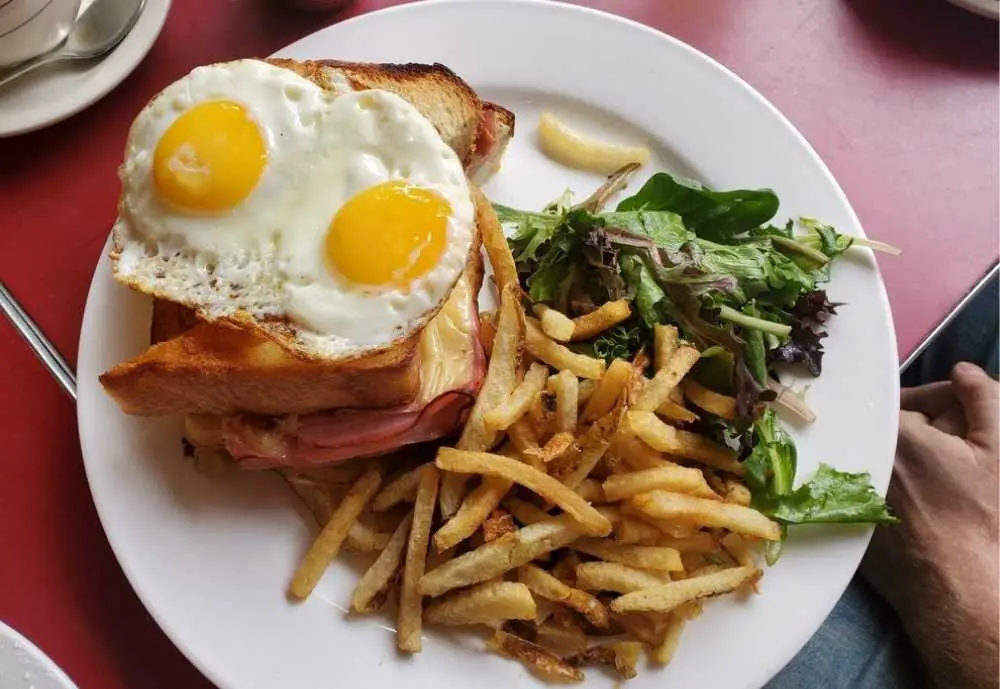 Café LULUc is a French cafe that doubles down on European vibes. They also have a backyard patio if you'd like to dine out in the sun.
Their meals are moderately priced, and many people would attest to their delicious food.
Some things you can't miss out on at Café LULUc include French toast, grilled chicken sandwich, pulled pork sandwich, and smoked salmon dishes.
Menu: Cafe LULUc Menu
Top Review: "This is my favorite brunch spot! They are best known for their perfect pancakes. Light, airy, FLUFFFYYYYY, and perfectly crispy on the edges complemented by their special syrup. I love that their brunch dishes come with fries and salad. There's no better combo to go with your food. It's all about balance! My go to is the open faced western omelette. It is consistent and perfectly cooked every time. This time we also had a yogurt with fresh fruit which was very generous considering the price and all the fresh fruit you get. The pressed vegetable sandwich was delicious and portioned well that we had leftovers from that." – Linda T.
214 Smith St Brooklyn, NY 11201, (718) 625-3815
Peter Pan Donut and Pastry Shop
This next spot is a Brooklyn institution, and has been here for so long and loved by many.
Peter Pan Donut and Pastry Shop are affordable and convenient and have some of the cheapest breakfast items. But that doesn't mean the quality suffers because many people still come back and can't resist what they offer!
They offer coffee and donuts for those on-the-go breakfasts. But be warned that the donuts sell out fast, so you better be early.
The donuts are the show's star, but you should also try their breakfast sandwiches. Also, bring cash, as they are a cash-only spot.
Menu: Peter Pan Photo Menu
Top Review: "Peter Pan's quality is comparable to many NYC artisanal donuteries, but amazingly is closer in price to Dunkin' (just $4 total for my 2 solid donuts). While Peter Pan does not offer particularly ambitious varieties, it's an absolute steal for a great standard ring. I'm not usually a proponent of cake donuts, but I'd absolutely pop into Peter Pan for round two." – Austin B.
727 Manhattan Ave Brooklyn, NY 11222, (718) 389-3676
Peaches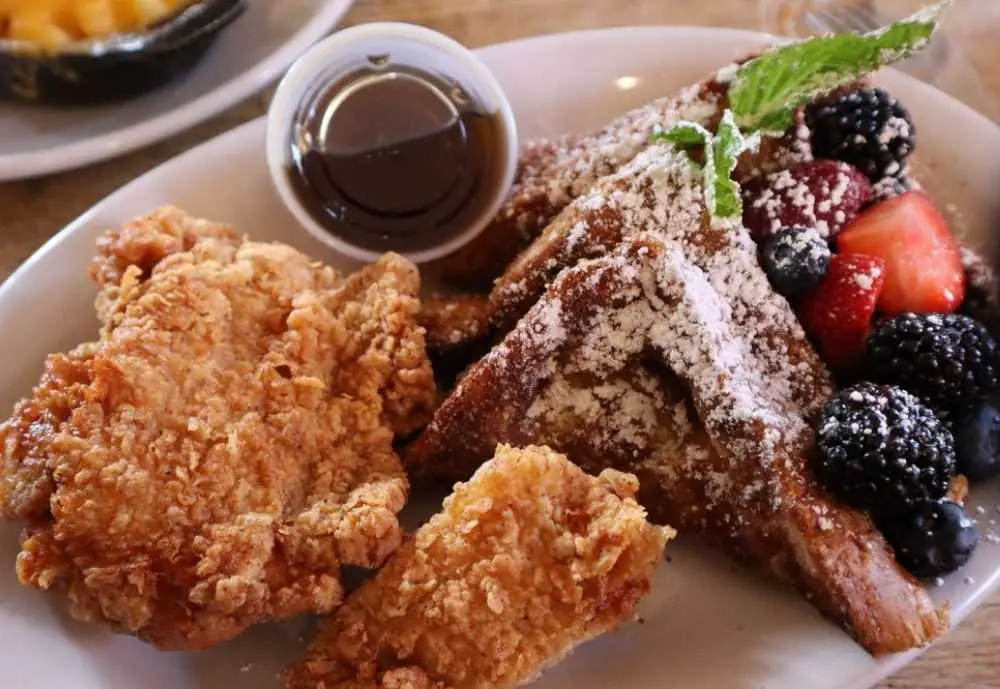 Peaches is another beloved breakfast and brunch restaurant in Brooklyn. They offer a Southern flair among these classic breakfasts.
They also have an extensive seafood menu if that's something you prefer. Their brunch menu constantly changes, adding unique and creative items each time.
People recommend the granola-crusted French toast, the Jim Cade breakfast, the jumbo lump crab cakes, and the jumbo shrimp po boy sandwich.
Menu: Peaches Menu
Top Review: "Phenomenal food, and fun vibes. Possibly the best breakfast I've had in 12 years in NYC. Weekends this Place is really packed. Better to go when less crowded. Everything is great at this place." – Ryan S.
393 Lewis Ave Brooklyn, NY 11233, (718) 942-4162
Reunion
If you want to try something different, head on over to Reunion. It's a Middle Eastern spot that's more casual dining with outdoor seating. It's also family-owned and operated and serves Middle Eastern cuisine.
They have a cocktail bar, perfect for weekend brunch moments.
If you're lost on what to order, what about trying the Yemenite pancake, avocado toast, breakfast pita, Jerusalem bagel, schnitzel sandwich, or their shawarmas.
Menu: Reunion Menu
Top Review: "If you are reading this and are considering going, just put your phone down, get up and take the trip. The food has blown me away on several occasions. I've gotten the hummus from here and you taste the difference from what you buy at the supermarket. It's very creamy and tasty. The pita is fresh and fluffy. It does a great job soaking up the flavors of any stews or dips that they have. The incredible shawarma was the star of the show each time I've gone. It has a bit of heat from the peppers and the sauce ties in very nicely with the meat and potatoes in the dish. The ambiance is great with a retro feel to the place including the bathroom with the wallpaper resembling famous Brooklyn icons. Thank you reunion, I will be returning!" – Joseph T.
544 Union Ave Brooklyn, NY 11211, (718) 599-3670
---
There you have it! Eight of the best breakfast spots in Brooklyn, New York. Whether you're looking for a delicious pancake stack, a hearty egg dish, or something lighter, you're sure to find something to your taste at one of these spots.
So get out there and start exploring all that Brooklyn has to offer!
Frequently Asked Questions
What is a classic New York breakfast?
Some classic New York breakfast items include bagels with cream cheese, lox, and/or other toppings; a breakfast sandwich or platter with eggs, meat, and cheese; pancakes or French toast; or yogurt and granola.
What time does brunch start in New York City?
Brunch is typically served on weekends, starting around 10 or 11 am and lasting until about 2 or 3 pm. Some restaurants may also offer brunch during the weekdays.
Which Brooklyn neighborhoods have the best breakfast spots?
Some popular Brooklyn neighborhoods for breakfast include Williamsburg, Park Slope, Prospect Heights, Greenpoint, and Bushwick. However, there are also many great options scattered throughout the borough.
What kind of food is Brooklyn known for?
Brooklyn is known for its diverse food scene, including Italian cuisine in neighborhoods like Williamsburg and Carroll Gardens, East Asian cuisine in Sunset Park, and Middle Eastern cuisine in Bay Ridge. Brooklyn is also known for its hipster cafes and farm-to-table restaurants. In addition, the borough has a thriving street food culture with popular options including hot dogs, falafel, and roasted nuts.
You might also like:
breakfast food nearby, breakfast house near me, breakfast locations, nearest place for breakfast