Belize City has so much to offer and is perfect for the adventurous traveler. It's got everything you might need, from private islands, ancient ruins, and wildlife sanctuaries. There are so many things to do in Belize city! Take a trip here to see what you're missing.
You'll find Belize city on a trip to Central America, between Mexico and Guatemala, with a fantastic coastline and many beaches. It's a pretty remote destination with less than 9,000 square miles. But don't let that fool you into thinking there's nothing to do here.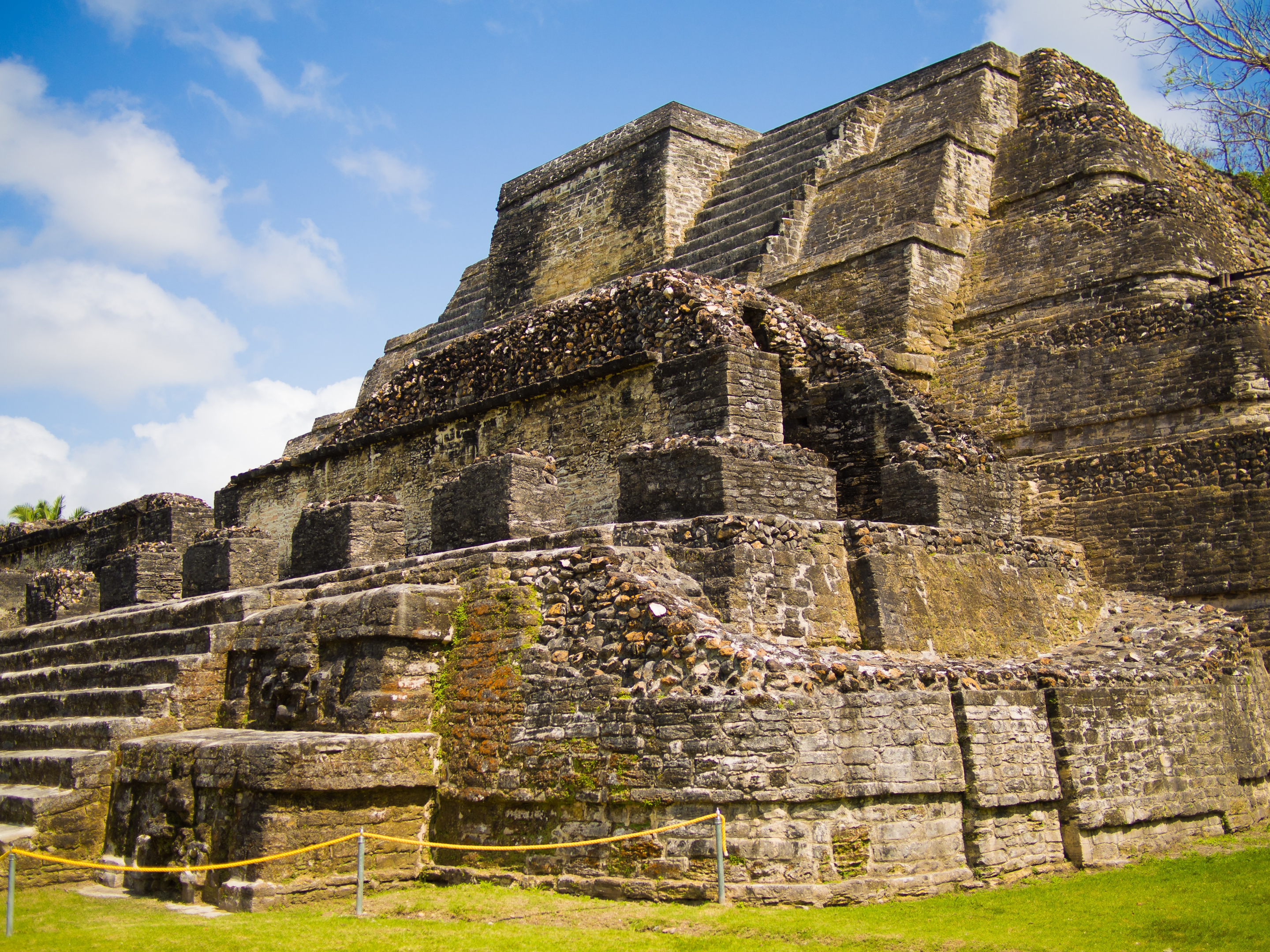 It may not be the most popular spot compared to its next-door neighbors (Cancun, Tulum, and many more), but it's an absolute hidden gem. There is an abundance of things to do. Take your pick from water adventures, seeing the wildlife, tons of historical and cultural spots, and a welcoming community!
Here's our list of the best things to do in Belize City!
Beach
If you're here for a tropical getaway, visiting Belize was the right decision. There are many options if you want to go swimming, lounge by the beach, or participate in the city's nightlife!
Caye Caulker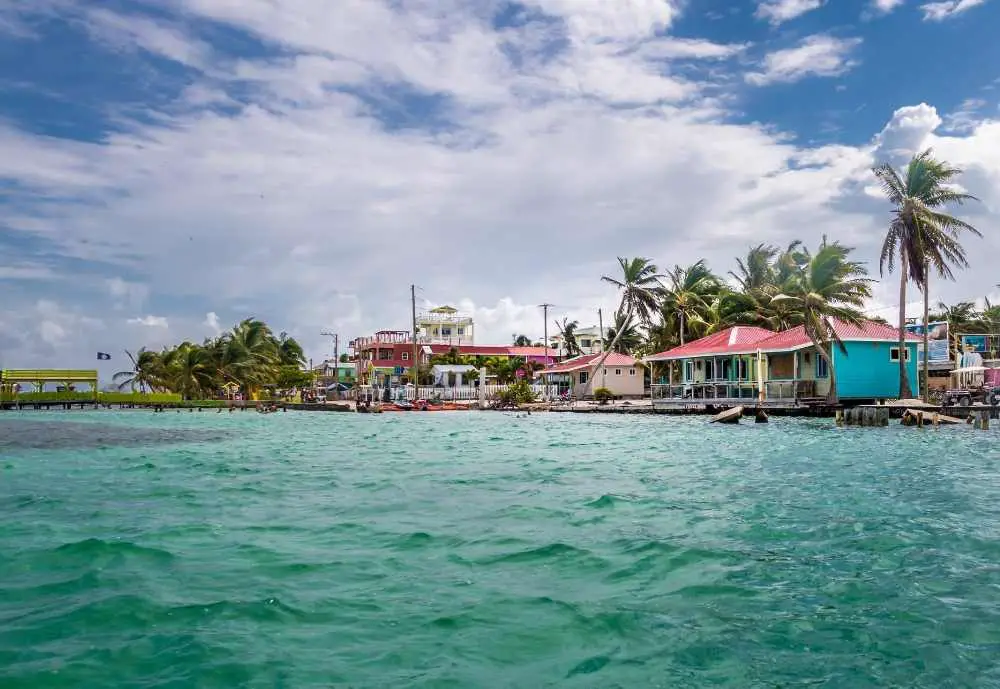 Caye Caulker is probably one of the most popular places in Belize City. It's a relatively remote island on northern Belize with 4 miles of beach to comb through.
They're well-known as the go-to for scuba diving, snorkeling, kayaking, and fishing. It's got an awesome relaxing vibe throughout the island.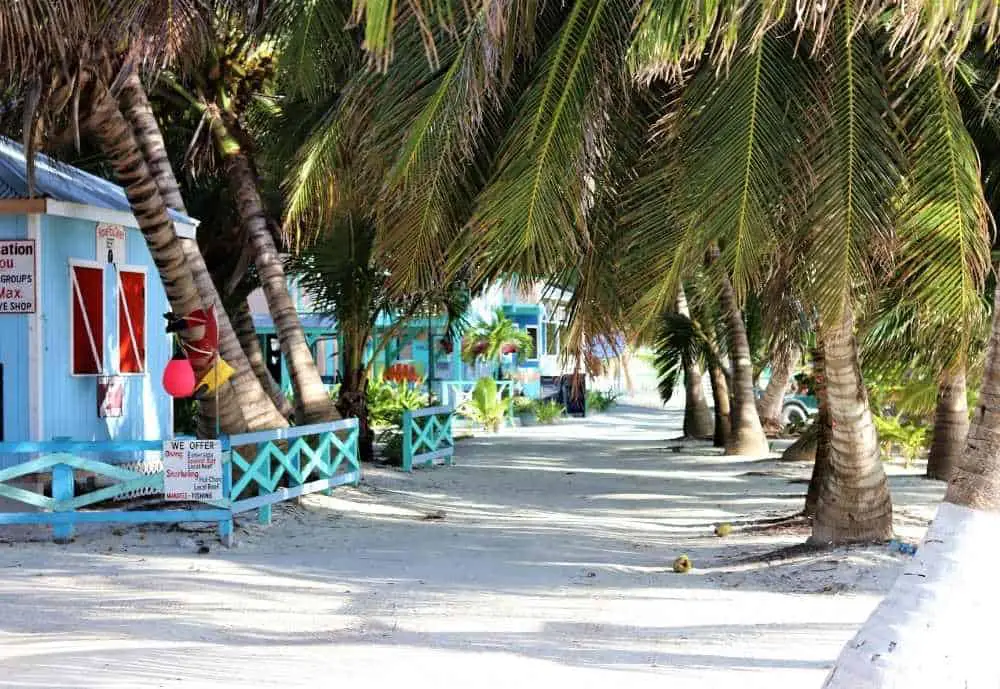 There are also lots of boat tours offered in Caye Caulker. A sunset boat tour is one of the better experiences, but check out all the other options to get your money's worth.
Another good thing about Caye Caulker is there a ton of restaurants and shops around the area that are worth it to explore. You should take a day or two here just to experience the culture and nightlife!
If you're looking for more, you can also visit the Swallow Caye Wildlife Sanctuary.
Ambergris Caye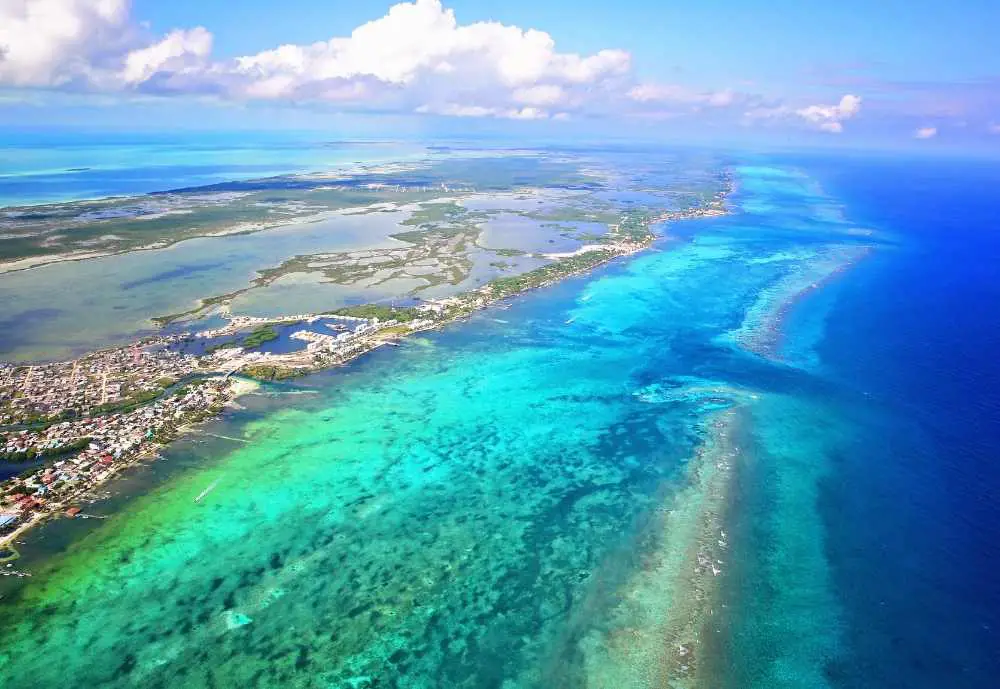 This island is the city's largest at 25 miles long. It's the best place to go for snorkeling and diving and beats Caye Caulker in that aspect.
It's also by the north region of Belize City and is close to the barrier reef, with easy access. Most of the diving and snorkeling establishments are also based here, so if that's what you're looking for, it'll be better to book a beach resort on the island.
It's a gold mine for underwater enthusiasts, but beginners are also welcome. It's your time to shine and explore the water.
If you rather stay on land, there are still a lot of places to go when you're in San Pedro, the main town here. Plus, they've got a creative way of getting around: golf carts!
Water Adventures
When we're talking things to do in Belize city, there's no way we could forget about adventures underwater.
The Belize barrier reef is a part of the second largest barrier reef in the world. Only second to the Great Barrier Reef.
So while you're here, we're inviting you to step out of your comfort zone and out of the beach!
Hol Chan Marine Reserve and Shark Ray Alley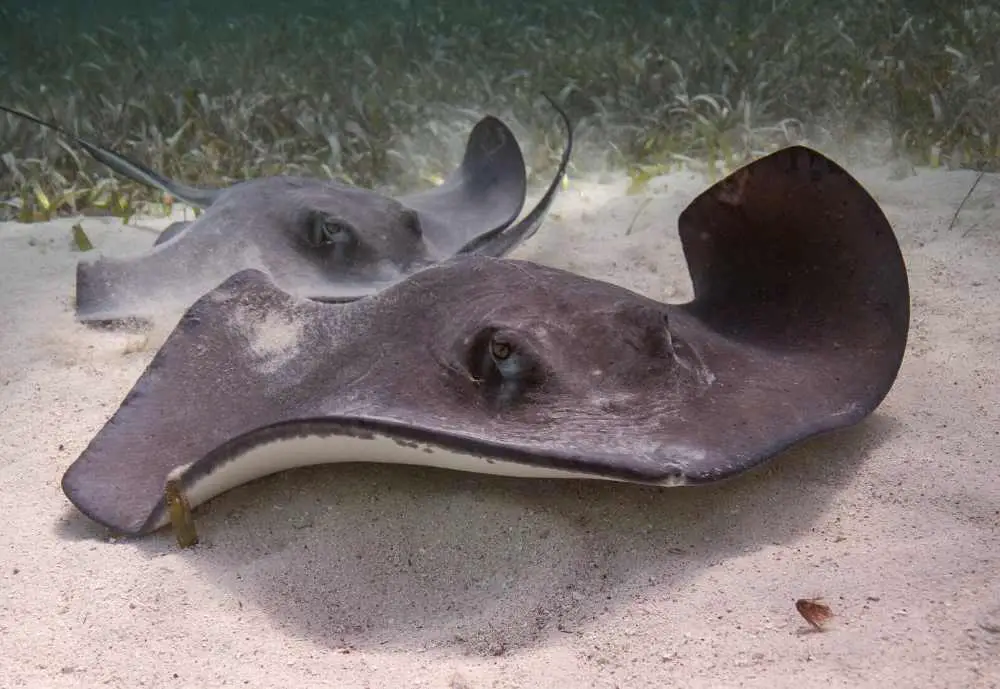 The top underwater activities here in Belize City are definitely scuba diving and snorkeling.
There are some spots you could go for depending on what you're looking for, but Hol Chan and Shark Ray Alley is one of the best.
Hol Chan marine reserve is off Ambergris Caye rich with underwater marine life. It has four parts, one of them being Shark Ray Alley.
Other areas in the reserve include mangroves, the reef, and the sea-grass beds. It's also the oldest reserve you'll find in Belize.
It's got clear waters perfect for diving, and there are so many things you can see here that a trip would be worth it.
Great Blue Hole
The Great Blue Hole is one of the most unique things you'll find in Belize.
It's impossibly amazing to look at from above, and there's even more mystery underwater. It's a UNESCO World Heritage Site and is one of the most sought-after scuba sites.
Underwater, you'll see many stalactites and coral fringes. There's not much in the way of marine life, but it's possible to spot some at the hole's surface.
Even if you're not an advanced diver, you can still come and visit this great attraction. Many diving companies offer tours here, but beginners can also snorkel around the hole and nearby area.
Coming here may be a bit expensive, and it's best to time your visit here during the dry season.
Cave Tubing
Cave Tubing is a little more subdued than the other water adventures on our list.
If this is your first time hearing it, Cave Tubing is where you float on a tube with a group, all your tubes tied together, and you float down a river — or in this case, a cave.
You shouldn't miss it when you're in Belize just because there are so many places you can do this. It's a relaxing way to see the landscape and enjoy nature.
Plus, these caves carry so much history in them that you get to learn more about the Mayans during one of these tours.
A cave tubing tour would often last for about half an hour, with a guide giving you a quick lesson on rock formations, cave drawings, and other exciting information about Mayan caves.
Before you do get to the cave, there may be a hike to get there. A ton of additional activities are also often offered with cave tubing in the nearby areas. You can rent kayaks instead of a float if it's more your vibe.
Mayan Ruins
Beaches aren't the only things to do in Belize City. It's rich in history and offers something for everyone. If you want to go on some adventure, head west to find a group of Mayan ruins you need to explore.
Altun Ha
Altun Ha is a famous Mayan site north of Belize City. It was initially used as a trading post during the Mayan Empire's Classic Period. Today, many of its ruins are still intact and are well-preserved.
Fair warning, getting to this site is a bit of a hike. If that's not something you want to do, there are still several other sites you can check out.
Altun Ha features tombs, pyramids, temples, and an artificial lagoon. It will undoubtedly make you feel like you're in a set of Indiana Jones. The lagoon called Rockstone Pond houses many wildlife in and around it, like foxes, deer, and even crocodiles.
Cayo District
There are many options if you want to see Mayan ruins in Belize. In Cayo District, there are several ruins worth checking out.
You can take a tour leading you to the ruins of Xunantunich. It's called "Maiden of the Rock" and has 25 temples and palaces. They believe that this was the site of a civic ceremonial center. You can climb one of the temples here called El Castillo.
The ancient Mayan city of Caracol is also often part of this tour. This is the largest Mayan ruin site in the town and was populated by about 120,000 people. It's a lot of ground to cover, including five plazas and an observatory. It's also one of the most well-preserved sites, and they're still doing excavations on it as we speak.
Caracol is one of the least crowded Mayan ruin tourist spots but has some of the most interesting histories. You can also hike up the highest pyramid and have overlooking views. You can even see a little of Guatemala from there.
The district's San Ignacio also has many other attractions, like the Actun Tunichil Muknal (ATM) cave. This place is littered with the remains of the dead. It was used as a place to offer sacrifices and more as the Mayans believed that caves were a gateway to the underworld.
Taking a tour into ATM cave is an adventure with Mayan history. It is a wet cave, so be prepared.
Lamanai
Still can't get enough of Mayan ruins? Or just want something more off-the-beaten-path? Lamanai is the answer.
This site is the longest-occupied Mayan site that we know thus far. It means "submerged crocodile" in Mayan, and you're sure to get a lot of depictions of crocodiles here. There are three pyramids here and a cluster of temples that you can explore.
Some noteworthy temples you can visit are the High Temple and the Mask Temple. Lamanai is a little hard to get to, but there are incredible tours to join for a more scenic ride getting there.
Things to do in Belize That are Great with Kids
Traveling with kids doesn't have to be hard. Belize City offers you a couple of options for attractions that are best for vacationing families.
Belize Zoo
If you thought you'd seen it all in Belize's natural landscapes, think again. This zoo covers 29 acres and houses over 45 species of animals. A visit here would feel more like a visit to the jungle.
Some of the animals you have to spot are the howler monkeys and Belize native cats like margays, ocelots, pumas, and jaguarondis. There are also a number of bird species to look out for.
You and your kids would enjoy this spot, which many have said feels more like a wildlife preserve than your typical zoo. It started as a rescue facility.
There is a lot of walking, and the environment is humid, bring water and insect repellant to be prepared.
Wildlife Sanctuaries
Continuing on the animal theme, Belize City has many wildlife sanctuaries you can visit. It all depends on what you're looking for and are interested to see. Remember to wear comfortable clothes and shoes and be respectful to each place.
Most sanctuaries feature a native animal in Belize. Here are some places you can visit and some of their highlights.
Community Baboon Sanctuary
Visit howler monkeys in their natural habitat here in Community Baboon Sanctuary. There are no actual baboons inside, but there are plenty of howler monkeys to see!
Crooked Tree Wildlife Sanctuary
It's time to look up because this sanctuary provides refuge to migratory and resident birds! Hundreds of birds stay here, but it is mostly sea wetland birds.
Swallow Caye Wildlife Sanctuary
Swallow Caye's highlight is the chance to swim with manatees! How cool is that? There are still some limitations to what you can do, but yes, you can go swimming and snorkeling with manatees here. Try visiting during the summer, as that's when they show up the most.
Cockscomb Basin Wildlife Sanctuary
This sanctuary is the best place to go if you want to see some jaguars. There are other trails here, but the Wildcats are the stars of this place. There are some difficult trails and so many options, so do research before coming here to plan your day.
Frequently Asked Questions
Is Belize City worth visiting?
Belize City may not be the first destination that comes to mind when you think of tropical vacations, but this vibrant city has a lot to offer visitors. Situated on the coast of Belize, Belize City is the country's largest city and is home to a diverse population. The city is full of culture, with a variety of museums and art galleries to explore. Visitors can also enjoy the city's nightlife, with a number of bars and clubs to choose from. Plus, Belize City is a great jumping-off point for exploring the rest of Belize. So if you're looking for an interesting and exotic travel destination, add Belize City to your list!
What is Belize City known for?
Belize City is the largest city in Belize and the former capital of the British Honduras colony. Today, it is a busy port city with a diverse population. Visitors to Belize City can enjoy a number of activities, including exploring the old city center, visiting the Museum of Belize, and taking a boat ride along the Belize River. There are also a number of excellent beaches nearby, perfect for a relaxing day in the sun. In addition, Belize City is home to a number of bars and restaurants, offering visitors a taste of the local nightlife. Whether you're looking for history, culture, or simply a place to relax, Belize City has something to offer everyone.
Is Belize cheap to visit?
Belize is not a cheap destination, but it is possible to find good deals if you know where to look. The best way to save money is to travel during the low season, from May to November. You can also find cheaper accommodation outside of Belize City. However, Belize is still relatively expensive compared to other Central American countries.
Is the food good in Belize?
The food in Belize is diverse and delicious. Visitors can find a variety of international cuisine, as well as traditional Belizean dishes. Some of the most popular foods include rice and beans, tamales, and fry jacks. There are also a number of excellent seafood restaurants, serving up fresh fish and lobster. No matter what you're in the mood for, you're sure to find something to satisfy your appetite in Belize.
Can you use US dollar in Belize?
Yes, the US dollar is the official currency of Belize. However, many businesses also accept the Belizean dollar. The exchange rate is fixed at two Belizean dollars for every one US dollar. As a result, prices are often listed in both currencies.
What should you avoid in Belize?
Street crime is a problem in Belize City, and pickpocketing and mugging are common. It's important to be vigilant when walking around, especially at night. In addition, many areas of the city are poorly lit and can be unsafe. It's best to avoid walking alone after dark. However, if you take precautions and exercise common sense, Belize City can be a safe and enjoyable place to visit.
Is Belize a Caribbean Island?
No, Belize is not a Caribbean island. It is located on the coast of Central America, just north of Honduras. However, many people consider Belize to be part of the Caribbean region because of its close proximity to other islands in the area. In addition, Belize shares many cultural similarities with other Caribbean countries.