Foodies rejoice! Des Moines, Iowa is home to some of the best breakfast spots in the Midwest. From classic diners to innovative new restaurants, there's something for everyone.
Whether you're looking for a big ol' hearty meal to start your day or a light bite to tide you over until lunch, you'll find it here.
And to help you narrow down your options, we've compiled a list of our favorites. So without further ado, here are the best breakfast spots in Des Moines!
Tupelo Honey Southern Kitchen & Bar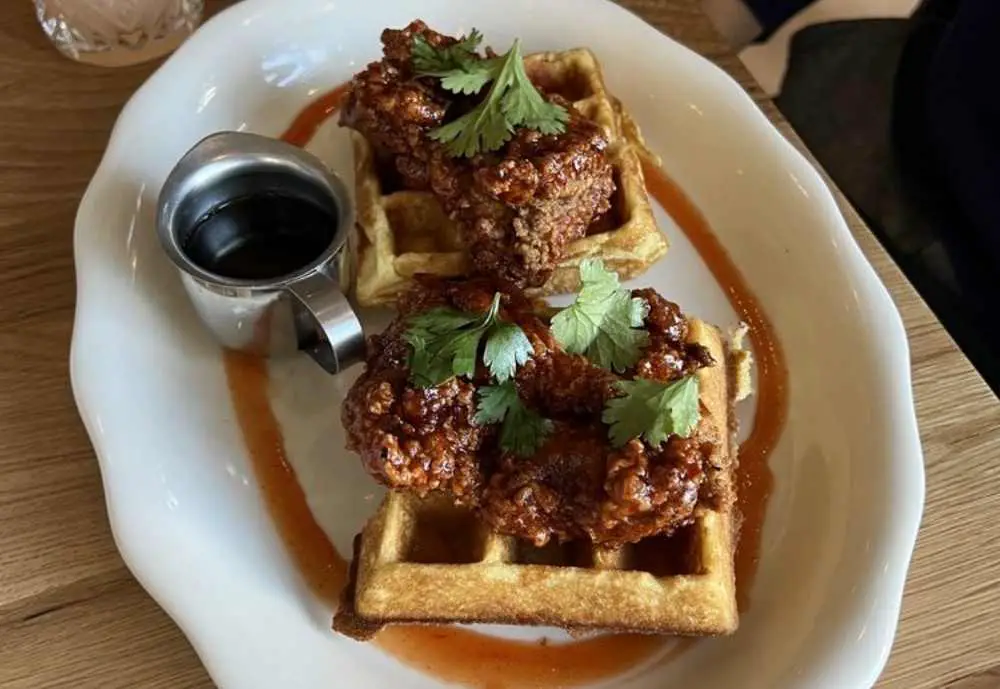 The 10 Best Restaurants in Charlest...
Tupelo Honey is a new chain of breakfast/brunch restaurants specializing in southern cooking traditions.
They are masters of scratch-made breakfasts and brunch with some truly original dishes.
The must try's are the spicy and aromatic Sriracha Honey Fried Chicken & Waffles and their unique and fluffy Biscuits For a Cause.
Menu: Tupelo Honey Brunchhttps://tupelohoneycafe.com/location/des-moines/menus/#brunch-menu Menu
Top Review: "The staff was super friendly and helpful. We tried different mimosas and bloody Mary's. I also tried the BA ginger tonic. So so good! The breakfast foods were delicious!! I could not get enough. The inside is super cute and parking on the street or ramps make it easy. Highly suggest this stop!" – Samantha S.
665 Grand Ave Ste 100 Des Moines, IA 50309, (515) 513-5922
The Breakfast Club
Where do we even begin with The Breakfast Club's menu of offerings? Stacked high with originality, let's just touch on the dishes you just have to try.
Seoul Food – Korean fusion dish with hashbrowns, bacon, kimchi, Sriracha mayo, soy reduction, topped with a fried egg.
Cowboy Killer – Hashbrowns, 4 sausage links, 4 bacon strips, the ultimate gravy, queso, fried eggs, fried jalapeno, bbq sauce. DUDE.
Samoa Pancakes – Pancakes, NUTELLA, chocolate sauce, caramel, coconut, whipped cream.
Vespa – Italian inspired toast with pesto scrambled egg, fried peppers, tomato, balsamic glaze, asiago on ciabata
I told you their menu was unapologetically unique and diverse.
Menu: Breakfast Club Menu
Top Review: "Breakfast with an attitude! The bloody mix is amazing! Had the dirty bloody Maria, perfect combination of spice. The Señor Borracho Benedict with hash browns on the side is perfect, layer of carnitas, green salsa.  The Bananas Foster French tos is about as good as the description, the bananas had the perfect caramelization happening." – Ivonne N.
212 E 3rd St Des Moines, IA 50309, (515) 280-5251
Early Bird
Next on our list are the brunch specialists, Early Bird. They also have a vast and diverse menu which is fun to explore.
Definitely the house favorite and crowd pleaser are the Hash Holes. Don't say that fast five times!
This is a divine creation of hash brown croquettes with cheddar, smoked gouda and bacon. Served with southwest ranch and queso.
Menu: Early Bird Menu
Top Review: "Great coffee, great food, great service. The only place I go for brunch now. Everything I have tried I loved! Get the hash holes for an appetizer, you won't be disappointed. I'm kind of a coffee snob and I am obsessed with their plain black coffee. 10/10 highly recommend!" – Emily N.
9250 University Ave Ste 107 West Des Moines, IA 50266, (515) 528-2212
Bubba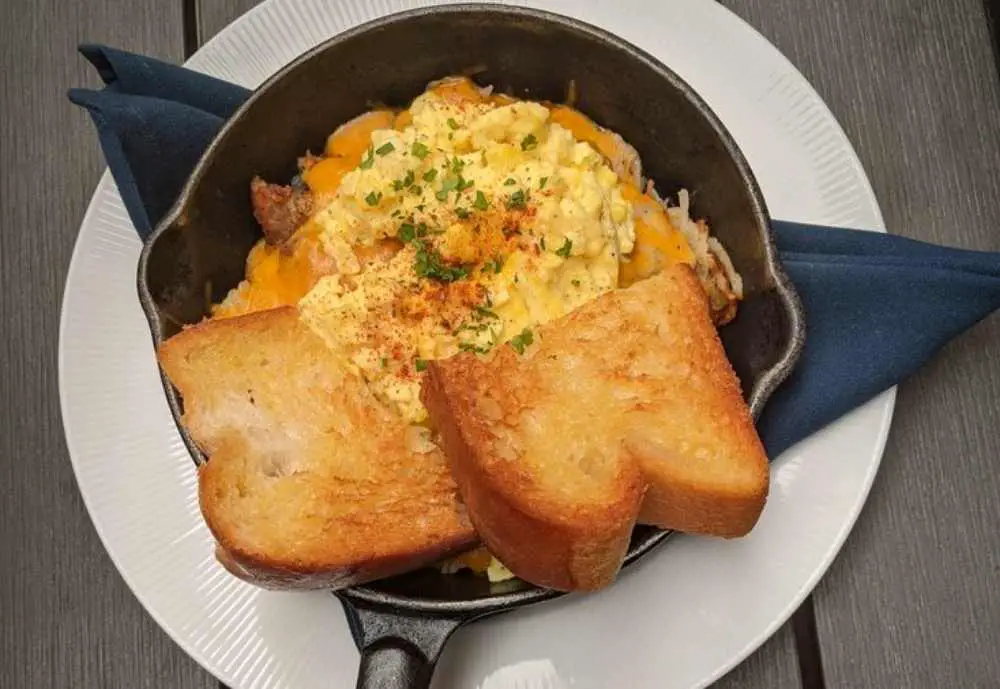 Another fantastic option for breakfast in Des Moines is Bubba. Bubba's is the nickname that stuck to Christopher Diebel after transplanting to Iowa from Texas.
The menu is largely inspired on Deibel's childhood in the South, and you don't want to miss it.
We recommend a brunch fav, the crab cake benedict or their substantial breakfast burrito (below).
Menu: Bubba's Menu
Top Review: "One of my favorite places to eat in Des Moines! The food is beyond flavorful, and the veggies are so fresh. I've had the chicken & waffles and the buttermilk fried chicken, which are both so, so good. The bowtie burger was the best the best in my opinion. Whether you're craving chicken or burgers, give Bubba a go…just bring your whole family!" – Mel R.
200 10th St Des Moines, IA 50309, (515) 257-4744
St. Kilda Cafe & Bakery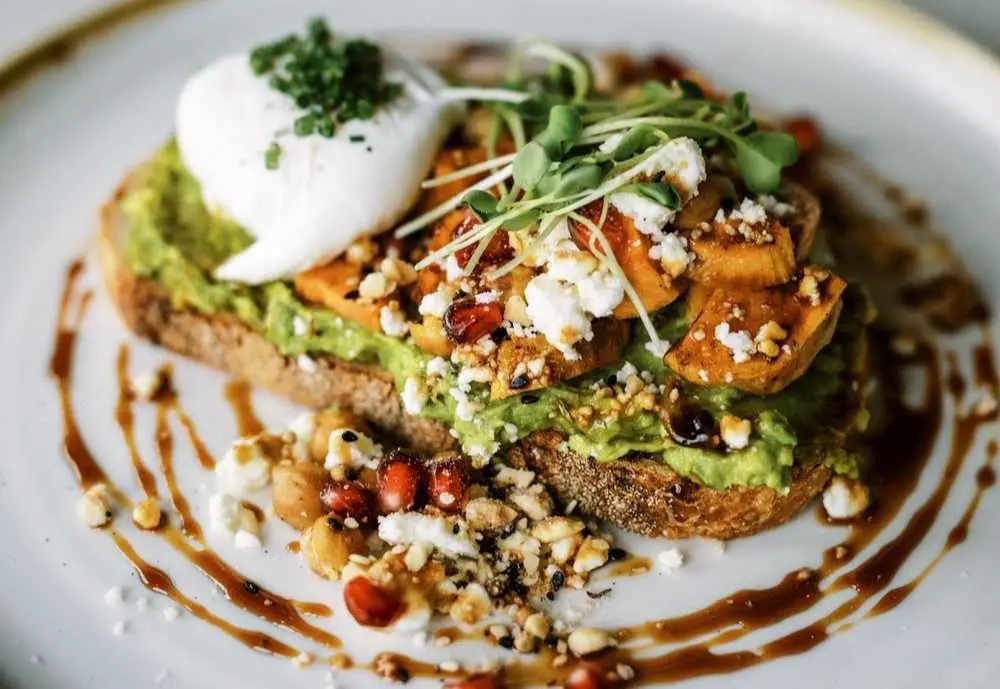 If you are looking for a refined experience, check out St. Kilda Cafe & Bakery, located in downtown Des Moines. It is an Australian styled cafe, specializing in healthy and contemporary cuisine.
If you're coming with an appetite, we definitely recommend getting your hands around the Saint Breakfast Sandwich, a decadent with fried egg, sausage, bacon, red onion, avacado, tomato jam, and arugula on their house bun.
On the lighter side, go with their to die for avocado toast or mushroom toast.
Menu: St. Kilda Cafe Menu
Top Review: "A casual breakfast place with upscale plating. You'll eat not only with your taste buds but also with your eyes. Interior has a Scandinavian feel to it with it's warm wood tones but clean and simple decor. I came during a calmer time but they do have a reservation system in case you want to ensure you get a table. The space inside is quite large with an outdoor area and several rooms inside. They have a full coffee bar along with pastries and a breakfast/brunch menu. The two entrees we got – steak and eggs and kimchi reuben were both  fantastic. Plates were beautifully presented and foods were impeccably prepared and tasty. I can see why they have such great reviews! I would not hesitate to come again on my next trip through town even if the prices are a little pricier for breakfast." – Alison Y.
300 SW 5th St Harbach Lofts Des Moines, IA 50309, (515) 369-7854
Eggs & Jam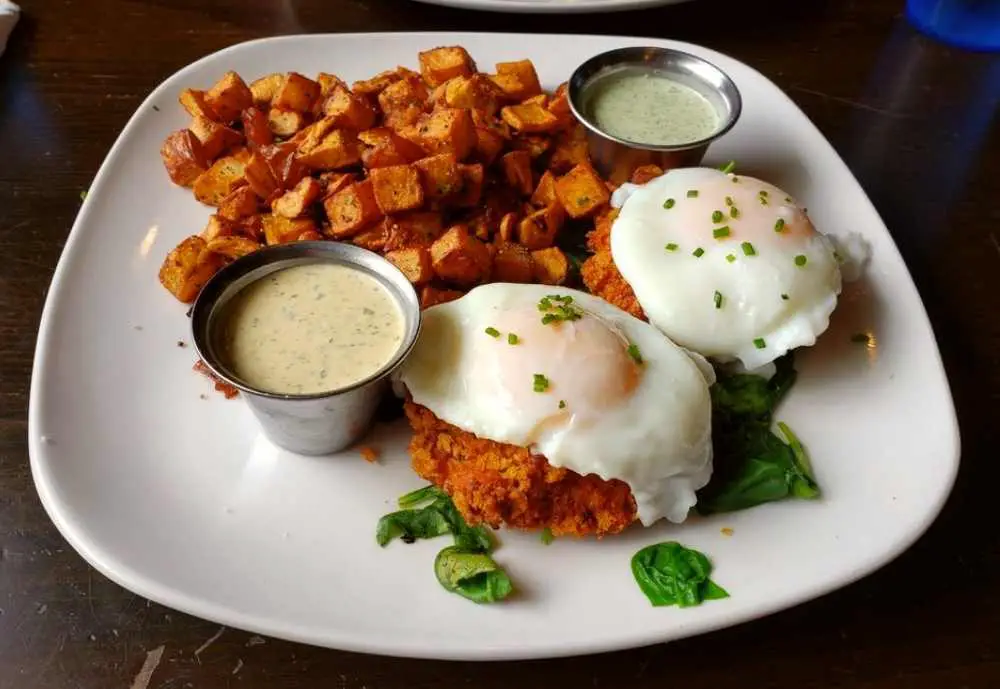 Eggs & Jam is bold and groovy breakfast spot that you will not soon forget! Decked to the 9's in hip hop retro design.
From their website:"From East Toast to West Toast people are talking about our 90's-hip-hop fueled retro cafe. Eggs and Jam pays homage to simpler times when the beats were as fresh as the food we serve. We offer a full track of healthy breakfast-inspired options as well as many of the comfort food favorites — all named after your favorite 90's hits. From 'The Roots' veggie omelette to the 'Ludabiscuits' and gravy, you'll be sure to find something that fits your flavor. Thirsty? — Grab a chart-topping themed cocktail like the 'Gin and Juice' or get jiggy with an 'I Just Crush A Lot' mimosa flight to start the day off right."
Menu: Eggs & Jam Menu
Top Review: "The very best of breakfast and throwback hip-hop. This place is great – Eggs & Jam! Food is delicious. Menu is dope. The music is bumpin! The staff is friendly. And the overall vibe is energetic and invokes creativity. It's a great place for the serious brunchers! By far my favorite breakfast/brunch spot in Des Moines." – Jodi L.
1907 Ep True Pkwy Ste 102 West Des Moines, IA 50265, (515) 528-2248
Mullets
Established in 2008, Mullet's is a self-described "riverside roadhouse" that's crazy about flights, and that's a very good thing.
Definitely try a flight of avocado toast or their melt in your mouth flights of eggs benedict.
They've notched a Best Breakfast in Des Moines, and it's not hard to see why!
Menu: Mullet's Menu
Top Review: "Mullets is a local treasure and I will be back. We spent a long weekend in DSM and popped in on a Friday morning at around 930 with the kids — it was freaking packed.  I had the OG Mimosa Flight (no complaints) and the Avocado Toast Flight.  (My favorites on it were the bruschetta and the salmon.  I'd def recommend this dish for any avo-toast-loving millennial, but also as a breakfast appetizer for a group!)" – Jenni H.
1300 SE 1st St Des Moines, IA 50315, (515) 244-1443
La Mie Elevate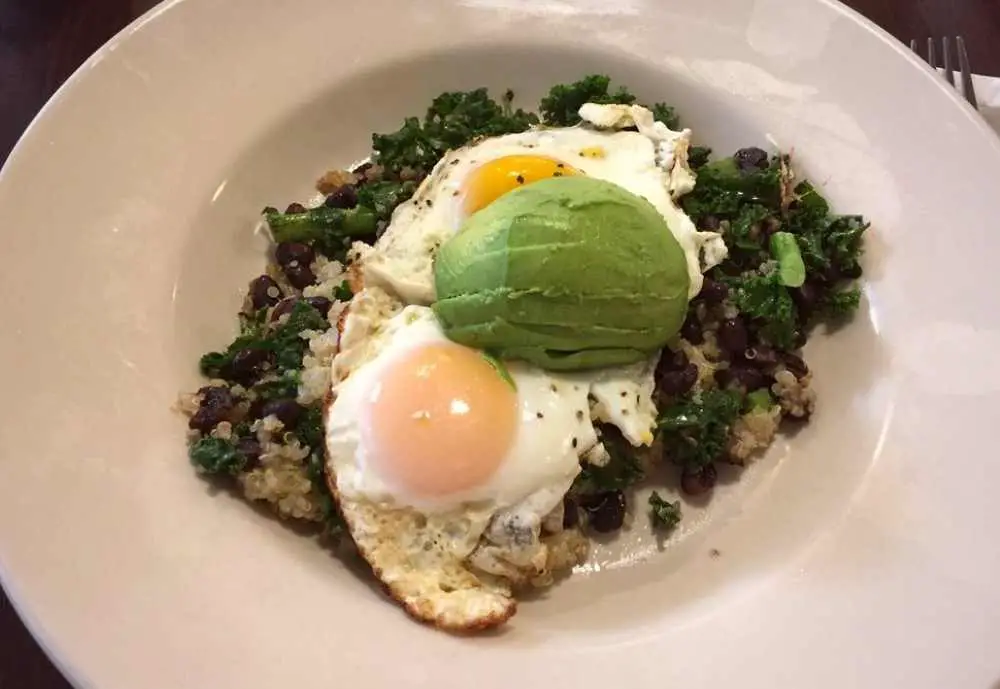 Menu: La Mie Elevate Menu
Top Review: "The veggie scramble is my go to regardless of if I'm here for breakfast or lunch. The coffee and pastries are also too good to pass up. So conveniently located for people working downtown!" – Lauren S.
601 Locust St Skywalk Des Moines, IA 50309, (515) 243-1835
Railroad Bill's Dining Car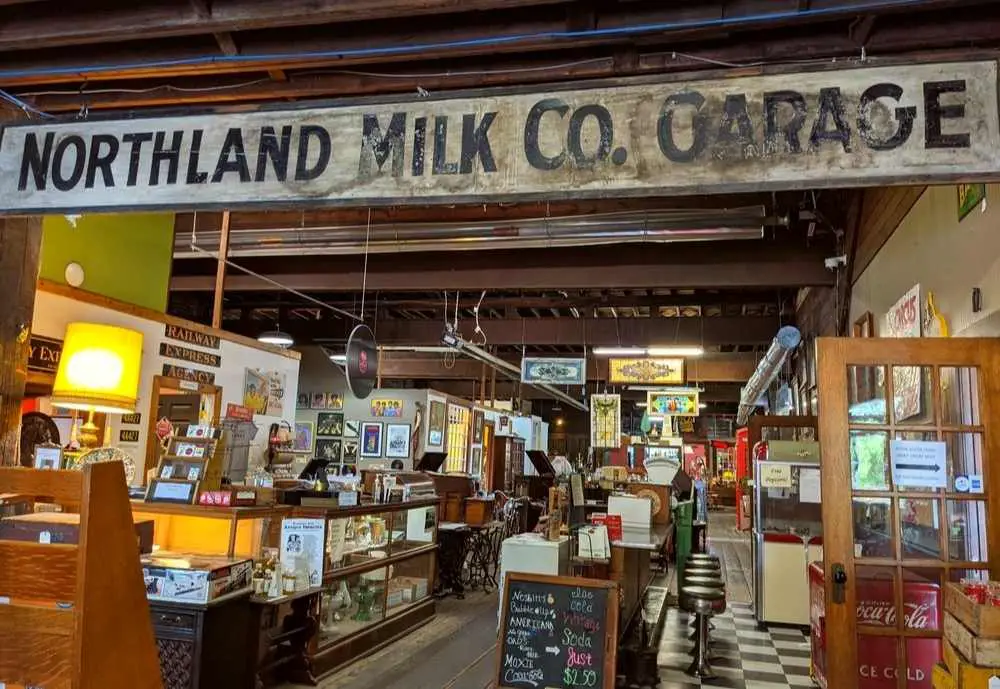 Railroad Bill's Dining Car is a one of a kind experience. They opened in 2017 and then also launched their own food truck in 2018.
They serve breakfast all day, and also serve lunch. They have an extensive vegan section of their menu, and highly touted by locals.
We recommend the Tofu Scramble, Rio Grande Steak and Eggs, or their chicken and waffles
Menu: Railroad Bill's Menu.
Top Review: "We stopped here for breakfast this morning while we were in town and it was amazing. You seat yourself and go up to the front counter to order. My husband had Railroad Bill's breakfast, I had a steak omelette (Santa Cruz) and my kids split a chicken and waffles. Mine was delicious, but I wanted to steal the waffles and chicken from my children. It's the best I've ever tasted. The prices seem low compared to taste and value. A true gem and I would come back again and again." – Loretta G.
621 Des Moines St Des Moines, IA 50309, (515) 243-0247
---
These breakfast spots are definitely worth checking out the next time you're in Des Moines.
No matter what your taste buds are craving, you're sure to find something to love on one of these menus.
And who knows – you might even find a new favorite spot to start your day. Bon appetit!
You might also like: