Waking up to the smell of fresh blueberry pancakes, bacon, and coffee is a sure way to start any day on a good note. But when you're on vacation in the Smokies, breakfast takes on a whooooole new level of importance. 
Pigeon Forge, Tennessee is home to some of the best breakfast spots around! Whether you're looking for a quick and easy meal on the go or a leisurely sit-down breakfast with friends, there's sure to be a spot that's just right for you. And with so many delicious options to choose from, you'll definitely want to try them all! So where should you start? Read on!
Sawyer's Farmhouse Breakfast
If you haven't guessed yet, they're known for their breakfasts. Crepes, waffles, pancakes, you name it, and they've got it.
Untitled - October 24, 2022
They even make their syrup and freshly-whipped butter along with freshly baked bread.
The farmhouse has easy, casual seating that'll make you feel comfortable. They have generous portions, and the staff indulges off-the-menu orders.
Things to try out include their country ham and eggs, the breakfast platter, and their breakfast crepes.
Menu: Sawyer's Menu
Top Review: "It's very clear that the lines and wait times are very long. Because when you walk out the door after eating all your food and then some, you say. "It's well  worth the wait!" The drinks was great and so was the food. We had a party of 13 and we were all taken care of by Tonya. Great waitress. Memosa's , coffee and water with our meal. To top off the morning!" – Ted W.
The Old Mill Restaurant
The Old Mill Restaurant serves southern breakfast in a historical setting here in Pigeon Forge.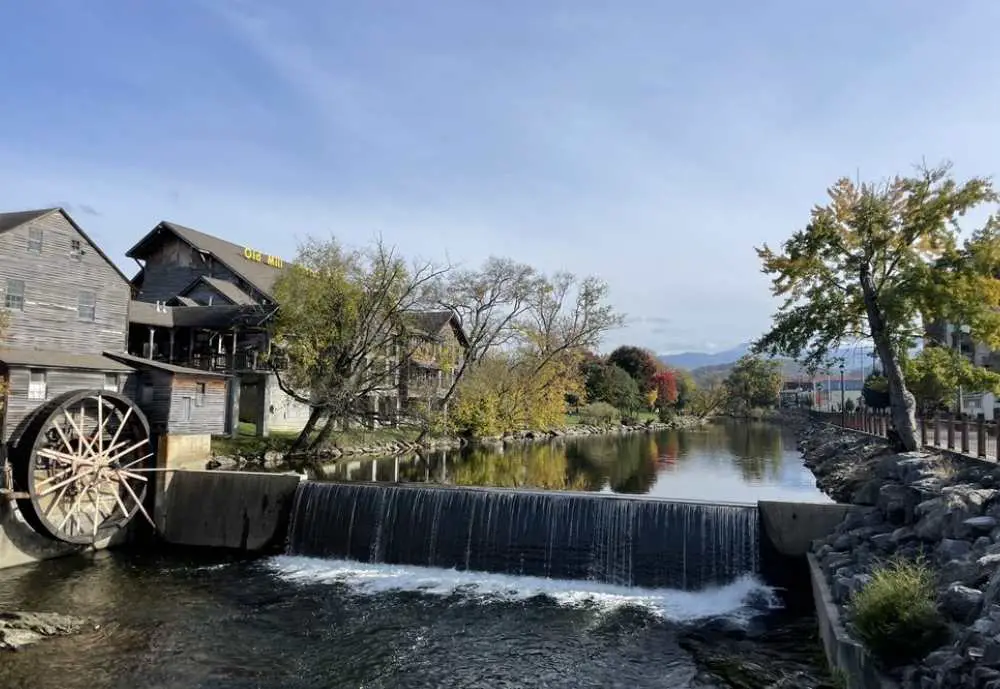 The gristmill you find yourself in was built in the 1800s and is now on the National Register of Historic Places.
There are a couple more other establishments on the compound, but this is where you go for breakfast.
The restaurant also has a great view facing the Little Pigeon River. They do some excellent in-house biscuits here, and the Old Mill Country Breakfast is a must-try.
Top Review: "I really enjoyed this place. The servers were friendly. I feel bad they have to haul those giant trays up stairs all shift. The place is way bigger than it looks. Plenty of seating. The menu has a great variety. Something on there fir the whole family. I could eat those biscuits and corn fritters for my entire meal if my mom would have let me. PS – don't forget to try the cake or pie for dessert." – Jennifer T.
Breakfast Map
Flapjack's Pancake House
Flapjack's is one of the best breakfast spots in Pigeon Forge and has multiple locations in the area.
Their specialty is all about breakfast and, most specifically, pancakes. People recommended this as a good alternative to other places often crowded by tourists. Here, you'll have no lines and mostly no wait times.
They offer country-style meals, and your orders come out fast enough.
Wondering what to get? Try the sticky bun pancakes, chicken and waffles, or some of their skillets: scrambled egg and cheese skillet or smothered chicken biscuit skillet.
Top Review: "Second time visiting Gatlinburg celebrating our marriage, still five stars a year later! We were sat as soon as we walked in and Miss Brenda, our server was amazing!! I ordered the Western Omelet with Sticky Bun pancakes. The first bite of omelet had peppers, onions and ham which was the case for the entire omelet. So packed with flavor. The pancakes?! So thick, had a nice crisp on the outside, fluffy on the inside! The pecans were so yummy, the cream cheese icing, well, drizzle wasn't overly sweet or overpowering. No syrup needed. My husband ordered the French toast breakfast and subbed country ham for the bacon/sausage. He had been wanting good country ham for a few weeks and this satisfied. True country ham!! Yum. The French toast was so good, could have been a little more crispy or toasted to keep it more firm under the butter and syrup but was absolutely good. The energy and ambiance and the cashier at the register to pay all gave southern hospitality. This is a must for every trip here." – Ebony W.
Mel's Diner
Mel's Diner is everything you want and expects from a diner. From the retro décor that will take you back in time to their simple yet delicious food.
Plus sides include their affordable prices, their all-day breakfast, and the diner's spacious seating.
If you're looking for something tried-and-tested, go for the big daddy's gut-buster breakfast.
Top Review: "Absolutely one of the best breakfasts I've had in a long time. Bravo, well done!!  The service was good, the food was great and the atmosphere is super fun!  The prices are reasonable and you get a ton of food. My fiancée agreed, best breakfast sausage around. The bacon was crispy, the eggs cooked to perfection. Get the hash browns extra crispy, you won't be sorry!" – Ellie D.
Frizzle Chicken Farmhouse Café
Another farmhouse-themed breakfast spot is Frizzle Chicken Farmhouse Cafe. This is a hit with families looking for a good breakfast spot with their kids.
The unique thing about the cafe is the many mechanical chickens adorning their walls and singing occasionally. Yes, they sing.
When it comes to food, they serve Southern American classics that everyone will love.
You can try their signature gourmet pancakes, house-baked biscuits, Belgian waffle, or the chicken n waffle.
Top Review: "This was our first choice for breakfast and boy are we glad we chose here! The service was amazing and the good even better.  Very affordable and great portions! Plus who doesn't love a show of chickens singing every 30 minutes! Don't pass this place up!" – Amanda M.
Paula Deen's Family Kitchen
Locals swear that this place is good and not just because it's a restaurant by Paula Deen.
This was the first restaurant she ever had, serving good Southern food.
The view from the restaurant is fantastic, and it has a family-style, all-you-can-eat affair with a no-leftovers policy.
Some recommendations include the apple cinnamon French toast and the ooey gooey butter pancakes.
Top Review: "I absolutely love this restaurant. I have visited the one in Branson, MO and the one in Pigeon Forge, TN. Come hungry as you will get a lot of delicious food. We did the Savannah which came with 3 main dishes and 4 sides. It was plenty for the two of us. The fried chicken is a must. The employees treat you like family and were so quick with refills. I can't wait to go again." – Daniel G.
Lil Black Bear Cafe
Lil Black Bear Cafe is a smaller establishment compared to the others on this list.
Don't count them out, though, because they're still one of the best breakfast places in Pigeon Forge.
They are known for their delicious pancakes that are thick and fluffy. Their biscuits and gravy are also up there as their best menu items.
They make classic American breakfasts with huge portions and cozy seating. Don't miss out on their pancakes or their smoked bologna sandwich.
Top Review: "There's a lot of chain restaurants in Pigeon Forge, and a TON of Pancake restaurants, but LBBC was the ONLY Four star reviewed Breakfast restaurant on YELP that I could find around there. And man  did it deserve it! Great omelette, good coffee, great server,  and a fantastic, charismatic owner behind the grill. All in a fun, kitschy, tiny diner. Thanks, LLBC!  If I'm in Pigeon Forge again, I'll be sure to return!" – Keelan P.
Brick and Spoon
Looking for a brunch spot that won't disappoint? Brick and Spoon has got to be the best brunch spot in Pigeon Forge.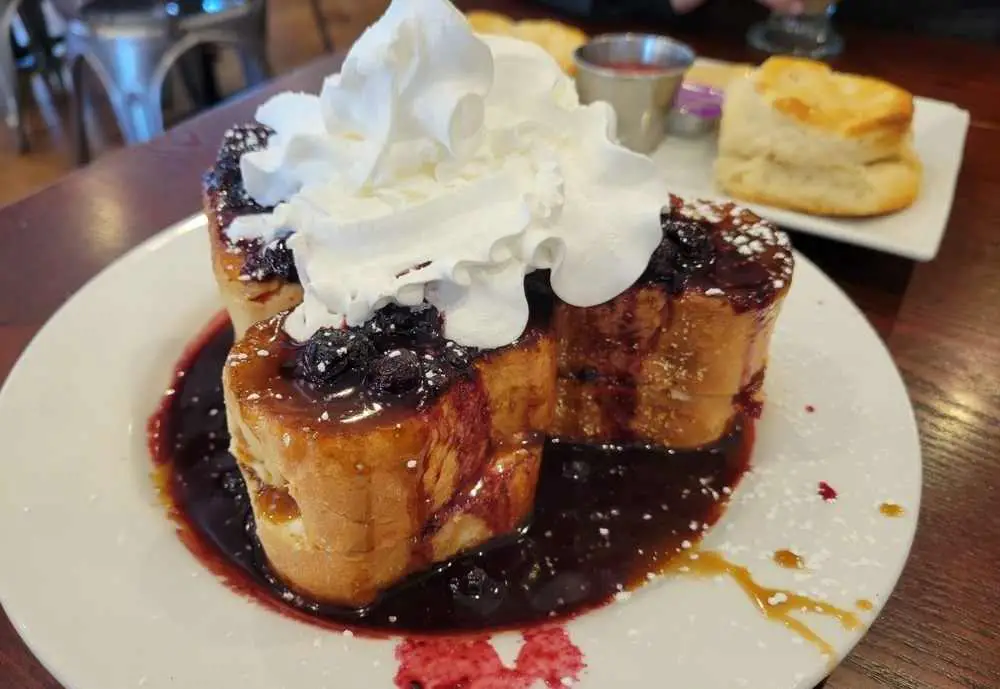 They've got all the brunch classics you need: a good bloody mary, eggs benedict, and more.
The whole place has got a cozy and laidback ambiance. They have multiple locations in the South, and you can taste that southern flavor on each plate.
Order their bananas in pajamas, deviled on the bayou, breakfast tacos, bayou benedict, or English muffins for the grand experience.
Top Review: "Great food every single time we eat here! Wonderful Bloody Mary's, and you can pick how you want it made! The staff is always welcoming and very friendly. You can go to their website and add yourself to their wait list which saves a lot of time, as it's always packed….but worth the wait! Can't wait to visit again!" – Lori S.
---
So as you can clearly see, Pigeon Forge is an amazing city for breakfast spots! There are plenty of options to suit any taste, and the prices are reasonable.
Whether you're looking for a hearty meal to start your day or a quick bite on the go, you'll find what you're looking for in Pigeon Forge, Tennessee. So what are you waiting for? Get out there and try one of these!
You might also like: