If you're looking for the best breakfast in Maui, look no further! In this paradise island, you'll be spoiled for choice with an abundance of world-class eateries serving up everything from fresh seafood to locally sourced fruits and vegetables.
Here are the best breakfast restaurants in Maui that you won't want to miss!
Kihei Caffe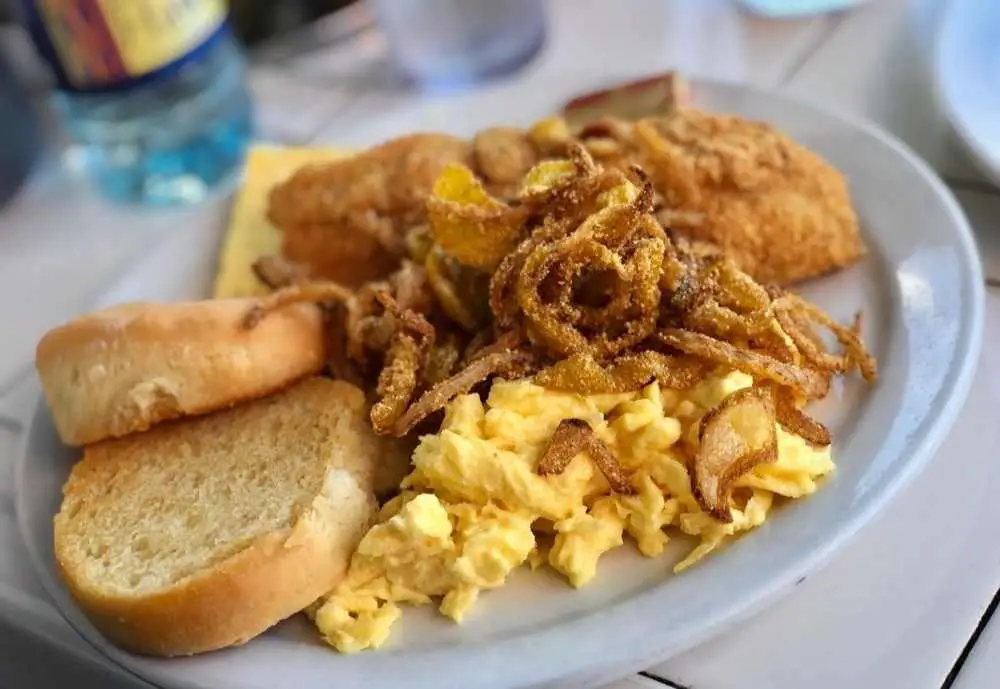 Kihei Caffe has been a favorite breakfast restaurant for Hawaiian mornings since 1998.
The Papaya Delight is a pleasant dish to start off with as the yogurt and granola pair well with a half of a papaya.
There is a savory classic Hawaiian dish great for any lovely morning; the Kalua Pork Loco Moco is a full plate of two eggs on shredded Kalua Pork over a bowl of rice and drenched in their iconic brown gravy.
Give them a go for some of the best breakfast in Maui!
Menu: Kihei Caffe Menu
Top Review: "We came here for breakfast three times during our week stay and don't let the line scare you! It moves pretty fast but you do have to order your food before you sit down. The do have whale pancakes for kiddos with chocolate chips which was a favorite in our house! Their iced coconut cold brew is delicious! They have wild roosters running around while you eat but they are harmless! The portions are pretty big but you order single pancakes and French toast." – Inna R.
Kihei Location: 1945 S Kihei Rd, Kihei, HI 96753; (808) 879-2230
Lahaina Location: 305 Keawe St, Lahaina, HI 96761; (808) 868-2230
The Gazebo
The Gazebo has a lot to offer from dreamy beach scenery and memorable meals. Indulge in a decadent stack of white chocolate macadamia nut pancakes for a sweet morning.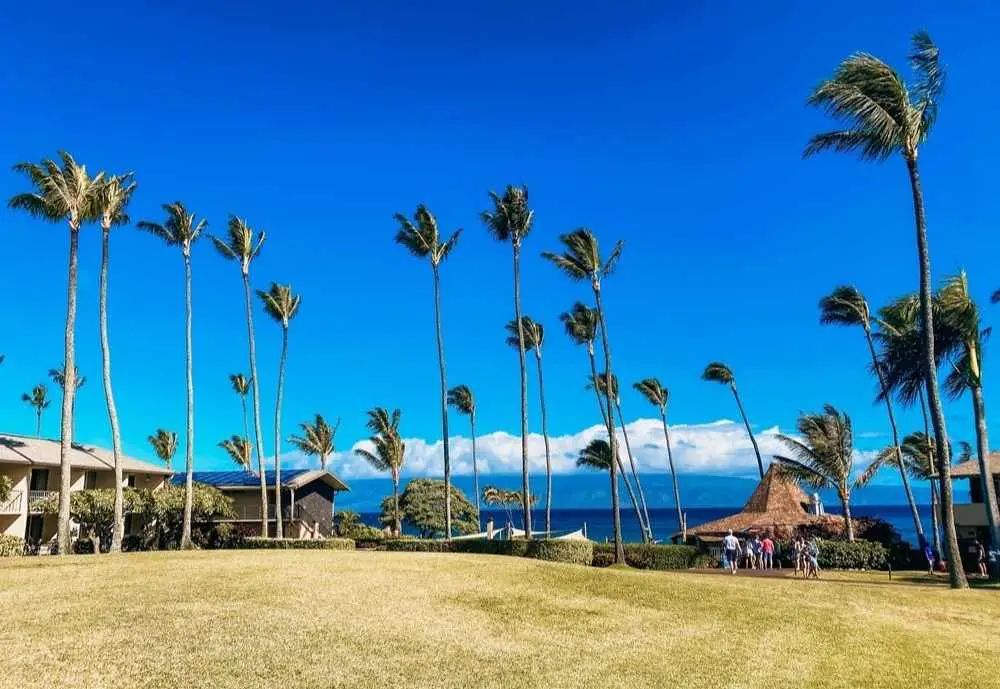 Enrich your day with a substantial and delicious breakfast: the Big Kahuna Omelette comes with Portuguese sausage, bacon, mushrooms, onions, avocado, and pepper jack cheese.
The views are amazing here, classic Hawaii, which helps it be one of the best breakfast spots in Maui.
Menu: The Gazebo Menu
Top Review: "We came around 8:15am on a Saturday (45 minutes after opening) and we waited around 2 hours in line so keep that in mind if coming in the morning. They do have a small cute gift shop to kill a little bit of time and the views are beautiful. We ordered the Fresh Fruit of Pineapple Spears and Papaya, 1 White Chocolate Chip Mac Nut Pancake, French Toast, and Sides of Bacon, Sausage, Portuguese Sausage, and Steamed White Rice. For drinks we both had the POG. We loved every single bite and sip. The service was very friendly. We received our food really quickly once seated. The view was beautiful from our table." – Franny Z.
5315 Lower Honoapiilani Rd, Lahaina, HI 96761; (808) 669-5621
808 Grindz Cafe
Continuing the beloved Hawaiian traditions from its older sister store, North Shore Cafe, 808 Grindz Cafe is a dependable place to get the breakfast you need and want.
The exotic meets the familiar with the ube pancake, a classic treat made with purple yam.
Their crab latkes are a delectable way to add protein and deliciousness to any morning.
Menu: 808 Grindz Cafe Menu
Top Review: "Nothing but great things to say about this place. First off, service was amazing. The staff was super friendly and food came out pretty quick. Some lady said I tried to cut the line, but clearly she saw I was there before her and had written my name down. The staff shut that down real quick. I got the full stack ube pancakes and they were so worth the hype. Great ube flavor and it came out piping hot. I definitely would have licked the plate lol. Best breakfast in town if you ask me, must try for sure!" – Tina V.
843 Waine'e St, Lahaina, HI 96761; (808) 868-4147
Leoda's Kitchen and Pie Shop
Make Leoda's Kitchen and Pie Shop your next stop because of the fine selection of traditional breakfasts served in a classy and cozy atmosphere.
Dig into a warm serving of monkey bread for any special occasion in everyday life.
Refresh the senses with a zesty seared ahi sandwich and prepare for a fuelled and fantastic day.
Menu: Leoda's Kitchen and Pie Shop Menu
Top Review: "Aloha from Maui, Hawaii, As I continue my journey through the journey of the beautiful island; my mission is to find the hidden gems that will make your taste buds happy. My mission was accomplished today! Leodas Kitchen is the place to be right before going to the beach. They specialized in personalized pies ( yup that's right PIEs!!!) I had the apple crumb pie, my wife had the banana cream pie, my friend had two pies! Guava and Mango, last but not least my other friend had the key lime pie. They were all yum yum so good! So trust me guys, it's a must go!! Until next time my friends. Happy Eating everyone!!!" – Dwayne C.
820 Olowalu Village Rd, Lahaina, HI 96761; (808) 662-3600
Down the Hatch Maui
One of Hawaii's iconic go-tos when it comes to breakfast locations is Down the Hatch Maui, a lovely restaurant establishment focused on relaying Hawaii's beautiful culture and extravagant seafood to all who visit.
Try a plate of Lava Lava Shrimp & Avocado Omelet as a taste of Hawaii's unique and delicious cuisine.
Anyone with a sweet tooth can be easily talked into trying out their FrenchToast Tower.
Menu: Down the Hatch Maui Menu
Top Review: "Down the hatch embodies everything that you want Hawaii to be. It's local, a little funky, and serves up the most amazing seafood specialities. We're die hard DDD (Diners, Drive-Ins, and Dives) fans and were super excited to try this spot! We waited in line for ~25 min to order at the counter. The food came out fairly quickly after that. I HIGHLY recommend the lava lava shrimp! Everything we ate here was absolutely phenomenal." – Olivia F.
658 Front St # 102, Lahaina, HI 96761; (808) 661-4900
Papa'aina
Another hot breakfast spot in Maui is Papa'aina. Dive into the flavors of paradise by ordering a tropical fruit plate, a mixture of freshly sliced fruits from local farms.
Let the rich savory flavors of the breakfast ramen nourish your soul with ham, bacon, American cheese, shiitake, egg, and maple coffee butter seeped in shoyu dashi broth .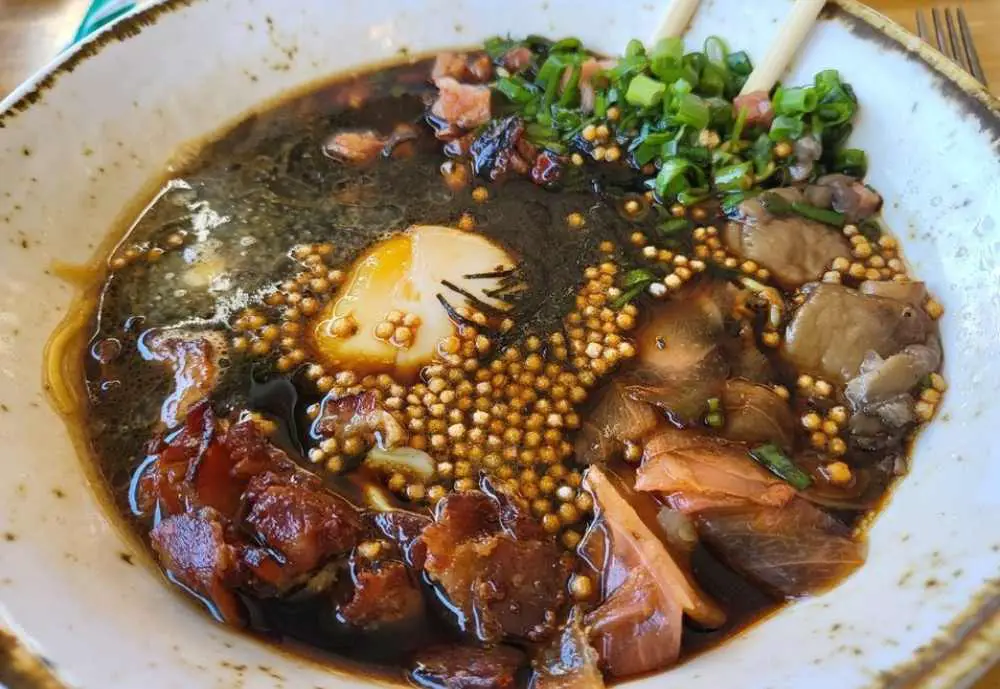 Papa'aina brings Hawaiian traditions to the table with their hand picked ingredients from local Hawaiian farmer's markets.
Menu: Papa'aina Menu
Top Review: "Easily the best breakfast I've ever had. We couldn't decide what to order, so we ended up splitting 5 items. Normally, I'd list and describe them all, but honestly, they were all just delicious. I can't imagine a single thing on this menu being anything but amazing. So, we had the French toast, the ocean bowl, the smashed potatoes, the mango muffin and the bacon-kimchi scone!  All amazing – we'll certainly be back!!" – Bob G.
658 Wharf St, Lahaina, HI 96761; (808) 661-3636
SixtyTwo MarcKet
A delicious variety of meals crafted from seasonal local produce is on the menu at SixtyTwo MarcKet, a community of chefs bringing their best to their tables.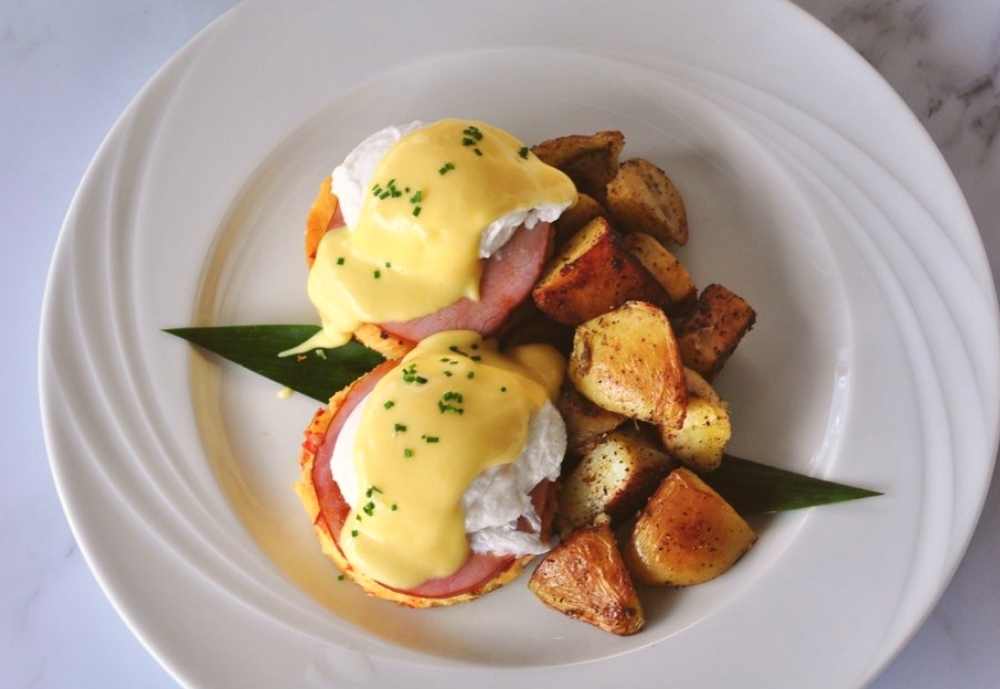 Pamper yourself with a plate of Maui Cattle Moco Loco, an 8 ounce hand made patty with 2 eggs and wild mushroom demi glaze.
Serenade your senses with the tropical delight that is Mailuku Town Stuffed Brioche French Toast, made with Punaluʻu Sweet Bread and Grand Marnier Batter and topped with coconut creme cheese, toasted coconut flakes, macadamia nut, and coconut syrup. Some of the best breakfast in Maui can be had here; try them out!
Menu: SixtyTwo MarcKet Menu
Top Review: "I love this restaurant! Love the service, the vibes, the food! I'm glad I live here because eventually, I would like to try everything on the menu. I'm happy the menu changes every 62 days…it's always refreshing and exciting to see different things to eat every now and then. The parking isn't the greatest but it's worth it 100%…just get there early. I'll be back again." – Mikala S.
62 N Market St, Wailuku, HI 96793; (808) 793-2277
Freshies Maui
Freshies Maui has something scrumptious for meat lovers, vegans, and everyone in between in their upbeat and fun Maui upcountry atmosphere.
Try out their shrimp scampi omelet for a refreshing seafood twist on a delicious classic.
A plate of huevos rancheros is a reliable option for an enjoyable and wholesome meal.
Menu: Freshies Maui Menu
Top Review: "Lee greeting us with such enthusiasm and great Hawaiian hospitality. He suggested several dishes from their crunch salad to their tacos and turkey sandwich special. He also provided some excellent Hawaiian draft beer choices. If you are in the area, I recommend you check this place out." – Esmerelda R.
3620 Baldwin Ave, Makawao, HI 96768; (808) 868-2350
Castaway Cafe
Go on an island adventure first thing in the morning at Castaway Cafe, a great Maui destination for a delightful breakfast and scenic view.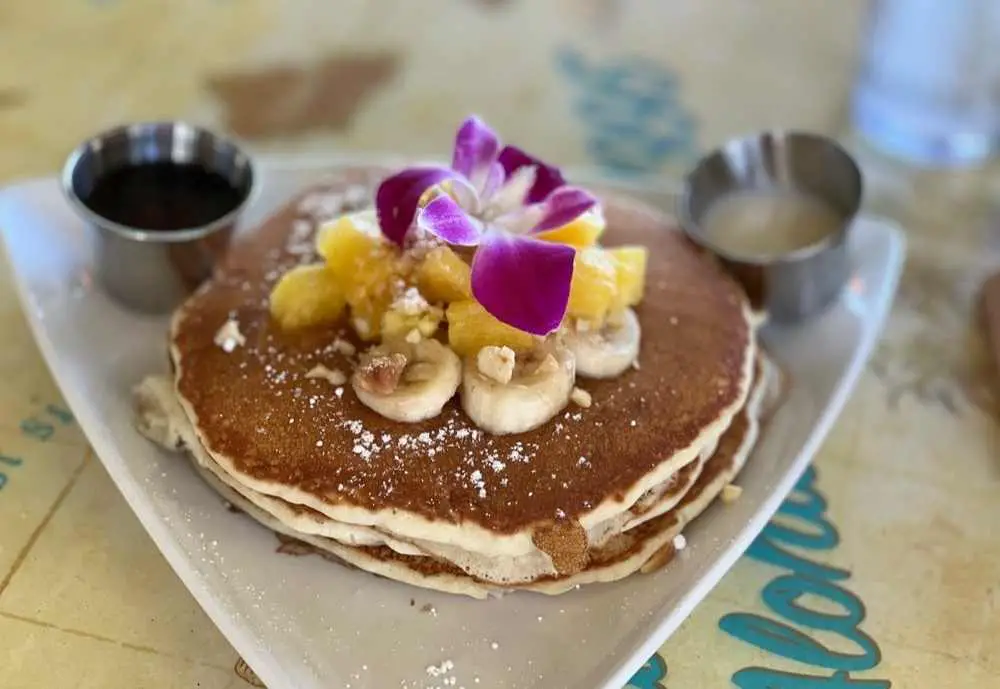 Enjoy freshly prepared pineapple, banana, macadamia nuts, and haupia sauce over a warm fluffy stack of Paradise Pancakes.
Served with toast and potatoes, the Kamehameha Omelet is made with Portuguese sausage, bacon, cheddar cheese, and avocado.
Menu: Castaway Cafe Menu
Top Review: "This is a great spot for dinner and even breakfast. Super close to our hotel royal lahaina which makes it convenient for us. My wife had the Kalua pork nachos which had some great toppings on it which were flavorful and delicious. I had the angus ribeye steak cooked medium and it was a delicious juicy amazing steak. Came with veggies and mashed potatoes. Veggies were seasoned and tasty but the mashed potatoes come out a little bland. We threw a little salt on it and it came out great. I would definitely come back here for sure and recommend this spot. Oh and the mai tai's were made to perfection. Not too strong and not too much juice. Perfect blend." – Jonathan G.
45 Kai Ala Dr, Lahaina, HI 96761; (808) 661-9091
AC Kitchen
Refresh the senses with a mimosa in the morning at AC Kitchen, a breakfast buffet at AC Hotel by Marriott Maui Wailea where you can start the day with as much international and local cuisine as desired.
One of the many plates available to choose from is the Belgian waffle, topped with strawberry syrup and fruits.
Enjoy a more rich and savory meal with the Loco Moco bowl garnished with chopped scallions.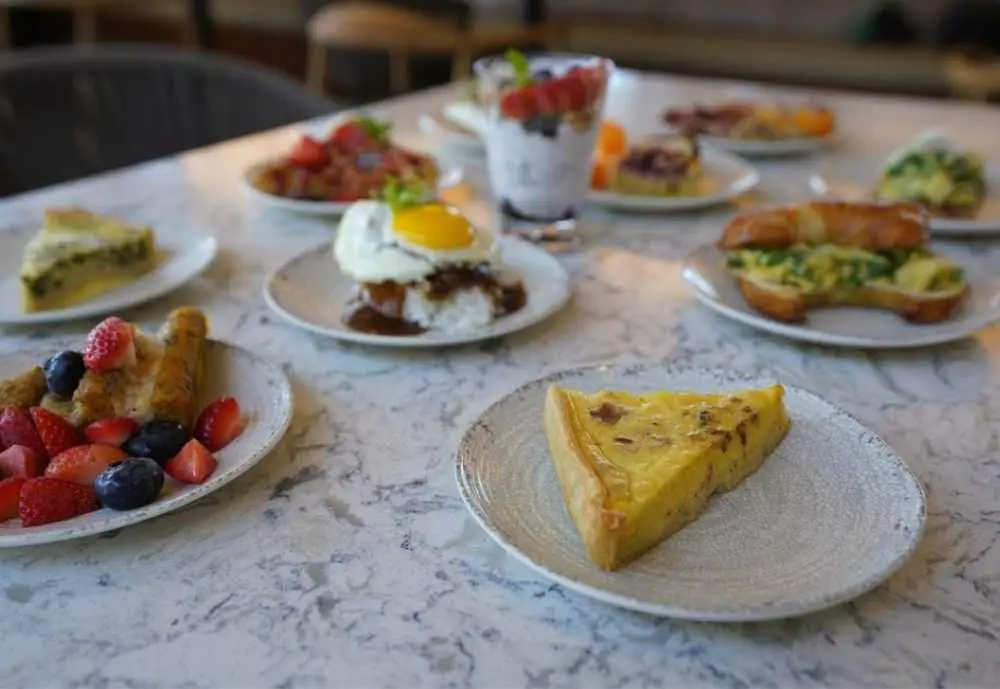 Top Review: "First impression is the food out is not worth $25 per person. It looks more like what a continental breakfast would be. But once you understand ALL the food choices from the kitchen are included then there's value is apparent. We literally ordered one of everything. Avocado toast, locomoco, breakfast croissants, open faced egg sandwich, quiche and waffles. It was delicious. We went back for seconds on the avocado toast locomoco, and breakfast croissants." – Kai T.
88 Wailea Ike Pl, Kihei, HI 96753; (808) 856-0341
Overall, these Maui breakfast restaurants offer a delicious and unique experience that everyone should try at least once.
So make sure to get up early on your next trip to Maui and enjoy one of these amazing breakfast experiences!
Frequently Asked Questions
What is Khei Caffe known for?
Khei Caffe is known for their fresh, locally-sourced breakfast dishes. They have a diverse menu ranging from traditional American breakfast options to Japanese-inspired dishes like açai bowls and sushi rolls. Their famous mango pancakes with macadamia nuts are not to be missed! They also offer beachfront seating and stunning ocean views.
what is the most popular breakfast food in Maui?
One of the most popular breakfast dishes in Maui is Loco Moco, a plate of white rice topped with a hamburger patty, fried egg, and brown gravy. It can be found on many menus throughout the island, but one of the standout options is Cafe O'Lei's version, made with local grass-fed beef and topped with mushrooms. Another popular breakfast option is malasadas, Portuguese-style doughnuts that can be filled with custard or chocolate and are often found at roadside stands or farmers markets.
How do I eat on a budget in Maui?
One budget-friendly breakfast option in Maui is a plate lunch, typically consisting of white rice, macaroni salad, and your choice of meat (often kalua pork or teriyaki chicken). These can be found at various takeout spots and food trucks throughout the island. Another budget choice is to grab acai bowls from local health food markets or smoothie shops. For a sit-down breakfast option, Eggbert's serves affordable options like omelettes and breakfast sandwiches. No matter where you go, be sure to check for specials and happy hour deals at restaurants.
What kind of food do they eat in Maui?
In Maui, there is a mix of traditional Hawaiian dishes and fusion cuisine influenced by other cultures like Japanese, Portuguese, and American. Some popular local dishes include poke (marinated raw fish), laulau (pork or fish wrapped in taro leaves and steamed), and kalua pig (slow-roasted pork). There is also a strong farm-to-table movement in Maui, with many restaurants showcasing the fresh, local produce and seafood available on the island. In addition to breakfast foods, visitors can also find a wide range of cuisine for lunch and dinner, from upscale fine dining to casual plate lunches and food trucks.
What do Hawaiians eat for breakfast?
Traditionally, Hawaiians often ate foods like poi (mashed taro root), sweet bread, and eggs for breakfast. Today, breakfast in Hawaii may also include options like loco moco, acai bowls, and traditional American breakfast items like pancakes and omelettes. In addition to sit-down restaurants, Hawaiian breakfast options can also be found at roadside stands and farmers markets. Many Hawaiian breakfast dishes feature local, fresh ingredients such as tropical fruits and seafood.
You might also like:
best breakfast maui, best breakfast in maui, breakfast in maui, down the hatch maui, best maui breakfast, breakfast buffet in maui, best breakfast on maui, best brunch in maui