Are you finding yourself craving something warm and rich? Maybe you want a hot bowl of ramen for dinner? Worry no more as we're giving you the ultimate guide to the best ramen in San Diego!
These are tried and tested from local favorites and popular haunts to be the best SD has to offer. You can choose from traditional flavors to creative ones that'll amaze you.
Check out these 15 best ramen in San Diego!
Underbelly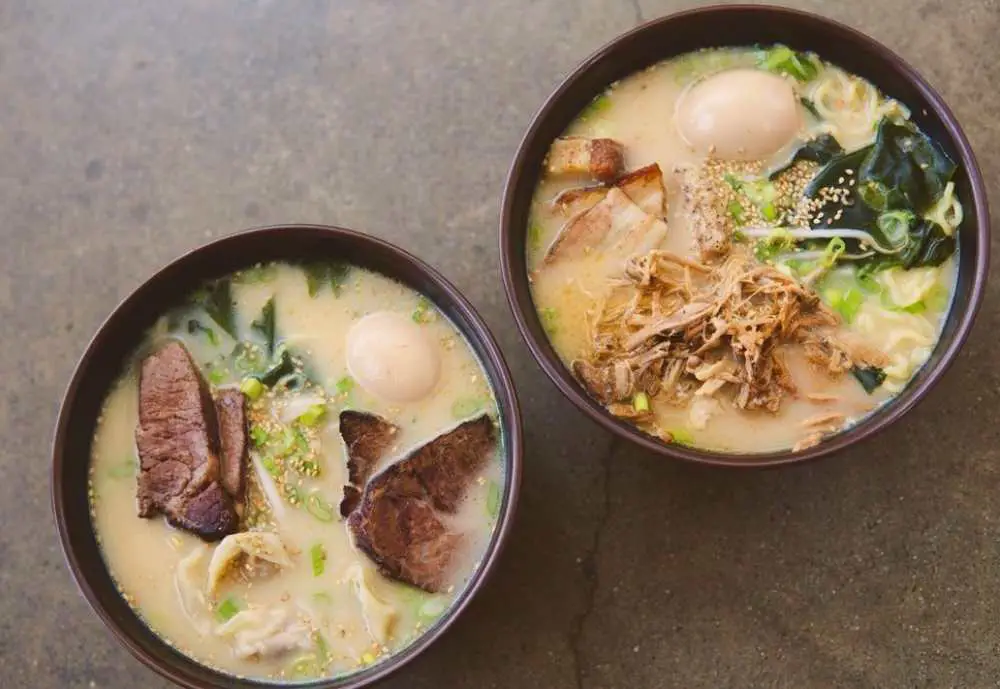 For the first ramen place on this list, we're gonna go bold and different with Underbelly.
Underbelly's aesthetic is a futuristic steampunk version of Tokyo that's so cool to see. Aside from their standout decor, their ramen and drinks are simply amazing.
They offer traditional ramen flavors and have a lot of experimental ramens for you to try. Their popular ramen option is the Belly of the Beast. In it, you'll find beef brisket, oxtail dumplings, and hoisin-glazed short ribs.
Their cocktails are also eccentric. They're creative and make clever use of Japanese ingredients.
Come over for a one-of-a-kind experience!
Menu: Underbelly Menu
Top Review: "Delicious!!! I love the bowl of noodles I got there it was fantastic!! The appetizers were also really good and for sure different than most places which I enjoyed. The drinks were awesome and the place was really cool with the half inside half outside feeling." – Alex M.
3000 Upas St Ste 104 San Diego, CA 92104, (619) 487-9909
Hokkaido Ramen Santouka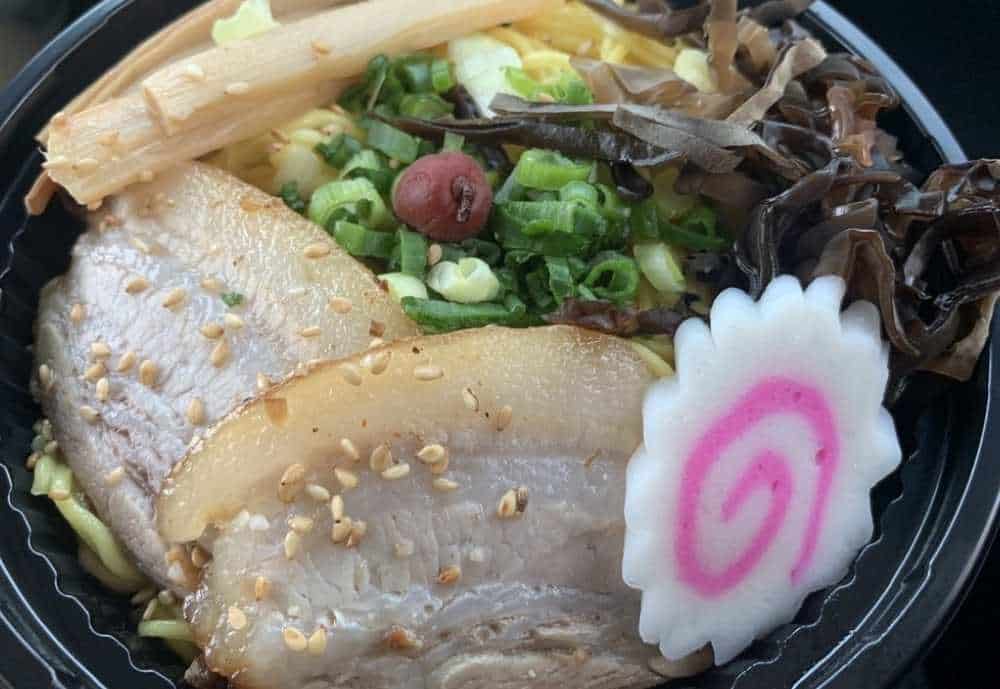 You'll find Santouka Ramen inside Mitsuwa Market with a host of other Japanese spots.
Hokkaido Ramen Santouka isn't fancy or upscale, but their ramen is one of the local favorites.
If you're a first-time visitor, they recommend trying the shio ramen or the tokusen toroniku.
Santouka is a chain restaurant that originated in Japan. This should be your go-to for an authentic and comforting bowl of ramen.
Menu: Hokkaido Ramen Santouka Menu
Top Review: "Been going here since more than 10 years ago, I believe. The menu has definitely changed but only to add more options. More and more ramen shops have opened up in San Diego but I always crave their ramen every now and then. It's still one of the best for me. Simple and very delicious!" – Marinelle A.
4240 Kearny Mesa Rd Mitsuwa Market Pl San Diego, CA 92111, (858) 974-1101
Tajima Ramen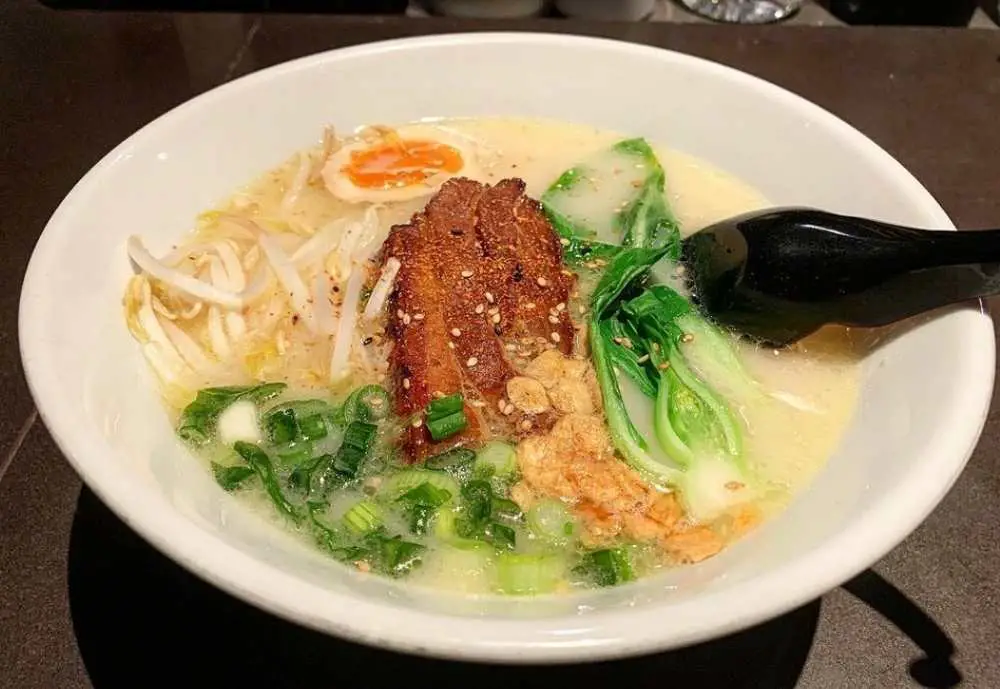 Tajima ramen is a common name in the San Diego ramen scene. They serve some of the best ramen and have several locations in the city.
A tried-and-tested favorite is their Tonkotsu ramen. It's got a deep broth with rich flavors that makes sense as it cooks for 12 hours.
Their spicy sesame tantanmen bowl is also a good option if you're looking to warm your insides.
They also do unique flavor combinations like their carnitas bowl and the truffle ribeye bowl.
Menu: Tajima Menu
Top Review: "My all-time favorite ramen spot in San Diego. The first time I tried this ramen was back in 2009 with my sister when she first moved out here. They play some throwback slaps here, which I really enjoyed. It definitely made my experience here great." – Rona D.
4681 Convoy St Ste I San Diego, CA 92111, (858) 576-7244
HiroNori Craft Ramen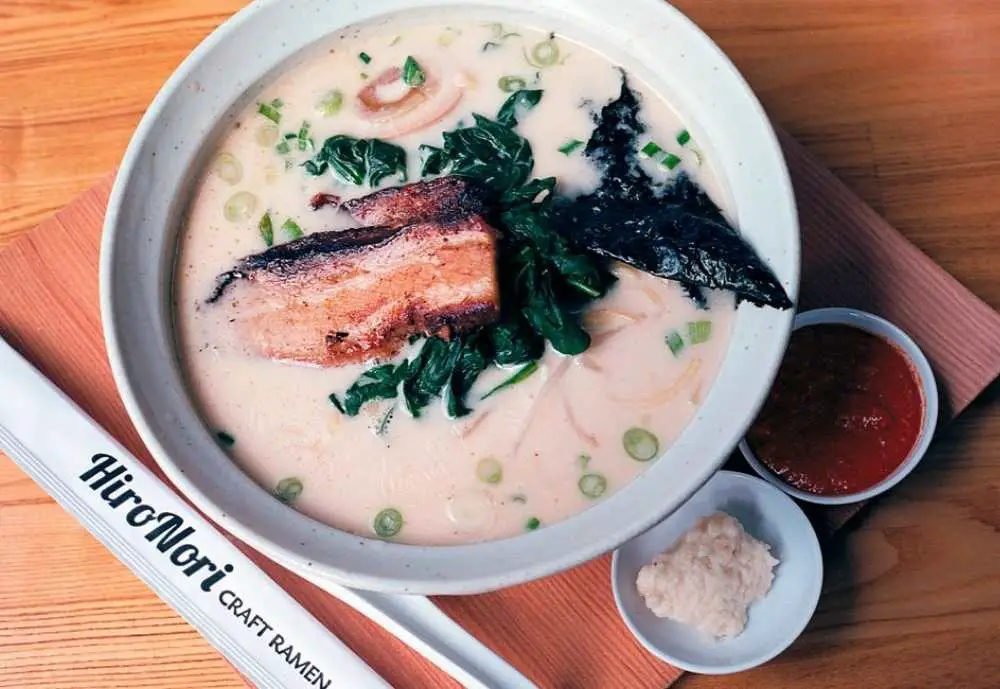 For vegans, there is a ramen restaurant that's perfect for you.
HiroNori Craft Ramen has a couple of locations in Southern California and has a limited menu.
They offer traditional flavors like tonkotsu and shoyu, but their vegan ramen is worth trying. Its broth includes five different miso that creates a comforting taste.
They also offer other menu items with an authentic Japanese taste. Try their crispy chicken with their ramen!
Menu: HiroNori Menu
Top Review: "I'm going to dub HiroNori Craft Ramen as San Diego's best ramen restaurant. The staff is always incredible, sweet and attentive. I've been here over a dozen of times already, and the statement continues to stand true. Order the Tonkotsu Ramen with a side of spicy and garlic sauce. Ask for al dente noodles for your bowl, and trust me, you will not absolutely regret it. You'll be served a piping hot, delicious and flavorful bowl of absolute perfection." – Chinsin S.
BESHOCK Ramen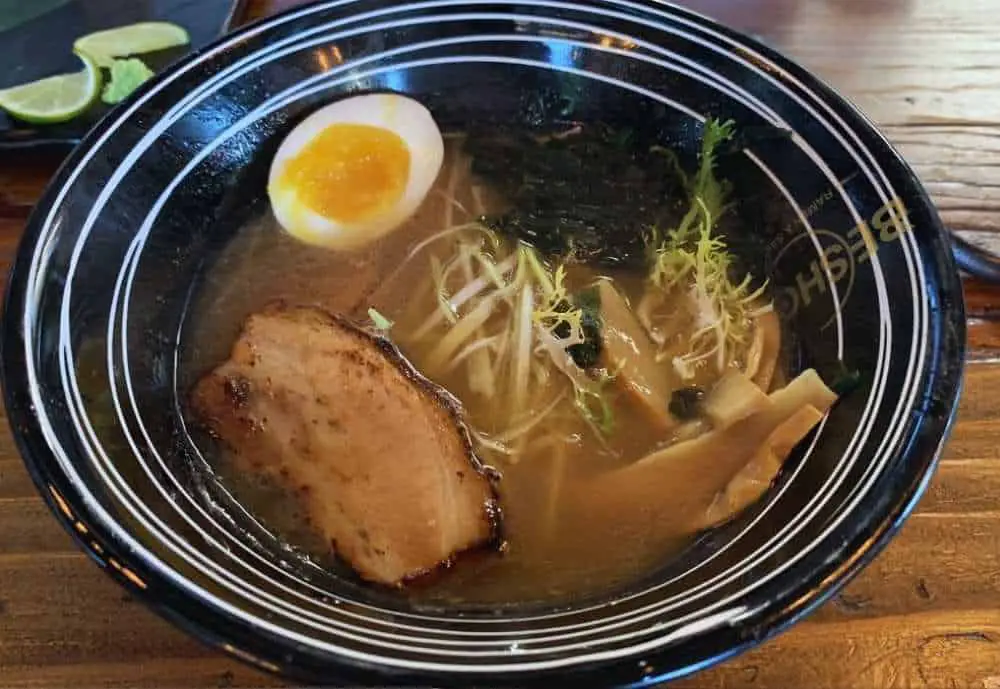 BESHOCK is both a sake bar and a ramen spot.
They have some of the best menus on the ramen and sake scene. Most of their ramen bowls have a combination of pork, chicken, and veggies in their broth.
It's hearty and fills you up in just the right way. They also have a vegan bowl with lots of veggies, sesame, and spicy oil!
Don't forget to dip your toes in their sake menu with their Sake Master, Ayaka Ito. If you're staying home, they also have virtual sake events.
Menu: BESHOCK Menu
Top Review: "Beshock is an East Village institution.  I have been coming here for years.  They have amazing Ramen, great drinks, and an awesome happy hour.  Their service for a casual restaurant thanks to their awesome waiter Chris and their whole staff is amazing. Some of my favorites are their Spicy Miso Ramen, Cajun Chicken Karaage, Crispy Spicy Tuna, and if you're vegan their vegan gyozas and vegan ramen are amazing." – Ryan S.
1288 Market St San Diego, CA 92101, (619) 310-5498
Izakaya Masa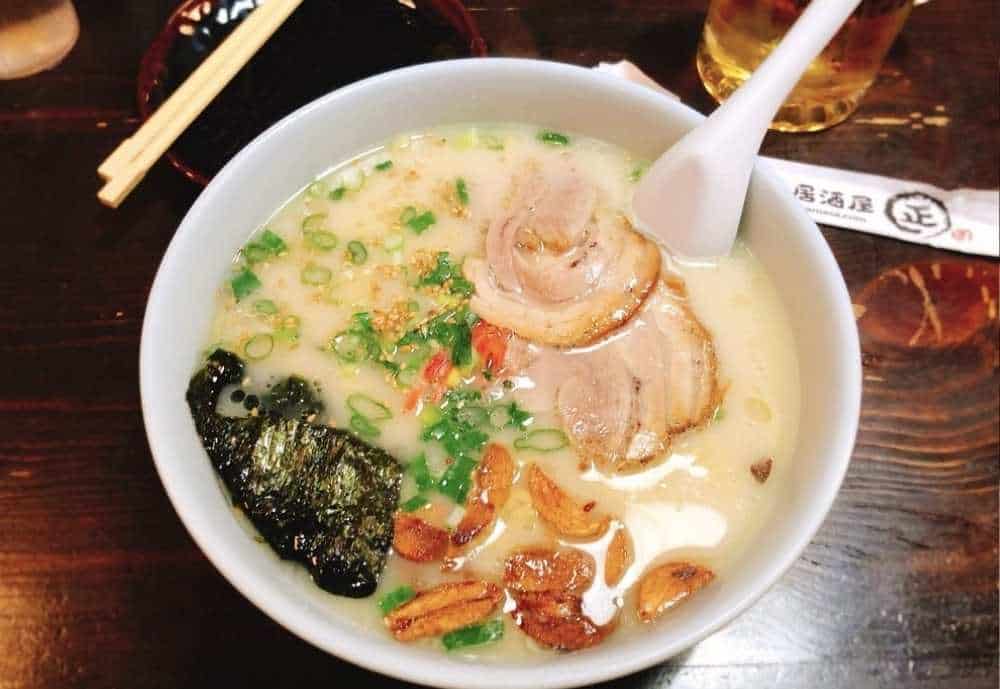 This no-fuss ramen spot probably has the best value for its price. For their most basic ramen option, it'll only cost you $11.
Izakaya Masa's limited menu has tonkotsu and shoyu choices for broth. But aside from that, they also have other menu items that are standouts.
Complement your ramen with hot and cold small plates, sushi, or sashimi.
Though you only have a couple of options, they still deliver quality. Their food is simple and focuses on providing those authentic flavors.
Try this while you're in town!
Menu: Izakaya Masa Menu
Top Review: "Doesn't look like much is going on in this quiet part of Mission Hills, accept for the line out the door for this Hole in the wall Ramen place! The food is great, always fresh. We like the Hakata Ramen toppings with the Shoyu broth. Ask for extra green onions! Service is always quick and polite!" – Jonathan T.
928 Fort Stockton Dr San Diego, CA 92103, (619) 542-1354
Menya Ultra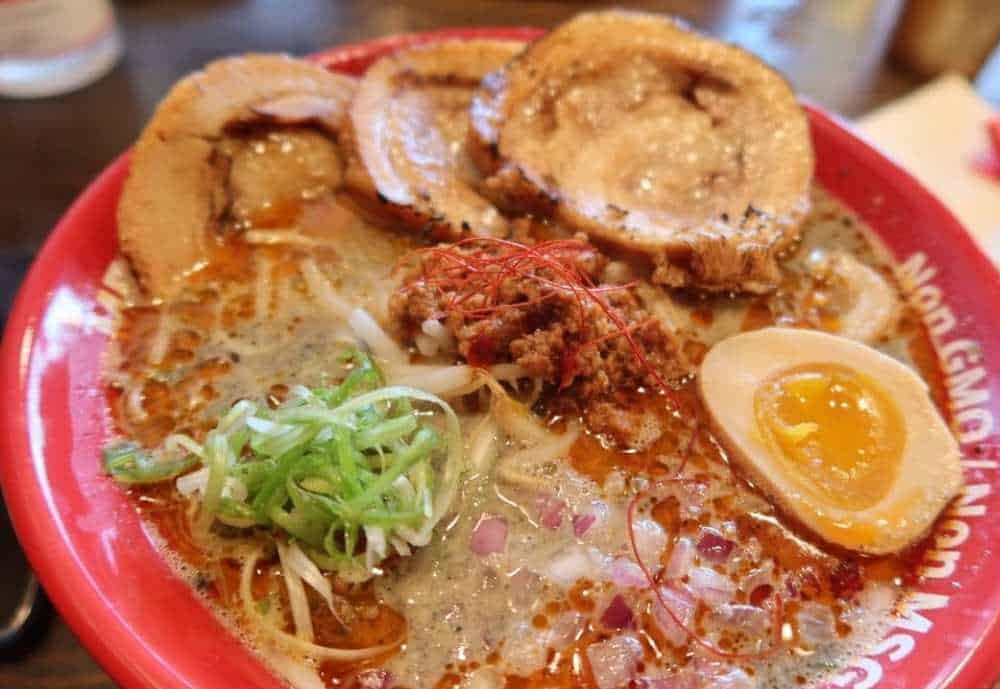 Menya Ultra is best known for its quality noodles. All their noodles are made in-house with ingredients that are imported from Japan.
Everything's made fresh every day too.
The noodles are chewy and perfect for their broth options: tonkotsu, miso, and tantamen. This has been a beloved spot by local ramen lovers since it opened in 2017. It was even Eater San Diego's 2017 Restaurant of the Year.
It's a popular place, so there might be lines occasionally.
Menu: Menya Ultra Menu
Top Review: "I've been here a number of times and have tried almost every type of ramen. It's all excellent. The last time I came here I got the Tonkotsu ramen. I had the pleasure of sitting at the bar and watched the staff work. You can sense the precision and care they put into every bowl and the flavors really show. This place has a long wait for a reason!" – Jonathan B.
8199 Clairemont Mesa Blvd Ste M San Diego, CA 92111, (858) 571-2010
Yakyudori Yakitori & Ramen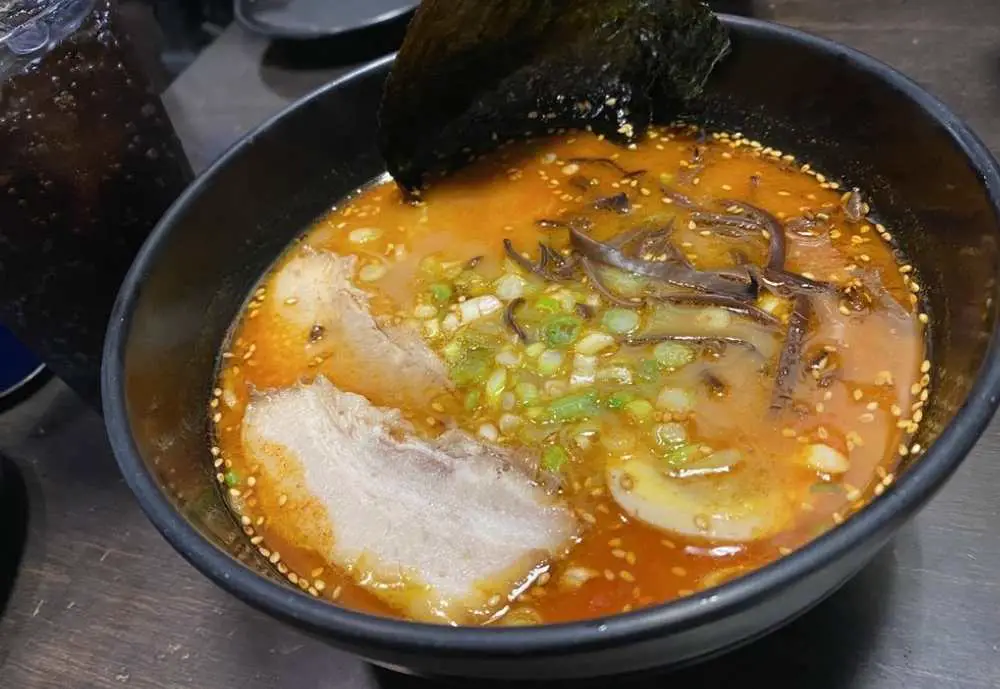 If you've noticed, many of the San Diego ramen places have a no-frills approach to making their food.
Yakyudori Yakitori & Ramen is just another spot with a straightforward recipe, but the flavors are amazing.
There's nothing to hide in their simple ramen bowls with a rich broth, several base options, and a variety of toppings. Plus, the price is affordable and pretty reasonable.
Aside from the ramen, they're also known for their yakitori. Don't miss out on this!
Menu: Yakyudori Menu
Top Review: "The Spicy Tonkostu Ramen was tasty and filling. The broth was so delicious and the right amount of spicy. The Steamed Pork Dumplings were perfect, I loved the dipping sauce that came with them. The Pork Belly Yakitori took a little longer to come out but it was great. The Kanazawa Curry Rice Deluxe was shockingly amazing. Every bite of that dish was incredible and so worth the price. I loved the Fried Chicken Wings; I want to say we got the original seasoning or whatever the house seasoning was. My absolute favorite item was the Grilled Whole Squid. It was a huge portion and cooked perfectly." – Kristin J.
4898 Convoy St Ste 101 San Diego, CA 92111, (858) 268-2888
Nishiki Ramen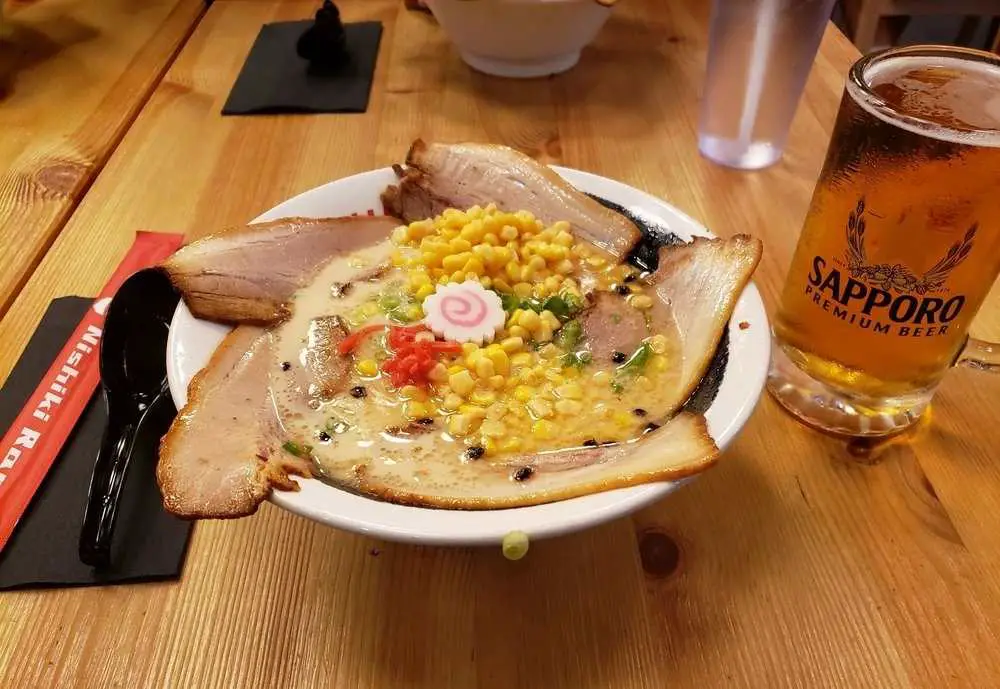 You'll find Nishiki Ramen at two locations on Kearney Mesa and Hillcrest. Both make their noodles in-house every day. It's that fresh aspect that makes their ramen stand out.
What they recommend for first-time visitors is the Smoke Bomb Black. This has pork belly chashu, roasted black garlic sauce, a beautiful soft-boiled egg, and many toppings.
They also have vegan options with mushroom broth and vegan noodles.
Nishiki is also a chain ramen restaurant in Japan.
Menu: Nishiki Menu
Top Review: "My go-to ramen recommendation for all of my friends asking for recommendations when they visit San Diego! There's a reason why I love this place so much, but it really all starts with their unique Smoke Bomb Black Ramen. Black might be an unusual color for ramen, but once you taste it, there's an umami bomb that goes off in your mouth. The garlic and meat flavors all combine together beautifully. Noodles are always perfectly cooked, and the chashu is always tender. I have never been let down whenever I order this!" – Golden H.
8055 Armour St Ste 201A San Diego, CA 92111, (858) 987-0222
Rakiraki Ramen & Tsukemen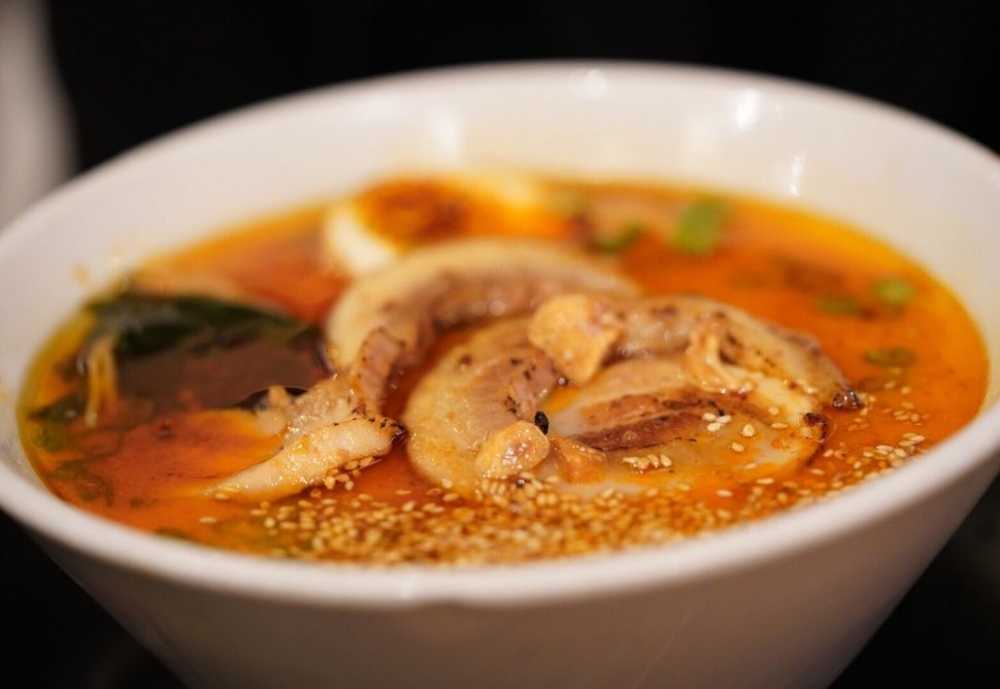 One of the best ramen restaurant in San Diego is Rakiraki Ramen & Tsukemen.
They're known for their kaarage fried chicken and hearty ramen bowls. They put particular care in every bowl that makes it that extra special.
Their standout items are the Rikimaru Oxtail Ramen and Setagaya 27 curry ramen. The oxtail ramen has a rich chicken broth with tender oxtail.
If you're looking for something different, try the curry ramen.
They also have a vegan place called The Yasai, where everything is plant-based.
Crowds still flock to this spot, so make sure to get there early.
Menu: Rakiraki Ramen Menu
Top Review: "Onto the ramen! I shared with my hubby and we got the Black edition which is one of their more popular dishes. The soup was delicious and they gave a decent amount of meat- we chose char siu.. BUT the thing I was most surprised about was how flavorful they boiled egg was.. definitely worth getting extra on the side because oo it is yummy!" – Thuyvu P.
4646 Convoy St Ste 102-A San Diego, CA 92111, (858) 771-7254
The Whet Noodle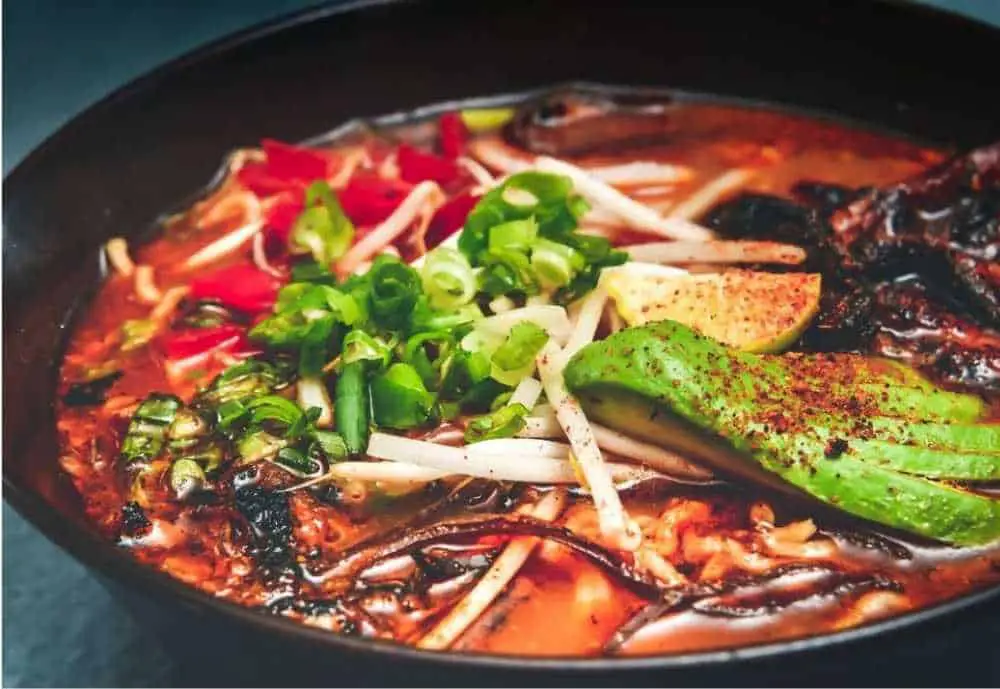 You may know the Chef-owner Davin Waite for his other Japanese creations, but ramen is the star here in The Whet Noodle.
This ramen restaurant offers creative twists to your favorite ramen flavors. Try their fish tonkatsu that highlights the catch of the day in a warm, rich broth.
Menu: Whet Noodle Menu
Top Review: "The stone soup ramen is really good if you are someone who enjoys bold flavors. Definitely order all the add-ons: garlic chips, half an egg, and spicy. The spiciness is very tolerable and really adds to the flavor of the ramen but you can also order the spice on the side and decide on how much to add yourself." – Alexa M.
1813 S Coast Hwy Oceanside, CA 92054, (760) 453-2738
Ajisen Ramen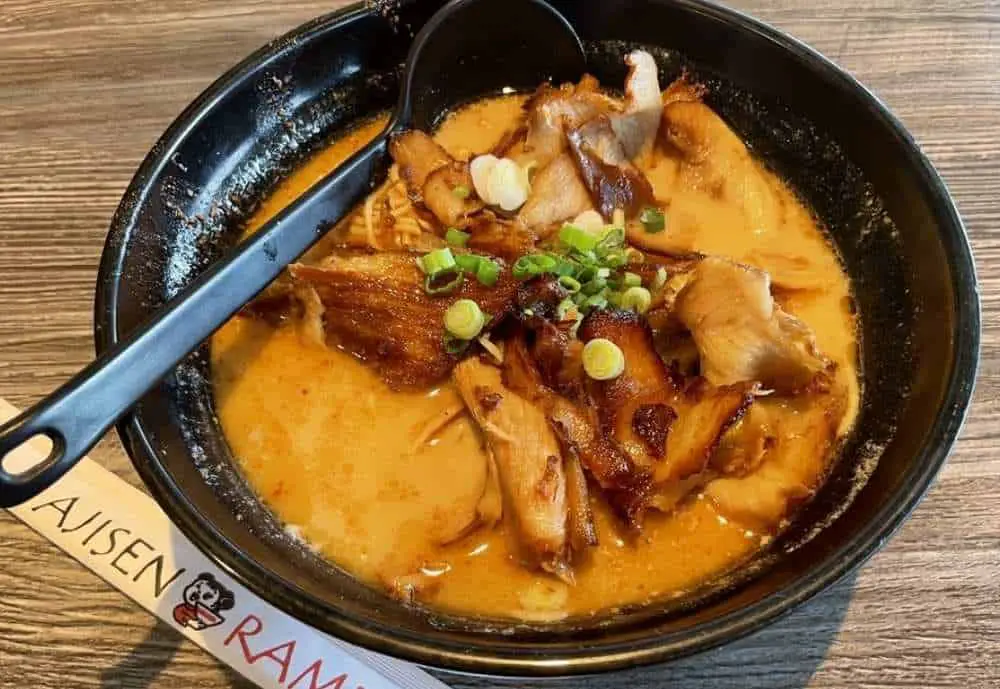 Ajisen Ramen has multiple locations worldwide, and for a good reason.
Their extensive menu includes favorites like gyoza, karaage fried chicken, and sushi. But their ramen options also shine.
Their noodles are made fresh every day and have that chewy characteristic. Their all-time star is the Ajisen Best Combo. This includes pork slices, barbecue pork, and pork ribs. What more can you ask for?
Menu: Ajisen Menu
Top Review: "This is my new favorite Ramen place! They have so many choices in the menu but we always go here for Ramen. The Ajisen ramen is a favorite! The Seafood Ramen is a little bit lacking in taste. The portion is perfect. And the best thing, you can ask for more soup! It's the base soup, so it doesn't have a lot of flavors. You have to really blend it with the things in your bowl." – Vee T.
7398 Clairemont Mesa Blvd San Diego, CA 92111, (858) 277-1380
Wa Dining Okan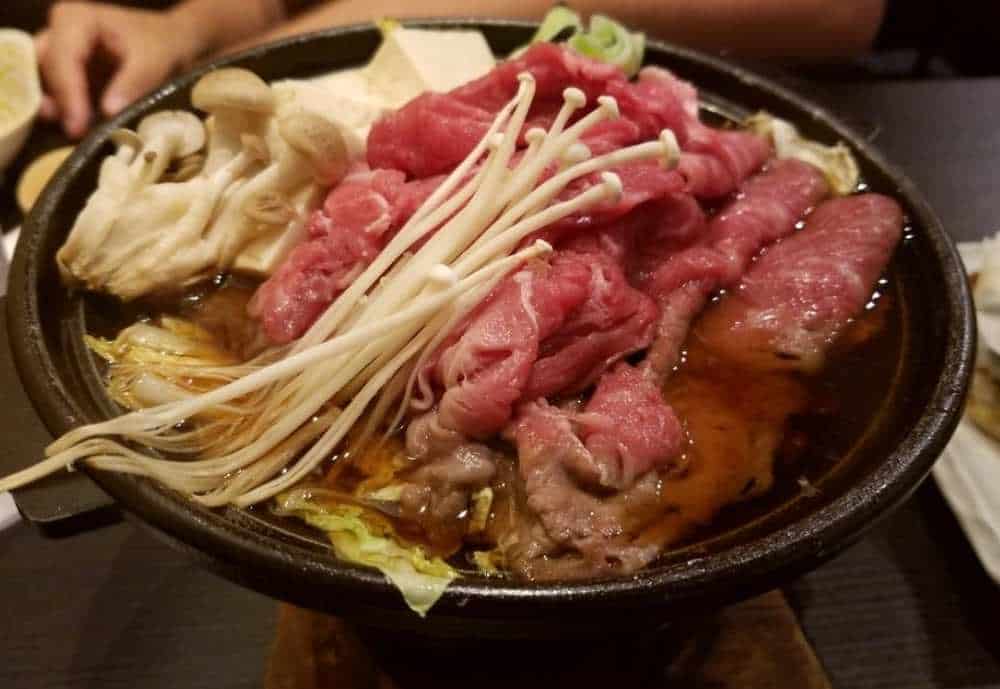 Wa Dining Okan is an excellent Japanese restaurant with an extensive menu.
Along with typical Japanese dishes, their ramen on the dinner menu is also a must-try.
The price is absolutely affordable, starting from $10. You can choose from tonkatsu, soy, and duck. Plus, get one of the other unique dishes on their menu.
Menu: Wa Dining Okan Menu
Top Review: "I loved my food here! The service was amazing and the meal was very fairly priced tasting a lot better than most ramen places I've tried. Their broth is very distinct and unique but in a very tasty way. The rice burger was delicious as well and I highly recommend their miso soup! Staff was amazing. I will definitely be coming back to this small but very comfy and delicious restaurant!" – Cole H.
3860 Convoy St Ste 110 San Diego, CA 92111, (858) 279-0941
Karami Ramen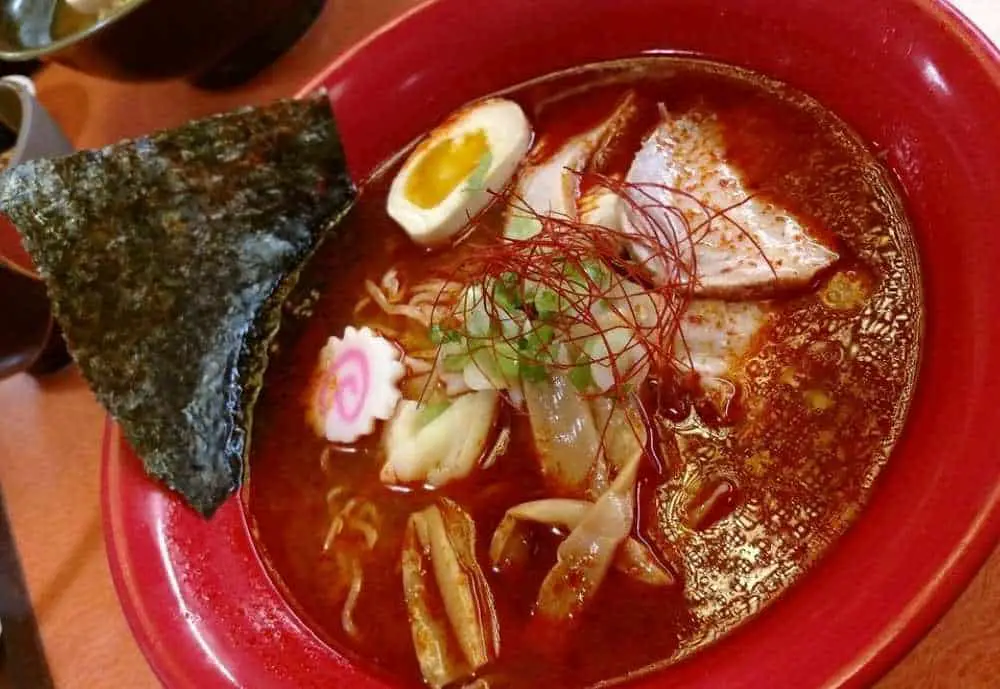 You can find Karami Ramen on a spot on Convoy Street. This restaurant is known for its hot and spicy flavors. Eating here can be a new and pleasantly surprising experience.
Their flavor profile includes miso tonkotsu, shio, shoyu, and truffle. They also incorporate many spices from habanero, curry, Thai, Korean, and Indian chili. It all adds to a completely unique bowl of ramen with layers of flavors.
They have two specialty broths: tori paitan chicken broth and seaweed & soybean vegan broth.
Menu: Karami Ramen Menu
Top Review: "Hole in the wall family-owned ramen over corporate "hipster" ramen everyday! This place was so great. The service is amazing and the food is delicious! We got the miso tonkotsu and the Thai shoyu and both were great. I would highly recommend checking this place out!" – Emma L.
3860 Convoy St Ste 118 San Diego, CA 92111, (858) 430-6300
Nozaru Ramen Bar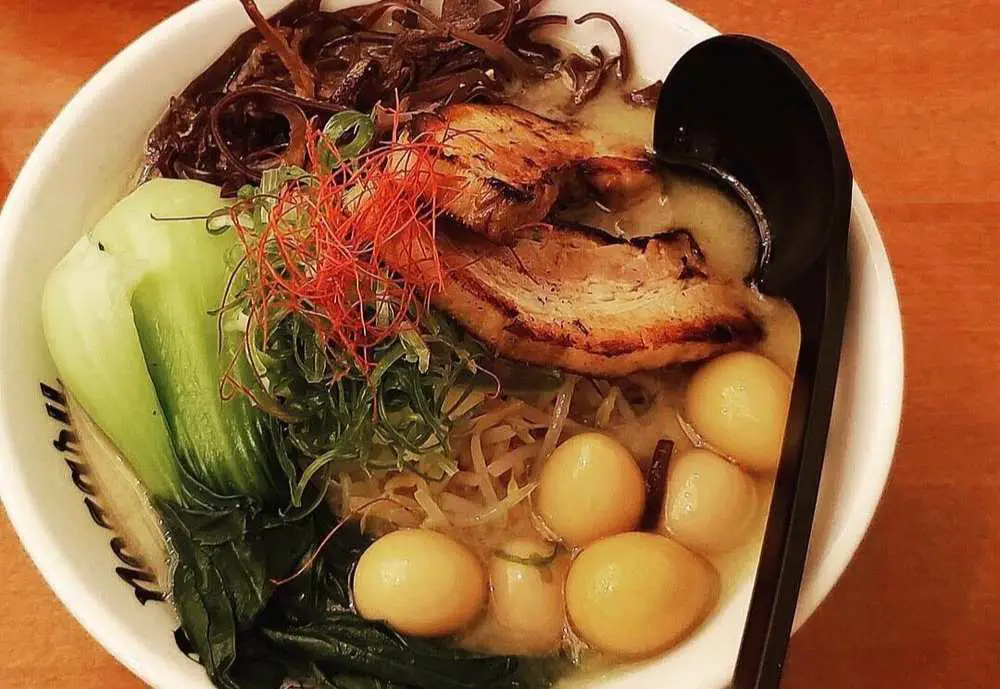 This last ramen spot on our list is far from your traditional ramen restaurant.
Nozaru Ramen Bar's flavors go out of the box for something completely new. Regardless, they're still a local favorite here in San Diego!
They have chicken, pork, and veggie broth. Their noodles are also a little special, with an option for a gluten-free brown rice noodle.
Your choice of meat is pork belly, chicken breast, fried tofu, BBQ ribeye, and chicken katsu.
Plus, their menu items have fun names! Try Donkey Kong, Tokyo Chicken, or Angry Veggie. Aside from ramen, they also have sushi rolls, rice bowls, and a variety of side dishes.
Menu: Nozaru Ramen Bar Menu
Top Review: "This local ramen joint has been the best that I have tried in San Diego. Me and my wife had the Donkey Kong Ramen which had the perfect amount of spice that gives you great heat that adds to the flavor of the dish without taking over. We also had their Tuna Poke which had perfectly cooked sticky rice and they gave more tuna than poke places normally do. We also had the California roll. Overall, great ambiance for a date, and we brought our dog inside and they were super dog friendly." – Christian G.
These are just some of the best ramen in San Diego! There are still a lot more than you can explore and try out. You'll find so much variety in the city, from traditional and straightforward flavors to something more adventurous!
Have fun with your food trip!
You might also enjoy: