The ramen scene in Philly is young and thriving, but there are already so many good ones we can't wait to try.
The flavors and styles are so diverse that you can go for traditional or experimental. Plus, wherever you are in the city, there will be an excellent ramen shop. There is something for everyone here too.
If you're craving some ramen, read on to find the best ramen in Philly.
Neighborhood Ramen
Neighborhood Ramen is a relative newcomer in the ramen scene all about innovation and celebrating seasonal ingredients.
This BYOB Philly restaurant has a 20-seat capacity and likes to mix it up with weekly specials. They are vegetarian-friendly and are always looking for ways to improve their veggie menu. Aside from the traditional ramen bowl, they have brothless ramen, pork dumplings, and other Japanese dishes.
Wondering what to order? Try the shoyu ramen, the brothless maze soba, or their mushroom vegan ramen.
Menu: Neighborhood Ramen Menu
Top Review: "This was excellent — borderline 4/5 for me. First visit, we started with oshinka cucumbers, sesame salad, and steamed wonton, and then we both got the tantan (mine extra spicy). We loved all three apps and would definitely get them all again, especially the sesame salad. I loved my ramen, and my wife enjoyed her's, but she was somewhat lower on it than I was — I think she would've liked it more had she also gotten it extra spicy. We both agreed that the noodles were the standout component.
Definitely want to come back and try more." – Shawn H.
617 S 3rd St, Philadelphia, PA 19147; (215) 201-3501
Nom Nom Ramen
Nom Nom Ramen specializes in authentic Hakata-style ramen, which will make you say, nom nom.
This casual ramen spot has a 36-hour broth process where they add veggies, kelp, and mushrooms for more flavor. On top of this flavorful broth, you've got their noodles, pork belly, then plenty of toppings. You can get soft boiled eggs, add black garlic oil, bamboo, wood ear mushrooms, and many more.
Aside from that, they also have rice bowls and other Japanese menu items.
Menu: Nom Nom Ramen Menu
Top Review: "This place made me very sad, because I don't live in Philly so I can't eat here all the time.  I got the spicy pork ramen and it was one of the best bowls I've ever had.  I live in NYC so I have access to some pretty great stuff, but I'd place this alongside any of them, easily.  The pork was amazing (no idea how they get it to turn out with such great texture and flavor).  The broth was super rich, and nose-running hot but not painful-hot (bring a handkerchief).  The noodles, the egg, everything was noteworthy.
Can't recommend this place highly enough, and I'll definitely be coming back when next in town." – Tom H.
20 S 18th St, Philadelphia, PA 19103; (215) 988-0898
Terakawa Ramen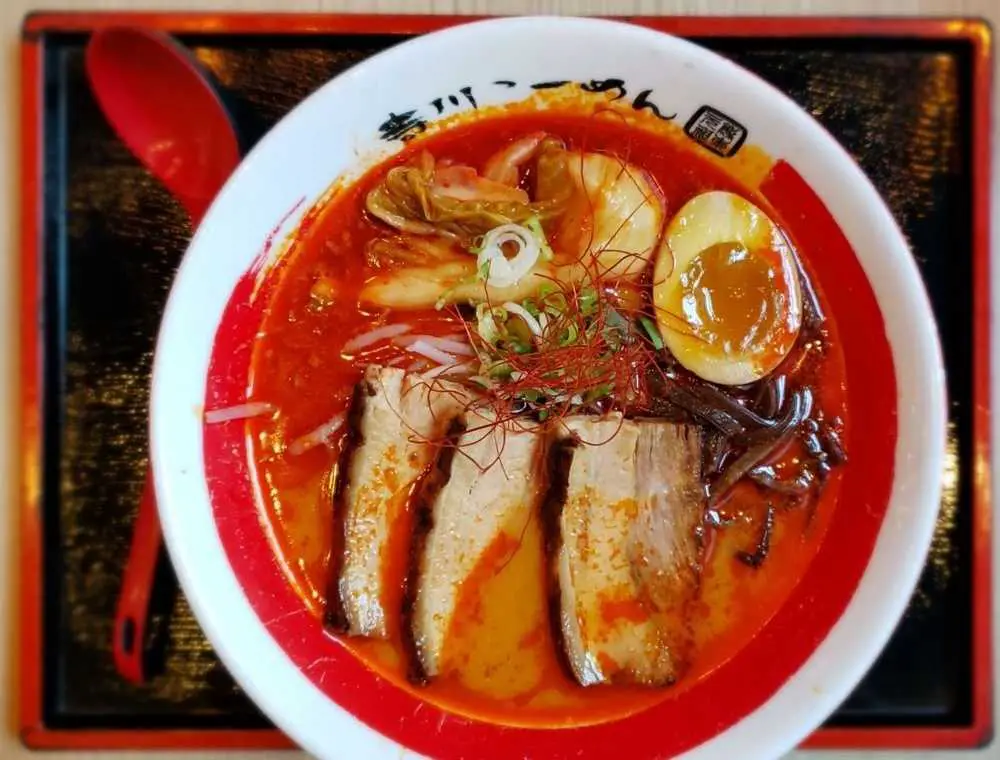 Another popular spot is Terakawa Ramen. There are several locations, but there might be some lines, whichever one you head to.
They serve up a ramen style from the Kumamoto region in Japan. This style is characterized by letting the broth simmer for two straight days. It gives it a rich broth with many layers of flavor. The noodles are also handmade in-house.
A popular order is their tan tan ramen. You have a spicy miso and chicken base with two eggs, mushroom, cabbage, dark roasted leek, and garlic oil.
Menu: Terakawa Ramen Menu
Top Review: "This is still consistently the best ramen spot in and around Philly. You can taste the effort in the broth, which is very flavorful and rich. The chashu meat is tender and melts in your mouth. The noodles are perfectly chewy.
The portions are generous and the service is always great. My only complaint is that there's always a long wait now since this place has become so popular. This place definitely hits the spot when I'm craving ramen until I can travel back to Japan." – Kelly N.
Location 1: 204 N 9th St, Philadelphia, PA 19107; (267) 687-1355
Location 2: 125 S 40th St, Philadelphia, PA 19104; (215) 516-6818
Tomo Sushi & Ramen
Another BYOB restaurant, Tomo Sushi & Ramen was founded by two Japanese chefs with two different specialties. One sushi chef and one ramen chef created this marriage of a restaurant. Tomo is also short for Tomodachi, meaning friends in Japanese. How cute is that?
Tomo has eight types of ramen with three vegan-friendly options. Their specialty rolls are also top-notch, plus vegan sushi too! Try their miso ramen, tonkotsu ramen, or udon for the vegans.
According to reviews, the vibes are great, the staff is friendly, and people have good experiences.
Menu: Tomo Sushi & Ramen Menu
Top Review: "Cozy BYOB ramen and sushi spot with lots of unique vegetarian and vegan options! The Vegan Yasai Ramen was bursting with flavor with a nice garlicky broth, chunky seitan, tofu, bamboo shoot, shiitake, mushrooms, scallions, and a heap of noodles! My pick was the vegan ramen over the the Vegetarian Shoyu Ramen, which was a bit more salty and spicy.
The Harvest with sweet potato, avocado, and mushroom was my pick over the Spicy Vegan Tuna with a bold tomato flavor.  Both rolls were tasty though.
When I'm in town, I'll definitely come back to try the Vegetarian Miso Ramen along with some more vegan rolls!" – Aarti B.
228 Arch St, Philadelphia, PA 19106; (267) 519-0209
Yamitsuki Ramen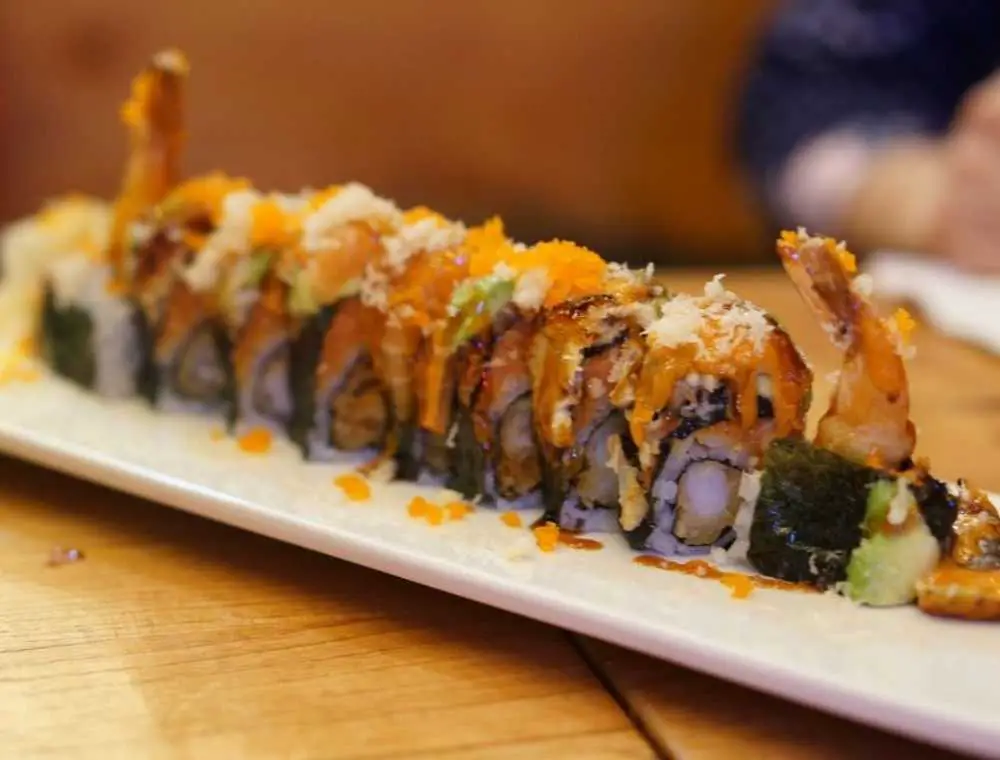 If you're looking for rich quality chicken ramen, Yamitsuki Ramen will not disappoint! Their chicken broth is rich and clear and packed full of flavor. They also have other pork-based ramen and vegan options.
Aside from that, they also offer other Japanese dishes. One thing you do need to try is their green teas. It's the other thing they're famous for, so don't miss out.
Menu: Yamitsuki Ramen Menu
Top Review: "We ordered from Yamitsuki on Saturday night and it was delicious! I got the Yamitsuki ramen with chicken and I really enjoyed it. I thought the whole thing was super flavorful, especially the egg and the chicken. There were a ton of noodles, I could have used a bit more broth to go with all of them! Everything was packaged really well too. Definitely recommend." – Arielle V.
1028 Arch St #19107, Philadelphia, PA 19107; (215) 629-3888
Hajimaru Ramen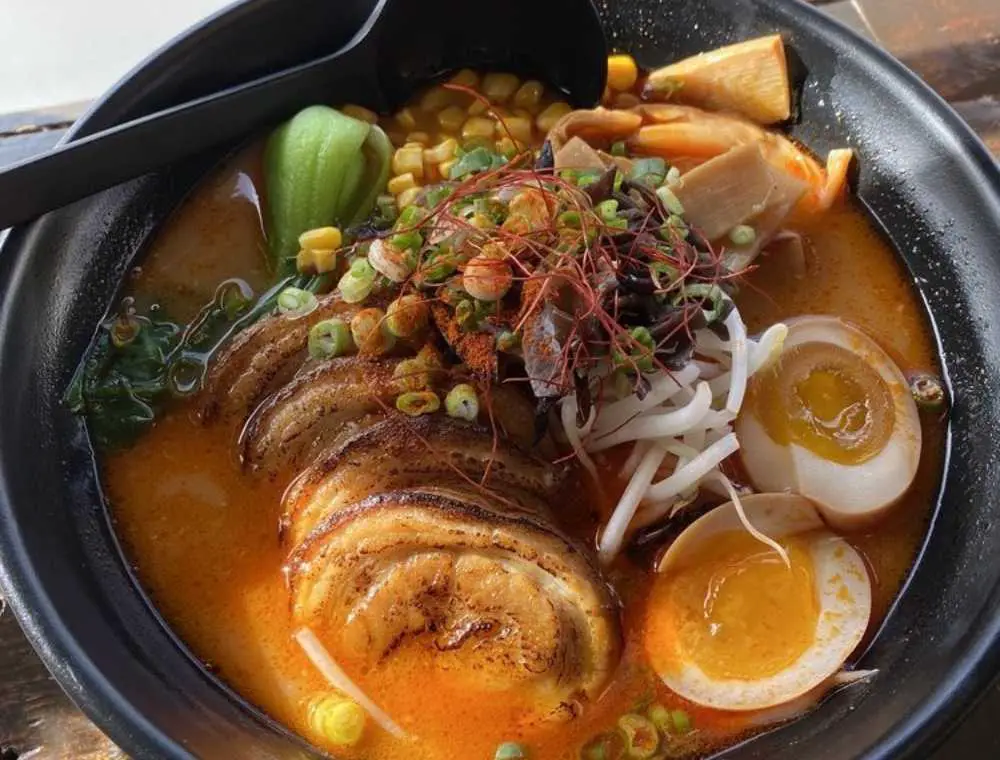 Hajimaru is another Fishtown ramen spot to which you can bring your own bottle. It offers Hakata-style ramen with vegetarian options along with the typical ramen flavors. They've got other menu items like karaage, rice bowls, takoyaki, etc.
The most recommended thing on their menu is the Hajimaru Signature ramen, with a spicy tonkotsu base and extra chashu. Toppings include whole marinated egg, sweet corn, baby bokchoy, and mushrooms. It's the perfect bowl for a cold, rainy day.
Menu: Hajimaru Ramen Menu
Top Review: "Been here a couple of times and this place does not disappoint me. Tried a new dish this time i.e. Curry Karage Chicken Bowl. The chicken was marinated in soy garlic and was so tender…loved the taste of it. Also the pickled radish that come on it was so delicious. If you looking for a spicy kick then signature ramen is your go to dish. The flavor is so good and gives a kick on every bite." – Bhavika P.
200 E Girard Ave, Philadelphia, PA 19125; (215) 426-8700
Morimoto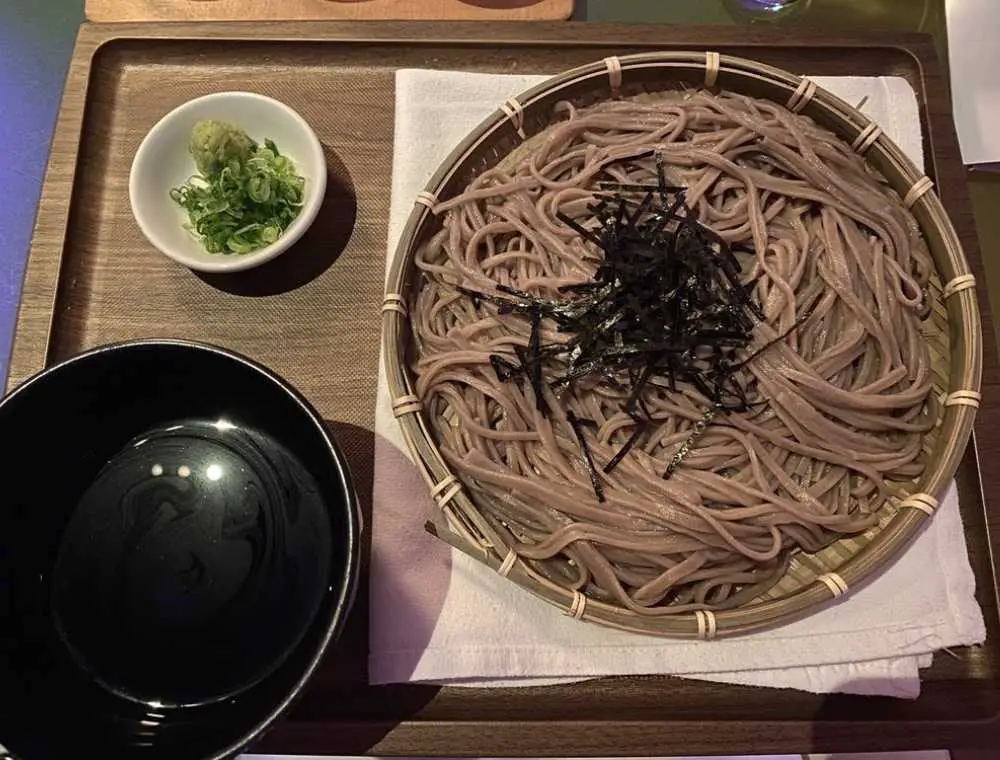 Our Philly list wouldn't be complete without Morimoto. It's just one of the best Japanese restaurants in the city, with Iron Chef Masaharu Morimoto in the lead.
Along with his other Japanese dishes, you can also get their take on chicken noodle soup with the chicken noodle soup ramen. They also have vegetarian ramen and pork belly ramen for variety. Finally, it would be a crime to omit their unique and savory quail egg with caviar.
Any Japanese food lovers should stop by Morimoto if they're in the city. You won't regret it!
Menu: Morimoto Menu
Top Review: "As a true Philly buhl I had a good time out with my Jawn ya mean. Service was A1. Waitress was great, patient and very helpful with suggestions. Tables were spaced out. Seemed like everyone had a great time in the atmosphere. The smell in the restaurant was amazing as well. Food was great. Started off with wagyu dumplings and hoshu hoshu potatoes. Cooked to perfection for both. Tried sake for the first time and it was amazing. Great selection of food and drinks for ANYONE who decides to go. 5/5 all day!" – Doug B.
723 Chestnut St, Philadelphia, PA 19106; (215) 413-9070
Ramen Bar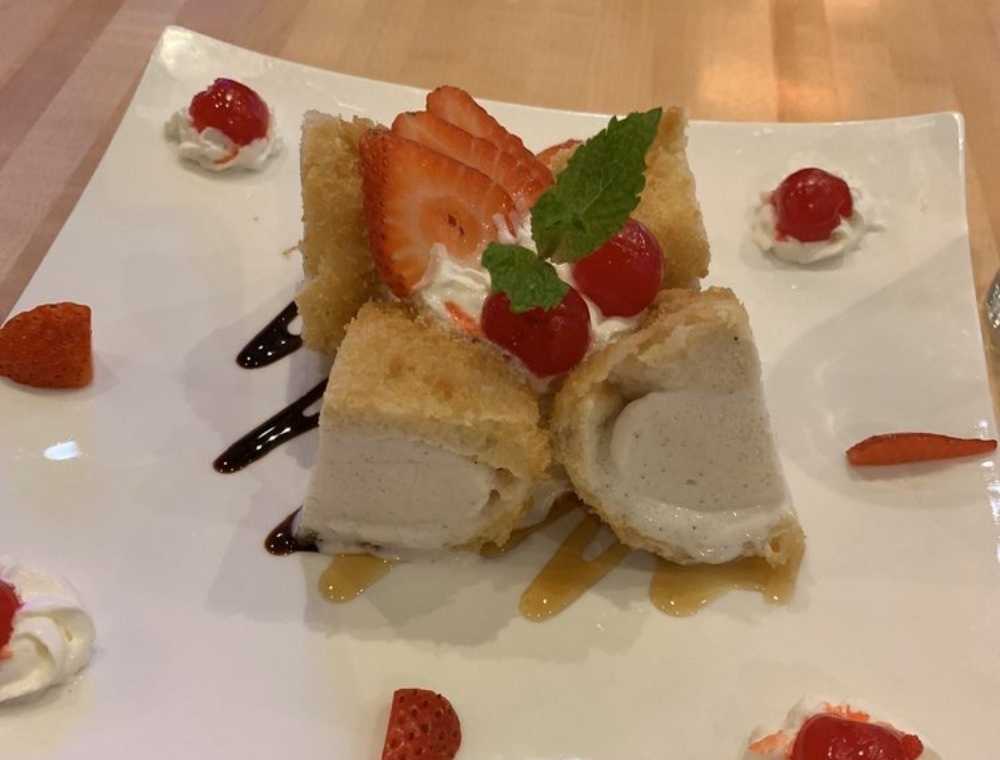 Though Ramen Bar is catered to college students, it's still worth visiting while you're in Philadelphia. You can find it in a cozy spot in University City at Drexel University. And since it's for students, prices are affordable, and you can get a ramen bowl for $12.
They have 13 kinds of ramen to choose from and come in Hakata-style. Their toppings are also plenty. Some options are chashu pork, half-boiled egg, corn, red pickled ginger, naruto, garlic oil, and many more.
If you can't get enough, you can also order small dishes. Try their Japanese fried rice, specialty rolls, and sushi.
Menu: Ramen Bar Menu
Top Review: "When we're on Drexel's campus we have to have some Ramon noodles. The students are just returning from Christmas break do the restaurant was not busy.
We were seated as soon as we arrived at a nice table. Servers were all very attentive. We ordered the suggested Ramon dishes. Don't forget to add the marinated soft boiled egg.
Save room for desert the green tea ice cream is worth saving room for. The best part is the cost . With green tea  s Ramon bowl and desert we spent about $20 per person" Len S.
3400 Lancaster Ave, Philadelphia, PA 19104; (215) 921-5804
@Ramen
@Ramen is the next ramen spot that offers something for everyone. They have four styles of ramen that have traditional and unique flavors. You can also customize these to your heart's content. Choose from their selection of broth, noodles, and spice.
Those who frequent the place recommend trying the triple truffle mushroom ramen! It elicits warm hugs with a hint of spiciness to keep you on your toes. If you want something spicier, their spicy katsu ramen is a winner. If you're going to go healthy, tag in spinach or whole wheat noodles in your ramen bowls.
@Ramen is a great spot for putting a little of your personal touch with every bowl.
Menu: @Ramen Menu
Top Review: "Finally went to @Ramen tonight after driving past it so many times on Main St. It's a cute little place on the inside, very typical decor of a ramen place. I thought the chairs for the tables were cute. They were little stools pretty low to the ground. They were different, but in a good way.
As for the food, they didn't have a huge selection on the menu but I still found something that sounded delicious fairly quickly. I ordered the Spicy Katsu. It was a great choice. It came complete with ramen noodles (obviously), soft boiled egg, bean sprouts, onion, and pork. I enjoy every bit of it. It also wasn't incredibly spicy that it lit my mouth on fire, so definitely an added bonus. My friends and I also split the pork dumplings which were yummy as well. For dessert, we had to get mochi of course. I highly recommend getting the mochi, it was the perfect end to the meal and they piled on a bunch of whipped cream, who doesn't love that??
Overall, I had a great experience at @Ramen and I'll definitely be visiting again sometime soon!!" – Katie D.
4357 Main St, Philadelphia, PA 19127; (267) 297-8514
Hiro Ramen House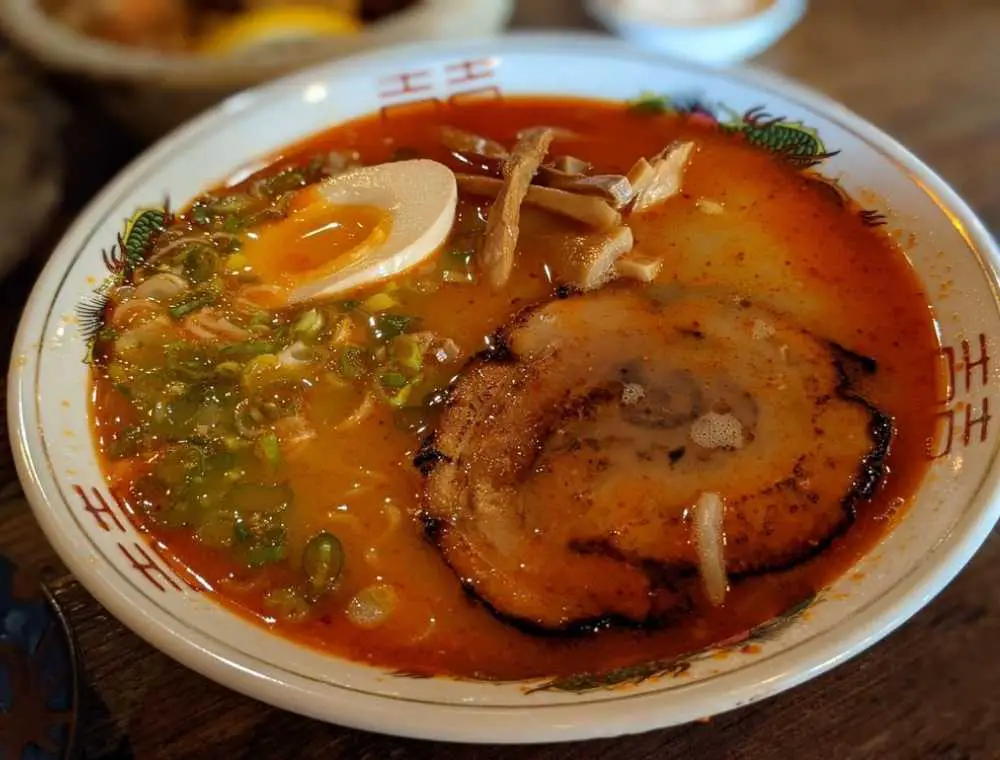 A great place to find hot noodles and chill vibes is Hiro Ramen House!
In this Washington Square-spot, you can choose from seven different types of ramen. They've got the classic flavors: tonkotsu, chicken, chicken and pork broth, and even veggie broth.
Many have commented that the service is fast and the staff is friendly. It's also not too big a place and gives off cozy vibes. The flavors in the ramen are spot-on with chewy noodles, huge servings, and an umami flavor.
Some of their standout items are the Gates of Hell ramen, Hiro's Inch of Heaven, and Black Pig ramen.
Menu: Hiro Ramen House Menu
Top Review: "Haven't been to Hiro Ramen House for many years and was happy to see it's still going strong and serving solid ramen!
We ordered the Pig and Miso (Berkshire port tonkotsu broth with miso, pork belly chasiu, bamboo, corn) and the Gates of Hell (Berkshire port tonkotsu broth with intense chili oil, pork belly chasiu, bamboo, egg), and both were served quickly, piping hot, and had balanced, layered flavor. Highly recommend if you're looking for ramen in Midtown!" – Sarah A.
1102 Chestnut St, Philadelphia, PA 19107; (215) 626-5172
Maple Japanese Ramen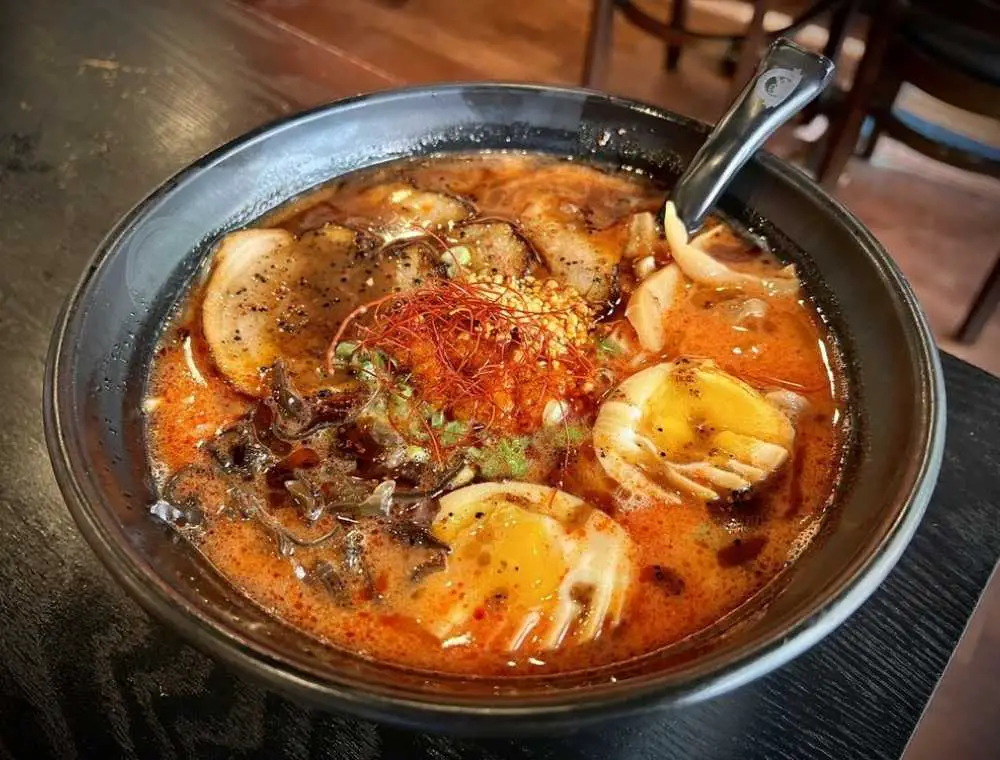 Maple Japanese Ramen is slowly gaining popularity as a contender for the best ramen in Philly.
It's in a quiet, unassuming spot on Chestnut Street in Rittenhouse Square. The decor reflects traditional Japanese looks with Japanese lanterns out front and many trinkets on the wall.
Their Akamura Modem Ramen is the bestseller and what you should order for a nice kick. You can also try the Hakata ramen, which has a more balanced flavor.
Don't miss out on their appetizers while you're here. There are a lot of standout dishes from there too.
Menu: Maple Japanese Ramen Menu
Top Review: "I tried two types of ramen here and they were both great! The Akamaru Modern ramen was a good balance between savory and spicy, and I thought that the toppings were plentiful.  The hakata ramen is also tasty in a soft silken texture. The flavors are a lot lighter but still savory in its own way.  Overall, the ramens are great and the service is excellent too.  The only thing that I think was odd was that the ramen came out in different times — even though we had two Akamaru Modern ramens.  It's a bit awkward to start eating without someone and also awkward not to when the ramen is getting cold.  Other than that, I would say the flavors are worth the trip and I would definitely be back." – Christine H.
2102 Chestnut St, Philadelphia, PA 19103; (215) 988-0788
Da-wa: Joseph's Sushi and Ramen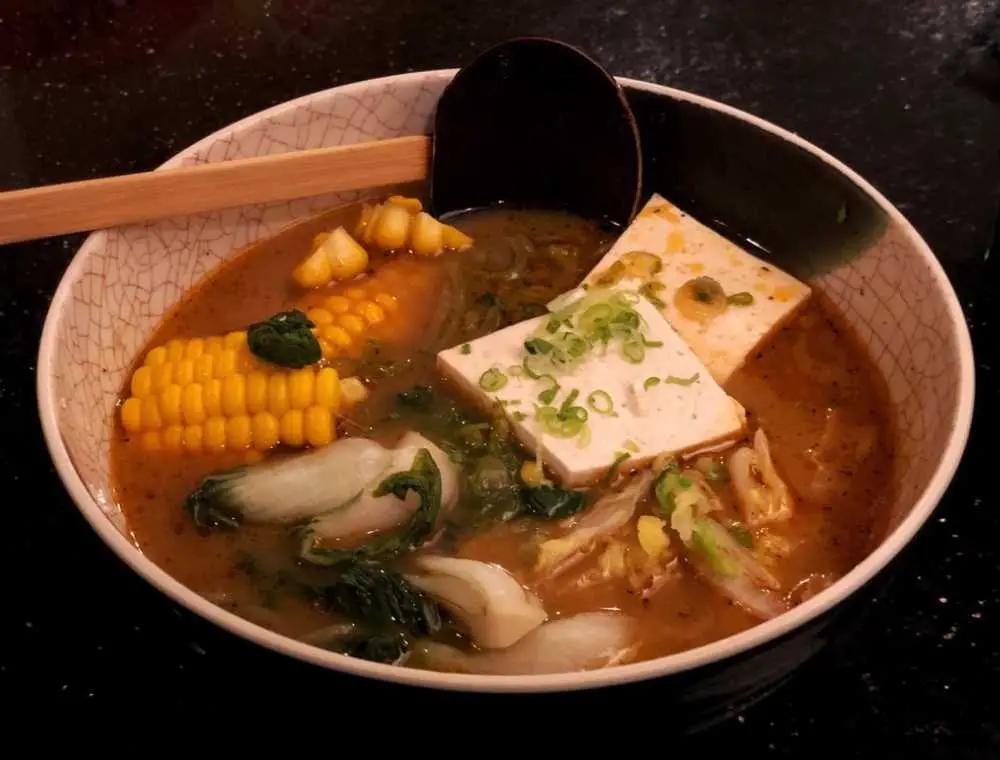 Another Fishtown staple is Da-wa: Joseph's Sushi and Ramen. Their sushi menu gets more spotlight, but their other items are no slouches either.
You can choose from soyu, chashu, and vegetarian for your ramen. Add in some pork belly, chewy noodles, and a load of toppings to make it perfect. Plus, you can try their poke bowls and omakase menu.
Menu: Da-wa: Joseph's Sushi and Ramen Menu
Top Review: "SO YUM! Da-Wa is a fantastic sushi spot in Philly. The fish tastes so fresh, and the ramen is – WOW. The broth in the ramen is clear, tastes clean and is so full of flavor. We've only ordered food to go but the food travels well and is packaged very thoughtfully.
It's tough to find parking around the area, so if you do choose to dine in, be prepared. The menu they provide in stores is a little more extensive than what's online. The servers and host/hostess are really friendly.
Honestly, one of my favorite sushi spots in the city. We can't wait to return!" – Tina L.
1204 N Front St, Philadelphia, PA 19123; (215) 278-7671
best ramen in philadelphia, best ramen in philly