New Orleans is a city that is unquestionably known for its amazing food. From seafood to gumbo to beignets, there are endless culinary delights to enjoy in this vibrant city.
And when it comes to breakfast, there is no shortage of options. Whether you're looking for a classic eggs and bacon plate or something a little more adventurous, you're sure to find the perfect meal to start your day in New Orleans.
Here are just a few of the many great breakfast spots you'll find in the Crescent City. Bon appetit!
Surrey's Café and Juice Bar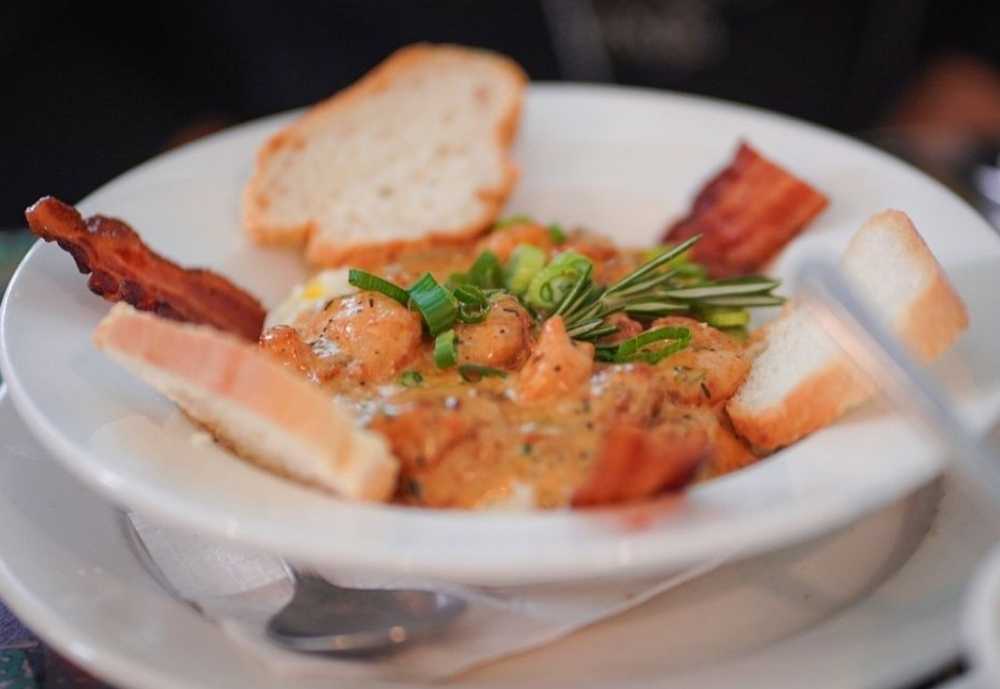 9 Best Places To Eat In Hattiesburg
Surrey's Café and Juice Bar is where you can find one of the best breakfasts in New Orleans.
It is also home to the oldest orange juice bar in the city, so you can expect some God-tier freshly squeezed orange juice when you dine here.
They also have homemade baked goods and both savory and sweet breakfasts. You can find lots of New Orleans flavors on their menu.
Some of the most recommended items include the Costa Rican breakfast, the bananas foster French toast, the crab meat omelet, and the avocado brie and crab omelet.
Top Review: "The best brunch place in NOLA. We did not have a reservation so had a 45 mins wait but it was worth it. We order their Orange, Pineapple and Mango juice (OPM) along with their shrimp and grits & Tofu platter over white rice. Their shrimp and grits were so well flavored and creamy I could eat this anyday everyday. My veggie friend did devour her tofu platter as well. Their juices though taste really fresh. Service was quick and they have a few small tables hence the wait. All in all it was a great brunchy experience during our short stay in NOLA." – Jane M.
1418 Magazine St New Orleans, LA 70130, (504) 524-3828
Ruby Slipper Café
Another local favorite is Ruby Slipper Cafe. It has multiple locations in the city and is really popular.
They have an inventive and creative menu that puts a New Orleans twist on your favorite breakfast items.
They also have excellent cocktails, perfect for that boozy weekend brunch.
While you're here, try their French toast, eggs Cochon, fried chicken, bananas foster pain perdu, and their Bloody Mary.
Top Review: "We absolutely love this place! The food is always top notch! The service is exceptional! We ate here twice on our 3 day visit. This morning Jaz was our server and she was so friendly and prompt. I can't remember the gentleman's name that took care of us the day before but he was amazing too! Great job by the whole staff. Kitchen, management, bartenders, host and servers all working to together to provide an wonderful guest experience!" – Sarah V.
200 Magazine St New Orleans, LA 70130, (504) 420-6100
Cafe Du Monde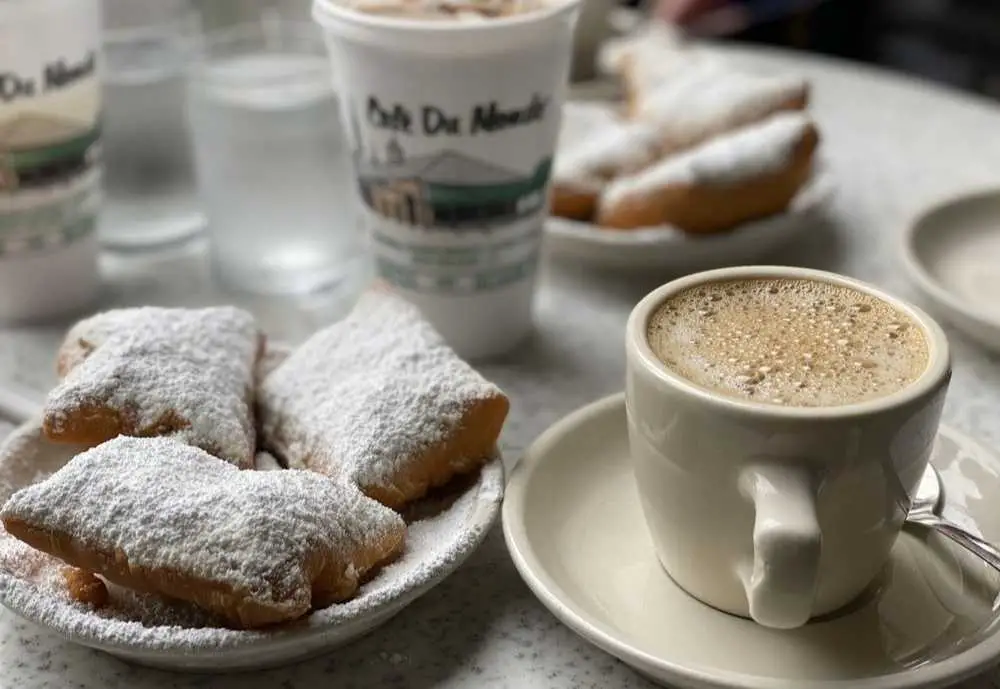 If you're looking for the best breakfast in New Orleans, you can't go wrong with Café Du Monde.
This iconic coffee shop has been serving up beignets and coffee since 1862, and it's easy to see why it's become such a beloved institution.
The beignets are light and fluffy, covered in a generous amount of powdered sugar. The coffee is rich and flavorful, the perfect complement to the sweet beignets.
Whether you're looking for a quick breakfast or a leisurely brunch, Café Du Monde is the perfect spot.
And if you happen to be there at sunrise, you'll be treated to the most beautiful view of the sun rising over the Mississippi River. Trust us, it's an experience you won't soon forget.
Top Review: "Everyone raves about this place when they visit. We decided to visit on a Saturday morning around 10:00 AM, generally they say show up early due to the long wait times but luckily we only stood in line for 10-15 minutes which was great as the line built up right after. FYI, once you are first in line, don't wait to be seated. Just walk up to the table whether it's clean or not when it becomes available and it's yours. This place has a very high turn out, it's in and out, 15-20 mins between placing your order and finishing your meal. The Beignets were amazing, my first time having them. They tasted similar to Zeppoles but not as sweet I suppose. I also tried their Frozen Cafe Au Lait (frozen ice coffee) which was pretty good. This place is definitely worth a try when in town. It's also not far from the French Market. Important: This is a cash only establishment" – Eronini D.
800 Decatur St, New Orleans, LA 70116, (504) 525-4544
Willa Jean
Willa Jean is a laid-back breakfast spot that specializes in amazing biscuits. This restaurant and bakery have something for everyone.
Of course, they have Southern flavors that come naturally to every New Orleans restaurant.
Aside from their biscuits, which everyone recommends you try, you can also get their BBQ shrimp toast, Avocado toast, and the hangover bowl.
Top Review: "We searched for the best brunch locations in New Orleans ahead of our trip and found this place. We made a reservation which was a great idea because even though we visited in the middle of the week this place is very popular, and for good reason. We started off with a bloody Mary and mimosa and thoroughly enjoyed the flavors of both. The mimosa I got was a seasonal feature and I love when restaurants do this to highlight local ingredients. We ordered the biscuits and gravy, avocado toast and one of the biscuit sandwiches and everything was so delicious. The portions are huge and we knew that ordering three dishes for two of us would be a lot but wow bring your appetite! Absolutely will come back the next time we're in New Orleans!!" – Elyse T.
611 O'Keefe Ave New Orleans, LA 70113, (504) 509-7334
Two Chicks Café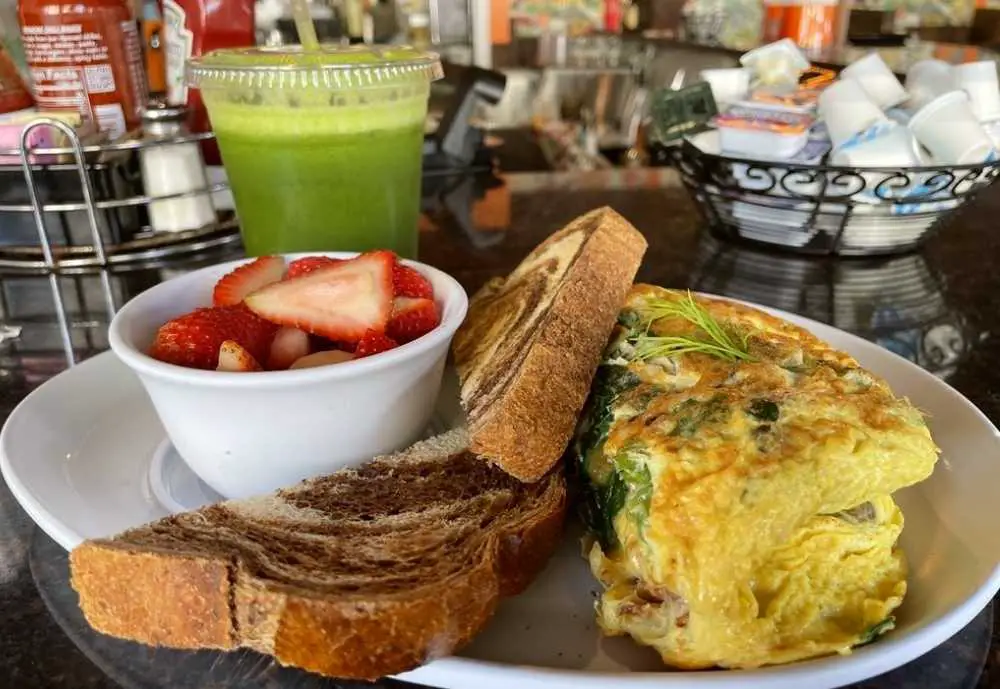 Started by "two chicks who love to eat," this New Orleans breakfast and brunch spot have a simple and no-frills menu that's perfect for any breakfast.
They serve American classics paired with a fresh juice or smoothie from their juice bar. It's near the Convention Center, so it's convenient if you're just in town for business.
Visitors said to order the French toast, crab cake benedict, and their kickin chicken omelet.
Top Review: "Very much enjoyed my breakfast at Two Chicks Cafe. I ordered the French toast – and wow! The corn flake crust provided a unique and absolutely delicious crunch, and the batter of the French toast was phenomenal. Really enjoyed this really well priced meal!" – Daniel B.
901 Convention Center Blvd Ste 109 New Orleans, LA 70130, (504) 407-3078
Who Dat Coffee Café
Who Dat Coffee Cafe is a local Tulsa favorite and is a little eccentric counter-serve restaurant with a full bar.
You can go in bright and early at 7 am or eat a slow breakfast at their outdoor dining set up. Their menu is a mix of breakfast classics with that Cajun spice flavor on their plates.
Visitors rave about their Not Yo Mama corn cakes and Cajun scramble. You can also try their French toast if you want the good ol' classic breakfast.
Top Review: "LOVE this place! When hubs and I are in New Orleans we usually stay at the Hotel Peter and Paul which is right across the street from this place! Their chicory coffee is delicious and packs the right amount of punch to get our busy days in the city started. My favorite meals are their scrambles. Light, delicious and filling. The servers are also all very kind and accommodating. I asked for "a lot of ketchup"  and I was indeed presented with a lot of ketchup! We live across the country but we always look forward to coming back and enjoying some good food in a nice and quiet neighborhood." – Crystal L.
2401 Burgundy St New Orleans, LA 70117, (504) 872-0360
Toast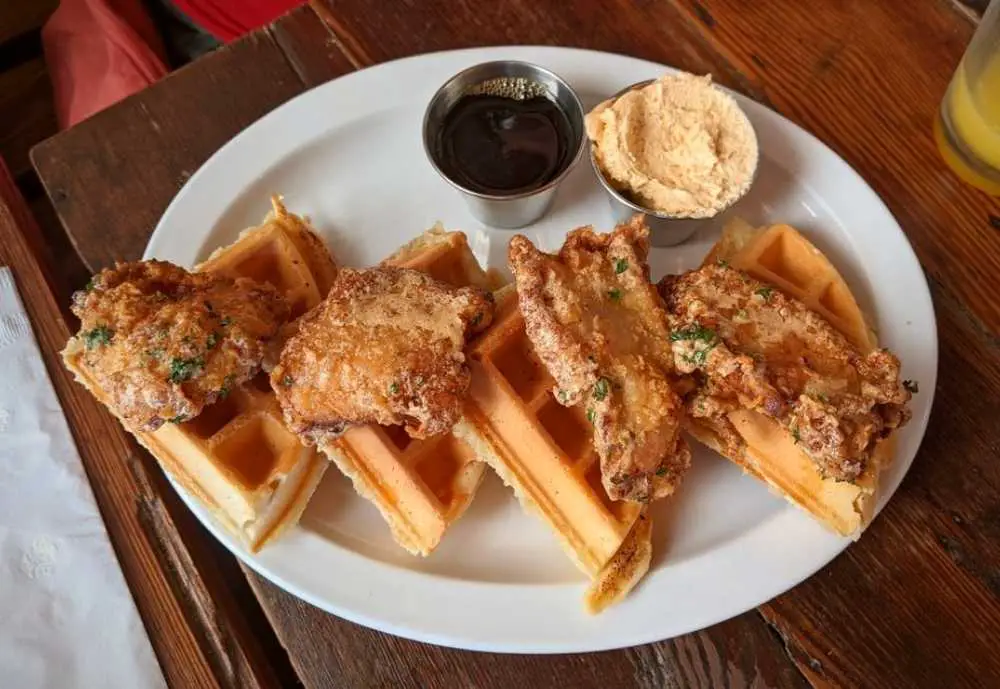 Toast has multiple locations in town and offers home-cooked meals. Their restaurant has a rustic aesthetic going on with simple and filling dishes.
They have a variety of toasts and a savory and sweet palate. They're known for their aebleskivers (Danish puffed pancakes).
Can't decide what to order? Ask for their waffle sandwich, classic breakfast, or the prosciutto and brie crepe.
Top Review: "Had breakfast this morning with my dad at this location and I already had high expectations from going to toast on Decatur. They did not let me down. The chicken from the chicken and waffles were seasoned to perfection and the waffles were fluffy and had the perfect crunch. I will definitely come back to visit and to try out some different dishes." – Loriyon J.
1845 Gentilly Blvd New Orleans, LA 70119, (504) 351-3664
The Camellia Grill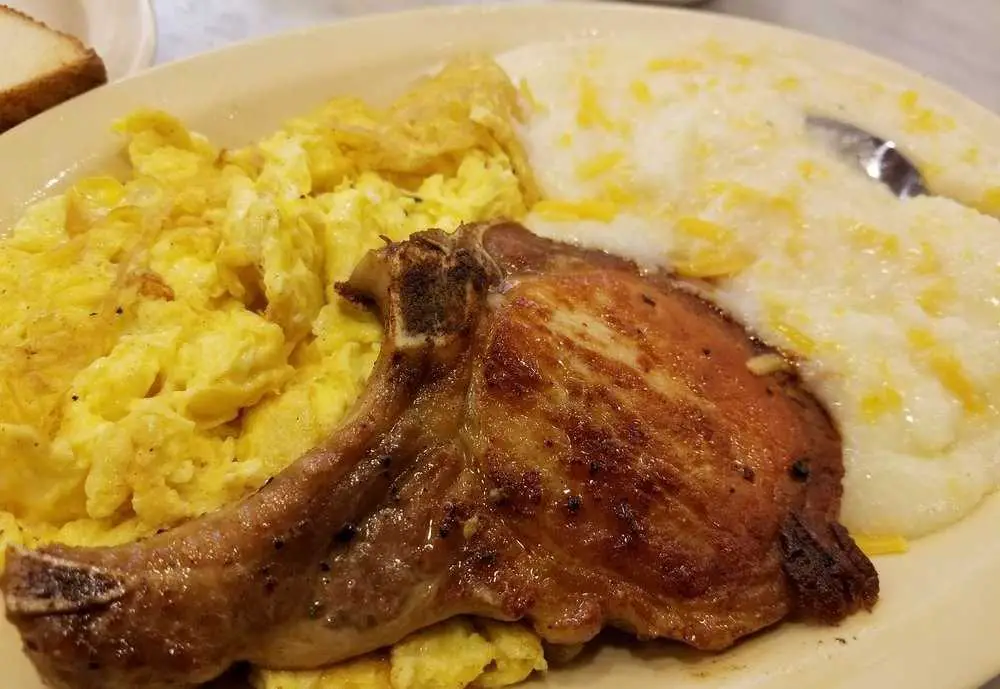 The Camellia Grill has been here since 1946, serving the community their much-needed breakfast.
As the most important meal of the day, they serve it from morning to late at night.
This breakfast spot is popular, so expect a line when you get there. But many say that it's worth the wait.
Don't miss out on their chef's special omelet or the Mexican omelet. Finishing off with a pecan pie is also a part of the experience.
Top Review: "This review is long overdue! Camellia Grill has been apart of my Sunday breakfast routine for years. We alternate spots depending on the mood but this place is always enjoyable. Seating is available outside. So peaceful when the weather is nice. Sitting inside is a treat because you get to see the men in action. Servers, chefs and runners are happy and in conversation as if you are at the family dinner table. Always making the guests laugh and only a few feet away in the event you need anything. I can never decide if I want breakfast or "hangover food". It's all so yummy. I can't wait to return and hopefully save some room for their Chocolate Freezy which come in coffee flavors and dessert flavors. Looks like a blended milkshake/iced coffee to me." – Brittany S.
626 S Carrollton Ave New Orleans, LA 70118, (504) 309-2679
Bearcat Café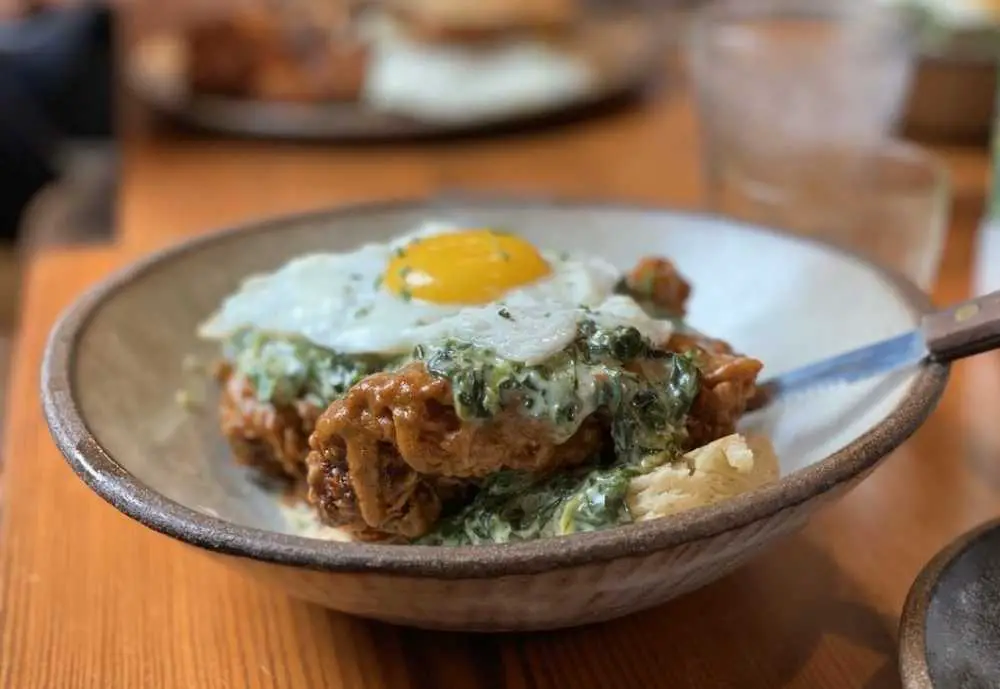 If you're looking for healthy options, you can't go wrong with Bearcat Café.
This neighborhood cafe has a great ambiance and aesthetic, plus the names on the menu are so cute, with dishes like the Cat Daddy and Bearcat Breakfast.
They have two locations in uptown, where they first opened, and downtown New Orleans. You can get a lot of vegan-friendly options, but both vegans and non-vegans enjoy the cafe.
Other dishes to try include the bison sausage and the crab scramble.
Top Review: "HEAVEN ON EARTH FOR BREAKFAST!!!! Absolutely amazing. The staff and food is delicious. From the greeting at the door, to our seats, and welcome by waitress. Everyone plays there part to perfection. After our meals, I believed I was obligated to tip the waitress, cook, and greeting staff. Let's talk about the atmosphere. Great location. Parking can be hard at times due to so many businesses in the area and above the location is 8 different offices. Once we were seated the first thing I noticed was the comfortable chairs. Now we must all admit. It is nothing like sitting in a comfortable chair to enjoy your meal. Laurin was so friendly and immaculate. She made some amazing suggestions and we were excited to try everything she named."
There you have it – the best breakfast in New Orleans, Louisiana! Whether you're looking for a classic creole dish or something with a modern twist, there's something on this list for everyone. So next time you're in the Big Easy, be sure to start your day off right with one of these delicious breakfast options. Bon appetit!
Frequently Asked Questions
What breakfast food is New Orleans known for?
Beignets, of course! And the best place to get them is at Café du Monde. This iconic café has been serving delicious beignets and coffee with chicory since 1862. Located in the heart of the French Quarter, Café du Monde is a must-visit for anyone visiting New Orleans. The atmosphere is lively, with live music and the buzz of tourists and locals alike enjoying their tasty treats.
What food is eaten most in New Orleans?
In addition to beignets, New Orleans is also known for its mouthwatering po'boy sandwiches and gumbo. For a true taste of the city, stop by Mother's Restaurant for their famous "The World's Best Baked Ham." And no trip to New Orleans would be complete without trying some traditional Southern dishes like jambalaya or red beans and rice. So come hungry, because the breakfast options in New Orleans are endless and delicious. Bon appétit!
What is the most famous restaurant in New Orleans?
There is some debate over the most famous restaurant in New Orleans, but many would argue that it is Commander's Palace. Located in the Garden District, this fine dining establishment has been serving acclaimed Creole cuisine since 1880. It has also been a favorite spot for celebrities and politicians, including former President Barack Obama. So make sure to add Commander
You might also like: