Chicago is known for its exquisite coffee culture. They take their coffee game very seriously here in Chicago. Regardless of where you end up, you'll get amazing coffee.
It's grown so much that it can get overwhelming to the first-time visitor. We've heard that even locals get swamped with different options, with new ones cropping up every now and then.
Not to worry, here are 20 of the best coffee in Chicago. It's a diverse list with independent roasters and local cafes. You'll have your pick for that caffeine fix.
Metropolis Coffee Company
To start things off is a local favorite in Edgewater. Metropolis Coffee Company has been in the neighborhood for 18 years and has expanded to the wholesale business.
But the original coffee shop is still alive and thriving. It's a quaint spot where you can do your work, people-watch, or hang out with friends.
Pair your cup of joe with their pastries from De-Floured Bakery. Their prices are pretty affordable for students to tourists.
Top Review: "Probably my favorite coffee shop in Chicago so far! The people that work here are so sweet. They have a whole menu on Scooby specials. I got the coolsville chai from the Scooby specials and it was absolutely delicious." – Ritti O.
1039 W Granville Ave Chicago, IL 60660
The Wormhole Coffee
This Wicker Park spot is a standout in the neighborhood. The first thing you'll notice is the DeLorean in front of the cafe.
Its time travel decor and 80s nostalgia decor might just be your vibe. Aside from that, it's also cozy and another perfect place to work in.
They have daily drink specials plus a second location on Logan Square.
Top Review: "Cute little spot. Trendy hipster vibe but very inclusive which I love. Baristas are super friendly and even looked for stickers for me in the back when I asked. Coffee art is simple but good. Darker decor with a video game kind of flair. Coffee is on the stronger side in terms of flavor in a latte." – Mandie F.
1462 N Milwaukee Ave Chicago, IL 60622
Sawada Coffee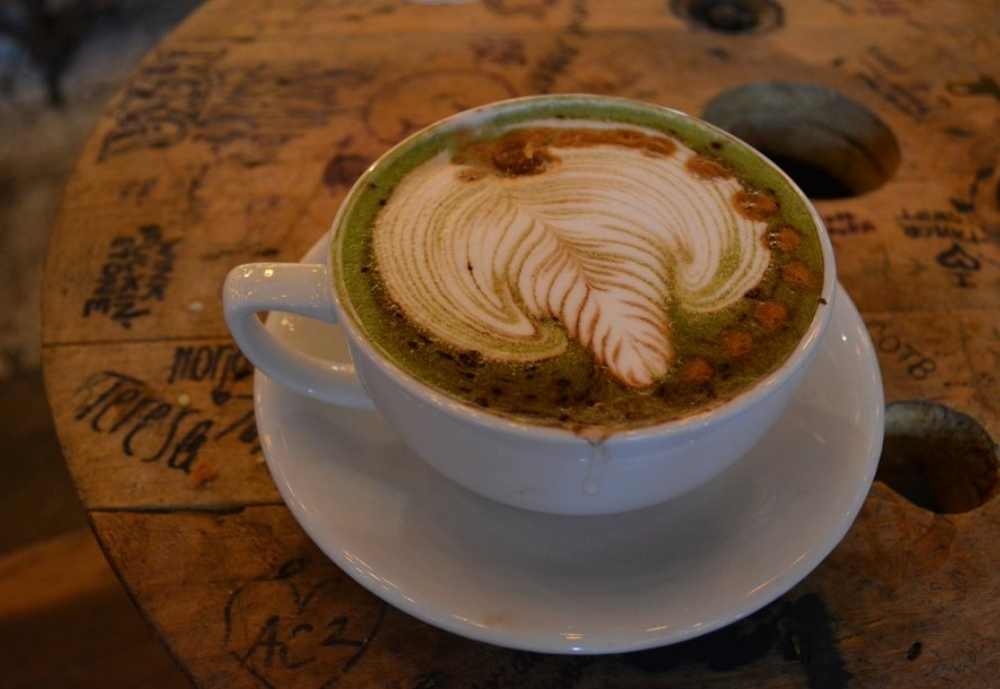 Sawada Coffee is a little different from the usual coffee shops in the neighborhood. It's a relatively smaller space and has a short but sweet menu.
Their coffee is absolutely amazing, and they're known for the military latte. This signature drink has a combination of espresso, green tea, and white chocolate. It's a strong drink with fantastic latte art.
Their unique latte art is made possible by Japanese latte artist Hiroshi Sawada. He makes the latte art in this place one of the best.
Top Review: "Sawada is a common Japanese name which means rice paddy in the swamp. It is found throughout Japan and some with this name are descendants of ancient Shintō priestly families. Sawada Coffee is certainly deserving of a name with priestly history. The coffee here is divine. We ordered the Matcha Latte, the Black Camo Latte, and the Military Latte. The Matcha latte had a wonderfully rich Matcha flavor which undeniably was one of the best Matchas we have ever had. The black camo latte included espresso combined with a roasted Matcha. The roasted taste gave this a great flavor which was very satisfying. The military latte was espresso mixed with the Matcha latte. This was a festival of matcha-ie and espresso-ie goodness. Yay!!! We loved Sawada Coffee and can't wait to come back for more of their caffeinated wonders!" – Mike J.
Oromo Cafe
Oromo Cafe can be described as a more hipster coffee shop. It's often an alternative to Starbucks and has a little bit of everything.
Their beans and flavors range from all over the world. You've got options from Africa, India, Japan, and many more. They also have in-house nut milk to make their unique drinks. Aside from that, they've also got snacks. Even gluten-free options.
Top Review:
Gaslight Coffee Roasters
There are many coffee shops in Logan Square, one of them is Gaslight Coffee Roasters. The spot has another hipster look with vintage decors and wood pieces. They have a roastery next to the cafe and several specialty drinks. They've also got sweet treats to offer.
Top Review:
Ipsento 606
Ipsento 606 is all about bringing you the best coffee out there. They've also got a hip look with an artsy interior. Plus, they hold events, offer pastries, and more.
They're a popular go-to, and the place is often crowded. So better get there early or get your coffee to go.
Top Review:
Metric Coffee Co.
Metric Coffee roast some of the best coffee the city has to offer. They have their roastery by the back with limited indoor seating in the shop. They have a pretty spacious outdoor patio where you can hang out during the warmer months.
They're a pretty laid-back and casual spot that locals frequent. Aside from their top-notch coffee, they also sell doughnuts from Brite.
Top Review:
Mojo Coffee
This next coffee spot is a little fancier than your usual cafe. They're a New Zealand coffee shop with several Chicago locations. As popular as they are for their flat white, they offer other great drinks.
Their look is also pretty sophisticated and chic. They also have meals for breakfast and lunch.
Top Review:
Bridgeport Coffee Company
Don't miss out on the Bridgeport Coffee Company for coffee enthusiasts. They roast their own beans, which they get worldwide. Their pour-over coffee is where the praise is and what many recommend.
They have a homey spot in the Bridgeport neighborhood. It's also a place where you can spend the day in.
Top Review:
Back of the Yards Coffeehouse & Roastery
A Chicago coffee that needs more spotlight is Back of the Yards Coffeehouse & Roastery.
They're a dedicated neighborhood coffee shop with several programs that help their community. Some portion of their sales goes to neighborhood programs. They also employ local youth and make efforts to compost their wastes.
They're definitely inspiring and worth checking out. Not to mention, they have delicious coffee and specialty drinks too.
Top Review:
Plein Air Cafe & Eatery
If you're coming from the Frank Lloyd Wright houses, this cafe is the perfect place to go. You can find it on the University of Chicago campus near Hyde Park.
You'll get your dose of Vitamin D in this sunlit cafe. It's cozy and reminiscent of European cafes. Pair that with their French pastries and breakfast and lunch.
Top Review:
Build Coffee
You'll find the heart of the neighborhood here in Build Coffee. It's not only a cafe but also a used bookstore, event space, and community center. You'll find this space inside the Experimental Station, where a couple of other non-profit organizations are located.
The spot offers HalfWit coffee and goods from Justice of the Pies. You might catch a performance, gallery show, or community meetings if you're in luck.
Top Review:
Afro Joes Coffee & Tea
Afro Joe's is a relatively new coffee shop in Chicago. Their Auburn Gresham location has specialty blends, a wide range of cafe menus, and pastries. If you want something simple but delivers on quality, head here for lunch. Their must-try food includes short rib grilled cheese and Afro Puffs. Their coffee is simple yet impressive.
Top Review:
Caffe Streets
From the co-owner of Metric Coffee Co., Caffe Streets is another cafe that knows what it's doing.
Their European-style coffee shop is lauded for its delicious coffee. They know their coffee well, with different brewing styles and a rotating selection of beans. They also offer pastries from Beacon Doughnuts.
Top Review:
Intelligentsia Coffee
Intelligentsia Coffee is an institution in the Chicago coffee scene. They've been here since before craft coffee was popular. Aside from their multiple Chicago locations, you can also find them in LA and Manhattan.
Their coffee is tried and tested to be fantastic. Locals frequent this spot not only for the coffee but the friendly staff and fast service.
Top Review:
These are just some of the coffee shops you'll find all over Chicago. This is just a drop in the pond, and we're sure you'll find some more hidden gems!