Get the Heck into Dodge with this Wild West town from Kansas. You'll definitely find something unique here in Dodge City. It's a welcoming community that's most known for its Wild West tourist attractions and culture.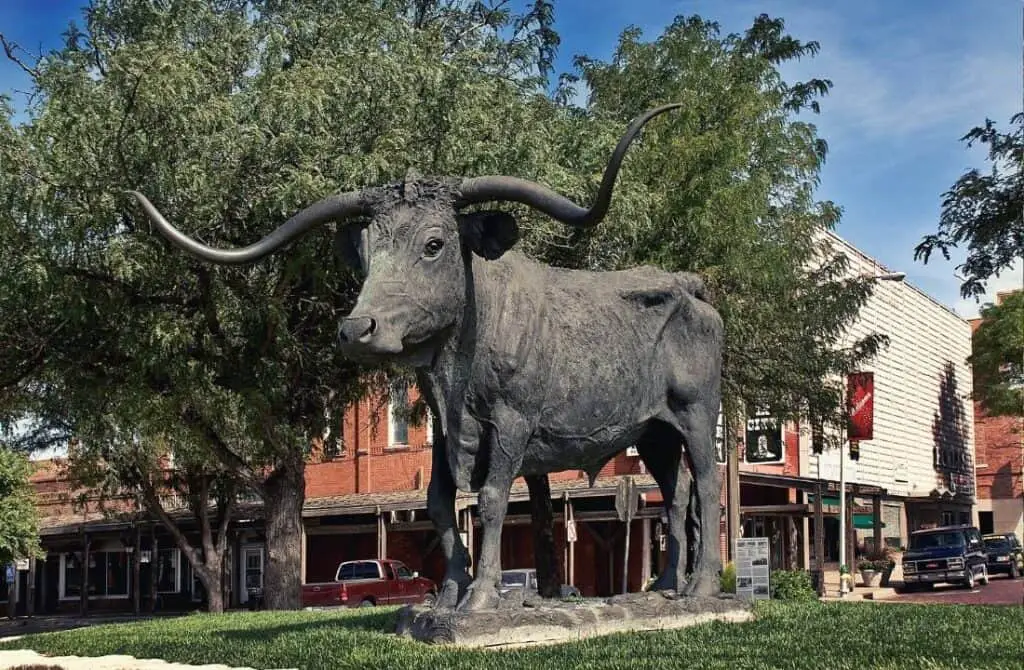 If you've ever heard someone say, "Get the Heck Out of Dodge." then turn that around as "Get the Heck into Dodge." is the city's motto.
It's a city that goes hand in hand with the likes of Wyatt Earp, saloons, and the Old West.
The Old West city is located along the Santa Fe Trail. It's about 300 miles away from Kansas City with a 5 and a half-hour in between.
From Santa Fe, it's an almost 7-hour drive across 420 miles of road. They have a regional airport, but you could also take the Amtrak to get here. A bus could also be an option.
For years they had a reputation as the wildest and lawless town out west. They didn't have any cemetery until Boot Hill Cemetery was created. They were part of the trade and commerce for travelers and others in this route.
The city preserved its history well, with many of its lore still told, and you can see all of it in their many attractions.To get the best experience, we've listed down 15 of the best things to do here in Dodge City, Kansas!
Dodge City Convention and Visitors Bureau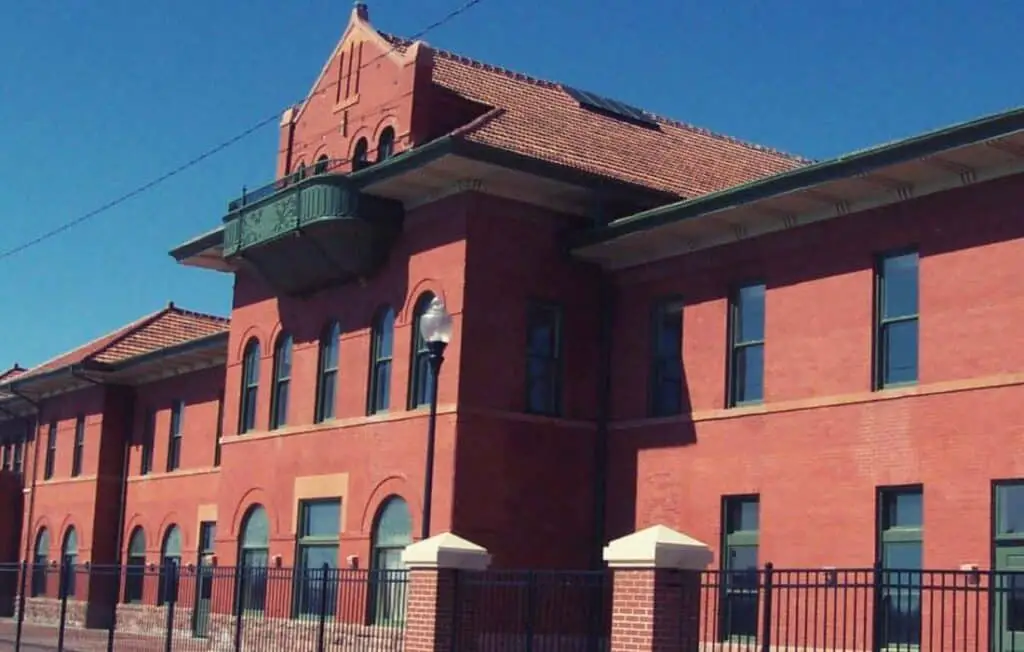 Be sure to make this your first stop on the trip to get all the latest information!
It's a complete tourists' haven with maps, brochures, and tours for most of the things you're about to see in the town.
It's convenient since the staff will help you with your itinerary and any question you might have.
Boot Hill Museum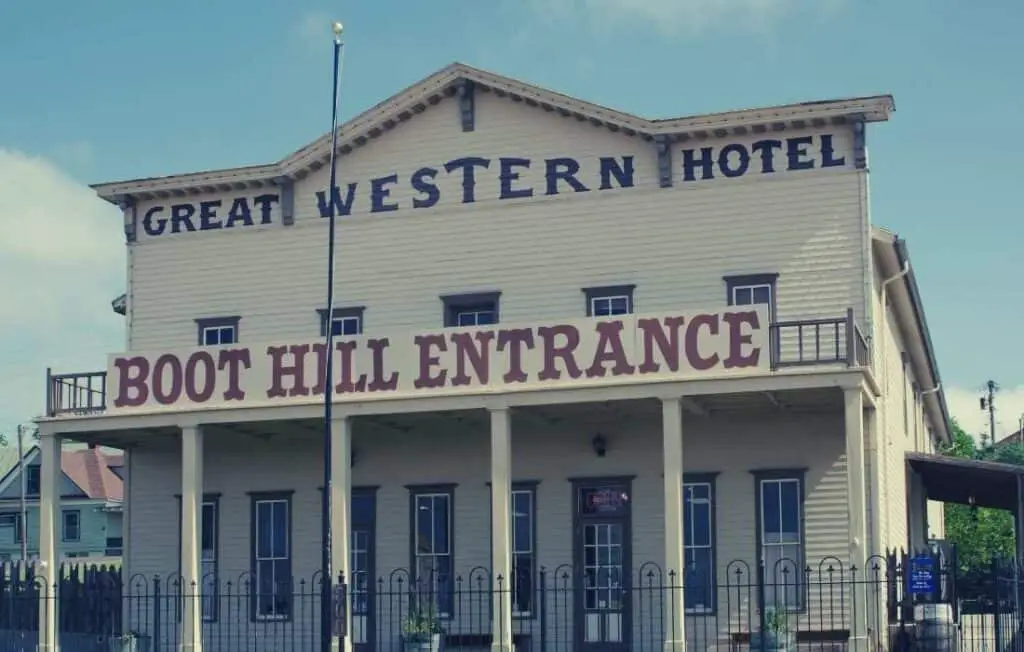 Where the Boot Hill Cemetery used to be, the Boot Hill Museum now stands.
A Boot Hill archway welcomes you.
You can learn all about the community back then with more than 60,000 artifacts in their collection.
Visit the buffalo exhibit, wander shootouts' graves, or see gunfight reenactments at the Long Branch.
On your way out, eat some of their country-style meals in the Long Branch Saloon.
Boot Hill Casino & Resort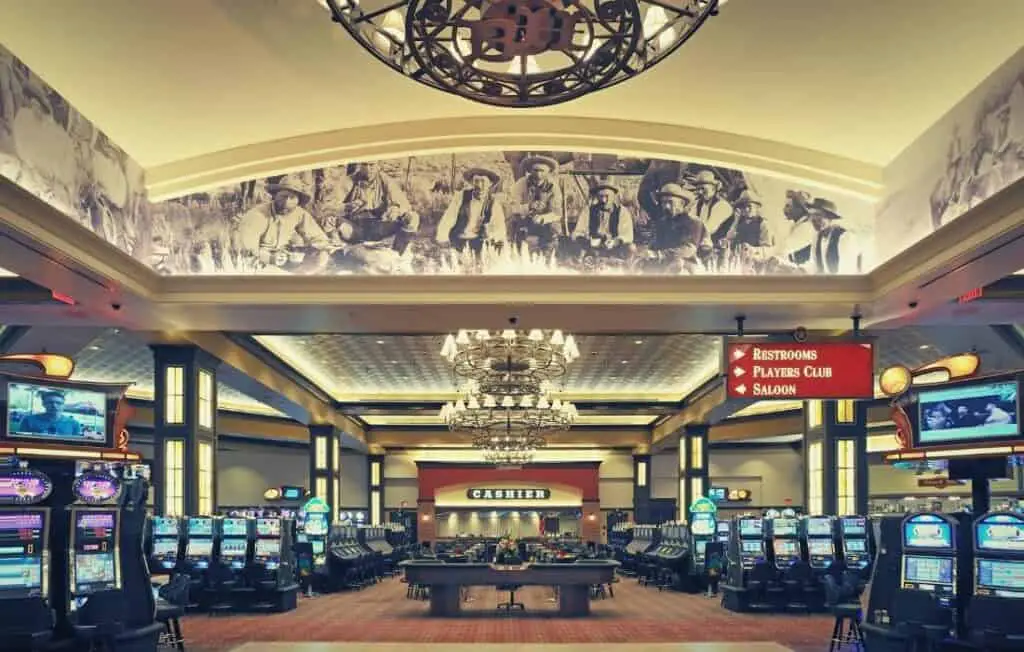 The Casino Resort here in Boot Hill is the first state-owned casino and is flocked by tourists.
There are nearby accommodations with the Hampton Inn & Suites and a 150-seat restaurant called Firesides at Boot Hill.
Of course, the main feature is all the games you'll ever need.
Try your luck with more than 600 electronic games, 18 table games, and 2 live poker tables.
The casino still pays tribute to the olden days and is donned with the city's Wild West theme.
Fort Dodge
Fort Dodge was an essential part of the Santa Fe Trail in the Native American wars.
It was an outpost by the west and served to protect people from the war.
It's five miles from Dodge City and is now used by Kansas veterans.
Most of its original buildings have been preserved and can be seen in a self-guided tour of the fort.
Historic Dodge City Trolley and Walking Tours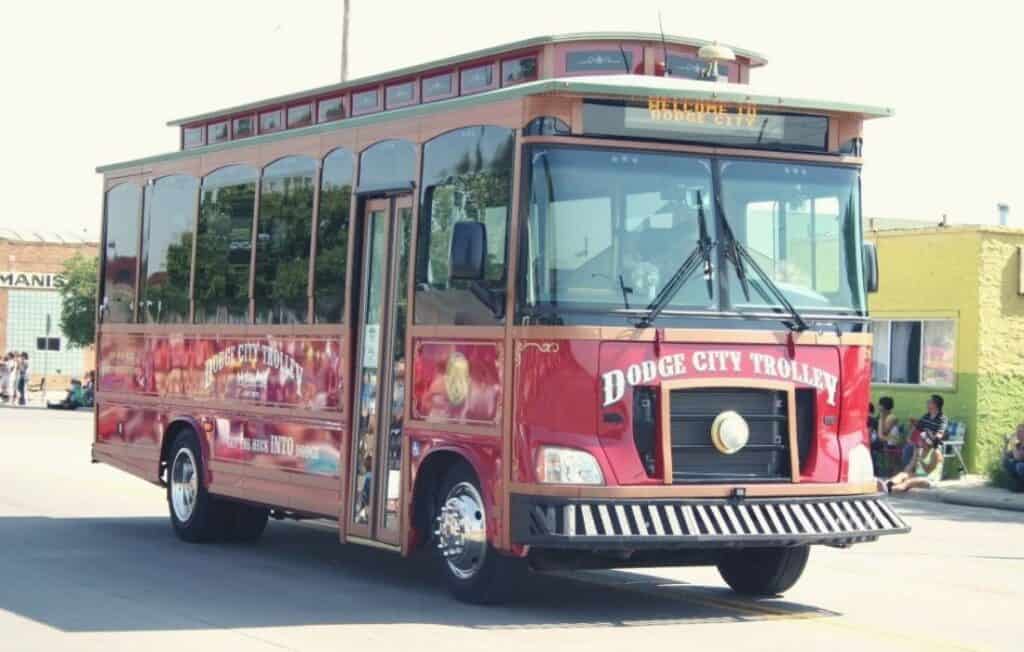 Dodge City is prepared for all the tours you'll need to learn all about their town's history.
You have the options for a trolley tour or a walking tour.
The trolley tour can be booked in the Vistors Center and is open every day.
Their schedule varies for different reasons, especially with the COVID-19 situation, so best to check before you book your ticket.
It lasts for one hour with a booklet and a map to guide you.
The walking tour is self-guided, and you can also get your maps at the Visitor Centre.
The tour leads you to many historic sites, locations of interest, sculptures, and many more.
Dodge City Trail of Fame
If the walking tour is all about history, this tour includes all the famous and infamous people from Dodge City.
The tour takes you right in the Old Dodge City historic district, where statues and medallions can be found.
The sidewalks have markings of the folks lucky to be a part of the city's history.
From Wyatt Earp, Doc Holliday, and fictional characters like El Capitan.
You'll also see Gospel Hill Churches and Stan Herd murals. All in the Dodge City Trail of Fame!
Mueller-Schmidt House Home of Stone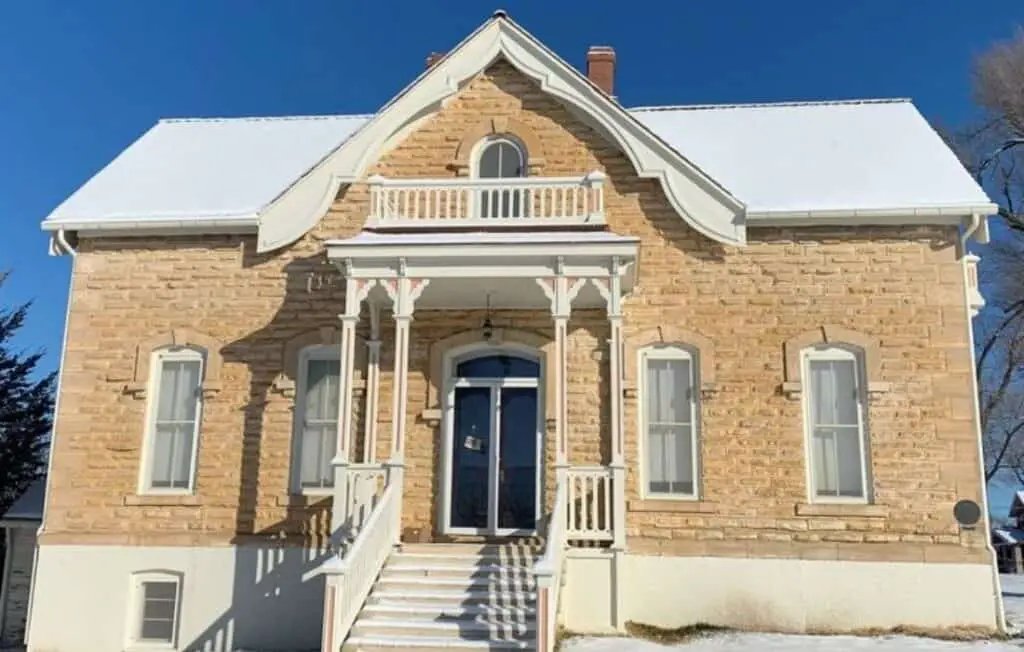 The Home of Stone is a three-story house that is actually the oldest home in the city.
Back in 1881, when it was built, the Home of Stone was part of the town's more elegant homes.
That reputation remains today as the only limestone house around.
The house is preserved to look as it was in 1881 and is also a part of the National Register of Historic Places.
There is a gallery inside that pays homage to Ford County women.
You can visit the home from June through August.
Long Branch Lagoon Water Park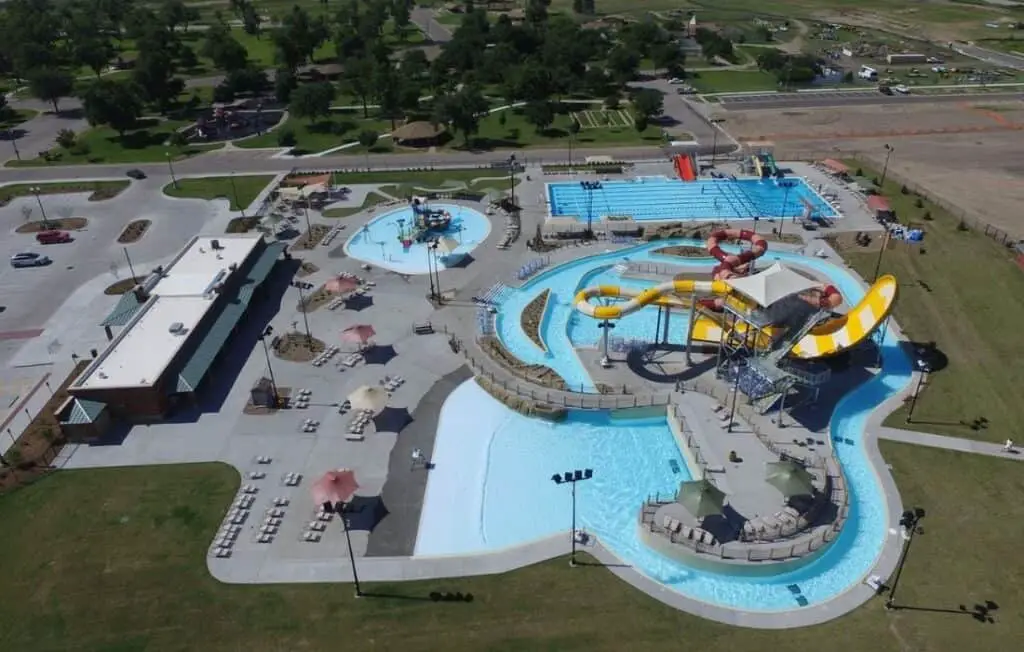 Take a break from the history and jump in the fun here at Long Branch Lagoon Water Park!
The water park is full of fun water adventures, from slides, lazy rivers, and more! 
Some fun things to do are:
Cowboy Creek, their 720-foot lazy river
Wrangler Rapids, a wave pool
Dalton's Plunge, a thrilling boomerang slide
Kansas Teachers' Hall of Fame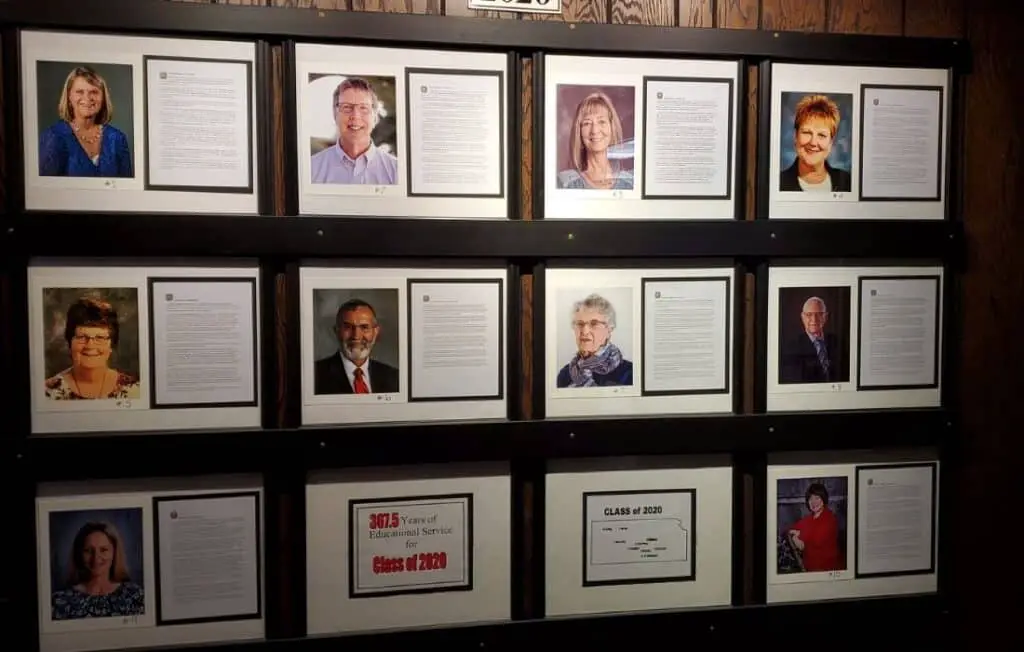 The Kansas Teachers' Hall of Fame is dedicated to teachers, both from the past and the ones we have now.
Inside you'll find donor plaques, a memorial book, the Hall of Fame gallery, and even a classroom from the 1800s.
It's a unique spot and the first in the US.
After exploring the gallery, visit the Gunfighters Wax Museum in the same facility.
---
You are reading "15 Awesome Things to do in Dodge City, Kansas", Fun things to do in Dodge City, KS, Things to do in Dodge CIty for kids, free things to do in Dodge City
---
Wright Park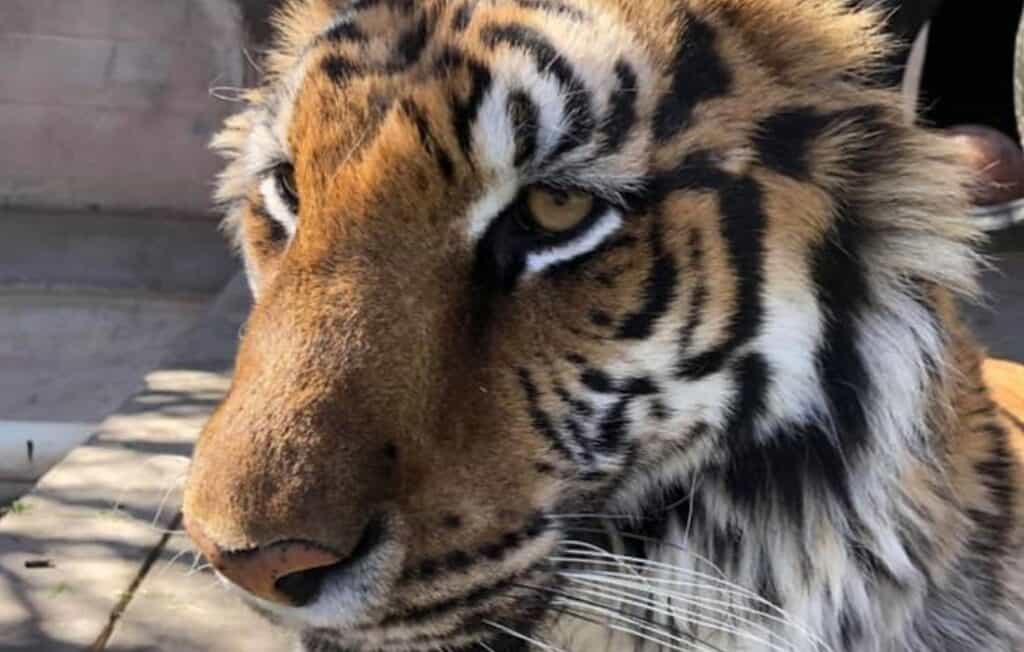 Dodge City has more than 20 parks in the town, and the largest of them all is Wright Park.
If you'd like a relaxing afternoon surrounded by nature, this is the place to go.
You'll find Wright Park Zoo, where there are more than 45 animals to see.
There's also an off-leash dog park in a contained area.
Lastly, several memorials are here, including the Liberty Garden.
The monument is dedicated to the events of September 11, 2001.
Boot Hill Distillery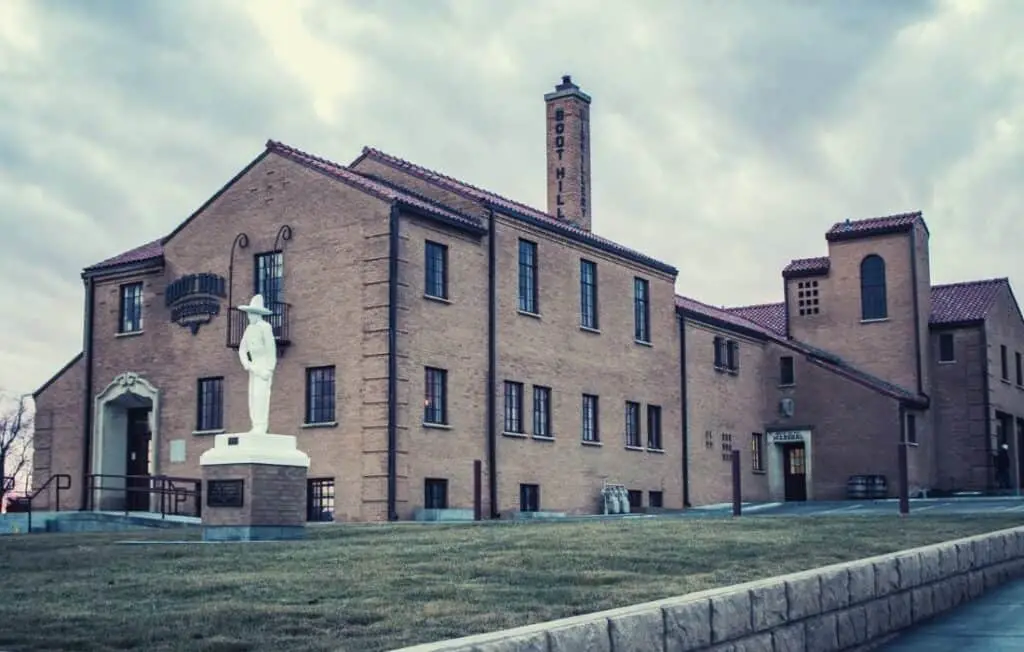 This distillery has been around since it was just a lone campfire and a makeshift bar.
It's the first craft distillery in western Kansas, and they bring that legacy in their craft today.
They are open for tours every Friday and Saturday and are limited to only 20 people.
Or you can just try some of their handcrafted bottles straight from their farms.
Coronado Cross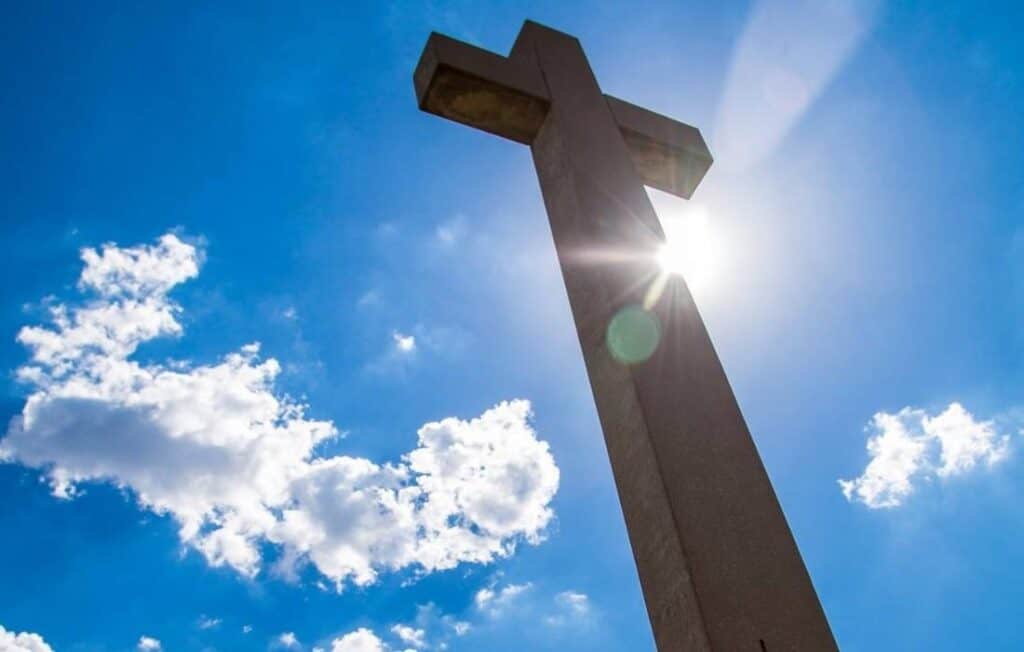 A pretty historic landmark can be found just six miles from Dodge City and a mile from Fort Dodge.
The Coronado Cross was built for Spanish explorer, Francisco Vasquez de Coronado.
This spot is where he trekked his journey to find the "Seven Cities of Gold" way back in the 1500s. The cross is 38 feet high.
Dodge City Raceway Park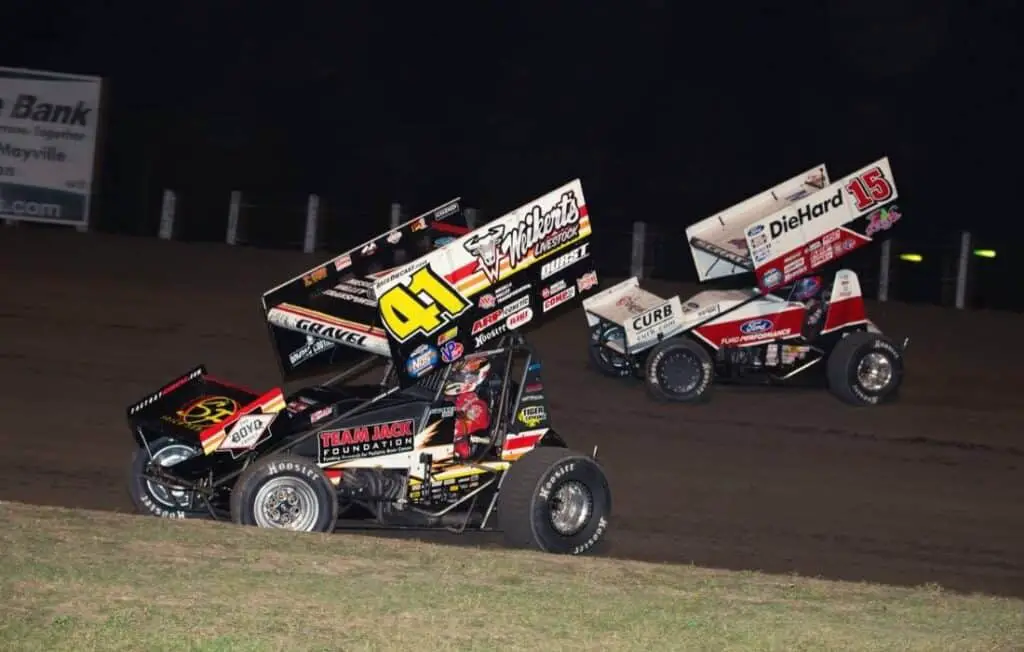 Another unique thing here in Dodge City is for all those with a need for speed!
Here at Dodge City Raceway Park, adrenaline junkies and racing fans can watch the racing season from April through September.
The 3/8 mile dirt track features High Horsepower Weekly Racing, Driver's Appreciation Night, and Sprint Car Nationals.
Second Avenue Art Guild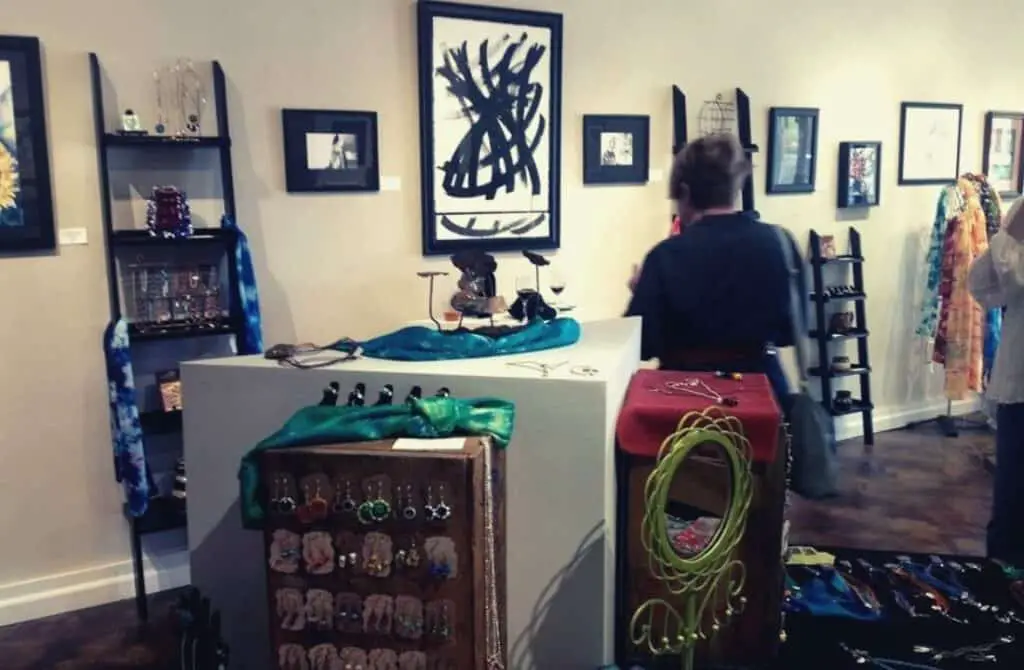 The arts aren't lost to a city that may be all about the Wild West.
Here in the Second Avenue Art Guild, they want to show people what the arts can do.
Their works are all so different and diverse.
Local artists showcase their works on ceramics, paintings, crafts, and more.
They have a monthly Friday event where you can even socialize with the guild and browse their gallery.
Ford County Lake Trail Ride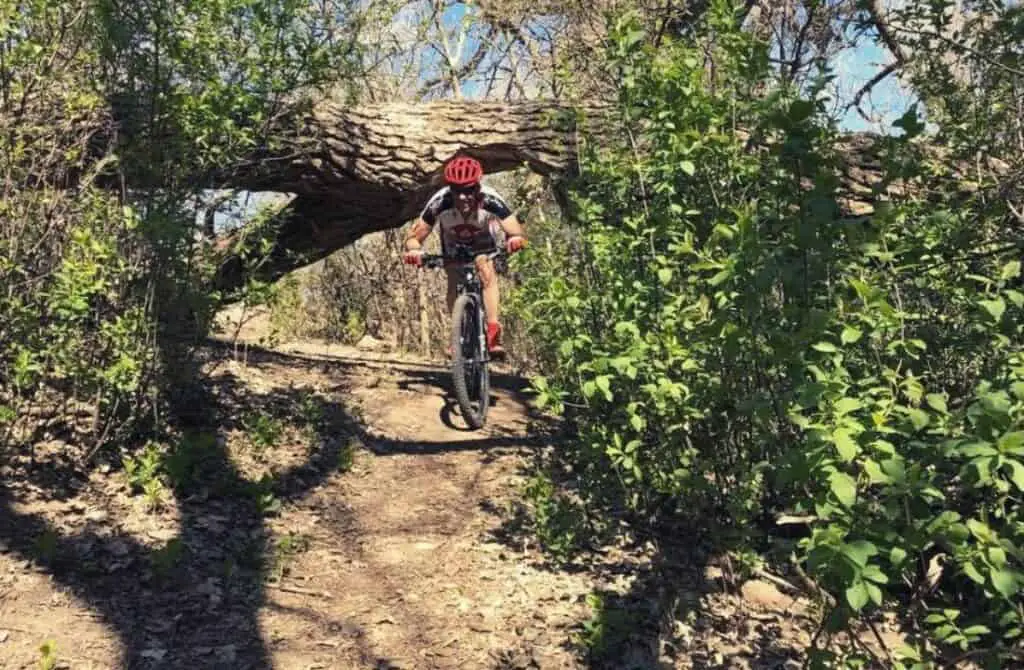 Located six miles away from the city, this trail system is about 11 kilometers and is family-friendly.
It winds through the forest surrounding the lake and is cared for by the locals.
Although it's best not to use the trail in the summer since it's not maintained then.
Where to Eat in Dodge City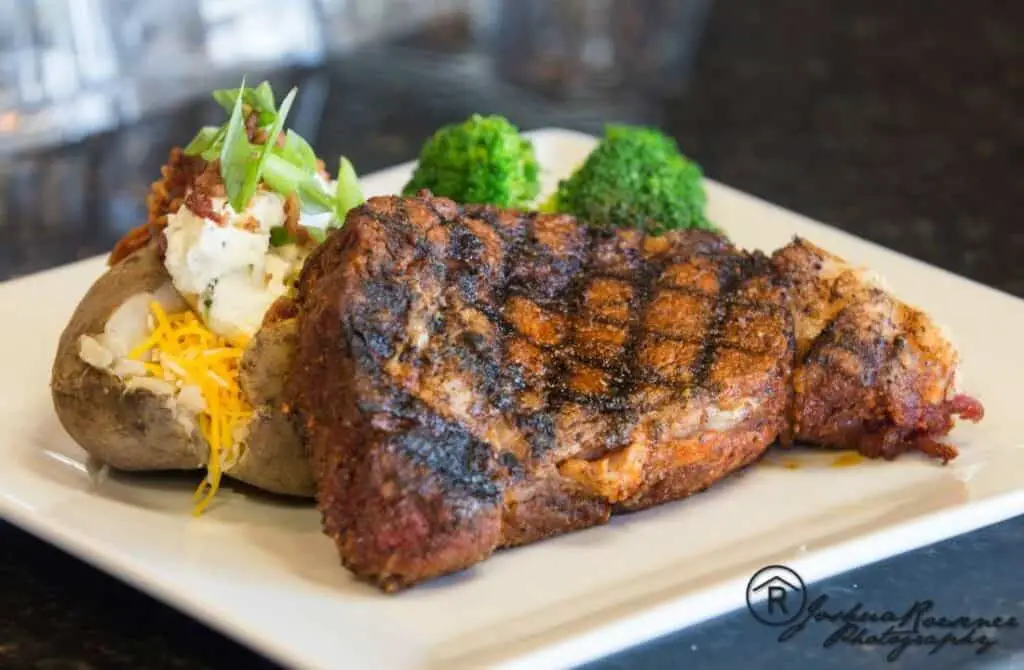 The city is known for their delicious beef, but they also have unique restaurants you absolutely must try!
We recommend Central Station Bar & Grill, Prime on the Nine, and Casey's Cowtown Club.
Where to Stay in Dodge City
Some of the best places to stay at are Best Western Plus Country Inn & Suites, Holiday Inn Express & Suites, and La Quinta By Wyndham Dodge City.
Day trips from Dodge City:
You can enjoy some day trips around Dodge City with Wichita, Hutchinson, and Oklahoma City.
Frequently Asked Questions
What is famous about Dodge City?
Dodge City is known for its history as a frontier town in the late 1800s. It was a stop on the Santa Fe Trail and was known for its lawlessness and wildness. The town was eventually tamed by lawmen such as Wyatt Earp and Bat Masterson, who helped bring order to the area.
Today, Dodge City is known for its western heritage and its annual Dodge City Days festival, which celebrates the city's history with rodeos, parades, and other events. The city is also home to several museums, including the Boot Hill Museum, which is dedicated to the history of the Wild West. Other attractions in the city include the Wright Park Zoo, the Santa Fe Trail Center, and Fort Dodge, a military post that was established to protect the Santa Fe Trail.
Is Dodge City, Kansas worth visiting?
Dodge City, Kansas is worth visiting for those interested in the history of the Wild West and the American West. The city has several museums and historical sites, as well as annual events like the Dodge City Days festival. Other attractions include a small zoo, a water park, and a racing complex. However, if you're not particularly interested in these things, then you may want to consider other vacation options.
You might also like:
things to do in dodge city ks, what to do in dodge city kansas, things to do in dodge city, kansas, things to see in dodge city kansas, things to do in dodge city, things to do in dodge city kansas