Looking for the best pizza in Winston-Salem? You are in the right place! In the heart of North Carolina, the bustling city of Winston-Salem hides a culinary secret: it's a mecca for pizza connoisseurs. Amidst historic charm and Southern hospitality, the city serves up a slice of heaven, with pizzerias dishing out unforgettable pies, each unique and delicious. Join us as we embark on a tantalizing tour of Winston-Salem's top pizza spots, each a story unto itself.
Cugino Forno Pizzeria Winston Salem
Cugino Forno Pizzeria is not only one of the finest pizza places in Winston-Salem, but it's also one of the best in the Triad. Located in a charming refurbished location in downtown Winston's factory district, this pizzeria offers traditional, oven-fired Italian pizza.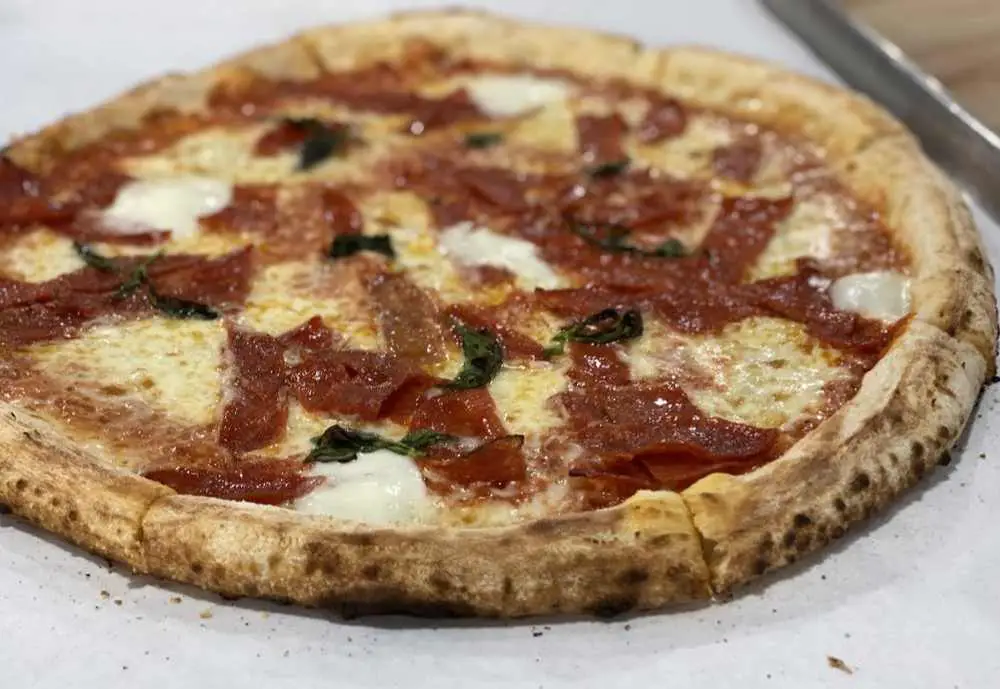 The restaurant is conveniently situated right next to Incendiary Brewery, featuring frequent live music and an expansive outdoor space, making it a popular local hotspot.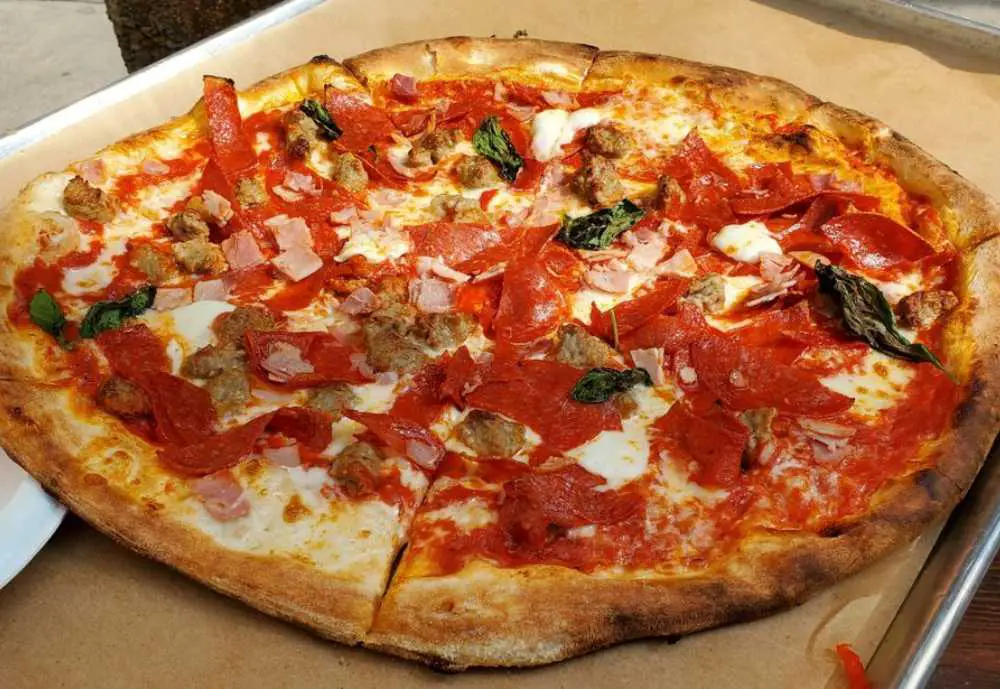 Despite its seemingly basic setup, Cugino Forno delivers a pizza experience that stands out. The thin, crispy crust is perfectly browned and is topped with just the right amount of tomato sauce to provide a flavorful bite without making it soggy. It offers a wide assortment of toppings; traditional favorites like Italian sausage and pepperoni are hard to resist.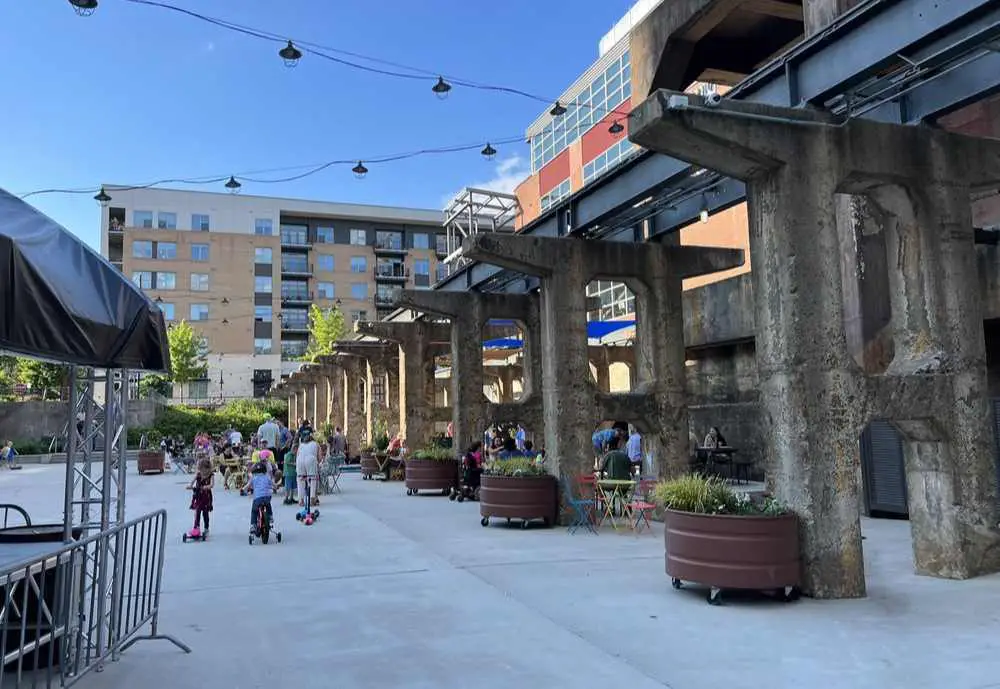 Even at its busiest, Cugino Forno prides itself on fast service. Orders generally arrive at your table within 10-15 minutes, if not sooner. A trip to Cugino Forno wouldn't be complete without pairing your meal with a craft beer from the adjacent Incendiary Brewery. Definitely give them a go for some of the best pizza in Winston-Salem.
Menu: Cugino Forno Menu
Top Review: "Amazing pizza.  Nuff said!  Great crust, toppings, sauce, everything! Now the environment!  I cannot explain how cool this courtyard is.  Kids on scooters.  People with dogs and families. This is a great environment and you just feel the history of the town." – Brian P.
Zito! Pizzeria and Grill
Zito! Pizzeria and Grill, a woman-owned pizzeria in Winston-Salem constantly enhances their menu that caters to all dietary needs, including vegan and gluten-free options.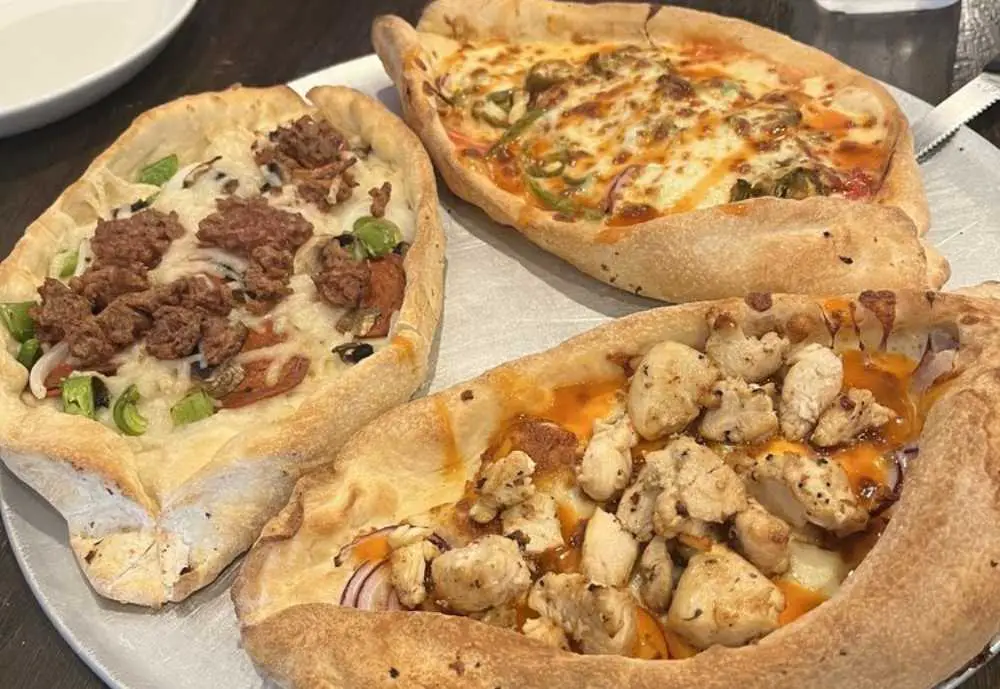 Notable is their unique Pizza Boat or Peinirli (pictured above), a spectacular dish of dough filled with cheese, toppings, and sauce. The buffalo chicken version is particularly delightful.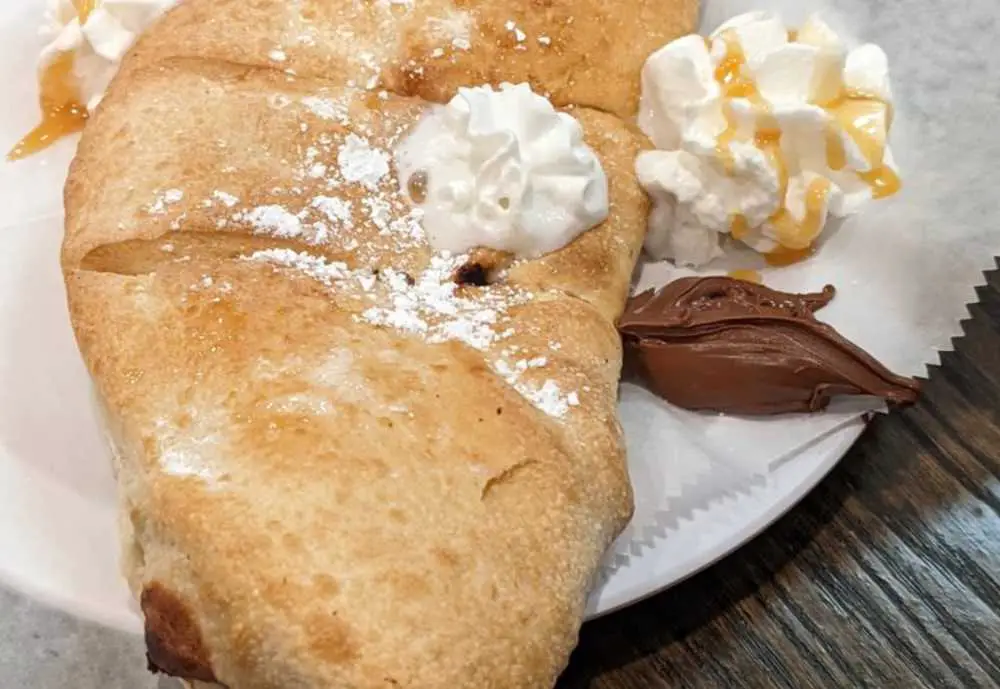 But the real star is their Nutella Calzone – a decadent treat of Nutella baked into sweet dough, dusted with powdered sugar, and topped with whipped cream. Despite managing a hefty take-out business, Zito's offers a cozy space to dine in and enjoy fresh meals, making it a top recommendation for lovers of Greek, Italian, and poutine dishes.
Menu: Zito's Menu
Top Review: "We both had the pizza boat and they were so good! The ingredients tasted fresh, and the crust was perfectly cooked. We were traveling with our doggies and they had a few outdoor tables, which is impressive for a strip mall location. We were impressed and will certainly return when visiting the area again." – Debbie P.
Brother's Pizzeria
If you're seeking an authentic NY style pizza experience in Winston-Salem, Brother's Pizzeria and Grill should be on your list. They offer a wide selection of dishes at unbeatable prices, but their cheese slice steals the spotlight, earning high praises for its perfect fold and crunchy crust. The restaurant makes online ordering super easy via the Slice app, ensuring your pizza is ready in no time.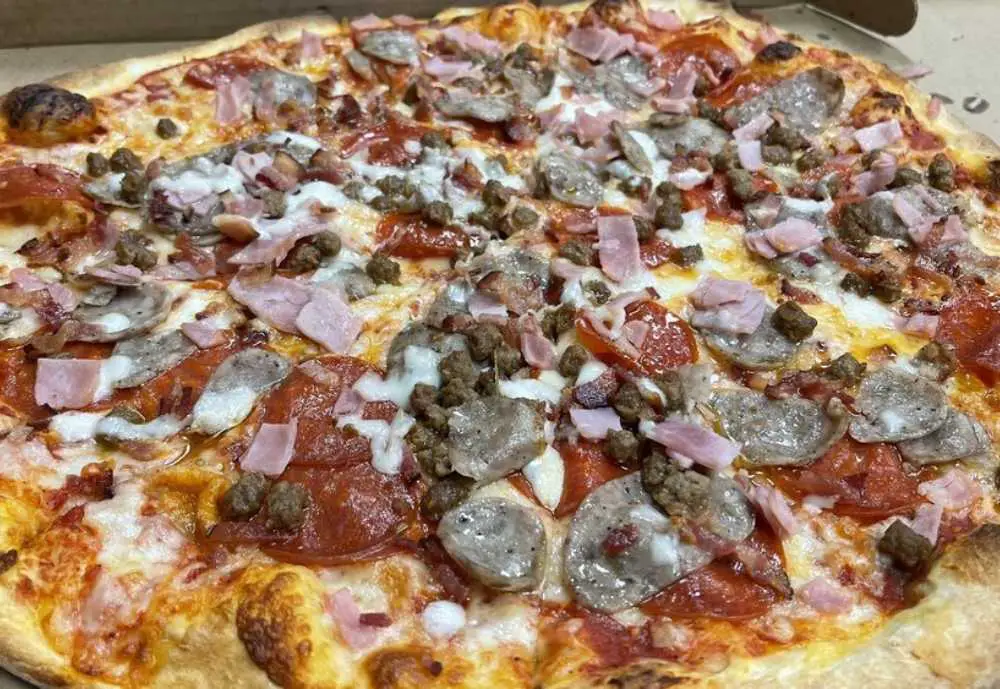 Aside from their stellar pizzas, Brother's Pizzeria and Grill has an array of enticing menu items including calzones, strombolis, hot subs, and delectable desserts. The restaurant remains open until 3am on weekends, making it a fantastic late-night option. Having a bite of their Nonna slice or the pepperoni pizza will make any native New Yorker feel at home. Try them out for some of the best pizza in Winston-Salem.
Menu: Brother's Pizza Menu
Top Review: "A void in downtown Winston has finally been filled. Brother's Pizza is perfect for lunch, dinner, or after bar hopping. They offer whole pies as well as pizza by the slice. I ordered slices of cheese and pepperoni pizza and mozzarella sticks. The cheese pizza was by far the star of the show. I'm not sure what it is but the sauce makes all the difference. It's not heavy to too sweet or too tomato-y. This just might be the best cheese pizza in Winston. The mozzarella sticks were delicious with marinara sauce or ranch dressing and the leftovers reheated nicely in the oven. I was very pleased with my dinner and wilk definitely go back to try some of the other menu items. So glad to have a pizza spot on 4th Street again." – Takeisha R.
Mission Pizza Napoletana
Nestled in Winston-Salem's Arts District, Mission Pizza Napoletana honors Naples' pizza tradition with a modern touch. Their wood-fired, handmade oven crafts beautiful pizzas topped with fresh, high-quality ingredients.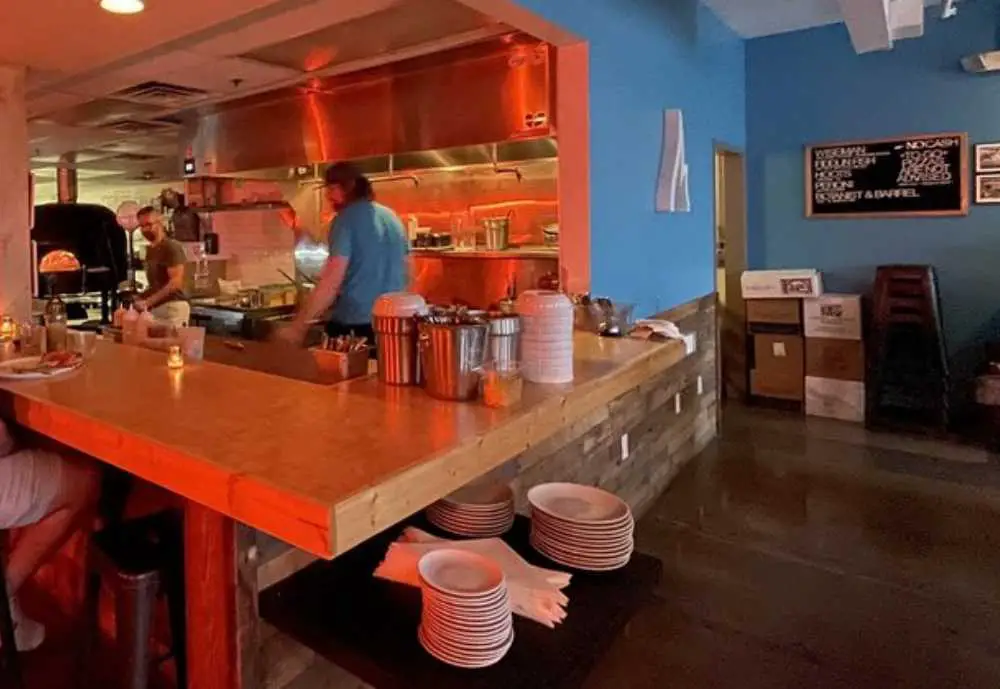 As a proper osteria, they offer a full menu of Italian-inspired dishes, complemented by a selection of local craft beers and small-producer Italian wines. Founded by Peyton Smith in 2014, it's the first Napoletana pizzeria in North Carolina, making it a regional leader in pizza excellence. A must-visit spot for a taste of authentic Naples in Winston-Salem.
Menu: Mission Pizza Menu
Top Review: "I wanted to do something different for Valentine's Day this year. So we got tickets for their Pizzakase dinner. It was an amazing and delicious experience. We sat right in front of the owner as he was making pizzas for the restaurant along with his staff. Every course was delicious and different. We started with a spicy honey, arugula salad. During the meal we also tried three different pizzas. All were very different and very good. Some of the other courses included, octopus and a dessert. Since it was Valentines weekend they had a lobster supplemental course you could add. I added it and loved it. Our waitress was very sweet and did a good job recommending the wine that I ordered." – Barrie P.
Pizza Greco
Welcome to Pizza Greco, the reincarnation of Slice of Napoli, captivating pizza lovers in Winston-Salem. Though prices have nudged up, fear not, for the payoff is unparalleled. Indulge in their colossal strombolis, bursting with flavors that leave you satiated and grinning.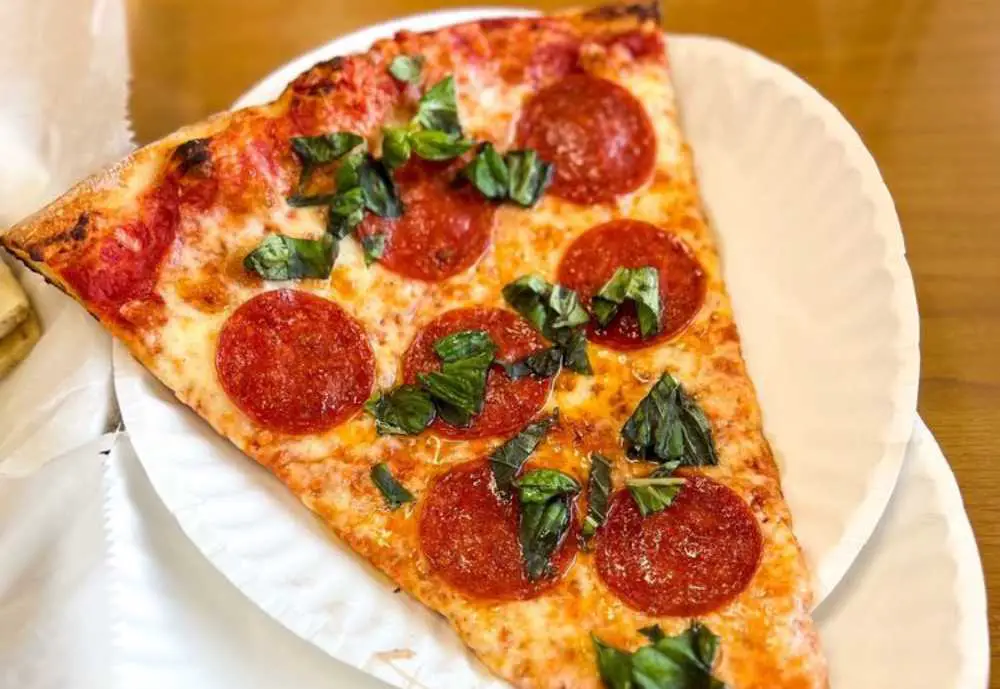 As the name suggests, Greek food aficionados will revel in the offering of Gyros and other delightful Mediterranean treats. But the true star of the show is undeniably the pizzas. These monstrous pies boast an avalanche of toppings that promise to tantalize your taste buds, while the crust delivers a perfect harmony of crispy and airy textures.
Beyond the mouthwatering fare, the staff's genuine warmth and hospitality set the stage for an exceptional dining experience. Whether you dine-in or take-out, Pizza Greco beckons you to savor a fusion of flavors in a welcoming ambiance that lingers in your memory.
---
As we conclude our gastronomic journey, it's clear that Winston-Salem's pizza scene is rich, varied, and well worth the exploration. From family-owned establishments to avant-garde gourmet joints, each spot tells a unique story through their delicious pies. While we've savored a slice of what the city has to offer, there's plenty more left to discover. So, next time you find yourself in this vibrant North Carolina city, remember to follow the scent of fresh, mouthwatering pizza.
You might also enjoy these articles:
best pizza in winston-salem, pizza near me, best pizza winston salem, pizza winston salem nc