Sometimes you don't have to go to big city places to get the escape that you need.
Here in Ojai, you can get all the fixes you need.
You can get active outdoors, experience the small city community, and be surrounded by nature.
The place has a very nature-centric vibe, with a mix of old-school culture with today's newer hip artists.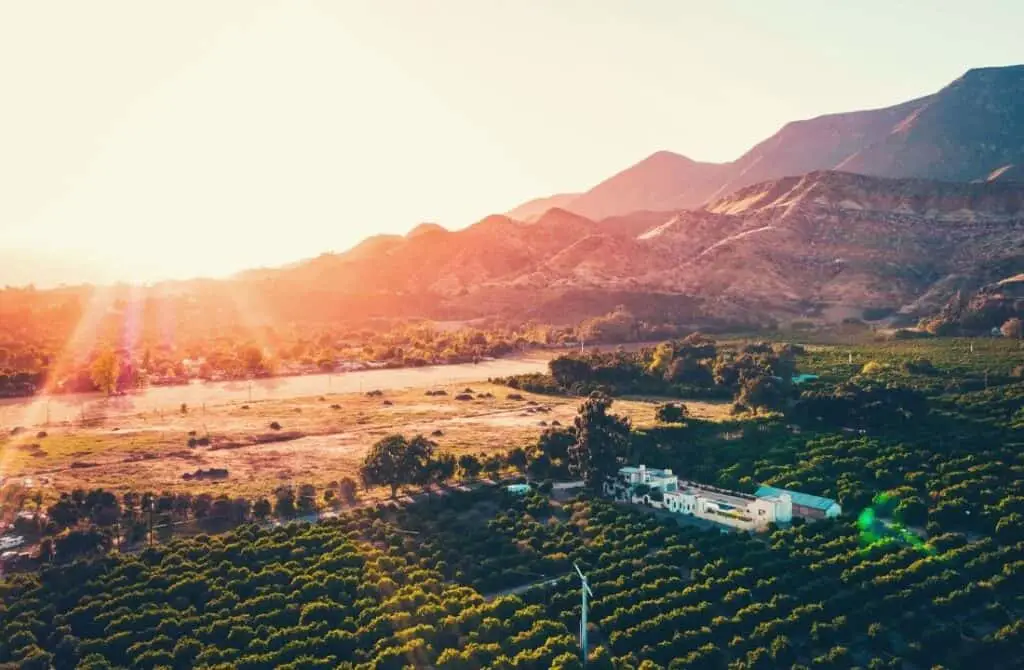 Ojai is a city in California, specifically in Ventura County.
To put it on the map, it's northwest of Los Angeles and east of Santa Barbara.
It's only an hour and a half from LA if you're planning a road trip.
Just be prepared for that California weather of hot summers and rainy winters whenever you decide to go.
The city is known for the calming nature and scenery it gives.
Aside from things to do outdoors, they also focus a lot on spirituality and their local art scene.
They're also known for the Pixie Tangerine.
They even dedicate a month to it during its peak season in April. The fruit is unique to the area, and its trees populate the city.
There's a lot of things packed in such a small destination, so make sure not to miss it!
Check out our picks for the 15 best things to do in Ojai:
Bike at the Ojai Valley Trail
Since the cozy town is located in the Ojai Valley, many come here to hike or bike.
The biking trail provides a scenic tour around Ojai, and it's not a difficult trail either.
It's just nine miles, and you can complete a one-way ride for under an hour.
There are many tours offered, too, like Trails by Potter or the Ojai Valley Land Conservancy. 
The best thing about this is the views you'll get!
You'll be able to see stunning views of the surrounding mountains.
Go horseback riding with Ojai Valley Trail Riding Company
You can do practically everything on the Ojai Valley Trail, and that includes horseback riding.
This riding company has a lot of options for all ages who want to take a ride.
If you're with your partner, there's also a very sweet and romantic couples sunset ride complete with the mountains' scenic view. 
You can visit their site here: Ojai Valley Trail Riding Company
Taste some wine at the Casa Barranca Organic Winery
Everything is made locally here, from fruits to vegetables, even down to the wine!
There are several wineries in the city, but the best one to go to is the Casa Barranca Organic Winery.
The winery isn't open to the public, but the tasting room definitely is.
The place also has some history behind it as the first certified organic winery in the Central Coast.
Here, you can taste their famous wines while they tell you the intricate stories behind them.
You can also mix and match the wines depending on your taste.
Enjoy a drink at the bar, buy some wine souvenirs, or bring a bottle back at home.
Take a break at Libbey Park.
Slow things down and head over to this park in the city.
The park serves as a gathering spot for the locals with many quiet places to relax, have a picnic, or hang out with friends.
It's also perfect for kids with a playground for them.
Many events are also held in the park, such as "The Ojai," the country's oldest amateur tennis tournament.
It also has the Libbey Bowl, where the Ojai Music Festival is held annually.
It's a four-day festival with a different music director every year.  
Other festivals held in the park are the Ojai Storytelling Festival, Art in the Park, and the Ojai Valley Lavender Festival.
Get lost in Bart's Books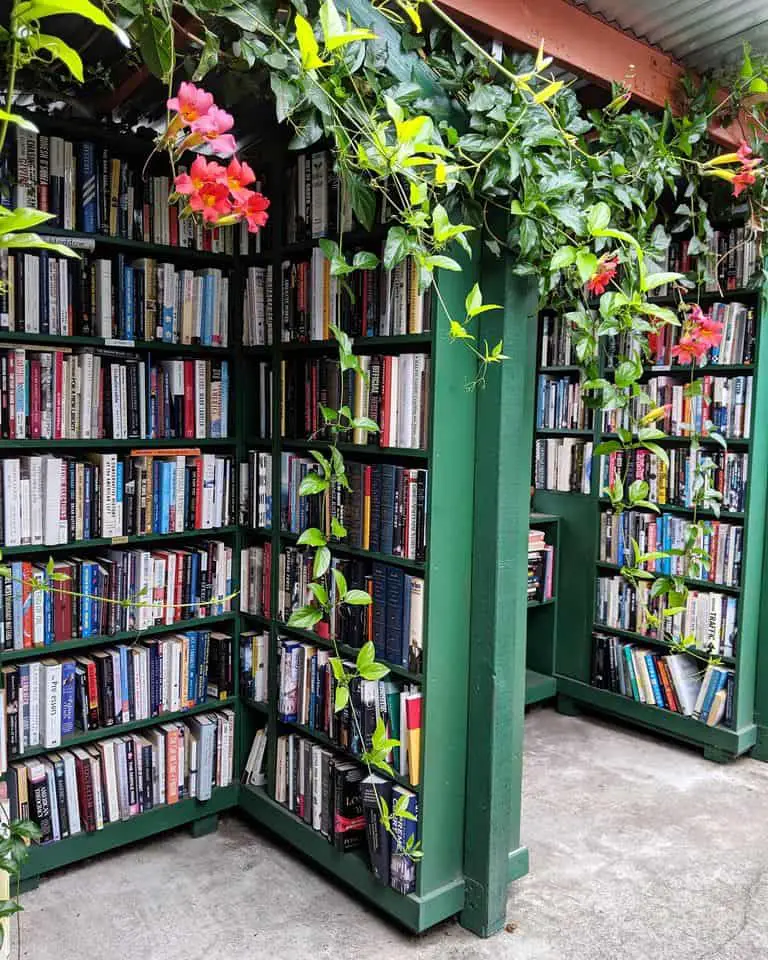 Bart's Books is a unique landmark here in Ojai and has something for everyone.
Their extensive book collection ranges from travel to fiction to self-help.
It's both an indoor and outdoor bookstore with the inside preserved as an old house.
Don't get too lost in the maze of bookshelves inside!
A reviewer from their Facebook page had this to say, "Visited this weekend and was blown away by the atmosphere, selection and service.
Heaven on Earth for book lovers"
Take a tour at the Ojai Olive Oil Company
The place to go for fresh-pressed olive oil is the Ojai Olive Oil Company.
The ranch located by the east end of Ojai benefits a lot from the area's Mediterranean climate.
Their trees are some of the healthiest, and you can taste some of their products when you take the free tour.
The grove dates back to the 1880s and is the freshest you can get.
Admire the works at Beatrice Wood Center for the Arts
One of Ojai's many arts and cultural centers is the Beatrice Wood Center for the Arts.
They have a collection of works by Beatrice Wood, local exhibitions, performances, and workshops.
Their classes also include a kid-friendly option for those that want to get their children into the arts.
Beatrice Wood was a ceramicist who moved to Ojai from New York, where she continued to make works until her death at 102 years old.
Her works, called the Studio Kiln Gods, are considered good luck, so make sure to grab one before you leave the center.
Visit the Ojai Valley Museum
Spend a day immersed in art, history, and culture in the Ojai Valley Museum.
It has a semi-permanent exhibit dedicated to the valley's history that talks about how the community started and the local Chumash culture.
You'll see their rotating gallery with exhibitions on different art styles and mediums for their collection of artworks.
They also have something for the family with their Sespe Wilderness Diorama and an Interpretive Garden.
Go on an adventure at Los Padres National Forest
You'll find the Los Padres National Forest north of the town, which is the more advanced outdoor adventure for those who'd want to really escape the city.
This national forest has over 1,000 miles of trail, 875,000 acres of wilderness, and a vastly diverse population.
It has a collection of flora and fauna, fishes, and wildlife.
Aside from the wilderness, there's also a couple of swimming holes and hot springs you can take advantage of.
You can camp, bike, hike, or whatever outdoor activity you'd like to do!
Take a breather at the Meditation Mount
After a day out in the sun, find solace and peace here in Meditation Mount.
The relaxing atmosphere is not complete without the view from the hill where the property is located.
This meditation center is a great place to unwind.
They do full-moon meditations that help "unfold the consciousness of humanity."
Try the citrus at Friend's Ranch
Friend's Ranch is a citrus farm that's been around for more than 100 years.
They produce oranges, tangerines, lemons, and of course, pixies.
Ojai Pixies are super sweet, seedless, small, and juicy. It's one of Ojai's pride and a favorite among the locals.
You can take a tour of their packing house or visit the orchard to see the fruits grow.
Try a fresh-picked one in the ranch or bring home a bag full of their fruits.
For anything citrus, the go-to really is Friend's Ranch!
Shop at the Ojai Certified Farmers' Market
If you don't have the time to go to the individual ranches, no worries, because there's the Ojai Certified Farmers' Market.
It happens every Sunday, and there's a wide array of fresh local produce for you.
Not only will you find local produce, but also local crafts and home-made goods.
Other things you can find are fresh fruits and vegetables, jams and honey, meats, seafood, which are all fresh from the farmers!
Enjoy the Ojai Meadows Preserve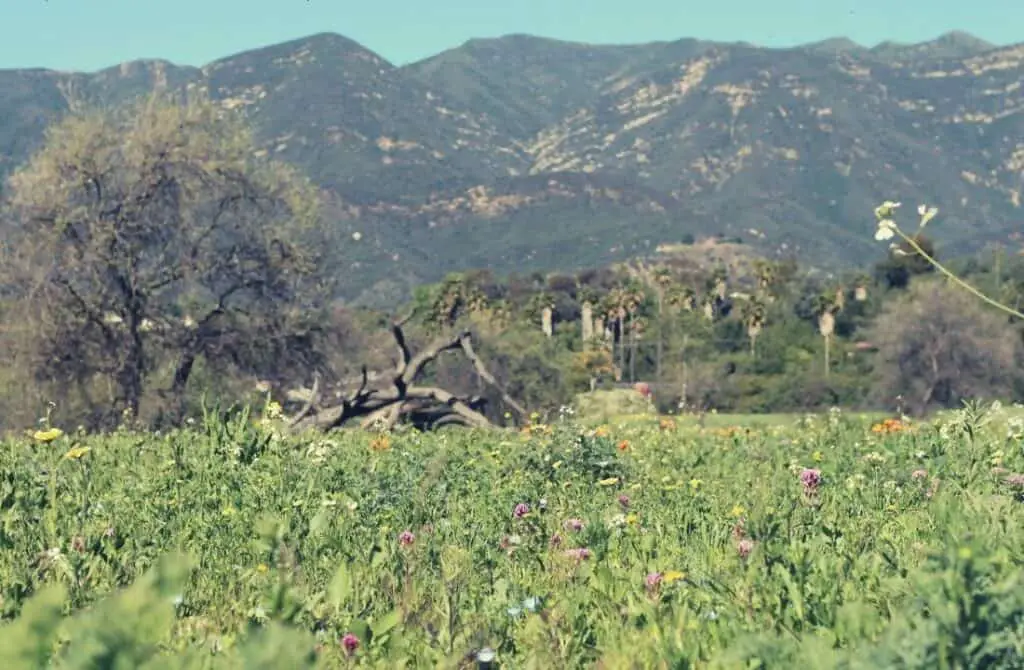 A project of the local community, the Ojai Meadows Preserve, brought back wetlands close to destruction.
The restoration project took many years, but now the meadows have water flowing again with abundant wildlife living in it.
While visiting, respect nature and the preservation of the environment.
Stay on the trail and make sure not to leave any trash behind.
Go boating at Lake Casitas
Around three miles from the city's center, Lake Casitas is a must-visit when in Ojai.
Besides swimming, you're allowed to boat, fish, kayak, and have a picnic in the area.
Most of all, the lake is popular as a camping site.
The lake's water is actually used for the valley's drinking water, so make sure not to dip into the water.
Casitas Water Adventure
If the lake had you wanting to swim, there's the Lake Casitas Water Park that's open every summer. 
The park features two water playgrounds for the family and a kid-friendly multi-level jungle gym with waterfalls.
There are lots of other amenities like slides, bridges, and a lazy river. 
Frequently Asked Questions:
Where to stay?
Ojai Valley Inn is the five-diamond resort in town.
Its equipped with all the best facilities from two golf courses, a spa, and even a Beekeeping & Honey Tasting tour.
When is the best time to visit
There are lots of things going on all-year-round.
Still, if you want the full Ojai experience, you can visit one of their many festivals.
You can also visit between late December and early January to catch a sight of their famed "pink sunset"!
How to get around in Ojai?
Being a small town, you can explore the downtown area on foot.
But you can also ride a bike or give the city's Ojai Trolley a try.
It's a one-dollar ride you can take from the town's center to the Ojai Valley Inn.
Also check out Lovely Indeed for some stunning pics of Ojai.