Attention all burger aficionados! If you're looking for the best burgers in Mesa, Arizona, then you've come to the right place. Mesa is home to some of the most delicious and mouth-watering burger joints in the state, and we've rounded up the top contenders for your burger-loving pleasure.
Without further ado, let's dive into the best burger joints in Mesa that are sure to satisfy your cravings and leave you feeling happily stuffed.
Giant Hamburgers
Giant Hamburgers in Mesa, Arizona is a must-visit spot for anyone looking for a classic American burger experience. The hamburgers here are truly amazing, with juicy patties and all the classic toppings.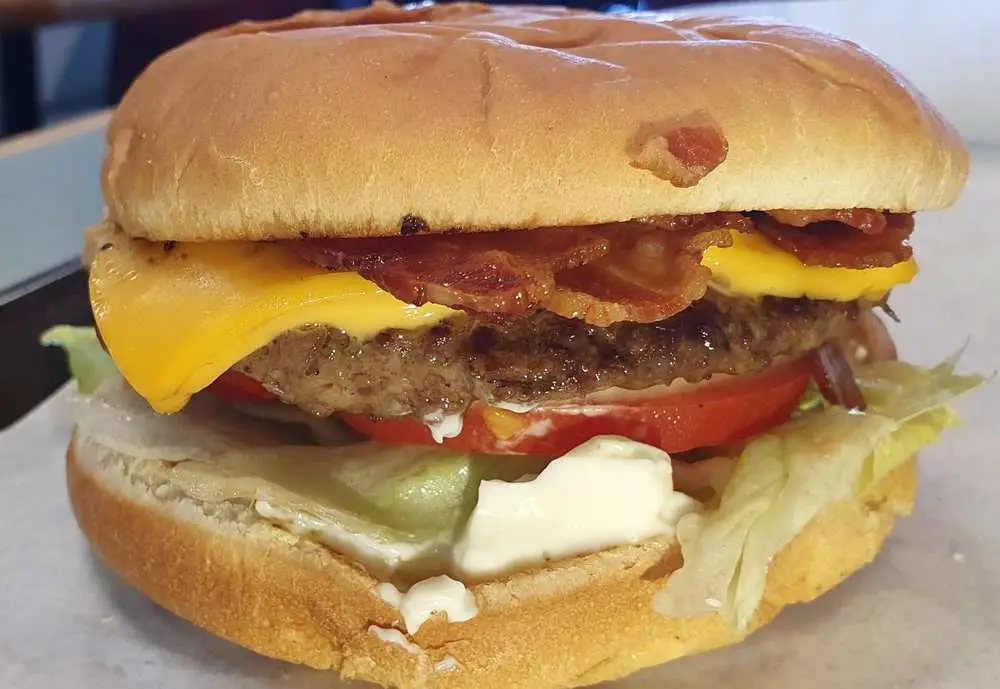 The owner of the restaurant is known for being very welcoming, making guests feel like they are at home. The restaurant also offers amazing pies that are perfect for dessert or a sweet treat.
Menu: Giant Hamburgers Menu
Top Review: "This place has really good food! There burgers are HUGE & delicious! They have other items too like hot dogs and chili dogs. I can't wait to try their breakfast! I also love that it's a little mom & pop restaurant. They seemed like they truly cared for their customers! my boyfriend & I leave happy every time." – Megan C.
Lindsay Marketplace, 2753 E Broadway Rd, Mesa, AZ 85204, (480) 733-6542
Haven Burgers
Haven Burgers in Mesa, Arizona is a fantastic spot for anyone looking for a delicious and affordable burger. The restaurant is known for offering hearty burgers that are priced very reasonably, making it a great option for a satisfying meal without breaking the bank.
The burgers are grilled on an open flame, giving them a delicious smoky flavor that sets them apart from other burger joints. Whether you're in the mood for a classic cheeseburger or something a little more unique, Haven Burgers has something for everyone.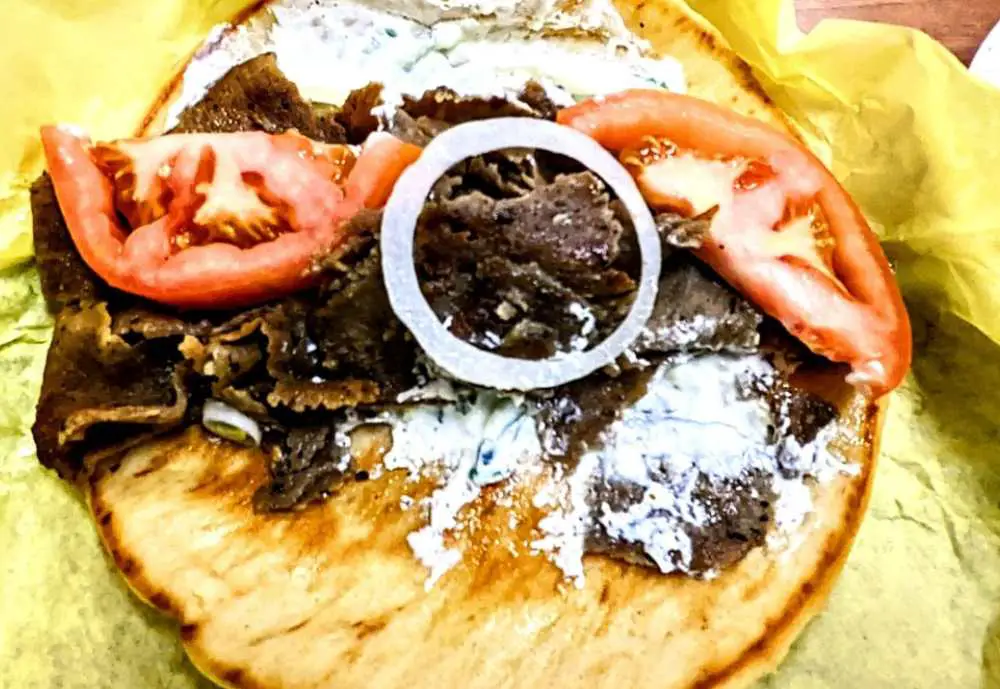 In addition to their amazing burgers, Haven Burgers also offers a veggie gyro that is a must-try for anyone visiting the restaurant. Their gyro is a delicious option that is packed with flavor and sure to satisfy any craving. Haven Burgers is easily one of the best spots for burgers in Mesa.
Menu: Haven Menu
Top Review: "This place is no joke. The burgers are grilled on an open flame. Super tasty. The fries and the seasoning salt is fantastic. If you want one of the best burgers in the Downtown Mesa area… Check out this place. It might be one of the best in Mesa period." – Paul H.
606 E Main St #101, Mesa, AZ 85203, (480) 610-0002
Brightside Burgers
Brightside Burgers is a popular food truck located in Gilbert, Arizona, that sits outside of Cider Corps on Gilbert. If you're dining inside the building, you can order using your phone, and they will bring your food to your table when it's ready. The menu at Brightside Burgers is simple but delicious, with a variety of scratch-made gourmet burgers to choose from.
Some of the most recommended burgers include the French Onion burger, the Brightside Burger, and the John Wayne burger, which is a crowd favorite. The John Wayne burger comes double Angus patties, cheddar cheese, BBQ sauce, coleslaw, fried onion strings, and bacon on a Noble sesame seed bun, making it a mouthwatering experience for any burger lover!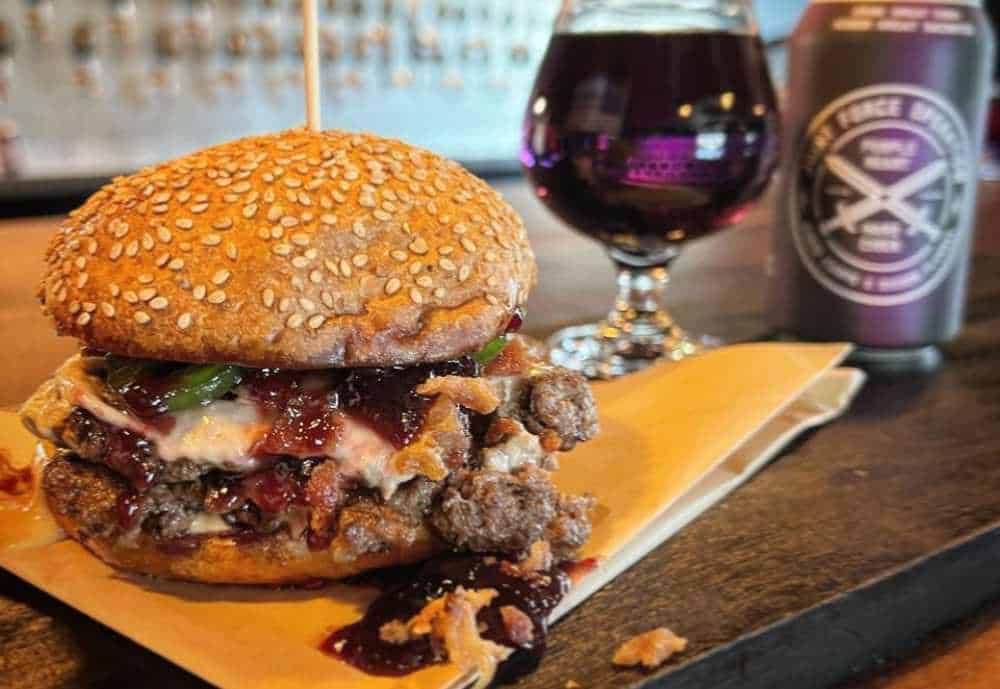 If you're looking for a burger joint that offers more than just your average burger, then Brightside Burgers is the place for you. The food truck provides a unique dining experience that is both convenient and delicious. The atmosphere is lively and inviting, with friendly staff and a welcoming vibe. In a way, Brightside Burgers is like a hidden gem, tucked away in a corner of Gilbert, but once you discover it, you'll keep coming back for more.
Menu: Brightside Burgers Menu
Top Review: "This is possibly the best burger I have ever had! And can get in cider corp or grab it to go. Just amazing." – Alex U.
Wide Daddy's
Wide Daddy's is a small family-owned business with a rich history of restaurants in the Chicago area. They are dedicated to bringing quality food and recipes from their past family restaurants as well as some of Chicago's favorites to their customers.
Wide Daddy's is excited to introduce a new and exciting taste to the communities of Arizona while also giving people from the Midwest a taste of home. Their menu features a variety of delicious options such as the Whiting Fish Sandwich, Italian Combo, Fried Mushrooms, and more. Customers are highly recommended to try their signature dishes, including the Italian Beef Sandwich and the Double Wide.
Whether you're in the mood for a classic Chicago-style sandwich or something new and exciting, Wide Daddy's has something for everyone.
Menu: Wide Daddy's Menu
Top Review: "Support Local businesses!!! This cute little family restaurant is a MUST try!! I love the all beef Chicago Dog with everything on it! They have a hand packed hamburger, to die for! Fried chicken (don't forget the Louisiana hot sauce), a corned beef sandwich- i added sauerkraut to mine,  onion rings, fried okra!!! Everything I have tried was amazing!" – Sarah J.
2706 E University Dr Ste 10 Mesa, AZ 85213, (480) 590-3934
Seven Brothers Burgers
Seven Brothers Burgers is a another must-visit spot for burger lovers in Mesa.
This family-owned restaurant (Yes, there really are seven brothers!) offers a variety of burgers, including classic options like the Seven Brothers Burger and unique creations like the Teri-Samoa, which is a beef patty dipped in thick caramelized teriyaki sauce, two crispy strips of bacon and grilled pineapple, topped with melted American cheese and house sauce. WHOA.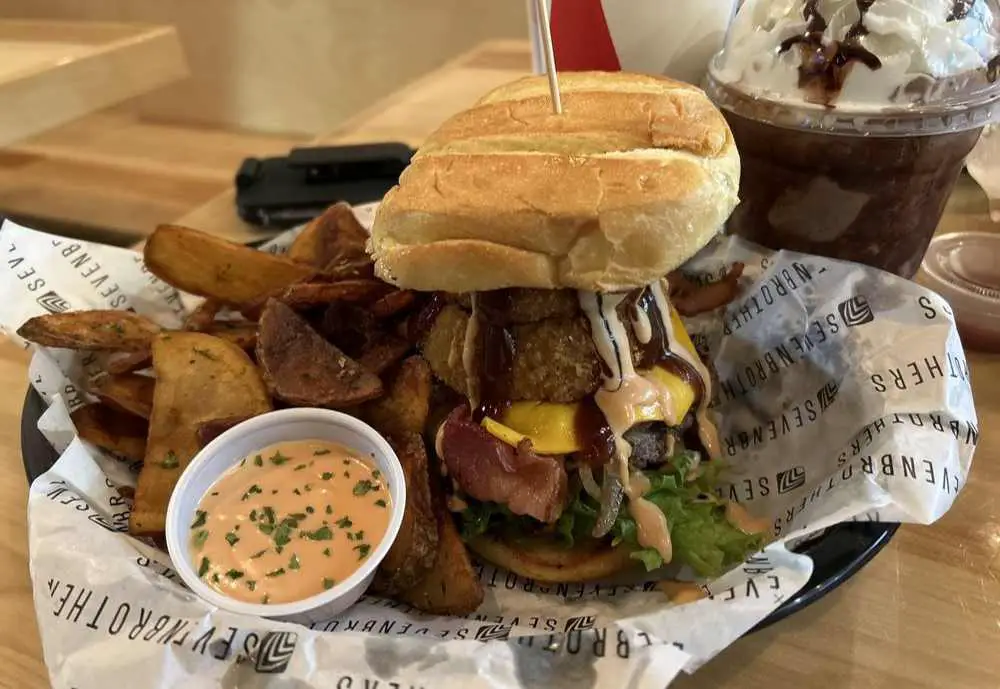 All burgers are made with fresh, high-quality ingredients and cooked to perfection. Definitely give them a go for some of the best burgers in Mesa!
Menu: Seven Brothers Menu
Top Review: "We have now visited three 7 Brothers locations in Hawaii and have loved their burgers, service and EVERYTHING in each and every location (Laie, Kahuku & Haleiwa). Just one more to go (Hauula) and then to Queen Creek, Arizona. The best burgers and people around! Thank you!" – Lauri R.
Stufrageous Stuffed Burgers
Stufrageous is a unique burger joint in Mesa, AZ that originated from a love for food and a desire to be different. They take the already beloved burger and make it even more lovable by stuffing it with almost any combination of ingredients you can imagine.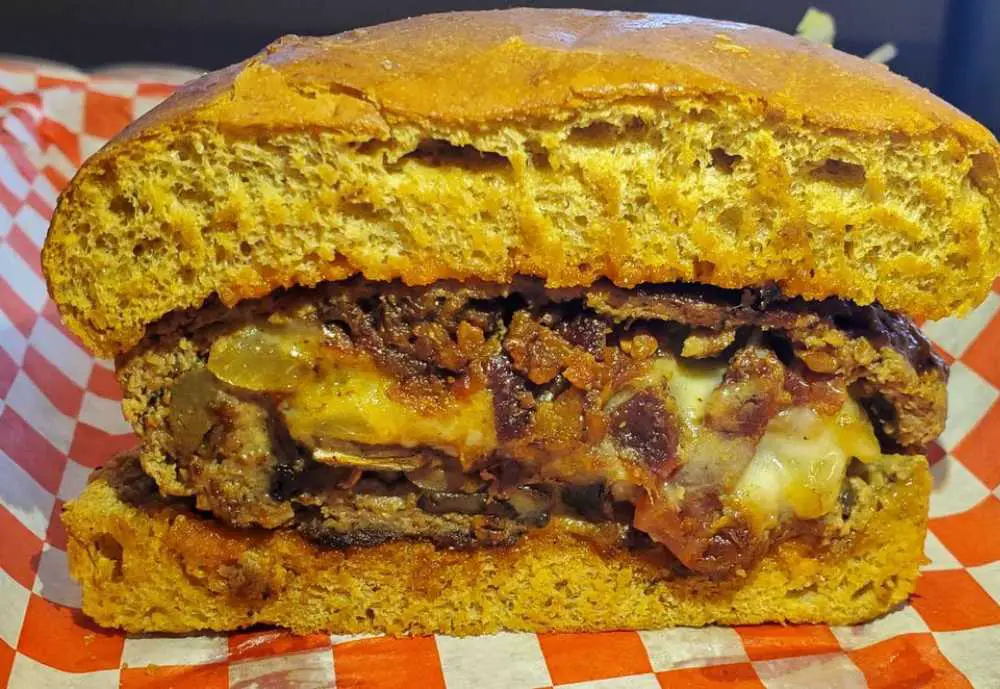 Their juicy, 6-ounce burgers are served cut in half, creating an amazing sight of cheeses and stuffing's oozing out. Customers can choose from one of their chef-inspired signature burgers or create their own mastermind stuffed combination.
To add a kick to your burger, don't forget to top it with their homemade Outrageous Sauce, which is the perfect combination of sweet and spicy. Stufrageous easily has some of the best burgers in Mesa.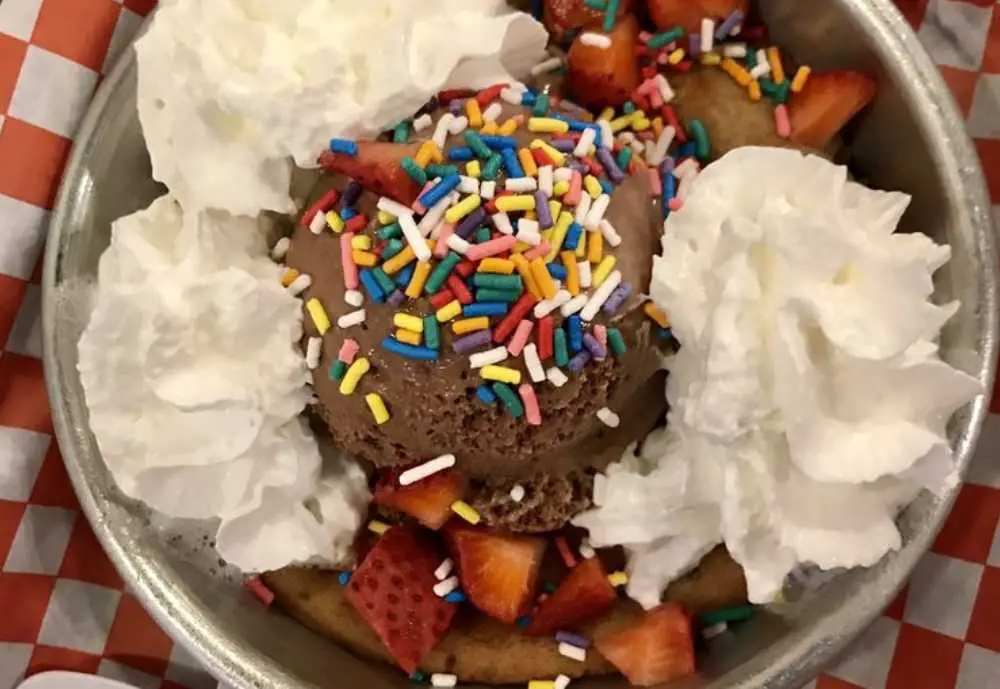 Stufrageous also offers a hot and fresh baked cookie topped with ice cream and over 10 goodies to finish it off, such as Oreos and strawberries. This dessert is the perfect way to end your meal and satisfy your sweet tooth. Their commitment to extraordinary over ordinary sets them apart from other burger joints in the area and makes them a must-visit spot for burger lovers in Mesa.
Menu: Stufrageous Menu
Top Review: "The Hawaiian burger was amazing and I ordered it with lettuce tomato and pickle but they put them on the side!! So You could easily reheat the burger if it got cold on delivery! The Sweet potato fries are fantastic the aioli sauce is spicyyy! So good! Hawaiian Burger" – Jennifer M.
1036 W Southern Ave, Mesa, AZ 85210, (480) 969-1305
You might also like these mouthwatering articles:
best burgers in mesa, burgers mesa, best burgers mesa, mesa hamburgers, best burgers near me burger mesa burger mesa az best burger in mesa burger quest locations burger quest location best burgers mesa az burgers near me burger near me best burger near me burger places near me best burger in arizona mesa burger best burger mesa az best burger in mesa az