One of the most sought after destinations in the world, London is an icon in itself. It's one of the world's most important cities in terms of influence, economy, and power.
London is a city that's full of opportunities, history, and fascinating attractions.
Many tourists begin their travels in London, but there are so many things to do. How do you know where to start? This is why we have written our London travel guide!   
We've got you covered as we detail every little thing you have to know about your trip to the capital city of England. From the planning to your itineraries to where to stay, it's all here.
About London
As the capital of the United Kingdom, there's a lot of people in the area. More than 8,000 people live in the city as of 2018 and had 65 million tourist visits last 2015.
It houses four World Heritage Sites, namely, the Tower of London, Kew Gardens, Westminster Abbey, and St. Margaret's Church.
When it comes to the weather, the city has a temperate climate and a habit of constantly raining.
It's best to always bring an umbrella with you because you never know when it's going to start pouring. January is the coldest month, while July is the hottest.
The city is 2,000 years old and holds a lot of history and stories within its walls. Romans first founded it with the name Londinium until the Anglo-Saxons replaced it in the 5th century.  
The city of London was where it all started, but it has since expanded to what is known as Greater London, one of the nine regions of England.
The city still follows the boundaries from medieval times. London also sits on the River Thames, which leads to the North Sea. You can see it from another London landmark, the Tower Bridge.
It has a lot of historical sights and heritage destinations just waiting to be explored.
The region is also where the government's seat is and where you'll find 10 Downing Street where the Prime Minister lives.
It also has the oldest underground railway network in the form of the London Underground.
Getting Around the City
London has one of the best transportation systems globally, with interconnected networks of buses, trains, and even river transports.
You can quickly familiarize yourself with the routes by getting their free travel maps, or review all you need to know about transports at Transport for London.
It's also more convenient to get a Visitor Oyster Card for your trip. You won't need to buy a ticket every time you get on board somewhere; it's rechargeable and is accepted everywhere.
Just load your card with credit through any station or at the number of shops in London.
You can also use the card for your next trip back to the city, and you can save on different discounts exclusive with the card. It comes with a £5 activation fee. 
If not, they have the right to deny you entry, or you can get a fine of £200 that can go up to £6,400 every time you violate it.
If you're exempted from wearing a face covering, you can get a badge from the Transport for London.
Choose from these different transportation options:
The Tube / London Underground
The Tube is the fastest way to travel in the city, especially since there is always a nearby stop to where you're going.
The Tube includes nine zones and 11 Tube lines. If you're just staying in Central London, you'll be in Zone 1.
The trains run from 5 am to midnight, Monday to Saturday, with fewer hours during Sundays. The actual times may vary.
Fares for the Tube generally depend on where you're coming from and how far you're going to travel.
A typical single journey fare in Zone 1 may cost £4.90. With a Visitor Oyster card, it's only £2.40.
Rush hours are on weekdays, every 7 to 9 am and 5:30 to 7 pm.
Buses
Another icon of the city is the red double-decker buses. Unlike the Tube, buses operate 24/7 with a day and night bus.
Night buses run from the end of the Tube operating hours until the start of the daytime buses. You'll know it's a night bus by the letter N in front of the bus number.
Buses only accept cashless payments, so make sure to top up your Visitor Oyster card or an alternative contactless payment card.
The bus fare goes for £1.50 and a whole day of bus travel will only cost you up to £4.50. If you take another bus within an hour of your first trip, the second ride will be free.
You can also get a one-day bus and tram pass for £5, and it lets you take an unlimited number of buses or trams.
Buses also have designated stops where a "bus stopping" sign would appear in front of the bus. To let the driver know you're getting off at the next stop, just press one of the red buttons inside.
The same is true with the routes in outer London without bus stops. They'll have Hail and Ride areas, similar to the bus stops in the city.
Car
Using London's public transportation can be much cheaper than renting a car. It might also be faster, depending on the traffic. But if you're planning to drive in London, here are some of the charges you have to plan for:
Congestion Charge: The congestion charge applies to most, if not all, cars that enter Central London. You'll see that you've entered the Congestion Charge Zone by the letter C in a red circle on the street. It operates every day except Christmas from 7 to 10 am. It's £15, and you can pay it in advance.
Ultra-Low Emission Zone (ULEZ): This is also in the same areas as the Congestion Charge zone, but it operates every day, 24 hours a day. It costs £12.50.
Low Emission Zone (LEZ): This is for Greater London and operates every day 24 hours per day. It's currently suspended due to the pandemic.
Make sure to remember that cars in the UK drive left. Read up on the rules of the road on Transport for London. There are car parks like the National Car Parks (NCP) and the Q-Park for parking. You can also visit Parkopedia to find where to park. Parking fines range from £80 to £130.
River Bus
See London's sights from the Thames with their River Bus Services. Aside from river tours, the primary river bus operators are the Thames Clippers. You can pay through your Visitor Oyster Card, contactless payment, through the Thames Clippers website, or the Uber app.
The fare depends on the zones. Children under 5 are free, while a typical Adult fare would cost £12 for all zones. Check out the full price list here.
Bike
Hiring a bike in the city is easy, with over 750 bike docking stations in London.
The operators are Santander Cycles and cost £2 for the whole day with the first half-hour for free.
If you're going to use the bike for more than 24 hours, with an additional £2 for every extra 30 minutes.
You can use the Santander Cycles app for a more convenient process.
You can easily hire a bike, get the cycling routes, where different docking stations are, and pay for your fare.
Taxis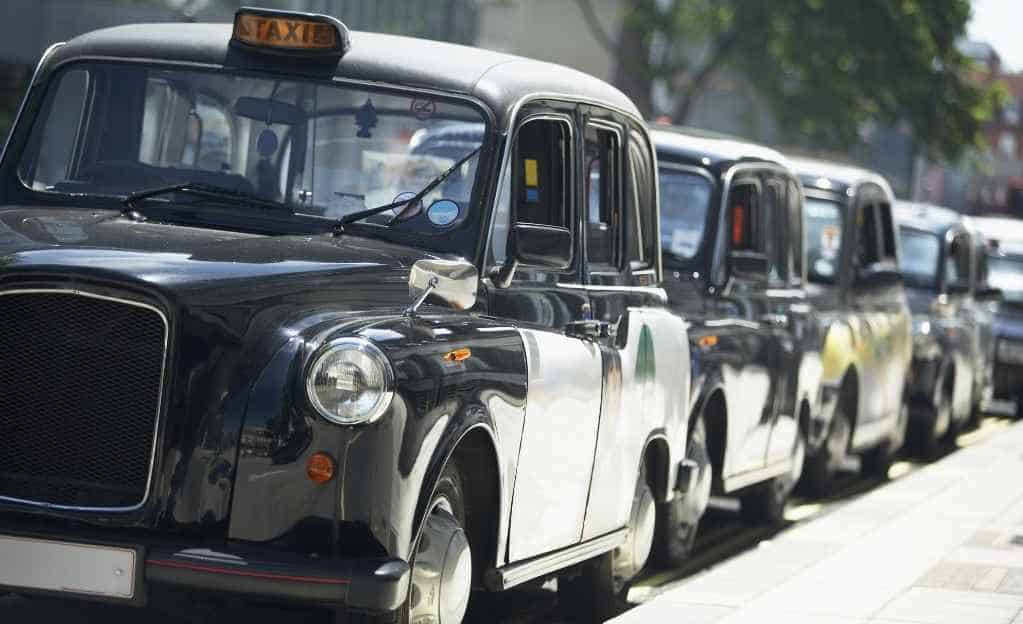 Taxis can be expensive and are usually the last resort. You can hail a black cab off the street if their TAXI sign is on.
They're metered and have a minimum fare of £3.20. The typical cost of a one-mile journey can range from £6.20 to £9.60. It can be higher if there's heavy traffic or if you're going somewhere far.
You can also book a minicab or taxi that can cost you an additional charge. Or book an Uber.
London Travel Guide: Neighborhoods
London is a big place, and there's so much more to see aside from Central London. For this section of our London travel guide, here are the different neighborhoods that are within easy reach of the city.
Westminster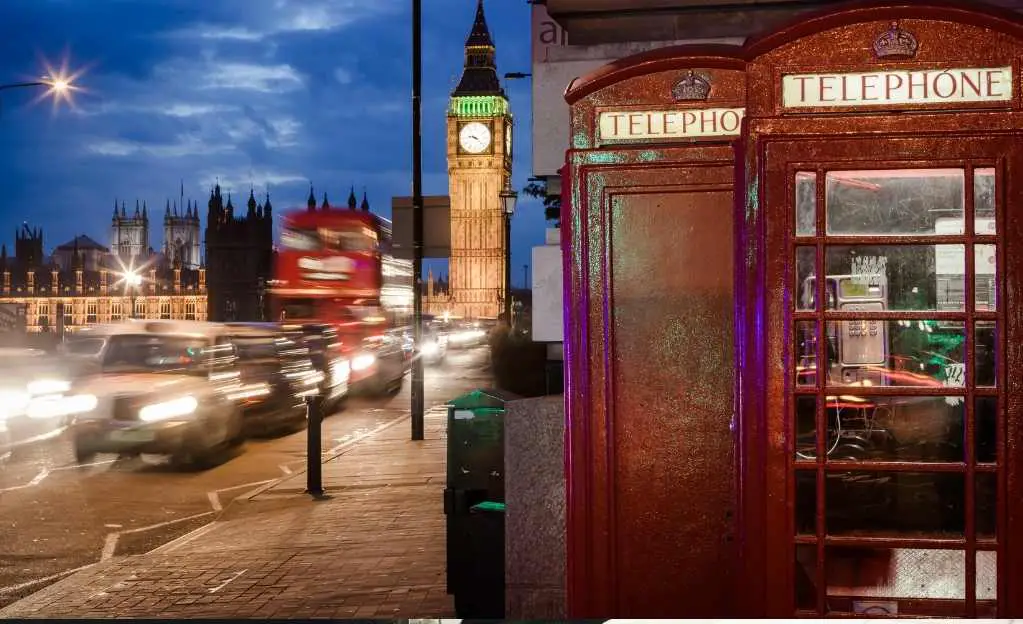 Right at the heart of the city, Westminster is the perfect place for history buffs to learn more about London. This is also the heart of the government with the Houses of Parliament, Downing Street, and Westminster Abbey all present.
Covent Garden
Covent Garden may be a busy neighborhood, but it's well worth it for all the places you can explore. There's a lot of shops and boutiques here, as well as markets that will satisfy your shopping needs.
Soho
They say the West End is the touristy side of London, and there's nothing better to describe Soho than that.
It's characterized as the entertainment hub with its theaters full of show-stopping plays and musicals. It's also filled with pubs, bars, coffee shops, and locals that thrive in creativity.
Southbank
This neighborhood is a good start in exploring London. Most of the sights are within walking distance, and you can stop by the London Eye, see the Thames, go to Clink Street, and the ruined Winchester Palace.
Camden
Camden gives off a quirky personality with its penchant for live music and dive bars that host music shows. It also has street markets where you can find anything.
They have the Regent's Canal that gives a piece of nature to the indie neighborhood.
Notting Hill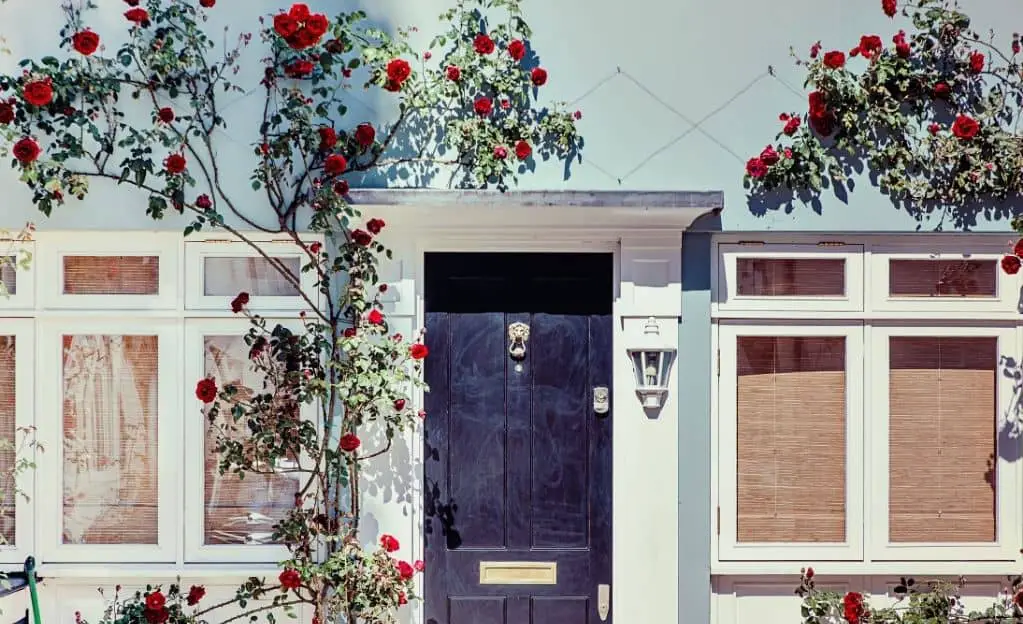 Who doesn't know about Notting Hill from the 1999 movie with Julia Roberts? You can spot this iconic neighborhood by its colorful townhouses and the market on Portobello Road.
Its streets are always lively and are an excellent go-to for those looking for antiquities or vintage items.
Mayfair
The neighborhood for the glitz and glamour, Mayfair, is best known for its high-end establishments.
It sits between Hyde Park and the West End. It's known for its collection of five-star hotels, Savile Row, and posh restaurants.
Shoreditch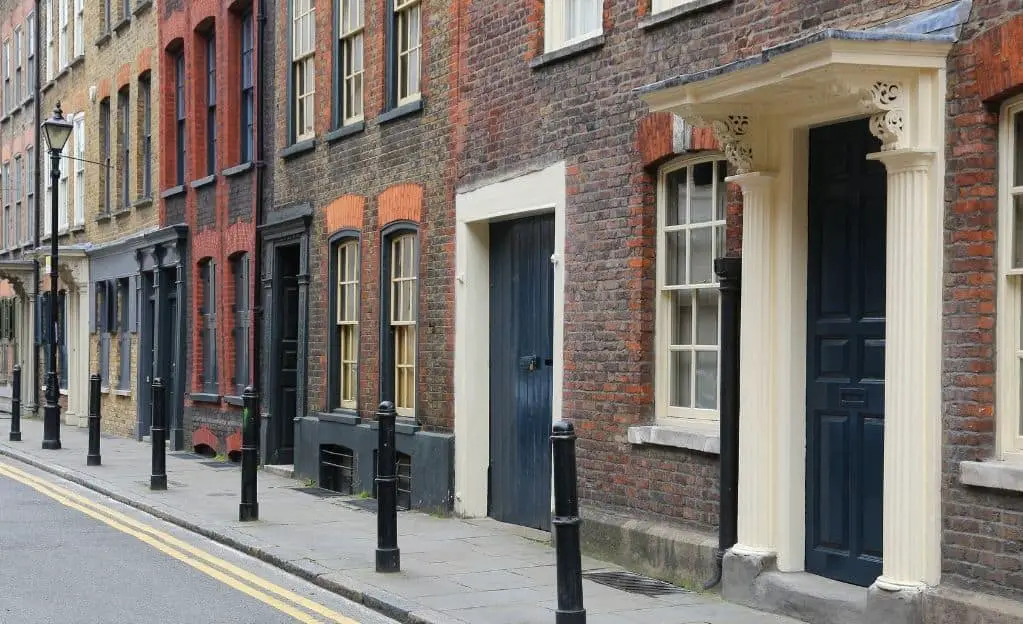 On the opposite side, in East London, you have Shoreditch. If Mayfair was the high-end nouveau destination, Shoreditch is characterized by street art, vintage establishments, and hipster restaurants.
Make sure to check out Spitalfields Market here!
Chelsea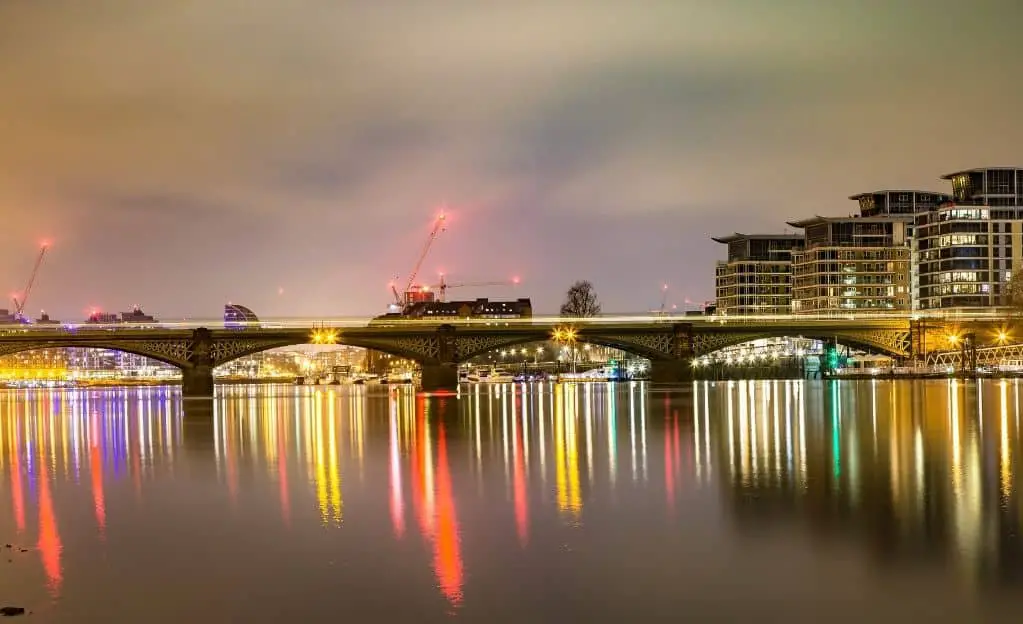 North of the Thames, Chelsea is best known for the Football scene. It's designed with picturesque townhouses, shopping centers, and hosts the well-known Chelsea Flower Show in May.
Brixton
Brixton is the cultural hotspot of South London. It's a mixture of food markets and stalls, a thriving nightlife, and an arts and music scene that doesn't compare.
Some of the highlights include their international and local delicacies, an arthouse cinema, and several bars.
London Travel Guide: Planning Your Trip
Getting there
You can get to London either by train or by plane, but almost everyone catches a flight to the city. There are six major airports in London: London City, Gatwick, Heathrow, Luton, Stansted, and Southend.
From the airport, it's easy to get to Central London. The cheapest way is either the tube and Docklands Light Railway if you're coming from Heathrow and London City Airport, respectively.
Except for London City Airport, you can also use the mainline train services to get to Central London. Heathrow Express is the fastest way if you're coming from Heathrow.
Most international flights come in from Heathrow, but you can still book your flight with the other airports, often at a lower price.
If you're staying north of London, it's best to fly in from Stansted or Luton Airport. However, Luton is only an hour's drive from Central London compared to Stansted's hour and a half.
 If you're staying south of London, it's best to use Gatwick Airport. It's an hour and a half away from Central London.    
If you're staying in Central London, the best ones are London City and Heathrow Airport.
Best time to visit
It's common knowledge that London doesn't have the best weather with a year-round temperate climate and rain showers. Early spring is one of the best times to visit with a lower chance of getting caught in the rain.
You'll also avoid the tourist crowds during this season. But the mild winters and holiday atmosphere make trips around November and December worthwhile as well. You'll see a peak in tourists during summer.
Spring comes from March to May. Summer is from June to August. Autumn from September to November. Winter comes from December to February. A recommended visit for first-time tourists is about 3 to 4 days.
This will give you enough time to see all the major sights and still have time for something extra.
Money
The currency in the UK is the British Pound (£). $1 equals to £0.76. Credit, debit, and contactless payments are generally accepted in restaurants and shops. But make sure to contact your bank about overseas transactions and possible fees you might get.
You can't exchange money in UK banks, but there are many money exchange bureaus in tourist areas and stations. Make sure to check what additional fees they charge.
Most ATMs accept international cards but be sure to check with your bank first. Bank ATMs don't have usage fees, but there might still be charges for international transactions.
Local sim cards and Wi-Fi:
For the internet, you can find several Wi-Fi hotspots across the city. There's also wifi on the Tube. You can also rent pocket wifi with unlimited data for £5.70 for a day and £39.90 for a whole week. 
If you'd prefer a local sim card, some providers you can choose from are Giff Gaff or Three.
Travel adapter:
Power plugs and sockets in the UK are Type G, which are three-prong plugs. You might need a travel adapter if your plugs aren't the Type G variety.
Travel insurance:
Think about your travel insurance before committing to that trip. You might need one if:
Your trip gets canceled;
Your trip got delayed, or there was an interruption;
Your baggage got lost or delayed; or
You get into an accident or illness that needs you to pay medical expenses.
These are just the general scenarios that most plans have.
Top 10 attractions in London!
1. British Museum:
One of the most exciting things about the British Museum is that many of its collections are impressive artifacts worldwide, not just from England.
With over 7 million objects to look at and explore, the museum has items like the Rosetta Stone, Parthenon sculptures, and even Christ's earliest known image.
It's such a diverse museum with so many stories behind them that you won't run out of things to enjoy.
The museum has remained open and free for the public since it opened in 1753. It's one of the must-see attractions when you're in London. 
Directions ▪ Website ▪ Call
2. Tower of London
There's no denying that the intrigue of the monarchy is strong in the heart of London, and one of the destinations that are a part of that culture is the Tower of London.
Known best as a prison, the tower has more than meets the eye.
Yes, this was the location of three English queens executions and a number of public executions. But this was also the residence of the royal family before Buckingham Palace.
Here, you'll also find the Crown Jewels, an armory, and the history of a powerful fortress.
Directions ▪ Website ▪ Call
3. London Eye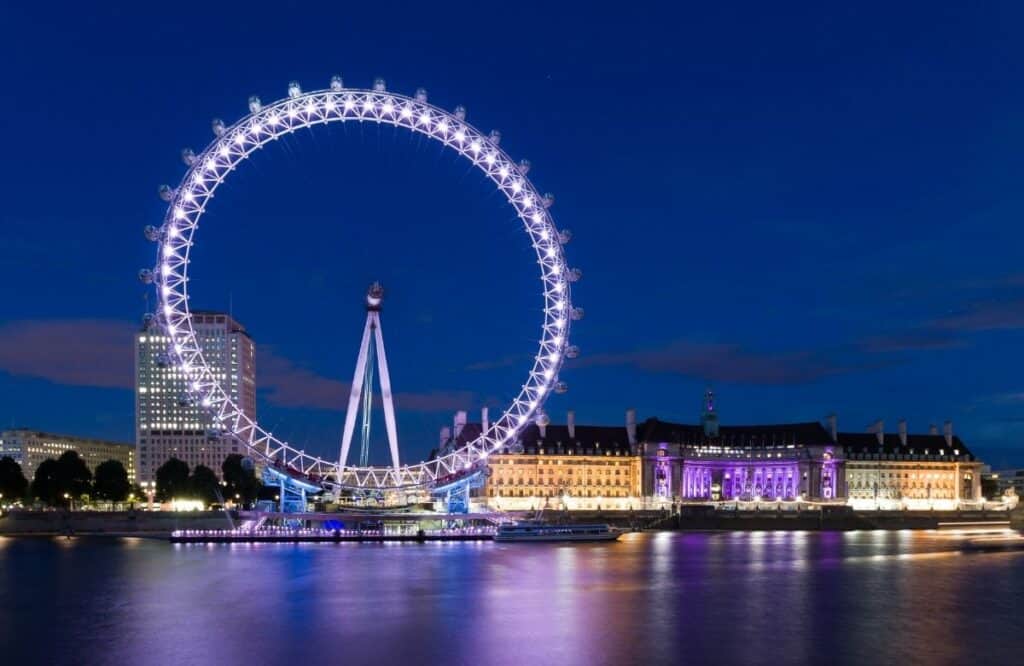 Who doesn't know the London Eye? It's only the most recognizable symbol for London and towers over most of the city.
The observations wheel is one of the tallest in the world, with a height of 135 meters or 443 feet.
It gives you a full 360-degree view of London when you're right at the top. With 32 glass capsules, the observation wheel takes about 30 minutes to finish its rotation.
4. Big Ben
More commonly known as Big Ben, the looming clock tower beside the Houses of Parliament is actually called Elizabeth Tower after Queen Elizabeth II.
Aside from the London Eye, this is another icon of the capital that anyone would recognize.
Interestingly enough, Big Ben has survived a lot, even during the bombings in World War II. The clock tower was created in 1844 and towers at 96 meters high.
The tower is illuminated every night and is a sight to behold, so look out for that!
5. Buckingham Palace
Get a chance to see the Queen's official residence at Buckingham Palace. The palace's 19 staterooms are open every summer since 1993.
The rooms are what you can expect from royal staterooms. They are decorated with some works from the Royal Collection.
If you're not visiting during summer, you can still watch the Changing of the Guard outside the palace. It's one-of-a-kind and is fascinating to watch.
6. Tower Bridge
London has many icons on its walls, and here, you'll get to learn more about how the Tower Bridge was built.
If you're also looking for a good look at the city, the high-level walkways offer a panoramic view of London.
Better yet, don't miss what they say is a hidden gem here in the Tower Bridge: the Victorian Engine Rooms.
7. Westminster Abbey
The magnificent Westminster Abbey has seen hundreds of years of British history and, in its own right, is a glorious Gothic church.
It's where coronations and royal weddings take place and where monarchs are buried. You can get a guided tour of the church that lasts about an hour.
Directions ▪ Website ▪ Call
8. Trafalgar Square
Trafalgar Square not only brings you closer to the capital's best attractions, but it also has historical statues, monuments, and contemporary art to see.
The square is its own tourist destination with many travelers because of its proximity to other areas. It's also been used in the past as sites of political demonstrations.
Some of the monuments there not to miss are Nelson's Column, the Trafalgar Square lions, the square's fountains, the George Washington Statue, and the world's smallest police box.
Trafalgar Square is located in Westminster, Central London. From the square, you can easily walk to Covent Garden, Chinatown, Parliament Square, and Buckingham Palace, to name a few.
9. Covent Garden
If what you're searching for is both a shopping and dining destination, look no further than Covent Garden. The market building is not only for its world-class shops and restaurants, but it also has historical roots.
Its architecture is well-preserved, and you can still see evidence of it as a former fruit and vegetable market.
London's West End is nothing if not glamorous, and the best place to shop for the best goods is in Covent Garden.
The marketplace is also filled to the brim with a wide array of local and international cuisines. It's definitely both a shopper and foodie's paradise. 
10. Tate Modern
There are so many museums to choose from, and almost all of them are free, including the Tate Modern.
This museum is the country's national museum for international modern and contemporary art, and for a good reason.
For no cost, you can view the works of artists like Cézanne, Picasso, Dalí, among others. It's by the south of the Thames and is right across St. Paul's Cathedral.
Where to Stay
Central London: If you want to be near the sights and attractions, Central London has that covered. You also got shopping destinations like Covent Garden, Oxford Street, and Regent Street. As well as the West End that's always buzzing with tourists.
Hotel options in Central London: Hotel 41, The Beaumont Hotel, The Goring
North London: if you want to stay on budget and get your money's worth, hotels in North London are known to be ideal for cheap accommodations. You've also got a lot of character here with Hampstead, Islington, and Camden neighborhoods.
Hotel options in North London: Premier Inn London St. Pancras, La Gaffe Hotel, West Lodge Park Hotel
South London: Down in the south, there's a number of places that are off the beaten path and are roads less traveled. Explore the attractions of Greenwich, the thriving food scene in Brixton, and the art in Peckham.
Hotel options in South London: InterContinental London — The O2, The Alma Hotel, CitizenM London Bankside
East London: What you'll find in East London is another side of London culture from the Shoreditch nightlife, Canary Wharf, Brick Lane markets, and other attractions.
Hotel options in East London: Hilton London Canary Wharf, Southern Sun Hemingways, Trennerys Hotel
West London: West London is the area for green spaces with access to the Thames. Here you have neighborhoods like Notting Hill, Kensington, and Chelsea. They also have some of London's top attractions, such as the National History Museum and the Portobello Road Market.
Hotel options in West London: Kensington Hotel, The Milestone Hotel, The Ampersand Hotel
On a budget and want something more affordable? Try a hostel, bed & breakfast, or a cheaper hotel.
Hostel:

For the gram: Generator Hostel London
For the solo traveler: Wombats City Hostel
For the vintage feels: Astor Hostel Hyde Park

Bed and Breakfast: The Lilac Door Bed & Breakfast, Marple Cottage Guest House, The Grafton Arms & Pub Rooms Bed and Breakfast
Cheap Hotels: Clayton Hotel City of London, Native Bankside, Camden Enterprise Hotel, Premier Inn hotel chains
For the family: Darlington Hyde Park, The Nadler Kensington, Hotel chains like Travelodge, Novotel, and Premier Inn
What to Eat & Where to Eat it
London has a lot to offer when it comes to their food. The capital is a mix of traditional English dishes to International cuisines, including Michelin-star restaurants.
You also can't go wrong with the pub culture here with many drinking spots to suit your tastes.
They have their traditional pubs (with some of the best fish and chips you'll find), rooftop bars, and even riverside pubs. Some you'll have to try are Harwood Arms, The Old Cheshire Cheese, and Skylight London.
If you want to try a little bit of everything, coming to a food market might be the best. You can head to Borough Market, Old Spitalfields Market, or Brick Lane Market for some well-deserved food break.
But you can't leave London without trying some of their most popular food. Here is what to eat and where to find them: 
If you're looking for something that won't break your wallet, here are some options for you to try:
Bao: get delicious Bao for only £5
Brick Lane Beigel: Craving for bagels? Try this bagel that starts at £0.40 up to £6.70.
The Rib Man: You'll never go hungry with this rib meat rolls for £7 and rack of ribs for £8.
You can find other cheap eats at the numerous street food trucks across London and some more budget-friendly food markets like Berwick Street Market, Borough Market, and Greenwich Market.
City Passes and Tours
Get your A-game on with this impressive sightseeing pass for exploring London. The London Pass gives you access to more than 80 attractions and sights of the capital.
You'll also get to save on many of the sights' admission prices, all for one pass. It's also convenient for skipping long tourist lines and walking straight in.
You have all the freedom to choose where you want to spend the day, and they have a guaranteed 90-day cancellation.
You can choose from a 1-day pass (£79), 2-day pass (£100), 3-day pass (£121), a 6-day pass (£164), and a 10-day pass (£193).
Learn more about the attractions you can get and how to download the app here.
Walking tours:
Warner Bros Studio: The Making of Harry Potter tours
City Cruises:
Tips
Walk between tube stops or rent a bike: Central London is bike-friendly, and most of the tourist spots are reasonably walkable. It's also a local tip that it can be faster to walk between some tube stops.
Museums are free: It may come as a surprise, but there are many free attractions in London that can save you some money. Some of these museums are Tate Modern, National Gallery, British Museum, and others.
Tipping isn't as big a deal: For some restaurants, tipping is usually about 10 to 15% of the bill. Some would add on a service charge, so make sure to check your bill before leaving a tip. While it's acceptable in other places like bars and pubs to not leave a tip. For black cabs, people usually just round up to the nearest pound.
Stand on the right and walk on the left: This is especially important when you're taking the Tube. Londoners take this seriously, so if you're going to stand, stay right, and if you're in a hurry, take the left side.
Always bring an umbrella: Even if you've planned your trip on a pleasant and dry season, London weather can be unpredictable. It's still safe to bring an umbrella so you won't get caught in the downpour.