Are you a pizza fanatic looking for the ultimate slice in Asheville? We've got the best pizza joint picks that will have you shouting "Mamma Mia!".
Whether you're a traditionalist who craves a margherita or a daredevil who loves to try new and unusual toppings, we've got you covered if you are looking for the best pizza in Asheville!
Buon appetito!
PIE.ZAA Pizza
PIE.ZAA Pizza is a fast-casual pizzeria offering New York-style pies. They're the best place for quality late-night pizza and are in an area that caters to the brewery crowd.
They have a small indoor seating, but the pizzas are worth it and offer an authentic taste of New York.
They also have a beer, perfect to pair with your slices. Try their pepperoni, sultry sausage, or garden pizza. It's some of the best pizza in Asheville.
Menu: PIE.ZAA Menu
Top Review: "Three words: Delicious HUGE slices! First time ever in the Asheville area and heard we had to try this place out for their pizza slices. The recommendations did not disappoint! My husband had the pepperoni slice and I had the sultry sausage slice. Both were huge, nice and thin with a good sauce and nicely heated up before being served to us. One slice was enough for each of us and my husband was quick to eat the crust on my slice I couldn't finish. It was recommended by another patron to order a side of zaaa sauce. It has a little kick to it and my husband really enjoyed dipping his crust into." – Caroline J.
Asheville Pizza & Brewing Company
Asheville Pizza & Brewing Company is one of the best pizza places in Asheville. They are family-friendly with multiple locations — one of their locations has a movie theater and mini-arcade.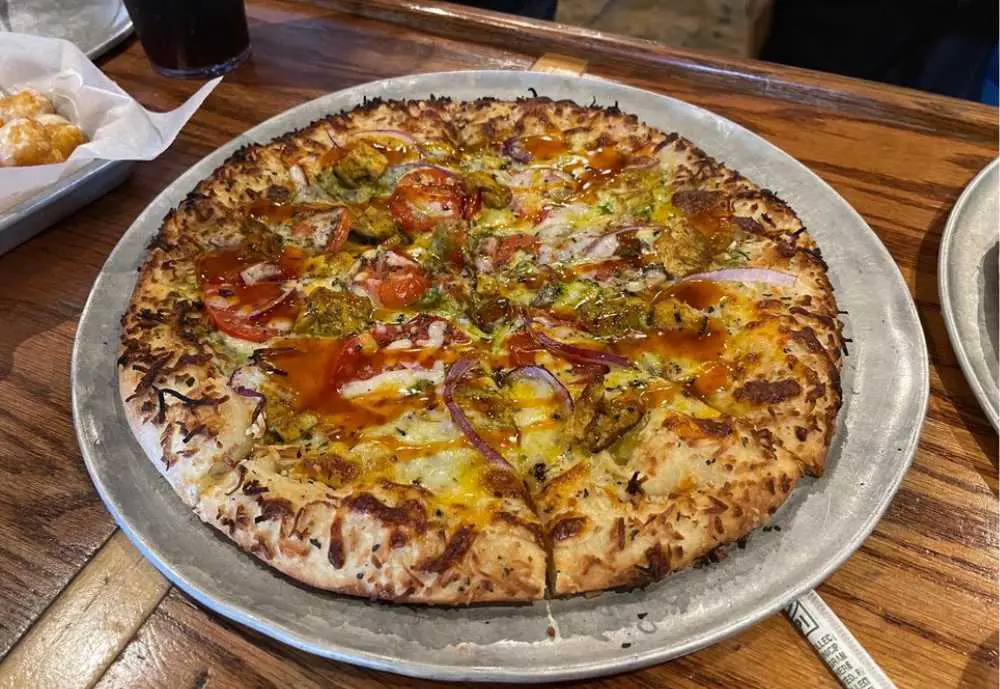 They also have giant slices of pizza with unique topping combinations like curry tofu, spicy fried chicken, and more.
They also have vegan and gluten-free options and other classic pub dishes. Try their Moon Pie pizza, Magic Dragon pizza, or a traditional pepperoni pizza.
Oh, and did we mention that they're also a brewery? And they're one of the best in the city, so don't miss out on it.
Menu: Asheville Pizza Menu
Top Review: "I had been told by a buddy I had to come here.  So it was packed. But worth the wait! The loaded tots were a huge mountain of yumminess!  That's a word right?   The pizza by the slice was huge! And tasty!  My wife got the Popeye burger which is a spinach and cheese "burger".  But it really was good. I can't wait to bring the kids back here!" – Thomas B.
675 Merrimon Ave Asheville, NC 28804, (828) 254-1281
Fresh Wood Fired Pizza West
Fresh Wood Fired Pizza is a cozy and inviting spot for a date night. The staff are friendly and will even recommend what to get.
If you're wondering, their hits are Scarface, baby blue, cheese, and florentine pizza. They also have salad, appetizers, desserts, and beer on tap.
Their pizzas are Neapolitan-style, with toppings and ingredients that are sourced locally. They also have vegetarian options. Be sure to stop by, it's easily some of the best pizza in Asheville, NC.
Menu: Fresh Wood Fired Pizza Menu
Top Review: "We first tried their pizza at the location in Black Mountain and fell in love. We ended up ordering the Rose's Pizza with Gluten Free crust, sub Vegan Cheese and added Pepperoni, Ground Beef, bacon, Mushrooms and green peppers. Their crust is the second best GF crust I have ever had only second to an Italian place in NYC and their toppings especially the ground beef is so flavorful" – Lisa M.
342 Depot St Asheville, NC 28801, (828) 552-3917
White Labs Brewing Co
White Labs is all about that beer and pizza. What could be a better combination?
They are actually an expert when it comes to yeast, having supplied most of the breweries in town before making their own creations in their brewpub.
That's what makes their dough so great, with a charred, crispy, and flavorful result for their pies. They also have an extensive menu of burgers, sandwiches, fries, and wings.
For those with dietary restrictions, they have a varied number of gluten-free options and vegan mozzarella.
Try their classic flavors like mushroom, sausage, pepperoni, and margherita. They have a nice patio space to hang out and a spacious parking space.
Menu: White Labs Menu
Top Review: "Stopped in for lunch and loved what I ate. Had the pear salad with walnuts, goat cheese spread and burnt onion vinaigrette, as well as the mushroom pizza with herbed ricotta, arugula and lemon. Everything here tastes modern, fresh, and delicious. The pizza crust was so good, I bought a couple to use at home. Next time I want to try their house vegan Italian sausage." – Bob V.
172 S Charlotte St Asheville, NC 28801, (828) 630-1182
Fahrenheit Pizza & Brewhouse
Fahrenheit Pizza & Brewhouse is an excellent choice for pizza lovers out there. They have great choices, vegetarian options, a kid's menu, and alcohol for adults.
Their pizzas have fresh ingredients, a chewy crust, and their sauce and dough are both made from scratch in-house.
Recommendations include arugula pizza, meat lovers, margherita, and vodka pizza. There can be a wait time during busy hours, so be prepared.
Menu: Fahrenheit Pizza Menu
Top Review: "Phenomenal place!! The pizza was incredible, so fresh and full of flavor! The self serve beer on tap is amazing. The vibe is very chill and relaxed. Service was excellent and the staff, including the owner, were very friendly. Can't get any better!" – Phil J.
The diverse array of pizza establishments in Asheville, North Carolina is nothing short of impressive. Whether you're a traditionalist who appreciates a classic Margherita, an adventurer eager to try the innovative flavors of truffle oil and local goat cheese, or a foodie ready to indulge in a pie that marries global influences with Appalachian charm, Asheville has a pizza joint for you. As you plan your culinary journey, remember that the best slice isn't just about the cheese, crust, and toppings—it's also about the atmosphere, the passion behind the scenes, and the stories shared over each delicious bite. So, fellow pizza lovers, it's time to grab a slice of Asheville — your taste buds will surely thank you!
You might also like drooling over these pizza articles:
pizza near me, pizza asheville, asheville pizza, best pizza in asheville